Los Angeles Angels:

Robinson Cano
July, 15, 2012
7/15/12
2:14
PM PT
The Angels did something Sunday that teams like the Yankees often do: They smothered their opponent with an unrelenting lineup.

It may have been the Angels' most complete offensive game of the season. Every starter but Alberto Callaspo had at least one hit and seven of the nine drove in at least one run in the Angels' 10-8 win over the Yankees in New York.

Not that it was easy. The Yankees scored three times in the ninth inning and the game ended with the bases loaded.

The good:

Pace maker. Every time Mark Trumbo has a bad at-bat, he seems to make an adjustment and come back the next at-bat -- or day -- and do something impressive. That's one of the reasons Trumbo isn't giving off any signs of being a three-month wonder. He was in the middle of a busy day of hitting, with three hits that included a laser solo shot to left field, his 24th home run. That was the fourth Angels long ball of the afternoon as they kept pouring it on, something you have to do against the Yankees at their home.

Mighty Maicer. How unlikely was Maicer Izturis' two-run home run? Not only had Izturis not gone deep yet this season, but it was his first long ball since July 29 of last season. That means he had played 5 1/2 months of baseball without doing what he did off Ivan Nova, and it was probably the key shot of the game. Izturis has been largely a wasted asset this season -- and when he has played he has generally struggled -- so Sunday's heroics had to be satisfying to the utility guy.

Third-to-first. It never works, right? But it must, on rare occasions, or pitchers wouldn't bother. In the third inning, Jered Weaver faked a throw to third and then fired over to first, where he picked off Robinson Cano, inexplicably wandering away from the bag. After Erick Aybar dove to tag Cano, Alex Rodriguez -- again, inexplicably -- was caught between third and home. What had been major trouble brewing turned into a double play, without Weaver having to throw a pitch. And they say the Yankees never beat themselves.

The bad:

Streak's over. What a great run Ernesto Frieri had, but it came to an end with a Mark Teixeira home run in the ninth inning. Those two runs were the first Frieri has given up as an Angel. His first 26 appearances were scoreless. It happens all the time. A closer enters in a non-save situation and struggles. He just couldn't throw strikes. A lot of good pitchers gave up home runs Sunday, with the ball absolutely flying out of the yard.

Bronx blues. Weaver has a Yankee problem. Coming into Sunday, he had a career 4.79 ERA against New York and he has now allowed 16 home runs to the Yankees in 11 starts. That's a somewhat troubling thought if the Angels qualify for the playoffs. Weaver battled in tough conditions -- heat, humidity, a tough lineup -- but the three home runs he allowed were the most he had given up since August of last season. Jerome Williams actually pitched slightly better the day before and took the loss. Weaver got his 11th win, but he also had .36 tacked onto his ERA.

Turnabout. Mike Trout got a little taste for what he has done to J.J. Hardy and several other hitters this season: a robbery. Curtis Granderson was playing shallow when Trout rocketed a deep fly to center field. Granderson caught it in full stride, with his back to the infield. If he misses it, Trout, one of the game's fastest players, well could have tried for an inside-the-park home run. Trout was undeterred. He later picked up a couple of doubles and walked and now has a .403 on-base percentage.
June, 1, 2012
6/01/12
7:40
AM PT
By
Kenton Wong | ESPN Stats & Info
The Angels are playing by far their best baseball of the year. Prior to losing to the Yankees on Wednesday, the Angels' eight-game winning streak got them over .500 for the first time since winning on Opening Day.
The winning baseball couldn't come at a better time as they host the division-leading Rangers this weekend.
A CHANCE FOR REVENGE
In a three-game series in Arlington earlier this season, the Angels were blown out twice, while winning the middle game 4-2. Texas hit over 100 points higher and scored four more runs per game in the series.
But this is a much different Angels squad that will be hosting the Rangers. At the time of the last series – May 11-13 -
Albert Pujols
was hitting under .200 and was stuck on one homer. He now has eight longballs and has brought his batting average up to .243.
MIDDLE OF THE ORDER IS SCORCHING HOT
Pujols and
Mark Trumbo
each have multi-hit games in four of the Angels last five games. Trumbo has been especially hot with a home run in four straight games and a hit in his last six. Trumbo has been feasting on changeups this season, hitting 10-15 with three of his homers coming off of changeups.
FRIERI STILL EFFECTIVELY WILD
Ernesto Frieri
has now pitched in 12 games for the Halos and has yet to allow a hit. He has been a little wild though – most notably in his last outing on Tuesday in which he walked two and hit another before striking out
Robinson Cano
to end the game. Since making his Angels debut on May 5, Frieri has not just been tough to hit, he's been tough to make contact off of. Sixty-three percent of swings taken against Frieri since he became an Angel have missed. That is the highest swing-and-miss rate in the majors in that span. The next closest being 56.4 percent against
Sergio Romo
– owner of one of the filthiest sliders in the game.
[+] Enlarge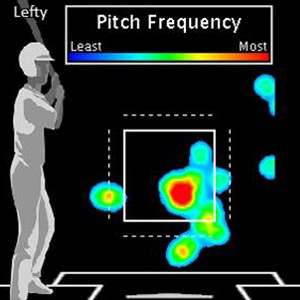 ESPN Stats & InformationJerome Williams' pitches againts the Rangers left-handed hitters on May 11.
WILLIAMS NEEDS TO BE CAREFUL WITH LEFTIES
Jerome Williams
gets the start today against the Rangers. He'll have to be more careful against the Rangers lefties than he was in an earlier outing this season. They went 3-5 against Williams and all three hits were home runs (two by
Josh Hamilton
and one by
Mitch Moreland
). Overall, Williams gave up six runs and 11 hits in 6 2/3 innings that night. Of course this time out, Williams knows he's going to pitch. Last time he came in only after
C.J. Wilson
was pulled following a lengthy rain delay.
FRIDAY'S MATCHUP TO WATCH: TRUMBO vs. LEWIS
Trumbo has had success against Rangers starter
Colby Lewis
with four hits in 10 at-bats against the righty with a home run and a double. On the flip side, Howie Kendrick and
Torii Hunter
have struggled against Lewis going a combined 5-33 with 12 strikeouts.
May, 30, 2012
5/30/12
11:22
PM PT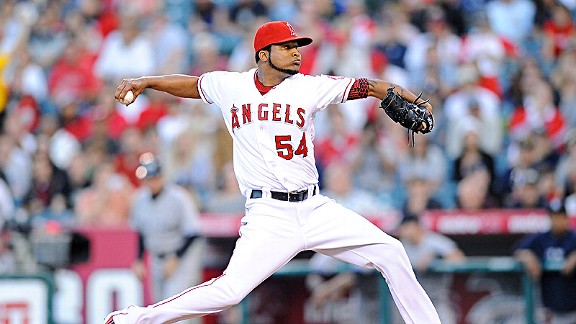 Kelvin Kuo/US PresswireErvin Santana is giving up home runs at an alarming pace, but he and manager Mike Scioscia shrug it off.
ANAHEIM -- The Angels' 6-5 loss to the New York Yankees didn't seem to portend a dramatic shift in momentum, even if it snuffed out the team's longest winning streak in three years.
If anything, it felt like a continuation of their offensive resurgence and their newfound ability to battle back. They did, after all, fall behind 5-1 in the third inning before rallying to tie the score.


But that brings us to the part of the evening that was a bit troublesome given its connection with a season-long trend:
Ervin Santana
is giving up home runs as if they're on markdown. During his tortured, 48-pitch third inning, Santana allowed long balls to
Curtis Granderson
and
Robinson Cano
.
Those were the 14th and 15th home runs Santana has allowed this season, most in the majors. The next guy on the list, is Texas'
Colby Lewis
, who pitches here Friday night.
Is it a problem? Depends who's asked. Angels manager
Mike Scioscia
and Santana essentially shrugged it off.
"I'm a home-run pitcher," Santana said. "I'm a power pitcher and, if they make good contact, that's where it's going to end up."
Scioscia worries that if Santana abandons his aggressive style, it will only lead to further troubles. The only thing worse than giving up a home run is giving up a couple of walks in front of a home run. Scioscia called Santana's propensity to give up deep fly balls a "byproduct of challenging guys."
"He has much more success when he stays aggressive in the zone," Scioscia said.
May, 30, 2012
5/30/12
10:23
PM PT
The Angels' eight-game winning streak came to a halt Wednesday night, but not without a fight.

The Angels rallied from a 5-1 early hole to tie the game before the New York Yankees tacked on a run to win it 6-5 at Angel Stadium and sidestep the three-game sweep. A familiar problem -- Ervin Santana home run balls -- returned, and a trend continued -- Mark Trumbo's torrid hitting.

The Good:

Killing it loudly. Mark Trumbo told me before the game that just knowing he's in the lineup every day has helped get into a nice rhythm at the plate. But it's got to be more than that, doesn't it? Trumbo looks as dangerous as any hitter in the game not named Josh Hamilton, one of only two AL hitters with a higher OPS. He has homered in four straight games. If he goes deep again Friday, he'd set a new Angels record. Trumbo went 3-for-4 and drove in three runs.

Feisty fish. Mike Trout is probably a little more edgy than most people realize. He didn't look happy after Ivan Nova hit him in the shoulder with a pitch in the first inning, so he promptly stole second. He also later hit a two-run double off Nova. The Angels' rookie appears to have the right combination of on-field swagger and clubhouse humility to walk the delicate line this game requires.

Getting on. One of the reasons Angels general manager Jerry Dipoto fired hitting coach Mickey Hatcher was that he wanted to see a greater emphasis on on-base percentage. During this hot streak, we're seeing evidence that the Angels are moving in that direction. The top four hitters in the lineup were on base 10 times to give Trumbo and Howie Kendrick copious chances.

The Bad:

The barrage. Ervin Santana is giving up home runs at an extraordinary pace. He has allowed 15 long balls in his 11 starts, most in the majors. They are proving costly to Santana (2-7), who has a 2012 team option in his contract, and for the Angels, who have lost all but two of his starts. Curtis Granderson and Robinson Cano both took him deep in a rough third inning.

Rally killer. Kendrick popped up with the bases loaded in the first inning. He hit into an inning-ending double play to spoil a two-on, one-out rally in the fifth and he struck out to strand two more runners in the seventh. Yeah. Rough night for Kendrick, whose season just has never gotten clicking.

Soft around the middle. The back end of the Angels' bullpen is as solid as it has been in years. It's the middle innings you worry about, but then again, what team doesn't? Hisanori Takahashi (0-2, 5.06 ERA) hardly seems like he adds much value. The Angels fought so hard to tie the game in that fourth inning and then Takahashi gives up a triple to Raul Ibanez and a run to squander the momentum.
February, 3, 2012
2/03/12
11:02
AM PT
The Angels have gotten more attention for snatching up other teams' free agents lately, but two of their shrewdest signings in the past six months went to homegrown talent.
Less than five months after reaching what appeared to be a club-friendly deal to keep
Jered Weaver
in town for the entirety of his prime, the Angels (under a new GM) reached a similar agreement with
Howie Kendrick
. It's not just about dollars and sense, but about timing.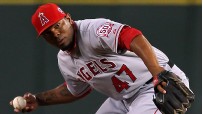 Otto Greule Jr/Getty ImagesSecond base is locked up with Howie Kendrick staying around.
Kendrick, 28, is coming off a career year and could be in position to take his game up another level while, presumably, batting in front of
Albert Pujols
. If his age and batting position converge to make Kendrick an offensive force, the Angels' four-year, $33.5 million extension with him will seem like bargain shopping.
He's starting from a pretty good place. Only four second basemen with at least 425 plate appearances last year had a higher OPS than Kendrick's .806. Two of them,
Robinson Cano
and
Dustin Pedroia
, are superstars and the other two,
Ian Kinsler
and
Ben Zobrist
, get more publicity than Kendrick does. Kendrick had the highest fielding percentage (.992) among AL second basemen.
When Kendrick broke into the major leagues, he was viewed as a potential future batting champion. Throughout the minor leagues, people wondered whether his fielder would ever be better than adequate. His career is taking a different trajectory. A .292 career hitter, Kendrick's power blossomed last season, with his home run total jumping from a habitual 10 to 18. Pitches that he used to hit into alleys, he lifted over fences. Kendrick used to be a doubles machine, but that total declined from 41 to 30 last season.
His ability to make routine plays is as reliable as any Angel and he occasionally makes spectacular diving stops. He has developed good timing with Gold Glove shortstop
Erick Aybar
after nearly a decade of working together, in the minor and major leagues. He'll never be mistaken for
Roberto Alomar
, but he is better with his glove than people expected.
With pitchers wary of facing Pujols with runners on base, they figure to pound fastballs against Kendrick. That should work in his favor as he has traditionally struggled to recognize and lay off sliders.
Bill James
projects Kendrick to regress slightly to a .287/.329/.441 line, but the Pujols effect could negate that.
Unless this season takes an unexpected turn, the Angels have little to worry about at second base.
August, 11, 2011
8/11/11
3:24
PM PT
The Angels lost just their second series since June 12, with Thursday's 6-5 loss to the New York Yankees pushing them two games back of the first-place Texas Rangers.

Seldom-used slugger Russell Branyan slammed a three-run home run off Mariano Rivera in the ninth inning -- the second homer the Angels hit off the Yankees legend this series -- but their rally fell short.

The Good:

Branyan. Talk about degree of difficulty. Not only was Branyan facing a future Hall of Famer, but he hadn't seen a live pitch in three weeks, as he has remained planted on the bench with Mark Trumbo figuring out how to hit tough right-handers. He swung at Rivera's first pitch to him and sent it arcing into the right-field seats to give the Angels a chance.

Yankees lefties. The Angels would have had their 15th winning series in their last 17 tries if they had been able to pitch to Curtis Granderson and Robinson Cano. Then again, a few other teams could have probably said the same thing. Those two left-handed hitters went 11-for-24 with six home runs and 13 RBIs combined in the three-game series. Tough to overcome that production from just two hitters.

Chatwood. He wasn't dominant, but the Angels need some stability at the back of their rotation and the 21-year old gave them some by pitching into the sixth inning and allowing only two runs. He improved on the performance of the other rookie in the Angels' rotation from the night before, which allowed some relievers to get a little rest. The Angels figure to need lots of pitching in Toronto, where the Blue Jays are scoring a lot of runs.

The Bad:

Pitching in the Bronx. When Curtis Granderson swung and made contact with Tyler Chatwood's pitch to him in the sixth inning, his head slumped as if he'd just hit a routine fly ball. The ball carried 10 rows deep into the right-field bleachers. No wonder Granderson has 32 home runs. Right field at Yankee Stadium is even more hitter-friendly than the old place.

Concentration. Maicer Izturis is one of the steadiest fielders the Angels have, but he took his eye off Mark Teixeira's routine chopper in the seventh inning on what would have been the third out. It was only Izturis' second error. You pretty much knew the Angels were in trouble at that point, as the Yankees for years have punished teams that make mistakes. Bam, Robinson Cano hit the lights-out grand slam off Scott Downs.

Homecomings.Vernon Wells is carrying some pretty embarrassing numbers with him as he returns to Toronto for the first time since being traded to the Angels in January. He's making it far too easy for Blue Jays fans to be glad their team got out from under his big contract. Wells has seven hits in his last 48 at-bats and he's only driven in three runs in August.
June, 4, 2011
6/04/11
9:50
PM PT
ANAHEIM -- Angels right fielder Torii Hunter was running about as fast as he can, tracking Robinson Cano's deep drive and expecting a collision with the wall any second.

When half the wall wasn't there, Hunter got worse than a collision. He got flipped.

Hunter's legs slammed into the low wall in right field and he jackknifed into the stands, all 225 pounds landing on a guy wearing a gray shirt in the front row. It's about then, with the pain of the collision and the aggravation of not reaching the ball just sinking in, that Hunter heard this:

"Get off my friend!"

"It was a Yankee fan," Hunter said.

Saturday was that kind of evening for the Angels, who were frustrated flailing at CC Sabathia's changeup, and again disappointed that their stadium became Yankee Stadium West. Jered Weaver made a reference to it being "half Yankees fans and half Angels fans," Friday. Hunter called it an "infestation," after Saturday's game.

The large, vocal contingent of Yankees fans is nothing new at Angel Stadium, but as the Angels enjoyed success on the field and at the gate in recent seasons, the balance had started to tip a bit more toward the home crowd. It has felt like the old days the past two nights. Hunter saw the same thing for years in Minnesota. It happens in Oakland, Seattle, Texas and most other stadiums in the American League, as well.

"They infest everywhere. Every stadium is going to be infested with Yankees fans," Hunter said. "No mosquito repellent, nothing works on them."

Those in the crowd rooting for the Angels seemed to appreciate Hunter's effort. Pitcher Ervin Santana high-fived him in the dugout though the result was a home run. The Angels would lose by the margin of Cano's solo homer, by a score of 3-2.

Though he's batting just .235 and has struggled with runners on base, Hunter's intensity and effort haven't flagged. Like Derek Jeter, who wound up with a nasty gash on his face while flying into the stands a few years ago, he's one of the rare baseball players willing and able to sacrifice his body in an effort to make a play.

"That's the way Torii plays," manager Mike Scioscia said. "He's such a good athlete that, when he dives or whatever he's doing, he's athletic enough to protect himself. When you go flying into the stands like that, there's a lot of metal and plastic and things that you can bang into that can cause some injuries."

Hunter said he was nicked up, but healthy enough to play in Sunday's game, a 12:35 p.m. start.

"That's what they pay me for, to play hard," Hunter said.
June, 4, 2011
6/04/11
8:54
PM PT
ANAHEIM -- The Angels were baffled by CC Sabathia and Alex Rodriguez hit a majestic home run off Ervin Santana to give the Yankees a 3-2 win at Angel Stadium, just their fifth win there in their last 13 tries. Mariano Rivera threw one pitch to earn his 15th save, getting Erick Aybar to hit a pop-up to shortstop to end the game. It was Rivera's 1,003rd game and, surely, one of his least-stressful.

The Good:

Abreu's at-bats. Entering Saturday, left-handed hitters were batting .178 against Sabathia. That didn't seem to bother Bobby Abreu, who stroked three singles to left field and is now 6-for-12 against the big lefty. Abreu has been in a rather torrid stretch lately, with 10 hits in his last four games. He has played 57 games this year and failed to get on base in only 10 of them.

110 pitches. Santana threw 112 of them and only two of them cost him runs. Robinson Cano's shot carried into the shortest part of the stadium and Rodriguez's into one of the deepest, with plenty of room to spare. Santana has been on a nice roll and Saturday was a perfectly solid effort aside from the two home runs.

Aussie rules. Rich Thompson is probably in line for a bullpen promotion one of these days. He rarely pitches -- just three appearances in the 15 games before Saturday -- but he has been nasty when he gets into games. Thompson struck out three Yankees in two innings and leads the Angels' bullpen with 30 strikeouts.

The Bad:

Inches. Torii Hunter went flying into the right-field stands, flipping over the low wall in the corner, but he couldn't catch Cano's drive in the fourth inning. It seemed to sail a few inches over his glove for a home run to snap a scoreless tie. Hunter was lucky he didn't get hurt.

Latest slump. For two months, Maicer Izturis might have been the Angels' best player. Not lately, at least offensively. Izturis is stuck in one of the deeper slumps of his last few years, seven hits in hist last 51 at-bats (.137) over his last 15 games.

Kendrick's luck. For a guy who hadn't seen live pitching in more than two weeks, Howie Kendrick looked perfectly in-sync in the batter's box. He didn't have any hits, but he hit two balls rather squarely and was robbed of an infield hit by Mark Teixeira's dive to touch first base with two runners on in the eighth.
June, 4, 2011
6/04/11
4:57
PM PT
It usually doesn't take long to figure out what kind of day Jordan Walden is going to have. Give the rookie closer three or four pitches and you usually have a pretty good idea.

Walden can be prone to wildness when he first comes into games and the result, often, has been letting the leadoff batter reach base. In his five bad outings this season, the leadoff man has reached in four of them -- three times by walk.

Like most closers, Walden has a hard time holding on runners, so a walk or single is often times the same as a double.

"The biggest out for any closer is that first hitter," manager Mike Scioscia said. "You get that first out and it certainly creates some momentum on your side as a closer. Even if a one-out rally starts, there's always that light at the end of the tunnel."

Walden said he's focusing on keeping the "leadoff dude" off base and lately he has done a better job. After blowing three saves in a five-outing sequence last month, he has closed six in a row successfully. Friday night, he fell behind 3-and-1 to Robinson Cano, but eventually struck him out with a slider.

"Once the adrenaline kicks in, it can be hard to control at times," Walden said. "But I'm getting more and more comfortable, every time out a little more."

Here are the lineups for Saturday night's game vs. the New York Yankees:

New York

1. Derek Jeter SS

2. Curtis Granderson CF

3. Mark Teixeira 1B

4. Alex Rodriguez 3B

5. Robinson Cano 2B

6. Russell Martin C

7. Nick Swisher RF

8. Jorge Posada DH

9. Brett Gardner

Angels

1. Maicer Izturis 2B

2. Erick Aybar SS

3. Bobby Abreu DH

4. Torii Hunter RF

5. Alberto Callaspo 3B

6. Howie Kendrick LF

7. Mark Trumbo 1B

8. Jeff Mathis C

9. Peter Bourjos CF