Los Angeles Angels:

Ron Washington
July, 19, 2012
7/19/12
9:06
PM PT
By
Mark Saxon
and
Richard Durrett
| ESPNLosAngeles.com
Is this weekend's series against the Texas Rangers pivotal?

No, because no series in July is truly pivotal and, with two wild cards, we may not see a truly pivotal series until mid-September. But the Angels are only going to have so many opportunities to make up ground and it's a lot easier to get to the World Series now if you win your division, so it's a big, big series.

To preview it, we caught up with colleague Richard Durrett, who covers the Rangers for ESPNDallas.com. Durrett and I took turns asking each other questions about the two AL West rivals:

MS: It seems like both of these teams suddenly have some issues with their starting rotations. What's the latest on the Texas starting rotation and do you think any concerns are long-term or just blips in the middle of a season?

RD: For the Rangers, it's more about injuries. They avoided any roster move for the first five weeks of the season and then the injuries hit all at once. But they are starting to see some reinforcements. Derek Holland is back and has pitched well in two starts off the DL. Colby Lewis allowed just one run in five innings on Wednesday in his first start off the DL. Roy Oswalt bounced back with a better showing in his first start after the All-Star break. Yu Darvish is still looking for consistency with his command and didn't have it despite 11 days off (that includes the All-Star Game because he didn't pitch). He'll get another shot this weekend. Matt Harrison remains the club's most solid performer in 2012.

RD: What should Rangers fans expect from Dan Haren this weekend, assuming he pitches on Sunday?

MS: Tough one, Richard. On the one hand, Haren's stuff hasn't looked as crisp this season, including in a Single-A rehab game Monday night. On the other hand, he seems intent on proving to everyone he's still a front-line starting pitcher. One thing they should expect is a relatively short outing, at least by his standards. I imagine he'll be on a 90-pitch limit coming off lower back inflammation. One thing they can't expect is for him to beat himself. If he walks more than two batters in a game, he's having an off night.

MS: Did people in Texas expect Mike Napoli to do what he did last year again this season? Or, did people realize he's a super-streaky hitter?

RD: They know he's streaky and didn't expect him to hit .383 for the season like he did for the second half of 2011. But they sure didn't expect a .223 average. Napoli hasn't looked comfortable at the plate except for one week where he really tore the cover off the ball earlier this season. He's missing pitches he crushed last year and is striking out at a much higher rate than he has in his career. It's a surprise to see him in a rough patch for this long. Will a series against his former team help get him going?


July, 10, 2012
7/10/12
10:37
AM PT
Remember when the All-Star game was mostly a Red Sox-Yankees get-together?

This season, 12 of the 36 players on the American League roster play for the Angels or Texas Rangers. It helps, of course, that the AL manager the past two seasons, Ron Washington, gets to load up with his own guys (eight this year) and has a good feel for the AL West talent pool.

But it's also probably something of a bellwether of the shifting demographics in this league. The most vibrant rivalry -- at least in terms of pitting the two best teams against one another -- very well may be Angels-Rangers. The only question is whether the rest of the country realizes that, particularly since most of the Angels home games start after 10 p.m. on the East Coast.

"I think we're kind of making a push to get some of that notoriety over here," Jered Weaver said Sunday. "I think that's good to see, but I still don't think you can take anything away from the East Coast. They're still pretty much the popular group."

Mingling the Angels and Rangers will make for a happy reunion or two. C.J. Wilson will see his former teammates. Weaver likely will get to work with Mike Napoli, his catcher in the minor leagues and for five seasons in Anaheim."We won't have to go over pitches or anything. That'd be sweet," Weaver said.

It could also, however, make for some awkward moments. Napoli and Wilson have been in something of a cold war since spring training, when Wilson tweeted Napoli's cell phone number as a prank. And, frankly, the Angels and Rangers aren't exactly bosom buddies. The Angels have seen the Rangers take over the AL West the past two seasons and they're determined to get it back.

"It's a pretty heated rivalry, I guess. Just being the competitors we are, it's kind of tough to go in the same clubhouse with them and look them in the face," Weaver said."You've got to push that aside, swallow some of your pride and chat a little bit, I guess."
May, 31, 2012
5/31/12
12:37
PM PT

When the Angels were in Texas three weekends ago, the Rangers drew more than 142,000 fans for a three-game series at the Ballpark in Arlington.

"I remember going to Texas and they barely had fans in that nice stadium," Torii Hunter said. "They're selling out every game. It brings that intensity, that adrenaline rush for us."

Which is why Hunter is hoping for a raucous environment at Angel Stadium this weekend with the first-place Rangers in town.

"I would love to see the fans come out and represent us to the fullest -- 47,000, 48,000 fans, screaming 'Angels,' screaming at different players on the other team. That's what makes us," Hunter said. "That's why we call that homefield advantage."

Hunter might run afoul of the Orange County fire marshal with his pleas, considering the Angel Stadium capacity is 45,050, but the Angels are expecting good crowds, especially considering some of the problems they've had drawing customers this season: around 40,000 for Friday's game and probable sellouts for Saturday and Sunday.

That's not bad when you consider that, a couple of weeks ago, it was looking like this series might not mean all that much. The Angels left Texas after being badly beaten in a three-game series, outscored 27-13 and trailing Texas by eight games in the AL West. The Angels couldn't get on base. They couldn't string hits together, their bullpen was a mess and Texas looked like an unstoppable force.

Momentum sometimes shifts unexpectedly during a baseball season. The Angels got on an eight-game winning streak before their rally fell inches short against the New York Yankees Wednesday night and Texas lost its past two games at home to the Seattle Mariners by a combined score of 31-11.

Now, the stage is set again. The Angels have a chance to shift the whole AL West paradigm. They trail Texas by 5 1/2 games.

To eat away at that still-substantial lead, however, the Angels will have to do something they haven't done since last July 19-21: win a series against the Rangers. The divide between these teams has been most glaring in head-to-head games lately. Since Jered Weaver out-dueled C.J. Wilson 1-0 in that July 21 game, the Angels have gone 3-10 against the Rangers, often losing by lopsided scores.

The Angels might need to win this weekend's series just to prove to themselves they're good enough to hang with these guys.

"I think we're kind of in a rut a little maybe. It's been quite a while since we took a series from them," said Angels slugger Mark Trumbo. "What better time than now?"

That seems to be the question. Since last the Angels saw Texas, they have gotten several issues sorted out. They're 16-10 since fixing their bullpen mess by acquiring Ernesto Frieri from the San Diego Padres. You almost can't be better than Frieri has been. He still hasn't allowed a hit in 12 innings and he's striking out more than two batters an inning.

They're 14-9 since Albert Pujols hit that first home run on May 6 and, if you haven't heard, he's hit seven more since. Probably the biggest spark has been the addition of rookie Mike Trout, who has a .366 on-base percentage and has scored 21 runs in 30 games. The steadying influences have been the starting rotation and Trumbo's consistent power.

Add up all those trends and you get a talented team that's finally playing consistently well. They are who we thought they were even if we started to doubt in the early days of May.

Hunter said he sensed it immediately upon his return from two weeks on the restricted list, where he had gone to be with his teenage son, Darius, as he dealt with sexual-assault allegations back home in Texas. When Hunter got back, the air wasn't as thick in the Angels clubhouse, the mood not as tense.

"I could look around and see some positive energy," Hunter said. "Me coming back from something negative, I came back into something positive. It actually helped me out. It was awesome."

But just as quickly as the team's mood improved, it could darken again if the Rangers leave town with another demoralizing series victory. And just as quickly as it ramped up over that eight-game winning streak, it could spike if the Angels finally take one from these guys.

In other words, big early-June series.

"I take every game just as seriously as the next, because they all count, but they are the defending champions and basically the team to beat," said Trumbo.
February, 1, 2012
2/01/12
10:21
AM PT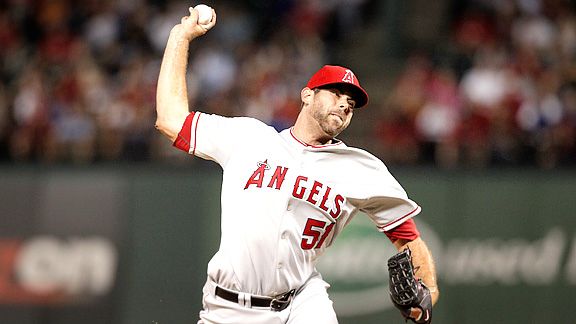 AP Photo/Tony Gutierrez
The Angels stood pat at closer, leaving their most crucial relief role to 24-year-old Jordan Walden.
This is part of an occasional series comparing the rosters of the two-time defending AL champion Texas Rangers and the rebuilt Angels, who could have the hottest rivalry in the league this year.
Bullpens are as unpredictable as the economy nowadays. You just never know what direction they'll go.
At this time 10 years ago,
Brendan Donnelly
had never thrown a major-league pitch,
Ben Weber
was a 32-year-old minor-league journeyman with a career 4.15 ERA and nobody had ever heard of a 20-year-old Venezuelan kid named
Francisco Rodriguez.
The Angels' 2002 bullpen became a virtually impermeable barrier to late-inning rallies.
Both the Angels and Rangers have had to accept some risk as they enter this season, the Rangers because they tinkered with the bullpen, the Angels because they didn't.
Instead of sticking with what worked -- strong setup men funneling the game to
Neftali Feliz
-- Texas seems intent on moving Feliz to its rotation and added 37-year old
Joe Nathan
to be its closer. Nathan pitched in 48 games for the Minnesota Twins last year -- two seasons removed from ligament-replacement surgery in his right elbow -- and had a 4.84 ERA.
The Angels sat back and watched a regiment of closer candidates sign with other teams this winter, leaving its most crucial relief role to 24-year old
Jordan Walden
(hometown: Arlington, Texas). Walden's blazing fastball earned him an All-Star bid but he wobbled in the final few weeks of the pennant race, one memorable meltdown against Oakland virtually ending the Angels' chances.
Whose bullpen would you rather have? The Angels had a surprising edge in 2011, with their relievers putting up a 3.52 ERA, second in the American League to the New York Yankees. Texas relievers had a 4.11 ERA, near the bottom of the league, but they also blew six fewer saves than the Angels. And Texas fortified the seventh and eighth innings by adding
Mike Adams
and
Koji Uehara
near the trade deadline.
January, 25, 2012
1/25/12
11:27
AM PT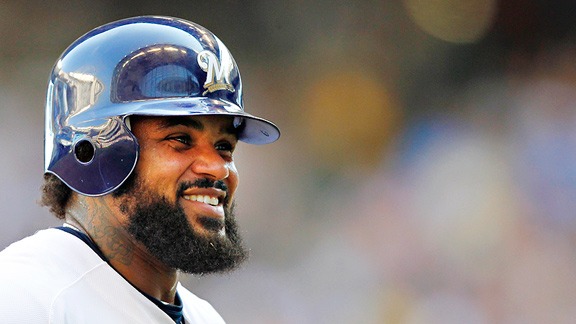 AP Photo/Jeffrey Phelps
Of all the moves this offseason, Prince Fielder
not
signing with Texas ranks as one of the biggest for the Angels.
This is part of an occasional series comparing the rosters of the two-time defending AL champion Texas Rangers and the rebuilt Angels, who could have the hottest rivalry in the league this year.
If you were ranking this winter's free-agent news in terms of its impact on the Angels, you might have to put the stories in the following order:
1.
Albert Pujols
signs with the Angels.
2.
Prince Fielder
doesn't sign with Texas.
3.
C.J. Wilson
signs with the Angels.
4.
LaTroy Hawkins
signs with the Angels.
No offense to Wilson, a fine left-handed pitcher who I think will
thrive pitching at Angel Stadium
, or to Hawkins, who should be a winning influence on the bullpen in 2012. Their impact probably won't approach the damage Fielder could have done from afar over the next nine years.
Just imagine what Texas' lineup would have been like on a nightly basis after inserting a guy who has averaged 37 home runs (and hit 50 one year) and 106 RBIs, who doesn't turn 28 until May. The Rangers scored 855 runs last year, just 20 behind league-leading Boston.
Inserting Fielder would have given Texas perhaps the two most-feared left-handed hitters in the game (Fielder and
Josh Hamilton
) to go along with its four right-handed hitters who smacked at least 29 home runs last year. The only reason to think Texas wouldn't have had the best 3-4 hitters in baseball is you don't know whether manager
Ron Washington
would have broken up his two left-handed sluggers.
Not only would the Angels have had to pitch to Fielder about 75 times a year (as opposed to 25 or fewer now), they would have faced the possibility of meeting that lineup again in the playoffs. Who knows, it might have reduced the Angels to chasing one of the wild-card spots for years. Under the new proposed format, that's a far more perilous road to the World Series than winning the division.
Yeah, it's scary to think about, but now you don't have to. Instead, we can ask: Whose middle-of-the-order would you rather have, the Angels' or the Rangers'?
January, 20, 2012
1/20/12
10:11
AM PT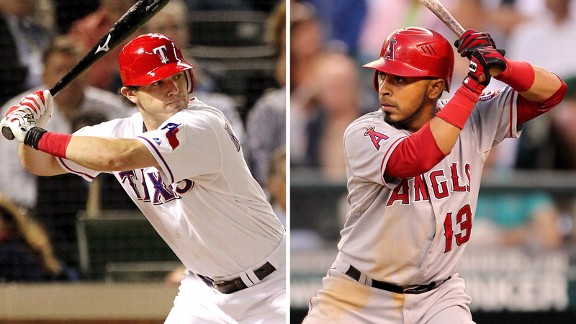 US Presswire/Getty ImagesIan Kinsler and Maicer Izturis bat leadoff, and that's about where the similarities end.
This is part of an occasional series comparing the rosters of the defending AL champion Texas Rangers and the rebuilt Angels, who could have the hottest rivalry in the league this year.
Neither team has the ideal leadoff hitter, but the Angels were -- and probably will be -- at a major disadvantage in setting the table for their big boppers. The two Angels who had the most at-bats leading off last year,
Maicer Izturis
and
Erick Aybar
, had on-base percentages in the leadoff role of .340 and .320 respectively. Izturis was slightly above-average, in other words, and Aybar was well below the league average.
The Rangers'
Ian Kinsler
was an offensive force, but you wonder whether the Rangers would have scored even more runs had he hit deeper in their lineup. He hit 32 home runs and 31 doubles as a leadoff hitter, getting on base at a .356 rate. But largely because of his slot in the order, only six of those home runs and 11 of those doubles came with runners on.
Texas manager
Ron Washington
might want to consider using
Elvis Andrus
once again as his leadoff hitter as Andrus had a .419 on-base percentage in a handful of games batting first. That would allow Kinsler to hit in a more suitable role, maybe second or seventh, say. The problem for Washington isn't really a problem. He has so many powerful hitters, finding a suitable spot for Kinsler isn't easy.
Angels manager
Mike Scioscia
figures to experiment more and more with using his fastest player,
Peter Bourjos
, in the leadoff spot. If the Angels are lucky, he'll grow into the role along the lines of Boston's
Jacoby Ellsbury
, who was easily the league's best leadoff hitter last year. Ellsbury is four years older than Bourjos and the Angels center fielder was rapidly improving as a hitter, so Bourjos looks like a candidate to take over the role. One key difference, of course, is that Ellsbury has shown a much greater willingness to walk. His career on-base percentage of .354 is 52 points higher than Bourjos'.
If Bourjos shows he's not ready to hit first, the Angels always have top prospect
Mike Trout
standing by. If they can find a place for him, he just might lock down the leadoff spot for the next 10 or 15 years. For now, advantage Rangers.
September, 8, 2011
9/08/11
10:16
AM PT
Here's one way to think about this pennant race: The Angels have to make up 1 1/2 games on the Texas Rangers in their next 16 games.

Anything short of that might make the end of the season too grueling. In part, that's because Texas has a 9-7 lead in the seasons series, which will determine who gets to play at home if a one-game playoff is required. Baseball did away with the coin flip a few years ago.

The only way a 163rd game would be played in Anaheim is if the Angels trail by three games going into the final series and sweep it. If the Angels trail by two games and sweep it, they're in. If they trail by one game and take two of three, they'd fly to Texas for a game the next day.

It's a long way off, but is there anything more exciting in baseball than a one-game playoff? Even if the Angels did have to play it in Arlington, something tells me they wouldn't be complaining.
July, 12, 2011
7/12/11
2:12
PM PT
One thing you never have to worry about with Jered Weaver is his desire to dominate an opponent. Watch him closely when he pitches and -- even if you can't hear what he's saying -- his body language is as easy to read as a Dr. Seuss book.

He gives up a single and he looks like he wants to fight someone.

"I've never competed against a more competitive pitcher, and a pitcher who will do anything it takes to make sure that he keeps his team in a ballgame," was how Texas Rangers manager Ron Washington put it when he named Weaver his starter for Tuesday night's All-Star game.

The challenge for Weaver hasn't been motivation, it's been maturity. Weaver is one of those guys who never really got tested until he reached the major leagues. He was a two-sport star at Simi Valley High and he could dominate at Long Beach State easily enough without much more than his 95-mph fastball.

But since Weaver made his big league debut in 2006, it's been one hurdle after another, some pretty high. To understand how he reached this pinnacle, you have to grasp how he got over each of those plateaus.

Lesson 1 was in the business of baseball. The Los Angeles Angels sent him back to the minor leagues even after he had gone 4-0 with a 1.37 ERA. Results, of course, aren't the only things that matter in the big leagues. The Angels had an expensive, veteran staff that year and Weaver was the odd man out -- mostly because of seniority -- when they needed a roster spot for Bartolo Colon to come off the disabled list.

Even what should have been a joyous moment for Weaver became bitter-sweet. When the Angels brought him back up, they made room for him on the roster by designating his brother, Jeff, for assignment. It worked out fine for everybody -- Jeff Weaver pitched brilliantly for the St. Louis Cardinals, who won the World Series that year -- and Jered finished 11-2. But that transaction must have made for some awkward feelings in the Weaver family living room.

Later came some struggles, but who doesn't have those? Weaver had a 4.33 ERA in 2008.

All that stuff was adversity. The next blow was tragedy.

Weaver had become close friends with Nick Adenhart during spring training in 2009. There were elements of a big brother-little brother relationship working there. Weaver, seven years younger than Jeff, had never gotten to experience being a mentor. He had always been the one taking advice. Adenhart had agreed to move into his apartment in Long Beach. But in the early hours of April 9, Adenhart was killed by a drunk driver, hours after his best major league start.

Since then, Weaver has carved Adenhart's initials in the dirt behind the mound before every inning.

Weaver looks a lot like he did in his rookie season. He's still got the long, stringy hair, the lanky build, the funky delivery. If anything, his shoulders have gotten broader, his arms thicker.

But his personality isn't quite the same. He's a little less brash, a little more humble. The making of an ace can be a tortuous path.
July, 2, 2011
7/02/11
10:43
PM PT
By
Pedro Moura
| ESPNLosAngeles.com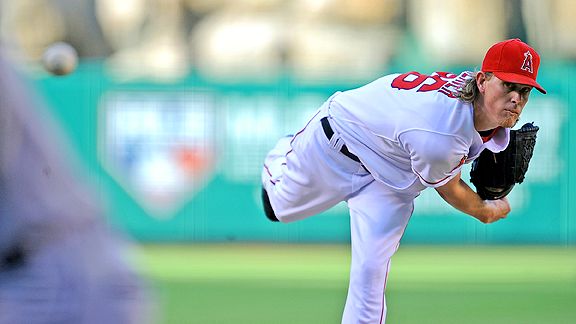 Jayne Kamin-Oncea/US PresswireJered Weaver seems a good bet to start for the AL in the All-Star Game, but that's not something he wants to talk about just yet.
ANAHEIM -- He'll get one more official opportunity to showcase his stuff before Texas Rangers manager
Ron Washington
sits down to determine his starting pitcher for this month's 2011 All-Star Game, but Angels ace
Jered Weaver
did a mighty fine job proving his candidacy in a 7-1 win over the Los Angeles Dodgers on Saturday.
Facing the Dodgers just six days after earning a no-decision in a tough battle in L.A., Weaver was dominant in eight innings of work Saturday. In outdueling Dodgers left-hander
Clayton Kershaw
, he allowed just six baserunners -- two on walks, the first time in a month he has walked more than one -- and struck out eight Dodgers to earn his team-leading 10
th
win and lower his ERA to 1.92.
"Weav pitched terrific baseball," Angels manager
Mike Scioscia
said. "He just kept pounding the zone, and, as the game went on, changed speeds a little bit more.
"He pitched a good ballgame."
He has been pitching good ballgames pretty regularly this season. Weaver hasn't given up more than four runs in any of his 18
starts this season. He has given up only one earned run or fewer in six of his last eight starts, and he's now only the second Angel in franchise history with 10 wins and a sub-2.00 ERA on or before July 2.
The question now is whether he'll get the formal nod from Washington to take the mound. It appears he has a good chance, his most probable competition coming in the form of Detroit Tigers right-hander also slated for a Sunday start just two days before the All-Star Game in Phoenix, meaning he'd be ineligible to pitch in the game per MLB rules instituted last year.
"It's a great honor, and I'm sure he's going to get consideration," Scioscia said of the 28-year-old Weaver. "It'll be something, certainly, for him to look forward to."