Los Angeles Angels:

Scott Podsednik
January, 13, 2011
1/13/11
11:18
AM PT
Each week leading up to spring training, Mark Saxon breaks down a big question facing the Angels heading into camp.
By now,
Mike Scioscia
knows that SABR isn't a curved sword or part of a prehistoric cat's repertoire, but he's not exactly a card-carrying member of the baseball research society.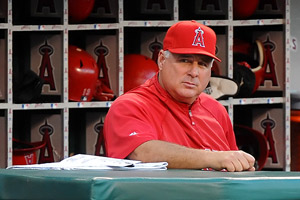 Lisa Blumenfeld/Getty Images
Mike Scioscia sees the need for on-base percentage.

Even Scioscia has zeroed in very quickly on the one number that absolutely had to be addressed this offseason.
"I think we definitely need on-base percentage; that's very clear," Scioscia said at the winter meetings. "Independent of
Kendry [Morales]
coming back, we need some guys that are going to get on base and make some things happen."
For endless stretches of 2010, it seemed as if nothing was happening at Angel Stadium when the Angels were at-bat. The primary culprit was a stubborn inability to locate first base. The Angels finished 27th in baseball in on-base percentage, and their leadoff hitters, which seemed like an endless carousel of candidates, were 17th-best.
The manager said it had to change, but so far nothing has. The Angels watched in astonishment as the Boston Red Sox swooped in and signed
Carl Crawford
to a stunning seven-year, $142 million contract, leaving the Angels flat-footed in their pursuit of speed. Crawford wouldn't have batted leadoff most likely, but he would have injected enough dynamism into the table-setting part of the lineup that finding a leadoff guy would have been an elective.
Now, the Angels are desperately trying to sift through two palatable free-agent options, both of whom could be entering the decline phases of their careers. Should they pick
Johnny Damon
or
Scott Podsednik
?
If they don't sign one of those guys, they're reliant on a trio of frightening in-house candidates:
Peter Bourjos
, who barely looked capable of holding down the No. 9 spot last year;
Erick Aybar
, who seems terrified of taking more than two pitches; and
Bobby Abreu
, who might be the most appealing option though he turns 37 years old in March. Abreu's ideal lineup spot is No. 2, Aybar's is No. 9 and Bourjos' might be as the pinch runner.
In other words, it seems like a prudent time to engage the agents for Damon and Podsednik in serious dialog, but keep this in mind: The Angels' best prospect -- and maybe the best prospect in baseball -- is a leadoff hitter.
Mike Trout
is only 19, but he figures to start next season at Double-A Arkansas, and Scioscia has already said he expects Trout to be "depth" for the big league team at some point next year.
Make no mistake, he's coming. It's only a matter of when.
So, the Angels' interest level in one of those free agents may not stretch more than one season, making Damon the more likely choice. Podsednik is two years younger and coming off a better season and likely is seeking at least a two-year deal.
Here's the rub: Damon's agent is
Scott Boras
, a man the Angels have worked with only grudgingly since they felt jilted in the
Mark Teixeira
talks two winters ago. So, it could be a coin flip -- Podsednik or Damon. the Angels also could do what they've done the rest of this winter: sit back.
That would be a bad move, or rather, a bad lack of a move.
Let's examine in more detail the cases for Damon and Podsednik.