Los Angeles Angels:

Tommy Hanson
June, 7, 2013
6/07/13
12:01
AM PT
By
Kenton Wong
| ESPN Stats & Information
AP Photo/Mark J. TerrillMike Scioscia has a lot of work to do to get the Angels back in contention.
This time last week the
Los Angeles Angels
had pulled to within four games of the .500 mark and 8 1/2 games of the division lead.
With four games against the
Houston Astros
and two against the
Chicago Cubs
-- all in Anaheim -- there was definitely reason for optimism. All that hope was quickly crushed as the Angels proceeded to go 1-5 in those games.
Disappointing week
The four-game sweep at the hands of the Astros was especially disturbing considering Houston is the second-worst team in baseball this season. To put it in more perspective, Houston has 22 wins this season and seven of them are against the Angels.
One of the big issues lately has been getting the final out of innings. The Angels are allowing opponents to hit .273 with two outs this season, tied for the second highest in baseball. In Wednesday's extra-innings loss,
Robert Coello
gave up two hits and a walk after he had gotten two outs in the top of the 10th inning.
Prospect Hunter
The Angels didn't have a pick in the first round of the draft this season after signing
Josh Hamilton
this offseason, so they had to wait until the 59th overall pick before nabbing high school lefty Hunter Green out of Warren East in Kentucky.
Green measures 6 feet 4 but weighs only 175 pounds, so there is definitely potential for him to fill out a little bit and get his fastball up from the low 90s, where it currently maxes out, to the mid 90s.
It looks as if the Angels received good value on their pick as ESPN.com's Keith Law had Green projected to go in the first round in his final mock draft.
Today's matchup
Tommy Hanson (LAA) vs. Felix Doubront (BOS)
Hanson got roughed up a bit last Friday against Houston, but one positive from the start was that he hit 91 mph on the radar gone after not reaching 89 mph in his two previous starts.
The only current Angel who has more than one at-bat against Doubront is Hamilton. He has three hits in seven at-bats against the Red Sox lefty including a double and a triple.
May, 10, 2013
5/10/13
11:21
AM PT
By
Kenton Wong, ESPN Stats & Information
Kyle Terada/USA TODAY SportsJosh Hamilton is showing signs of life with home runs in his last two games
Sitting a season-low 11 games under .500, the
Los Angeles Angels
desperately needed to avoid a sweep at the hands of the lowly
Houston Astros
. A three-run rally in the eighth saved the day from what could have been more umpiring controversy had the Angels lost. There were also some other bright spots:
Houston, we have no problem
Josh Hamilton
is still flirting with the Mendoza line, but he is hitting the ball with more authority. He has 10 well-hit balls in his last 10 games after having 11 in his first 24 games.
Hamilton also has home runs in his last two games, giving him four on the season. The catch is that all four of his deep flies have come against the Astros and their league-worst pitching staff.
Walk this way
The Angels patience at the plate was also impressive Thursday as they walked 11 times (although some credit goes to the aforementioned Astros pitching staff). The 11 free passes are the most for the Angels in a game in the last five seasons. Their previous season-high was seven.
Today's matchup
Tommy Hanson (LAA) vs Dylan Axelrod (CHW)
Hanson has kept the Angels in the ball game in four of his five starts this season, but there are definitely some danger signs:
Hanson throws his fastball more than half the time. This season it is averaging 87.9 MPH – down a mile-and-a-half from last season.
In addition to the lack of velocity has been a lack of location. 49 percent of Hanson's fastballs have been up in the strike zone. That is tied for fifth in the majors this season behind only
Matt Harvey
,
Zach McAllister
,
Shelby Miller
and
Alexi Ogando
. Unlike most of those guys, Hanson doesn't have the stuff at this point in his career to get away with mistakes like that.
Opponents are hitting .408 against his fastball. The only pitcher that has thrown at least 200 fastballs that has a higher opponents' average is
Jonathan Sanchez
at .429 – and he's currently looking for work after being released by the
Pittsburgh Pirates
.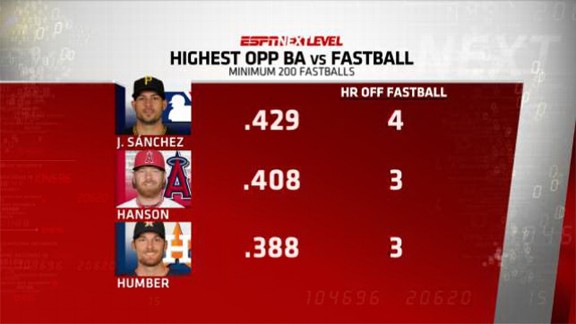 ESPN Stats & Information
April, 18, 2013
4/18/13
11:05
PM PT
By
Kenton Wong
| ESPN Stats and Information
Ray Carlin/Icon SMIWith high expectations entering 2013, Mike Scioscia needs a quick turnaround for his slumping club
You hate to push the panic button in April, but if any team needs to do it -- especially in light of last season's slow start -- it is the
Los Angeles Angels
. The Halos are 4-10, matching their worst start since 1961, the franchise's first season.
Only two teams have been as bad as the Angels this season: the
Miami Marlins
and the
Houston Astros
. Not exactly the kind of company you'd like to keep with two former MVPs on the team and another who could have been MVP last season. The two straight days off (one due to weather, one scheduled) couldn't come at a better time.
So what areas need to be addressed immediately to start a turnaround?
Stop giving away outs
Being aggressive at the plate can be a good thing. It puts pressure on opposing pitchers and fielders. But being too aggressive can be detrimental. The Angels have swung at a league-high 33 percent of pitches outside the strike zone. Opponents realize this as well as only 48 percent of pitches to Angels hitters have been in the zone -- the fourth-lowest rate in baseball.
The Angels have also been awful on the basepaths. They have a league-worst 43 percent success rate on steals. Last season they were second in baseball at 80 percent.
Starting pitchers and defense need to step up
Missing
Jered Weaver
is tough, but he's only a fifth of a rotation that has been the worst in baseball with a 6.07 ERA. New arrivals
Tommy Hanson
,
Jason Vargas
and
Joe Blanton
have combined to give up 33 ER in 40 1/3 IP.
Baseball Info Solutions tracks defensive plays and after being the third-best defensive team in 2012 according to the metric Defensive Runs Saved (DRS), the Angels rate a -16 in the stat in 2013. That is tied with the
Minnesota Twins
for worst in the majors.
Friday's Matchup
Anibal Sanchez (DET) at Tommy Hanson (LAA)
Hanson had a decent start to his Angels career, beating the
Texas Rangers
in Arlington despite giving up two home runs. His home debut against the Houston Astros didn't go well as he consistently left pitches in the middle of the strike zone. The Astros knocked him around for eight hits and five runs in five innings.
Whether it is repeated injuries or overall mileage on his arm, Hanson is not the same pitcher who dominated early in his career with the
Atlanta Braves
. His fastball, which used to sit in the low 90s, is averaging 88 MPH through two starts.
March, 19, 2013
3/19/13
5:30
PM PT
By
Christina Kahrl
| ESPNLosAngeles.com
MARYVALE, AZ -- Bringing
Jason Vargas
over from the
Seattle Mariners
made sense in that the
Los Angeles Angels
needed to restock a rotation that had lost
Dan Haren
,
Ervin Santana
and
Zack Greinke
as free agents, and trading for Vargas (as well as Atlanta's
Tommy Hanson
) was a case of circumventing the expense of the open market to patch things up cost-effectively.
[+] Enlarge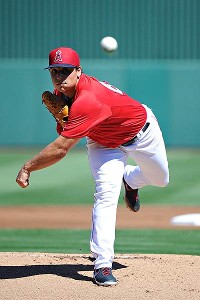 Lisa Blumenfeld/Getty ImagesJason Vargas got a couple pitches up against the Brewers in Cactus League action Tuesday.
But cutting these kinds of corners risked incurring a different expense, priced in wins and losses. There are open questions over how effective Vargas will be outside of Safeco Field now that he's no longer in Seattle. Even in a career-best 2012 season, he allowed 35 home runs, and that was with the benefit of the best park in the league in suppressing big flies, especially homers off right-handed bats (per Baseball Info Solutions), indexing at a league-low 67 over the last three years. Angel Stadium is also one of the better parks to pitch in, with a righty-homer index of 81 over that same stretch; that's still 21 percent easier to homer in relation to Safeco.
The Cactus League is never friendly to men on the mound, and spring stats don't matter. But Vargas got off on the wrong foot from the outset on Tuesday, allowing a titanic two-run tater to
Rickie Weeks
in the first inning. Weeks pulled a double hard to the left-field corner his next time up, fueling another two-spot on the scoreboard for the Brewers. Add in
Aramis Ramirez
's fifth-inning homer, and it wasn't the best day for Vargas.
Vargas didn't make light of getting lit up by Weeks, saying afterward, "I'm still trying to figure out how to get him out. He's gotten me more times than not over the past few years."
Still, Vargas took the broad view of his start, focusing on getting his work in. "It was good to get into the sixth inning, get the pitch count up, continue to get stronger."
That was Angels manager Mike Scioscia's pointed purpose on Tuesday. Despite the five runs allowed through five, Scioscia sent Vargas out to the mound in the sixth to get one more out (first baseman
Alex Gonzalez
), as he has with
C.J. Wilson
and
Joe Blanton
as well this spring.
"Just getting up, get up, take your warmups, get out there for an inning to give yourself a little bit of stamina," Scioscia said. "There's no doubt the ups are as important as the pitches."
As far as the results, Scioscia observed, "Vargas got the ball up a little bit. He threw some good off-speed pitches, some good changeups, but this is not a forgiving park when you get the ball up."
Vargas mulled his objectives for the day, and said, "I was just trying to execute like I would in the regular season. The goal is to get comfortable doing what I've had success doing: Changing speeds, making the hitters move back and forth, that's been a key for me."
It has worked for him in the past, but today's pair of homers might foreshadow what's to come for Vargas in the Big A. If so, it might be a long season in Anaheim.
Christina Kahrl covers baseball for ESPN.com. You can follow her on Twitter.
May, 21, 2011
5/21/11
11:20
PM PT
ANAHEIM -- The Angels blew a 4-0 lead and their offense fell back into a funk over the final seven, scoreless innings as they lost to the Atlanta Braves 5-4 in 12 innings Saturday night. It was the Angels' 11th extra-inning game this season, most in the majors.

The Angels didn't have a hit from the sixth through 12th innings.

The Good:

Producing. You could pretty much boil down the Angels' offensive woes for a while to the struggles of veterans Torii Hunter and Bobby Abreu, who have been largely unable to drive in runs. Abreu started the Angels' offense with a two-run home run off Tommy Hanson over the short fence in right field and Hunter pulled a two-run single through the left side of the infield in the fifth. Hunter had the only two hits by a right-handed batter off Hanson, who is brutally tough on them.

Main guys. The first five hitters in the Angels' lineup Saturday got on base 10 times and scored and drove in all of the team's runs. That was a radical departure from earlier this season when it seemed as if the bottom of the order was carrying the team at times.

Mr. Sinker. Saturday night wasn't exactly a dominant showing from Joel Pineiro. He gave up 11 hits and four runs in 6 1/3 innings, but lately he's been dancing out of most of the trouble . Pineiro (2-0) has given the Angels' rotation a boost since he came off the disabled list at the end of April. He didn't give up a run until Joe Mather's towering 3-run home run in the seventh inning.

The Bad:

Pitch selection. Reliever Hisanori Takahashi seemed to be pitching around cleanup hitter Brian McCann in the seventh inning, but he got a little too close to the plate with a 3-and-2 pitch and McCann pummeled it into the left-center field gap to tie the game and, eventually, spin it into extra innings.

Tapering off. The final five hitters in the Angels' lineup were not part of the offense. Hank Conger had a long at-bat before striking out in the sixth, but that was a rarity. The Nos. 5-9 hitters combined to go 0-for-20 with five strikeouts.

Expedience. The Angels haven't been in a hurry to get anything done this year. Saturday was their 11th extra-inning game out of 47 games. That's a pace for 38, which would set a major-league record. The Boston Red Sox proudly boast the record now. They played in 31.