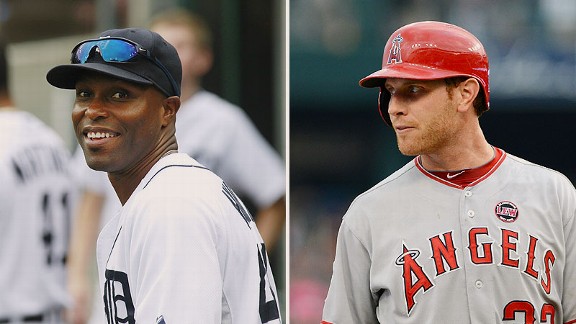 AP Photo, Getty Images
Josh Hamilton's contract will be tough to live up to, while Torii Hunter's could end up being a bargain
Just like they did in the offseason before 2012, the Los Angeles Angels made a big-name splash for this season by signing Josh Hamilton. In what turned out to be a corresponding move, fan favorite Torii Hunter was allowed to walk. Hunter voiced his displeasure, tweeting in December, "I was told money was tight but I guess the Arte had money hidden under a Mattress. Business is business but don't lie." As unhappy as Hunter was then, it is the Angels that have been left wanting. Let's compare the two outfielders head-to-head.
Defensive Runs Saved
Last 4 Seasons
Defense
At one point Hamilton was a well-above average outfielder. In his MVP season in 2010, Baseball Info Solutions calculated Hamilton's Defensive Runs Saved (DRS) at +11. This season Hamilton has cost the Angels seven runs in the field. The warning signs were there though, as he cost the Texas Rangers nine runs last season.
Hunter has been equally below average in the field this year (-7 DRS), coming off a 2012 campaign in which the nine-time Gold Glover saved 15 runs for the Angels. So despite Hunter having a better overall track record in the outfield, this category is a wash in 2013.
Offense
At the plate is where Hunter has really outperformed Hamilton, hitting nearly 100 points higher. Hamilton has a home run edge 16 to 12, but from a slugging percentage it's not even close with Hunter at .472 and Hamilton at .397.
For Hamilton, the offensive woes have been even more magnified with runners are in scoring position, hitting .163 with just four extra-base hits. Hunter is hitting .313 in these situations.
Overall from an offensive WAR perspective, Hunter has been worth two more wins this season (2.3 to 0.3).
Contract
The most unbalanced numbers actually are in the two players' contracts. Hunter signed a two-year deal with Detroit worth $26 million total. Hamilton's deal is for $99 million more than that and takes him through the 2017 season. In the last two seasons of the deal, Hamilton will make over $32 million each season. That's a tough pill to swallow for the Angels given the slugger has been replacement level in the first year of the deal.
With the monetary value of a win roughly $5 million, Hamilton would have to be a 5 WAR player per season over the remainder of his contract. Hunter, at 2.3 WAR is on pace to outperform his contract this season.