Los Angeles Angels:

Trevor Bell
March, 4, 2012
3/04/12
10:55
AM PT
A hamstring injury to the presumptive fifth starter, Jerome Williams, could open the door for another pitcher in camp, Angels manager Mike Scioscia said Sunday.

Earlier, Scioscia said Williams would have plenty of time to get ready for the season. The team won't need a fifth starter until April 15. Doctors told Williams not to exert himself for at least two weeks, meaning he wouldn't start his throwing program until around March 18.

If Williams begins the season on the disabled list, rookie Garrett Richards is the most likely candidate to replace him, but Brad Mills, Eric Hurley and Trevor Bell are all in the mix as well.

"We're hopeful that [Williams] will still be in contention for that fifth starter spot when it comes around, but we're not sure right now until this injury starts to progress," Scioscia said. "Hamstring's are funny and hopefully it'll progress and get to where it needs to be."
March, 3, 2012
3/03/12
11:33
AM PT
Angels right-hander Jerome Williams could miss a couple of weeks of camp with a strained left hamstring and still win the team's fifth-starter job, Angels manager Mike Scioscia said Saturday.

Williams injured himself during a drill Friday and was examined by team orthopedist Lewis Yocum Saturday, who determined that Williams will require roughly two weeks of "limited activity."

"There will be a window for him to catch up," Scioscia said.

The Angels, who have an open date on April 10, won't use a fifth starter until an April 15 game at Yankee Stadium, Scioscia said, giving Williams an extra nine days to get his arm ready for his season debut.

Williams went 4-0 with a 3.68 earned run average in 10 games, six of them starts, after an August promotion to the Angels last season. Rookie Garrett Richards, right-handers Trevor Bell and Eric Hurley and lefty Brad Mills also are competing to be the fifth starter.
February, 13, 2012
2/13/12
4:00
PM PT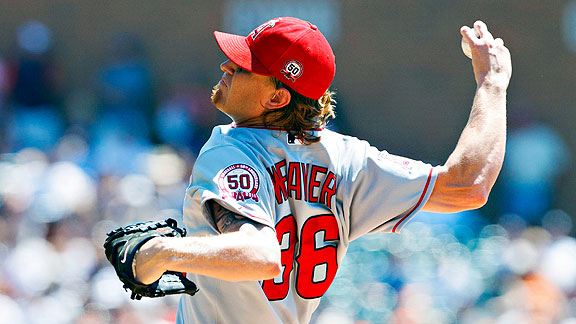 Rick Osentoski/US Presswire
In his AL West position rankings, ESPN's Sweet Spot blogger
David Schoenfield
gave the Angels the nod for the best No. 2 starter, the best No. 3 starter and the best No. 4 starter. They almost got No. 1, but
Felix Hernandez
edged out
Jered Weaver
.
Yeah, things are looking pretty good for 2012. But let's delve a little more closely into each pitcher on this Angels staff to see what could go right, what could go wrong and what we think will happen:
Jered Weaver
Best-case scenario:
Fifth in Cy Young balloting, followed by second in Cy Young balloting followed by ... Get my drift? After two successive seasons of cementing himself as one of the elite pitchers in the game and starting the All-Star game last year, one more step forward could put Weaver on top of the heap. His strikeouts were down a tick, but he produced a career-best 235 2/3 innings and 2.41 ERA. If this trajectory holds, he'll give the Angels a staff leader who can reliably lead them where they want to go.
Worst-case scenario:
Weaver's average fastball velocity last year was 89.1 mph, the lowest of his career. He picked up the slack by featuring his excellent changeup and slider more often, but it could be that the mounting innings have taken their toll on his arm. He has an ideal pitcher's body, tall and whiplike, but he's not the bulkiest guy (6-foot-7, 215 pounds). He's had some back issues and you wonder what's around the corner. An injury of any length could be a mortal blow to the Angels' playoff push.
Prediction:
I expect Weaver to tail off a bit from two Cy Young-contending seasons, but his competitiveness and stuff make him a reliable staff ace.
Dan Haren
Best-case scenario:
What's not to like? He never misses a start, gives you 230 innings a year and doesn't walk anybody. It seems like a solid foundation for one of the most consistent pitchers in the game. Nothing about last season's numbers (3.17 ERA, 1.024 WHIP) suggest they're a fluke, mostly because he does it every year (with the exception of a poor first half on a lousy Arizona team in 2010). He's as bankable as they come and only slotted No. 2 because he pitches on a staff with Weaver.
Worst-case scenario:
I won't even mention the possibility of injury, because Haren is as close to indestructible as any pitcher alive. But there was a pronounced shift in his pitching style last year due in part to some bouts where he lost touch with his strikeout pitch, the split-finger fastball. Haren threw his cutter nearly 48 percent of the time last year, by fast the highest percentage of his career while, at times, abandoning the splitter. His 7.3 strikeouts-per-nine innings were the lowest since 2006. Is he, at 31, turning into more of a middle-rotation innings eater than a true ace? Not yet, but that would be the concern.
Prediction:
Death, taxes and Dan Haren's 200-plus strong innings. Seems like as close to a sure thing as you can find among pitchers.
August, 16, 2011
8/16/11
10:19
PM PT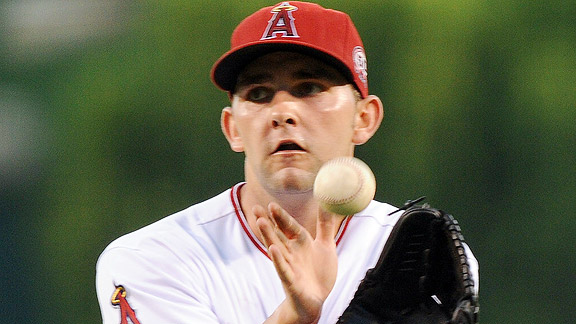 Harry How/Getty ImagesTyler Chatwood had his shortest outing of the season Tuesday in a loss to the Rangers.
ANAHEIM -- So far, the showdown for the AL West has been more like a slapdown.
The Texas Rangers pounded the Angels 7-3 Tuesday and they've now scored 15 runs in the first two games of this series, grinding through the Angels' bullpen. Rookie
Tyler Chatwood
lasted just two innings Tuesday, a day after
Garrett Richards'
injury forced him out in the first.
The Rangers' No. 5 starter,
Derek Holland,
dominated the Angels until he grew weary in in ninth inning. The Angels now trail Texas by six games with two games left in this series.
The Good:
Arrival gate. Trevor Bell
and
Horacio Ramirez
had to get up at the crack of dawn to fly from Salt Lake City to Orange County after they were promoted to give the Angels some fresh arms, but they stayed alert enough to do the job. They combined for what would have been a decent start -- five innings, two runs -- if it weren't mop-up work.
Torii's health. Torii Hunter
won't say it, because he's old-school and it's considered bad form to blame injuries for poor performance. But you can tell his legs weren't entirely sound in the first half because of the way he's running now. He extended his hitting streak to 14 games with two hits, one driving in a run, and he made a diving catch to take a double away from
Nelson Cruz
.
Top option. Mike Scioscia
has never had a true leadoff guy this year and his options have been dwindling lately with
Erick Aybar
in a major rut. Maybe
Peter Bourjos
is becoming that guy? He was batting .175 in the leadoff spot entering Tuesday, but he singled in his first two at-bats and drove in the Angels' first run.
The Bad:
Chatwood's aim.
It's a shaky feeling to have a rookie starting a big game. Chatwood reverted to some bad habits -- falling behind in counts and walking batters -- as he allowed five runs in two innings. It was his shortest start of the season and broke up a roll of fairly solid outings. The Angels took a risk having the back end of their rotation open this series and it has backfired.
Big kid.
A lot of people clamored for
Mark Trumbo
to move up in the lineup. He is, after all, leading the Angels in home runs and RBIs. But so far, his shift northward hasn't worked out well. Trumbo is batting just .200 in the No. 5 spot, including his RBI double in the ninth that glanced off
Michael Young's
glove.
The alternative.
A little patience with Trumbo might be in order, as the guy who was batting in the five-hole,
Vernon Wells
is hitting .203 for the season and is actually having his worst month (.149) in a season full of bad ones. Wells has gone hitless in six of his last 10 starts.
August, 3, 2011
8/03/11
11:06
PM PT
The Angels are on the verge of trying to fix the one-fifth of their pitching rotation that is broken.
[+] Enlarge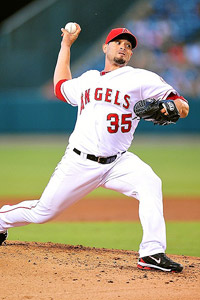 Gary A. Vasquez/US PresswireIn Joel Pineiro's last four starts he has posted a 14.85 ERA and has struck out a grand total of two batters.
While starting pitching has kept the Angels in the thick of the AL West race, No. 4 starter
Joel Pineiro
has stumbled into the deepest rut since he reinvented himself as a sinkerball pitcher three seasons ago. After watching Pineiro struggle yet again in an 11-4 loss to the Minnesota Twins Wednesday night, manager
Mike Scioscia
said virtually every solution is on the table.
Pineiro could head to the disabled list (though he insists he's healthy). He could be shuffled off to the bullpen until he figures out why his sinker isn't sinking.
But it sounds like his days in the rotation are numbered... and that number might be zero.
"The ball absolutely is not coming out of his hand the way we know it can, so we're going to look into some things tomorrow" Scioscia said.
Among the options Scioscia confirmed are on the table for the Angels' rotation: reliever
Hisanori Takahashi
, who was an ace starting pitcher in Japan a few years ago and filled that role at times for the New York Mets; top pitching prospect
Garrett Richards
, who is 12-1 with a 3.04 ERA at Double-A Arkansas; Triple-A pitcher
Trevor Bell
, who has been up and down for the Angels the past two seasons; and Pineiro.
Meanwhile, Pineiro is at a loss for why his ERA is 14.85 his past four starts and he has allowed five home runs. He called his recent results, "embarrassing."
"I've tried everything I can," Pineiro said. "Honestly, the next thing I can do is to sacrifice a live chicken. There's no excuse. I wish I knew what was going on."
Asked if he would prefer to work through his issues as a member of the Angels' rotation, Pineiro's pride seemed to puff up. He seemed to hint that the Angels might be looking to trade him, which isn't entirely absurd since he'll be a free agent following this season and he makes the kind of money ($8 million) that might allow him to clear waivers.
"I know I'll be pitching somewhere, I know that for sure," Pineiro said. "I don't know their plans, what they have in mind, but I'll be pitching somewhere because I know I'm healthy."
May, 5, 2011
5/05/11
12:22
PM PT
Trevor Bell started walking toward the dugout after Kevin Youkilis sent a ball screaming toward the top of the Green Monster in the bottom of the 12th inning. He figured the ball was gone or that Marco Scutaro would score from first base even if it hit the wall.

But Vernon Wells played the ball cleanly on the carom and he and Erick Aybar both made crisp throws to get Scutaro at the plate fairly easily. Bell had to play it cool at that point.

"My first step was toward the dugout," Bell said. "I kind of saw it wasn't going to go out, so I started backing up toward the plate."

Bell is always on shaky grounds when he's on the Angels' roster, in jeopardy of being sent down to Triple-A any time the Angels need a fresh arm -- and Michael Kohn has been pitching well at Salt Lake -- so he was excited about his strong effort in the Angels' marathon game that started Wednesday night. Bell pitched four scoreless innings and got his first relief victory in nearly a year.

"There's always a small window for everybody," Bell said. "I love the bullpen, I love starting, so hopefully that kind of opens up a door to keep a spot either way."
April, 9, 2011
4/09/11
6:56
PM PT
ANAHEIM, Calif. – All signs point to the Los Angeles Angels promoting their top pitching prospect, 21-year-old right-hander Tyler Chatwood, to make his major-league debut Tuesday against the Cleveland Indians.

Chatwood was pulled from his season debut for Triple-A Salt Lake after just one inning and 18 pitches Saturday. The Angels' second-round pick in 2008, Chatwood went 4-6 with a 3.82 ERA for Double-A Arkansas last year.

Just 6 feet and 185 pounds, Chatwood can nonetheless touch 97 mph with his fastball, according to scouting reports. He had 109 strikeouts in 155 1/3 innings combined at three minor-league levels last season. He was listed as the No. 76 prospect in the game by Baseball America.

The Angels are in need of starting pitching with both Joel Pineiro and Scott Kazmir on the 15-day disabled list. They were debating between Chatwood, Trevor Bell and reliever Hisanori Takahashi to make Tuesday's start.

Bell pitched three innings and threw 44 pitches Saturday before Salt Lake's game was delayed by snow, so he appears to be out of the running.

"It will be in-house," Angels manager Mike Scioscia said.

Chatwood's short outing Saturday was the equivalent of a between-starts bullpen session. He was 1-0 with a 7.36 ERA in 11 innings this spring. If Chatwood pitches Tuesday, he would be the first 21-year old to pitch for the Angels since Nick Adenhart in May of 2008.
February, 24, 2011
2/24/11
10:11
AM PT
• Catching prospect Anel De Los Santos injured his thumb during a drill Wednesday and is scheduled to undergo X-rays Thursday. It's the first appreciable injury of camp nearly two weeks in. De Los Santos, 21, was out until July 17 last year, then batted .225 in 20 games for Double-A Arkansas.

• The Angels will use Trevor Bell to start Saturday's Cactus League opener against Hiroki Kuroda and the Dodgers. Barring an injury to one of the Angels' pitchers, Bell likely will start the season in the rotation at Triple-A Salt Lake.

• The Angels signed catcher Cole Armstrong, but he will report to the minor-league spring complex. Armstrong, a native of British Columbia, batted .276 at Double-A for the Chicago White Sox last year.