Los Angeles Angels:

Tyler Skaggs
August, 1, 2014
Aug 1
9:42
AM PT
By
Kenton Wong
| ESPN Stats & Information
AP Photo/Mark J. TerrillRookie Matt Shoemaker has defied the odds to claim a spot in the Angels' rotation.
The
Los Angeles Angels
were dealt a potentially big blow Thursday night when southpaw
Tyler Skaggs
had to leave his no-hit bid in the fifth inning with an apparent injury to his pitching arm. If Skaggs lands on the disabled list, the timing should work out as
C.J. Wilson
is set to come off the DL Saturday.
Meanwhile, Friday starter
Matt Shoemaker
will remain in the Angels' rotation for the foreseeable future.
The rookie right-hander has been solid since transitioning from long relief to the rotation. His one major hiccup came when he gave up 11 hits and eight earned runs in his last start of June in Kansas City.
Diamond in the rough
Unlike his rotation mates, Shoemaker wasn't drafted at all, let alone in the first five rounds like Wilson, Skaggs,
Garrett Richards
and
Jered Weaver
. The Angels signed him as a free agent in 2008.
By 2011, the Eastern Michigan grad was the star of the double-A affiliate in Arkansas, throwing five complete games en route to being named Texas League player of the year.
Shoemaker struggled in two-plus seasons at Triple-A in the Pacific Coast League, but has actually pitched better from an ERA standpoint at the big league level.
He's also an extreme bargain at $500,500 this season.
Albert Pujols
makes that in three-and-a-half games. The Angels are paying
Joe Blanton
$7 million more than that NOT to pitch.
With all the big contracts on the team, Shoemaker's contributions this season have been a god-send.
Killer change
The righty has always flashed solid strikeout rates throughout the minor leagues (7.4 K/9 IP), but he has strangely been able to boost that at the big league level (9.1 K/9 IP).
This season, 12 percent of Shoemaker's pitches have resulted in a swing-and-miss. That ranks 11th among all MLB starters, just ahead of the likes of
Zack Greinke
,
David Price
and
Yu Darvish
.
The main pitch behind Shoemaker's success is his changeup. Opponents are hitting just .135 against it, swinging and missing a ridiculous 27 percent of the time. That's the second-best rate in baseball.
Of his 77 strikeouts on the season, 48 have come on changeups (62 percent).
July, 22, 2014
Jul 22
1:48
AM PT
By
Christina Kahrl
| ESPNLosAngeles.com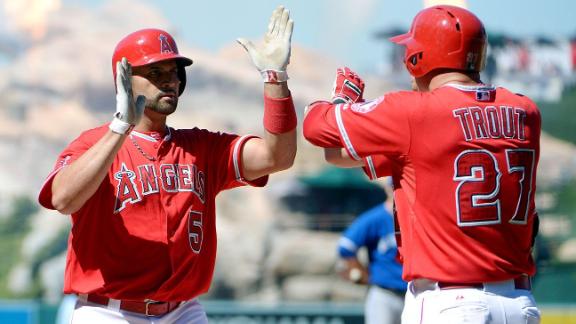 The Angels are the second-best team in baseball. Win or lose going into Monday night's game against the AL East-leading Orioles, they were going to be the second-best team in baseball after the fact. They lost, missing the chance to move within a game of the A's in the AL West race. But it's July and there's still plenty of time, so there's no reason to sweat, right?
Certainly not, at least not if you look at the big picture and the projection models at
FanGraphs
or
Baseball Prospectus
, which say the Angels have a 98 or 99 percent shot at the playoffs. Slam-dunk sure thing? Sounds like it.
But there's a problem with that: It doesn't mean all that much in the era of the one-game play-in wild-card "round." The Angels' shot at winning the AL West is calculated as much less of a sure thing, from
the 20 percent range according to analyst Clay Davenport
, to the 30s for FanGraphs, or the 40s for Baseball Prospectus. These are roughly the same as the chances of the Blue Jays coming back to win the AL East and then also not having to sweat a one-or-done scenario despite probably being 10 games worse than the Angels at season's end. Saying the Angels' shot at playing their way into the one-game coin-toss of the wild card is around 60 or 70 percent is like saying their chance of their season ending a day or two after the regular season is still astonishingly likely.
[+] Enlarge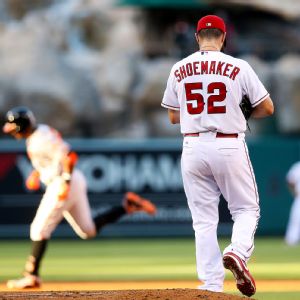 Stephen Dunn/Getty ImagesMatt Shoemaker's loss was the latest tough start for the Angels' non-Richards rotation regulars.
Unless they beat the A's and win the West. Unless they make their math problem now into Oakland's math problem tomorrow. That's their challenge, and losing games like Monday's will only make it harder.
To pull this off in the long weeks to come, they're going to have to find a happier answer in their rotation than the ones they've found so far. While the trades for
Jason Grilli
and
Huston Street
may have shored up their bullpen, there's the larger problem of how good their rotation really is outside of newly minted ace and All-Star
Garrett Richards
. Assuming that
Jered Weaver
's back is sound all the way down the stretch, he hasn't overpowered strong teams' lineups, seeing his OPS jump 50 points and his WHIP increase by 0.3 facing teams that are .500 or better; unsurprisingly, his FIP is 4.12, which suggests sturdy mediocrity, not the ace he once was.
C.J. Wilson
won't be back from his DL stint for a sprained ankle until after the trade deadline; even if he's sound, his 4.29 FIP doesn't suggest he's a solid No. 2, either. And the back-end trio of
Hector Santiago
,
Tyler Skaggs
and
Matt Shoemaker
have put together just 15 quality starts in their 38 turns.
To catch the A's, the Angels are going to need not just one guy but several guys to step up down the stretch. Not just because you can't count on a league-best offense to crank out five or more runs every night, but because the Angels need to have somebody else besides Richards to use in those potentially scary end-of-year situations. What if Richards has to pitch in the last weekend series against the Mariners but the Angels don't catch the A's then? What if they have to play a tiebreaker? Who pitches the wild-card game? Where does that leave them in the ALDS? They'll need some of the non-Richards starters to step up, not just to keep up with the A's and their shored-up rotation, but to be able to win October games when they don't put five or six runs on the scoreboard.
That was why Shoemaker's start against Baltimore was a little more important than just another late-July turn. Barring a trade, somebody is going to be bumped once Wilson comes back from the DL. Even on a night when he struck out a career-high 10 batters, seeing Shoemaker get beaten deep twice by
Adam Jones
was the sort of thing that won't keep the rookie ahead of Skaggs or Santiago, not that either of them is owning his slot.
To be sure, the Angels should be grateful things are this close. Thanks in large part to early-season bullpen problems of their own, the A's are four games worse than you'd project from their runs scored and allowed, which is a big part of the reason they are within striking range for the Angels, even after Oakland went 20-10 in its past 30 games. All it took was the Angels going 22-8 in their past 30 before Monday, no easy thing to do with a rotation that may struggle to match the A's made-over,
Jeff Samardzija
-enhanced rotation in the last 60 games.
If Wilson or Weaver, Shoemaker or Skaggs steps up, things will be that much more interesting all the way down to the wire. If not, the Angels may be one of those great teams that, like the 1993 Giants, wind up getting to brag about how great they were without getting much of an opportunity to prove it come October. Those Giants were caught from behind by the Braves, San Francisco winning 103 games for the second-best record in baseball … and no October invite. The Halos have to hope they'll earn something more than one game better than that -- but more than hoping for it, they'll have to do it.
Christina Kahrl writes about MLB for ESPN. You can follow her on Twitter.
April, 10, 2014
Apr 10
11:47
PM PT
By
Kenton Wong
| ESPN Stats & Information
AP Photo/Pat SullivanTyler Skaggs was dominant in his Angels debut last weekend.
Has
Tyler Skaggs
finally returned home for good?
The left-hander was originally a sandwich pick by the
Los Angeles Angels
in the 2009 draft, but when the team had a chance to pick up
Dan Haren
a year later, Skaggs ended up going to the
Arizona Diamondbacks
as the player to be named later.
Fast forward to this past offseason, the Angels were able to bring Skaggs back as part of the package for
Mark Trumbo
.
Despite all the transactions, Skaggs -- who was born in Woodland Hills and attended Santa Monica High School -- won't turn 23 until mid-July.
Skaggs was Keith Law's
12th-best prospect
entering last season. At that point in his career he had a 2.98 ERA in nearly 400 minor league innings, while averaging over a strikeout per inning.
But in 13 career starts at the big-league level with the Diamondbacks, Skaggs had just a 5.43 ERA.
Stepping up his game
Last week Skaggs held the
Houston Astros
to four hits and walk in eight innings, giving up only an unearned run. His 2014 debut is obviously an incredibly small sample size, but there are some big differences aside from the end result that justify Law in naming him as one of his
10 breakout picks
for this season.
In two partial seasons with Arizona, Skaggs' fastball averaged 89 mph. In his start this year he averaged 92, while topping out at 95. Not only did he pitch with increased velocity, his control was improved as 58 percent of his pitches ended up in the strike zone.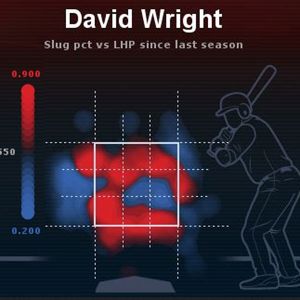 ESPN Stats & Information
One quirk about Skaggs' start against the Astros was that all 29 batters he faced were right-handed. In the previous two seasons, righties hit .263 off Skaggs compared to .216 for lefties.
Friday's matchup vs. Mets
On paper, Friday's matchup against the
New York Mets
is another favorable one for the young lefty. Since the start of last season, the Mets rank 25th in baseball with a .239 BA against lefties.
The key player for Skaggs to be wary of is of course
David Wright
. Since the start of last season, Wright has a 1.072 OPS against left-handed pitching, which ranks third-best in all of baseball behind
Miguel Cabrera
(1.169) and
Andrew McCutchen
(1.118).
March, 31, 2014
Mar 31
8:00
AM PT
The other day, a reporter asked Angels general manager Jerry Dipoto to assign blame for the acquisition of pitcher
Joe Blanton
, the occasion being the Angels' unconditional release of the, ahem, struggling right-hander. Dipoto's answer was refreshing.
"It's a mistake on my part. There's no one else to blame," Dipoto said.
That little bit of accountability had to be music to Angels fans ears. For four long years, a team with three of the most dangerous hitters in baseball, a strong manager and one of the best starting pitchers in the game has been shut out of the playoffs, and the atmosphere in Anaheim has been a bit more drab with each passing season.
It should be noted, by the way, that owner Arte Moreno didn't do Dipoto any favors in recent seasons by jumping in on the big-splash signings of
Albert Pujols
and
Josh Hamilton
, leaving Dipoto scant resources to build a pitching staff.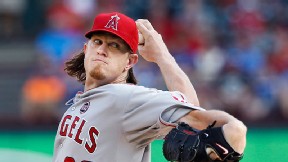 AP Photo/Jim CowsertJered Weaver still has the deception, movement and savvy to serve as a legitimate No. 1 starter.
Perhaps Angels fans didn't realize how spoiled they had become by the team's run of excellence under Mike Scioscia from 2002 to 2009, a stretch that included a World Series title, three trips to the ALCS and six trips to the postseason.
Did the release of Blanton and Dipoto's frankness signal a new era for Orange County's baseball team?
The Angels' offseason makeover wasn't all that different from what the Boston Red Sox underwent going into the 2013 season. It was a bit of a reboot, with an emphasis on quality, low-impact moves rather than the big winter meetings splash that winds up weighing the team down.
Dipoto has certainly been making every effort to improve the team's pitching, which -- even more than underperformance and injuries from Pujols and Hamilton -- has been this team's demise. Presuming even a marginal uptick in those two sluggers' production, the Angels look like a team with vast potential to improve. Who wouldn't take a lineup that includes
Mike Trout
, Pujols and Hamilton?
This pitching staff has potential. When
Jered Weaver
first arrived in the major leagues, he could touch 95 mph and, combined with his off-speed pitches and funky delivery, made for one of the more uncomfortable at-bats in baseball. He's different now, with the years of heavy workloads reducing his fastball velocity to the sub-90 range most games. But he's still got the deception, the movement and the savvy to serve as a legitimate No. 1 starter.
October, 28, 2011
10/28/11
11:17
AM PT
Early in the Angels' search for a new general manager, a source with knowledge of the team's thinking said, "It's so obvious they want to hire Jerry Dipoto."

But in the ensuing 10 days, the Angels went through plenty of due diligence. Owner Arte Moreno and team president John Carpino spent a work week in Florida, where they interviewed New York Yankees executives Damon Oppenheimer and Billy Eppler and wooed Tampa Bay Rays executive vice president Andrew Friedman.

The Angels talked to Kim Ng, who would have been the first female GM in any major sport; they contacted Omar Minaya, who had been one of the game's few latino executives.

With free agency approaching and the Baltimore Orioles sniffing around Dipoto, they opted to hire a man whose resume seems to have been written to land him in Anaheim. Like manager Mike Scioscia, most of his coaches and former GM Bill Stoneman, Dipoto is a former major-leaguer. He pitched in relief for three big-league teams between 1993 and 2000.

In keeping with the Angels' emphasis on scouting over statistics, Dipoto's background is player evaluation. But unlike Stoneman or Reagins, Dipoto, 43, is connected to the new generation of GMs, primarily through his ties to ex-Arizona GM Josh Byrnes.

Even if Friedman had been the Angels' top choice, Dipoto might work out better in the long run. Remember when Mike Garrett couldn't convince Mike Riley to coach the USC Trojans in 2000? How'd that Pete Carroll thing work out?

Moreno hasn't made many missteps since he bought the team, but he clearly erred when he promoted Tony Reagins to be GM in 2007. It's not so much that Reagins was the wrong many for the job, but that it was the wrong job for the man. Reagins didn't have the right connections to enter the shark-filled waters with agents and seasoned GMs. He didn't have the experience to creatively administer payroll.

Worse, the Angels set him up to fail by structuring the GM position as a functionary between a powerful manager and a strong-willed owner. Eventually, Moreno simply took over the process of negotiating for free agents. That arrangement made it difficult for the Angels to land premium players because of Moreno's hard-line negotiating tactics.

Dipoto could be the smartest guy in baseball but it won't matter if the Angels don't give him more power than they invested in Reagins. His eclectic background and Moreno's apparent willingness to make sweeping changes suggest Friday's news will usher in a fresh arrangement at Angel Stadium.

The issue isn't Scioscia's meddling in personnel decisions. It's Dipoto's willingness to ignore it if he thinks he sees things from a broader perspective. There are myriad reasons why many GMs often make moves against a manager's wishes -- some financial, some statistical, some baseball-related -- but someone in that position has to have the power and courage to pull it off.

Dipoto won't have long to familiarize himself with his new surroundings. Free agency begins in early November and the Angels have payroll flexibility and needs. Priority No. 1 is a late-inning right-handed reliever. They are expected to look into acquiring a third baseman with some pop. They need to unload at least one veteran bat to make room for the return of Kendrys Morales and, maybe, squeeze in Mike Trout.

By the winter meetings in early December, we'll have a pretty good notion of whether the Angels found the right fit. Early indications are promising.