Los Angeles Angels:

Vladimir Guerrero
July, 9, 2012
7/09/12
11:56
AM PT
Maybe
Mark Trumbo
isn't the dark horse we thought he was for tonight's Home Run Derby. Three of ESPN's baseball experts
picked Trumbo
to win the whole thing.
Only
Jose Bautista
, the AL's leading home run hitter for each of the last 2 1/2 seasons, got more votes.
The word is out on Trumbo's power. The average distance of his home runs, 419.5 feet, ranks first in the majors, according to ESPN Stats and Info, and 11 of his 22 home runs have gone at least 420 feet. That, of course, doesn't include batting practice, which is really what the derby is. Trumbo, according to several Angels who witnessed it, hit a ball out of Dodger Stadium last month.
Trumbo's handicap could be his lack of experience. He has the fewest career home runs of any of the participants, because he also has the least service time. It's not only his first Home Run Derby, it's his first All-Star Game. It's also the first derby of the guy who will be throwing to him,
Mike Ashman
. Nerves could be a factor for everybody.
After the Angels wrapped up the first half with Sunday's 6-0 win over the Baltimore Orioles, Trumbo said he was starting to think about the Derby.
"I'm trying not to get too fired up, because I think that might backfire. ... A lot of 'fires' in there," Trumbo said. "But we'll figure it out when it comes time."
This will be Trumbo's third home run-hitting derby, he figures, including the minor leagues and high school, but I doubt the Orange County Century League contest was televised to millions on ESPN.
"I'm competitive at everything, so if I'm going to enter something and participate, I'm going to try to win it," Trumbo said.
The Angels have a history of doing well when they're invited.
Garrett Anderson
won it in 2003.
Vladimir Guerrero
won it in 2007. But with this kind of thing, there's always the fear of embarrassment:
Troy Glaus
didn't hit any in 2001. Ouch.
Trumbo asked Anderson, now a part-time TV analyst on Angels broadcasts, for his advice.
"He said, 'Treat it like a normal BP, stay in the middle of the field if that's one of your strengths,' " Trumbo said. "And I'd like to think it is. I'm going to try to not get terribly pull-happy and just kind of hit the pitch where it's pitched."
January, 19, 2012
1/19/12
12:24
PM PT
Arguably the greatest all-time Angels hitter still is
without work
and, unless the New York Yankees or Detroit Tigers or some other team searching for a bat comes calling soon,
Vladimir Guerrero
may not have a uniform in 2012.
It's a little sad, isn't it?
Of all the brilliant players I've covered since 1998, including
Barry Bonds
and
Miguel Tejada
,
Johnny Damon
and
Jason Giambi
in their primes, nobody was more fun to watch on a daily basis than Vlad. His style was unique. Everything he did on the baseball field was exciting, usually to his team's benefit, sometimes for the other team.
He got base hits on balls that bounced. Nobody else, at least since
Yogi Berra
, did that. He threw out guys at first base on routine singles to right. Not a lot of guys do that. He hit home runs on curveballs three inches off the plate. Who else does that?
In talking to
Mike Scioscia
last year for a story on all-time Southern California home run hitters, Scioscia gave Vlad the nod over
Mike Piazza
. Scioscia said he had never seen a player swing as violently and yet make such consistently good contact. In the history of baseball, there might not have been a hitter with better hand-eye coordination.
Scioscia had to do a lot of apologizing for Guerrero, too. He routinely airmailed cutoff men. He sometimes made base running blunders that would have made Little League coaches cringe.
And he might be the first player to enter the Hall of Fame as an Angel. It's worth reflecting on as spring training approaches and Guerrero waits at his palatial home overlooking the house he grew up in at a small Dominican village and waits for the phone to ring.
August, 8, 2011
8/08/11
2:57
PM PT
If ever the reverse-lock theory came into play, it was the 2009 American League Division Series.

The Boston Red Sox had tormented the Angels and their fans throughout the teams' playoff histories. It began, famously, in 1986 with a dramatic comeback sparked by Dave Henderson's home run, but it became an epidemic in the last decade.

The Red Sox knocked the Angels out of the playoffs in 2004, 2007 and 2008. So, when the 2009 playoffs began, it seemed as if the Angels were just walking into their yearly October trap. Fenway Park was their chamber of horrors and it started getting scary again when, while holding a 2-0 series lead, the Angels fell behind 5-2 entering the eighth inning of Game Three.

What made things seem more hopeless was the guy sitting in Boston's bullpen. In 17 post-season games, no team had ever managed to score off Jonathan Papelbon.

On this particular October afternoon, though, the Angels were relentless. Papelbon would come within one strike of ending the game three different times and be denied.

The Angels started their rally off Billy Wagner in the eighth, with Juan Rivera smacking a two-run single. But Boston scored an insurance run and Papelbon had a two-run lead entering the ninth. What happened next would send most of the 38,704 fans streaming out of the old stadium with a sense of vintage Fenway despair.

The man in the middle of the rally was Bobby Abreu, who -- after an Erick Aybar single and Chone Figgins walk -- smacked a 1-and-2 pitch for a double off the Green Monster to make it 6-5 Boston. Terry Francona opted to walk Torii Hunter to load the bases and bring up Vladimir Guerrero, who was 1-for-10 lifetime against Papelbon.

Guerrero didn't make hard contact, but he blooped a two-run single to center, the Angels held on in the bottom half of the inning and, just like that, they dragon was dead. For once, it was Boston that had to nurse its wounded pride.

"More than anything, I wasn't able to stop the bleeding," Papelbon said.

Abreu was probably the primary reason the Angels won that series. He batted .556 and walked four times, filling the bases all series long.

"We never surrender. We never give up," Abreu said.

This story is part of an occasional series of Angels Moments which, when it's complete, will -- we hope -- add up to 50. The Angels are celebrating their 50th anniversary this season. These are not intended to be an exhaustive list, but simply an assembly of scenes and anecdotes that are part of the team's colorful past.
August, 1, 2011
8/01/11
3:08
PM PT
If Angels fans were excited when Arte Moreno reduced ticket and beer prices when he bought the team, they were giddy over his next few gifts.

First, in that winter after the 2003 season, came hard-throwing pitcher Kelvim Escobar; then a mercurial but talented outfielder, Jose Guillen; then Bartolo Colon, one of the top free agent pitchers available, and, finally, a superstar outfielder who had played his entire career in the wilderness of Montreal, Vladimir Guerrero.

Moreno's unprecedented outpouring of cash to haul in those marquee names that winter came as a boon to fans who had grown accustomed to a franchise that used to wade gingerly into free agency. Guerrero would win a league MVP trophy in his first season in Anaheim. Colon would win the Cy Young award the following season.

It was a brash first step and it soon paid off. In the first year under Moreno, the Angels drew more than 3 million fans, about 750,000 more than they had attracted in their championship season two years earlier.

Moreno's honeymoon with his fan base would last about two years, before another brash marketing move, renaming the team the Los Angeles Angels, would cause some backlash. It also led to a lengthy court battle with the City of Anaheim that would result in the team being named -- to the delight of comedians and the dismay of geographers -- the Los Angeles Angels of Anaheim.

Moreno may have angered some sectors in Orange County, but he has clearly made the Angels a bigger national brand. He signed a lucrative 10-year broadcasting deal with Fox Sports Net before the 2006 season and, according to Forbes magazine, had more than doubled the value of the franchise by 2006, to around $368 million.

Moreno's teams would reach the playoffs in five of the seven seasons he has owned the club and reach the ALCS in 2005 and 2009, but have yet to win another World Series.

His commitment to fielding competitive teams hasn't wavered. The Angels entered 2011 with the highest payroll in team history, $140 million.
June, 20, 2011
6/20/11
11:29
AM PT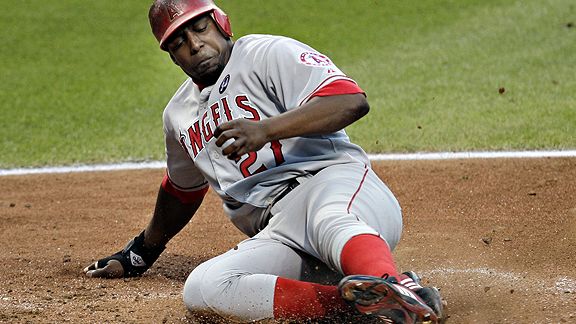 AP Photo/Tony Dejak
Vladimir Guerrero was a cog in the all-.300 lineup the Angels sent out Aug. 18, 2009.
The Angels were halfway through their 5-4 win over the Cleveland Indians when hitting coach
Mickey Hatcher
glanced up at the Progressive Field scoreboard and noticed something unusual. There was a '.3' to the right of everybody's name.
Hatcher sent a clubhouse attendant scurrying to find a camera and take a picture of the scoreboard, a snapshot that has become famous around the Angels -- particularly as they have struggled to score runs the past two seasons.
The date was Aug. 18, 2009, and it was the first time since the pennant-winning 1934 Detroit Tigers of
Hank Greenberg
and
Charlie Gehringer
that a team had gone that deep into a season with a lineup full of .300 hitters (each of whom had at least 200 at-bats).
Angels manager
Mike Scioscia
had had more powerful lineups (eg., 2000, 2004). He'd had faster lineups (most years). But he has never had a deeper lineup since he arrived 12 seasons ago.
That offense "might have been rolling as well as it ever has here," Scioscia told the Orange County Register. In the end, the Angels would set club records in batting average (.285), runs (883), average with runners in scoring position (.297) and hits (1,604). It would steamroll the Boston Red Sox in the playoffs, but then lose to the eventual world-champion New York Yankees in six games.
Since that season, Scioscia and Hatcher have pined for the days when they could post a lineup free of holes. It's not hard to figure out what happened: attrition.
Of the nine guys in that lineup, five have been missing since at least January:
Chone Figgins
(.308 at the time) signed as a free agent with the Seattle Mariners that winter;
Juan Rivera
(.310) and
Mike Napoli
(.300) were traded to the Toronto Blue Jays for
Vernon Wells
five months ago;
Vladimir Guerrero
(.313) moved on to Texas and Baltimore via free agency; and
Kendrys Morales
(.303) broke his leg last May 29.
After the Angels' game Sunday vs. the New York Mets, their lineup featured one .300 hitter:
Howie Kendrick
(.301). It had one guy,
Jeff Mathis
, batting lower than .200 and three, including
Torii Hunter
and Wells, hitting beneath .235. Absent power, the Angels rely on a continual application of offensive pressure, a force they've lacked since the start of 2010.
How long ago that August day in Cleveland now seems.
This story is part of an occasional series of Angels Moments which, when it's complete, will -- we hope -- add up to 50. The Angels are celebrating their 50th anniversary this season. This list is not intended to be exhaustive, but simply an assembly of scenes and anecdotes that are part of the team's colorful past.
June, 13, 2011
6/13/11
2:50
PM PT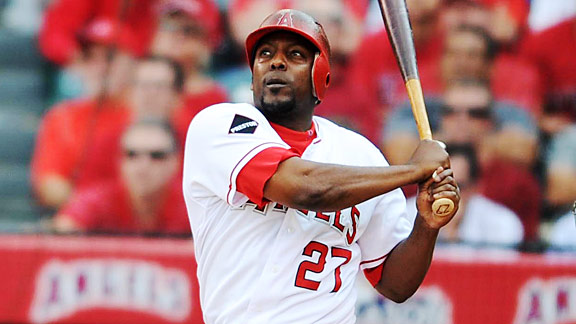 Christopher Hanewinckel / US Presswire
Vladimir Guerrero put up startling numbers in his first season as an Angel.
Vladimir Guerrero's
arrival with the Angels in 2004 wasn't exactly eye-popping. His first few swings in the batting cage in Tempe, Ariz., that spring were "worthy of Mario Mendoza," according to the Los Angeles Times.
That would be the last time such phrases were uttered around Anaheim for the next five years. Guerrero, the centerpiece of owner
Arte Moreno's
$146-million spending spree the previous winter, lived up to all of the Angels' expectations and more. The numbers he put up were startling, particularly by the standards of the anemic 2011 Angels offense.
Guerrero batted .337 with 39 home runs and 126 RBIs to win the MVP easily. He was the first Angel to win the award in 25 years, since
Don Baylor
did it after the 1979 season.
He spent eight seasons with the Montreal Expos, but suddenly, the country knew all about Guerrero's exploits, and he escaped the wide shadow cast by
Barry Bonds
in the National League.
What set Guerrero apart in his prime was his ability to hit just about any pitch anywhere. After seeing him for a few months, fellow Angels hitters marveled at his ability to hit bad balls. He could hit a curveball outside and inches off the plate out of the park for a home run. More than once, he hit a ball that bounced for a base hit. Outfielders played him with their heels practically touching the warning track, so he picked up plenty of bloop hits.
Even his outs were impressive: He once knocked over a second baseman with a line-drive that the guy caught.
That 2004 season, which also signaled the arrivals of
Bartolo Colon
,
Kelvim Escobar
and
Jose Guillen
, was all about Guerrero in his prime. He was 28 (though, his birth certificate later showed, he was actually 29).
It's not as if the rest of Guerrero's stay in Anaheim would be a disappointment. He would finish third in MVP balloting in two of the next three seasons. But in 2004, everything he did was fresh to the Angels, who had barely glimpsed his talents in Montreal.
March, 8, 2010
3/08/10
3:52
PM PT
Vladimir Guerrero said he had nothing to prove in his first game against the Angels since quietly and unceremoniously leaving the franchise he won an MVP award with for the Texas Rangers in the offseason. He didn't play like it though.

Guerrero lined the first pitch he saw from Angels starter Ervin Santana to the right field wall, where it was caught by Terry Evans. Then in the fourth inning, he hustled from first base to home to score on Ian Kinsler's double to the left field wall.

Asked afterward how the new Rangers' designated hitter looked, Angels manager Mike Scioscia smiled. "He looked great. He really ran well, he looks like he's in great shape.

"With us last year, he kind of got behind. First with his knee [surgery], then he pulled his calf. It was like he was swimming upstream for a long time. But when he's healthy, he's still got it.

"His bat speed is still there. It's just a matter of him staying healthy, especially in his lower half.''

-- Ramona Shelburne