April, 17, 2014
Apr 17
11:11
PM PT
April, 17, 2014
Apr 17
5:08
PM PT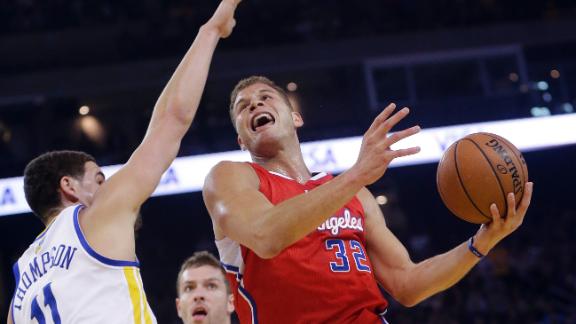 PLAYA VISTA, Calif. -- Yes, Blake Griffin heard that Golden State Warriors guard Klay Thompson called him "a bull in a china shop," adding to the familiar narrative that the All-Star forward plays a bit "out of control" for some people's tastes.
No, Griffin will not punch back after the first volley in what promises to be a contentious first-round series between the Pacific Division rivals.
"Yeah, I heard about it," Griffin said Thursday before the Clippers' practice.
"This isn't my thing. I play basketball. I don't want to get into back and forth. I think we're ready to play, and it sounds like they are, too."
The normally buttoned-up Thompson made his comments in a radio interview Wednesday, setting an aggressive tone for the Warriors in this series.
"He is a good guy off the court but he probably just ... I mean ... plays pretty physical and flops a little bit," Thompson told "The Wheelhouse" on 95.7 The Game radio in San Francisco.
"He flairs his arm around so, you know, you might catch a random elbow or something that doesn't, you know, rub off too well on guys. He's kind of like a bull in a china shop, kind of out of control sometimes. And then you do just see him flop sometimes, like how can a guy that big and strong flop that much.
"I can see how that gets under people's skin and be frustrating to play against."
Griffin sat out the Clippers' regular-season finale Wednesday against Portland after being suspended by the NBA for picking up his 16th technical foul Tuesday.
This kind of talk is nothing new for Griffin. His aggressive, physical style and highlight-reel dunks often elicit negative reactions from opponents.
April, 17, 2014
Apr 17
4:01
PM PT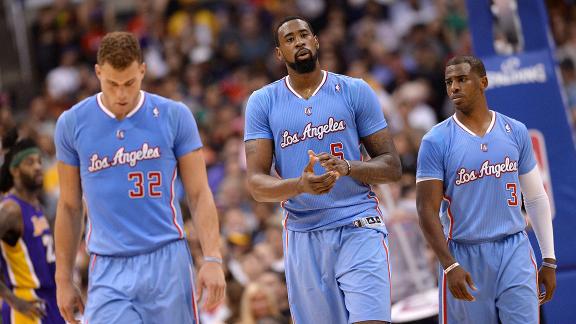 J.A. Adande and Israel Gutierrez discuss the most intriguing matchups in the opening round of the NBA playoffs.
---
J.A. Adande: How excited am I for the playoffs? I'm even fired up to watch the Eastern Conference. Yeah, the much-maligned Leastern conference. It turned out that seven of the eight teams have winning records, so it's not as littered with sub-.500 squads as we thought it would be.
What it does have is a ton of playoff newcomers. Seventeen rotation players (by my count) are making their playoff debut in the East, including the Washington Wizards backcourt of John Wall and Bradley Beal. I won't hold them to the 36-point, 11-assist standard set by Derrick Rose in his first playoff game, but that does show the ceiling, and it speaks to the wild nature of these playoffs.
Be prepared for something you weren't prepared for. Don't take it for granted, for example, that we will see the Indiana Pacers and Miami Heat in the Eastern Conference finals. How do you see these playoffs? Turmoil, or chalk?
Israel Gutierrez: This has nothing to do with the playoffs, but I finally decided to look up the origin of the word "chalk" as it relates to sports -- mildly interesting if you're looking for a brief homework assignment.
April, 17, 2014
Apr 17
11:09
AM PT
ESPN.com news services
Los Angeles Clippers forward Blake Griffin has added his voice to calls for the NBA and other professional sports leagues to investigate allowing players to use medical marijuana as a means to manage pain.
"It doesn't really affect me, but so many guys would probably benefit from it and not take as many painkillers, which have worse long-term effects," Griffin said in an interview with Rolling Stone magazine. "So I would vote yes. I just think it makes sense."
Griffin's comments followed remarks made earlier this month by Bucks center Larry Sanders, who advocated for marijuana's legalization just after it was announced he would be suspended five games by the NBA for using the drug.
"It's a banned substance in my league. But I believe in marijuana and the medical side of it. I know what it is if I'm going to use it," Sanders told the Milwaukee Journal Sentinel at the time. He said he has studied marijuana and knows the benefits.
"In a lot of ways we've been deprived," Sanders said. "You can't really label it with so many other drugs that people can be addicted to and have so many negative effects on your body and your family and your relationships and impairment. This is not the same thing."
Seattle Seahawks coach Pete Carroll said in January that the NFL should look into medicinal marijuana as a means of taking the best possible care of its players.
April, 17, 2014
Apr 17
8:33
AM PT
April, 17, 2014
Apr 17
12:16
AM PT
PORTLAND, Ore. -- As
Matt Barnes
sat in a nearly empty locker room for what turned out to be Wednesday's meaningless regular-season finale against the
Portland Trail Blazers
, he wasn't entirely focused on the opponent at hand as tip-off neared.
"I want to play Golden State," Barnes said. "I think that's everybody's mindset. They've been asking for us and we're on a course to see each other. ... You got to be careful what you want and what you wish for. The good thing is it's going to happen. There's no need to really talk or get into it or get them anymore fired up. The playoffs are here now and this is what everybody has waited eight months for."
[+] Enlarge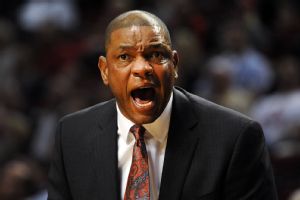 Steve Dykes/USA TODAY SportsDoc Rivers had a simple message for his team after a loss to the Blazers in their regular-season finale: "Now the real basketball begins."
Most of the
Los Angeles Clippers
players and coaches were tracking the
Oklahoma City Thunder
-
Detroit Pistons
game before the start of their game. If the Pistons beat the Thunder, the Clippers would be playing for the No. 2 seed with a rag-tag group that lacked
Chris Paul
,
Blake Griffin
and
J.J. Redick
, who were left back in Los Angeles for various reasons. If the Thunder won, the Clippers would be locked into the No. 3 seed and would play the sixth-seeded
Golden State Warriors
.
While most of the Clippers will say publically they didn't care who they played, the truth is the Clippers wanted to play the Warriors. It's the one team they dislike the most in the league and the one team they most wanted to see in the postseason.
"It's going to be the best first-round series," Barnes said. "It's been a knock-down, drag-out affair for past two years. It's two of the best offenses in the league and two of the most exciting teams in the league. They wanted it and we wanted it, let's do it."
On Wednesday, Portland took a 22-point lead on the Clippers' reserves before L.A. stormed back to take a six-point lead before eventually falling 110-104. None of that mattered to coach Doc Rivers when he entered the locker room after the game and told his players and coaches, "Now the real basketball starts."
Rivers downplayed the rivalry when he was asked about playing the Warriors after the game, but admitted there is something different when the two teams take the court.
"You know what it is? They want to beat us and we want to beat them," Rivers said. "We're in their way and they're in our way and somebody has got to get out of the way. I've been saying it for a while, Portland, us and Oklahoma, we're all the young teams and we're trying to make our day. We're trying to jump up there and we won't want the other ones to do it. It's simple. Is there something there? Who cares? They're in our way and we're in theirs, and at the end of the day somebody's got to move."