November, 21, 2014
Nov 21
1:27
AM PT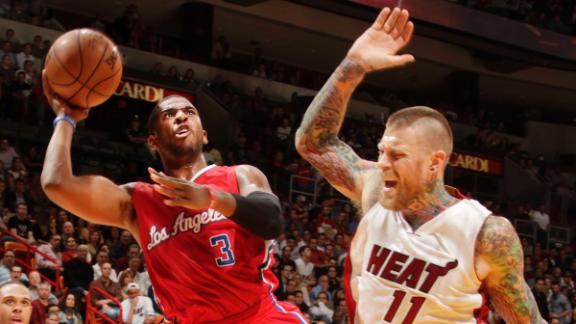 MIAMI -- The season hadn't even reached double figures in games played, yet this early seven-game road trip for the
Los Angeles Clippers
felt very much like a soul-searching voyage.
Not that losses to the
Sacramento Kings
in the season's first week, or to the
Golden State Warriors
,
San Antonio Spurs
and
Chicago Bulls
since then, is anything to be ashamed of.
What has made the Clippers rather confounding is that, despite relatively low roster turnover and a second year under Doc Rivers' watch, they haven't looked like a team benefiting from that continuity. They haven't looked like a team, frankly, that is better than last season's version.
Two games into this road trip, the results would make you believe the Clips are indeed finding themselves. Yet comfortable wins against the
Orlando Magic
and
Miami Heat
on back-to-back nights haven't exactly settled every concern in the town once known as Lob City.
"I don't think we were worried, but at the same time we're not trying to write ourselves as champions," said
Chris Paul
after compiling an effortless 26 points and 12 assists. "It's two games."
This wasn't exactly the Heat team against which the Clippers could truly measure themselves.
Not when
Dwyane Wade
is sitting out his third straight game, or when
Shawne Williams
is still starting because
Josh McRoberts
isn't fully healthy, or when
Luol Deng
remains lost in Miami's offense, or when
Danny Granger
is so rusty he hit the backboard on a wide-open corner 3.
Most importantly, it's difficult for the Clippers to gauge just how effective they really are when the Heat defense was as bad as it has been this season.
Still, it was difficult to ignore just how crisp and natural that Clippers offense played, particularly in a first half that saw them shoot 59.5 percent and lead by as many as 24 points.
[+] Enlarge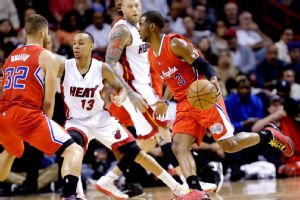 AP Photo/Lynne SladkyChris Paul and the Clippers had little problem dispatching the shorthanded Heat.
Los Angeles finished with 31 assists on 43 made field goals, with perhaps the most stunning statistic of the night being
Jamal Crawford
's 9-to-5 assist-to-point ratio. Crawford couldn't recall the last time that ratio was even 1-to-1.
"I think half-court-wise, we have some killer sets -- some sets we know that if we need a bucket, we're going to them,"
Blake Griffin
said after a 26-point game where he never had to force anything. "And some sets that we run over and over and over until somebody stops it.
"That 'get out and run' is great. We don't want to shy away from it, but at the same time it's not something where if we don't get anything in transition that we're struggling to score still."
Besides not truly knowing if the Clippers' offense was that good or the Heat's defense that bad, the other element of L.A.'s performance that leaves you wanting more is the lack of a running game.
Yes, the Clippers were surgical in the half court, and Thursday's contest didn't require that Griffin & Co. rack up the easy transition buckets (6 fast-break points).
But at this point, the Clippers haven't shown much of that style of game at all.
According to Synergy, Los Angeles is 21st in the league in transition scoring at less than 14 points a game.
Last season, the Clips were second in that category at 22.5 a game.
If you believe we're deep enough into the season to consider that a red flag, there are several available theories to explain that significant drop-off.
It could simply be an early-season malaise for a team with a deep postseason run in the plans. It could be the team's emphasis on establishing its half-court offense under Rivers.
Or it could be the same reason why the Clippers' defense has struggled early: a lack of dynamic ability on the wing.
It's the Clippers' most noticeable void. No offense to
Matt Barnes
, but he's 34 years old, won't consistently force turnovers to ignite a fast break, and doesn't get up the floor as quickly anymore. And behind him, the options don't get any better, with
Hedo Turkoglu
as the next best option.
The point is, Lob City may not have been the formula for a championship. But there has to be a few strolls through Lob Neighborhoods every once in a while if L.A. wants to compete for a title.
Thursday, the Clippers had seven lobs, but most of them were half-court gimmes against an overwhelmed Heat defense.
If Los Angeles is going to succeed against a team like Memphis, which happens to be the next opponent on this Clippers road trip, the fast break has to be more of a prominent element. And it's quite possible the Clippers don't have the necessary pieces at the shooting guard and small forward spots to make that happen.
"You have to have balance," Rivers said. "You're not going to be one or the other. You're not going to win [playing] all half court. You're not going to win [playing] all transition. You better be good at both of them."
The Clippers might want to go ahead and get good at both elements, too, because an early look at the Western Conference says it could be up for grabs. The Spurs are the early clear favorite to make a third straight Finals trip, but past San Antonio, every other team has visible flaws.
The
Grizzlies
don't have enough shooting, the Warriors are turnover-prone and lack interior scoring, and the
Houston Rockets
are weak at power forward and the bench (you can add the
Dallas Mavericks
and
Portland Trail Blazers
to that list if you like, but they remain a notch below contender status at the moment).
That should leave the Clippers as prepared as any team to come out of the West. And yet this group has yet to inspire confidence.
Somehow, Paul has managed to put even more responsibility on himself to make sure his team runs enough to truly reach its potential.
"The biggest thing for us is defending," Paul said. "When we defend like that [against the Heat], even when they were scoring, we were getting the ball out quicker and playing with a faster tempo.
"A lot of that's on me, not to walk the ball up the court and make sure I'm forcing us to play a little bit faster."
The Clippers managed to play fast enough Thursday, even against a Heat team that tends to slow the game down.
But again, how much can you gain from playing an overmatched opponent? Not much.
It won't be until Sunday in Memphis that the Clippers can learn if this road trip is some sort of vision quest, or just confirmation that the early-season inconsistencies are real, long-term concerns.