July, 11, 2014
Jul 11
5:37
PM PT
By
Ian Begley
| ESPNNewYork.com
New York Knicks president Phil Jackson has decided to waive veteran Lamar Odom, citing a lack of professionalism.
"Unfortunately, Lamar was unable to uphold the standards to return as an NBA player," Jackson said in a statement. "We found it necessary to free up the roster spot."
The Knicks also re-signed center Cole Aldrich on Friday night.
Odom's release is the latest setback in the 6-foot-10 forward's career. The Knicks signed Odom on April 16 -- the final day of the regular season -- to a two-year contract, with the second year nonguaranteed.
This gave the Knicks the opportunity to monitor Odom over the summer and decide whether he deserved a roster spot. Clearly, Jackson, who coached Odom for five seasons in Los Angeles, wasn't satisfied with Odom's approach during the trial period.
Odom's last stint in the NBA was in 2012-13 with the Los Angeles Clippers.
The Clippers and Lakers had expressed interest in signing Odom at various points of the 2013-14 season after a tumultuous summer off the floor that included his eventual divorce from reality TV star Khloe Kardashian.
During the 2013 offseason, Odom was arrested on a DUI charge and reportedly dealt with substance-abuse issues.
Aldrich was with the Knicks last season, averaging 2.0 points and 2.8 rebounds in 46 games.
July, 11, 2014
Jul 11
10:05
AM PT
By
D.J. Foster
| Special to ESPN.com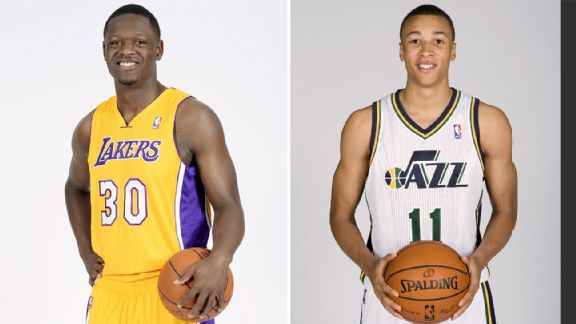 Getty ImagesWelcome to the NBA, rooks. High-profile picks Julius Randle and Dante Exum finally hit the pro stage.
There's something for everyone at Las Vegas Summer League. For all the prized rookies in this year's draft class, it's a chance to get their feet wet. For the prospects who haven't found luck in the league yet, it's an opportunity to jump-start a career. For others, it's simply a shot at getting on the radar.
The following is our annual "back of the envelope" guide to the Las Vegas Summer League teams, highlighting some of the more promising and intriguing prospects who will take the floor. The West guide is below, and the East guide is
here
.
Dallas Mavericks
Gal Mekel:
Perhaps it was a show of confidence in Mekel's abilities that the Mavericks were willing to send both
Jose Calderon
and
Shane Larkin
to New York.
Raymond Felton
may be the worst projected starter at point guard in the league right now, so there's a clear path to playing time for the Israeli point guard. A great summer league could go a long way.
Ricky Ledo:
The mystery is no longer there, but the appeal still will be. Ledo came into Vegas last year without a minute of college or international playing time under his belt, but he's showed glimpses of being a capable wing scorer. He plays with blinders on sometimes and can chuck a bit, but the talent is there.
Ivan Johnson:
He's the only player in Vegas with the distinction of being "banned forever" from the Korean Basketball League, but Johnson can really play despite some dustups over the years. In two seasons for the
Atlanta Hawks
, Johnson averaged a 15.1 PER and was solid on both ends. After playing in China last season, he'd make a nice bodyguard for
Dirk Nowitzki
off the bench.
---
Denver Nuggets
Quincy Miller:
One play he'll look like
Kevin Durant
, the next he'll look like
Austin Daye
. Miller is a 6-foot-10 wing with guard skills and a sweet stroke from deep, but he's a little too slow and a little too soft to really put it all to good use. You'll fall in and out of love with him multiple times over the course of a game.
Gary Harris:
He had one of the more surprising falls on draft night, but the Denver Nuggets were smart to snatch up a young 3-and-D wing for
Arron Afflalo
to mentor. Afflalo, on his second tour in Denver thanks to a pre-draft trade with Orlando, suffered a similar fate on draft night in 2007 despite a strong pedigree, but he turned himself into something much more with his great work ethic. Harris should take notes.
Erick Green:
Last year's second-round pick struggled a bit in Italy last season, and this is still one of the league's deepest rosters. Green has a knack for creating space and finding his own shot, but with Harris and Miller needing to be fed and the Nuggets probably looking for a third point guard, he should focus more on distributing.
---
Golden State Warriors
Travis Bader:
There have been a lot of great shooters in college basketball history, but Bader holds a spot above them all as the NCAA Division I leader in 3-pointers made, with 504. With shooting coming at a premium (here's looking at you,
Jodie Meeks
) in free agency, smart teams may opt for a cheaper, younger specialist like Bader.
Nemanja Nedovic:
Being dubbed the "European Derrick Rose" has been the highlight of Nedovic's career thus far. He couldn't find playing time under Mark Jackson last season, but with Steve Kerr taking over, Nedovic will get a clean slate and a chance to unleash some of the much heralded athleticism.
Rob Loe:
After the Warriors missed out on acquiring
Channing Frye
and shored up the backcourt instead, the big man from Saint Louis might get a long look to fill the Warriors' need for a stretch big man with legitimate size. Although his percentages weren't great in college, Loe's mechanics are literally perfect when he parks himself on the 3-point line.
---
Houston Rockets
Nick Johnson:
Most expected the Rockets to go with an international draft-and-stash candidate in this year's draft to avoid taking on salary, but Daryl Morey and company liked the Arizona guard enough to take the plunge. Early returns have been positive -- Johnson's
nasty throwdown
in Orlando is the early favorite for the dunk of the summer.
Omar Oraby:
Plenty of countries are represented in Vegas every year, but Oraby is looking to become the first player from Egypt to play in the NBA. The USC grad has size on his side (7-foot-2), but he'll need to show he can protect the rim without fouling before warranting any serious consideration.
Isaiah Canaan:
He got a little bit of burn with the Rockets last season, but Canaan was most impressive with the Rio Grande Valley Vipers, the 3-happy D-League affiliate of the big club. Canaan hit a whopping 3.7 3s per game on 38.7 percent shooting with that squad, and after teammate
Troy Daniels
temporarily saved Houston's hide in the playoffs, Canaan could find a role.
---
Los Angeles Clippers
Delonte West:
It's no secret that Doc Rivers has an affinity for veterans and his former players, and West qualifies as both. Since 2010, West has worked for a furniture store, been arrested for carrying guns in a guitar case "Desperado" style, and has played in the D-League, China and the NBA in stints. This would be quite the career revival.
Keith Benson:
The Clippers could probably stand to add some more depth in the frontcourt even after the signing of
Spencer Hawes
, and Benson might fill a need. After seeing what he did with
DeAndre Jordan
, a similar big man in terms of size and athleticism, Rivers may decide to take on another project big man with all the athletic tools and very little polish.
Jon Brockman:
A summer-league tradition like no other. Brockman made his debut way back in 2009, and for years now he's provided dogged offensive rebounding and physical play in the paint in this setting. The proceedings wouldn't feel quite right without him here.
---
Los Angeles Lakers
Julius Randle:
Randle will have a leg up on some of the other post prospects in town, as he'll get a buffet of touches thanks to
Kendall Marshall
. The seventh overall pick should be able to put on a nice show for the always-present Lakers contingency as a magnet for the ball with superior motor and athleticism.
DeAndre Kane:
If you tuned into an Iowa State game last season, it was tough to keep your eyes off Kane. His age (25) and lack of a true position kept him out of the draft, but Kane plays a very similar style to
Lance Stephenson
and can make his impact felt all over the court. He's a serious sleeper.
Kendall Marshall:
Great tweeter, better distributor. Marshall averaged 11 assists per 36 minutes last season for the Lakers, and while some of that is inflated by noted point guard whisperer Mike D'Antoni, Marshall also knocked in 39.9 percent of his shots from beyond the arc. He'll have questions to answer in a new system, but he has staying power.
---
Minnesota Timberwolves
Zach LaVine:
Minnesota is just going to keep acquiring UCLA guys to try and placate
Kevin Love
, apparently, as LaVine is the third Bruin (Shabazz Muhammad, Luc Richard Mbah a Moute) to join the roster in the last year. With a ridiculous 46-inch vertical leap and a stylish flair, the raw singman's dunks should set the internet on fire. Unless there's an up-and-comer out there named Putmeon LaYouTube, La
Vine
is probably the most appropriately named prospect we've ever had.
Shabazz Muhammad:
The Las Vegas native returns for a second run at summer league, this time with a year of NBA experience under his belt. With a new coach in Flip Saunders and a possible youth movement taking place in Minnesota, Muhammad's sturdy under-the-basket post scoring could be an asset. Question is, can he do anything else?
Gorgui Dieng:
One of the lone bright spots in an otherwise lost season, Dieng burst onto the scene late and averaged 12.6 points, 13.2 rebounds and 2.2 blocks per 36 minutes. Although he's stuck behind Love and
Nikola Pekovic
for the time being, Dieng's ability to play out of the high post and protect the rim puts him in pretty exclusive company among fellow big men.
---
New Orleans Pelicans
Josh Howard:
Yes, that Josh Howard. At 34 years old, the former Dallas Mavericks forward is hoping to follow in Rasual Butler's footsteps by performing well in summer league and landing another NBA contract. Injuries have ravaged his career, but given the need in New Orleans for a glue guy at small forward, Howard should get a fair shake if the body is willing.
Russ Smith
: The lightning bug Louisville point guard should perform pretty well here, as he's been blowing by elite opposing point guards for quite some time now. Unlike a few other guards in attendance, the frantic pace Smith played at with Louisville should transfer over nicely.
Patric Young:
The Florida big man is a real grinder, and watching him lock horns with other big bodies in the frontcourt is always a treat. Young has some nice role-player potential behind
Anthony Davis
and
Omer Asik
in New Orleans, even if he's limited offensively.
---
Phoenix Suns
T.J. Warren:
NC State gave him all the possessions he could handle, but it's hard to say how well Warren's high-usage attack will translate to the next level. He's a throwback scorer who lives primarily off the in-between stuff like floaters and below-the-rim finishes, but can he survive as an efficient offensive option without a more reliable jumper and better range?
Alex Len:
It's easy to forget that Phoenix battled for a playoff spot without the fifth pick of the 2013 draft involved, but there's still hope that Len will become the skilled, mobile rim protector the Suns need in the middle. The fight for playing time with
Miles Plumlee
, who isn't on the summer league roster, starts right now.
Tyler Ennis:
Canada can trot out a pretty dangerous Olympic team all of a sudden, can't it? Ennis was a somewhat surprising pick since Phoenix has
Goran Dragic
and
Eric Bledsoe
to run the point, but he has the kind of distributing ability and shake off the dribble that could make him a dangerous player down the line. The point guard rich look like they got richer.
---
Portland Trail Blazers
C.J. McCollum:
If McCollum can stay healthy, it's not hard to imagine him winning a sixth man of the year award in the near future. At the very least he fits the typical profile - a combo guard with the ability to shoot the lights out and create for himself off the dribble. He could be the answer to Portland's bench woes offensively.
Thomas Robinson:
It feels like Robinson should have already moved on from playing in the summer league since he's bounced around so much, but the fifth pick in the 2012 draft is still just 23 years old and raw enough to justify another appearance. He's an elite rebounder, but he needs to bring something else to the table to earn real minutes.
Meyers Leonard:
Do you trust recently signed big man
Chris Kaman
to stay healthy for a full season? Me neither. At some point in the near future, Leonard is going to need to soak up minutes at the 5 for a team with legitimate playoff potential. With that in mind, it would be nice if he didn't float in the background again this summer.
---
Sacramento Kings
Ben McLemore:
It's been a while since an otherwise legitimate prospect has been crippled by tunnel vision this severe. Last year's seventh overall pick seems to be lacking a basic feel for his surroundings, but he's still trouble in transition when he can make straight line drives to the rim. If the jumper starts falling, there's some 3-and-D potential here.
Nik Stauskas:
The problem in Sacramento, as it always seems to be, is that there might not be enough distributors on the roster. We know Stauskas can shoot and shake and bake, but Sacramento may need him to take on more of a creating role, especially if
Darren Collison
: Starting Point Guard, ends up being a real thing.
Sim Bhullar:
Vegas serves as a home for plenty of P.O.U.S (players of unusual size) this time of year, and New Mexico State big man Bhullar is the
biggest of them all
. Don't adjust your screen -- Bhullar is really 7-foot-5 and 360 pounds, and he's a serious threat to crush a cameraman under the basket at some point. If he's going down, I'm yelling timber. Also, I'm so sorry.
---
San Antonio Spurs
Kyle Anderson:
How did the rest of the league let this happen? Allowing a young
Boris Diaw
clone to learn from the real Boris Diaw could have serious consequences for the rest of the league down the line. Yes, Anderson is slower than molasses, but his playmaking, size, ballhandling and intelligence are top notch. This is how the Spurs stay the Spurs.
Deshaun Thomas:
He can get buckets in a hurry. It's a little surprising that Thomas hasn't found a
C.J. Miles
-type role for an NBA team yet, but at 22 years old, there's still plenty of time for that to happen. San Antonio's roster is understandably crowded, but this guy is too good offensively to ignore for much longer.
Vander Blue:
Marquette has a history of pumping out pesky perimeter defenders, and Blue certainly qualifies. If his 3-point stroke finally starts to cooperate, Blue could hold down a steady roster spot. For teams that miss out on
Kent Bazemore
in free agency, Blue should be an option worth considering if his mechanics are cleaned up.
---
Utah Jazz
Dante Exum:
No more chopped up footage from four years ago -- we're finally getting the real thing. The Australian guard and fifth overall pick in this year's draft certainly appears to have all the natural tools you love to have from a lead guard, and he could take on a role in the same vein as someone like Brandon Roy once occupied. That kind of star power is exactly what a franchise like Utah needs.
Trey Burke:
How's the potential backcourt of the future going to co-exist? On paper it seems like a good fit, as both Burke and Exum can swing the ball side-to-side and attack against recovering defenses. This could be the start of a beautiful relationship if the two play off each other instead of simply taking turns, which is always tempting in these types of games.
Rudy Gobert:
After exploding onto the scene last season in Orlando Summer League by showing surprising mobility, good hands and natural shotblocking ability, it's easy to dream on what Gobert might look like with a little more seasoning. Big men typically develop a little slower, but here's hoping he gets unleashed yet again in the Jazz's first ever summer-league appearance in Las Vegas.
D.J. Foster is an NBA contributor for ESPN.com, ClipperBlog and others. Follow him, @fosterdj.
July, 10, 2014
Jul 10
8:47
PM PT
By
Jovan Buha
| Special to ESPNLosAngeles.com
PLAYA VISTA, Calif. -- Doc Rivers feels the Los Angeles Clippers have found the right pieces in the newly acquired Spencer Hawes and Jordan Farmar.
After falling just 49.2 seconds short of winning Game 5 and taking control of their Western Conference semifinals series against the Oklahoma City Thunder, the Clippers president of basketball operations and head coach felt his team needed to keep its core together while adding complementary players around the edges.
"I think we've pushed ourselves closer to where we want to go, hopefully over to that," Rivers said of the Hawes and Farmar, who signed shortly after midnight Thursday and were introduced to the media later in the afternoon. "I thought they were a good fit for the way we play. Shooting is obviously very important to all teams, as you can see with all the signings around the league. I think they both have that."
The Clippers reportedly used their midlevel exception to sign Hawes to a four-year, $23 million deal with a player option in the fourth year, and their biannual exception to sign Farmar to a two-year, $4.2 million deal with a player option in the second year.
"We were sitting upstairs waiting for 'The Decision,' so we were just taking our time to see," Rivers said jokingly after starting the news conference 10 minutes late, referring to LeBron James' pending announcement. "So now that it hasn't happened yet, we'll make one today."
July, 10, 2014
Jul 10
4:17
PM PT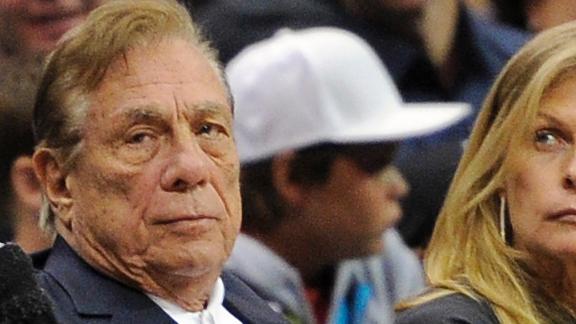 LOS ANGELES -- The fate of the Los Angeles Clippers ownership was delayed in court Thursday and likely won't be decided until the end of the month.
Shelly Sterling's lawyers had requested an expedited hearing so the record $2 billion sale of the team to former Microsoft CEO Steve Ballmer could be approved by the NBA Board of Governors by July 15 and closed by Sept. 15, as outlined in the purchase agreement.
The delay, with Superior Court Judge Michael Levanas putting off the next hearing until July 21 with closing arguments set for July 28, resulted because two of Donald Sterling's lawyers had plans for a vacation and a wedding anniversary.
Before the trial even started, Shelly Sterling's attorneys accused Donald Sterling's attorneys of stall tactics on several occasions.
Thursday's delay, however, likely won't affect the sale of the Clippers if the judge decides Shelly Sterling was within her right to sell the team to Ballmer. There's a provision in the purchase agreement to extend the deadline another month as long as progress is being made, and Ballmer attorney Adam Streisand said he and his client were confident in the eventual result.
If the sale isn't completed by Sept. 15, the league has said it could seize the team and put it up for auction.
With Donald Sterling absent from the courtroom one day after calling his wife a "pig" following her testimony Wednesday, a calm Shelly Sterling said in testimony Thursday that her husband asked her to sell the Clippers when it became apparent the NBA was going to take control of the team and put it up for auction after a June 3 meeting at which other league owners were scheduled to vote on its future.
"I never thought he would sue me for doing something he asked me to do," Shelly Sterling said. "I never thought this would happen."
July, 10, 2014
Jul 10
1:00
PM PT
By
Jovan Buha
| Special to ESPNLosAngeles.com
Two down, at least two more to go.
The
Los Angeles Clippers
addressed a couple of important needs after the free-agency signing moratorium ended Thursday, signing a quality third big man in
Spencer Hawes
and replacing the departed
Darren Collison
with
Jordan Farmar
. Under the assumption that rookie
C.J. Wilcox
will be signed shortly, the roster stands at 11 players; the league's minimum is 13, so at least two more players must be added.
[+] Enlarge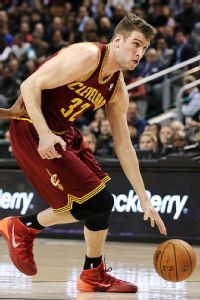 Tom Szczerbowski/USA TODAY SportsSpencer Hawes should be a significant upgrade for the Clippers behind Blake Griffin and DeAndre Jordan.
After shuffling ineffective backups behind
Blake Griffin
and
DeAndre Jordan
for three seasons, Hawes is a considerable upgrade. The Clippers reportedly used their full mid-level exception to sign him to a four-year, $23 million deal, and he's worth every penny if he can come anywhere close to replicating last season's production of 13.2 points on 45.6 percent shooting, 8.3 rebounds, 3.0 assists and 1.2 blocks per game.
Hawes provides value as a stretch-5, knocking down 1.6 3-pointers per game on 41.6 percent shooting last season (45 percent after he was traded to Cleveland). When combining his efficiency with his volume (3.9 attempts per game), Hawes had arguably the best 3-point shooting season by a 7-footer in NBA history. His 41.6-percent 3-point shooting was the best mark among 7-footers who have attempted at least 175 3-pointers in a single season.
Ideally, Hawes' versatility will allow him to back up Jordan and occasionally play alongside him. On offense, he can spot up and spread the floor for Griffin and Jordan to operate inside and step in closer and facilitate from the high post (he posted a 15.8 assist percentage last season). He's a nightmare to defend in pick-and-pop scenarios, forcing defenses to pick between leaving him open to bury a jumper, or leaving
Chris Paul
,
Jamal Crawford
or Farmar to turn the corner and penetrate.
Defensively, Hawes is a minus despite decent shot-blocking skills (1.4 per 36 minutes). He lacks quickness and athleticism, allowing opponents to easily get by him in the pick-and-roll and on closeouts. Opponents shot 53.3 percent at the rim against him, according to NBA.com/Stat's SportVU data, which is below-average for a center. He also ranked 57th out of the 81 qualifying centers in defensive real plus-minus (RPM) last season.
Meanwhile, Farmar was signed to a two-year, $4.2 million deal with the bi-annual exception and will have a player option on his second season, similar to the contract Collison signed last summer. Likewise, if Farmar exceeds expectations, he will probably opt out after next season and seek a long-term deal with better financial security.
Despite their differences in salary and projected roles, Farmar and Collison are relatively comparable players. Both are score-first point guards who thrive when given a sliver of space to attack the rim in isolation, in transition or out of pick-and-rolls. At the same time, neither has a pass-first mindset, which means the offense can suffer through lulls when they're at the helm. Farmar has gotten better at looking for his teammates, but it can still be an issue.
As a result, Farmar will likely occupy a similar role to Collison's last season. He'll guide the second-unit offense and act as a secondary scorer behind Crawford. Head coach Doc Rivers has relied on dual point-guard lineups in recent years, and Farmar is comfortable sliding up to shooting guard, as he did in New Jersey.
July, 9, 2014
Jul 9
11:07
PM PT
LOS ANGELES -- Former New York Knicks coach Mike Woodson will join the Los Angeles Clippers' coaching staff as an assistant, sources confirmed.
Woodson, who coached the Knicks for the better part of the past two seasons and was the coach of the Atlanta Hawks from 2004 to 2012, will join Doc Rivers' staff, which lost three assistant coaches this offseason.
The Clippers lost associate head coach Alvin Gentry, who left for the same position with the Golden State Warriors, and assistant coach Tyrone Lue, who left to become the associate head coach of the Cleveland Cavaliers. Assistant coach Kevin Eastman was promoted to vice president of basketball operations.
Rivers previously said he was looking to replace all three on his staff. Lawrence Frank, who was an assistant coach under Rivers with the Boston Celtics during the 2010-11 season, is a leading candidate to join the Clippers, sources told ESPNLosAngeles.com, as are former Milwaukee Bucks coach Larry Drew and Washington Wizards assistant Sam Cassell.
The Clippers also officially announced the signings of center Spencer Hawes and Jordan Farmar as soon as the NBA's moratorium on deals was lifted late Wednesday night.
July, 9, 2014
Jul 9
5:26
PM PT
Associated Press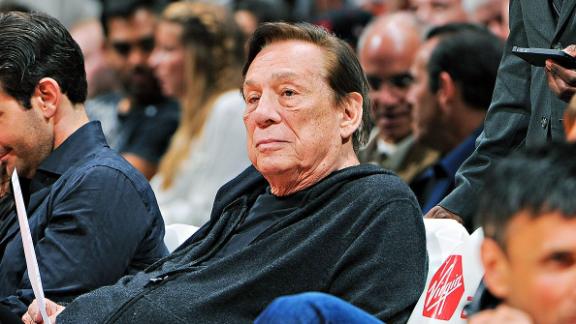 LOS ANGELES -- A raging Donald Sterling denounced his wife, her lawyers and the NBA from the witness stand Wednesday, saying he will never sell the Los Angeles Clippers and vowing a lifetime of lawsuits against the league.
"Make no mistake today," Sterling shouted toward the end of his second day of testimony in the trial to determine his wife's right to make a $2 billion deal to sell the Clippers, "I will never, ever sell this team, and until I die I will be suing the NBA for this terrible violation under antitrust."
He was followed to the stand by wife, Shelly, who tried to approach him in the front row of the courtroom after she was done for the day.
"Get away from me, you pig!" Sterling shouted.
The judge then admonished him to make no further comments.
Sterling began his testimony by saying he loved his wife, but then denounced her. He said she told him to have psychiatric and neurological exams only because he had turned 80, and she was concerned for his health.
"She deceived me. I trusted her," Sterling said. "I never thought a wife wouldn't stand for her husband."
Donald Sterling's lawyers are challenging the authority of Shelly Sterling under the family trust to unilaterally cut a deal for the team with former Microsoft CEO Steve Ballmer.
Before she made the deal, two doctors examined Donald Sterling and declared him mentally incapacitated and unable to act as an administrator of the Sterling Family Trust, which owns the Clippers.
Sterling said he was certain his wife had never read the trust documents because it was too complicated for her to understand.
During examination by his own lawyer, Maxwell Blecher, Sterling was asked about his wife's position in the trust if he were to be disqualified as a trustee.
July, 9, 2014
Jul 9
3:44
PM PT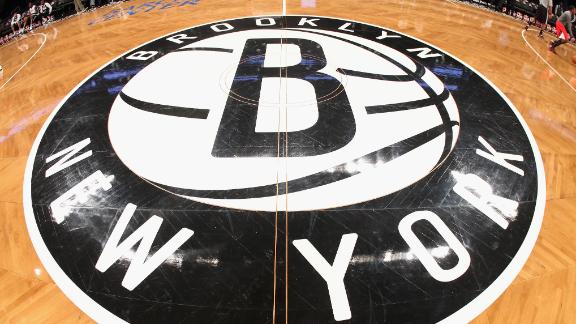 The Brooklyn Nets will pay a record $90.57 million in luxury taxes for the 2013-14 season, sources told ESPN.com.
The NBA released its audit to teams ahead of the start of the new fiscal year at midnight Wednesday and revealed the numbers, including the Nets' penalty for splurging after trading for Paul Pierce and Kevin Garnett last year. In all, the Nets paid more than $197 million in salaries and luxury taxes this past season. Only three other teams had paid more than $90 million in total tax since its inception in 2001.
As part of the memo, the new salary cap was set at $63.065 million, a 7.5 percent increase from last season. That is slightly less than the $63.2 million estimation teams had been using. Revenues were $4.5 billion, up 5.3 percent from last year. The NBA also made an early projection of $66 million for the 2015-16 salary cap.
The new luxury tax line will be $76.8 million, a 7.1 percent increase from last season's $71.7 million. The luxury tax was estimated to increase to $80 million for the 2015-16 season.
Maximum salaries have gone up, as well. The new values are $14.7 for players with 0-6 years of experience, $17.7 for players with 7-9 years experience and $20.6 for players with 10 or more years in the league. LeBron James' max would be $20.6 million under those terms.
Overall, there were five luxury tax payers. The New York Knicks
July, 8, 2014
Jul 8
11:44
PM PT
LOS ANGELES -- Donald Sterling was the same old Donald Sterling on the witness stand Tuesday, which is probably the worst thing that could have happened to Donald Sterling.
Sterling's behavior during his contentious testimony was both entertaining and sad. It drew laughter from the spectators in the sweltering, standing-room-only courtroom and tears from his wife, Shelly Sterling, who was seated behind her attorneys.
[+] Enlarge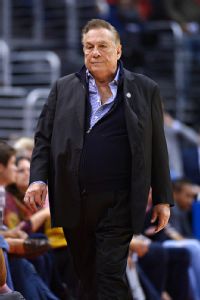 Kirby Lee/USA TODAY SportsDonald Sterling gave contentious testimony in court Tuesday and said he could get as much as $5 billion if he were to sell the Clippers himself.
It was the same Sterling many had seen in the past during his infamous depositions. He was defensive, combative, and at times, confused. He was constantly firing shots at attorney Bert Fields, questioning him and trying to control the proceedings from the moment he took the stand.
For years, it was the kind of behavior that was chalked up to Sterling being an eccentric man with a penchant for saying and doing things he shouldn't. It was a big reason Sterling never did any media interviews until his notorious sit-down with CNN's Anderson Cooper two months ago, during which he went from apologizing for his racist remarks to attacking Magic Johnson.
The problem for Sterling is his behavior is no longer a secret. His racist rants, his outbursts and his inability to remember things he said moments ago are no longer the secret of his inner circle that was guarding him from the public. They are now on display for everyone to see, as Tuesday's testimony reinforced.
While he was on the stand, Sterling repeatedly attacked Fields by calling him a "smart-ass," telling him to "stand up and be a man," saying he was a "weird lawyer" and asking for his name on more than two occasions. Perhaps it was a tactic that worked for Sterling in previous depositions, but with the spotlight on him in a trial largely centering on his mental competence, it wasn't the most opportune time to go off the rails.
July, 8, 2014
Jul 8
6:18
PM PT
[+] Enlarge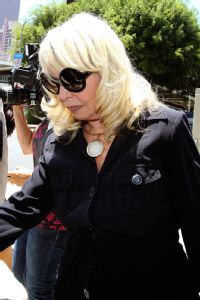 AP Photo/Nick UtShelly Sterling arrives for trial on Tuesday. At one point, she approached husband Donald Sterling and exchanged pleasantries.
LOS ANGELES -- Donald Sterling said Tuesday he believes his wife, Shelly Sterling, is only selling the Los Angeles Clippers because she is "terrified and frightened of this NBA" and that if he were to sell the franchise, he could get $2.5 billion to $5 billion because of a boom in media-rights fees.
"Do you think Microsoft is foolish? Do you think they don't think and wonder where they're going to get the money back?" Sterling asked during a contentious hourlong testimony in a Los Angeles probate court. "There's no ego involved here. There's tremendous opportunity."
At the end of this week's trial, Judge Michael Levanas will decide if Shelly Sterling was authorized to sell the franchise to former Microsoft CEO Steve Ballmer for a record-setting $2 billion on May 29. Her attorneys contend that she followed all of the procedures outlined in the Sterling Family Trust -- which owned the team and the other assets the couple has accumulated in nearly six decades of marriage -- when two neurologists examined her husband and determined he was mentally incapacitated and unfit to conduct his own legal and business affairs.
Donald Sterling and his attorneys dispute that, arguing that the exams were conducted under false pretenses because he was not informed the results could later be used to exclude him as a trustee. His lawyers also argue the doctors violated federal privacy laws by disseminating the results of his exams to attorneys in the case, and that their testimony and findings should not be admissible.
Both doctors testified in the case Monday and Tuesday, but the drama peaked when the 80-year-old owner took the stand.
Sterling failed to appear in court Monday, prompting Shelly Sterling's lead attorney, Pierce O'Donnell, to suggest a bench warrant be issued for him. He arrived Tuesday, wearing a black suit and sunglasses, midway through the testimony of Dr. J. Edward Spar, the man whom he'd left an angry voicemail for on June 9 and threatened to have fired from his job at UCLA for releasing his medical records.
Donald Sterling sat patiently for over an hour in the sweltering courtroom, which was filled to capacity with reporters and curious onlookers. During a recess, Shelly approached him, touched his shoulder and the two exchanged pleasantries.
Donald Sterling was then called to the stand and questioned by legendary entertainment attorney Bert Fields and seemed to relish the opportunity to spar with the man who has a reputation for making even the most powerful men in Hollywood squirm on the witness stand.
Before the questioning began, Judge Levanas permitted the attorneys to take their jackets off and promised there would be fans in the courtroom one day. The 85-year-old Fields removed his jacket. Sterling unbuttoned the top buttons of his shirt. Later he asked for a bottle of water and tissues.
From the beginning, Sterling was combative and defensive. After Fields' first question, Sterling said, "Is that a compound question?"
Levanas intervened.
"I know you're a lawyer and a lawyer likes to control what goes on," the judge told Sterling. "If you don't understand a question, let me know. But don't suggest a question is compound or not compound. It's going to take a long time."
Sterling nodded and said: "I'll observe that, your honor. It's just that he asked me three questions in one, so forgive me, I won't let that happen again."
But at every turn, Sterling sought to spar with Fields, calling him a "smart-ass" and belittling him with responses like, "I'm talking about your questions. I'm sure they'll improve."
While Levanas noted that Sterling's responses were "entertaining" to the raucous courtroom, which laughed amid the chattering of typing on laptops, he continually tried to keep the proceedings moving along. And between the angry rants toward the NBA and the doctors who had examined him, and emotional declarations of love for his wife, Sterling addressed and answered several key issues in the case.
"The only one I trust is my wife," he said. "I love her. She's a good person. If there was a fly in the house, she'd open up 10 windows to let it out."
Sterling said he had initially authorized his wife to negotiate with the NBA to sell the franchise because he believed she would keep a portion of the team. He signed a letter sent to the NBA on May 22 by his lawyer, Douglas Walton, informing them of his decision.
"When I found out what was accurate," Sterling said, regarding Ballmer's pending purchase of 100 percent of the team, "I didn't want to go through with the sale. Why is that so hard for you to understand?"
When the team was sold to Ballmer, Sterling issued a news release through his attorney, Bobby Samini, announcing the apparent transaction. Fields put a copy of that news release on a projector for Sterling to read, then referenced quotes from Sterling in news releases on June 9 and 10 in which he reversed course and would not sell the team, and famously called the NBA "despicable monsters."
Sterling disputed he'd said what was in the news releases, refused to acknowledge that Samini was his lawyer and suggested that the way the statements were represented by the media was distorted. However, he eventually explained that when he consented to the sale, he believed the NBA was dropping its lifetime ban of him and a $2.5 million fine. When he learned that the league was not, he did not want to sell.
Now, Sterling says, he believes Shelly vastly undervalued the franchise when she sold it for $2 billion and will fight in court as long as he has to in order to prove that.
"The reason [I'm fighting] is not because of my dignity or embarrassment," Sterling said. "The reason is that the Lakers
July, 8, 2014
Jul 8
2:40
PM PT
[+] Enlarge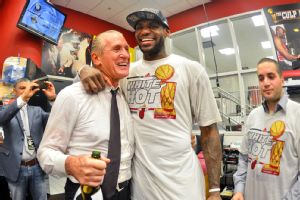 Jesse D. Garrabrant/NBAE/Getty ImagesIf Pat Riley has his way, he will share many more celebrations with LeBron James.
LeBron James and Pat Riley will have their long-awaited face-to-face meeting Wednesday in Las Vegas, according to league sources.
James is in Las Vegas for his annual basketball camp, the LeBron James Skills Academy, and Riley has flown in for the meeting.
Riley, who sold James on leaving Cleveland to join Dwyane Wade and Chris Bosh in Miami four years ago, will try to keep James from leaving the Heat this summer.
In an effort to beef up a Heat roster that James said needs "to improve at every position," Riley reached agreements to sign center/forward Josh McRoberts and forward Danny Granger on Monday.
The meeting with Riley on Wednesday is believed to be the first meeting James has participated in since opting out of the final two years and $42 million of his Heat contract.
James's agent, Rich Paul, met with or spoke with officials from the Mavericks, Rockets, Suns, Cavaliers and Lakers last week, but James was not present.
The four-time MVP told The Associated Press he had "no complaints" when asked how free agency was going on Tuesday.
July, 8, 2014
Jul 8
2:06
PM PT
Associated Press
LAS VEGAS -- LeBron James worked out and had a meeting agenda Tuesday.
In another summer of NBA Free Agent Frenziness, if James knows where he will be playing next season, he still isn't saying.
Asked by The Associated Press how free agency was going when his afternoon meeting agenda was apparently complete, the four-time MVP said "no complaints." He offered a quick greeting, and provided no hints of anything -- including when his next "Decision" will be known -- before leaving with a wave.
The entire exchange lasted about eight seconds. James, who has been relatively quiet while weighing his options, never broke stride.
He was upstairs in an exclusive part of a Las Vegas hotel Tuesday, holding court for a little more than three hours before emerging in the lobby, walking toward his assembled brain trust -- including longtime manager Maverick Carter and Nike representatives, a sponsor of the LeBron James Skills Academy he'll be hosting in Las Vegas starting Wednesday -- and got whisked away.
James is expected to meet with Miami Heat President Pat Riley before making a final decision on his NBA future, and a person close to the situation said that meeting had not happened as of Tuesday afternoon. The person spoke to The Associated Press on condition of anonymity because no one has publicly announced the date of the meeting.
Some of James' representatives have met with several teams, including the Cleveland Cavaliers.
After filming a TV commercial in Coral Gables, Florida on Monday, James flew to Las Vegas, which was planned because of his academy. Later this week, he's expected to travel to Brazil to the World Cup final.
July, 8, 2014
Jul 8
12:35
PM PT
Most of the first day of the Shelly Sterling v. Donald Sterling trial in California probate court was spent in procedural delays as Donald Sterling's legal team made an unsuccessful bid to have the case moved to a federal court.
Except for a dramatic theatrical moment when Shelly Sterling's lead attorney Pierce O'Donnell called Donald Sterling as his first witness then turned around to scan the courtroom to demonstrate the disgraced Clippers owner was not present and suggest a bench warrant be issued for him, Monday was a rather boring day in court.
But when the trial continues Tuesday afternoon, things could start getting really interesting.
First up will be the cross-examination of Dr. Meril Platzer, whom Donald Sterling called "nothing but a fraud and a liar and a cheat" in an angry voice mail on June 9 and accused of going "to the Beverly Hills Hotel and drink liquor" after her examination of him on May 19. The cross-examination will be performed by Donald Sterling's lead attorney Bobby Samini, who was at that dinner at the famed Polo Lounge inside the Beverly Hills Hotel. Samini says he has a different version of events than Platzer testified to on the stand Monday, when she recounted having "half a glass of wine" and said Shelly Sterling had encouraged her estranged husband, Samini and a family friend named Lawrence not to join them at the table.
But the real intrigue will come when Donald Sterling takes the stand and is questioned by legendary Hollywood attorney Bert Fields.
The genial octogenarian is known as both a Shakespeare scholar and a ferocious interrogator in court. He has represented such clients as Tom Cruise, Michael Jackson and Jeffrey Katzenberg, which is evident from the decorations inside his wood-paneled office at Greenberg Glusker in Century City, where a signed "Godfather" book from former client Mario Puzo hangs opposite a portrait of George Washington.
Fields seems to be relishing the opportunity to question Sterling, who has something of a
ferocious reputation in the courtroom himself
.
"I think he is an intelligent man," Fields said of Sterling. "But I think he is somewhat impaired, and he doesn't have the control of his temper and his emotions. So he's a little different. Most of the people I've cross-examined are not like that."
Asked whether his goal was to break Sterling, as he has bragged about doing to so many other powerful people on the stand, Fields said, "They don't always break, but sometimes they give you things that you can use to win the case. It's not like they all break down and say, 'Stop, stop, stop!'
"That rarely happens, but you get the truth, and that is what you are after. And when the truth comes out, this man does not belong running a trust."
Samini promised the court that Sterling would appear Tuesday but laughed at the notion that he would be intimidated or concerned about Fields' line of questioning.
"I think Donald is not concerned that he's going to cry," Samini said outside of court Monday. "Although I promise you that it's going to be an interesting day. I can promise you one thing: If there's any crying in the courtroom, it's very unlikely it'll be coming from Donald."