October, 21, 2014
Oct 21
10:42
PM PT
Associated Press
OAKLAND, Calif. -- Festus Ezeli played for the first time in 17 months, scoring 10 points and grabbing three rebounds to help the Golden State Warriors beat the short-handed Los Angeles Clippers 125-107 in Tuesday's preseason game.
The backup center added one block in 11 minutes to clear a major milestone in his recovery from right knee surgery. Ezeli played 78 games as a rookie before missing all of last season with rehabilitation. He also missed part of this season's training camp with inflammation in his right shin.
The Warriors' Stephen Curry scored 27 points and David Lee had 12 points and six rebounds.
Jared Cunningham had 23 points and J.J. Redick scored 21 to lead the Clippers. Coach Doc Rivers rested stars Blake Griffin and Chris Paul.
Warriors center Andrew Bogut was not with the team because of an illness. Ognjen Kuzmic started in Bogut's place, tallying eight points and 10 rebounds.
October, 21, 2014
Oct 21
6:38
PM PT
Today we finish off my NBAPET forecast for the coming season with the Western Conference.
As I wrote yesterday -- where I explained how the projections below are created -- this exercise is actually the punctuation mark for my summer position rankings. That is, I've taken the methodology introduced in that series, and pulled it together in a model to estimate team performance. We did the Eastern Conference yesterday.
1. Los Angeles Clippers (Wins: 61.2)

If LeBron James doesn't turn out to be the clear-cut MVP front-runner, Chris Paul could emerge to fill the void that may have opened because of Kevin Durant's bad foot. And if it's not him, it could be Blake Griffin, who is still young enough to see some growth in his game.
The big difference on the Clips is new backup center Spencer Hawes, who not only fills the biggest hole on the L.A. roster, he adds some much-needed floor spacing. Hawes serves as a tipping point for a talented roster that has been on the verge of moving from really good to great.
October, 20, 2014
Oct 20
3:49
PM PT
Associated Press
LOS ANGELES -- A judge reversed course Monday and dismissed a defamation lawsuit by Donald Sterling's mistress against the estranged wife of the former Los Angeles Clippers owner.
Judge Richard Fruin issued a tentative ruling last week saying he planned to allow the suit, but he reconsidered after arguments from Shelly Sterling's lawyer. It is unusual for a judge to reverse a tentative ruling.
The judge found V. Stiviano presented no evidence to support her claim that Shelly Sterling called her a thief and an embezzler in hundreds if not thousands of media reports. He said she did not present a single quotation to support her claim.
"Stiviano does not identify to whom any such statement was made," Fruin wrote. "There is no information from which it may be determined that any statement, defamatory or not, was made by Mrs. Sterling at all."
The judge also rejected Stiviano's claim that former Clippers president Andy Roeser defamed her at the instruction of Shelly Sterling. He said there was no evidence of that.
Attorney Pierce O'Donnell, who persuaded the judge to dismiss the case, said Stiviano's cross-complaint was an "act of sheer desperation." Shelly Sterling is suing Stiviano for the return of $2.5 million in gifts from her husband.
"Shelly is pleased that this patently frivolous defamation action has been dismissed with prejudice," meaning it cannot be filed again, O'Donnell said.
He added that Stiviano has no defense to Shelly Sterling's lawsuit because the items Stiviano received from Donald Sterling were community property and he had no right to give them away.
"We look forward to our March 9 trial before a Los Angeles jury where Shelly is confident that she will prevail," he said.
October, 18, 2014
Oct 18
10:35
PM PT
Associated Press
LAS VEGAS -- Kenneth Faried had 19 and seven rebounds to lead the Denver Nuggets to a 104-93 victory over the Los Angeles Clippers in a preseason game Saturday night.
Arron Afflalo scored 16 points, Randy Foye had 14 points and five assists, and Danilo Gallinari added 12 points for Denver (2-4).
Blake Griffin scored 27 points and Jamal Crawford had 23 to lead the Clippers (1-4). Chris Paul added 13 points and nine assists.
Griffin, who had five rebounds, committed his fifth foul with 7:39 left in the third quarter after scoring 18 points in 20 minutes. He returned and played the first 10:36 of the fourth quarter, finishing 9 for 13 from the free-throw line as the Clippers went 33 of 45.
The Nuggets pulled away from a 51-all tie at halftime, scoring the first five points of the third quarter and didn't trail again.
October, 18, 2014
Oct 18
12:20
AM PT
[+] Enlarge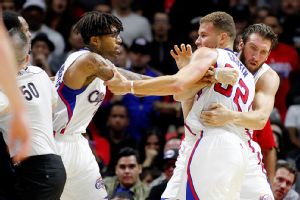 AP Photo/Alex GallardoBlake Griffin shows incredible patience despite taking hard fouls, teammate Chris Paul said.
LOS ANGELES -- Clippers forward Blake Griffin said his frustration over continued hard fouls "probably" will result in him retaliating if it continues.
Griffin and Utah Jazz forward Trevor Booker had to be separated in the third quarter of the Clippers' 101-97 preseason win Friday when Booker fouled Griffin hard in midair. After they exchanged words, Griffin grabbed the back of Booker's head before both players were pulled back by their teammates.
"I was going to, but then I thought, 'It's preseason,' " Griffin said when asked about retaliating. "It's not worth it. That's not the person I want to waste it on."
When Griffin was asked if he feels close to retaliating if the hard fouls continue, he said, "Yeah, probably. I'm not going to do it for no reason or if it's not warranted and I didn't feel that was."
Clippers coach Doc Rivers said he doesn't want to see Griffin retaliate, but admitted the continued cheap shots are taking their toll on him.
October, 17, 2014
Oct 17
10:37
PM PT
Associated Press
LOS ANGELES -- Chris Paul and Jamal Crawford hit clutch 3-pointers in the final minute and the Los Angeles Clippers beat the Utah Jazz 101-97 Friday night for their first victory of the preseason.
Crawford finished with 25 points and Spencer Hawes added 24. Blake Griffin had 17 points, and Paul finished with 11 points and nine assists for the Clippers (1-3).
Gordon Hayward scored 22 points to lead Utah (4-1). Trey Burke had 21 and Derrick Favors added 19 points and 10 rebounds.
Favors' reverse layup gave Utah 92-89 edge late in the fourth quarter. Crawford responded with a tying 3-pointer before Rudy Gobert's dunk gave the Jazz the lead back with 1:02 left.
Paul's 3 with 41.7 left put the Clippers back in front. Favors made a free throw at the other end, tying it at 95, but Crawford's fifth 3 with 18.5 seconds remaining and Hawes added a breakaway dunk.
October, 17, 2014
Oct 17
7:21
PM PT
[+] Enlarge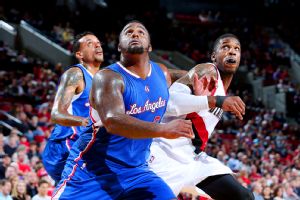 Sam Forencich/Getty ImagesGlen Davis is expected to be ready for the Clippers' season-opening game Oct. 30 against the Thunder.
LOS ANGELES -- Clippers forward Glen "Big Baby" Davis suffered a right groin strain in practice Thursday and likely will be out until the season opener Oct. 30.
Davis suffered the injury while setting a screen during practice. He is expected to miss two weeks.
"We're going to take our time with that," Clippers coach Doc Rivers said. "I don't give a time frame, but no time soon ... I think it will be close [to the season opener]. I think he'll be back playing by then, but I don't know if he'll be in basketball shape to play."
Davis played in 23 regular-season games with the Clippers last season, averaging 4.2 points and three rebounds in 13.4 minutes per game. He averaged 3.8 points and 2.8 rebounds in 12.2 minutes per game during the postseason.
October, 17, 2014
Oct 17
1:50
PM PT
Associated Press
LOS ANGELES -- A judge who was on the verge of allowing a defamation suit by Donald Sterling's mistress to go forward decided Friday to reconsider after hearing from a lawyer for Shelley Sterling.
Attorney Pierce O'Donnell called the filing by V. Stiviano an act of spite and revenge against the estranged wife of the former owner of the Los Angeles Clippers.
O'Donnell filed a motion to dismiss Stiviano's suit in what is known as an anti-SLAPP motion against retaliatory actions.
Stiviano's lawyer Mac Nehoray claims Shelley Sterling called his client a thief on national TV. But O'Donnell said neither he nor Nehoray was able to find any evidence of such a statement to submit to the court.
Superior Court Judge Richard Fruin said he didn't hear it, if it was broadcast, and agreed to consider dismissing the claim.
O'Donnell and Nehoray were initially advised of a tentative written ruling by the judge denying Shelley Sterling's effort to dismiss the case. But after hearing arguments in court, Fruin decided to take another look.
O'Donnell argued that Stiviano's lawyer failed to specify defamatory statements made about Stiviano.
"This is a phantom statement,'' he said. "No one in this courtroom knows to whom or when it was said.''
The judge eventually agreed, telling Nehoray: "I don't really know what Mrs. Sterling may or may not have said. You haven't told me except for these very general statements that are vague. I didn't hear it and you don't quote it.''
Stiviano filed her countersuit in response to the lawsuit by Shelley Sterling seeking $2.5 million. Sterling claims that gifts her husband lavished on Stiviano belong to her as community property.
October, 16, 2014
Oct 16
11:52
AM PT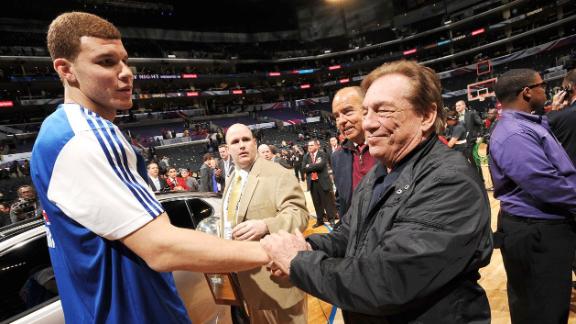 LOS ANGELES -- Clippers forward Blake Griffin compared former team owner Donald Sterling to a "weird uncle" and new owner Steve Ballmer to a "cool dad" in a first-person story in The Players' Tribune.
"It's little bit ironic to me that the media has tried to turn Ballmer into a meme when they turned a blind eye to Sterling for years," Griffin wrote. "Steve is a good dude. He's like a cool dad who gives you candy. Donald was like a weird uncle."
When Sterling's racist rants were first released on TMZ in April during the Clippers' playoff series with the Golden State Warriors, Griffin said that he had mixed feelings. He was angered by the audio tapes, which would eventually lead to Sterling's lifetime ban from the NBA, but he wasn't surprised.
"I was conflicted when the tapes came out last season, and suddenly everyone had an opinion on what we as players should be doing to handle it," Griffin wrote. "When I woke up the morning after the tape leaked, I had 40 or 50 text messages. The first thing I did was listen to the tape in bed. It was shocking to actually hear what he said, but not really that surprising to me."
Griffin learned of Sterling's infamous past before the Clippers even drafted him by searching the owner's name online after the Clippers won the lottery and the right to draft Griffin No. 1 in 2009.
October, 16, 2014
Oct 16
11:00
AM PT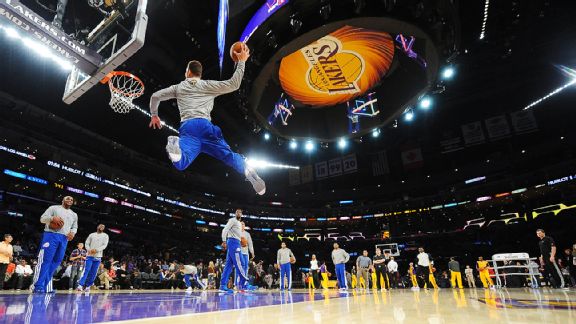 Noah Graham/NBAE/Getty ImagesThe Clippers, once L.A.'s indie darlings, have gone mainstream. Is the future theirs for the taking?
The Ballmerization of the Clippers and the rejection of "eternal Clipper hell" doesn't mean Los Angeles isn't still a Lakers town. Clippers fans know that, and many of the lifers wouldn't want it any other way. The team has long been an expression of sports counterculture, a dive bar for NBA-crazed Angelenos who can't tolerate the velvet-rope club, Team Bukowski. Tribal identities are difficult to shake, no matter how much history evolves.
One of Los Angeles' newer tribal identities is "eastsider." Much of the cachet that used to belong to the city's westside has moved that way, and these neighborhoods on the downtown side of Western Avenue have caught fire.
Westsider Baron Davis could see it coming three years ago
.
This year's cult television comedies, "You're the Worst" and "Transparent," are set in Silver Lake and neighboring environs, and their thirtyish characters claim eastside citizenship as an element of their urban identity. Ryan Gosling and James Franco have planted stakes in the neighborhood. Are these real and fictional people Clippers fans? Unknown, but spiritually that's where they live. If they're not, their kids, unburdened by the past, will be.
There has long been a civic obsession in Los Angeles about the future, probably because there isn't as much of a past. The city has been
playing a game of catch-up
with its eastern brethren and San Francisco for more than a century, and has never stopped building. That's a nice ethic for a city to have, but it also encourages Angelenos to get lost in a fantasy of what the city
will
look like. The most alluring feature of Spike Jonze's "Her" last year was his imagination of Los Angeles' near future -- a dense urban paradise, greener, walkable; a warmer, more communal place that still gets more than 300 days of temperate sunshine.
Given current trends, would the Clippers be a better representative of that future Los Angeles than the Lakers? It's hard to say, but the normalization of the Clippers under Steve Ballmer, Doc Rivers,
Blake Griffin
and
Chris Paul
means this is a legitimate question for the first time. According to an ESPN Sports poll, NBA fans are far more likely to switch allegiances -- OK, bandwagon hop -- than fans of other sports. Los Angeles is a young and diverse market that's obsession with the future only compounds the possibility a championship-caliber Clippers team could make up ground, especially if the Lakers swing and miss on the league's marquee free agents and stop playing basketball in May and June. At least that's the thought.
The Clippers as the city's team of the future isn't a bad piece of casting. When a glossy mag wants to showcase the next-wave American athlete on its cover, it brings Griffin in for a shoot. With Griffin, Paul and
DeAndre Jordan
in the leads, the product on the court is fast, physical ...
modern
. Meanwhile, the Lakers limp to the starting line with a couple of aging, brittle Hall of Famers seven seasons or so past their prime and a few adhesives.
Under an owner who, as a matter of principle, believed that capital investment is a gimmick, the Clippers lagged behind most of the league in areas of innovation. With Ballmer and Rivers presiding, the organization has expanded its analytics operation, pushed its way to the front of the line for snazzy tools that used to be the domain of the Texas triumvirate and are listening to cutting-edge health specialists. With no real guiding principle other than the preservation of tradition for its own sake, the Lakers were the lone holdouts at the 2014 Sloan Sports Analytics Conference and still regard the European market as a novelty.
[+] Enlarge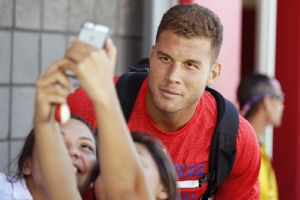 AP Photo/John LocherCan Blake Griffin become the face of Los Angeles sports once Kobe Bryant cedes the throne?
Los Angeles' core is more dynamic than most, but power and wealth are still concentrated in the 310. The Clippers are beginning to gentrify the basketball landscape in town, but it's not as if Paul, Griffin and Rivers are moving next door to Jimmy and Gretchen from "You're The Worst" or hanging out on York Boulevard -- they live west. And no matter
how unsightly the freak show gets
, the Lakers will continue to rule, at least for a good while. Fifty-two percent of NBA fans in Los Angeles call the Lakers their favorite team. The Clippers draw only 12 percent.
Kobe Bryant
is the favorite of 55 percent of those fans, while Griffin checks in at 4 percent. Those numbers will move in the coming years -- and they already are. The Clippers clocked in at only 2 percent to 3 percent just three seasons ago, while the Lakers have tumbled considerably from 70 percent. But turning Los Angeles into a Clippers town still might not occur in Ballmer's lifetime.
The
Loy Vaught
-
Michael Cage
contingent in Clippers Nation might not care if the team closes the gap, but the silent majority would love to see counterculture turn mainstream in Los Angeles -- and so would the organization. Pioneering new territory is all well and good, but you still need somewhere to eat in the neighborhood, a reliable grocery, some decent coffee and a dry cleaner that's worth a damn. Ballmer didn't spend $2 billion for a boutique storefront; he wants to own the block.
What will that take? Aside from hanging some fabric alongside the sleek new LED fixtures at Staples Center, Griffin evolving into an iconic star. As the old trope goes, the NBA is a superstar league and the Lakers' dominance is as much an expression of Magic and Kobe as it is the rings. Bryant will soon retire, and when he does that 55 percent will come off the board and it's Griffin's for the taking if he can parlay his crossover appeal into broad approval.
Demography and rivalry aside, maybe the better question is whether it matters at all. Does a team need to win the popular vote in its market to affirm itself or its fans? The revenue from a more robust local cable deal would be nice, especially since Ballmer figures to be spendy, but Clippers fans might just prefer to keep the chains out of the nabe, and Griffin as their indie hero.
October, 15, 2014
Oct 15
12:48
PM PT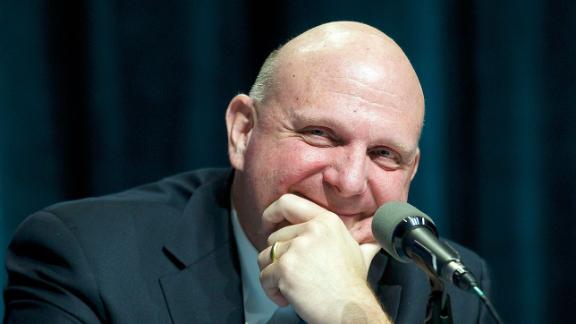 LOS ANGELES -- The thought did occur to Steve Ballmer that he might want to play this one against type. Surprise everyone by simply walking out on stage, gently taking the microphone from Los Angeles Clippers president Doc Rivers and calmly introducing himself to his new team. The famously fiery former Microsoft executive could have rebranded himself at the same time he rebranded the Clippers, after three decades under disgraced former owner Donald Sterling.
"My wife said, 'Look, man. You're 58 years old. Stop running. You're going to hurt your shins. You're going to hurt your back. Frankly, I don't even like the whole yelling and running around stuff. Can you get rid of it?'" Ballmer said over an extended late-afternoon interview this summer.
"So I said to myself, 'This is a new shot with the Clippers now. You can just walk on stage calmly."
And for a time, he did consider it. Since stepping down as Microsoft's CEO last fall, Ballmer has been trying a lot of new things. He has begun studying a new language (Hebrew). He's planning to teach a class at Stanford Business School in the fall. He has been researching and studying public policy and government, looking for a way to make a meaningful civic and philanthropic contribution to society. It's all written down in a seven-point plan he has explained so many times he can recite it off the top of his head now.
But then he started going over the plans for the raucous introductory event at Staples Center in August that was attended by some 4,500 fans and the entire Clippers team. And it's not that the Mensa maven, with the laser focus of a mathematician, possesses only one gear. It's that some things really get him amped up.
"You did it to me," Ballmer said, smiling as he looked across the table at Payne Brown, who had been running the Clippers' business operations under interim CEO Dick Parsons. "You said you wanted me to come out from where the fans were. ... And I said I knew if I did that what was going to happen. I'm going to get fired up and ..."
He didn't need to finish the sentence. We all remembered what happened next. Ballmer ran into the arena like a boxer, slapping hands and wildly pumping his fists as Eminem's "Lose Yourself" played on the speaker system.
"It was just like a Microsoft sales meeting," Ballmer said. "I always picked my own music at every sales meeting. That was kind of how I got my mind around what the theme was. That's why I liked Eminem: 'One shot, one opportunity, one moment.'
"That means we're looking forward."
Ballmer doesn't really do wistful, and had little interest in talking about Donald Sterling, or the three-month delay in completing his record-setting $2 billion purchase of the Clippers with Shelly Sterling.
"No, he's never been part of my life," Ballmer said of Sterling. "He's been more part of the life of the Clipper organization, so there doesn't seem to be much reason or importance to look back.
But expunging that history completely would cost the franchise something important: A chance for Clippers fans to pipe up.
The Clippers have always been the lesser alternative to the Lakers in Los Angeles. Maybe you didn't want to root for the coolest kid in town. Maybe you just like the underdog. Maybe you're from another town, where everybody just wanted to "Beat L.A." But that's who the Clippers and their fans have been. They just haven't been able to celebrate it very often. Because on some level, every fan, every player, coach and employee had to reconcile their affection for the team with the implicit support it conveyed for Sterling. Rivers and longtime broadcaster Ralph Lawler both touched on the phenomenon at Ballmer's welcome pep rally. Rivers told stories of Clippers fans "whispering" to him that they rooted for the team. Lawler said fans could finally cheer for the team "without any reservations."
Well now they've got an owner who couldn't whisper something if he tried. So what if people thought his pep rally was dorky or awkward or over the top. So what if the video went viral
October, 13, 2014
Oct 13
11:40
PM PT
By
Ian Begley
| Special to ESPNLosAngeles.com
NEW YORK -- Former
Los Angeles Lakers
coach Phil Jackson offered his thoughts on Donald Sterling, calling the disgraced former
Los Angeles Clippers
owner a "weird duck."
"Donald's a Donald Duck. He's a weird duck. There's no doubt about it," Jackson, now the
New York Knicks
president, said at the New Yorker Festival on Sunday. "Every since he got the organization -- the San Diego Clippers -- and moved them to L.A., he's been an outlier in [the NBA]."
[+] Enlarge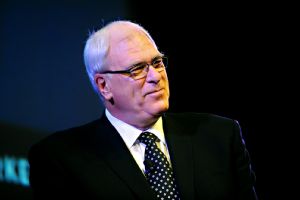 Brad Barket/Getty Images for The New Yorker Festival"He did things his own way and went against all the rules," Phil Jackson said of Donald Sterling.
Sterling was banned for life by the league in response to racist comments the NBA said he made in a recorded conversation. Sterling was also essentially forced to sell the Clippers by NBA commissioner Adam Silver and the other owners.
"He did things his own way and went against all the rules, and eventually it caught up with him. Even though it was 30 years later, it still caught up with him," Jackson said. "And it was embarrassing to the league. Because this league has always been embracing and compassionate, and this was not an embracing and compassionate act."
Jackson added that he didn't think the views Sterling espoused on the recording were ones he actually believed.
"I don't think they were held personally. I know many of the players.
Ron Harper
... played for the Clippers and felt that Donald was a decent guy to hang around with. He said he was squirrelly, but that was who he was -- kind of a squirrelly dude," Jackson said. "He doesn't carry any animosity. I don't think he carries that. But in expressing the way he expressed his feelings -- [it was] quite unusual and totally against the thoughts that we all thought."
October, 13, 2014
Oct 13
8:42
PM PT
Associated Press
SALT LAKE CITY -- Trey Burke scored 16 points and had eight assists while Rudy Gobert chipped in 11 points and 20 rebounds to lift the Utah Jazz to a 102-89 victory over the Los Angeles Clippers on Monday night.
Derrick Favors added 15 points and 11 rebounds for the Jazz (3-0) who remain undefeated in the preseason. Blake Griffin scored 31 points, JJ Redick added 17 points and Chris Paul finished with 11 points and 11 assists for the Clippers (0-3) who are still winless.
Utah exerted its will around the basket for four quarters. The Jazz outrebounded the Clippers 55-32 and had a 48-36 advantage in points in the paint. Utah also had a 22-9 edge on second chance points.
Strong perimeter play also lifted the Jazz. Utah shot 47 percent from outside (14-of-30) to break open the game early in the first half.
October, 12, 2014
Oct 12
8:54
PM PT
Associated Press
PORTLAND, Ore. -- Wesley Matthews scored 22 points, Portland was 17 of 25 from 3-point range and the Trail Blazers beat the Los Angeles Clippers 119-114 in an exhibition game Sunday night.
Matthews made 6 of 7 3-point attempts to lead Portland to its first preseason win in three games. C.J. McCullum made five 3-pointers and scored 19 points.
Blazers All-Star forward LaMarcus Aldridge went 8 of 8 from the free throw line and scored 16 points.
Los Angeles guard Jamal Crawford came off the bench to score 23 points. Chris Paul and Spencer Hawes had 15 points each for the Clippers (0-2).
Los Angeles went 19 of 39 from 3-point range, including a 6-of-7 performance from Crawford.
Portland guard Damian Lillard missed his second consecutive preseason game because of strained left foot. McCullum started in his place.