April, 22, 2014
Apr 22
1:15
PM PT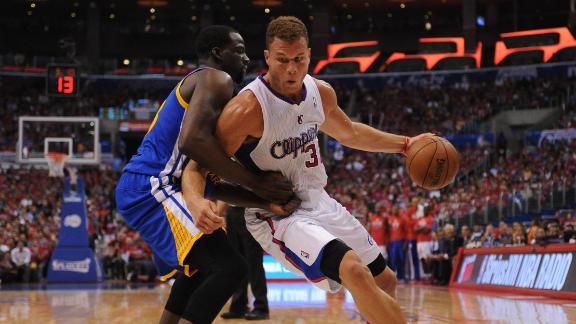 PLAYA VISTA, Calif. -- Los Angeles Clippers guard Chris Paul will be limited in practice over the next two days by an injured right hamstring heading into Thursday's Game 3 of the team's first-round playoff series against the Golden State Warriors.
"He won't do much," coach Doc Rivers said Tuesday. "He may do a little tomorrow but nothing today. We're not doing anything today anyway, but I don't need him doing anything."
Paul injured his right hamstring late in the first half of the Clippers' 109-105 Game 1 loss on Saturday and received round-the-clock treatment heading into Game 2, when he played 27 minutes and had 12 points and 10 assists in a 138-98 blowout of the Warriors.
Rivers had thought the two days between games would be most beneficial to J.J. Redick and Jamal Crawford, who missed time heading into the postseason, but he now says no one needs the time off more than Paul, whose right hamstring was wrapped during Monday's game.
"The hamstring, yes, he needs [time off] because I think he's doing everything he can with it, to be honest," Rivers said. "The two days are huge for us and him. It's funny: We go into the series talking about J.J. and Jamal and we left the game last night thinking we need two days for CP. So these two days will be good for him."
Paul said on Monday that he intended to play through the discomfort.
"Only thing I couldn't play through was the shoulder thing," Paul said of the separated shoulder that cost him six weeks in January and February. "This is fine."
April, 22, 2014
Apr 22
12:29
AM PT
By
Ethan Sherwood Strauss
| ESPN.com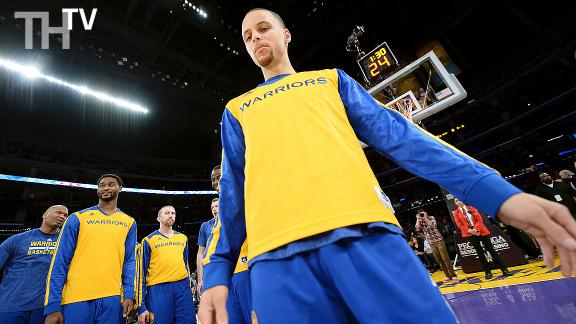 LOS ANGELES -- With 2:45 left in the second quarter, Stephen Curry scored his first points of the game. With 30 seconds left in the quarter, he earned his first trip to the free throw line. There, the "over-rated" chants built. They weren't loud -- few sounds are in the cavernous Staples Center -- but they were noticeable, and might well mark a change in Curry's career.
"That's funny," Curry said of the chants after his Golden State Warriors lost Game 2 to the Los Angeles Clippers 138-98 on Monday night. "That's funny to me. What a difference a day makes, I guess." Though he found humor in the chant, he had to concede, "Obviously I didn't do much in the first half."
He finished with 24 points and eight assists, but most of that production came long after the game was settled. The Clippers' 40-point thrashing of the Warriors was based on their quelling of Curry in the first half, when he made only one shot. On the ball, he was enveloped by double-teams. Off the ball, he was effectively tracked by Chris Paul's supernatural ability to bend a body around screens. Los Angeles smothered Golden State's superstar and feasted off the turnovers his befuddled teammates ceded.
Monday night's chant aside, Curry has had a high approval rating for reasons that go beyond his ability to shoot off the dribble like no one before him. He doesn't look like other superstars as he's slight and baby-faced. Announcers still sometimes refer to Curry as a "kid," even though he has a wife and child of his own. He's never in trouble off the court, he's achingly polite with the media. Curry just isn't the type to draw mockery from opposing crowds. This is the playoffs, though, and he's viewed through the lens of bigger expectations.
April, 22, 2014
Apr 22
12:17
AM PT
LOS ANGELES -- The
Los Angeles Clippers
are still in the beginning stages of piecing together their postseason scrapbook.
[+] Enlarge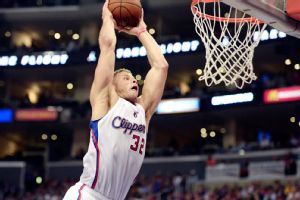 Richard Mackson/USA TODAY SportsAfter playing just 19 minutes in a frustrating Game 1 loss, Blake Griffin led the Clippers with a playoff career-high 35 points in Game 2.
When it comes to leaning back on playoff experience, there isn't much flexibility for a franchise that has never made it past the second round, which is as far as
Chris Paul
,
Blake Griffin
and
DeAndre Jordan
have gone.
Even that simple fact routinely gets forgotten by their own head coach as Doc Rivers has often mentioned this season that the Clippers haven't gotten past the first round despite the fact that they did so two seasons ago while he was with the
Boston Celtics
and the Clippers were coached by Vinny Del Negro.
"Going into it," Rivers said, "the one advantage I thought that Golden State had was that they've already done it."
By "done it," Rivers was referring to the fact that the Warriors advanced past the first round last year before losing to the
San Antonio Spurs
in the second round. Something the Clippers did two years ago before losing in the first round last year, which is the memory fresh in the mind of Rivers and most casual observers.
"This was a totally different team," Paul said. "I think me, Blake and DJ may be the only guys that are left from that team. So us three can draw back from that. But we just have to go out there and play. It doesn't matter about the future or the past. It just matters about right now."
It's the kind of mindset that Rivers has tried to instill in the Clippers this season. He has conducted "playoff practices" since training camp opened six months ago. He began talking to them about coming back after losing a home game in the playoffs around the All-Star break. He told them to envision themselves wearing championship rings as the season came to a close.
April, 22, 2014
Apr 22
12:03
AM PT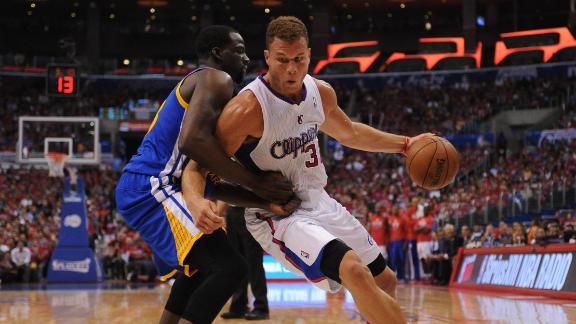 LOS ANGELES -- The NBA playoffs are so much better when we're talking about the star performances instead of the officiating. Unfortunately, with Blake Griffin it has been impossible to separate the two.
He has scored 51 points in 49 minutes played this series, the type of point-per-minute production that validates his status among the league's elite. It's the splits that are so maddening -- to both the Los Angeles Clippers and the Golden State Warriors.
He scored 16 points in Game 1, when he played only 19 minutes (to the Clippers' consternation) before fouling out of a game won by Golden State.
But he roared back with 35 points in Game 2, when he had the foul-trouble-free luxury of playing 30 minutes in the Clippers' 138-98 romp.
"It just allowed me to play a little more aggressive," Griffin said in typical low-key manner.
Chris Paul, sitting next to him, looked at the box score placed between them on the table and scanned his eyes to the personal fouls column on Griffin's line.
"You didn't have any!" Paul said.
"That's how it works sometimes," Griffin deadpanned.
Not often, especially when a player is attacking the rim and grabbing six rebounds and doing his part in a trapping defense that smothered Warriors guard Stephen Curry in the first half.
April, 21, 2014
Apr 21
10:32
PM PT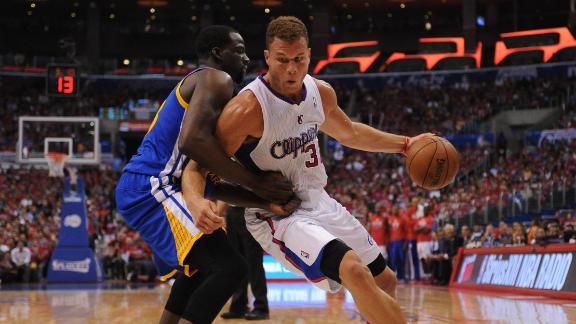 LOS ANGELES --
Blake Griffin
didn't need much time getting dressed after Game 1 on Saturday.
He had played just 19 minutes in the game, less than four minutes in the first half and a grand total of 39 seconds in the second quarter. Griffin had never played fewer minutes in a game he wasn't injured during his career.
After preparing for the postseason for the past six months, Griffin was effectively reduced to nothing more than a highly paid spectator in the first game of the playoffs and was on the bench with the game tied in the final minute.
On Monday, Griffin was again on the bench at the end of the game, but under entirely different circumstances.
Despite getting into early foul trouble and losing Game 1, Doc Rivers didn't want Griffin to change anything for Game 2 on Monday. He wanted him to be the same dominating player he had seen all season and trust he wouldn't be saddled with three fouls early.
"Blake needs to play even more intense and even more aggressive," Rivers said. "And not go the other way."
Rivers got what he wanted and Griffin responded with a career playoff-high 35 points in 30 minutes and had no fouls as the Clippers routed the Warriors 138-98 to tie their best-of-seven first-round series before going back to Oakland for Games 3 and 4.
It was the most points the Clippers have ever scored in a playoff game and their largest margin of victory ever in the postseason.
How it happened:
This game was never in doubt. The Clippers stormed out to an 11-point lead in the first quarter that ballooned to a 28-point advantage in the second quarter, thanks in part to the Clippers' second unit. The Clippers would go up 33 in the third quarter and 40 in the fourth quarter and essentially had their way with Golden State from the opening tip to the final buzzer.
What it means:
It means the Clippers have tied the series up at 1-1 and now have to steal a game in Oakland to regain home-court advantage.
Hits:
Griffin scored 35 points in 30 minutes on 13-of-17 shooting from the field and 9-of-10 from the free throw line. After being limited to 19 minutes in Game 1, he was on the floor for as long as he needed to be on Monday.
DeAndre Jordan
had 11 points, 9 rebounds and five blocks,
Chris Paul
had 12 points and 10 assists and
Darren Collison
had 12 points and 10 assists.
Danny Granger
and
Hedo Turkoglu
also combined for 28 points and six 3-pointers.
Misses:
Hard to single out a miss on a night like this for the Clippers.
Stat of the game:
Stephen Curry
scored 20 points in the third quarter and the Clippers increased their lead by six points in the period.
Up next:
The Clippers will take on the Warriors in Game 3 on Thursday at Oracle Arena.
April, 21, 2014
Apr 21
10:30
PM PT
Associated Press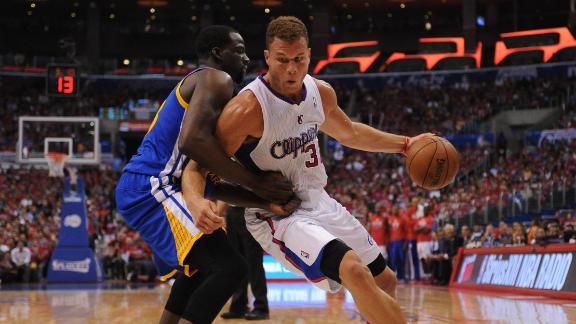 LOS ANGELES -- Blake Griffin scored a career playoff-high 35 points without a foul and the Los Angeles Clippers led all the way in routing the Golden State Warriors 138-98 Monday night to even their first-round series at a game apiece.
Chris Paul added 12 points and 10 assists for the Clippers, who started the game on a 14-4 run and kept on going, maintaining a sizeable double-digit lead through the final three quarters. They finished with a franchise record points for a playoff game.
All the foul trouble that plagued Griffin and Paul in the Clippers' four-point loss in Game 1 belonged to the Warriors this time.
Stephen Curry scored 20 of his 24 points in the third quarter, when the Warriors never got closer than 25 points, while playing with four fouls. Klay Thompson finished with seven points -- 15 under his average -- and four fouls.
April, 21, 2014
Apr 21
1:17
PM PT
[+] Enlarge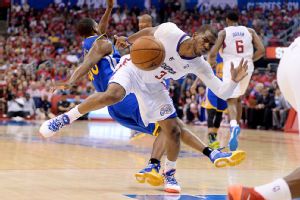 Jayne Kamin-Oncea/USA TODAY SportsThe Clippers' Chris Paul will be ready to play in Game 2 against the Warriors.
PLAYA VISTA, Calif. -- Los Angeles Clippers guard Chris Paul said his hamstring has responded well to round-the-clock treatment and he will be ready to play Monday night in Game 2 of the team's first-round playoff series against the Golden State Warriors at Staples Center.
Paul initially injured his right hamstring late in the first half of the Clippers' 109-105 Game 1 loss to the Warriors on Saturday. He briefly came out of the game on two separate occasions late in the second quarter, but returned to play 18 minutes in the second half of the loss. Since then, he said he's gotten round the clock treatment for the past 48 hours.
"As much as we possibly could," Paul said when asked how much treatment he's gotten since Saturday. "We've got the best training staff in the league. I'll be ready tonight."
Paul has a history of injuries in the playoffs. He also has a history of playing through just about anything.
"Only thing I couldn't play through was the shoulder thing," Paul said of the separated shoulder that cost him six weeks between January and February. "This is fine."
April, 21, 2014
Apr 21
10:08
AM PT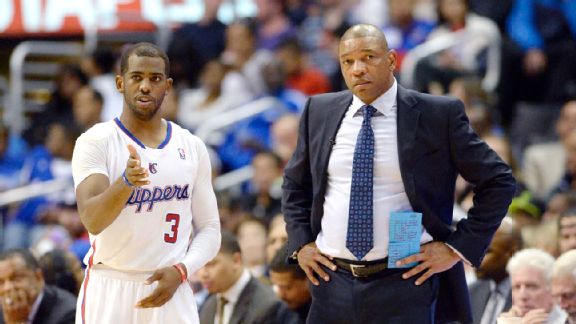 Richard Mackson/USA TODAY SportsDoc Rivers had warned his Clippers they'd find themselves needing a road win at some point in the playoffs.
LOS ANGELES -- Long before the regular season was over, Doc Rivers began planting the seed in his players' heads, preparing them for this day.
"You're going to lose a home game in the playoffs," he told them. "It's going to happen and when it does, you're going to have to respond and win on the road."
Chris Paul
smiled when reminded of his coach's message.
"It's Doc's fault," Paul said. "He spoke it into existence."
Rivers laughed while recalling the message he had drilled into his players for the better part of this season.
"I didn't mean that," Rivers said. "I didn't actually mean it. Now I meant it, but before I was kind of joking around, but you have to be prepared for that obviously. You obviously don't want to drop the first game but we did and now we have to do something about it."
April, 21, 2014
Apr 21
8:30
AM PT
All of the Game 1s are now in the books, and for many fans (and some players), it seems like their series will be over quickly. However, no matter how lopsided a victory, both winning and losing coaching staffs are immediately breaking down film of what happened and making adjustments accordingly.
It is this chess match that makes playoff basketball so different from the regular season. Because teams have more time on their hands and only one opponent in their crosshairs, they can adjust and anticipate adjustments and readjust again in an endless ballroom dance of X's and O's.
Here are some adjustments we might see from the Clippers and Grizzlies, both Game 1 losers in their respective series.
To continue reading this article you must be an Insider
April, 21, 2014
Apr 21
9:56
AM PT
With a hearty hat tip to our friends at ESPN Stats & Info, here are eight standout statistical tidbits from an eight-game opening weekend in the NBA playoffs:

• It bears repeating even though I'm guessing you've probably already heard this one a few times by now: This was the first time in the history of the 16-team playoff format, introduced in 1983-84, that five road teams won Game 1.

• Indy's Game 1 defeat at home to Atlanta might be an even more worrisome omen than the Pacers fear. The last two No. 1 seeds to drop the opener to the No. 8 both ended up losing the series: San Antonio in 2011 to Memphis and Dallas in 2007 to Golden State.

• The Bulls have quietly lost five consecutive playoff games. And after erasing a 13-point deficit in the third quarter, Washington is just the second team to crack triple-digits in Chicago since the All-Star break.

• It wasn't by accident that Memphis faced the biggest halftime deficit in its playoff history Saturday night at OKC. The Grizzlies missed their first 18 shots outside the paint.

• The Clippers, according to the Elias Sports Bureau, were 33-0 at home this season in games in which they led at any point during the fourth quarter until Saturday's disheartening loss to Golden State. No other team was undefeated in that situation during the regular season.

• Another Elias gem: LaMarcus Aldridge is the first player with at least 46 points and 18 rebounds in a postseason road win since (whoa) Elgin Baylor in Game 5 of the 1962 Finals. Baylor had 61 points and 22 rebounds in the Lakers' triumph at Boston.

• The Blazers showed up for the postseason with 114 games of combined playoff experience, which accounts for the lowest cumulative total in these playoffs.

• The next shot Roy Hibbert converts outside of the paint will be his first since April 4.

April, 20, 2014
Apr 20
8:51
PM PT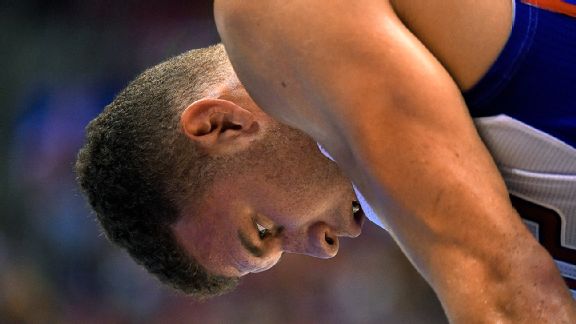 AP Photo/Mark J. TerrillFoul trouble limited Blake Griffin to just 19 minutes in Game 1. Can he flip things around this time?
LOS ANGELES - Blake Griffin was supposed to be resting. Even if the NBA rescinded his 16th technical foul of the season, relieving him of a suspension in the Clippers' regular-season finale, it was more important to the team that Griffin use the 48 hours before Game 1 of their first-round series against the Warriors to heal the myriad things that hurt an NBA power forward's body by the end of the season.
Unlike some players, you have to tell Griffin to rest. And even then, there's no guarantee he'll abide.
In this case, there was no chance.
"We called in and the report was he was in the gym working out at 9 a.m.," Clippers head coach Doc Rivers said, smiling. "I'm like, 'That's not exactly resting. ... But that's Blake.' "
In the nine months since he joined the Clippers, Rivers has come to understand what the franchise has known since a personality test they gave Griffin his rookie year pegged him as a classic perfectionist: When there is uncertainty, he fills it by working.
Rivers used to coach another guy like that in Boston. Griffin is a little easier to be around than the maniacally intense Kevin Garnett. But the personality type is the same, and Rivers has applied many of the same remedies with Griffin this season as he used to help direct Garnett's energy.
April, 20, 2014
Apr 20
12:30
PM PT
PLAYA VISTA, Calif. -- There were 51 fouls called during the Golden State Warriors' 109-105 win against the Los Angeles Clippers in the opening game of the first-round series on Saturday. But on Sunday, the NBA issued a statement admitting there should have been one more foul called.
With 18.9 seconds left in the game and the Clippers down 107-105, Clippers point guard Chris Paul was dribbling the ball above the arc when he was double-teamed by Steve Blake and Draymond Green. Paul then lost the ball after Green reached in and looked as if he had committed a foul.
The play was reviewed but since no foul was called on the floor, the only reviewable action was who touched the ball last, which was Paul. The Warriors would get the ball, hit two more free throws and go on to win the game.
"Under the existing rule, referees may only use instant replay to determine which player caused the ball to go out and a limited set of other reviewable matters," NBA president of basketball operations Rod Thorn said in a statement. "Just prior to the ball going out of bounds, Paul was fouled by Green and Paul should have been granted two free throws. Contact preceding out of bounds calls is not a reviewable matter."
Paul, who missed two free throws after the play and only hit three of his six free throws, didn't take any solace in the league statement before practice on Sunday.
"I missed some free throws," Paul said. "We still had opportunities to win. When the ball went out of bounds I knew it was off me but it felt like it was a foul."
April, 19, 2014
Apr 19
7:53
PM PT
By
Ethan Sherwood Strauss
| ESPN.com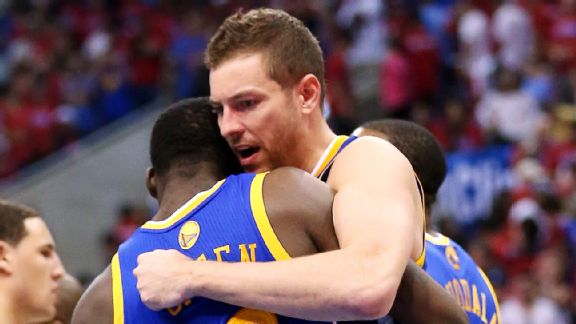 Stephen Dunn/Getty ImagesDraymond Green turned in the kind of plays that made teammate David Lee hug him.
LOS ANGELES -- "Guarantee you I got a text from her telling me about the free throws I missed," Draymond Green said in the locker room.
He was talking about his mother, who jokingly tweeted about spanking her son over two errant foul shots late in the game. Green had also drained two huge free throws earlier in the fourth, but mom isn't prone to letting things slide.
Over social media, she's equal parts optimistic and fiery. She's inclined to remind pundits that where her boy is from, "we breed confidence." The parallels between her and her son aren't difficult to find, just like how the parallels between Green and a surprisingly confident Warriors squad abound.
Logically, you should have counted them out before the game and at points during it. They lack a starting center and a couple of assistant coaches, and their superstar played badly. But despite showing up to a knife fight with spoons, the Golden State Warriors emerged alive -- and with a 1-0 series advantage over the Los Angeles Clippers with a 109-105 win.
April, 19, 2014
Apr 19
7:27
PM PT
LOS ANGELES --
Chris Paul
can often be heard screaming, "It's winning time!" during the fourth quarter of close games.
It's a phrase his teammates have come to expect to hear after every made shot and defensive stop at the end of games to remind them of the moment at hand.
More often than not, "winning time" means just that for the
Los Angeles Clippers
when they find themselves in a tight game with Paul at the helm, especially at home. In fact, the Clippers were 32-0 this season at Staples Center when leading at any point during the fourth quarter.
[+] Enlarge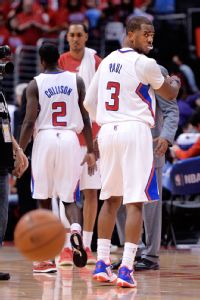 Jayne Kamin-Oncea/USA TODAY SportsChris Paul knows there are plenty of things the Clippers could have done better in Game 1, so he's simply moving on to the next game.
That record is now 32-1 after the Clippers lost Game 1 of their first-round series against the
Golden State Warriors
109-105 on Saturday.
It was an odd game marred by 51 fouls and 60 free throws, but nothing was more unusual than the final two minutes of the game and the Clippers' inability to close with Paul on the court.
The Clippers had come back from an 11-point deficit in the fourth quarter to tie the score on Paul's 3-pointer and later took a 103-102 lead on a
Darren Collison
free throw. It looked as if the Clippers were on the verge of a comeback win when Paul raced down the court for what looked like a fast-break layup that was blocked by
Harrison Barnes
, who connected on a 3-pointer on the other end with 1:42 left.
That would be just the beginning of a litany of late-game errors for the Clippers.
Blake Griffin
, who fouled out after playing only 19 minutes, would miss two point-blank tip-ins before picking up his sixth foul while trying to get the ball from
David Lee
after his second miss.
Paul then stole the ball from
Klay Thompson
with 37.7 seconds left and the score tied and lost it of bounds with a potential 3-on-1 fast-break chance developing with
J.J. Redick
and Collison.
Just 20 seconds later -- and with the Clippers down two -- Paul dribbled the ball out of bounds as he was getting double-teamed by
Steve Blake
and
Draymond Green
. With the Clippers down three, Paul then missed two free throws with 13.9 seconds left before missing the final 3-pointer of the game.
It was the kind of ending Paul was still trying to come to grips with afterward as he looked down at the final box score, searching for something more revealing than what the numbers on the paper offered.
"I've got to take care of the ball," Paul said. "It was just tough. I think the biggest play probably -- other than me missing those free throws -- was that 3-on-1. I want to look at that again, because I probably should've given the ball up to J.J. or Darren, who were running with me. I try to make the right decision in those situations. Unfortunately, I didn't, and I missed a layup. Well, whatever happened, and then they came down. We could've gone up three, but instead, Harrison Barnes makes a shot, and they go up two."