March, 1, 2015
Mar 1
4:34
PM PT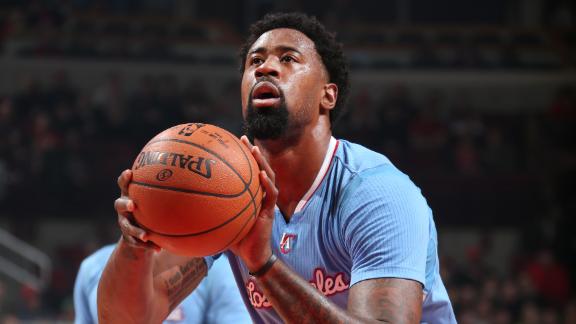 CHICAGO --
DeAndre Jordan
has gotten over being snubbed as an All-Star, but Doc Rivers said it would be a crime worthy of an investigation if he was also snubbed for the Defensive Player of the Year award.
In fact, if Jordan was able to post better offensive numbers, there's no reason in Rivers' eyes he shouldn't be part of the MVP conversation.
"He's clearly the defensive player of the year," Rivers said Sunday. "If anybody else gets that award we need to have an investigation. ... What he's doing defensively, if he was doing that offensively, he would be recognized as the MVP or one of them but because it's defense no one notices."
Jordan started his 300th consecutive game on Sunday, the longest active streak in the NBA, but it wasn't until
Blake Griffin
was sidelined with a staph infection in his right elbow three weeks ago that Jordan received the attention Rivers felt was long overdue for the Clippers' 26-year old center.
"He gets every rebound," Rivers said. "And when he doesn't get it, it takes two guys to keep him off and allows the other guys to get rebounds. He's clearly very important for us."
In the Clippers' 96-86 win over the
Chicago Bulls
Sunday, Jordan had 9 points and 26 rebounds. It was his eighth straight game with at least 15 rebounds, which is the longest streak of any player in the NBA this season. Jordan's first game in March simply builds on a career-best month in February where he averaged 16 points and 17.2 rebounds, becoming one of only three players since the 1985-86 season to average those numbers in a single month.
"You start to take him for granted, I know I do,"
Chris Paul
said. "There's times where I have to sit back and realize I've never a played a game as a Clipper without him. As much as I'm on him sometimes it's because I trust him and believe in him. I know I take him for granted. I couldn't imagine playing without him."
Jordan currently leads the NBA in field goal percentage (72.0) and rebounds per game (14.2) and ranks third in blocks per game (2.3). His field goal percentage is the second-highest single season mark in NBA history and only six players since 1985-86 have averaged at least 14.2 rebounds for a full season. In the Clippers win over the Grizzlies on Friday, Jordan recorded 15 points, 22 rebounds, three assists, three blocks and two steals in 41 minutes becoming one of only three players (
Dwight Howard
and
David Robinson
) since 1985-86 to reach those totals in as few minutes played.
When the Clippers went 13-6 when Paul went down last season, Blake Griffin catapulted his way into the MVP conversation, finishing third behind
Kevin Durant
and
LeBron James
. The Clippers have now won six of their last eight without Griffin, including wins over Dallas, Houston, San Antonio, Memphis and Chicago and Paul is now getting more MVP recognition.
The one constant during both of their absences, however, has been Jordan. The fact that the Clippers have been able to weather the storm and actually improve their place in the standings while their star has been out is direct result of Jordan's stabilizing influence on defense.
"There's nobody like him in our league," Paul said. "To do what he does every night at that size -- and he's young too.
"You look at the stat sheet and you don't see how many time
Aaron Brooks
didn't drive because D.J. was there or how many shots where guys went up and they passed it. That doesn't show up on the stat sheet."
Over the last eight games without Griffin, Jordan has been averaging 17.2 points and 20.5 rebounds per game as the Clippers have gone 6-2 and moved up to fifth in the West.
"It doesn't change anything for me," Jordan said. "It doesn't matter. They [voters] don't like big guys. It's fine. "
Jordan has even found a way to survive the increased amount of intentional fouls he gets late in games. He hit four of eight in the fourth quarter on Sunday as the Clippers' lead went from three to eight before Chicago stopped fouling.
On Friday he made four trips to the line in a 53-second span late in the fourth quarter and converted five of his eight attempts, extending the Clippers' lead by three points. Since Feb. 11, Jordan has increased the Clippers lead in four of the six instances in which he has been intentionally fouled on two or more consecutive possessions and the Clippers are 9-0 in the nine career games in which Jordan has tallied 14 or more free-throw attempts.
"I know it's going to happen throughout the rest of the season and the playoffs," Jordan said. "I can't run away from it. I just have to continue practicing my free throws. I know it's going to come. Whenever I see someone running full speed at me I know it's about to start but it's nothing I shy away from."
When Rivers became the Clippers' coach, he said his expectation was for Jordan to become the Defensive Player of the Year. It seemed like a lofty and almost unrealistic goal at the time but one that now is not only attainable but should be a lock in Rivers' opinion.
"I would definitely be excited about that," Jordan said of winning the award. "It's definitely an individual goal of mine but the ultimate goal is to win a championship. I'll just let my play do the talking."
March, 1, 2015
Mar 1
1:08
PM PT
Associated Press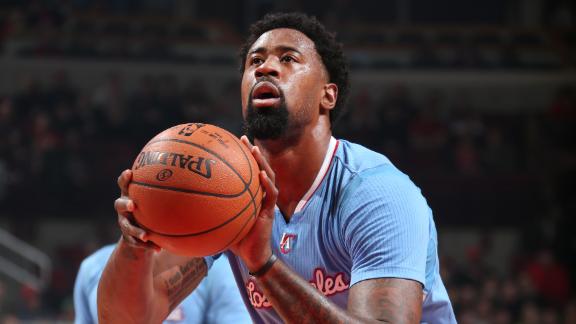 CHICAGO -- DeAndre Jordan had 26 rebounds and Chris Paul scored 28 points Sunday, leading the Los Angeles Clippers to a 96-86 victory over the Chicago Bulls.
Los Angeles trailed 86-85 when Jamal Crawford made a 3-pointer with 8:02 left. The Clippers never trailed the rest of the way. After a scoreless first half, Crawford scored 16 points in the final two quarters.
The Clippers extended their winning streak to five in a row in Chicago, the longest in franchise history. They haven't lost there since Dec. 17, 2008.
Bulls rookie reserve Nikola Mirotic scored a career-high 29 points. He accounted for all but one of his team's 17 points in the fourth quarter. Brooks finished with 14 points and Joakim Noah had 13 points and 11 rebounds.
The Clippers improved to 2-1 on their four-game road trip. The Bulls lost for the third time in their last 10 games.
March, 1, 2015
Mar 1
12:42
PM PT
CHICAGO -- Three weeks ago, the
Los Angeles Clippers
discovered they would be without
Blake Griffin
for about a month after he was disagnosed with a staph infection in his right elbow. Griffin was immediately sent back to Los Angeles for surgery while the Clippers were in Oklahoma City.
Without Griffin, the Clippers were blown out by the Thunder and suffered their fourth straight loss, dropping to seventh in the West.
Since then, however, the Clippers have won six of eight games, including their 96-86 win over the
Chicago Bulls
on Sunday. Even more impressive than their record without Griffin, which has helped them move up to the fifth seed in the West, is that the Clippers have beaten playoff teams such as Dallas, Houston, San Antonio, Memphis and Chicago in his absence.
In fact, some of their more impressive road wins of the season (Dallas, Memphis and Chicago) have come with Griffin back in Los Angeles. In his absence, the Clippers' other players have stepped up to the challenge.
Chris Paul
had 28 points and 12 assists on Sunday, his fourth straight game with at least 19 points and 10 assists.
DeAndre Jordan
had 26 rebounds and nine points, his eighth straight game with at least 15 rebounds, which is the longest streak in the NBA this season. In fact, Jordan had 17 rebounds in the first half, which was the most rebounds in any half by any player this season.
The Clippers, however, realize they need Griffin back if they're going to do anything significant this season, and there's a chance they may get him back as early as next week if the Clippers feel comfortable with the progress he's made after four weeks.
"We need Blake. Don't get it twisted: We need him, and we need him bad," Paul said on Friday. "But what this has done is give everyone else an opportunity to step up a little bit, and I think that will help us when Blake comes back. Everyone will have more confidence, and we'll really get rolling."
February, 27, 2015
Feb 27
10:34
PM PT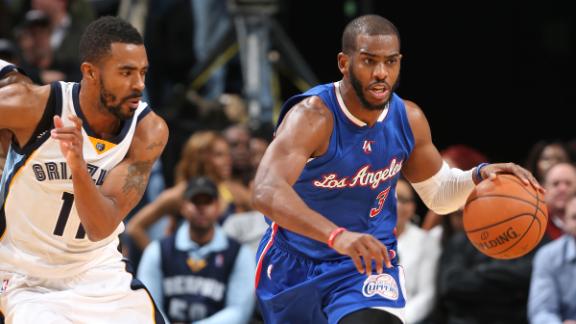 MEMPHIS -- Doc Rivers' demeanor doesn't change much after games.
Whether the Clippers win or lose, he will grab a final box score, take a deep breath, look at the reporters before him and wait for the first question. He'll shrug his shoulders at any inclination that a win was anything more than just one win. He'll roll his eyes at any suggestion that a loss was anything more than just one loss.
In Rivers' eyes, there's no such thing as a big win or a big loss because there's no such thing as a big game over the course of an 82-game season.
But there was something different about the Clippers' 97-79 win over the
Memphis Grizzlies
on Friday. It will count as just one win in the standings, but that's not exactly the reaction it elicited from the Clippers as they put the finishing touches on arguably their biggest win of the season.
Four days after he dropped his head following a game-ending turnover against the Grizzlies in Los Angeles,
Chris Paul
was yelling at the Clippers' bench after a game-clinching 3-pointer in the fourth quarter in Memphis. He had 19 points -- 11 in the fourth quarter -- and three assists. Not only did Paul get his revenge, but the Clippers also found a way to beat a Grizzlies team to which they had lost in eight of their previous nine meetings.
"It still only means one game," Rivers said afterward.
It's understandable for Rivers to take that never-changing stance, but the noise emanating from the Clippers locker room after the game told a different story.
The Clippers needed a game such as this. Sure, they're simply trying to survive without
Blake Griffin
right now. No, a loss Friday wouldn't have been the end of their season. But at some point, the Clippers needed to beat the Grizzlies, and they needed to beat them in Memphis to build some confidence that they could actually do it if they end up meeting each other in the postseason.
[+] Enlarge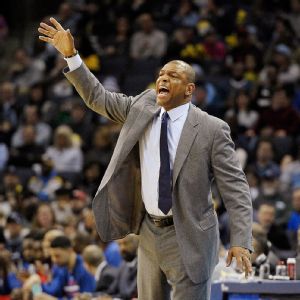 Justin Ford/USA TODAY SportsDoc Rivers might not be crowing about his team's win in Memphis, but his players seemed enthused.
"Maybe I'm just dumb and I don't see it," Rivers said. "For me, it doesn't stay with me. With the players it may. They may have needed this for them. For me, I believe we can beat them. Whether we won or not, I was still going to believe that after this game."
Rivers has talked about basically trying to survive the grind of the regular season since the start of training camp, with his lone goal being to win enough games to qualify for the playoffs. He'll concede seeding is important, depending on the team he has, but of secondary importance to finishing the season healthy.
After Friday's win, the Clippers are the sixth seed in the West but just one win from moving up to the fourth or fifth seed. Even more important, they might not be far from getting Griffin back and being healthy going into the stretch run of the regular season. While the Clippers have been on the road this week, Griffin has been at the team facility rehabbing and sending positive reports to his teammates via group text.
Last season, the turning point in the Clippers' regular season came when they lost Chris Paul for five weeks and found a way to not only stay afloat but also move up in the standings. The Clippers have found a way to do it again this season without Griffin; they have won five of their past seven without their All-Star forward, including wins over the likes of Dallas, Houston, San Antonio and Memphis.
"We're competing," Rivers said. "It's tough. When Chris went out last year, we had [
Darren Collison
] still, but Spencer [Hawes] has been up and down this year, so with Blake out this year, it matters. We have to play with pace because we don't have the extra passer with Blake out. What we got away with last year with Chris out was Blake was still our passer, so we still had a guy who could facilitate."
Instead of an extra facilitator now, the Clippers have seen
DeAndre Jordan
blossom into one of the best big men in the game. He had 15 points and 22 rebounds Friday and has been averaging 18.4 points and 19.7 rebounds in Griffin's absence. A player who didn't have a 20-20 game before this month is averaging that over the past seven games -- out of necessity for his team.
"We need Blake. Don't get it twisted: We need him, and we need him bad," Paul said. "But what this has done is give everyone else an opportunity to step up a little bit, and I think that will help us when Blake comes back. Everyone will have more confidence, and we'll really get rolling."
Rivers knew the Clippers were capable of this, but sometimes a team needs to do it before it can really believe it. On Friday, the Clippers did it, and now they finally believe what their coach has been telling them since the start of training camp over four months ago.
"Our guys are really starting to believe we're as good as I've been saying all year," Rivers said. "You can play with teams, and we know when we get everyone back that will make us even better."
February, 27, 2015
Feb 27
7:51
PM PT
Associated Press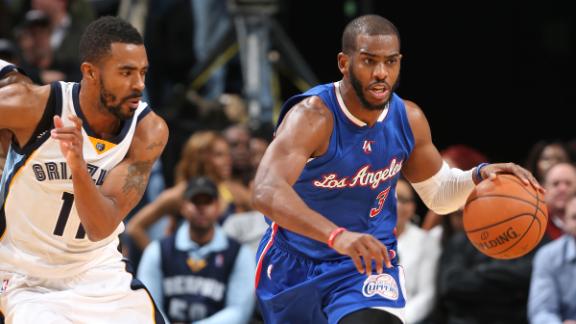 MEMPHIS, Tenn. -- Chris Paul had 19 points and 13 assists, DeAndre Jordan added 15 points and 22 rebounds to lead the Los Angeles Clippers past the Memphis Grizzlies 97-79 on Friday night.
Jamal Crawford also had 19 points, and J.J. Redick finished with 18. Matt Barnes added 13 for the Clippers.
Zach Randolph led Memphis with 20 points and 10 rebounds, while connecting on 10 of 18 shots. Courtney Lee added 12 points, while Marc Gasol scored 11 as the Grizzlies lost their second straight.
Jordan helped the Clippers hold a 47-41 advantage in rebounds. Los Angeles finished by shooting 46 percent, including Redick, Paul and Crawford connecting on half of their shots. The Clippers were 9 of 26 from outside the arc, including 7 of 12 in the second half, when they build a double-digit advantage.
February, 27, 2015
Feb 27
7:50
PM PT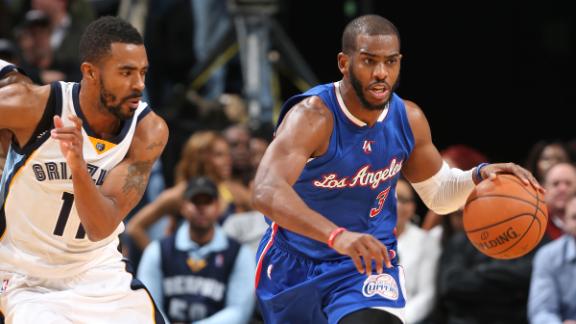 MEMPHIS --
Chris Paul
spent most of Monday fixated on his tablet after losing to the
Memphis Grizzlies
.
It was Paul's turnover late in the game that cost the Clippers a chance to win on a night when his 30 points and 10 assists were the reason they were even in position to win the game.
But as soon as Monday turned into Tuesday, Paul said he would put the game behind him until he faced the Grizzlies again on Friday. That's when he would get a chance to exact some revenge. He did just that, as the Clippers secured arguably their biggest win of the season, beating Memphis 97-79, after losing eight of the previous nine games to the Grizzlies.
The Grizzlies are a team the Clippers will likely see in the playoffs if they hope to make a deep postseason run. Over the past couple of seasons, the Clippers have had a hard time adjusting to their physical style.
"They're more physical, at least they have been more physical," Clippers coach Doc Rivers said. "They play their way. They are one of the two or three teams in the league that have accepted who they are, and they never get out of it. That way is pretty much the opposite of the way we want to play. The games we've won, we've played our way, and the games they've won, they've played their way."
On Friday, the Clippers found a way to play their way in a low-scoring game that at times turned into a "wrestling match," as Rivers likes to say, but each time, the Clippers found a way to break free. After being tied at 41 in the first half, the Clippers went on a 21-6 run to start the third quarter and were up by as many as 16 points in the game.
"We don't worry about their [physicality], why should we match it," Rivers said. "They're big and strong, we're quick and fast. If we spend our time trying to wrestle them, they're probably going to win."
In the end the Clippers ended up winning by refusing to get stuck in a wrestling match with the Grizzlies and by Paul refusing to let the game come down to the end this time. He finished with 19 points -- scoring 11 in the fourth quarter -- and 13 assists and adding a Ric Flair-like, "Whoooo!" after his final basket of the game.
Well, maybe the Clippers didn't mind a little wrestling at the end after all.
Under review:
Matt Barnes
has had his fair share of run-ins with officials over the years. In fact, he picked up a technical early in Friday's game for screaming after a foul. And one thing he normally says in the aftermath of a fine, suspension or other league-related discipline is he hopes one day officials will be judged and analyzed the same way players are.
It might not be exactly what he was hoping for before Friday's game, but the NBA announced a new transparency in which the league will provide play-by-play reports regarding all calls and material non-calls that occur in the last two minutes of close games and during entire overtime periods.
"What about the other 46 minutes," Barnes said. "I just think everything we do is under review and under scrutiny, and they're on the court with us. ... It's not like it's going to change anything drastically. They're not perfect just like we're not perfect, but they should be held to a higher standard. You have to be held accountable for your actions. If you mess up a call or call a crazy T [technical], everyone should know about it -- just like when we miss a free throw or a big shot in the game, everyone knows about it."
Raywatch:
When Rivers was asked before the game if he had checked in with free agent guard Ray Allen recently, he smiled and said, "I've check in with a lot of people." When asked if Allen had indicated to him if he will play this season, Rivers said, "No, not yet."
Up next:
The Clippers will travel to Chicago to play the Bulls on Sunday as they begin the back end of their four-game road trip, which wraps up in Minnesota on Monday.
February, 27, 2015
Feb 27
1:20
PM PT
Associated Press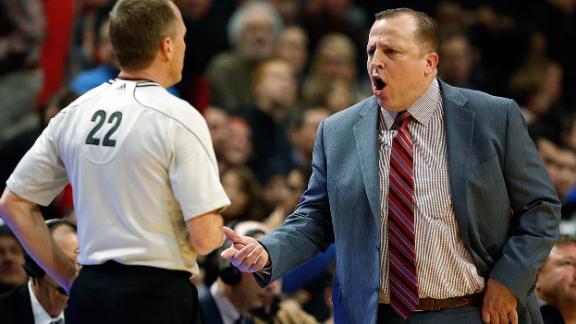 NEW YORK -- The NBA will begin revealing whether it determined referees' crunch-time calls to be right or wrong.
Starting Monday and continuing throughout the playoffs, the league will release play-by-play reports of all calls and relevant no-calls in the final minutes of close games. Such information had been shared only internally.
The assessments will be released by 5 p.m. the day after each game and will stand as the league's comment on whether the most-disputed calls were correct. The reports will focus on the last two minutes of games that were within five points at the two-minute mark and all of any overtime periods.
Each play is reviewed by a senior basketball operations manager or senior referee manager. The reports will say how the play was graded -- correct or incorrect -- and will be accompanied by a comment and video link. The reports will be posted at NBA.com/official and also on the league's media site.
"Our policy in the past was pretty much to wait until we had something that was controversial enough to really garner a lot of interest, and we didn't think that that was a practical approach," NBA executive vice president of referee operations Mike Bantom said. "And it also wasn't very fair because they always tended to be errors that were made, so we tried to come up with a system that would allow us to provide some insight into our process and set a criteria that would allow us to be more standardized and more consistent."
Bantom said referees' input about the old policy was a factor in the development of the new one and they welcomed the change from the league announcing only when calls were incorrect.
February, 25, 2015
Feb 25
10:53
PM PT
[+] Enlarge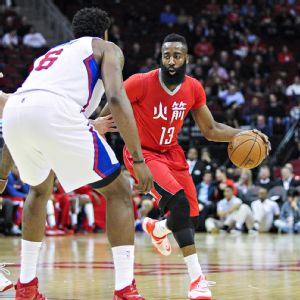 Troy Taormina/USA TODAY SportsJames Harden hit just 4-of-13 shots against the Clippers but also hit 10-of-12 free throws and had 10 assists.
HOUSTON -- James Harden limped out of the Houston Rockets' locker room on Wednesday night, a sprained right ankle the reason for his Fred Sanford-like walk.
It was a typical night for the NBA's leading scorer: Get knocked down, find your shot, help others and win.
Harden finished with 21 points but missed his first six shots of the game to do it, in the Rockets' 110-105 victory over the Los Angeles Clippers.
"Just missing my shots [and] I had a couple of catch-and-shoot opportunities that I missed, and I'm not really worried about it," Harden said. "I'm not just a scorer, I'm a playmaker as well so having 10 assists out there, getting my guys involved, doing whatever it takes to win basketball games, that's what's important."
It was the first time this season the Rockets had beaten the Clippers in three meetings and forward Donatas Motiejunas said psychologically it was important to finally beat them considering the two teams would meet if the playoffs started today.
February, 25, 2015
Feb 25
10:36
PM PT
HOUSTON -- When Doc Rivers waived
Jordan Farmar
and traded
Reggie Bullock
and Chris Douglas-Roberts to acquire
Austin Rivers
last month, he didn't do so just to be reunited with his son and upgrade the backup point guard position on his team.
He wanted to create roster flexibility. He wanted to open up a couple of roster spots going into the trade deadline so he could go after players to bolster the
Clippers
' roster heading into the playoffs.
"I think it will be an active buyout season," Rivers said at the time he made the moves. "We'll see. Maybe more so than last year."
Last season the Clippers were able to add
Glen "Big Baby" Davis
and
Danny Granger
after the trade deadline and during the "buyout season." This season they've struck out and missed so far on every veteran they targeted.
They reached out to
Josh Smith
after the
Detroit Pistons
waived him, but he opted to sign with the
Houston Rockets
.
They recruited
Kendrick Perkins
hard after the
Utah Jazz
bought him out and before he decided to join
LeBron James
and the
Cleveland Cavaliers
.
They had their sights set on
Kevin Garnett
and
Tayshaun Prince
before both were traded back to their original teams at the deadline.
They still have an open invitation out to Ray Allen, but he appears content to stay retired.
Instead, the Clippers have used their extra roster spots so far to sign
Dahntay Jones
, who was signed for the rest of the season on Feb. 3 after signing two 10-day contracts, and
Jordan Hamilton
, who signed a 10-day contract on Monday. Neither played on Wednesday.
Not exactly the big moves Rivers anticipated making, but that hasn't changed his view of the Clippers.
"We like our team," Rivers said Wednesday. "We actually like our basketball team, and if we could add something that can help that, we will. What people don't understand is chemistry is so freaking important. Unless it's somebody you think is going to really change your team, this team was a couple bad plays in Game 6 away from the Western Conference finals last year. We lost some guys and added some guys, but we like our team."
The Clippers were two wins over
Oklahoma City
from playing
San Antonio
in the Western Conference finals, but they haven't exactly improved since then. They lost backup point guard
Darren Collison
, who sparked the Clippers to their comeback win over the Thunder in Game 4, in the offseason to the
Sacramento Kings
. They gave up a first-round pick to part with
Jared Dudley
, who is averaging eight points and three rebounds while shooting 49.3 percent from the field and 42.6 percent from 3 for
Milwaukee
this season. They signed Farmar to replace Collison, but he never fit in, and he's now playing in Turkey. They signed
Spencer Hawes
to a four-year, $23 million contract but he has been underwhelming at best, averaging 6.5 points and 3.8 rebounds while shooting 42.9 percent from the field and 32.8 percent from 3.
The Clippers could have probably used some help from the buyout market this season, certainly in light of
Blake Griffin
's elbow surgery, but simply haven't been as successful as they were last season.
"We just haven't been as active as we wanted to be," Rivers said. "We thought it would be more guys, to be honest, but it's not like we've been out there with a 'For Sale' sign."
Rivers not only swung and missed with the Farmar and Douglas-Roberts signings on the court but neither was a real good fit in the locker room, making Rivers more apprehensive than usual when pursuing players he doesn't personally know.
"You know a lot going into it. You really do," Rivers said. "There are some guys you'll take a risk on and some guys you just won't take a risk on. Let's just be honest: Guys who are out there, that's what you're trying to judge. You're trying to judge your locker room, too. If you have a veteran-laced locker room, you're probably willing to take more risk. If you don't, you're probably willing to take less."
Rivers would have loved to add Garnett, Perkins or Allen to the mix for the stretch run, but he also wasn't in the market to just add anybody when those possibilities failed to materialize as planned. He still thinks the Clippers will be able to compete for a championship as they are currently constructed.
"You look at San Antonio, they never [take risks in the buyout market], for the most part," Rivers said. "They've taken a couple, but one of the things [Spurs coach Gregg Popovich] believes in -- and I do, too -- when you start with your roster at the beginning of the year and your chemistry looks good, you should be very careful, even if it's a minor move with tweaking it. It's worked pretty well for him, so if I can follow that, I think it's probably a good idea."