October, 1, 2014
Oct 1
5:47
PM PT
Associated Press
LOS ANGELES -- Beverly Hills police were called to the home of Donald Sterling after his estranged wife, Shelly, reported a burglary, but found no crime.
Instead, officers found Sterling hosting V. Stiviano -- the woman whose recordings of him making racist remarks led to his removal as owner of the Los Angeles Clippers and a lifetime ban from the NBA.
Lt. Lincoln Hoshino said officers were called to the home by Shelly Sterling at 1:40 p.m. PT Wednesday and were there for roughly 15 minutes.
Hoshino said they found "no criminal activity whatsoever" and Stiviano was Donald Sterling's invited guest.
In March, Shelly Sterling sued Stiviano, seeking the return of more than $2.5 million in gifts Stiviano allegedly received from Donald Sterling.
Shelly Sterling's attorney said he had no knowledge of the incident.
September, 30, 2014
Sep 30
2:24
PM PT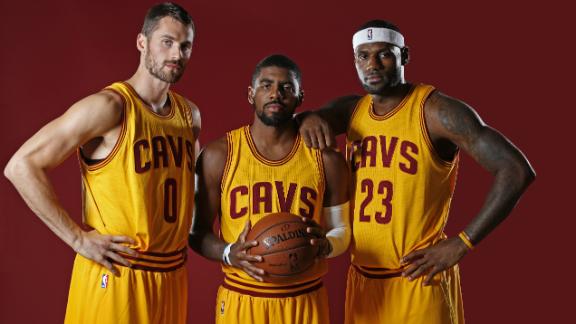 With LeBron James back in uniform, the Cleveland Cavaliers are expected to win more games than any other team, according to one Las Vegas sportsbook.
But it's close.
The Westgate SuperBook posted its NBA season win totals Tuesday. The SuperBook opened the Cavaliers' season win total at 58.5. The Oklahoma City Thunder (57.5), defending champion San Antonio Spurs (56.5), Chicago Bulls (55.5), Los Angeles Clippers (55.5) and Golden State Warriors (50.5) also are projected to win 50-plus games.
Last season, the SuperBook set the Cavs' season win total at 40.5. Cleveland went 33-49 but significantly upgraded its roster with the return of James and the trade for All-Star forward Kevin Love.
In James' first seven seasons in Cleveland, the Cavaliers averaged 50.7 wins. They averaged just 24.5 wins the previous four years while James was with the Miami Heat.
"The Cavs' number was made with their new team in relation to the East and past years' numbers that we used for the Heat," said Jeff Sherman, head NBA oddsmaker for the SuperBook. "Their number is slightly lower than Heat's in the LeBron years, with this being the Cavs' new players first year together."
The Heat's win total last season was 60.5. Without James, this year's number at the SuperBook is 43.5.
September, 29, 2014
Sep 29
3:36
PM PT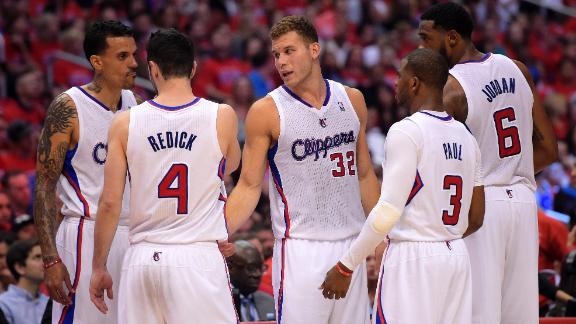 PLAYA VISTA, Calif. -- If the can't-get-past-the-second-round label affixed to Chris Paul is not unfair but "the truth," as Paul himself acknowledged, then it's equally truthful to say it's up to Blake Griffin to take the Los Angeles Clippers deeper into the playoffs.
While Paul once again lived up to the biggest knock against him, Griffin just shed some of the nagging critiques of his game.
The all-he-does-is-dunk tag is long gone for Griffin, and you can't just foul him and consider it a defensive stop anymore. He expanded his shooting comfort zone last season, making an additional 59 midrange jump shots from the previous season, according to data on vorped.com. He shot a career-high 72 percent from the free throw line. He has gone from a guy who can get 20 points easily to a guy who can get 30 regularly. He scored 30-plus points 16 times last season, after hitting that mark only three times in 2012-13.
Now it's time for the ultimate test: Can he be the star in a playoff game?
That's where Chris Paul still holds the edge, that disastrous finish to Game 5 in Oklahoma City notwithstanding. Paul was the story of the Clippers' Game 1 victory in that series with his eight 3-pointers, and the story of their Game 4 victory with his efforts on the defensive end. Griffin has yet to put his watermark on a second-round playoff victory.
Griffin shot only 46 percent in the Oklahoma City series, after shooting 53 percent in both the regular season and the first round of the playoffs. He had only one postseason game with double-digit rebounds. With their season at stake in Game 6 of the second round, he committed three fouls in the fourth quarter, leaving after picking up his sixth with 2:27 remaining.
So, yes, there's work to be done. But when we're poring over the numbers, we shouldn't overlook the date of his birth: 3/16/89.
"Blake's had so much, so fast that people think he's 30," Clippers forward Matt Barnes
September, 29, 2014
Sep 29
3:09
PM PT
PLAYA VISTA, Calif. -- The Los Angeles Clippers officially added Sam Cassell, Lawrence Frank and Mike Woodson as assistant coaches, the team announced Monday.
The trio joins current assistant coaches Armond Hill and Brendan O'Connor as well as assistant player skills coaches JP Clark and Dave Severns on Doc Rivers' bench.
"We have an impressive and experienced group of coaches who are excited to get to work," Rivers said. "Mike and Lawrence have enjoyed tremendous success as head coaches and Sam is someone who I coached as a player and respected as an assistant with the Wizards. I am excited to continue to work with the entire staff as we prepare for the season."
Cassell, 44, joins the Clippers from the Washington Wizards where he served as an assistant coach for the last five seasons. Cassell played for the Clippers for two seasons, leading them to Game 7 of the Western Conference semifinals in 2006, which is still their deepest postseason run. He also won an NBA title as a player with the Boston Celtics with Rivers as his coach.
Frank, 44, was a member of Rivers' coaching staff in Boston during the 2010-2011 season and was the head coach of the New Jersey Nets from 2003-2010 where he accumulated a 225-241 (.483) overall record and led them to the playoffs four times. Frank also served as head coach of the Detroit Pistons for two seasons (2011-2013), collecting a total record of 54-94 (.365).
September, 29, 2014
Sep 29
3:00
PM PT
By
Royce Young
| ESPN.com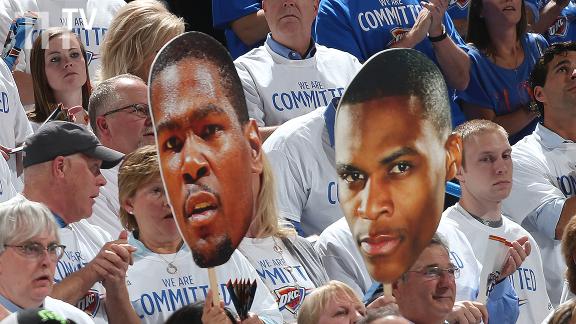 OKLAHOMA CITY -- Thunder coach Scott Brooks believes that Russell Westbrook is the "best point guard in basketball" -- and Westbrook couldn't argue with his coach's assessment Monday.
Brooks almost seemed eager to bestow the label on his player as the coach addressed reporters at the team's media day.
"I believe Russell is the best point guard in basketball," Brooks said, unprompted. "That's happened over time. I've seen Russell every practice, every game, every film session, and he's really put a lot of time into being the best point guard in basketball."
Westbrook certainly has a strong case, but the point guard position is as deep as it has ever been. Chris Paul, Stephen Curry, Damian Lillard, Derrick Rose, Kyrie Irving, Tony Parker and John Wall, among others, are pretty stiff competition.
As you'd expect, though, Westbrook concurred with his coach's statement.
"I do," he said. "I'm very honored to hear him say that, but that's how I feel. I mean, I don't know what to tell you."
Westbrook has never been short on confidence, playing with a brash sense of self-assurance despite occasional outspoken criticism. Even playing alongside as prolific a player as Kevin Durant, Westbrook rarely hesitates when it comes to putting his mark on a game.
September, 29, 2014
Sep 29
2:42
PM PT
PLAYA VISTA, Calif. - Los Angeles Clippers point guard Chris Paul is considered one of the best point guards in basketball and his numbers through the first nine seasons of his career are on par with Magic Johnson and Isiah Thomas but the one blemish on his resume is postseason success.
Going into his tenth season in the NBA, Paul has yet to make it past the second round of the playoffs and understands it will become the focus of his career if that doesn't change, especially this season with the Clippers coming in as one of the favorites to win the championship.
"It's the truth, it doesn't matter if it's fair or not," Paul said. "That's a huge deal, especially to me and us as a team. This year it's about the process. It would be nice if we could start the playoffs tomorrow but we have a lot of work to do before that. I understand last year we had a great opportunity and Game 5 [of the Western Conference semifinals] was horrible and it's no secret why we lost Game 5 but this year gives us an opportunity to get right back there. They say history tends to repeat itself but this is one of those where we hope it doesn't."
Paul isn't the only player on the Clippers who has failed to make it out of the second round. The same goes for Blake Griffin and DeAndre Jordan, the other two captains on the team, as well as most of the roster. In fact, only two players on the roster (Glen "Big Baby" Davis and Jordan Farmar) have championship rings.
"It shouldn't be focused on just one person," Griffin said. "One guy can't win or lose on his own. It's not fair to put any type of blame on anyone. We were all out there playing and we all made mistakes and we all did things we wish we could change. It's not whether it's fair or not, it is what it is. It is a reality: we haven't gotten past the second round. We can't hang our heads and feel sorry. We have to take that responsibility as a team."
After winning 57 games last season, a franchise record, and winning the Pacific Division for the second straight season, the Clippers come into this season as one of the favorites to come out of the West along with the defending champion San Antonio Spurs
September, 29, 2014
Sep 29
2:07
PM PT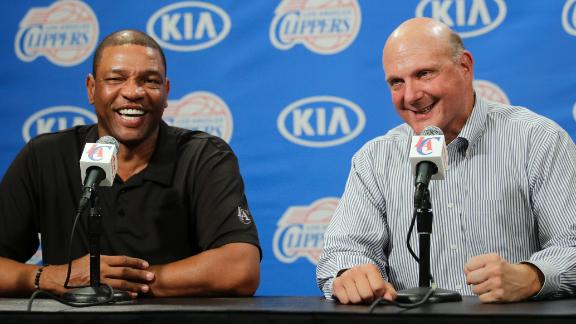 PLAYA VISTA, Calif. -- A year ago at media day, Los Angeles Clippers coach Doc Rivers set the franchise's preseason talking points with the polish and discipline of an electoral candidate.
From that point forward, young center DeAndre Jordan would join Chris Paul and Blake Griffin as a member of the team's big three. Griffin would have the full confidence of his coach to assume his place as the best power/finesse big man in the game. The team would implement a brand of defense that won a championship in Boston and fashioned new trends on whiteboards across the NBA.
Above all, the team would instill a new kind of process whereby players would take their work seriously but nobody would sweat the small stuff. Sounds basic, but for Griffin and Jordan in particular, it was a new mindset.
The mood and message Monday at the Clippers' training facility was decidedly less punchy. The fog of spring, when the Donald Sterling scandal seeped into every media availability and every examination of the team's on-court performance, had lifted. Rivers' process remains front and center, but as Paul explained on the dais, what was once novel is now routine.
"I think last year as a team, we sort of learned what the process was," Paul said. "This year as a team, we have to fall in love with the process."
To the extent that there was a common theme present Monday, Paul was echoing his coach's appraisal of the agenda: There's a calm that comes with implementing familiar sets, understanding tendencies and knowing where the tripwires are on the floor and in the locker room.
September, 29, 2014
Sep 29
7:06
AM PT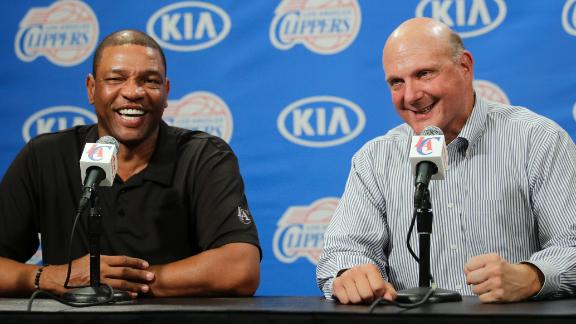 Sports owners filled the annual list of the 400 richest Americans published by Forbes magazine on Monday, including new Los Angeles Clippers owner Steve Ballmer, who at a net worth of $22.5 billion is the richest American owner of a sports team.
Ballmer, who spent 34 years at Microsoft, bought the Clippers in August from Donald and Shelly Sterling for $2 billion, after they were essentially forced to sell following Sterling's much-publicized racist comments. Ballmer is the 18th-richest American.
Microsoft co-founder Paul Allen, who owns both the Portland Trail Blazers and Seattle Seahawks, came in as the second-richest sports owner with a net worth of $17 billion (27th on the list), while Phil Anschutz, who owns both the Los Angeles Kings and the Staples Center where Ballmer's Clippers play, rounds out the top three, with a net worth of $11.1 billion.
Floridian sports owners have a heavy presence on the list, including Miami Heat owner Micky Arison ($6.4 billion), Orlando Magic owner Rich DeVos ($6 billion), Miami Dolphins owner Stephen Ross ($6 billion) and Jacksonville Jaguars owner Shahid Khan ($4.5 billion).
September, 26, 2014
Sep 26
5:14
PM PT
Los Angeles Clippers
coach
Doc Rivers
gives his takes on what dealing with the Donald Sterling situation was like and offers his expectations for the upcoming season on ESPN Radio's "The Dan Le Batard Show."


September, 25, 2014
Sep 25
8:43
AM PT
By
Mike Mazzeo
| Special to ESPNNewYork.com
The Brooklyn Nets and assistant coach Lawrence Frank have reached a buyout agreement, allowing the 44-year-old to join the Los Angeles Clippers and become an assistant under Doc Rivers.
Congratulations & best of luck to Lawrence Frank on his new position with the @LAClippers staff! #TeamASM

- ASM SPORTS (@ASM_SPORTS) September 25, 2014
Last season, the Nets made Frank the highest-paid assistant coach in NBA history, giving him a six-year, $6 million contract to mentor Jason Kidd in Kidd's first season as a head coach.
But their relationship quickly deteriorated, and Frank was demoted to doing daily reports.
Lionel Hollins has since replaced Kidd in Brooklyn following Kidd's departure to Milwaukee.
Frank had formerly served under Rivers in Boston with the Celtics and was a head coach in both New Jersey and Detroit.
September, 19, 2014
Sep 19
8:28
AM PT
When we rolled out Real Plus-Minus last year at ESPN, I quickly realized that the stars of the system weren't the usual super-celebs we all know about, but the glue guys we've always known are important, but never have quite been able to quantify. Of course year-in, year-out RPM leaderboards are dominated by the one-name guys. But sprinkled among all those media darlings were some less-known performers, like Andre Iguodala, Amir Johnson, Anderson Varejao, Nick Collison and DeMarre Carroll.
Players like these make a major impact on the floor by contributing in ways other than scoring, which is typically the category that earns the huge contracts and endorsement deals. Contending teams need role players who effectively fill the gaps left by cornerstone players, and the better a player is at his specialty, the more it's going to help that team.
With that in mind, let's look at three role players from contending teams who won't be the subject of many preseason previews, but will have a major impact in their projected role.