Los Angeles Clippers:

Practice
February, 11, 2014
Feb 11
5:31
PM PT
LOS ANGELES -- At some point this month, the
Los Angeles Clippers
will hit a critical crossroads where they will be fully healthy for the first time this season at around the same time the players and coaches finally reach a comfort level with each other.
The big question will be how good can the Clippers be and how far can they go after the All-Star break?
[+] Enlarge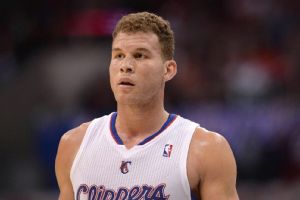 Noah Graham/Getty ImagesBlake Griffin says it has been a struggle for the Clippers with all their injuries but that all that matters is being healthy for the playoffs.
"We're hitting a little bit of a stride,"
Blake Griffin
said. "We're more than halfway through the season, and hopefully everyone's getting to the point where we're healthy. This is the time, March and April, where you hit your stride. I don't think people really realized how much new stuff we had going on with the team. A brand-new coaching staff, seven new players, so it's going to take some time and it did take some time, but I think we're starting to turn the corner."
Griffin certainly has turned the corner this season and has helped keep the Clippers near the top of the Western Conference despite a rash of injuries that has robbed the team of its starting backcourt for much of the season.
Since Dec. 16, Griffin has scored at least 25 points 20 times, including 15 times in the past 17 games, and has led the Clippers to a 20-9 record, despite the team missing
J.J. Redick
for 16 of those 29 games and
Chris Paul
for 18 games.
With Paul's return to the team Sunday and Redick's return next week after the All-Star break, everyone finally will see what Griffin and the Clippers can do at full strength.
"We haven't been completely healthy; there at the beginning, J.J. was out for so long and
Matt [Barnes]
was out and then we lost CP and J.J. came back and then got hurt," Griffin said. "It's been a constant struggle with injuries but a lot of teams go through those things. I've said throughout the course of the season, as long as we're healthy come playoffs, I'm happy."
Even without Paul, the Clippers went 14-6, and they have managed to make it through missing Redick for 25 games and Barnes for 19 games. With all three back, the Clippers not only will have a stronger starting lineup, but they finally can showcase a second unit they were high on coming into the season before some of those players were thrust into starting roles.
Players such as
Jamal Crawford
,
Darren Collison
,
Jared Dudley
and
Hedo Turkoglu
, who was signed last month, can help the Clippers build and at least maintain leads -- something that has been a problem with a second unit that has underperformed because of the constant lineup changes.
April, 21, 2013
4/21/13
2:18
PM PT
PLAYA VISTA, Calif. --
Los Angeles Clippers
guard
Eric Bledsoe
had a coming-out party during last year's playoff series against the
Memphis Grizzlies
. If the beginning of this year's series against the Grizzlies is any indication, it could be the beginning of his farewell party. Well, in Los Angeles anyway.
Bledsoe averaged 3.3 points, 1.7 assists and 1.6 rebounds during the regular season last season but those averages spiked to 7.9 points, 2.1 assists and 2.4 rebounds during the playoffs. This season, Bledsoe averaged 8.5 points, 3.1 assists and 3.0 rebounds during the regular season but had 15 points, four assists and six rebounds in Game 1.
[+] Enlarge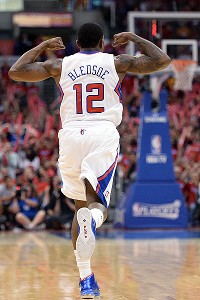 Harry How/Getty ImagesEric Bledsoe has started the 2013 playoffs much the same way he did last season's.
The 23-year-old point guard is progressively improving and
Chris Paul
knows it's only a matter of time before he will be forced to play against him instead of alongside of him.
"Bled is one of the best guards in our league," Paul said after practice Sunday. "I've said it all season long. I'm enjoying playing with him right now because there's no way he can be here next year because we probably won't have enough money to pay him. He should be a starting point guard in this league next year."
Bledsoe is actually under contract for next season at $2.6 million, but Paul's words may be the clearest indication yet that he fully intends to sign the five-year, $108 million contract extension the Clippers plan to offer him in the offseason. He knows as long as he is the Clippers' point guard; there simply is no room for Bledsoe.
Chauncey Billups
, who had 14 points in Game 1, also said last week that he fully intends to play next season and would like to return to the Clippers.
Willie Green
, who started 60 games this season at shooting guard, could also return next season as the Clippers hold a team option at just $1.4 million.
So with his trade value at an all-time high and the Clippers having a potentially crowded backcourt next season, the team could end up trading Bledsoe to upgrade at another position. Bledsoe was rumored to be included in a package with
DeAndre Jordan
for
Kevin Garnett
during the All-Star break, but that never materialized.
The Clippers, however, don't need to worry about Bledsoe's future right now as they figure out how to utilize him while they still have him. One option that the Clippers toyed with Saturday is playing Bledsoe along with Paul and Billups, which helped the Clippers close out the game.
"It gives you almost like a three-headed monster," Paul said. "It almost took me back to my college days [at Wake Forest] when I was with Justin Gray and Taron Downey. Bled's that blur. He probably runs faster than me and Chauncey put together. And me and Chauncey are a little more crafty and things like that. ... I think it gave us a little more versatility. They didn't know who to guard."
March, 12, 2013
3/12/13
4:55
PM PT
PLAYA VISTA, Calif. --
Los Angeles Clippers
forward
Blake Griffin
got to know
Memphis Grizzlies
forward
Zach Randolph
well during last season's grueling seven-game playoff series. They got into each other's faces on more than a few occasions then, and again during this season's opener.
Griffin is preparing for another physical battle Wednesday when the Clippers face the Grizzlies.
When Griffin was asked if Randolph gets under Griffin's skin, he said, "He tries to." When Griffin was asked if Randolph is successful getting under his skin, he said, "No."
[+] Enlarge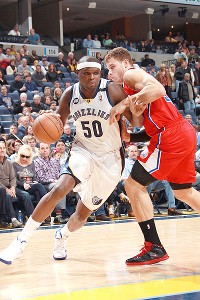 Joe Murphy/NBAE/Getty ImagesZach Randolph, left, of the Grizzlies, and Blake Griffin of the Clippers have been in a number of physical battles when the teams play.
"You just keep playing," Griffin said. "You don't even acknowledge it. You just keep going.
"I think it's their style of play as a team in general. They like to grind it out. They're physical down low. Not just with one guy but all their bigs. That's just the kind of style they play."
Clippers guard
Chauncey Billups
said Wednesday's game against Memphis will be a good test for the Clippers when it comes to the physicality they can expect in the playoffs.
"I would say they are the most physical team in the league," Billups said. "They play the game the way it used to be played with some of my Detroit teams when the game was more physical and the rules were a little different. They haven't changed to the new rules. I like that, though. I can appreciate that."
The winner of Wednesday's game will become the No. 3 seed in the West with fewer than 20 games left in the season. After the two teams' battles last season, Griffin said there won't be any surprises when they take the court.
"We definitely know what to expect and we know exactly how they play -- getting to play them seven games in a row in two and a half weeks is very telling," Griffin said. "You learn a lot how to play them, so we're better off against them today."
As big as the game is for the Clippers from a seeding perspective, Griffin was cautious not to put too much weight on a regular-season game with the playoffs around the corner. The Clippers, however, would like to play better against Western Conference playoff teams after dropping three games to San Antonio, Oklahoma City and Denver since the All-Star break.
"It will be a good test for us, but I don't know about a statement game," Griffin said. "Regular-season games are regular-season games. It's important to win them, especially the big games, but the games we're looking forward to are the playoff games. We want to have the best placement possible, but we're not worried about it."
Clippers guard
Jamal Crawford
returned to practice Tuesday and was expected to play Wednesday after missing the past two games because of a sore left ankle. Clippers guard
Eric Bledsoe
, however, did not practice Tuesday and is expected to miss Wednesday's game as he recovers from a sore left calf. Clippers forward
Caron Butler
will also miss the game because of a strained left elbow.
March, 9, 2013
3/09/13
4:24
PM PT
LOS ANGELES -- The
Los Angeles Clippers
aren't a good 3-point defensive team. In fact, they're downright awful.
Aside from exciting lob dunks, it may actually be one of the more consistent areas of this team and could ultimately be the biggest reason they don't advance further in the playoffs.
The Clippers rank 25th in the NBA in defending the 3-point shot with opponents making 37.2 percent from beyond the arc. In the Clippers' 20 losses this season, opponents have made 46.7 percent of their 3-point attempts; in their past seven losses, teams are hitting a staggering 49.3 percent.
"We have to do a better job in our transition defense," Clippers coach Vinny Del Negro said. "We have to have more of a sense of urgency. We worked on it today a lot. Hopefully it will translate. We know we have to get better at it. Not turning the ball over helps, and we have to get our turnovers down and control the glass."
It all sounds good in theory, but Del Negro has talked about improving the Clippers' 3-point defense since November, and with 18 games left in the season, it doesn't seem as though they are making much progress.
In their 107-92 loss to the
Denver Nuggets
on Thursday, the Nuggets hit 11 of 23 3-pointers. The Nuggets are not even a particularly good 3-point shooting team, ranking 26th in 3-point field goal percentage, but they looked unstoppable against the Clippers from the outside.
"Our 3-point defense has been terrible,"
Chris Paul
told reporters after the game. "All their 3s were wide-open. It's not a great 3-point shooting team, but tonight they were lights-out."
The biggest problem for the Clippers once the playoffs start is they likely will face teams that, unlike the Nuggets, are good at shooting 3-pointers. Golden State and Oklahoma City are the top two 3-point-shooting teams in the league, and it's no accident that the Clippers are 1-6 against those two teams this season.
Miami and San Antonio, whom the Clippers could also face in the playoffs if they advance that far, round out the top four 3-point-shooting teams in the league. The Clippers recently lost to both of them by an average of 24 points, falling behind by at least 32 points in the second half.
"It all concerns me," Del Negro said. "People look at things we're not doing great at, but we're doing a lot of things really well, too. We'll try to continually do those. It's hard to do everything really well on a consistent basis, so you have to pick your spots, but we have to do better with our 3-point defense. It's a never-ending process. When we guard the 3-point ball well, it obviously helps us in a lot of other areas."
February, 22, 2013
2/22/13
8:58
PM PT
LOS ANGELES -- As
Los Angeles Clippers
coach Vinny Del Negro walked off the practice court Friday afternoon, he had a smile on his face as he talked about the start of his team's season after the All-Star break.
"It was good to see that everyone got back here safe after the break," Del Negro said. "And our first game after the break will be tomorrow night."
Wait, what? Didn't the Clippers lose to the
San Antonio Spurs
, 116-90, on Thursday in their first game after the break?
Apparently not. The Clippers are hitting the reset button and acting as if that game never happened, and Saturday's game against the
Utah Jazz
is their first game after the break.
"Yeah, we got to reset," Del Negro said. "We got to reset a little bit. Some of the guys were still in Hawaii and Cabo during the All-Star break. We have to get out of the lethargic, slow, no intensity mentality. I was very disappointed in the effort last night but it's always a test. We have to bounce back and get back on track."
Del Negro says he doesn't think Thursday's blowout is an indication of things to come. He says he thinks it was more a matter of a team having a one-week break and still thinking they were on vacation as they took the court.
"We won four in a row going into the break and [were] playing pretty well," Del Negro said. "We're getting healthy and rotations changed but last night we were awful. We have to try to get back into rotation and work through that. We have to get back to playing harder, better, faster, stronger, tougher and we will."