Nick Young comes back home
March, 17, 2012
3/17/12
5:16
PM PT
LOS ANGELES --
Nick Young
has an extensive playlist on his iPod with artists ranging from
Tupac
to
Drake
but there was only one song Young wanted to hear as he sat on his three-hour flight from New Orleans to Los Angeles on Friday.
[+] Enlarge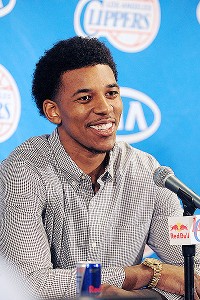 Andrew D. Bernstein/NBAE/Getty ImagesOf leaving the lowly Wizards and joining his hometown Clippers, Nick Young says, "I can't mess this up. I'm focused now."
"Going Back to Cali," Young said, referring to the
Notorious B.I.G.
song he basically had on loop. "I listened to that on my whole plane ride here."
Young, who was traded to the Clippers from the Washington Wizards on Thursday for a future second-round draft pick and
Brian Cook
, found out about the trade when his mom called him on his cellphone and woke him up from a pregame nap in New Orleans.
"I guess my agent told my parents first so my mom called me," Young said. "She called me screaming and I knew it had happened then. It was after the deadline so I thought I wasn't going anywhere."
As much as Young wanted to return to Los Angeles where he starred at Cleveland High in nearby Reseda and at USC, he simply wanted to get out of Washington. The Wizards had become one of the worst teams in the league after his rookie season and it was beginning drain on him on and off the court.
"We were going through turmoil and we were losing," said Young, who was averaging 16.6 points and 2.4 rebounds in 32 starts this season. "It was a tough situation. You could feel it in the air that something was going to happen. To be here in an atmosphere of winning is a different feeling. I have to adjust fast. In Washington we weren't making the playoffs and I had to cancel some plans I already had for the off-season."
"It was tough. Every other night we were in the 'Not Top Ten' and we were the laughing stock. It's frustrating. It can cause tension between the players. We needed a new look."
Young smiled when he talked about driving to Staples Center on Saturday for the first time as a member of the home team on Saturday, rather than on the team bus playing as a visitor.
"They asked me, 'Do you know how to get to Staples Center?' I said, 'Of course I know how to get there.' I have family here," Young said. "I know my way around. I just have to adjust to playing with a new coach and a new system."
Young said the first thing he did when he got to L.A. was go to Jack in the Box since there are none in D.C. and was pleasantly surprised to find a breakfast spread in the Clippers locker room before Saturday afternoon's game. "We didn't have that in Washington," Young said. "It's different here."
There is a chance Young will make his Clippers debut Sunday against the Detroit Pistons after sitting behind the bench during Saturday's win over Houston. If not, he will make his debut on the road when the Clippers play their last back-to-back-to-back of the season at Indiana, Oklahoma City and New Orleans.
Clippers coach
Vinny Del Negro
said he expected Young to be the Clippers' starting shooting guard soon and anticipates he will grasp the offense quickly with
Chris Paul
and
Chauncey Billups
helping him out. Whenever Young finally steps on the court he says he will be a different player than the one he was in Washington as he hopes to stay in Los Angeles past this season.
"I can't mess this up," Young said. "I'm focused now."