Los Angeles Clippers:

Antawn Jamison
January, 20, 2014
Jan 20
2:47
PM PT
DETROIT -- There was a familiar sight on the
Los Angeles Clippers
' sideline and in their locker room before and after Monday's game against the
Detroit Pistons
.
During the national anthem and shortly after the game,
Chauncey Billups
, wearing a designer suit, was standing amongst the Clippers' players and coaches, catching up with his former teammates.
It was a familiar sight, but thankfully for the Clippers, it was an image that is now in their rearview mirror.
As respected as Billups is, the truth is his presence and stranglehold on the starting shooting guard position (whenever he was able to play, that is) was never a solid long-term plan for a team that is trying to contend for the next five years.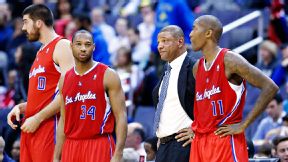 AP Photo/Alex BrandonWhether a star on the court or a leader in the locker room, Doc Rivers' players understand their roles in making the Clippers a championship contender.
That's not to say the Clippers failed to get out of the first or second round of the playoffs the past two seasons because of Billups, but the Clippers' insistence on depending on a 37-year-old guard who hadn't played more than 22 games in a season for a team since 2011 was always a recipe for disaster.
Billups started just 22 games for the Clippers last season after returning from a ruptured Achilles tendon. He started just 20 games the previous season before suffering the injury. Instead of moving on, the Clippers continued to wait for Billups to return to the player he was before the injury, which was never going to happen.
Injuries happen, that's part of basketball. No one knows that better than the Clippers, who are in the midst of playing without
Chris Paul
for six weeks after playing without
J.J. Redick
for six weeks, but that's different than helplessly waiting around on a player who should have retired and was never going to return to All-Star form.
The Clippers don't have a Billups problem on their hands this season. They knew Redick would return to form when he came back and Paul will eventually return to form when he comes back. They also aren't depending on veterans who are past their prime -- like Grant Hill -- to contribute off the bench. As good as Billups and Hill might have been in the locker room, the truth is both should have retired before last season instead of being counted on as key players on a contending team.
When Doc Rivers came to Los Angeles, one of his first moves was to get a prototypical shooting guard who could, well, shoot, unlike Billups, who was a true point guard and shot less than 40 percent from the field with the Clippers. The Clippers made a trade and added Redick, who is shooting better than 45 percent from the field this season, and
Jared Dudley
, who replaced
Caron Butler
, another aging veteran on the Clippers who was well past his prime.
"It's always nice to have a shooter who can move because it gives you a different kind of offense," Rivers said. "It also helps both bigs be able to play on the floor more."
Dealing with his players' roles and expectations has always been one of Rivers' better traits as a coach. It's the ability to tell
Antawn Jamison
, who was upset with his diminished role last season with the
Los Angeles Lakers
, that he wanted him to come to the Clippers not to be a major contributor but rather be a leader in the locker room. The ability to tell
Willie Green
, who started 60 games last season in place of Billups, that he wanted him to be part of the team as well but not as a starter.
It's a big reason Jamison and Green are two of the leaders in the Clippers' locker room despite rarely getting on the court. That's a big difference from Billups and Hill's roles last season when both were not only leaders in the locker room but depended on to contribute on the court when they simply couldn't.
"It is hard but in the veterans' case they knew what they were getting when they came here," Rivers said. "It's still no fun. Everybody wants to play. You grew up playing basketball to play basketball, not to watch basketball. I don't think that ever changes. I don't care what age you are.
"It's good to have a guy giving them positive information and not worrying about his playing time. A lot of the time you have veterans on the bench who are not happy about not playing and they don't handle it well. Fortunately for us, our guys have been great. Willie Green and Antawn have been absolutely tremendous in that way."
Green is 32 and has been in the NBA for 10 seasons while Jamison is 37 and has played 15 seasons. In their combined 25 seasons, the one common denominator between both players is neither has won a ring and that's why they are more than happy being the role of locker room veterans on the team who rarely see the court. In fact, neither saw the floor against Detroit on Monday and haven't played in the Clippers' past four games.
"My biggest thing is the overall picture," Jamison said. "The main reason I wanted to come here was to win. By me talking to DeAndre [Jordan], Blake [Griffin] and [Jared] Dudley when stuff is going on, I can let them see what I see and try to ease their mind a little bit and those guys are very receptive of what I have to say. They really take heed to it and that's the biggest thing I can contribute."
It hasn't always been easy for Green, who was a starter for the majority of last season for the Clippers, including during their franchise-record 17-game winning streak and was quickly pulled as soon as Billups was healthy enough to play.
"I respect my teammates and when I'm not playing, I'm not one of those guys that's moping and pouting and mad at the word," Green said. "I want my teammates to do well. I want to be out there with them and try to help them get that win but if not, I'm going to cheer them on and help them on and be ready. I've been in this league long enough to know that things happen and when they do, you got to be ready to step up."
Rivers made sure every player on the team from the stars to the reserves understood their roles before the season started. He met with each one individually and did the same with players he has added during the season, such as
Hedo Turkoglu
, who was signed last week. He knows he has a young team but they are all bound by one common goal and one simple fact -- none of them has won an NBA championship.
"The stars are going to be the stars," Rivers said. "The role players, we got to get them to be stars in their role. I think the sell of that is important. The veterans are over themselves. They're done with themselves. They've already had their day. They're not trying to establish anything. They're hungry and desperate to win. Young guys all say they want to win but they want their day and they really want to establish that. It takes time. With a young team, you have to convince them if you win, you will get your day."
December, 11, 2013
12/11/13
7:39
PM PT
By
Jovan Buha
| Special to ESPNLosAngeles.com
As Doc Rivers walked out of the TD Garden locker room tunnel and onto the parquet floor for the first time as a visiting coach before Wednesday's game, an overwhelming look of emotion crept over his face.
Fans called out his name and shook his hand. Faint cheers broke out and slowly grew louder. The celebration continued into pregame introductions with a 15-second standing ovation, and in between the first and second quarters, when the
Boston Celtics
thanked Rivers with a two-minute video tribute on the Garden's big screen. It was an emotional start to a regular-season game, so much so that Rivers had to fight back the tears.
"It's going to be a hard night," Rivers told reporters before the game. "I already told my coaches that it's going to be hard. You don't spend nine years in one place and win a title, and have the emotions you have toward the city and the fans, and be normal when the game starts.
"It's just not going to happen; at least I don't think so. I've already prepared my coaches to be good coaches tonight because it's going to be too tough for me."
Little did Rivers know, it would be a tough night for the
Los Angeles Clippers
, too.
The Celtics' makeshift crew led for most of the first two and a half quarters, before the Clippers ultimately found their footing in the third and exploited Boston's lack of size and rim protection by dominating the paint (42 points in the paint) and getting to the free-throw line (34 attempts).
With one more emotionally charged run in them, the Celtics cut the Clippers' eight-point lead to two, 83-81, with 3:32 left, but
Chris Paul
made a clutch 15-foot jumper and
Jamal Crawford
nailed back-to-back 3-pointers to stymie the Celtics' comeback.
How it happened:
Boston rode the crowd's collective emotion to a six-point halftime lead, with two of Rivers' former players,
Jeff Green
(29 points) and
Brandon Bass
(17 points), doing most of the damage. The Clippers responded by outscoring the Celtics 27-19 in a dominant third quarter -- their best quarter by far this season -- to take a two-point lead into the fourth, where Crawford and
Darren Collison
's 19 fourth-quarter points helped maintain L.A.'s single-digit lead.
What it means:
Wednesday was a night of firsts for the Clippers. It was the first time Rivers faced his former team since leaving over the summer. It was also the first time newly acquired
Stephen Jackson
suited up in a Clippers uniform. But, most important of all, it was the first time the Clippers won consecutive road games this season. This may be the roughest patch of their season so far, but as long as the Clippers can tread water and maintain home-court advantage, they will be fine.
Hits:
Paul (22 points, seven rebounds, nine assists) and
Blake Griffin
(18 points, seven rebounds, four assists) kept the Clippers in the first half, scoring 25 of the team's 39 points.
Antawn Jamison
made a 3-pointer at the 9:21 mark of the second quarter, giving him 20,000 points for his career. He is one of only 20 players in NBA history to total 20,000 points, 8,000 rebounds and 1,000 assists for their career.
Crawford, Collison,
Willie Green
and
Jared Dudley
each made key baskets at crucial junctures of the game.
Misses:
The Clippers are now 33 of 118 (27.9 percent) on 3-pointers during the trip.
The Celtics' starters outscored the Clippers' starters 84-62.
Stat of the game:
+25. That was the combined +/- of Crawford and Collison on Wednesday. The duo has been a defensive liability for most of the season, and Wednesday was arguably their best collaborative performance.
Up next:
Rivers and the Clippers move the reunion south to New York to face the healthy and revitalized
Brooklyn Nets
(7-14) on Thursday. After a day off Friday, L.A. concludes its trip against the
Washington Wizards
(9-11) on Saturday.
December, 9, 2013
12/09/13
1:50
PM PT
Antawn Jamison didn't know the exact numbers. He knew he had compiled an impressive resume after 16 seasons in the league but he didn't know the company he had put himself in as he stood in front of his locker Saturday night in Cleveland.

Jamison is just five points shy of 20,000 in his career. Sometime this week, perhaps even tonight in Philadelphia, he will become one of only 20 players in NBA history to reach 20,000 points, 8,000 rebounds and 1,000 assists. Out of the previous 19 players to hit those numbers, only Kevin Garnett, Tim Duncan and Dirk Nowitzki are active and of the 16 other players to do so only Shaquille O'Neal, who retired two years ago, has yet to be enshrined in the hall of fame.

"I didn't find out until somebody told me after the game," Jamison said. "I've been blessed to play 16 years and to be able to accomplish that says a lot but I don't really think about. To sit back and think about all the things I've been through, all the ups and downs, and being able to produce year in and year out, it's rewarding."

It's only a matter of time before Garnett, Duncan, Nowitzki and O'Neal are in the hall of fame but what about Jamison? Will he be the only player to hit that lofty career stat line and fail to be inducted? Jamison understands it's far from a lock but hopes his numbers and the company he's in will put him in the conversation.

"Everybody who plays this game would love to be in that category," Jamison said. "That would be awesome. You look at my career and hopefully the numbers will say that. To have those numbers with the guys who do have them in the hall of fame speaks volumes. It's a dream and hopefully it comes true."

It's hard to make the argument that Jamison should be in the hall of fame if you just looked at his past two seasons in Los Angeles; last season with the Lakers and this season with the Clippers. Jamison signed with both teams in the hopes of winning his first championship and is obviously still optimistic that this season with the Clippers will eventually turn out better than last season's disappointing run with the Lakers.

Jamison had averaged nearly 20 points per game during his career before signing with the Lakers last season. He had averaged 17.2 points per game as a starter with Cleveland the previous season and was viewed as a perfect sixth man for the Lakers after they had also added Dwight Howard and Steve Nash. He could have signed a three-year, $11 million deal with his hometown Charlotte Bobcats and padded his stats before retiring but instead signed a one-year deal for the veteran's minimum ($1.4 million) to chase a ring with the Lakers, and did the same this season with the Clippers.

But last season not only didn't go as planned for the Lakers, it didn't go as planned for Jamison who didn't play in nine games, not because he wasn't healthy, but because Mike D'Antoni simply didn't want to play him. He suffered through five consecutive "DNP-CD" games in late December for the first time in his career and openly wondered if he done something wrong.

"There was no communication," Jamison said of last season. "Just not knowing what's going on. It was tough, especially with the team not producing the way we should have. I know [D'Antoni] was put in a difficult situation last year and he was trying things out but everything that could've gone wrong went wrong last year. I didn't know what my role was or an understanding of what he wanted. That's the biggest difference between this year and last year."

As bad as last season was for Jamison, statistically this season has been even worse. In fact, he's on pace to have the worst season of his career, by far, but he's fine with it. After not playing the first 14 games of the season, Jamison has played in the last seven straight. He is averaging 5.3 points and 3.6 rebounds per game.

The biggest reason Jamison has a smile on his face while sitting on the bench this season as opposed to last season is he knew what his role would be this season with the Clippers. When he sat down with Doc Rivers in the offseason, Rivers laid out exactly how he planned to use him this season.

"I was very honest with him and up front," Rivers said. "I told him up front if you're coming here to start or play a ton of minutes, that's not going to happen. I don't want to overuse you and he was fine with that. I said my plan is to preserve you. You're a freaking antique. So we're going to put the polish him and keep him shining and make him look good."

After a season where he thought he could potentially win Sixth Man of the Year for a championship contender, Jamison was simply happy to know what his role would be before the season began.

"He told me, 'Antawn, I need you here for the playoffs. I know what you can do," Jamison said. "This team won 56 games without you last year and I think they can do the same thing without you, but most importantly I need you healthy for the second half of the seasons and the playoffs.' I knew right then what my role was. It wasn't about the regular season. It was about my health and making sure when the important season comes around at the end of April and going into May and June that I'm healthy and can contribute."

Jamison's role has increased recently with the struggles of Byron Mullens and Ryan Hollins as well as injuries to J.J. Redick, Matt Barnes and Reggie Bullock. They've needed Jamison to do more as he did in Memphis last week when he had a season-high 11 points and 4 rebounds in the Clippers' 101-81 win over the Grizzlies.

"I wasn't sure if I was going to play him in the Memphis game because I want to avoid the back-to-backs but he said he was fine," Rivers said. "It's so early in the season and we didn't play him early, I felt like I could play him as much as you want on this trip. But I'm going to be real careful with him. When you're old like him you can wake up in bed and hurt your foot."

Jamison laughs when he hears jokes about his age now. Players on the Clippers call him, "16" in reference to how many seasons he's been in the league and he shakes his head when he's told Bullock, sitting next to him in the locker room, was just seven years old when he made his NBA debut. Jamison is content with his new role in the twilight of his career as he reaches a personal milestone that will put him in the same company of players that have had hall of fame careers but more importantly have won a title. That's the final goal Jamison has before he retires.

"I could have been in a situation where I was playing more but I wanted to be on a championship caliber team," Jamison said. "I knew I would have to take a lesser role and I'm OK with that. I knew what I was sacrificing to do that. I told myself when my last contract was over, for the next 2-3 years I want to really chase a championship and that's what I'm doing."
September, 4, 2013
9/04/13
7:25
PM PT
By
Jovan Buha
| Special to ESPNLosAngeles.com
Though last week's signing of
Antawn Jamison
didn't move the needle in comparison with their other summer transactions, the addition signified the culmination of the
Los Angeles Clippers
' offseason.
With training camp only a few weeks away and 14 players now under contract -- one fewer than the league's maximum -- the current Clippers' roster is probably the one that will open the season on Oct. 29 against the
Los Angeles Lakers
.
[+] Enlarge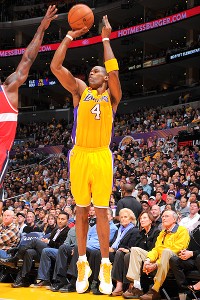 Andrew D. Bernstein/Getty ImagesAntawn Jamison should give the Clippers a solid offense-minded option, but the team might be trading off its defensive presence.
Despite Jamison's coming off of an underwhelming season with the Lakers last season in which his role fluctuated, his signing by the Clippers makes sense.
The Clippers needed another big man to solidify their frontcourt rotation, and Jamison was arguably the most talented player available. Also,
Chris Paul
has yet to play with an offense-minded big man aside from
Blake Griffin
throughout his tenure with the Clippers, and Jamison's floor-spacing abilities should provide Paul with a handful of new offensive wrinkles.
But the significance of the signing isn't Jamison's potential fit so much as that the move indicates an ideological shift in the design of the Clippers' bench from last season to this season.
Last season, the Clippers' primary bench lineup --
Eric Bledsoe
,
Jamal Crawford
,
Matt Barnes
,
Lamar Odom
and
Ronny Turiaf
-- was one of the best defensive units in the NBA, giving up only 89.8 points per 100 possessions -- a figure that would lead the league by over six points per possession if maintained over the course of the season.
The group lacked offensive creativity, though, as Crawford, and occasionally Bledsoe, were the only players who could consistently create their own shots. As a result, the lineup had difficulty scoring, averaging just 100.8 points per 100 possessions, an output that tied the
Cleveland Cavaliers
for 23rd-best in the league.
August, 30, 2013
8/30/13
7:42
PM PT
Antawn Jamison
, who played for the
Lakers
last season and signed with the
Clippers
in the offseason, joined Ben Lyons and Ramona Shelburne on the "Max & Marcellus" show on ESPNLA710 on Friday. Among the topics discussed: Jamison's excitement to have a chance at winning a championship, the role Clippers coach Doc Rivers has planned for him, his relationship with Lakers coach Mike D'Antoni and whether
Kobe Bryant
has a chance to win another ring.
Click here to listen to the full interview

August, 28, 2013
8/28/13
12:19
PM PT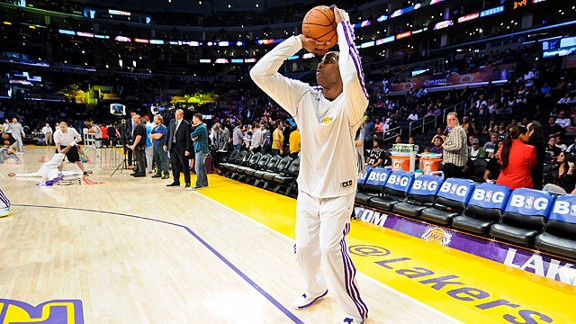 Noah Graham/NBAE via Getty ImagesJamison
Antawn Jamison has never been to the conference finals. He's been open about his desire to get there. In the last two offseasons, Jamison has signed a pair of relatively cheap contracts in hopes of advancing deep into the NBA playoffs. Last season he went to the Lakers, and that didn't work out. This season he moves across the hall to the Clippers. If it's true that Jamison just wants to end his career playing for a competitor, this move could easily be read as the latest sign of an ongoing power shift within Staples Center.
August, 3, 2013
8/03/13
11:16
PM PT
Veteran forward
Antawn Jamison
and Clippers coach and senior vice president of player personnel Doc Rivers had dinner Saturday night in Los Angeles, a source with knowledge of the situation told ESPNLosAngeles.com.
No offer was made, but there are plans for the Clippers and Jamison's representatives to speak soon. The Clippers have been interested in Jamison, who played for the Lakers last season, for some time but this was the first meeting between the two sides. He had surgery on his wrist after the season, but is now recovered and back to performing basketball-related activities.
Jamison, 37, has averaged 18.8 points and 7.6 rebounds over his 15 year NBA career but has been unabashed in his desire to play for a championship contender in the final years of his career.
Chicago and Memphis have also expressed interest in Jamison, the source said.
February, 8, 2012
2/08/12
11:26
PM PT
By
Scott Sargent
| ESPNLosAngeles.com
CLEVELAND --
Kenyon Martin
sat alone.
While his new teammates, most of whom he had just met 48 hours earlier opted to address their various needs, Martin merely sat back in a folding chair, shirtless, with his street clothes hanging above him. While this may have been the path Martin chose to take, it was one that had been augmented by circumstances well beyond his control.
Two lockers to Martin's left stood barren quarters, housing only a chair and a nameplate. The blue-and-white decal placed on the locker door read "1 - Billups," signifying where his friend-turned-recruiter would have been sitting had it not been for a freak, non-contact injury (a torn Achilles' tendon) that would in turn end the veteran point guard's season.
[+] Enlarge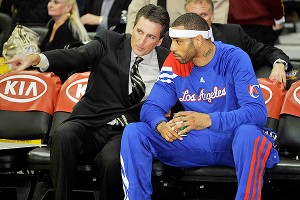 David Richard/US PresswireKenyon Martin didn't expect to be down a teammate and a friend when he agreed to join the Clippers.
It was
Chauncey Billups
who had played a major role in getting Martin to Los Angeles, citing a "friend-to-friend" conversation that encapsulated organizational philosophy as well as the potential for winning a championship. The two veterans would be joining up with arguably the league's best point guard (
Chris Paul
) as well as the league's most exciting power forward (
Blake Griffin
), but this would be their chance to win together.
"It's definitely disappointing," Martin said of Billups' injury. "I definitely wanted to play with [Chauncey]."
While Martin's quantitive role with the Clippers can be filed under the "to be determined" category, the former All-Star appears ready to put his disappointment behind him and lead by example.
In his first game back in the NBA after playing in China, the 6-foot-9 bruiser struggled from the field but provided a large amount of the energy to fuel a Clippers comeback. Down 15 points with just over four minutes left in the third quarter, Martin was on the receiving end of a vicious alley-oop dunk, the pass fed from Griffin, typically the player in that very above-the-rim position.
Once the fourth quarter started, Martin picked up right where he left off, turning a
Randy Foye
missed jump shot into a put-back dunk. Just minutes later, a Martin offensive rebound had the potential to put his team ahead, but his efforts were thwarted after
Mo Williams
was called for an offensive foul.
"K-Mart is amazing," Paul said. "The energy he brought on the offensive end as well as the defensive end is something that we're going to need. I'm glad to have him."