Los Angeles Clippers:

Brian Cook
February, 4, 2012
2/04/12
9:53
PM PT
By
Dan Feldman
| ESPNLosAngeles.com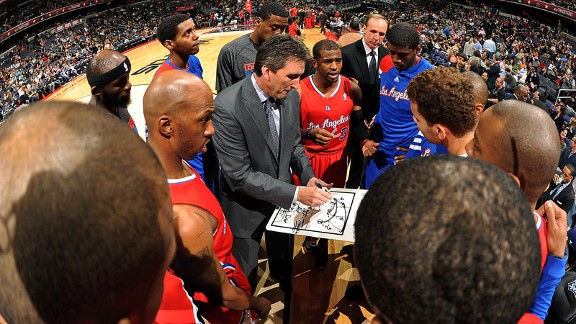 Andrew D. Bernstein/NBAE/Getty ImagesThe Clippers have good chemistry so far and adding Kenyon Martin figures to strengthen the bench.
WASHINGTON --
Chauncey Billups
had already heard
Kenyon Martin's
questions.
Does this organization want to win? Is there a need for him?
They were the same questions Billups asked when the Clippers claimed him off amnesty waivers in December. Billups found the answers he sought and apparently delivered them to Martin, who signed with the Clippers on Friday after "a real friend-to-friend conversation" with Billups.
Clippers coach
Vinny Del Negro
says he expects Martin to join the Clippers in Orlando, where Los Angeles plays on Monday. Del Negro met with Martin last month, shortly after Martin severed tied with the Xinjiang Flying Tigers in China.
"He looked like he was in good condition," Del Negro said. "But that's when he had just kind of finished up. Kenyon's an excellent athlete. I don't think, even if he's not going to be game condition, because he hasn't played. Those are questions that will get answered once we sit down and work out and get him situated."
Until then, what about Martin's questions?
Does this organization want to win?
Claiming Billups probably answered that. As did matching
DeAndre Jordan's
offer sheet from the Warriors. And in case neither of those moves delivered the message, trading for Paul certainly did.
Now, the Clippers are affirmatively answering the sub-question: Can this organization win?
The Clippers' 107-81 win over Washington was their fifth in six games and their biggest road victory since a 118-90 win over the Warriors on Nov. 6, 2009. They certainly look as if all their new pieces are clicking.
Then again, the Clippers have won six straight against the Wizards, a streak that dates to before Los Angeles even drafted
Blake Griffin
. Wins over lowly Washington aren't exactly why Martin signed.
The Clippers clearly didn't need him Saturday against
JaVale McGee
,
Trevor Booker
and
Kevin Seraphin
. But if all goes to plan, Martin will come in handy against teams like the Oklahoma City Thunder -- with a more imposing set of bigs in
Kendrick Perkins
,
Serge Ibaka
,
Nick Collison
and
Nazr Mohammed
-- deep into the playoffs.
"Kenyon is a position kind of, mentality-wise, what I was in," Billups said. "I don't want to go nowhere unless they're really trying to win and win big and not just make the playoffs, but try to win it all. I feel like that's what this organization is trying to do, and that's what I conveyed to Kenyon, and that was enough."
January, 22, 2012
1/22/12
9:56
PM PT
By
Pedro Moura
| ESPNLosAngeles.com
LOS ANGELES -- Here are a few items of note from the Los Angeles Clippers' 103-91 win over the Toronto Raptors at the Staples Center on Sunday.

Mighty Mo

Mo Williams has shot lights-out since he returned from injury Wednesday against Dallas, scoring 26, 25 and 26 points in consecutive games and doing it in an average of just 31 minutes per night.

He's taken exactly 15 shots in all three games. And, in his last 74 minutes of play, Williams has scored exactly 74 points. That's efficiency -- as was his start to the fourth quarter Sunday, when he scored the Clippers' first 17 points of the period over a six-minute stretch.

Williams said that was the product of an "echo effect" created by the reserves he was on the floor with at that time, including Solomon Jones and Reggie Evans.

"I didn't do it by myself," Williams said. "Obviously my teammates know how to set screens. We really executed and got me the ball in spots."

Clippers coach Vinny Del Negro has always stressed that Williams needed time to adjust to his new sixth-man role with Chris Paul and Chauncey Billups. By now, he's gotten a lot of that time, and it's showing.

"I think he's a little more comfortable knowing when he's going in," Del Negro said. "Guys are looking for him and we're running some sets through him and he's been hot."

Blake's free throws

Over his last 10 games, Blake Griffin has made just 33 of 75 attempts from the free-throw line, good for just a 44-percent clip.

That's a pretty terrible number -- far below the 64-percent number he finished his rookie season with and farther below the number he converted in the second half of the season, about 70 percent. It's also worse than DeAndre Jordan's numbers over that same stretch.

He made just 6 of 14 attempts on Sunday against the Raptors, shooting worse from the line than he did from the field.

What's wrong? From an aesthetic perspective, it looks like Griffin just might have a hitch in his delivery. He always pauses briefly after bending his knees and coming up to shoot it, but sometimes that pause is a long one and sometimes it's quite quick. It doesn't look the same every time.

Del Negro had some interesting comments about it after Sunday's game.

"He's been getting to the line 10-plus times," he said. "He's just going through one of those spells right now. He's going to keep on working on it and there's some technical things that he's working on right now to improve overall.

"Sometimes you might take a step back to get to the level that he wants to get to. But he's going to get to the line and I have confidence in him to make it...Sometimes it's easier for him than others, but nobody works harder than Blake, and I expect him to improve throughout the season, like he did last year."

Billups the point guard

We saw it for a decade straight, but Sunday's game might be the last time in a while we saw Billups play point guard, at least for an extended stretch of time, with Paul expected to return from the hamstring injury that caused him to miss five games Wednesday against the Lakers.

If that ends up being the case, it was a nice way for Billups to go out Sunday. He had 14 assists and only two turnovers in 31 minutes, shooting poorly but passing the ball excellently.

"Chauncey's going to read the game," Del Negro said Sunday. "Sometimes we're going to need him to be more aggressive offensively, but he picks his spots. We had a good rhythm going offensively, so he was making plays for us."

He'll still have the opportunity to make plays when Paul returns, but not nearly as many. And he might need an extra bit of time to adjust back to the shooting guard position after he spent this week practicing at the point, pretty much.

The last time Billups recorded as many as 14 assists in a single game? Dec. 2, 2008, as a member of the Denver Nuggets, against the same Toronto Raptors.

Final notes

The Clippers announced a 10th-consecutive sellout at Sunday's game, meaning that every home game so far this season has been termed a sellout. But Staples Center looked less than full at tip-off...Forward Brian Cook was dressed for the first time in a few games after being bothered by a foot injury of late, but he did not come into the game at any point...Former Clipper forward Rasual Butler had three points in 17 minutes for the Raptors.
January, 17, 2012
1/17/12
7:07
PM PT
Los Angeles Clippers guard Chris Paul will not play in Tuesday's game against the Utah Jazz and is listed as questionable for the Clippers' next game Wednesday against the Dallas Mavericks.

An MRI on Paul's strained left hamstring on Sunday came back negative, according to the team.

It is the second straight game Paul has missed due to the injury which he suffered in the fourth quarter of the Clippers' 102-94 win over the Los Angeles Lakers last Saturday night.

Clippers guard Mo Williams will also miss his third straight game Tuesday with an injured right foot. Williams, who got in some shots before Tuesday's game, is listed as questionable for the Clippers' next game. Clippers guard Eric Bledsoe, who has been recovering from offseason surgery on his right knee, is still 2-3 weeks from returning to the lineup and Clippers forward Brian Cook was inactive for his second straight game with an ankle injury.

Clippers coach Vinny Del Negro said both Paul and Williams were feeling better Tuesday but said there was no set timetable for their return.
January, 14, 2012
1/14/12
9:46
PM PT
LOS ANGELES -- The Staples Center could be awfully busy come late April when the NBA regular season ends and the postseason begins.

Los Angeles Lakers coach Mike Brown expects the Los Angeles Clippers to still be playing at that point.

"They should be [in the postseason]," Brown said before the Clippers hosted the Lakers on Saturday. "They're more than talented to be a playoff team when you talk about Blake Griffin, Chris Paul, Chauncey Billups, Mo Williams, Caron Butler, DeAndre Jordan … That's a pretty good team right there. So, they should be in the playoffs."

The Clippers haven't qualified for the postseason since the 2005-06 season and have made the playoffs just four times total since relocating from San Diego to Los Angeles in 1984.

Coming into Saturday, the Lakers had the second-best record in the Western Conference at 9-4, while the Clippers had the fifth-best at 5-3, including an impressive overtime win against the Miami Heat on Wednesday.

The Clippers beat the Lakers in both of the preseason meetings between the two teams by an average of 12 points per game. The Lakers had 44 turnovers in the two games combined.

The preseason performances gave Brown cause for concern heading into the first of three regular season games the teams will play.

"There's a lot that concerns me, but the pick-and-roll game, the skill game, the transition game is probably the biggest thing," Brown said. "Chris Paul is one of the best pick-and-roll players in the business. He gets in the middle of your defense and makes the game easy for everybody else."