Los Angeles Clippers:

C.J. Wilcox
July, 7, 2014
Jul 7
8:41
PM PT
LOS ANGELES -- Veteran guard Delonte West, who did not play in the NBA this past season, headlines the
Los Angeles Clippers
' roster for the 2014 NBA Summer League, the team announced Monday.
West, who played for four teams in eight seasons, played for Doc Rivers and the
Boston Celtics
for four seasons. He started his career in Boston after being drafted by the Celtics in the first round in 2004 and played there for three seasons before being dealt to Seattle in 2007 as part of the
Ray Allen
trade. West later returned to Boston for the 2010-11 season.
The Clippers' Summer League squad will be without this season's first-round pick,
C.J. Wilcox
, as well as this past draft's first-round choice,
Reggie Bullock
. Bullock will not participate, as he is still in rehabilitation for the right quad soreness he experienced last season. Wilcox will be out due to a right shoulder injury. Both players are being held out for precautionary reasons, according to the team.
The NBA Summer League in Las Vegas will run from July 11 to 21 at the Thomas & Mack Center and COX Pavilion on the campus of the University of Nevada Las Vegas.
July, 7, 2014
Jul 7
4:43
PM PT
LOS ANGELES –
Los Angeles Clippers
forward
Reggie Bullock
and guard
C.J. Wilcox
will not participate in this month's NBA Summer League, the team announced Monday.
Bullock, who averaged 2.7 points and 1.3 rebounds over 9.2 minutes last season with the Clippers, is still in rehabilitation for right quad soreness he experienced last season. Wilcox, the Clippers' first-round draft pick this year, will be held out due to a right shoulder injury. Both players are being held out for precautionary reasons, according to the team.
"We would obviously love for both Reggie and C.J. to play in summer league," Clippers coach and president of basketball operations Doc Rivers said. "However, we want to take a conservative approach in their rehab process and make sure they are fully healthy and ready to go for the start of training camp."
June, 30, 2014
Jun 30
12:52
PM PT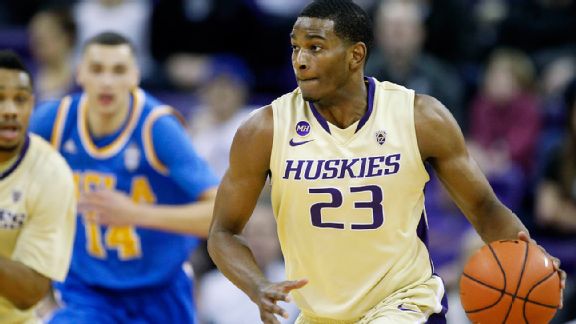 Joe Nicholson/USA TODAY SportsC.J. Wilcox is ready to get started finding his place on the Clippers.
PLAYA VISTA, Calif. -- Four days after being selected by the
Los Angeles Clippers
in the first round of the NBA draft,
C.J. Wilcox
arrived in Los Angeles and got his first taste of life in the NBA.
When Wilcox was asked about making the two-hour drive north from his parents' home in San Diego to Los Angeles, he smiled and said he actually took a 20-minute flight north.
"He's in the pros now," said Doc Rivers, who seated next to Wilcox at his introductory press conference. "A year ago he would have driven. Now he's in the NBA and he took a chartered plane."
Wilcox was shown around the team's training facility on Monday and, in addition to talking to Rivers and some of the members of the front office and coaching staff, also chatted with
Chris Paul
, who came to see Wilcox after playing some pickup games with him in Agoura Hills, Calif. last month.
"He just came and worked out with the group we had in Agoura Hills," Wilcox said. "We were playing one-on-one and then we ended playing four-on-four. It was just good to have a pro guy come there and show us the ropes and show us what works and doesn't work. It was good to compete against him and prepare yourself for the next level."
Wilcox comes to a Clippers team already fairly stacked in the backcourt, even after the team waived
Willie Green
on Sunday. The team plans on re-signing
Darren Collison
, who opted out of the last year of his contract, and is still interested in bringing back Green, meaning they could have seven guards at the start of training camp, including Wilcox and last year's first-round pick,
Reggie Bullock
. Wilcox said being at the bottom of the depth chart and earning playing time as a rookie will be nothing new to him.
"When I got to [the University of Washington], there were six guards ahead of me at that time and I had to figure my way out and work my way into the rotation," Wilcox said. "I think being in that situation helped me prepare for a situation like this. I'm just going to take it as a challenge and come in and work hard and squeeze my way in."
Wilcox, who will wear No. 30, will play for the Clippers' Summer League team in Las Vegas and Rivers said he hopes the experience of playing there will give him a head start in learning the team's system before the start of training camp in October.
"I just told him, 'Shoot every time,'" Rivers said. "That's the same thing we told Reggie last year. If he passes up a shot, his teammates will have to run and he gets to watch them. So by the end of Summer League his teammates will either love him or hate him. I want him to be very aggressive. We want to put him in positions during the regular season and teach him some of our system. I think it's great for guards in the Summer League because you can put them in some of the things you do. I think it's terrific."
June, 27, 2014
Jun 27
10:17
AM PT
By
Jovan Buha
| Special to ESPNLosAngeles.com
PLAYA VISTA, Calif. -- In a bold and surprising move, the
Los Angeles Clippers
selected Washington shooting guard
C.J. Wilcox
with the 28th pick of the 2014 NBA draft.
The decision raised some eyebrows because the Clippers already have shooting guards
J.J. Redick
,
Jamal Crawford
and
Reggie Bullock
under contract and needed help at other positions, particularly in the frontcourt.
[+] Enlarge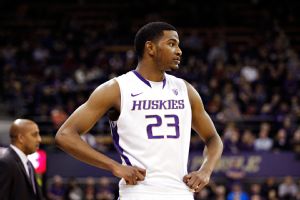 Joe Nicholson/USA TODAY SportsThe Clippers wanted to take the best player available and weren't focused on position needs when they drafted C.J. Wilcox.
Darren Collison
(point guard),
Danny Granger
(small forward),
Hedo Turkoglu
(power forward) and
Glen Davis
(forward/center) are all entering free agency on July 1, and the rest of the bench is barren -- except at shooting guard, where the Clippers also have a team option on
Willie Green
.
According to head coach and president of basketball operations Doc Rivers, the team wasn't concerned with finding a player that fit positionally, and they instead focused on finding the best player available.
"C.J. is a great shooter and I value shooting," Rivers said. "You know, when you're at [No.] 28, I don't think you can afford to pick [for] what needs you have. I have never thought that.
"We have Jamal and J.J., but [Wilcox is] the best player, and I think you can always make it work when you can get the best player. I thought as far as for shooting, in this league, you need it, you can never have enough of it, and I'm a big believer in it. I thought he may have been the best shooter in the draft, if not No. 1, No. 2."
It's not difficult to see Rivers' rationale. Wilcox averaged 18.5 points per game and posted a 60 percent true shooting number last season. He's certainly one of the best marksmen in the draft, shooting 39.1 percent on 7.2 3-point attempts per game. Already an elite spot-up shooter (he shot 43 percent on spot-up jumpers last season), he has the ability to pop out or curl off screens into open space and also pull up out of pick-and-rolls. He elevates nicely on his jumper and has a quick release and deep range.
For a team that ranked just 22nd in 3-point shooting percentage, Wilcox is a smart and useful addition. He is somewhat of a one-trick pony offensively, though he does his one trick exceptionally well. He isn't much of a slasher -- 72.1 percent of his shots were jumpers last season, and 52.9 percent of his shots were 3-pointers -- as evidenced by his 4.1 free-throw attempts per 40 minutes, a below-average mark for a scorer of his stature.
Wilcox improved as a ball handler over the course of his NCAA career, and though he can't create his own shot reliably or facilitate much, he takes advantage of unsuspecting defenders and lazy closeouts to penetrate into the paint. His 37.5-inch vertical gives him sneaky explosion, providing him with an edge when finishing at the rim in transition and half-court settings.
Though only 6-foot-5, he has a 6-foot-10 wingspan, implying he can defend small forwards at first glance. However, his thin frame holds him back. He's easily overpowered when bigger wings drive or post up, and he can't hold his own on the glass. Unless he bulks up another 10-15 pounds, Wilcox will probably only be able to defend 2-guards. He can feel asleep and lose his man occasionally, but on balance, he's a solid defender who uses his length properly (he averaged 1.0 block and 1.0 steal).
In a conference call with reporters at the Clippers' training facility Thursday night, Wilcox compared his game to
Danny Green
,
Ray Allen
and Richard Hamilton. Green is the most realistic comparison, as he's a 3-and-D specialist. Rivers was hesitant to praise Wilcox's defense prematurely, as he said there's a steep learning curve for all rookies defensively, but he sees his value as a two-way player.
"He's long, he's athletic, and it's rare when you get a shooter like that, not only he's a catch-and-shoot guy, too, that wants to defend. That's a great combination," Rivers said. "Like most of the time you get a shooter but [he] can't defend or a shooter but [he's] not athletic. We have a great shooter who can defend and is athletic, so I thought that was important."
In many ways, Wilcox is a carbon copy of Bullock, who was selected with the No. 25 pick in last season's draft.
Both projected as spot-up shooters with limited ball-handling and shot-creation skills. Neither was a stout defender in college, but both were average to slightly above-average because of their relative length. The issue, when comparing the two, is that Wilcox isn't as good of a shooter as Bullock in college, is smaller in both height and weight, and is older by a few months.
Age is the main concern with Wilcox. He's 23 and will turn 24 in December. Optimists will say he is more experienced and ready to contribute right away. Pessimists, however, will point to the fact that prospects that old rarely see significant improvement and that his ceiling isn't much higher than his current ability. Wilcox disagrees.
"I come in with a different approach and a different understanding of how things work sometimes -- not always getting what you want," Wilcox said. "I had to work from the bottom to the top. That's kind of always how I've been. Even though I'm 23, I feel like my game can expand in so many ways."