Los Angeles Clippers:

Celtics
February, 3, 2013
2/03/13
3:45
PM PT
BOSTON -- In one corner of the visiting locker room at TD Garden,
Chris Paul
was sitting at
DeAndre Jordan
's locker, sitting side-by-side with the
Los Angeles Clippers
' starting center, breaking down game film on his laptop.
In another corner,
Chauncey Billups
was talking to
Eric Bledsoe
about being more aggressive as the third-year point guard watched game film on his iPad.
[+] Enlarge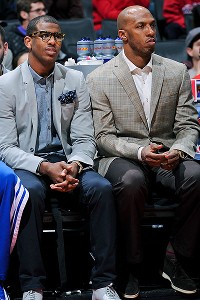 Noah Graham/NBAE/Getty ImagesChris Paul and Chauncey Billups are serving as de facto coaches until they get healthy.
Paul and Billups have embraced their roles as assistant coaches during their time away from the court, but the longer they are out, the more evident it is becoming how average the Clippers are without them on the floor.
After losing to the
Boston Celtics
106-104 on Sunday, the Clippers have now lost six of their past eight games since Paul re-injured his bruised right kneecap in a loss to Golden State on Jan. 21. Since then, he has missed seven games and the Clippers have gone 2-5 in his absence. Billups has missed all but three games this season with peroneal tendonitis in his left foot. Before he was injured last season, he was viewed as a major reason the Clippers were considered a viable contender.
When Paul was first sidelined with his bruised right kneecap, the Clippers went 3-0 on the road in his absence, beating Memphis, Houston and Minnesota by an average of 14.6 points. This time around they look like a .500 team at best without him -- which is now their record (5-5) when Paul is out.
"That's the way we've played so far," Clippers coach Vinny Del Negro said. "It depends on scheduling and a lot goes into that but I have a lot of confidence in our guys. We just have to learn with this new team right now how to be more efficient for longer stretches and how to be able to close games out in the fourth quarter."
As much as Paul and Billups may have helped the Clippers win some games from the sideline in the short term, the fact is, their message is simply getting lost the longer they're out.
"When you have that suit and tie on, it's not the same," Celtics coach Doc Rivers said. "Players don't listen to guys in suit and ties; let me tell you, I know that from experience."
Although the Clippers hope to get Paul and Billups back at some point during their road trip, Del Negro could learn a thing or two from Rivers on how to make up for the loss of your starting point guard. The Celtics have won four games in a row since losing
Rajon Rondo
for the season and have improved their defense, as well.
That has been the biggest problem for the Clippers without Paul. Their once-stingy defense has given up 204 points over the past two games. In fact, they have given up more than 100 points in four of their past eight games, which is well above their season average of 93.4 points.
"Effort,"
Matt Barnes
said when asked to pinpoint what has been ailing the Clippers' defense. "We are all capable of playing defense. We've done it before. I just think we have to do it more consistently. We have to be on the same page, we have to trust each other. We have to know our rotations and if someone gets beat we have to have that person's back and I think we've just been a step slow lately."
It also doesn't help when Barnes fails to record a single point, going 0-for-6 from the field. The Clippers' once-vaunted bench was outscored 52-29 by the Celtics as the Clippers got 23 points from
Jamal Crawford
and just six more from
Lamar Odom
. No one else on the Clippers' bench scored as Barnes,
Grant Hill
and
Ronny Turiaf
combined to go 0-for-9.
"We're just a little out of rhythm," Barnes said. "Obviously, we were a strong unit. When we had Bled as our point but now mixing Jamal into the point and Grant into the point, guys are just playing a little out of position, but that's no excuse. We've got to continue to find ways to win and even when we aren't scoring we've got to continue to be able to play defense."
Paul and Billups had long since left the Garden by the time Griffin exited -- the last person to leave the visiting locker room. He had just finished watching a few keys plays on his iPad before getting dressed, shaking his head at a few key plays that could have been the difference late in the game.
"The way we played down the stretch was promising," Griffin said. "That's the kind of intensity we were playing with in December when we were going on the road and winning games and at home. That's the kind of intensity we need to have to win games, especially on the road in a tough environment against a good team."
December, 28, 2012
12/28/12
12:16
AM PT
LOS ANGELES – It's easy to tell when the
Los Angeles Clippers
have a nationally televised game.
Eight Staples Center employees will wheel out a massive 15-foot steel contraption shaped like a futuristic Arc de Triomphe onto the court. The arc will then light up and fire off smoke machines hidden behind a plastic Clippers logo attached to the top of the machine as the starting lineups are announced.
As miniature fireworks go off around the scoreboard, Clippers players run through the arc as smoke bellows from above.
The Clippers only roll out this monstrosity when they play nationally televised games. When they're playing the
New Orleans Hornets
on a Monday night, it stays tucked in the bowels of Staples Center.
Before the game the DJ will scream, "We're about to go live on TV! We're about to go live on national TV! Make some noise!"
During the game, the in-arena MC will yell, "We're about to come back from a commercial on national TV! Make some noise!"
At some point these nationally televised games against marquee opponents will become routine for the Clippers.
They won't be treated like showcase events, but simply as a Thursday night game against the
Boston Celtics
.
After the Clippers destroyed the Celtics 106-77 to win their 15th straight game, maybe that day has already arrived and no one outside of the Clippers locker room has realized it until now.
It seems "nationally televised games," "marquee matchups" and "streaks" live only in the vocabulary of those not on the court or the Clippers' bench.
"I totally forgot about the streak today, honestly I did,"
Chris Paul
said. "I just love how we're playing right now. I think it's contagious."
The Clippers' 15-game winning streak is not only a franchise high but the longest in the NBA this season by the games. And their 23-6 record is not only the best start in team history, but the best record in the league.
They haven't just been beating teams, they've been destroying teams by an average of about 16 points per game during the streak. Their 29-point win Thursday was their largest margin of victory over the Celtics in franchise history. Four days ago they beat the
Phoenix Suns
by 26 points. They haven't lost a game since Nov. 26.
The Clippers have been defeating teams so handily during the streak that Paul and
Blake Griffin
have been relegated to nothing more than spectators in the fourth quarter; they are averaging career low minutes in the final period this season.
"It shows we have a lot of depth," Paul said. "I probably sat out more fourth quarters this season than in my previous seven seasons. People talk about how me and Blake's numbers are down, but we don't play many fourth quarters. It just says a lot about our team and how everything is balanced."
Perhaps nothing said more about how far the Clippers have come this season than when Celtics forward
Kevin Garnett
was asked about the game and the play of Griffin, who finished with 15 points and eight rebounds in just 27 minutes.
"I thought we came out with too much respect," Garnett said. "We wanted to play off some of their bigs and Blake hit some shots that he doesn't usually hit. They came out with a lot of confidence and they packed the paint and that is the reason they have won 15 in a row. Teams like this, you have to come at them and attack them and we were not able to do that. As a result, they had us on our heels all night."
So two days after Magic Johnson called the Clippers the latest version of Showtime, Garnett said the Celtics gave the Clippers "too much respect." Maybe this is what the Mayans were talking about.
The biggest difference for the Clippers during their streak has been their defense. They are suffocating teams early and putting games away in the third quarter. The Clippers have only allowed 100 points twice during the streak. They held the Celtics to just 40.3 percent shooting on Thursday.
"Last year, I think they showed up and they just thought their talent and their offense was [going to win for them]," Celtics coach Doc Rivers said. "But this year their defense has been fantastic. I mean, we're all talking about their offense, but they're playing just terrific defense. And they have balance now. They're fifth in the league in scoring, fifth in defense. That's a balanced basketball team and that makes you really good."
As Paul got dressed after the game, his son, Chris II, came up to him and told him about sitting on Justin Bieber's lap during the game.
"I sat with Justin Bieber, daddy!" he said.
Paul laughed and handed his son his phone and asked him to play his favorite Bieber song. As little Chris scrolled through the playlist, Paul smiled and looked around a locker room that included Griffin conducting an interview wearing a fake mustache that Paul wore in a new insurance commercial.
On the opposite end of the room is a white board with the NBA standings and the Clippers sitting at the top.
It's a nice position to be in right now, but it's not enough for Paul.
"Some people may be impressed with the record, but we can't be impressed," Paul said. "You're not measured by your regular-season wins and stuff like that. It's going to be a long time before we really see what our team is really made of."
December, 27, 2012
12/27/12
11:00
PM PT
LOS ANGELES -- The
Los Angeles Clippers
will tell you their 15-game winning streak doesn't matter. They're not focused on it as much as the way they are playing during the streak.
It sounds like the same, old "taking it one game at a time" cliché before you talk to them some more.
"It's really not about the streak," said
Ronny Turiaf
. "Look at the way we're winning these games. Look at the way we're playing."
Turiaf has a point:
The Clippers aren't just winning games. They're beating teams by an average of about 16 points per game during this streak. Most of these games have been over by the third quarter, allowing Turiaf and the Clippers' bench to give the starters a rest.
It happened again Thursday night as the Clippers defeated the
Boston Celtics
103-77; they were leading by as many as 32 points late.
The win not only gave the Clippers 15 straight victories but a 23-6 record, now the best in the NBA.
Here are three takeaways from the game:
A Tribe Called Bench
Truth be told, not everyone on the Clippers' bench loves their nickname. But it doesn't really matter. They don't get to nickname themselves. And the Clippers' marketing department has already made T-shirts with the name on it, so that ship has sailed. Regardless of what the Clippers' second unit is called, there's no disputing they are the best in the NBA right now. Once again, the bench closed out the game, allowing the starters to kick their feet up in the fourth quarter.
Jamal Crawford
, thought by many to be the front-runner to win the Sixth Man of the Year award, finished with 17 points and four assists, while
Matt Barnes
, who is having a career year, finished with 21 points.
Eric Bledsoe
added a season-high six steals.
Showtime
Magic Johnson riled up some Lakers fans when he was talking about the Clippers this week and said, "I thought I would never, ever see Showtime again. And I was the architect of Showtime. The Clippers? That's Showtime. They're the greatest show on Earth." Magic may be on to something. Not only are the Clippers rolling teams and putting on an aerial show better than anything seen during All-Star Weekend, but Hollywood is beginning to take notice. Maybe the biggest indicator of how popular the Clippers are getting in Los Angeles is that while
Chris Paul
was taking on the Celtics on the court, his son, Chris Jr., was sitting on Justin Bieber's lap courtside. In the previous game, Kim Kardashian and Kanye West were sitting courtside to watch
Lamar Odom
. It may not be Jack Nicholson and Denzel Washington, but it may be a step up from Billy Crystal and Penny Marshall.
Balance and options
One of the interesting things about the Clippers' streak is that it isn't being paced by one or two players. On most nights, no Clipper is putting in more 20 points. Against the Celtics, no Clippers starter scored more than 15 points or played more than 26 minutes (outside of
Willie Green
, starting because
Chauncey Billups
is out). Chris Paul (eight points and 11 assists) and
Blake Griffin
(15 points and eight rebounds) did their job early. And soon after the second team came in, Jamal Crawford and Matt Barnes took over and blew the game wide open. It's a model of success the Clippers have used frequently during their hot streak.
December, 26, 2012
12/26/12
10:35
PM PT
LOS ANGELES -- There was a time when the
Los Angeles Clippers
cared about their current 14-game winning streak. It wasn't necessarily a goal they had set out to achieve before the season started but once they discovered they were within striking distance of the franchise record, which was 12, they wanted to break it.
Lamar Odom
, who remembered what it was like to win 15 games his entire rookie season as a Clipper, wanted to break the record.
Chris Paul
, who has made it his goal to re-write the Clippers record book after he arrived in Los Angeles last year, wanted to break the record. Shoot, even maligned Clippers owner Donald Sterling, who made a rare visit to the locker room after they won 12 straight, wanted to break the record.
After the record was finally broken, however, the Clippers stopped talking about the streak and went about their business. They have since extended the streak by two games and will go for 15 straight on Thursday night against the
Boston Celtics
but there will be no celebrations if they reach the mark.
After the Clippers' 14th straight win, Paul, as he has done many times before, put the streak in perspective and reminded everyone that it really meant nothing in relation to the Clippers' ultimate goal, which is to win a championship.
"I was in the Western Conference [in 2008] when Houston won 22 in a row," Paul said. "And they only moved up two spots because the West was so deep that year."
Paul has brought up that streak a few times before when talking to his teammates.
Blake Griffin
even knew the number of consecutive games Houston had won that year when he was asked.
The 2007-08
Houston Rockets
team that won 22 straight, the second longest in NBA history behind the
Los Angeles Lakers
' 33 straight in 1971-72, not only got their streak snapped at home by the Celtics but ended up being eliminated in the first round of the playoffs.
That's not the kind of end to the season Paul wants the Clippers to have. Streaks are nice but, all jokes aside, the Clippers aren't going to be hanging any banner for winning 15 or 16 straight games.
"We can't get caught up in the streak," Clippers center
DeAndre Jordan
said. "You can't get 20 until you get whatever number we're on now. We just have to play."
March, 12, 2012
3/12/12
11:35
AM PT
Clippers (23-16) vs. Boston Celtics (21-19) at Staples Center, 7:30 p.m. PT
Five storylines to track:
1. Always be closing:
When
Phil Jackson
was coaching the Lakers, he would always play
Alec Baldwin
's famous speech from the movie "Glengarry Glen Ross" where Baldwin broke down the meaning of the A-B-C of sales. "A -- always; B -- be; C -- closing. Always be closing!" Well, it would behoove Clippers coach
Vinny Del Negro
to dust off that old DVD and show it to his team before they play the Celtics on Monday night. The Clippers have been anything but closers recently. In fact, they've been more like
Jonathan Broxton
on the mound trying to protect a one-run lead. The Clippers are 4-7 in their last 11 games, losing their last three by a combined nine points. They are now 8-8 in games decided by five points or fewer and look lost in critical situations down the stretch. "It's something we're trying to figure out,"
Blake Griffin
said. "If we knew, it would be easier. It's one of those things where we talk about it and we're just flat a lot."


2. Starters disappear:
The Clippers are at their best when everyone gets involved in the offense early and are at their absolute worst when one or more starters completely disappears. Against the Warriors on Sunday, both
DeAndre Jordan
and
Caron Butler
were practically invisible. They combined for five points and didn't play at all after the midway point of the third quarter. For the second time in a week, Butler failed to record a single field goal, going 0-for-6. He hadn't failed to score a field goal for six years before doing it against Minnesota on March 5.
3. Bench mob:
Perhaps the only positive takeaway from the Clippers' loss to Golden State on Sunday were the performances of
Reggie Evans
and
Eric Bledsoe
off the bench. The duo helped the Clippers erase a 21-point deficit in the third quarter and helped tie the game with 4:30 left. Evans finished with 11 points and 12 rebounds while Bledsoe had four steals, three assists and two points, and helped set up one big play after another during the Clippers' run. Even
Bobby Simmons
stepped up and added six points and two rebounds during the stretch. All three players finished with a plus/minus of at least plus-12. The problem:
Mo Williams
, who is usually the only consistent scorer off the bench, was nowhere to be found. He started the game 0-for-7 and finished with just three points after hitting one 3-pointer.
4. Masked man:
Chris Paul
wore a protective mask against Golden State for the first time in his career and will likely have to wear it for the next two weeks after suffering a nasal fracture against San Antonio last week. It was clear the mask was bothersome for Paul at the beginning of the game as he continued to play with it in between plays and completely took it off during longer stoppages. "It's different," Paul said. "But it doesn't inhibit anything." The mask didn't seem to slow down Paul after the first quarter as he had 23 points, five assists and three steals. Paul, however, was still kicking himself after the game for missing three free throws and all four of his 3-point attempts. "That's the real story of this," Paul said after the loss. "We beat ourselves."
5. Turning point:
There's never one reason why a team hits a wall; it's usually a variety of factors that come together at once. But if the Clippers had to pick one turning point in their season, it has to be at Orlando Feb. 6, when the Clippers beat the Magic 107-102 in overtime. The day after that game, an MRI revealed
Chauncey Billups
was lost for the season with a ruptured Achilles tendon, and
Kenyon Martin,
who Billups recruited to join the team, was signed and activated. Billups' loss has been felt on and off the court, especially late in games, and his absence has correlated with Butler's dramatic drop in production. Butler no longer gets the same open looks on the wing that he got when Billups used to penetrate the paint. Meanwhile, Martin's addition has stunted the growth of Jordan, who simply hasn't been the same with Martin playing critical minutes down the stretch in Jordan's place. If the Clippers can't find a way to get Butler and Jordan to return to their old form when the team started 19-9, the current free fall they are on will get worse before it gets better.
March, 3, 2012
3/03/12
12:14
AM PT
Chauncey Billups' jersey still hangs in the Los Angeles Clippers' locker room. It is put up before every home game and road game as if Billups will still suit up and be in the starting lineup.

Unfortunately for the Clippers, Billups isn't walking through their locker room door anytime soon.

Billups was lost for the season last month with a torn left Achilles tendon and his impact on this young team is beginning to be felt more and more with every late game loss the Clippers suffer.

There are a myriad of reasons why the Clippers lost to the Phoenix Suns 81-78 Friday night, their fourth loss in their last six games.

Maybe it was because it was the Clippers' second game of a back-to-back on the road, maybe it was because the Clippers' starters could never find their shot or maybe it was because the Suns, one of the league's worst rebounding teams, out rebounded the Clippers, one of the league's best on the boards.

Whatever the reasons may be the loss was yet another example of how much the Clippers miss Billups' leadership, calming presence and experience down the stretch in close games.

The Clippers are now 6-6 without Billups after starting the season 15-7 with him in the starting lineup.

Billups' impact on this team went far beyond the 14.9 points and 4.0 assists he was averaging. If we just look at the numbers, Randy Foye, who is now starting in place of Billups, has done an admirable job. He is averaging 8.7 points and 2.4 assists this season although he scored just 2 points on 1-of-8 shooting against the Suns.

Billups created opportunities for his teammates, drew fouls and put opponents in the penalty early and was the best free throw shooter on a team without many good players from the charity stripe. No one has felt his loss more than Caron Butler, who no longer gets the same open looks on the weakside he did when Billups was penetrating the gaps and causing defenses to respect him. That's simply something Foye does not provide.

So not only have the Clippers lost Billups, but Butler is no longer the player he once was with Billups in the lineup. Butler was 4-of-13 for 9 points and 8 rebounds Thursday night. Coming into this six-game road trip he had shot only 31.5% from the field (12-of-38) in his last four games and had only made 1-of-14 from beyond the arc.

Perhaps the biggest area where Billups' loss is felt is in the fourth quarter during close games. Those were situations where the Clippers found a way to win with Billups on the court. They had snapped long franchise losing streaks against the Nuggets, Jazz and Magic on the road and had beaten the likes of the Thunder, Heat, Lakers and Mavericks at home with Billups on the floor.

Without Billups, the Clippers have blown close games late in four of their last six losses to the Spurs, Warriors, Timberwolves and Suns. The Spurs loss was the most heartbreaking but it was also the only one of the four against a team that will likely make the playoffs.

There's nothing the Clippers can do with their current roster to fill the void left by Billups, who plans to return to Los Angeles later this month to continue his rehab and be around the team. They were unable to sign J.R. Smith as a free agent last month and instead signed veteran Bobby Simmons, who scored his first points in the NBA since 2009 on Thursday. Clippers coach Vinny Del Negro will not move Mo Williams, who is averaging 13.5 points and 3.4 assists, to the starting lineup since that would leave them with no consistent production off the bench.

Maybe 12 games isn't the greatest sample size but after a .500 record without Billups and a recent inability to close out games late, it might be time for the Clippers general manager Neil Olshey to seriously pursue a deal for a player that will make the Clippers a more serious contender down the stretch and into the postseason.

Players like the Boston Celtics' Ray Allen and Paul Pierce, who have been rumored as possible Clippers targets, may not be young and will cost the team assets they would rather keep but the Clippers are not in a position to think long-term with Chris Paul and Blake Griffin essentially giving the Clippers two years to prove they are a championship team before they can jump ship.

The Clippers looked like a championship team at the beginning of the season when Billups was hitting big shots and providing some championship experience on the floor. Now that he is gone, and seeing how the team has done in his absence it may be time for the Clippers to find a similar player before the trade deadline if they want to be playing well into the summer this year.