Los Angeles Clippers:

Darren Collison
October, 29, 2013
Oct 29
12:31
PM PT
PLAYA VISTA, Calif. -- Los Angeles Clippers guard Darren Collison will play Tuesday against the Los Angeles Lakers despite having a bruised left kneecap but that wasn't the reason Collison was smiling after shootaround.

Collison was with his wife, Keyosha, Monday as she gave birth to their first child, a baby boy named Kinston. Collison was still wearing his hospital wristband as he went through practice on Tuesday and said he would be with his wife in the hospital before driving to the game.

"It's one of the best times in my life, probably not sleeping-wise, I didn't get too much sleep," Collison said. "I'll be fine for the game."

Collison said he was going to try to keep the wristband on for the game if the team and officials allowed.

"I want to," Collison. "But I might have to take it off because [Chris Paul] said I just cut him with it. We'll see."

Collison said his knee isn't 100 percent yet but it would not keep him from playing in the season opener.

"My knee is fine, it's better," Collison said. "I can tolerate the pain. It's not fully where I need it to be but I'm running fine. There's no limp. I'm ready to go. It's go time."
October, 25, 2013
Oct 25
10:27
PM PT
By
Jovan Buha
| Special to ESPNLosAngeles.com
LOS ANGELES --
Blake Griffin
created a stir a few weeks ago when he told ESPN that "Lob City was done."
His teammates, though, must not have taken the message seriously just yet because the
Los Angeles Clippers
' first four field goals against the
Sacramento Kings
on Friday night were all dunks, including a no-look lob from
Chris Paul
to
DeAndre Jordan
.
The rest of the evening wasn't as pretty, with the Kings ultimately prevailing, 110-100.
After taking an impressive 30-20 lead at the end of the first quarter, the Clippers' bench gave up a 13-1 run to start the second quarter and the team was in a dogfight the rest of the way. Led by
Isaiah Thomas
(27 points) and
DeMarcus Cousins
(20 points), the Kings built on their six-point halftime lead to pull away from the Clippers in the third quarter, leading by as many as 19 points.
Coach Doc Rivers decided to sit his starters the rest of the way, and while the bench was able to cut into the double-digit deficit a bit, it wasn't enough to snag another late victory for the second straight game.
With the loss, the Clippers finished the preseason 5-3. The Clippers will next take on the rival
Los Angeles Lakers
in their regular-season opener on Tuesday night.
Here are three takeaways from the game:
September, 4, 2013
Sep 4
7:25
PM PT
By
Jovan Buha
| Special to ESPNLosAngeles.com
Though last week's signing of
Antawn Jamison
didn't move the needle in comparison with their other summer transactions, the addition signified the culmination of the
Los Angeles Clippers
' offseason.
With training camp only a few weeks away and 14 players now under contract -- one fewer than the league's maximum -- the current Clippers' roster is probably the one that will open the season on Oct. 29 against the
Los Angeles Lakers
.
[+] Enlarge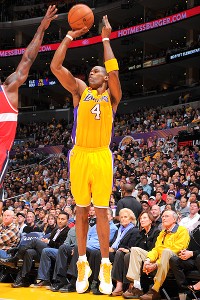 Andrew D. Bernstein/Getty ImagesAntawn Jamison should give the Clippers a solid offense-minded option, but the team might be trading off its defensive presence.
Despite Jamison's coming off of an underwhelming season with the Lakers last season in which his role fluctuated, his signing by the Clippers makes sense.
The Clippers needed another big man to solidify their frontcourt rotation, and Jamison was arguably the most talented player available. Also,
Chris Paul
has yet to play with an offense-minded big man aside from
Blake Griffin
throughout his tenure with the Clippers, and Jamison's floor-spacing abilities should provide Paul with a handful of new offensive wrinkles.
But the significance of the signing isn't Jamison's potential fit so much as that the move indicates an ideological shift in the design of the Clippers' bench from last season to this season.
Last season, the Clippers' primary bench lineup --
Eric Bledsoe
,
Jamal Crawford
,
Matt Barnes
,
Lamar Odom
and
Ronny Turiaf
-- was one of the best defensive units in the NBA, giving up only 89.8 points per 100 possessions -- a figure that would lead the league by over six points per possession if maintained over the course of the season.
The group lacked offensive creativity, though, as Crawford, and occasionally Bledsoe, were the only players who could consistently create their own shots. As a result, the lineup had difficulty scoring, averaging just 100.8 points per 100 possessions, an output that tied the
Cleveland Cavaliers
for 23rd-best in the league.
July, 16, 2013
Jul 16
9:17
AM PT
By
Jovan Buha
| Special to ESPNLosAngeles.com
When the Clippers shipped
Eric Bledsoe
and
Caron Butler
to the
Phoenix Suns
in a three-team trade with the
Milwaukee Bucks
for
J.J. Redick
and
Jared Dudley
, they upgraded to better three-point shooting and defense at the starting wing positions. But Bledsoe's departure left an immense hole at backup point guard.
[+] Enlarge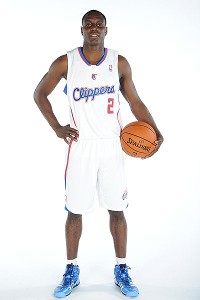 Noah Graham/NBAE/Getty ImagesDarren Collison figures to be better served playing off the bench for the Clippers than as a starter.
With limited financial means to find a replacement -- after re-signing
Matt Barnes
with a portion of their midlevel exception, the Clippers had approximately $1.9 million of it remaining -- they faced the possibility of signing a limited veteran or inexperienced young commodity.
But somehow, perhaps by way of hometown discount, the Clippers turned their miniscule cap space into a two-year, $3.8 million deal for
Darren Collison
, a 25-year-old point guard who's started 219 of the 296 games he's played in his four-year career.
While Collison and Bledsoe have inherently different styles of play -- and make no mistake, Bledsoe is clearly the more talented player -- Collison can provide similar value within the confines of his new and more appropriate role as the Clippers' second-unit leader.
Collison, a Rancho Cucamonga native and UCLA alum, was most productive as a rookie during the 2009-10 season with the New Orleans Hornets when, under the tutelage of
Chris Paul
, he averaged 12.4 points, 5.7 assists and 1.0 steals to go along with 40 percent shooting from beyond the arc. With Paul limited to just 45 games because of a knee injury, Collison started 37 games and, at times, was as effective as any floor general in the league.
Since his initial success, Collison has been miscast in starting roles with the
Indiana Pacers
and
Dallas Mavericks
, leading to an overall decrease in his scoring, shooting efficiency and general productivity.
As Paul's backup, though, Collison will have considerably less pressure to succeed. He'll play 10 to 20 minutes a night, depending on the matchup, and have less offensive responsibility while playing alongside new backcourt mate
Jamal Crawford
.
At his core, Collison is an open-court player, not unlike Bledsoe, with 29.2 percent of his offensive possessions occurring in transition situations. His devastating speed allows him to get to the rim before opponents can react, and his finishing ability has improved to an above-average level for a point guard (66.9 percent shooting at the rim).
July, 15, 2013
Jul 15
5:11
PM PT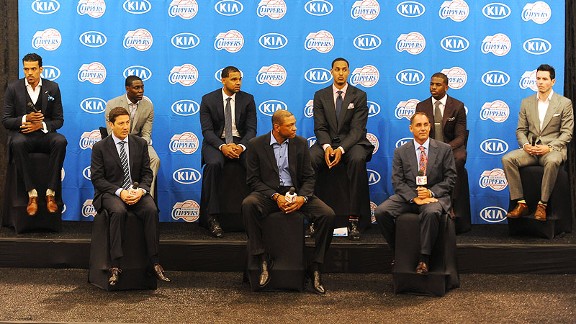 Noah Graham/NBAE/Getty ImagesThe new-look Clippers are facing a number of questions heading into the 2013-14 season.
LOS ANGELES – Expectations are high for the
Los Angeles Clippers
this summer, and rightfully so.
Coming off their most successful season in team history, the Clippers re-signed
Chris Paul
for the next five years, hired Doc Rivers as their coach, acquired two sharpshooters in
Jared Dudley
and
J.J. Redick
and solidified their bench by signing
Darren Collison
and re-signing
Matt Barnes
and
Ryan Hollins
.
On paper, they look like a championship contender and Las Vegas sports books agree, tabbing only the
Miami Heat
and
Oklahoma City Thunder
with better odds to win the title next season.
But is everything really all great with the Clippers? We'll try to find out by examining five pressing questions for the Clippers before they start training camp in a couple of months.
1. How much of an impact will Rivers and his coaching staff really have on the Clippers?
Rivers is a massive upgrade over Vinny Del Negro in the coaching department, and his assistants, whom he hired and brought over from the
Boston Celtics
(Alvin Gentry, Kevin Eastman,
Armond Hill
, Tyronn Lue and J.P. Clark) are an upgrade as well. It's hard to say how much of an impact their presence will have on a team that won 56 games and the Pacific Division title last year, but it's certainly not a stretch to think the Clippers can win 60 games and claim the top seed in the West next season.
Rivers, however, doesn't just want the Clippers to have regular-season success. They've had that already. He wants them to be in a position to make a run at a championship when the playoffs roll around. He has pointed to the 2010 Celtics, who struggled to win 50 games, finished fourth in the East and nearly beat the
Los Angeles Lakers
in Game 7 of the NBA Finals. He wants the Clippers to advance to at least their first ever conference finals in his first season.
What Rivers has on his side is a recent championship ring as a head coach and the authority as the senior vice president of basketball operations to get every player on the team to listen and buy into his message. It's something Del Negro, in a lame-duck position as a coach the past two seasons, never had, and there's no doubt it hurt the team when the Clippers could have used a more assertive leader.
2. The Clippers wanted to trade DeAndre Jordan for Kevin Garnett before the league blocked the deal. How will Jordan respond and can the Clippers win with him as the starting center?
[+] Enlarge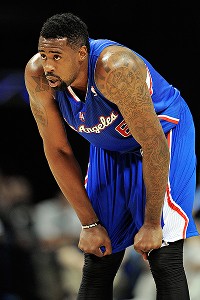 John David Mercer/USA TODAY SportsHow will DeAndre Jordan respond after the Clippers tried to trade him this offseason?
It's no secret that the Clippers were looking to deal Jordan to Boston for Garnett in a deal connected with the Rivers transaction. It wasn't the first time that trade was proposed. It nearly happened before the trade deadline about five months earlier.
Rivers made a point to reach out to Jordan when he was hired as the coach, and it looks like Jordan will be the Clippers' starting center going into this season. It's not terrible news for a team on the rise to have an athletic 24-year-old center who has yet to scratch his potential returning to the team, but if the Clippers are to be serious contenders this season, Jordan will have to start scratching that potential sooner rather than later.
Jordan shot a dreadful 38 percent from the free throw line last season, and that mark didn't improve at all during the postseason when he was forced to sit at the end of close games. Jordan will never be a great free throw shooter, but the Clippers will need him to get above 50 percent if they are to depend on him come playoff time.
3. What is the Clippers' biggest weakness right now?
The Clippers' frontcourt depth at the moment is nonexistent. A quick look at their two-deep shows that Griffin doesn't even have a backup at power forward and Hollins is Jordan's only backup at center, and we just established how dependable Jordan, who averaged 24 minutes per game last season, can be.
The Clippers are in the market to sign a couple of big men at the moment to back up Griffin and Jordan, but they are over the salary cap and can only offer players veteran's minimum deals. Maybe they'll come across a steal before training camp like Matt Barnes, but that doesn't happen too often.
There's a chance the Clippers could re-sign
Lamar Odom
to back up the four and five spots and maybe add
Antawn Jamison
as well. That would at least give them some flexibility and scoring punch in the frontcourt that they don't have at the moment.
4. Chris Paul and Blake Griffin signed five-year extensions over the past two summers, but can we expect them to be teammates over the course of their deals?
It used to be unthinkable for one, let alone two franchise players to commit five years of their prime to the Clippers, but that's exactly what Paul and Griffin have done, and unless the Clippers royally mess things up (I'll spare you a played-out Clippers joke here), Paul and Griffin should be the cornerstones of the franchise for the foreseeable future.
Of course, there was talk, albeit fleeting, about Griffin being traded for
Dwight Howard
this offseason, but that didn't last long. Could Griffin's name come up again if the Clippers don't win this season? It's possible but highly unlikely, according to a team source, who said Clippers owner Donald Sterling would never trade Griffin and credits him for beginning the team's turnaround.
There had been whispers that Griffin and Paul weren't as close as advertised last season, but both players knocked down those rumors. Griffin recently flew to Las Vegas with Paul to watch the Clippers in the NBA Summer League and Paul said he and Griffin talk and text about the team "all day, every day."
5. Are the Clippers a championship team as currently constructed?
Probably not. They're good enough to win the Pacific Division again and get to the Western Conference finals for the first time, but they'll have to add another piece if they hope to get past Oklahoma City or San Antonio in the West and certainly if they want to get past Miami in the NBA Finals. The Clippers struggled with all three teams last season, going 0-6 against them after Nov. 19. The Clippers have made some improvements, but time will tell if they have improved enough to get over that hump and become one of the top three teams in the NBA.