Los Angeles Clippers:

Gary Sacks
September, 29, 2013
9/29/13
1:47
PM PT
It was industrious, not glamorous. The kind of story you hear in Hollywood, about a studio head who started out in the mailroom and worked his way up, but rarely in the NBA where most coaches and front office executives begin by playing the game, then maneuvering their way up the food chain by any means necessary.
Guys who run teams with aspirations of winning an NBA title like the
Los Angeles Clippers
don't start off as baseball players who get their first break in basketball by answering an ad for a marketing job in the newspaper.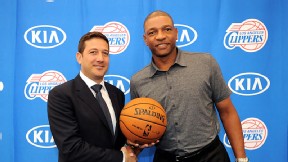 Andrew D. Bernstein/NBAE/Getty ImagesGary Sacks and Doc Rivers are working together to help the Clippers continue to improve.
And they certainly don't work two decades all with the same team, focused on what's in front of them, and not the backs they should be slapping elsewhere.
But that really is Clippers executive vice president of player personnel Gary Sacks' story. The guy new coach and senior VP of player personnel Doc Rivers is leaning on to do the heavy lifting in the front office, the guy who very quietly finished second in the NBA's executive of the year voting last season, really did start out working in a glorified closet at the Sports Arena, doing whatever he could to gain a foothold and stick around a while.
"From Day 1, I realized how fortunate I was to work for the Clippers and I didn't want to lose it," Sacks said over a long dinner this summer. "So I was going to do whatever it took to show everyone that I'm loyal, and that I would earn my keep."
At the time Sacks was hired, the NBA was just starting to use computers. Sacks was no expert, but he'd learned a little about computers at UCLA, and was smart enough to teach himself the rest. So he took one of them home, fiddled around with it instead of sleeping, and created a database for their scouting, a Compuserve email account all the scouts could use to send in their reports after games, and flat out blew people away.
"Gary was like our original IT guy," said
Toronto Raptors
executive Jeff Weltman, who was the Clippers director of player personnel at the time. "He was just so helpful with us automating everything, getting our scouting reports online and in a database. He was beyond helpful. He was the reason we were able to do it."
At nights he'd stay at the office until all hours, watching tape and waiting for the scouts to file their reports, assembling them into a readable, usable form for the coaching and front office staffs to process in the morning. Bobby Oceipka, an assistant coach and advanced scout liked his work ethic and started teaching him what to look for on all the tape he was watching.
Weltman started to trust his opinions enough to send him out to scout on his own.
Elgin Baylor
, the team's general manager at the time, always had an open door and advice to give. Bill Fitch, the Clippers coach, loved the clean, comprehensive scouting reports he always filed and officially gave him a full-time job.
"Whenever I talk about Gary, and there are a few other guys in this industry, without naming names, who've kind of carved their own niche in this business but by conventional standards have like no means to have done so," Weltman said. "But they've carved themselves a really important niche in this league where people rely on them and care what they think, and they've done it because they have supreme intelligence and supreme passion for the game. That's Gary. He'd loved the game and been a fan and all of a sudden lucked out with this internship and finds himself with his foot in the door.
"I loved having him around because he was such a sponge. He was so smart and insightful. He just had so much potential and ability and he worked his butt off."
Weltman eventually moved on from the Clippers to work with the Nuggets, Pistons, Bucks and Raptors. Sacks stayed with the Clippers and continued his steady climb in the front office, serving as director of player personnel for many years, before landing the big job when Neil Olshey left after the 2012 season to become the
Portland Trail Blazers
general manager.
The Clippers conducted a search to replace Olshey, but Sacks was always the front-runner because of his reputation within the organization and strong relationships with players like
Blake Griffin
and
Chris Paul
.
"You become more of a decision maker," Sacks said of his promotion last summer. "There's more responsibility with that. But I felt like I was ready, and that [responsibility] was something I knew I had to embrace.
"The most difficult part was wanting to continue to build what we'd already gotten to and not wanting to take a step backwards. That fear really motivated me to work as hard as I could with [former coach] Vinny [Del Negro] and [team president] Andy [Roeser] and on my own to do everything I could to keep the momentum going."
Together, Sacks, Roeser and Del Negro put together a team that won a franchise-record 56 games in the regular season. But when the Clippers lost in the first round of the playoffs to the
Memphis Grizzlies
, it was obvious they were missing something.
Hence the bold push for Rivers, associate head coach Alvin Gentry, the impact trade for J.J. Redick and
Jared Dudley
, and by-any-means-necessary effort to re-sign Paul to a five-year extension.
In order to land Rivers, Sacks had to swallow his ego and give Rivers the title of senior vice president of player personnel, one rung up the ladder from Sacks' title.
"My thing is, if we win, and it helps us win, I'm all for it," Sacks said. "There's always going to be a thought of what it's going to be like, but it's been great because Doc's made it easy. He's great to work with. I'm not just saying that. He's been very, very, very supportive of me. Willing to listen and work with me. What more can I ask for? The guy's been there, he knows how to win. For me, it's like I'm getting the benefit of getting his expertise. Why wouldn't I embrace that?"
I know, I know. Your earnestness-meter is going haywire. A guy who has risen to a position with as much power as Sacks has with the Clippers couldn't possibly be this sincere, right?
There are 30 of these jobs in the world and 3,000 basketball men who think they deserve them.
But maybe everybody doesn't have to be a shark. Maybe the best organizations, like the best teams, work because they've got guys who don't care how many shots they get or minutes they play.
Sacks didn't just accept the situation with Rivers, he worked day and night for weeks to make it happen.
"I like the direction we're going. I like what we've done. I like our team," Sacks said. "Doc and I have seen eye to eye on this. But we can't get complacent with what we've done, because we haven't done much yet. The only thing that's going to count is if we win in the regular season and the playoffs."
If they do, it'll likely be Rivers taking the public bows. He'll be hailed as the difference-maker. The missing piece who got through to Griffin and Paul and got the entire organization over the hump.
Sacks will be in the background smiling, though. All these years later, having finally earned his keep.
May, 9, 2013
5/09/13
10:49
AM PT
The Los Angeles Clippers enjoyed their best season in franchise history, winning their first division title, a record 56 games, going on a 17-game winning streak and sweeping the Lakers for the first time. Their postseason, however, wasn't as memorable, ending in four straight losses after taking a 2-0 series lead on the Memphis Grizzlies. How do the Clippers balance their memorable regular season with their forgettable postseason? Well, we'll take a step back here and try to grade what the front office brought to the table.
COACHING STAFF
Vinny Del Negro has been on the hot seat since the Clippers picked up the option on the third and final year of his deal last year and did not extend him beyond this season. It was clear that this season was an audition for him and if he would be the coach who would lead the Clippers for the next four to five seasons.
With
Chris Paul
becoming an unrestricted free agent and able to sign a five-year extension this summer and
Blake Griffin
inking a five-year extension last summer, the next big question for the Clippers is who will be coaching the cornerstones of the franchise for the foreseeable future.
As good as the Clippers have been over the past two seasons, it could easily be argued that the turnaround has more to do with the arrival of Paul than Del Negro's coaching. Del Negro was 32-50 in his first season with the Clippers before Paul arrived, and as Griffin was named Rookie of the Year. He was a .500 coach in his two seasons with Chicago and never made it out of the first round. The Bulls then replaced him with Tom Thibodeau, prompting Chicago to go 62-20 and advance to the Eastern Conference finals the next season.
Derrick Rose
, who was named the Rookie of the Year under Del Negro, blossomed into the league's MVP under Thibodeau. And look what the injury-riddled Bulls are doing this season in the playoffs without Rose.
Del Negro is a good coach, who surrounded himself with good assistants, but it was no secret that the Clippers needed to advance to the conference finals for him to be in the running for a long-term extension.
Outlook for 2013-14
Del Negro is scheduled to meet with Clippers owner Donald Sterling at the end of this week and it would be considered a major surprise if Sterling offered Del Negro a contract extension after his deal expires in June. The Clippers, according to sources, are expected to make a run at some big name coaches as Sterling for the first time seems willing to open up the checkbook for a respected coach with a solid resume.
The good news for Del Negro is that his last two years with the Clippers were strong enough that he'll likely land on his feet with another team within a year or two.
Grade
C:
Del Negro deserved an A for the first half of the season when the Clippers were a league-best 32-9, won 17 straight and looked well on their way to winning 60 games. Del Negro even won Coach of the Month honors in December. The wheels, however, fell off in the second half of the season where the team's play was probably worthy of a C. The Clippers, however, did rally to win 9 straight to claim the Pacific Division, the four seed and take a 2-0 series lead on Memphis. In the end, though, Del Negro's team stalled out as Memphis made the right adjustments after Game 2 and won four straight and eliminated the Clippers in six games.
FRONT OFFICE
There was some uncertainty in the Clippers' front office last offseason after general manager Neil Olshey left to take a similar position with the
Portland Trail Blazers
. Gary Sacks was then promoted to take over for Olshey as team president Andy Roeser and Del Negro took a more hands-on approach to dealing with off-season acquisitions and moves. Sacks was on a similar one-year audition run like Del Negro but chances are that Sacks will be back. He had the backing of Paul and Griffin when he was promoted to his position and he has been working with Sterling and Roeser for 20 years.
The Clippers front office did a solid job in the offseason in putting together arguably the deepest team in the league. They went out and acquired
Jamal Crawford
,
Lamar Odom
,
Grant Hill
,
Matt Barnes
,
Willie Green
,
Ryan Hollins
and
Ronny Turiaf
. For all the talk about the Clippers building on the continuity from last season, there were nine players on this year's playoffs roster that were not on last year's playoff roster.
Outlook for 2013-14
The Clippers aren't likely to make any moves in the front office. Sacks and Roeser will likely to continue in their roles unless Sterling suddenly gets the urge to call up Phil Jackson and give him a blank check to come across town and run the Clippers.
Grade
B:
The Clippers did a fine job assembling a deep roster that won a team-record 56 games. Some might say it wasn't built for the playoffs after losing
Reggie Evans
and
Kenyon Martin
but the Clippers got swept in the second round with those two. The Clippers rolled the dice on making some moves with a nice mixture of young players and veterans and it worked well in the regular season before fizzling out in the playoffs.
June, 30, 2012
6/30/12
5:00
PM PT
While the Clippers will begin the free agent signing period Saturday at 9 p.m. with the three-man ad hoc front office by-committee that's been in place for the past month, support within the organization has coalesced around director of player personnel Gary Sacks, according to multiple sources with knowledge of the situation.

Sacks, 44, has been with the organization for 17 years and is well-regarded among players and throughout the organization. He's primarily handled college scouting but has increased his responsibilities over time.

Sacks, team president Andy Roeser and head coach Vinny Del Negro have been running the Clippers' front office since former general manager Neil Olshey left to become Portland's GM in early June.

Roeser is primarily handling the search for a new GM and has had had preliminary conversations with Jim Paxson, Larry Harris, Jeff Weltman, David Griffin and Tony DiLeo, according to sources, but has only formally interviewed former Nuggets GM Kiki Vandeweghe. Griffin withdrew from consideration on Monday.

Roeser has been methodical in his approach to the search. When Olshey left so close to the draft, he determined it was best to proceed slowly and thoughtfully rather than rush to get someone in place before the June 28 draft, where the Clippers only had the 53rd overall pick.

Sacks has always been a strong in-house candidate for the job because of his strong relationships with Clippers players, staff and around the league. Support for him within the organization has ratcheted up in the last week as the team opens free agency. It's not clear whether, if hired, he would be seen as the long-term solution, or, like Olshey did in the past, would have to work on a short-term basis and prove himself.
June, 20, 2012
6/20/12
11:27
PM PT
Los Angeles Clippers point guard Mo Williams has said he does not plan to opt out of the final year of his contract, which will pay him $8.5 million next season. However the situation isn't as simple as that.

Williams' agent Mark Bartelstein told ESPNLosAngeles.com Wednesday night that he and the Clippers are trying to "find a solution" to the situation. Namely, Williams is a former All-Star point guard who spent most of last season playing out of position at shooting guard and coming off the bench following the trade for Chris Paul and the acquisition of Chauncey Billups.

"Mo's a professional and I think he showed that last season," Bartelstein said. "He had a great year under difficult circumstances. That said, he's a starting point guard. He's an All-Star starting point guard. So we'll look at everything and see what makes sense."

Williams has until June 30 to make a decision on the final year of his contract. Bartelstein said both he and the Clippers are "kind of exploring everything" in the hopes of finding a solution that works for both sides before June 30.

The Clippers have approximately $59 million committed to players next season if Williams does not opt out of his $8.5 million contract for next season. If, as expected, the salary cap remains flat from this season's $58.4 million, that would put the team slightly above the salary cap.

The Clippers have formulated two scenarios for their offseason. One for if Williams opts out and they are below the salary cap, and one for if Williams does not opt out and they are slightly above the salary cap.

Randy Foye, Kenyon Martin, Reggie Evans, Billups, Bobby Simmons and Nick Young are all unrestricted free agents. They do not have a first-round pick, either. So any moves will have to be made via free agency or trade.

Just who is making those decisions after general manager Neil Olshey left to become Portland's GM earlier this month is still somewhat of an ad hoc affair with team president Andy Roeser handling much of the logistical and financial issues and head coach Vinny Del Negro and director of player personnel Gary Sacks handling draft preparation and scouting.

Roeser is heading up the search for a new general manager. Former Nuggets GM Kiki Vandeweghe, has emerged as a leading candidate, according to sources.

The Clippers are also considering whether to promote Sacks, 44, in an effort to keep continuity within the front office. Sacks is regarded as a bright up-and-comer in league circles. He was Olshey's top lieutenant on scouting and has solid relationships with many of the Clippers players and agents.

Two sources close to the process said it was unlikely the team would have a new GM in place before next Thursday's draft, but that it was more likely the situation would be resolved near the beginning of free agency.