Los Angeles Clippers:

Gregg Popovich
February, 18, 2014
Feb 18
11:43
PM PT
LOS ANGELES -- Before the
Los Angeles Clippers
went their separate ways before the NBA All-Star break last week, there was a sense that something new and exciting would be waiting for them when they returned.
For the first time this season, everyone on the roster was supposed to be healthy and able to practice Monday and then play in Tuesday's game against the
San Antonio Spurs
.
[+] Enlarge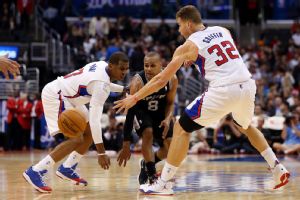 Jeff Gross/Getty ImagesChris Paul, left, and Blake Griffin, right, couldn't slow down Patty Mills and the Spurs, showing once again how far the Clippers still have to go to be an elite team.
Not only did that not happen, it doesn't look as if it will happen for a while.
Just as soon as the Clippers thought they'd be getting
J.J. Redick
back, they discovered he had a bulging disk in his back and will be sidelined indefinitely.
On Tuesday night, the Spurs beat the Clippers 113-103 and in the process showed the Clippers yet another glimpse of what they would like to be one day.
The Clippers will be forced to carry on for the foreseeable future with their starting shooting guard sidelined and their Sixth Man of the Year candidate,
Jamal Crawford
, thrust into a starting role.
It's not an ideal position, but they are far from the only team dealing with injuries. Just ask the
Los Angeles Lakers
, who have more players on the injured reserve list than the active roster some nights.
All the Clippers had to do Tuesday night was look at the Spurs for an example of how a championship contender handles adversity. The Spurs were playing without
Tony Parker
,
Kawhi Leonard
and
Tiago Splitter
and still beat the Clippers by double figures. San Antonio has had its true starting lineup for only 16 games this season and have the second-best record in the West and third-best in the league.
December, 16, 2013
12/16/13
11:47
PM PT
LOS ANGELES -- Doc Rivers has an idea of how he wants the
Los Angeles Clippers
to look at some point in the near future.
All he had to do Monday night was look across the court at the architect and blueprint of that vision.
"San Antonio is the gold standard," Rivers said. "They've been that way for a long time."
[+] Enlarge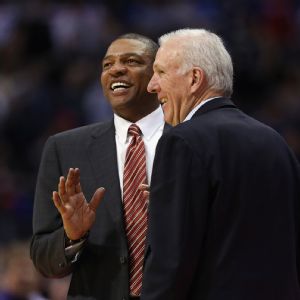 Jeff Gross/Getty ImagesFrom 1994-96, Doc Rivers and Gregg Popovich were both part of the San Antonio Spurs' organization. Rivers was in the last years of his playing career, while Popovich was the general manager.
On Monday, the Clippers handily defeated the league's gold standard
San Antonio Spurs
115-92, notching their biggest win of the season in the process. That win, as impressive as it might have been, doesn't mean much in the big scheme of things if you listened to Rivers after the game.
It's a harsh reality that comes with striving for a standard greater than big wins against big teams in the regular season. As nice as they are, there's always another game against another team that's just as important when they tally the final records and seed teams at the end of the season.
"It was big test, but we'll have another one soon," Rivers said. "You keep having tests all year, and then you have more during the playoffs. Tests never stop. You pass a test and that doesn't mean you have any time to feel good about it."
It's no coincidence Rivers' comments after the game mirrored those of Spurs coach Gregg Popovich, who contends he doesn't place much emphasis on wins and losses during the season. Rivers and Popovich developed a bond when both were in San Antonio nearly 20 years ago.
Rivers was there as a player for the final two seasons of his career, from 1994 to 1996, and Popovich was the general manager during that time before eventually becoming the head coach.
"He was around quite a bit," Rivers said of Popovich. "You just loved how he worked the organization. It was very helpful for me. You knew he was going to coach, but you never knew he was going to coach like this. You knew what he stood for. You always thought he was going to be really good, but what he has done is amazing."
Rivers and Popovich still speak frequently. Popovich called Rivers in the offseason to ask him about approaching the new season after losing Game 7 of the NBA Finals on the road, while Rivers called Popovich last week to ask him about signing
Stephen Jackson
, whom Popovich jettisoned before the end of last season.
"He's terrific," Rivers said. "The best coach, other than Phil Jackson, in NBA history. It's Red Auerbach, Phil Jackson and Gregg Popovich. They also have a pretty good guy in
Tim Duncan
, who's probably the best power forward to ever play the game, and then they have [Tony] Parker and [Manu] Ginobli. They've done a great job building around their core. They'll move guys around those three, but they don't move the core. They bring guys in that accent the core. They make the core better and make themselves individually better. Pop is the best there's ever been in making you buy into their system. He changes his system, but you're going to buy into it or you're not going to play."
How Popovich and Rivers get their players to buy into their systems is similar. They are able to connect with players in a way that makes them "players' coaches" but not pushovers. They are able to joke with players without being the butt of their jokes. They are able to get them to follow their lead without having them questioning their decisions every step of the way.
"With both of us, I think a sense of humor is huge," Popovich said. "I think we both enjoy screwing with the guys, basically: sticking it to them, giving them some static, and they give it back to us. People who can laugh at themselves and have a good time during the season are fun to be around. We both enjoy players who can do that and I think we both have players who have senses of humor, and it's an important thing to get you through the season. I think we both enjoy that and we both believe it begins with the defense. The better your defense gets, the better team you're going to have, and we're both persistent enough to demand it throughout the whole year and win the battle with the player in that regard. In those respects we're very similar."
As much as Rivers would like to see the Clippers copy the Spurs' blueprint, he understands the Spurs' core has been playing together for more than a decade, while the Clippers are still trying to piece together a core that can win a title. Rivers can see glimpses of that potential title team but knows they're not there yet.
"You can see us improving. You can see it coming," Rivers said. "We don't do it all the time. On offense, we don't play with pace all the time; we don't move the ball all the time. On defense, we don't pull in all the time, but we are recognizing when we don't do it faster now. The next step will be doing it all the time. We are consistency away from being a special team, but we're just not there yet. I'm not that concerned. ... It just comes. It takes habit and trust and habit and trust again. It's just something we have to get. If we don't get it, we're not going anywhere. If we get, we can be a really good team."
November, 7, 2012
11/07/12
11:51
PM PT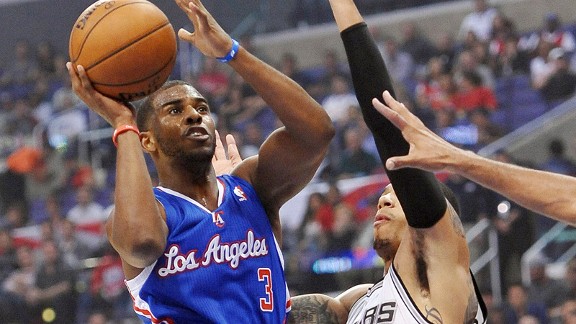 Jayne Kamin-Oncea/US PresswireChris Paul admires the Spurs' consistent success, a quality the Clippers are trying to emulate.
LOS ANGELES -- The sound of Gregg Popovich's voice was seared into the minds of the
Los Angeles Clippers
during an extended offseason that began earlier than they would have liked after they were swept by the
San Antonio Spurs
in the second round of the playoffs six months ago.
"If you pass down the shot, you're coming out of the game," Popovich would yell at
Gary Neal
after he made one too many passes to
Danny Green
, ignoring an open look.
Clippers players were quietly in awe of the Spurs' dedication to a system that was so strong and so consistent that it was never affected by one bad pass or one bad shot. Clippers players talked to one other about certain plays in the game that the Spurs would make as if they were trying to figure out a magic trick.
"My old coach, Monty Williams, used to say you have to analyze success," Clippers guard
Chris Paul
said. "They're successful for a reason."
Williams and Paul's current coach, Vinny Del Negro, should know a thing or two about Popovich's success -- both Del Negro and Williams played under Popovich with the Spurs.
They both know the key to the Spurs' success can actually be found in the words of Jacob Riis, social reformer who died nearly 100 years ago. A famous Riis quote has been plastered in the Spurs' locker room for as long as Popovich has been in San Antonio.
"When nothing seems to help," it reads, "I go look at a stonecutter hammering away at his rock perhaps a hundred times without as much as a crack showing in it. Yet at the hundred and first blow it will split in two, and I know it was not that blow that did it, but all that had gone before."
It's the kind of consistency and patience the Clippers are still trying to attain less than a year after reshaping the image of the franchise after trading for Paul last December.
If the Clippers' 106-84 win over the Spurs on Wednesday night is any indication, the Clippers are further ahead than they were last season and may be onto something special if they can somehow pretend every team they face is a playoff team. The Clippers are 3-2 this season with wins over the Spurs,
Los Angeles Lakers
and
Memphis Grizzlies
with inexcusable home losses to the
Golden State Warriors
and
Cleveland Cavaliers
sandwiched in between.
May, 20, 2012
5/20/12
9:30
AM PT
By
Pedro Moura
| ESPNLosAngeles.com
LOS ANGELES -- It seems like so long ago now that the Clippers put together their most memorable performance of the 2012 playoffs, a massive first-round comeback in which they pulled out an improbable 99-98 Game 1 win over the Memphis Grizzlies.

Three weeks ago today, the Clips did the unthinkable in Memphis, coming back from 27 points down and 21 at the end of three quarters to upset the Grizzlies. That victory buoyed L.A. into a series win and propelled them into a second-round matchup with the San Antonio Spurs, which has been decidedly less competitive.

Now, down 3-0 to the Spurs after Saturday's demoralizing come-from-ahead loss, the Clippers will essentially have to repeat their Memphis miracle for four straight games to stave off elimination.

That process begins Sunday at 7:30 p.m. at the Staples Center, where Game 4 is set to tip off between the two teams -- assuming the earlier Los Angeles Kings' hockey game doesn't go into overtime and cause a conflict.

The sense of urgency the Clippers displayed in the fourth quarter of Game 1 and throughout Game 7 is exactly the same sort of energy they need for Game 4. Basically, the entire roster has to be desperate to win, or the Clippers are going to get swept.


May, 19, 2012
5/19/12
6:40
PM PT
By
Pedro Moura
| ESPNLosAngeles.com
LOS ANGELES -- San Antonio Spurs coach Gregg Popovich has seen Chris Paul play enough times over his seven-year NBA career to feel comfortable declaring that Paul hasn't been himself this series.

Speaking following the Spurs' 96-86 win over Paul and the Clippers on Saturday at the Staples Center, Paul's third straight poor performance of the series, Popovich indicated his team has been lucky to go against Paul at less than his best.

"I don't know what Chris will say, but I don't think he's 100 percent Chris Paul," Popovich said. "I'm looking at him, and I know that kid. I know how he can play, and he's not 100 percent."

Popovich isn't the only one who thinks that. Clippers coach Vinny Del Negro has admitted that both Paul and forward Blake Griffin are battling injuries accumulated in the first-round series against Memphis, although he has steadfastly refused to speculate on the severity of either player's ailments.

For his part, Paul is trying to keep his strained right hip flexor at a low profile. Told of Popovich's comments in the locker room afterward, Paul interrupted an inquiring reporter and denied anything of the sort.

"I'm playing," he said. "I'm good. I'm good. I'm just not playing well, I gotta play better."

The first part of that is obviously true, and most would say the third part is as well. But the second is debatable. If he's indeed feeling "good," then how can you explain his three-game averages of just nine points and five-plus turnovers this series?

You can't, really. Outside of maybe San Antonio's overall dominance, Paul's struggles have been the single biggest reason why the Clippers have lost three straight to the Spurs in convincing fashion.

It's hard to win a playoff series against a top-seeded team when your top player is playing like a below-average one.
May, 19, 2012
5/19/12
5:12
PM PT
By
Pedro Moura
| ESPNLosAngeles.com
LOS ANGELES -- Here's video from the Los Angeles Clippers' Chris Paul and Blake Griffin after their 96-86 loss to the San Antonio Spurs in Game 3 of the teams' second-round series at Staples Center on Saturday afternoon.

Paul did not come to the podium and spoke briefly in the team's locker room before making a quick exit. He denied any nagging injuries were the reason why he's played so poorly against the Spurs and said the Clippers might as well try to win four straight games now, even though it has never been done before.



Speaking at the podium, Griffin was complimentary of the way the Spurs won Saturday's game, and especially complimentary of Tim Duncan and Gregg Popovich's coaching style. If nothing else, he said, this series will be a good learning experience for the Clippers going forward.


May, 13, 2012
5/13/12
1:41
PM PT
By
Pedro Moura
| ESPNLosAngeles.com


LOS ANGELES -- It's been more than a month since the San Antonio Spurs have lost a game.

In that 32-day span, Tony Parker, Tim Duncan & Co. have gone 14-0, beating opponents by an average of more than 17 points per game. They've won as many games by more than 25 points -- three -- as they have by single digits.

Suffice it to say, San Antonio has been hot. And now the Los Angeles Clippers, having snuck by the Memphis Grizzlies in Sunday's Game 7 at the FedEx Forum, will play them in the Western Conference semifinals, beginning Tuesday in Texas.

It'll be a challenge, one that will go a long way toward shaping the public perception of Chris Paul's first season in Clipperland. If the Clippers somehow get by the Spurs, the year will be anointed a success, regardless of what happens in the next round(s).

But if they don't -- and, worse, if they get swept -- opinions will likely be somewhat split. Some will say coach Vinny Del Negro did enough to keep his job, considering the injuries and fast-paced schedule his team had to deal with over the past five months. Others will say he didn't, considering the two stars he had at his disposal and the bevy of other talent assembled for him during the 2011-12 season.

So, while we wait for that question to be answered, can the Clippers actually win this series?


March, 9, 2012
3/09/12
11:53
AM PT
Clippers (22-15) vs. San Antonio Spurs (26-12) at AT&T Center, 5:30 p.m. PT

Five storylines to track:

1. Tailspin: On its own, Chris Paul's ill-fated pass to San Antonio Spurs guard Gary Neal for a game-tying three-pointer three weeks ago (which led to the Spurs' improbable comeback win) would have been bad enough, but what has transpired since then has been even harder for Paul and the Clippers to swallow. Since Feb. 18 the Clippers have lost six of nine games including their last two on the road. Not only are they losing games but much like they did against the Spurs, they are relinquishing late leads and losing close games. In fact, their last three losses have been by a combined five points with their last two losses being decided by just a single point.

2. The list: Longtime Clippers announcer Ralph Lawler goes up to Paul before every game in which the Clippers have an especially long losing streak against the opponent or in a building where they haven't left victorious in years. It was something Paul had asked Lawler to do earlier in the season when he was continually asked about the team's long losing streak against, well, everyone. Lawler won't have to remind Paul of the streaks today, he has already heard them this season. The last time the Clippers won in San Antonio was 2002 and they've only won their once since 1997. The Clippers have also only beaten the Spurs two times overall (both in Los Angeles) since 2003. The Spurs beat the Clippers, 115-90, in the second game of the regular season back on Dec. 28.

3. Spurs connection: Clippers coach Vinny Del Negro is still a beloved figure in San Antonio, having played there for six seasons of his 12-year career. In fact, Spurs coach Gregg Popovich still uses Del Negro's name to this day when he is coaching his team. "We actually have one thing on defense we call on the pin downs where we say we're going to 'Del Negro' it and that's in his honor and we've done that for 15 years," Popovich said. "We have a 'Del Negro' defense out there because he couldn't play a lick of D. At times we had to invent something just to hide him so we call it 'Del Negro' and you do certain things on the court and everybody has to make up for that guy who's the 'Del Negro'."

4. Playoff seeding: Entering their game three weeks ago, the Clippers and Spurs were essentially tied for the No. 2 seed but since then the Spurs have held on to the second spot in the West while the Clippers have dropped to the No. 4 seed, mere percentage points ahead of the Lakers at No. 5. Despite winning 20 of the past 21 meetings with the Clippers, Popovich would rather have to face the Clippers in the postseason. "They're a real physical team. They have a real edge. I love the edge that they have," Popovich said. "They'll knock the hell out of you and continue to play. It's not just dunking the basketball but it's knocking the hell out of you on cuts, grabbing at you and making the referees make calls, rebounding and going after it. That's the first impression I get with these guys. Now they have the head to go with all the talent with Chris, obviously. I don't know if there's a better leader on the court or somebody who knows what the hell is going on at this particular time or this score or with this much time on the clock or this situation. He understands all those things intuitively and that's a hell of a talent to add."

5. Griffin effect: Clippers forward Blake Griffin had 28 points and 17 rebounds in the Clippers' loss to the New Jersey Nets on Wednesday but rolled his left ankle late in the game. He will, however, start Friday against San Antonio. Popovich said the Spurs have to be aware of Griffin in transition and make contact with him early. "If you let him run free you have no shot because Chris or Mo [Williams] is going to find him and they're going to throw it up in the air he's going to go up in the air and you can't get there," Popovich said. "So you have to maintain contact with him in transition at all times. In the half court, you have help people. Do you want him going to the rim or do you want him to hit a jump shot. It's something he works on all the time and he's going to get better and better but given a choice you'd rather have him shooting a 20-footer than taking it the hole and you don't have to be a genius to figure that out and he knows that and that's why he works on his shot. Once he gets that down, he'll be impossible. He's ridiculous now but he'll be impossible."
February, 18, 2012
2/18/12
9:44
AM PT
Clippers (19-9) vs. San Antonio Spurs (21-9) at Staples Center, 12:30 p.m. PT
Five storylines to track:
1. Measuring stick:
For The past 15 years the Spurs and Clippers have been on opposite ends of the spectrum in the NBA, and their head-to-head record certainly reflects that. The Clippers have only one win against the Spurs in their past 20 meetings and suffered through an 18-game losing streak to San Antonio from 2006-10. The Clippers have also only won once in San Antonio since 1997. The Clippers suffered one of their worst losses of the season against San Antonio at the beginning of the season when the Spurs beat them 115-90 on Dec. 28. The Spurs are currently on a 10-game winning streak, the longest current run in the NBA, and a win Saturday would move them a step closer to the best record in the West. A Clippers win, however, would move the Clippers past the Spurs for the second-best record in the conference.


2. Comeback kids:
The Clippers came back from an 18-point deficit Thursday to beat the Portland Trail Blazers 74-71. It was the Clippers' biggest comeback win of the season and their largest comeback victory in three years. One of the biggest differences between this year's team and those that have faded in the past has been the Clippers' ability to close out games on the road. The Clippers' rally in Portland is the team's fifth road win since Jan. 29 in which they have come back from a deficit of 10 or more points. This season, the Clippers have battled back from double-figure deficits six times. Before this season, the Clippers' past four road wins in which they overcame a double-digit deficit came in four different years.
3. Spurs influence:
No other franchise in the NBA has had a greater influence over the Clippers recently than the San Antonio Spurs. They are the team the Clippers have tried to model themselves after culturally and philosophically after Clippers coach
Vinny Del Negro
was hired two years ago. Del Negro played with the Spurs from 1992-98, helping lead the Spurs to the playoffs on five occasions. Two of Del Negro's assistants,
Marc Iavaroni
and
Howard Eisley
also played for the Spurs. Del Negro credits Spurs coach
Gregg Popovich
with helping mold his coaching philosophy and says he always wants them to win, except when they play the Clippers.
4. Board game:
Last month around this time, the Clippers were dead last in the league in rebounding. Since then
Reggie Evans
has returned from an offseason injury,
Kenyon Martin
was signed as a free agent and the Clippers now find themselves 15th in the league in rebounding.
The Clippers have dominated the glass in their past five contests, outrebounding their opponents 242 to 179. The Clippers are 4-1 in that span and have outrebounded their opponents in eight straight games and have had more offensive rebounds in six straight games. That advantage should continue against the Spurs, who are 19th in the league in rebounding.
5. Foye not feeling it:
When
Chauncey Billups
was lost for the season,
Randy Foye
was inserted into the starting lineup so only one position would be altered by the loss. Del Negro did not want to move
Mo Williams
, who is in the running for Sixth Man of the Year honors, from the bench to the starting lineup, and has no one to provide a scoring punch off the bench. The problem, however, has been that Foye has not embraced the role of being a starter, at least statistically. In his past three games Foye is 5-of-26 from the field (19.2 percent) despite being a career 41.2 percent shooter. His streaky play has forced Del Negro to lean more heavily on Williams, who is averaging 13.7 points and 3.4 assists. Williams has accounted for 51.7 percent of the Clippers' bench scoring this season and is shooting 45.6 percent from the field.