Los Angeles Clippers:

Hedo Turkoglu
February, 26, 2014
Feb 26
10:46
AM PT
LOS ANGELES --
Jamal Crawford
smiles when he's told the
Clippers
were one of the worst three-point shooting teams in the league going into last weekend.
In their last two games, the Clippers have hit 29-of-58 from behind the arc, with Crawford hitting 12-of-20 and
Matt Barnes
hitting 8-of-13. Not surprisingly the Clippers have won two straight while slowly climbing up the three point rankings.
"I think the good thing about us is we don't worry about that particular stat because if we did we'd say, 'Oh we're 25th maybe we shouldn't take them' but we take what's there," Crawford said. "At the end of the day, things balance out and have a way of working out and we have to continue to take good shots and play for each other."
The Clippers were built to be a strong three-point shooting team but that hasn't necessarily panned out this season. Their best three-point shooter,
J.J. Redick
, has missed 30 games and is out indefinitely with a bulging disk in his lower back.
Jared Dudley
, who was supposed to be the second best shooter from long range, has been relegated to the bench as he struggles through the worst shooting season of his seven-year career.
Doc Rivers, however, has continued to tell his shooters to shoot, regardless of the numbers, believing at some point they will turn around.
"I've been saying that all year and I hope it comes true," Rivers said. "We're a better shooting team from the outside than we've been. I tell my team they're a great three-point shooting team and then you look at the percentages so we have to be what the percentages say right now but I know we can be better."
While Crawford and Barnes have been hot recently, and even
Hedo Turkoglu
hit 4-of-7 from beyond the arc on Monday against New Orleans, Dudley is still waiting for his numbers to trend upwards. He has hit more than one three-pointer just once over the past 17 games and is hitting just 24 percent from long range this month. The Clippers are hoping that soon will change and are hoping he can return to the starting lineup whenever Redick returns.
"Look at a guy like Duds, he's struggling but he's been a good shooter his whole career," Crawford said. "So you know at some point it's going to balance out."
The Clippers are 25-0 this season when they make at least nine three-pointers. It's a number that they aren't necessarily gunning for coming into games but a number that is important beyond the fact that they're able to hit the deep ball. When those shots are falling it makes things easier for
Chris Paul
,
Blake Griffin
and
DeAndre Jordan
as well.
"I think it opens up the floor," Crawford said. "Whenever you have C.P. and Blake they demand so much attention. Having D.J. rolling the the way he's rolling it opens up the floor because no one wants to get dunked on. It gives space to our shooters and guys who can knock down shots and everybody is doing a good job of passing the ball and moving it around."
It's no coincidence that the Clippers' improved shooting has coincided with their improved ball movement as most of Crawford and Barnes' shots over the past two games have come uncontested.
"The ball movement on our team right now is just terrific," Rivers said. "When you're that unselfish with that many good players, a lot of good things are going to happen."
When Paul was sidelined for over a month, he was able to see the game differently and to think about how players like Crawford and Barnes could get the open looks that have made them dangerous over the past two games. It's a small sample size but it could be the start of something big.
"It's one thing Doc keeps staying on me about, pitching it ahead and making sure the ball is moving and popping," Paul said. "One thing our staff always says is the ball finds energy. When I was hurt I was really able to see what our team was capable of and we're still figuring it out but now it's more so about knowing when to pick my spots and moving the ball around. It's been great. It's been our ball movement. We're getting great looks and at times we're playing at the right tempo but we have to keep putting it together."
February, 1, 2014
Feb 1
10:26
PM PT
By
Jovan Buha
| Special to ESPNLosAngeles.com
When the
Los Angeles Clippers
and
Utah Jazz
last met in late December,
Blake Griffin
scored a season-high 40 points in his most dominant offensive game of the season. The outing marked the beginning stages of Griffin's recent evolution into a nightly 30-point threat.
Ever since a breakout performance against the
San Antonio Spurs
on Dec. 16, Griffin has averaged 26 points, 8.9 rebounds and 3.8 assists on 54.3 percent shooting from the field and 74.2 percent shooting from the free throw line in 24 games -- undoubtedly the best stretch of his career.
Griffin continued his impressive play Saturday night, scoring 25 points, grabbing 11 rebounds and dishing out four assists against a depleted Utah front line (
Derrick Favors
sat out with a hip injury) in the Clippers' 102-87 win over the lowly Jazz.
There was the usual number of fireworks, highlighted by Griffin reverse dunking a lob from
Jamal Crawford
and making an and-1 floater from behind the basket that bounced on top of the backboard twice before dropping in. But Griffin had to work harder for his points against a converging defense focused on his every move.
Instead of settling for jumpers or becoming passive like he might have earlier in the season or in years past, Griffin grinded his way to another double-double performance.
How it happened
: Despite visibly missing Favors' presence inside, the Jazz matched an exhausted Clippers squad blow for blow in the first half. Utah held a 21-19 edge at the end of the first quarter and went to the half tied with Los Angeles 42-42.
The Clippers regained their offensive touch in the third -- led by
Darren Collison
(nine points), Crawford (eight) and Griffin (eight) -- and outscored the Jazz 34-23 to essentially seal the game. The Jazz got within nine points in the fourth before Crawford and Griffin quickly put Utah's comeback to rest.
What it means
: Los Angeles is now 12-4 without
Chris Paul
this season and has a chance to head into the All-Star break with momentum, as four of their final five games before Feb. 13 -- the first official day of the break -- are at Staples Center.
Hits
: Crawford led all scorers with 27 points off the bench.
Hedo Turkoglu
had perhaps his best game as a Clipper, scoring six points and grabbing five rebounds in 13 minutes.
The Clippers shot 51.4 percent while holding the Jazz to just 35.8 percent shooting.
Misses
:
J.J. Redick
had one of his worst shooting performances of the season, going 1-for-6 from the floor and 0-for-1 from downtown.
Enes Kanter
burned the Clippers inside with 23 points and 14 rebounds.
The Clippers shot just 24-of-37 (64.9 percent) from the charity stripe.
Stat of the game
: 16.7 percent. That was the Clippers' 3-point shooting percentage in hitting two of 12 attempts.
Heading into Saturday's game, the Clippers had the third-most efficient offense in the league but ranked just 20th in 3-point percentage. Los Angeles' offense is predicated on spacing and shooting, so keep an eye on that figure as the season progresses.
Up next
: The Clippers (34-16) travel to Denver to face the
Nuggets
(22-23) on Monday. The teams previously met on Dec. 21 in Los Angeles, with the Clippers blowing the
Nuggets
out 112-91.
January, 20, 2014
Jan 20
2:47
PM PT
DETROIT -- There was a familiar sight on the
Los Angeles Clippers
' sideline and in their locker room before and after Monday's game against the
Detroit Pistons
.
During the national anthem and shortly after the game,
Chauncey Billups
, wearing a designer suit, was standing amongst the Clippers' players and coaches, catching up with his former teammates.
It was a familiar sight, but thankfully for the Clippers, it was an image that is now in their rearview mirror.
As respected as Billups is, the truth is his presence and stranglehold on the starting shooting guard position (whenever he was able to play, that is) was never a solid long-term plan for a team that is trying to contend for the next five years.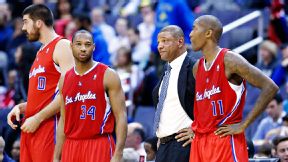 AP Photo/Alex BrandonWhether a star on the court or a leader in the locker room, Doc Rivers' players understand their roles in making the Clippers a championship contender.
That's not to say the Clippers failed to get out of the first or second round of the playoffs the past two seasons because of Billups, but the Clippers' insistence on depending on a 37-year-old guard who hadn't played more than 22 games in a season for a team since 2011 was always a recipe for disaster.
Billups started just 22 games for the Clippers last season after returning from a ruptured Achilles tendon. He started just 20 games the previous season before suffering the injury. Instead of moving on, the Clippers continued to wait for Billups to return to the player he was before the injury, which was never going to happen.
Injuries happen, that's part of basketball. No one knows that better than the Clippers, who are in the midst of playing without
Chris Paul
for six weeks after playing without
J.J. Redick
for six weeks, but that's different than helplessly waiting around on a player who should have retired and was never going to return to All-Star form.
The Clippers don't have a Billups problem on their hands this season. They knew Redick would return to form when he came back and Paul will eventually return to form when he comes back. They also aren't depending on veterans who are past their prime -- like Grant Hill -- to contribute off the bench. As good as Billups and Hill might have been in the locker room, the truth is both should have retired before last season instead of being counted on as key players on a contending team.
When Doc Rivers came to Los Angeles, one of his first moves was to get a prototypical shooting guard who could, well, shoot, unlike Billups, who was a true point guard and shot less than 40 percent from the field with the Clippers. The Clippers made a trade and added Redick, who is shooting better than 45 percent from the field this season, and
Jared Dudley
, who replaced
Caron Butler
, another aging veteran on the Clippers who was well past his prime.
"It's always nice to have a shooter who can move because it gives you a different kind of offense," Rivers said. "It also helps both bigs be able to play on the floor more."
Dealing with his players' roles and expectations has always been one of Rivers' better traits as a coach. It's the ability to tell
Antawn Jamison
, who was upset with his diminished role last season with the
Los Angeles Lakers
, that he wanted him to come to the Clippers not to be a major contributor but rather be a leader in the locker room. The ability to tell
Willie Green
, who started 60 games last season in place of Billups, that he wanted him to be part of the team as well but not as a starter.
It's a big reason Jamison and Green are two of the leaders in the Clippers' locker room despite rarely getting on the court. That's a big difference from Billups and Hill's roles last season when both were not only leaders in the locker room but depended on to contribute on the court when they simply couldn't.
"It is hard but in the veterans' case they knew what they were getting when they came here," Rivers said. "It's still no fun. Everybody wants to play. You grew up playing basketball to play basketball, not to watch basketball. I don't think that ever changes. I don't care what age you are.
"It's good to have a guy giving them positive information and not worrying about his playing time. A lot of the time you have veterans on the bench who are not happy about not playing and they don't handle it well. Fortunately for us, our guys have been great. Willie Green and Antawn have been absolutely tremendous in that way."
Green is 32 and has been in the NBA for 10 seasons while Jamison is 37 and has played 15 seasons. In their combined 25 seasons, the one common denominator between both players is neither has won a ring and that's why they are more than happy being the role of locker room veterans on the team who rarely see the court. In fact, neither saw the floor against Detroit on Monday and haven't played in the Clippers' past four games.
"My biggest thing is the overall picture," Jamison said. "The main reason I wanted to come here was to win. By me talking to DeAndre [Jordan], Blake [Griffin] and [Jared] Dudley when stuff is going on, I can let them see what I see and try to ease their mind a little bit and those guys are very receptive of what I have to say. They really take heed to it and that's the biggest thing I can contribute."
It hasn't always been easy for Green, who was a starter for the majority of last season for the Clippers, including during their franchise-record 17-game winning streak and was quickly pulled as soon as Billups was healthy enough to play.
"I respect my teammates and when I'm not playing, I'm not one of those guys that's moping and pouting and mad at the word," Green said. "I want my teammates to do well. I want to be out there with them and try to help them get that win but if not, I'm going to cheer them on and help them on and be ready. I've been in this league long enough to know that things happen and when they do, you got to be ready to step up."
Rivers made sure every player on the team from the stars to the reserves understood their roles before the season started. He met with each one individually and did the same with players he has added during the season, such as
Hedo Turkoglu
, who was signed last week. He knows he has a young team but they are all bound by one common goal and one simple fact -- none of them has won an NBA championship.
"The stars are going to be the stars," Rivers said. "The role players, we got to get them to be stars in their role. I think the sell of that is important. The veterans are over themselves. They're done with themselves. They've already had their day. They're not trying to establish anything. They're hungry and desperate to win. Young guys all say they want to win but they want their day and they really want to establish that. It takes time. With a young team, you have to convince them if you win, you will get your day."
January, 17, 2014
Jan 17
5:26
PM PT
NEW YORK -- Hedo Turkoglu walked around the visiting locker room at Madison Square Garden talking to teammates and assistant coaches before his playing debut with the
Los Angeles Clippers
on Friday, which also marked his first NBA action in nearly a year.
Turkoglu was signed by the Clippers for the rest of the season Thursday morning before the team boarded a charter flight to New York to begin a 12-day, seven-game trip against the
Knicks
.
"We're going to dress him," Clippers coach Doc Rivers said before the game. "He doesn't know anything we're running that we went over in the ballroom today, but he's been in the league long enough. If we put him in, I'm sure he can figure it out.
"He can shoot. He can extend the floor. He's a playmaker from the four position and that's where we plan on using him the most."
Indeed, Turkoglu was subbed into the game for the first time in the second quarter Friday.
Turkoglu, who was cut by the
Orlando Magic
earlier this month, had not played this season and was involved in only 11 games last season because of injuries and a 20-game suspension for use of performance-enhancing drugs.
"I'm blessed to put this jersey on and be a part of a great organization," Turkoglu said. "I'm really excited. A little bit nervous but excited.
"You face certain things in life no matter what. I just go from there. This is part of the business you have to face, but you just have to put that behind and trust that someone will give you a chance."
The Clippers brought in Turkoglu for a meeting and a workout last week and liked what they saw so much that they parted ways with point guard
Maalik Wayns
to sign him.
"They're a great team with a lot of great players," Turkoglu said. "The way they approach the game and their mindset after bringing in Doc, they really want to win. In my career I've always played good with great coaches, and I knew somehow I'd get an opportunity with Doc."
Turkoglu said he was approached by several teams after becoming a free agent but always wanted to sign with the Clippers.
"I've been in the league 14 years and I want a ring before I retire," Turkoglu said. "I felt this was the best fit for me to reach that."
January, 8, 2014
Jan 8
12:15
PM PT
LOS ANGELES -- Doc Rivers is happy with his team.
He made that clear as he spoke to reporters Tuesday at the
Los Angeles Clippers
training facility.
"You want to see who's out there and if anyone can ever help your team," Rivers said. "But I like my team. It's not like I'm out trying to change my team. I don't need to. I like our team. Our team's key is growth, not change. Obviously if there was a change that you can make to help your team you would do it, but I like our team."
Rivers made his comments about 12 hours after the team signed
Darius Morris
to a 10-day contract, about 12 minutes after
Stephen Jackson
was waived and about 12 hours before the team signed Maalik Wayns to a 10-day contract. The same Wayns, by the way, who had been waived on Sunday.
Now, these aren't season altering moves. These end-of-the-roster transactions were made before any of these contracts were guaranteed for the season. In the case of Jackson and Wayns, their contracts would have been guaranteed for the rest of the season if either player had survived on the roster beyond Tuesday night.
A big reason why these moves were made and why Morris and Wayns are currently on the roster is the Clippers are in need of point guards with
Chris Paul
sidelined for six weeks with a separated right shoulder. Rivers said Tuesday he is going to look at multiple point guards while Paul is out and could bring in several players on 10-day contracts.
When Paul returns next month, the Clippers will have two extra roster spots to play with. In fact, one will probably open up before he returns as there's no need to have four point guards on the roster.
So what should the Clippers do with the final two spots? Rivers has publicly expressed interest in
Sasha Vujacic
and Hedo Turkoglu. Of course,
Andrew Bynum
is also now available. Let's see what each one could bring to the table.
Andrew Bynum
Bynum would make a lot of sense for the Clippers. They're razor thin on the front line and have to lean on
Ryan Hollins
and
Antawn Jamison
, with
Byron Mullens
completely out of the rotation and a non-factor this season. The problem is Rivers doesn't seem to be that interested. At least not right now.
"I honestly haven't given it a lot of thought, I can tell you that," Rivers said. "We've had very few discussions about anyone big right now. We're far more focused on the perimeter part of our team."
Rivers knows he could use some depth up front. Chances are he's also called around the league to ask about Bynum and if he thinks his presence could disrupt the locker room, his possible contributions on the court might not be enough to overcome his baggage off the court.
If Bynum is healthy and motivated, there's no doubt he would be a huge addition. Just two years ago he was an all-star, averaging 18.7 points and 11.8 rebounds a game. Even more importantly for the Clippers, he was averaging over 76.2 percent from the free-throw line this season. He would be the perfect replacement for
DeAndre Jordan
, who is averaging 40 percent, late in games.
Sasha Vujacic
Vujacic is currently living and training in Manhattan Beach, Calif., not far from the Clippers' training facility. Rivers likes Vujacic and thinks his outside shooting might help the team.
Vujacic hasn't played in the NBA since 2011 when he averaged 11.4 points with the Nets before leaving during the NBA lockout and playing the most recently with Anadolu Efes of the Turkish Basketball League. He averaged 11 points per game there and shot over 35 percent from beyond the arc.
Jordan Farmar's ability this season to adjust from playing overseas for a couple of seasons to returning to the NBA is an example that it might not be that hard for Vujacic, who said he's in the best shape of his career and looking to join a contender for the stretch run. Vujecic has always been a good locker room guy and would give the Clippers someone on the roster who has won a championship, which they currently don't have.
Hedo Turkoglu
Turkoglu is turning 35 in March and hasn't played a game in the NBA since Feb. 4, 2013. He was told to stay away from the
Orlando Magic
this season and played for Orlando in only 11 games last season because of injuries and a 20-game suspension for use of performance-enhancing drugs.
Rivers said he's looking for a playmaking forward like Turkoglu and wanted to take a look at him after Turkoglu was released by Orlando last week.
"I just like him," Rivers said. "He's out there and we should look at him. I've always liked him. He can shoot and play [small forward and power forward]."
The one common thread amongst these three players is they haven't played many NBA games over the past two seasons. In fact the three of them have played in just 35 combined NBA games the last two seasons with Vujacic playing in none, Bynum playing in 24 this season after missing all of last season and Turkoglu playing in just 11 games last season and being out this season.
How much any of them can actually bring to the table is a question Rivers will try to answer in the coming days with a good chance that one them will be on the Clippers' roster for the stretch run this season.