Los Angeles Clippers:

J.R. Smith
April, 22, 2013
4/22/13
7:48
PM PT
LOS ANGELES --
Jamal Crawford
is too nice of a guy to publicly voice displeasure about losing out on the NBA Sixth Man of the Year award, so he quietly congratulated winner
J.R. Smith
of the
New York Knicks
.
It also helps that Crawford has some experience in dealing with the snub.
[+] Enlarge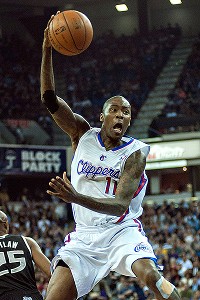 Ed Szczepanski/USA TODAY SportsJamal Crawford set a franchise record this season with 149 3-pointers.
Earlier this season, Crawford was left off the NBA All-Star team in a move many across the league felt was a mistake. Now, despite leading what is considered among the top bench units in the league, Crawford is again left empty-handed.
"That's twice in the season, but congrats to J.R.," Crawford said. "I think he had a heck of a season as well."
Crawford said he wouldn't let the disappointment get to him. He said he learned at the All-Star break that awards and honors such as those given out by the NBA are decided by a vote, and voters can go certain ways for different reasons.
"I learned with the All-Star Game that you can only control what you can control," Crawford said. "Whenever it's up to the coaches or media or whatever, you expect the unexpected."
Coach Vinny Del Negro campaigned for Crawford to win the Sixth Man Award and expressed disappointment Monday that the 13-year veteran didn't win it. He pointed out Crawford's knack for fourth-quarter scoring and clutch performance at the free throw line this season.
Crawford set a franchise record with 149 3-pointers, averaged 16.5 points off the bench and shot 87.1 percent from the free throw line in helping the Clippers to their best season in franchise history.
"He's been a huge catalyst for us from day one," Del Negro said. "It's hard for me to look at it and say Jamal didn't deserve that. Other guys are obviously very deserving, but you'd be hard-pressed, I think, to find somebody more deserving than Jamal."
Crawford had a more consistent season than Smith from beginning to end, but Smith emerged in the second half and was the second-leading scorer on the Knicks. He also plays in a bigger media market than Crawford, and the vote was determined by the media.
"I can't say I was shocked, honestly, because I had seen where it started going over the last couple of weeks," Crawford said. "I look at the whole season from start to finish, but I'd seen where people started kind of going with it toward the end."
Although disappointed, Crawford said he could take solace in the fact that he was in the conversation for the award and the All-Star Game. He had an off year in Portland last season, and whispers around the league were that he was losing a bit of his game, so proving his doubters wrong was his main goal.
"To be perfectly, perfectly honest, coming in to the season, winning the Sixth Man or All-Star wasn't on my radar," he said. "It was more just kind of getting my respect back because people thought I had lost a step going to Portland, and that was a heck of a year and it motivated me to be ready coming into this year, so that was No. 1."
February, 17, 2012
2/17/12
9:13
AM PT
The Los Angeles Clippers players who had played with J.R. Smith were confident that the free agent guard would eventually sign with the Clippers.

In the end, those who didn't know Smith as well but predicted he would sign with the team that offered him the most money proved to be right.

Smith signed with the New York Knicks Friday for a pro-rated share of their $2.5 million mini-midlevel exception and a player option for a second year. The Clippers were only able to offer Smith the veteran's minimum for the rest of this season.

Smith, who returned to the U.S. Thursday after playing in China, had spent the past two weeks hinting that he could sign with the Lakers, Clippers or Knicks on Twitter. He even tweeted Thursday night that he was watching the Clippers game at the airport and retweeted several tweets about the Clippers.

Chris Paul and Kenyon Martin said Wednesday night that they were confident Smith would sign with the Clippers and help replace Chauncey Billups, who was lost for the season last week with a ruptured Achilles tendon. Smith played with Martin and Billups in Denver and played with Paul in New Orleans. All three, along with Clippers coach Vinny Del Negro and general manager Neil Olshey, had been recruiting Smith to sign with the Clippers.

"I talk to J.R. all the time, whether he comes here or not," Paul said Wednesday. "J.R. stays with me during the summer, he was at my wedding. He's one of my really good friends and he knows we'd love him to be here."

With Smith now in New York, the Clippers will turn their attention to possibly signing another shooting guard. Yahoo! Sports reported the team would hold workouts Friday for free agent guards Bobby Simmons and Jermaine Taylor. Simmons, who averaged a career-high 16.4 points and 5.9 rebounds with the Clippers during the 2004-2005 season, has been averaging 12.9 points and 6.9 rebounds for the Reno Big Horns of the NBA Development League this season.