Los Angeles Clippers:

Kevin Garnett
September, 11, 2013
Sep 11
6:21
PM PT
By
D.J. Foster
| Special to ESPNLosAngeles.com
When you move to a new city, a little familiarity is always appreciated.
After spending nine years coaching the
Celtics
, Doc Rivers had to leave certain Boston institutions such as
Kevin Garnett
and Dunkin' Donuts back on the East Coast to coach the
Los Angeles Clippers
. And while
Blake Griffin
, the Krispy Kreme of this hunger-fueled analogy, isn't a bad consolation prize by any means, he's just not the same.
[+] Enlarge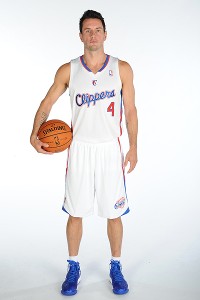 Noah Graham/Getty Images)J.J. Redick figures to play a major player for the Clippers this season, stepping into a role for coach Doc Rivers like the one Ray Allen used to play in Boston.
When you win a championship and have the level of success Rivers had, it would make sense to acquire players who replicate the style, skills and production levels of those you've had success with in the past. Maybe that's why in one of his first acts as head coach and senior vice president of basketball operations for the Clippers, Rivers traded for
J.J. Redick
, his new
Ray Allen
.
Does it feel blasphemous to compare Redick to Jesus Shuttlesworth? It probably shouldn't.
In fact, it's a little alarming
how similar Redick and Allen are statistically
. The shooting guards share the same career true shooting percentage at 58 percent, and per 36 minutes, both players have made (2.3) and attempted (5.8) the same amount of 3-pointers. If Redick got the minutes and opportunities Allen did in his first seven seasons (18.8 percent career usage rate compared to Allen's 24.1 percent), we might view him in a different light.
(Usage percentage is an estimate of the percentage of team plays used by a player while he was on the floor.)
Redick offered a glimpse of what he could do as a primary offensive option in big minutes last season. Just look at his numbers with Orlando last year compared to Allen's championship season with Rivers:
Redick '12-13: 17.3 points per 36, 59.2 TS%, 21.5 USG, 16.1 PER
Allen '07-08: 17.5 points per 36, 58.4 TS%, 21.6 USG, 16.4 PER
Although the statistical profiles are eerily similar, the process might matter to Rivers more than the raw results.
Synergy Sports has tracked shot types since the 2009-10 season, giving us two seasons of Ray Allen's shot-type data in Boston. In those seasons, Allen had roughly 33 percent of his attempts coming off screens and 19 percent coming on spot-up opportunities.
June, 25, 2013
Jun 25
11:31
AM PT
By
Jovan Buha
| ESPNLosAngeles.com
With the acquisition of Doc Rivers now
official
, let's consider his potential fit with the Clippers.
Glenn "Doc" Rivers
Career record: 587-473 (.554 win percentage)
Playoff record: 64-57 (.529 win percentage)
Outside of the San Antonio Spurs' Gregg Popovich, there is arguably no current NBA head coach as highly regarded as Doc Rivers.
Over the past six seasons, Rivers, 51, has lead the Boston Celtics to the third-most regular season wins in the league (314) and, more impressively, the most postseason wins (56). He is one of four active coaches -- Popovich, Rick Carlisle and Erik Spoelstra are the other three -- to have won a championship (2008).
Rivers' three greatest strengths -- a coherent defensive system, playoff pedigree and the ability to manage varying egos -- mirror the essential needs of the Clippers roster. Above all else, his arrival would seem to satisfy Chris Paul's desire for a big-name coach, ostensibly making his signing of a new deal with the team a formality.
Rivers has the requisite gravitas and track record to command a locker room's respect, and, by reputation, holds players accountable without being too stern or overbearing. More importantly, his tactical acumen has grown each season -- he and Popovich run perhaps the league's best out-of-timeout plays -- to the point that his whiteboard skills are now on par with his leadership ability.
Offensively, Rivers ran simple sets predicated on high and side pick-and-rolls, off-ball cuts, handoffs and double screens in Boston, often disguising the goal of a play with some form of misdirection to shift the defense. At its core, Boston's offense was primarily designed around Rajon Rondo's innate ability to penetrate and create for his teammates, not unlike the Clippers' structure with Paul. The Celtics' below-average pace also fits nicely with Paul's preferred style of play.
While Boston's big men have normally been perimeter-oriented, Rivers will likely look to exploit
Blake Griffin
and DeAndre Jordan's athleticism through various cuts and slips off pick-and-rolls, as neither is the pick-and-pop threat
Kevin Garnett
or
Brandon Bass
were.
Given the Clippers' top 5 ranking the past two seasons, it's unlikely that Rivers will change much of the team's offense, but expect that he would add new quick-hitting reads that prevent L.A.'s ball movement from stagnating and breaking down into isolations (the Celtics finished top 3 in percent of field goals assisted four of the past six seasons).
The Clippers stand to gain the most from Rivers' expertise on defense. The Clippers' defense suffered down the stretch last season -- ranking 21st after Feb. 1 -- and it's apparent they're in serious need of a coherent scheme.
Ever since Rivers and former assistant coach Tom Thibodeau implemented Boston's trademark strong-side defensive system in 2007-08 -- revolutionizing the principles of modern NBA defense -- the Celtics have never finished worse than sixth in defensive rating (points allowed per 100 possessions).
This style of defense -- forcing ball movement away from the middle of the floor and then loading up help defenders to overplay and wall off the paint -- translates well to defending three-pointers, one of the Clippers' weaknesses. This season, the Celtics ranked sixth in defending corner three-pointers and fourth in defending above the break three-pointers, compared to the Clippers' 23rd and 27th rankings in those areas, respectively.
Though the Clippers will likely show improvement defensively, it should be said that they don't possess the defensive anchor to make Rivers' system its most effective (unless they trade for Garnett down the line). Whether Jordan can develop into that type of player under Rivers' guidance is debatable, but he'll certainly have his chance.
Of similar interest is how Rivers will use
Eric Bledsoe
, if he is indeed still a Clipper by the start of the 2013-14 season. Rivers utilized
Avery Bradley
, a similar player to Bledsoe in size and skill, as a shooting guard opposite Rondo, and Bledsoe's versatile skill set suggests he's capable of succeeding in a starting role beside Paul.
June, 18, 2013
Jun 18
12:15
PM PT
For the past five days the
Los Angeles Clippers
have been the talk of the NBA. They obscured news that
Kobe Bryant
intends to play at least two more years. They upstaged the NBA Finals.
But now that the proposed trade that would have brought Boston's
Kevin Garnett
and coach Doc Rivers
to the Clippers has faded
, the real work begins.
It's easy to make a splash. You just cannonball off the high dive and water kicks up everywhere over everyone, regardless of whether you nail the landing.
What the Clippers' willingness to walk away from the Boston legends proved, though, is that they are committed to the landing, too. This franchise is serious about making the right moves, not simply the fancy ones, to get out of the first and second rounds of the playoffs and contend for titles.
Whether walking away from the talks was foolish, only time will tell. Perhaps in a few months, they'll regret not giving up that extra first-round pick for Rivers. But when director of basketball operations Gary Sacks called up Boston's
Danny Ainge
on Tuesday morning to say the price was simply too steep and the Clippers were walking away, he effectively said to Clippers fans that he thinks something better is around the corner.
You don't pull out of a deal this massive because you are giving up too much. You pull out because you've analyzed hundreds of other scenarios that will also improve your team now and in the future.
Those options may not be as big and flashy as acquiring the Boston legends, but in the end, they might have a more lasting impact.
The Clippers have had preliminary talks with Orlando about bringing former UCLA star
Arron Afflalo
to L.A. Afflalo isn't the kind of star Garnett or
Paul Pierce
are, but he'd bring perimeter defense, 3-point shooting and athleticism that the Clippers lacked the past two seasons.
Similarly, Indiana has signaled that it wants to hold on to forward
Danny Granger
, according to league sources, but will the Pacers really be able to after signing budding star
Paul George
to a lucrative extension?
Last week, ESPN reported that the Clippers were determined to be "very aggressive" and "shake every tree" to improve their roster this season.
After involving
DeAndre Jordan
in the talks with Boston, the rest of the league will now be calling with their own proposals for the tantalizing young center, who hasn't put it all together yet but reminds people of a young
Tyson Chandler
.
Bledsoe will also likely be moved before February's trade deadline, as he's in line for a lucrative contract extension, and the Clippers risk losing him for nothing if they let him hit restricted free agency.
In other words, one deal may have died on Tuesday, but the Clippers are far from done.
For this week, the Clippers will focus on hiring a coach from the ranks of Lionel Hollins -- who is said to have wowed owner Donald Sterling in his interviews last week -- and two men with deep Lakers ties, Byron Scott and Brian Shaw.
Scott and Shaw are scheduled to meet with Sterling on Tuesday and Wednesday. Shaw is seen as the favorite among the Clippers players and front office.
It's impossible to predict which man Sterling will ultimately hire, and yes, he does have the final say on such things.
None of the three candidates can match Rivers' star power. Bringing him to L.A. would've created a huge splash. But there comes a point when you stop cannonballing off the high dive.
Now the Clippers need to find other ways to get everyone's attention.
June, 15, 2013
Jun 15
3:57
PM PT
The
Los Angeles Clippers
and the
Boston Celtics
have formally opened serious discussions on multiple transactions that potentially could add up to a seismic trade arrangement that ultimately lands Celtics stars
Kevin Garnett
and
Paul Pierce
and coach Doc Rivers in L.A., according to sources close to the process.
Sources told ESPN.com the Clippers are concurrently weighing the prospect of offering star forward
Blake Griffin
in tandem with prized young guard
Eric Bledsoe
to the
Los Angeles Lakers
in a sign-and-trade pitch to land
Dwight Howard
after July 1.
The initial talks with Boston, sources said Saturday, are focused on the Clippers satisfying Boston's compensation demands to let Rivers out of his lucrative contract and corresponding trade proposals aimed at bringing Garnett to town with Rivers.
READ FULL STORY
June, 14, 2013
Jun 14
6:19
PM PT
LOS ANGELES -- If the
Los Angeles Clippers
get their wish, the only thing they won't be getting from the
Boston Celtics
this summer is the parquet floor at the Garden and the 17 championship banners hanging from the rafters.
If their plan works, however, maybe they'll be able to raise their very own banner at Staples Center next year.
[+] Enlarge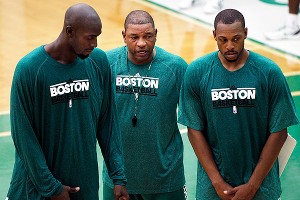 Greg M. Cooper/US PresswireThe Clippers could be angling to not only bring in Kevin Garnett, left, and Paul Pierce, right, to their roster, but also Celtics coach Doc Rivers.
The Clippers' plan is to someway, somehow pry Doc Rivers,
Kevin Garnett
and
Paul Pierce
from the Celtics and hope that the trio, combined with
Chris Paul
and
Blake Griffin
, can get the Clippers their first NBA title. (Or at the very least, get them to their first Western Conference finals.)
There are two key things that need to take place for this to happen.
First, the Clippers must be fine with essentially mortgaging their future to make a run at a title for the next year or two with two players who will be 37 and 36, respectively, when next season begins.
Second, the Celtics must be fine with starting their rebuilding project early by blowing up the core of the team that won a title in 2008.
If those two things happen, the next step is figuring out how this mega-deal would shake out logistically, and for that there's no one better to turn to than ESPN.com's salary-cap guru Larry Coon.
There are two scenarios for the Clippers to complete this move, one is if they do it before July 1 and the other is if they do it after July 1.
December, 28, 2012
12/28/12
12:16
AM PT
LOS ANGELES – It's easy to tell when the
Los Angeles Clippers
have a nationally televised game.
Eight Staples Center employees will wheel out a massive 15-foot steel contraption shaped like a futuristic Arc de Triomphe onto the court. The arc will then light up and fire off smoke machines hidden behind a plastic Clippers logo attached to the top of the machine as the starting lineups are announced.
As miniature fireworks go off around the scoreboard, Clippers players run through the arc as smoke bellows from above.
The Clippers only roll out this monstrosity when they play nationally televised games. When they're playing the
New Orleans Hornets
on a Monday night, it stays tucked in the bowels of Staples Center.
Before the game the DJ will scream, "We're about to go live on TV! We're about to go live on national TV! Make some noise!"
During the game, the in-arena MC will yell, "We're about to come back from a commercial on national TV! Make some noise!"
At some point these nationally televised games against marquee opponents will become routine for the Clippers.
They won't be treated like showcase events, but simply as a Thursday night game against the
Boston Celtics
.
After the Clippers destroyed the Celtics 106-77 to win their 15th straight game, maybe that day has already arrived and no one outside of the Clippers locker room has realized it until now.
It seems "nationally televised games," "marquee matchups" and "streaks" live only in the vocabulary of those not on the court or the Clippers' bench.
"I totally forgot about the streak today, honestly I did,"
Chris Paul
said. "I just love how we're playing right now. I think it's contagious."
The Clippers' 15-game winning streak is not only a franchise high but the longest in the NBA this season by the games. And their 23-6 record is not only the best start in team history, but the best record in the league.
They haven't just been beating teams, they've been destroying teams by an average of about 16 points per game during the streak. Their 29-point win Thursday was their largest margin of victory over the Celtics in franchise history. Four days ago they beat the
Phoenix Suns
by 26 points. They haven't lost a game since Nov. 26.
The Clippers have been defeating teams so handily during the streak that Paul and
Blake Griffin
have been relegated to nothing more than spectators in the fourth quarter; they are averaging career low minutes in the final period this season.
"It shows we have a lot of depth," Paul said. "I probably sat out more fourth quarters this season than in my previous seven seasons. People talk about how me and Blake's numbers are down, but we don't play many fourth quarters. It just says a lot about our team and how everything is balanced."
Perhaps nothing said more about how far the Clippers have come this season than when Celtics forward
Kevin Garnett
was asked about the game and the play of Griffin, who finished with 15 points and eight rebounds in just 27 minutes.
"I thought we came out with too much respect," Garnett said. "We wanted to play off some of their bigs and Blake hit some shots that he doesn't usually hit. They came out with a lot of confidence and they packed the paint and that is the reason they have won 15 in a row. Teams like this, you have to come at them and attack them and we were not able to do that. As a result, they had us on our heels all night."
So two days after Magic Johnson called the Clippers the latest version of Showtime, Garnett said the Celtics gave the Clippers "too much respect." Maybe this is what the Mayans were talking about.
The biggest difference for the Clippers during their streak has been their defense. They are suffocating teams early and putting games away in the third quarter. The Clippers have only allowed 100 points twice during the streak. They held the Celtics to just 40.3 percent shooting on Thursday.
"Last year, I think they showed up and they just thought their talent and their offense was [going to win for them]," Celtics coach Doc Rivers said. "But this year their defense has been fantastic. I mean, we're all talking about their offense, but they're playing just terrific defense. And they have balance now. They're fifth in the league in scoring, fifth in defense. That's a balanced basketball team and that makes you really good."
As Paul got dressed after the game, his son, Chris II, came up to him and told him about sitting on Justin Bieber's lap during the game.
"I sat with Justin Bieber, daddy!" he said.
Paul laughed and handed his son his phone and asked him to play his favorite Bieber song. As little Chris scrolled through the playlist, Paul smiled and looked around a locker room that included Griffin conducting an interview wearing a fake mustache that Paul wore in a new insurance commercial.
On the opposite end of the room is a white board with the NBA standings and the Clippers sitting at the top.
It's a nice position to be in right now, but it's not enough for Paul.
"Some people may be impressed with the record, but we can't be impressed," Paul said. "You're not measured by your regular-season wins and stuff like that. It's going to be a long time before we really see what our team is really made of."
March, 26, 2012
3/26/12
11:55
PM PT
By
Pedro Moura
| ESPNLosAngeles.com
Monty Williams coached Chris Paul for one season with the New Orleans Hornets, for a total of 88 regular season and playoff contests, including a first-round playoff exit to the Los Angeles Lakers.

In that span, he learned all about Paul, he says. He learned why he's been so successful in the NBA and why he has a reputation as such a fierce competitor on the court. He also learned why he doesn't necessarily mesh with every single teammate.

And Williams said that's one of the reasons why the Clippers haven't had as much success as many expected them to this season.

"It takes a while to learn how to play with Chris," Williams, still the Hornets' coach, said before Monday night's game against the Clippers. "Those guys are still trying to figure it out. He's a leader, and a lot of guys don't want to be led. They talk like they do, but they really don't.

"Everybody wants to lead until things get tough -- he leads all the time."

Paul led his team quite well in Monday's win over New Orleans, with 25 points, 10 assists and four steals, all game-highs. And he shot 9-of-17 from the field in logging a game-high 35 minutes.