Los Angeles Clippers:

LeBron James
November, 7, 2013
Nov 7
8:51
PM PT
MIAMI -- As he walked out of American Airlines Arena on Thursday night after his worst performance of the young season,
Chris Paul
had to walk past countless images of the Larry O'Brien Trophy plastered on the walls and doors of the arena.
Before the season began, many predicted the
Los Angeles Clippers
would play the
Miami Heat
in the NBA Finals. If the beginning of the season and Thursday night's 102-97 loss to the Heat are any indication, the Clippers have a long way to go before they can think about returning to South Beach this season.
[+] Enlarge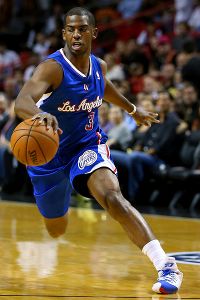 Mike Ehrmann/Getty ImagesChris Paul is beyond caring about his statistical successes. He just wants to win a championship and knows it's up to him to play better than he did Thursday in Miami.
Paul put the loss on his shoulders after finishing with 11 points and 12 assists but just 3-of-11 shooting with five turnovers.
"That's on me," Paul said. "I have to find my spots to be a little bit aggressive. ... It was me making bad decisions. I have to trust my teammates. I have to pass the ball and get rid of it."
Paul was frustrated throughout the night, picking up a technical after complaining about a call and trying to force the issue himself instead of moving the ball.
"I thought he got a little defiant," coach Doc Rivers said. "He wanted to beat the traps tonight. That's just a lesson learned for all of us. We told him before the game that at some point they were going to blame Chris. We had to swing it to the other side and trust. He'll be better. I'm not worried about that."
Paul is the least of the Clippers' worries after the team has opened the season 3-3 and suffered back-to-back losses on the road. While there is often talk about
DeAndre Jordan
being the team's X factor or the Clippers going only as far as
Blake Griffin
's game evolves, the truth is the Clippers will go only as far as Paul takes them.
In this respect, the Clippers are trying to do something no team has done in over two decades. They're trying to win a championship with the point guard as the undisputed best player on the court.
February, 21, 2013
Feb 21
9:26
AM PT
By
Jovan Buha
| ESPNLosAngeles.com
As the Clippers prepare for the playoffs, here are some storylines to watch down the stretch.
Health issues


It's no surprise that the Clippers have struggled with injuries this season. Besides Blake Griffin (23), DeAndre Jordan (24) and Eric Bledsoe (23), the Clippers aren't exactly a young team. Still, they have arguably the deepest roster in the league, so if any team is capable of withstanding a myriad of injuries, it's this group. With that said, keep an eye on the status of Paul's knee -- if he's banged up even a little bit, the Clippers are extremely vulnerable.

Favorable schedule


The Clippers have a relatively easy schedule down the stretch, playing 15 of their final 26 games at home, where L.A. is 21-5. They face San Antonio twice, Oklahoma City once, Memphis twice, Indiana twice and New York once, but besides those eight games, the rest of their schedule is more or less against subpar teams (they have 13 games against teams currently under .500). Expect the Clippers to head into the playoffs with considerable momentum.

Playoff seeding


Even when they reeled off their 17-game win streak earlier this season, the Clippers couldn't separate themselves from the Spurs and Thunder. After suffering a setback with Paul out of the lineup, the Clippers (39-17) find themselves closer to the fourth-place Memphis Grizzlies (34-18) than they do to the first-place Spurs (42-12). Their cupcake schedule will give them some breathing room over the Grizzlies and Denver Nuggets, but do the Clippers have enough in the tank to make a run at a top-two seed? It could determine whether they advance to the conference finals or not.

Closing lineup


A point of contention this season has been the topic of who should close games. Vinny Del Negro has publicly stated he prefers the hot hand, but for the most part, the Clippers finish games with Griffin, Paul and Barnes, and then either Crawford or Billups at shooting guard and Odom or Jordan at center. The lineups with Crawford and either big man have crushed opponents, while Billups' sample size is too small to yet reach a clear analysis of it. Either way, it'll be interesting to see which lineup gets the nod in crunch time of a vital playoff game.

CP3 for MVP


If not for LeBron James and Kevin Durant's otherworldly dominance, Paul would likely be the leading MVP candidate. Look no further than his performance at the All-Star Game in Houston to see his control over a glorified pickup game with the game's best players. The Clippers' record speaks for itself -- they're 33-11 with Paul and 6-6 without him. To say they look lost offensively without him would be an understatement. If Paul can lead a late Clipper rally and the team grabs a top-two seed, he'll have a shot at crashing the presumed two-man party for MVP.

Griffin's second half improvement


Last season, Griffin's shooting percentage in the 16-23 feet range improved to 39 percent after the All-Star break. Over the past 20 games, Griffin's points, rebounds, assists and field goal percentage have dramatically risen, so there's reason to think he may continue to improve after the All-Star break. In particular, his passing has been impressive of late -- he's at nearly five assists a night over that stretch.

3-point defense


In most of the Clippers' losses to lottery bound teams, the central theme has been their inability to defend 3-pointers. According to Grantland's Zach Lowe (http://www.grantland.com/blog/the-triangle/post/_/id/42920/unit-watch-the-heats-problem-on-defense), only two teams have made the conference finals between 1998-99 and 2010-11 while allowing above-average 3-point attempts and an above-average 3-point shooting percentage. The Clippers do both, ranking 24th in opponent 3-point attempts and 25th in opponent 3-point percentage. The Spurs and Thunder are among the best 3-point shooting teams in the league, so the Clippers will be in serious trouble if they can't shore up this defensive flaw come playoff time.

Small forward rotation


The emergence of a healthy Grant Hill has brought about an interesting question: How will the wing minutes be dispersed as the rotations tighten? Recently, Del Negro has deployed either Hill or Barnes at power forward to create a smaller, faster second-unit lineup and assure ample minutes for his three small forwards. But when the playoffs roll around, there won't be as many minutes available. Playing time will likely fluctuate on a game-by-game basis, but there will be instances when someone who is accustomed to playing is relegated to the bench.

A Tribe Called Bench


Which "Tribe Called Bench" will we get for the rest of the season? After captivating the league for almost half the season, things have cooled down substantially. Replacing Ronny Turiaf with Ryan Hollins hasn't been beneficial; the original bench lineup has a +11.3 net rating with Turiaf, and a -1.1 net rating with Hollins. The new small ball lineup (Odom, Hill, Barnes, Crawford, Bledsoe) has been even worse, posting an anemic -13.0 net rating. It remains to be seen if the group can regain its mojo. But if the Clippers keep winning, does it matter?

Stats for this piece are from ESPN.com, HoopData.com and NBA.com.
February, 8, 2013
Feb 8
10:17
PM PT
MIAMI --
Blake Griffin
sat quietly in front of his locker as he heard his teammates give interviews around him. Each one tried to put a positive spin on what was one of the worst beatings the
Los Angeles Clippers
have suffered this season.
The silver lining in the Clippers' 111-89 loss to the
Miami Heat
on Friday night, as many in the locker room saw it, was that for the first time this season every player on the Clippers' roster was healthy and in uniform.
[+] Enlarge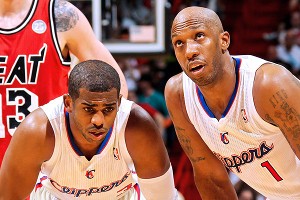 Issac Baldizon/Getty ImagesChris Paul, left, and Chauncey Billups had subpar performances in their return to the Clippers' lineup.
As Griffin looked at the final box score, that wasn't good enough for him, and quite frankly it shouldn't be good enough for the Clippers, either.
"Nah, I wish we could," Griffin said, standing in the deserted visitor's locker room at AmericanAirlines Arena when he was asked if he could chalk up the loss to working through the kinks of getting everyone back. "They beat us pretty badly and we needed better effort. We can't just write this off to we got everybody back and we're a little rusty. No. We have to be better."
Chances are the Clippers will be better because the players who returned from their injuries Friday night will be better than they played.
Chris Paul
will be better than three points on 1-for-5 shooting with three turnovers in less than 20 minutes.
Chauncey Billups
will be better than seven points on 2-for-5 shooting in 16 minutes.
And, yes, Griffin will also usually be better than 13 points and five rebounds in 24 minutes.
There is a big difference between being healthy and simply being back, and on Friday many of the Clippers' key players were back but not exactly healthy, or at least as healthy as they will be when they get a few more games under their belts.
That still might not have been enough to beat the Miami Heat when
LeBron James
scores 30 points on 9-for-11 shooting with six assists and five rebounds, but they probably wouldn't have fallen behind by 32 points in the third quarter, their largest deficit this season, either.
February, 8, 2013
Feb 8
7:57
PM PT
MIAMI -- The
Los Angeles Clippers
knew there would be an adjustment period when they all were finally healthy, but they never expected this.
All the good feelings that filled the visitors locker room at AmericanAirlines Arena on Friday night quickly evaporated as soon as the Clippers hit the court to play the
Miami Heat
. That's when they crashed headfirst into
LeBron James
& Co.
James finished with 30 points on 9-of-11 shooting with six assists and five rebounds as the Heat blew out the Clippers 111-89, leading by as many as 32 points in the second half.
Here are three takeaways from the game:
Clippers healthy
The narrative entering Friday night's game was that for the first time this season, the Clippers' roster was at full strength. After missing a variety of games this season,
Blake Griffin
,
Chris Paul
,
Chauncey Billups
and
Jamal Crawford
were back in the lineup again after all missed Wednesday's game at Orlando. The Clippers knew it wouldn't be a perfect fit from the opening tip, but they never expected to be humiliated on national television, either. Paul picked up two quick fouls and played only 4 minutes, 25 seconds in the first quarter. Billups played only 5:09 in the opening period. Griffin, who finished with 13 points and five rebounds, and Crawford, who finished with 13 points and three assists, were the only two who looked remotely comfortable in their return. Paul had only three points and was 1-of-5 shooting. Billups finished with seven points and was 2-of-5 shooting.
Looking lost
Maybe the biggest concern for the Clippers when they finally got healthy was how their rotations would look. With 13 players able to play, who would actually get on the court and who would stay on the bench? Well, it has been only one game, but Friday night,
Grant Hill
didn't play, and
Willie Green
, who had started all but three games this season, played only the final 7:05 of the game. Rotations were certainly not a reason the Clippers got blown out by the Heat, but moving forward, it's something they will have to figure out to avoid confusion and bitterness over playing time.
"We've got to get our rotations down, figure out who's healthy and what we can go to at certain times," Clippers coach Vinny Del Negro said before the game. "And that's going to take a little more concentration on our guys' part and understanding what we can do out there on a consistent basis."
A Tribe Called Bench
You would have thought the biggest benefactor of a healthy Clippers team would be the re-emergence of the bench. After all, it would get
Eric Bledsoe
back as the main point guard and Crawford back as the playmaking sixth man, and mix in Green and
Lamar Odom
, who had been thrust into starting roles recently. Maybe it will come together in the future, but it didn't look quite ready for show time Friday night, as Crawford was the only player to score more than 13 points and the bench did much of its scoring in garbage time when the game had long since been decided.
"We're trying to get our team back together," Del Negro said before the game. "Right now, it's just about trying to manage through the injuries, trying to see if we can become whole as we move through this long road trip."
January, 12, 2012
1/12/12
1:34
AM PT
By
Pedro Moura
| ESPNLosAngeles.com
LOS ANGELES -- Here are a number of items of note from the Los Angeles Clippers' dramatic 95-89 overtime win over the Miami Heat on Wednesday at the Staples Center:

An aggressive Paul

One night after his worst performance as a Clipper in a 105-97 road loss to Portland, point guard Chris Paul rebounded for his best. The seven-year veteran was on his game from start to finish, leading all players in points (27) and assists (11) and playing a game-high 45 minutes. He had one turnover all game, and it came in the overtime period.

It was clear he was going to have a different type of night from the get-go. He had eight points, three assists and three rebounds in the first quarter as he consistently attempted to take his own shot and not deliver ones to others.

"I tried to be aggressive tonight," Paul said. "I didn't feel like I was in Portland."

Part of it was, of course, Miami's defensive approach. Paul always says he takes what the defense gives him. They gave him areas in which to penetrate, not passing lanes to deliver the ball into -- and so he attacked the basket all game.

His 21 shots were more than any Miami player's total and only two behind Blake Griffin's 9-of-23 night. Paul has only come within six shot attempts of Griffin on two other occasions this season.

"I was pleased to see Chris be more aggressive offensively, which we need him to be," Clippers coach Vinny Del Negro said Wednesday.

A playoff atmosphere

Miami coach Erik Spoelstra said it, but did it vibe with what was actually present on the court?

"That was great, compelling playoff basketball in early January," the Heat coach said.

Compelling, certainly. But great, not so much. The teams combined to shoot just over 40 percent from the field. But the crowd was lively throughout, and it did remind many of the Clippers' last playoff trip in 2006.

"The level was definitely raised a little bit," Griffin said. "Both teams were coming off a back-to-back, so I think we were tired. But the intensity was as high as it should be."

Lucky or unlucky

A lot of the errors came at the free-throw line, where the Heat shot just 59 percent (20-of-34). Star LeBron James was responsible for eight of those 14 misses, including two key ones down the stretch that could have given Miami the win.

"I didn't shoot the ball particularly well from the free-throw line," James said. "I split some and I missed two some. So I put a lot of the free throws on me. I need to concentrate a little more at the free-throw line and knock them down and we'll be fine."

Interestingly, Griffin said the Clippers weren't "lucky" that James missed the free throws. He said it was a normal part of the game. But center DeAndre Jordan said they were lucky. Told then that Griffin had said the opposite, Jordan jokingly deferred to his friend and the team's star forward.

Jordan and Evans

Jordan didn't do much offensively, but he did record six blocks and also rebound fairly well. His coaches and teammates were complementary of his performance.

"It's not only the blocks," Del Negro said. "It's the altering of shots, the knowing he's back there."

Likewise, forward Reggie Evans didn't score a point in 21 minutes, but his eight rebounds and energetic defensive play were also important to the victory.

"I think Reggie really set the tone on the defensive end," Paul said. "When he comes in the game and guys see how hard he's playing, you have no choice but to play hard."

Not much Mo

It's interesting that, in the Clippers' longest game of the 2011-2012 thus far, reserve guard Mo Williams played the fewest minutes he had all year. The 6-1 point guard played just 21 minutes in Wednesday's win, exactly the same as newly-signed forward Reggie Evans, and about half as many as Chauncey Billups and Paul.

But he was the only player other than Griffin and Paul to score in the first 21 minutes of the game, as nobody else got on the board until Caron Butler's free throws with three minutes remaining in the first half.

No more meetings

One of the byproducts of the shortened season this year is fewer Eastern-Western matchups, and nowhere is that more noticeable than with the Clippers and Heat.

Despite the fierceness of the teams' matchup Wednesday, they will not face each other again all season. Their only possible meeting would be in June, in the NBA Finals.