Los Angeles Clippers:

Los Angeles Lakers
March, 6, 2014
Mar 6
8:47
AM PT
By
Justin Page, ESPN Stats & Information
The Clippers and Lakers meet tonight -- and oh my how the tables have turned. The Clippers lead the Lakers by 20.5 games in the standings, which would by far exceed their best finish in front of the Lakers since their first season in L.A. (1984-85). In fact, prior to Chris Paul's arrival the L.A. Clippers' best finish in front of the Lakers was just 3 games.

The Clippers' first season in Los Angeles came in 1984-85. From that point through 2010-11, which was the season prior to acquiring Paul, they posted a .349 win percentage -- worst in the NBA during that span. During that same timeframe, the Lakers had a .659 win percentage -- best in the NBA.


The Clippers are 6-3 in head-to-head games against the Lakers since acquiring Paul (won 5 of the last 6). From 1984-85 through 2010-11 (season before CP3 arrived), the Clippers were just 28-95 against the Lakers (.228 win pct).


Since the Clippers traded for Paul prior to the start of the 2011-12 season, the Clippers have posted a .657 win percentage, 5th best in the NBA. The Lakers, meanwhile, have gone just 107-102 -- the 14th best record in the league.


Paul is averaging 20.5 points and 11.9 assists per game in 28 career games against the Lakers. Paul and Isiah Thomas are the only players in NBA history with career averages of at least 20 points and 10 assists against the Lakers (min. 5 GP).


While the Clippers have championship aspirations this season, the Lakers will be looking for a quick rebuild through a high draft pick and upcoming salary cap flexibility. But it's worth noting, Kobe Bryant's last playoff game came on May 21, 2012 (missed last postseason due to an injury). If the Lakers rebound and make the playoffs next season, it will be almost 3 full years since he played a postseason game.
December, 9, 2013
12/09/13
1:50
PM PT
Antawn Jamison didn't know the exact numbers. He knew he had compiled an impressive resume after 16 seasons in the league but he didn't know the company he had put himself in as he stood in front of his locker Saturday night in Cleveland.

Jamison is just five points shy of 20,000 in his career. Sometime this week, perhaps even tonight in Philadelphia, he will become one of only 20 players in NBA history to reach 20,000 points, 8,000 rebounds and 1,000 assists. Out of the previous 19 players to hit those numbers, only Kevin Garnett, Tim Duncan and Dirk Nowitzki are active and of the 16 other players to do so only Shaquille O'Neal, who retired two years ago, has yet to be enshrined in the hall of fame.

"I didn't find out until somebody told me after the game," Jamison said. "I've been blessed to play 16 years and to be able to accomplish that says a lot but I don't really think about. To sit back and think about all the things I've been through, all the ups and downs, and being able to produce year in and year out, it's rewarding."

It's only a matter of time before Garnett, Duncan, Nowitzki and O'Neal are in the hall of fame but what about Jamison? Will he be the only player to hit that lofty career stat line and fail to be inducted? Jamison understands it's far from a lock but hopes his numbers and the company he's in will put him in the conversation.

"Everybody who plays this game would love to be in that category," Jamison said. "That would be awesome. You look at my career and hopefully the numbers will say that. To have those numbers with the guys who do have them in the hall of fame speaks volumes. It's a dream and hopefully it comes true."

It's hard to make the argument that Jamison should be in the hall of fame if you just looked at his past two seasons in Los Angeles; last season with the Lakers and this season with the Clippers. Jamison signed with both teams in the hopes of winning his first championship and is obviously still optimistic that this season with the Clippers will eventually turn out better than last season's disappointing run with the Lakers.

Jamison had averaged nearly 20 points per game during his career before signing with the Lakers last season. He had averaged 17.2 points per game as a starter with Cleveland the previous season and was viewed as a perfect sixth man for the Lakers after they had also added Dwight Howard and Steve Nash. He could have signed a three-year, $11 million deal with his hometown Charlotte Bobcats and padded his stats before retiring but instead signed a one-year deal for the veteran's minimum ($1.4 million) to chase a ring with the Lakers, and did the same this season with the Clippers.

But last season not only didn't go as planned for the Lakers, it didn't go as planned for Jamison who didn't play in nine games, not because he wasn't healthy, but because Mike D'Antoni simply didn't want to play him. He suffered through five consecutive "DNP-CD" games in late December for the first time in his career and openly wondered if he done something wrong.

"There was no communication," Jamison said of last season. "Just not knowing what's going on. It was tough, especially with the team not producing the way we should have. I know [D'Antoni] was put in a difficult situation last year and he was trying things out but everything that could've gone wrong went wrong last year. I didn't know what my role was or an understanding of what he wanted. That's the biggest difference between this year and last year."

As bad as last season was for Jamison, statistically this season has been even worse. In fact, he's on pace to have the worst season of his career, by far, but he's fine with it. After not playing the first 14 games of the season, Jamison has played in the last seven straight. He is averaging 5.3 points and 3.6 rebounds per game.

The biggest reason Jamison has a smile on his face while sitting on the bench this season as opposed to last season is he knew what his role would be this season with the Clippers. When he sat down with Doc Rivers in the offseason, Rivers laid out exactly how he planned to use him this season.

"I was very honest with him and up front," Rivers said. "I told him up front if you're coming here to start or play a ton of minutes, that's not going to happen. I don't want to overuse you and he was fine with that. I said my plan is to preserve you. You're a freaking antique. So we're going to put the polish him and keep him shining and make him look good."

After a season where he thought he could potentially win Sixth Man of the Year for a championship contender, Jamison was simply happy to know what his role would be before the season began.

"He told me, 'Antawn, I need you here for the playoffs. I know what you can do," Jamison said. "This team won 56 games without you last year and I think they can do the same thing without you, but most importantly I need you healthy for the second half of the seasons and the playoffs.' I knew right then what my role was. It wasn't about the regular season. It was about my health and making sure when the important season comes around at the end of April and going into May and June that I'm healthy and can contribute."

Jamison's role has increased recently with the struggles of Byron Mullens and Ryan Hollins as well as injuries to J.J. Redick, Matt Barnes and Reggie Bullock. They've needed Jamison to do more as he did in Memphis last week when he had a season-high 11 points and 4 rebounds in the Clippers' 101-81 win over the Grizzlies.

"I wasn't sure if I was going to play him in the Memphis game because I want to avoid the back-to-backs but he said he was fine," Rivers said. "It's so early in the season and we didn't play him early, I felt like I could play him as much as you want on this trip. But I'm going to be real careful with him. When you're old like him you can wake up in bed and hurt your foot."

Jamison laughs when he hears jokes about his age now. Players on the Clippers call him, "16" in reference to how many seasons he's been in the league and he shakes his head when he's told Bullock, sitting next to him in the locker room, was just seven years old when he made his NBA debut. Jamison is content with his new role in the twilight of his career as he reaches a personal milestone that will put him in the same company of players that have had hall of fame careers but more importantly have won a title. That's the final goal Jamison has before he retires.

"I could have been in a situation where I was playing more but I wanted to be on a championship caliber team," Jamison said. "I knew I would have to take a lesser role and I'm OK with that. I knew what I was sacrificing to do that. I told myself when my last contract was over, for the next 2-3 years I want to really chase a championship and that's what I'm doing."
November, 27, 2013
11/27/13
8:54
PM PT
LOS ANGELES --
Metta World Peace
is happy to be back home with the
New York Knicks
, but when the
Los Angeles Lakers
used the amnesty clause on him in the offseason he said he seriously considered signing with the
Los Angeles Clippers
.
"One of the teams I was looking at was the Clippers," World Peace said Wednesday before the Knicks played the Clippers at Staples Center. "I was at the Clippers' facility the whole summer, but I just felt like the biggest challenge in the world is New York City, so when I was picking where I wanted to go I was like, you know, I want to go somewhere with the big biggest challenge."
It has certainly been a challenge so far for World Peace in New York as the Knicks are 3-10, losers of six straight entering Wednesday. World Peace has played in 11 games, starting none and averaging a career-low 7.6 points and 2.9 rebounds.
"You don't know what type of challenge is going to be in front of you but this is one," World Peace said. "I learned a lot here [in Los Angeles] on how to deal with different challenges. If it wasn't for [Derek] Fisher and Kobe [Bryant] and Phil [Jackson] and those guys, I wouldn't have known how to deal with all the challenges."
World Peace recently got in touch with his friend and former teammate Lamar Odom, who has been working out in the hopes of making a comeback with the Clippers at some point this season.
"I spoke to him and he's working out," World Peace said. "I'm happy that I spoke to him. I was a little bit upset because I know he's in another stage in his life now, but when you know somebody since they're 11 years old and they're going through adversity and you can't get to them, me and Elton [Brand] were very upset. We won a championship together, we played with each other since we were kids, and we came into the league together and were on the same team for years. Now our brother is in a little bit of trouble and we don't know where he's at, so me and Elton were pretty concerned. I finally hunted his number down and I talked to him and was relieved after that. It was stressful."
August, 30, 2013
8/30/13
7:42
PM PT
Antawn Jamison
, who played for the
Lakers
last season and signed with the
Clippers
in the offseason, joined Ben Lyons and Ramona Shelburne on the "Max & Marcellus" show on ESPNLA710 on Friday. Among the topics discussed: Jamison's excitement to have a chance at winning a championship, the role Clippers coach Doc Rivers has planned for him, his relationship with Lakers coach Mike D'Antoni and whether
Kobe Bryant
has a chance to win another ring.
Click here to listen to the full interview

April, 7, 2013
4/07/13
6:23
PM PT
LOS ANGELES -- The red shirts rested on every chair in the
Los Angeles Clippers
' locker room after the game.
The Pacific Division championship shirts read "Can't Stop Los Angeles" in big bold letters and in small print on the left read, "2013 Division Champions Los Angeles Clippers."
You almost had to squint to read that one line that had been 43 years in the making.
The Clippers franchise had never before in its star-crossed history won a division title. Not in Buffalo. Not in San Diego. And certainly not in Los Angeles, where the Clippers have been in the same division as the
Los Angeles Lakers
, who have won 16 NBA titles and 23 Pacific Division titles.
[+] Enlarge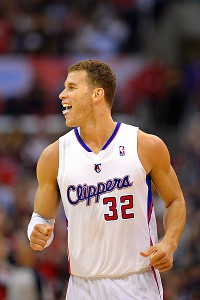 AP Photo/Mark J. TerrillLike the rest of his Clippers teammates, Blake Griffin wants more than a Pacific Division championship banner.
On Sunday, the Clippers not only won the division but did so by blowing out those Lakers, 109-95, at Staples Center on national television. It was technically a Clippers home game, but as has been the case ever since the Clippers moved to Los Angeles in 1984, it was a largely Lakers crowd that exploded every time
Kobe Bryant
did anything remotely positive.
The noise from the Lakers fans, however, was drowned out in the fourth quarter as the Clippers pulled away from the Lakers, leading by as many 16 points in the final period. Not only did the Clippers sweep the series against the Lakers, winning all four games for the first time since they were the Buffalo Braves in 1975, but they won each game by an average margin of over 13 points.
The Clippers were the best team in Los Angeles this season -- and it wasn't really close.
Time will tell how far this Clippers team actually goes in the postseason, but being the best team in Los Angeles this season is no small building block to be overlooked and marginalized. This wasn't an afterthought Lakers team that the Clippers blew out of the water time and time again this season. This was a Lakers team that, with Bryant,
Dwight Howard
,
Steve Nash
and
Pau Gasol
, was considered the preseason favorite to win it all.
While the Lakers have played well below expectations this season, the Clippers have played above the expectations of some, but certainly not of themselves.
That's largely why there were no big celebrations after the biggest regular-season win in Clippers' franchise history. None of the players wore the shirts that were placed on their chairs, and many of them actually left them behind as they exited the locker room.
Chris Paul
quickly took a picture with the shirt when asked but immediately handed off the shirt as soon as the photo was taken.
It was a stark difference from the way Paul reacted to winning the Southwest Division title in 2008 with the
New Orleans Hornets
. Back then, Paul and all of his teammates wore championship shirts and hats and gathered on the floor to watch a championship video of the season to that point after beating, coincidentally enough, the Clippers.
"This is only my second time winning the division in the NBA," Paul said. "I felt like I was in the toughest division in professional sports when I was in New Orleans with
Dallas
and
San Antonio
. I remember when we won the division in New Orleans. I remember it was a home game and we celebrated and put T-shirts on. It was crazy. It was very emotional because our team had never won a division. It's just a different feeling now. Now we feel like it's something we're supposed to do."
Blake Griffin
, who put the finishing touches on his first division title by hitting a fourth-quarter 3-pointer that elicited a standing ovation from the crowd and the Clippers' bench, wanted no part of the division championship shirts, and also said he hopes the Clippers don't hang a division championship banner.
"It means something to me but we had the mindset that this is something that we're supposed to do," Griffin said. "We want something more than that."
It's understandable for the Clippers to want more. And it's probably unfair to ask them about the significance of winning the division and sweeping the season series against the Lakers when they still have their sights set on winning an NBA title.
But when the season is over, and if the Clippers fail to make it to the NBA Finals, the organization should not let what the Clippers did this season be forgotten and chalked up simply as a step in the right direction.
Most NBA teams not named the Lakers and
Celtics
hang banners commemorating division titles. The
Chicago Bulls
and
San Antonio Spurs
have won a combined 10 NBA titles but have banners commemorating their division and conference titles.
There's no reason for the Clippers to live up to the same standards as the Lakers and Celtics and higher standards than the Bulls and Spurs.
Paul said he wouldn't mind the team hanging a division banner, while several team executives (when asked) said a banner would likely be put up at the practice facility, but not likely at Staples Center.
"It's one of those things we can let our fans decide," Paul said. "It's that simple. That's who we do it for. We do it for our fans and the people who have supported us all season long and have been here way before there was Chris Paul and Blake Griffin."
Paul and Griffin have changed the face of the Clippers and have raised the expectations of this once-morbid franchise, but they shouldn't let this season and everything they have accomplished be forgotten because of the shadow the Lakers cast on them.
There's no shame in measuring yourself against one of the premier teams in sports, but it would be a shame if the Clippers diminished this season by comparing it to what the Lakers have done.
"It means a lot," Paul conceded. "It means we're headed in the right direction, but there was no cake and there was no champagne popping in the locker room. I think that says even more about our team. We're not satisfied. We understand this is something small compared to the big picture."
April, 7, 2013
4/07/13
3:16
PM PT
LOS ANGELES -- It was the most important regular-season game in
Los Angeles Clippers
franchise history.
With a win over the
Los Angeles Lakers
on Sunday, the Clippers would win their first Pacific Division title, clinch their first series sweep over the Lakers and claim the No. 4 seed in the Western Conference playoff race.
It also didn't hurt that the game was at home and on national television.
For a team looking to change its image locally and around their league, the Clippers took a giant leap forward Sunday with their 109-95 win over the Lakers. It wasn't a shocking result. The Clippers have beaten the Lakers every time they have played this season and the margin of victory has been by over 13 points.
The Clippers are clearly the best team in Los Angeles this season. There are, however, no trophies for being the best team in the city. There may or may not be a banner for that honor but that's another story altogether.
Here are three takeaways from the game:
Aggressive CP3
Before the game,
Chris Paul
said he might have to be more aggressive than he usually is down the stretch and especially on Sunday against the Lakers. With
Chauncey Billups
out and the Clippers needing an extra scoring punch early, Paul scored seven points in the first quarter and finished with 24 points, 12 assists and five rebounds. Paul knew how important it was for the Clippers to clinch the division at home against the Lakers and wasn't going to let the opportunity slide away while he tried to facilitate and get his teammates involved.
A Tribe Called Bench
The Clippers are at their best when their best is in a groove and involved early and that was the case Sunday as
Jamal Crawford
and
Matt Barnes
made their presence felt in the first half with 23 points and finished with 32 points and five rebounds. It was a solid performance by the Clippers' two most consistent bench players on a day when they get next to nothing from
Lamar Odom
and
Eric Bledsoe
, who combined for just two points. Interestingly enough, Clippers coach Vinny Del Negro shortened his rotation, only playing five players off the bench and really only leaning on three in the second half.
Griffin shines
It had been a somewhat difficult week for
Blake Griffin
, who took some heat for his immaturity from the media. Griffin, however, responded with one of his most complete games of the season. He had 24 points, 12 rebounds and five assists and essentially put the game away with a monster dunk followed by a three-pointer in the fourth quarter. Griffin said he didn't want the Clippers to hang a Pacific Division championship banner, that he had bigger goals for the team. The Clippers haven't made a decision on their division banner yet, but if they play the way they did Sunday, they could be hanging more than a division banner up at some point in the near future.
April, 6, 2013
4/06/13
5:32
PM PT
PLAYA VISTA, Calif. --
Grant Hill
was three years old the last time it happened.
Chauncey Billups
wasn't even born yet.
Yes, it has been a long time since the Clippers swept a season series from the
Los Angeles Lakers
.
[+] Enlarge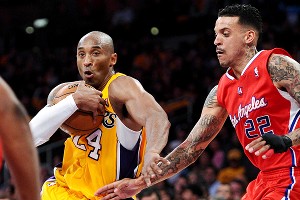 Jayne Kamin-Oncea/USA TODAY SportsMatt Barnes, right, of the Clippers guards the Lakers' Kobe Bryant during a game in February.
Heck, the
Los Angeles Clippers
never have. You have to go back to the 1974-75 season when the Buffalo Braves swept the Lakers -- the only time in franchise history that has happened.
"Oh wow," Clippers guard
Jamal Crawford
said Saturday, when informed of the possibility his Clippers team would be the first to sweep the Lakers since 1975 if they can beat their Staples Center rivals Sunday afternoon.
"See, there's all these storylines that make for a good game," Crawford said, smiling. "I think that'd be pretty cool. The Lakers have been so dominant for so long, and we're trying to make our mark now. They have a huge history, and we're trying to make our own history."
The Clippers have beaten the Lakers by an average of 13 points in their three wins this season. Their magic number to clinch a first Pacific Division title is down to one -- a win Sunday or a
Golden State Warriors
loss would do the trick.
Currently in their 43rd season, the Clippers are on the brink of the first division title in franchise history, according to ESPN Stats & Information. Only two other active franchises haven't won a division title -- the Grizzlies (currently in their 18th season) and the Bobcats (currently in their ninth season).
The Clippers have already set a franchise record for wins in a season with 50.
All things to feel good about, but all accomplishments that could be undercut if the team doesn't match or exceed its second-round playoff exit from a season ago.
September, 28, 2012
9/28/12
6:58
PM PT
PLAYA VISTA, Calif. --
Los Angeles Clippers
forward
Lamar Odom
says he thinks the current Clippers are the deepest team he has ever been on, and yes, that includes the
Los Angeles Lakers
teams he was on that went to three straight NBA Finals and won back-to-back titles.
"No," Odom said Friday when asked if he has ever been on a team as deep as this season's Clippers. "I've been on good teams. I've been on a team that went to the Finals three years in a row. You have to be pretty good to get to the Finals. But championships aren't won by just talking about a team and looking at a roster. We've all seen good rosters before and teams that we think should win, but this team is built to compete against the best teams in the NBA. If we were to play a seven-game series right now against the best teams in the NBA, I would expect us to compete."
Odom was hesitant to mention the Lakers by name and almost went out of his way to not to say what team his former Lakers teammates were on when he talked about them.
"I spoke to a guy named
Derek Fisher
, one of the captains of my old teams, last night," Odom said. "And we just talked about winning and the mindset of winning. We spoke for about 45 minutes. Some of that conversation, I'm going to pass on to these guys as soon as we head into the locker room because it is a mindset and there's a certain way that winners think on and off the court."
When Odom was asked why he was hesitant to mention the Lakers by name and if he hated his former team, he laughed and shook his head.
"No, you'd be a fool to hate what you love," Odom said. "But it's out of respect for this team to not mention where you once were. We expect to play and win here so you have to be aware of your surroundings and who you represent now."
Odom said he called Fisher as he routinely does with many of his former Lakers teammates.
"I call all the guys that I've won with, to still pick their brains," Odom said. "I've learned from the best, some of the top coaches and top players and top winners and I've learned from all of them."
Odom was traded to the Clippers on June 30 in a three-team trade that sent
Mo Williams
to the
Utah Jazz
and a Utah trade exception to the
Dallas Mavericks
. His 50 games in Dallas last season were nothing short of a disaster after the Lakers traded Odom to Dallas after their trade for
Chris Paul
fell through. Odom and
Pau Gasol
were a part of the Paul deal but, unlike Gasol, Odom wanted to be dealt after the trade was nixed.
Odom shot just 35 percent from the field and averaged a career-low 6.6 points for the Mavericks last season before the two parted ways before the end of the season.
"Sometimes when we go through certain things, other things we've been through in the past might come up and resurface," Odom said. "This summer I've learned a lot about myself. I've been through a lot and I've learned how to channel my energy and my thought and how I think the right way. I've become a lot stronger over the last 12 months. I've been through a lot. I've lost some of the close people to me, buried a child, won championships and got married in front of the world."
Now that he's back in Los Angeles and back with the team that drafted him over 13 years ago, Odom says he believes he will regain the Sixth Man of the Year form he had with the Lakers two seasons ago.
"Sometimes in order to do what we want and do what we expect of ourselves and make good decisions, we have to be in that happy place," Odom said. "You have to be in the right place mentally and I'm in that place. I'm just going get the ball off the glass, eat the glass, and bring it up the court."