Los Angeles Clippers:

NBA Draft
June, 25, 2014
Jun 25
10:10
PM PT
LOS ANGELES -- For years, they were an NBA lottery regular, consistently picking in the top 14 and almost as consistently picking the wrong player.
Those days are a distant memory now as the
Clippers,
for the fourth straight season, will not have one of the top 24 picks in the NBA draft. Such is life when you're one of the top five teams in the league and not a perennial bottom-dweller.
The Clippers have only one pick in this year's draft, the 28th overall pick in the first round, but are interested in moving up or down depending on which prospects are still available in the bottom half of the first round. Here are the five players the Clippers have their eye on coming into Thursday's draft:
Kyle Anderson, "point" forward, 6-foot-9, 230 pounds, UCLA
[+] Enlarge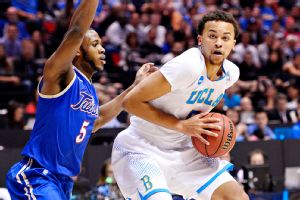 Robert Hanashiro/USA TODAY SportsKyle Anderson is an intriguing prospect for the Clippers because of his ballhandling ability at 6-9.
The Clippers really like Anderson and probably would be willing to move up a few slots to get him if he's still there in the early 20s (he isn't expected to fall to No. 28). Anderson is a unique point forward that wouldn't necessarily address the Clippers' frontcourt depth issues but would be a great addition to the team. He has a high basketball IQ, great court vision and always seems to make the right play, which would make him a perfect "Lob City" fit to run the fast break from one of the three perimeter positions. Not only does Doc Rivers like his decision-making ability, but his solid midrange game and improved 3-point shooting are also intriguing. Rivers has talked about wanting to upgrade the frontcourt depth and the small forward position, and Anderson could conceivably do both.
Glenn Robinson III, small forward, 6-foot-7, 211 pounds, Michigan
There might not be anyone on the Clippers' board that fits "Lob City" better than Robinson. He is the one of the best athletes in the draft, with great length and leaping ability that would make him fit right in alongside
Blake Griffin
and
DeAndre Jordan
. Robinson is a second-generation player (his dad is former NBA forward Glenn Robinson) who has a high basketball IQ and comes into the NBA already knowing what it takes to be a professional, which are traits that go a long way with Rivers, who will ultimately make the pick. Rivers also comes into the draft looking to upgrade the frontcourt and add a solid wing player, which all works in Robinson's favor if he's available when the Clippers pick.
Cleanthony Early, small forward, 6-foot-7, 210 pounds, Wichita State
[+] Enlarge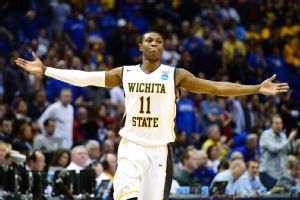 Jasen Vinlove/USA TODAY SportsCleanthony Early can score in a variety of ways, and his athleticism is something the Clippers like.
Early is another athletic small forward prospect the Clippers really like. Early can score in a variety of ways and had several highlight-reel dunks during Wichita State's postseason run. He averaged 16.4 points and 5.9 rebounds as a senior and had 31 points in the Shockers' loss to Kentucky in the NCAA tournament. The Clippers were impressed not only with Early's workout but also his interview.
Jerami Grant, small forward, 6-foot-8, 214 pounds, Syracuse
If the Clippers are looking for a small forward prospect with some upside that might not be ready to play immediately, they could pick Grant. He's one of the best and most explosive athletes in the draft, has great leaping ability and is excellent in the open court. He also has a solid midrange game, which Rivers is looking for. It also doesn't hurt that he's the son of former NBA player
Harvey Grant
, who played against Rivers. The biggest issue for Grant is his offensive game, which is certainly lacking, and he doesn't shoot 3-pointers, which is something Rivers is looking for in his small forwards.
Spencer Dinwiddie, point guard, 6-foot-6, 205 pounds, Colorado
The Clippers aren't expected to go with a guard with their first-round pick, but if they do it would probably be Dinwiddie. He would have been a higher pick if he hadn't suffered a torn ACL in January. Dinwiddie was averaging 14.7 points and shooting 41.3 from 3-point range when he suffered his injury. He would certainly benefit from learning under
Chris Paul
. The Clippers also don't know whether they'll be able to re-sign
Darren Collison
, who plans to opt out of the last year of his contract.
June, 15, 2014
Jun 15
7:32
PM PT
Among the NBA draft prospects the
Los Angeles Clippers
are inviting to their facility this week is former Colorado point guard
Spencer Dinwiddie
. The former Taft (Woodland Hills, California) star won't be able to work out or do much beyond an interview or a physical -- he's just five months removed from surgery to repair his ACL -- but the 6-foot-6 guard could be an intriguing late-first round pick for the Clippers, given that backup point guard
Darren Collison
is expected to decline his $1.9 million player option for next season to become a free agent.
[+] Enlarge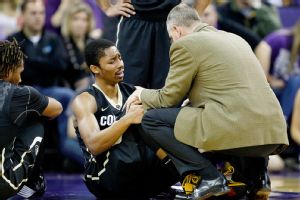 Joe Nicholson/USA TODAY SportsDinwiddie was last seen on Jan. 12, when he suffered a torn ACL, but he is garnering interest ahead of the June 26 NBA draft.
The Clippers have an interest in trading up from their No. 28 pick in the first round of the draft, according to sources, but it's not clear whether they have the assets to do so. If they stay at No. 28, there are several directions they could go, so the team has thus far cast a wide net in player evaluations.
Dinwiddie isn't concerning himself with any of that. He just wants to find the right fit.
"I'm just praying for a good fit, whether that's [pick No.] 15 or 35 or 45," Dinwiddie said. "A team that believes in me and that knows [that] when I'm ready, I'll be able to play."
Although he suffered the ACL injury in January, Dinwiddie said he is confident in his decision to declare for the NBA draft because doctors have told him his specific injury would heal completely and quickly. The initial 10-month projection has been lowered to seven or eight months, he said, which means he'd be back on the court well before training camp.
Dinwiddie led Taft -- the same high school
Los Angeles Lakers
point guard
Jordan Farmar
attended -- to the 2011 L.A. City Section championship and said he grew up a die-hard Lakers fan.
"But [the Clippers] are probably the closest thing to a dream spot for me," he said. "Being able to learn behind a Hall of Famer in
Chris Paul
, being able to be at home and having a great coach like Doc Rivers."
Dinwiddie said he has visited with the
Milwaukee Bucks
,
Washington Wizards
,
Chicago Bulls
and
Boston Celtics
. He has interviews and physicals scheduled with the Clippers,
Miami Heat
,
Atlanta Hawks
,
Oklahoma City Thunder
and
Utah Jazz
before the draft.
June, 28, 2012
6/28/12
9:33
PM PT
PLAYA VISTA, Calif. -- The Los Angeles Clippers, a team accustomed to making lottery selections on draft day, waited until late in the second round to make their lone selection of the 2012 NBA draft.

With the 53rd overall pick in the draft, the Clippers selected Furkan Aldemir, a 6-foot-10, 230-pound forward from Konak, Turkey. Aldemir, 21, recently completed his fifth season in the Turkish League and first with Galatasaray Medical Park where he averaged 8.3 points, 6.7 rebounds and 0.9 blocks in 20.1 minutes in 30 games.

After making the selection, Clippers coach Vinny Del Negro laughed when he was asked to spell Aldemir's name after asking someone the proper way to pronounce his name.

"He's long, he's a young kid, he's good around the basket, he ran good, he's got some upside to him," Del Negro said. "You want to pick the best guy possible at that position and that was the position we were in at that time."

If Del Negro sounded vague when talking about Aldemir, it's because there is good possibility the Clippers could trade him and even if they keep him for the time being, there's a good chance he could stay in Turkey for at least another year to develop his game.

"There are a lot of possibilities going on right now," Del Negro said. "There are a lot of things that we're working on, so we'll see how it all comes together here in the next week or so. We're just trying to put the best team together."

Perhaps the biggest move the Clippers were working on during the draft had nothing to do with any draft picks and may not be made official until Friday or Saturday. It appears the Clippers are on the verge of completing a three-team deal that would see Clippers guard Mo Williams going to the Utah Jazz, Dallas Mavericks forward Lamar Odom coming to the Clippers and a trade exception going to Dallas.

The trade would be a homecoming of sorts for Odom and Williams, who started their careers with the Clippers and Jazz, respectively.