Los Angeles Clippers:

NBA Playoffs
May, 13, 2014
May 13
9:52
PM PT
OKLAHOMA CITY -- The
Clippers
knew they got away with one during Sunday's Game 4 in Los Angeles. As they walked around their Staples Center locker room after coming back from 22 points down early and 16 points down with nine minutes left, they knew they had stolen a game and perhaps saved their playoff lives.
But they weren't satisfied with just tying the series. The message from the coaching staff was simple: Steal another one in Oklahoma and put yourselves in a position to close out the series back home.
It looked as the Clippers were about to do exactly that for much of Tuesday's Game 5 ... before the
Oklahoma City Thunder
repaid the Clippers with a comeback that was just as improbable in a 105-104 win.
With the Clippers leading 104-97 with 44 seconds left, the Thunder closed with an 8-0 run, including three free throws by
Russell Westbrook
to clinch the win and take a 3-2 series lead.
How it happened:
After sleepwalking through the first quarter of Sunday's game, falling behind by 22 points nine minutes in, the Clippers took a 15-point lead in the first quarter Tuesday and controlled the tempo and pace for most of the game, despite having multiple players in early foul trouble. The Clippers never trailed in the second half until the final seconds, when Westbrook's free throw put the Thunder ahead for good.
What it means:
The Thunder have taken a 3-2 series lead and can clinch the series with a win Thursday in Los Angeles.
Hits:
Blake Griffin
had his first double-double of this season's playoffs, finishing with 24 points and 17 rebounds.
Chris Paul
had 17 points and 14 assists,
Matt Barnes
posted 16 points and 10 rebounds,
Jamal Crawford
tallied 19 points off the bench and
J.J. Redick
scored 16.
Misses:
After being the star of Game 4 with 12 points in the fourth quarter,
Darren Collison
had only one point in 10 minutes Tuesday and was a team-worst minus-15 while on the court. Meanwhile, Paul had a game-high five turnovers.
Stat of the game:
The Thunder outscored the Clippers on points in the paint (44-22) and had the Clippers' big men in foul trouble for most of the game.
Up next:
The Clippers will play host to the Thunder in Game 6 at 7:30 PT Thursday night at Staples Center, as L.A. looks to stay alive in the series.
May, 10, 2014
May 10
11:03
PM PT
LOS ANGELES -- Doc Rivers smiled when he was told the
Los Angeles Clippers
have never come back from a 2-1 playoff series deficit in team history.
"You mean in the four times," Rivers said. "Any of those stats don't matter. If you said the Lakers or the Celtics, then that would matter. With us, at least those historical playoffs things, [it doesn't resonate] here."
It's no secret the Clippers don't have much of a playoff history. Even if they were to win Sunday's Game 4 against the
Oklahoma City Thunder
, the Clippers have lost five of six best-of-seven series when tied 2-2. And they have never advanced past the second round.
[+] Enlarge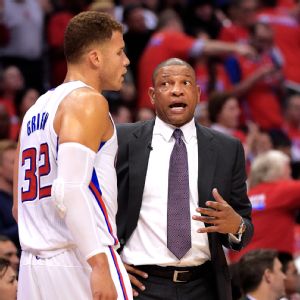 AP Photo/Mark J. Terrill
Doc Rivers cares less about the Clippers' meager playoff history and more about the tough lessons his players are learning in their series against the more-grizzled Thunder.
In fact, the Clippers registered just 11 total playoff wins from 1977 until
Chris Paul
arrived in 2011. Since then, the Clippers have won 11 playoff games in three seasons.
Yes, the Clippers have made great strides. But they still have yet to win more than one game in the second round.
There is only one player on their roster --
Glen Davis
-- who has won a title, and he's a reserve. Only one starter --
J.J. Redick
-- has played in the NBA Finals.
At some point, the Clippers believe, they can get to the conference finals and the Finals and win a title. But their lack of experience in these moments is often exposed while going up against an Oklahoma City team that has enjoyed repeated success over the past five seasons, including a trip to the Finals.
"That's the one advantage Oklahoma has had on us," Rivers said. "They have several guys that have been all the way to the Finals, and they get it. They get the urgency of every single possession. We've been in and out of that throughout the playoffs. For us to keep going, we have to get that every-possession urgency.
"Offensively we scored 112 points [Friday], but we took off 15 possessions where we were running it but we weren't running it crisply. We didn't get to the right spots; we took shortcuts. Those are the things you just can't do, and I think our guys are quickly understanding that. That point alone was beaten into us."
It's all part of the process and growth Rivers has talked about with the Clippers since arriving last summer. As much as he wanted to win a title in his first season, he also wanted the Clippers to take strides in learning how to become championship contenders.
When Rivers heard Paul call Game 4 a "must-win" game, he said that's how Paul and the Clippers should approach every game and every possession in the postseason.
"I think Games 1, 2 and 3 were must wins," Rivers said. "I honestly think that's the urgency you have to play with in the playoffs, and I think we've been in and out of that. That's, right now, the lessons we're learning. You can still keep getting better through the playoffs. That's why you don't panic. You keep getting better and you keep pushing. There's growth with every team.
"Miami will grow during the playoffs. You grow during the playoffs. You learn. You get beat and you learn, and you get better or you go home; it's one of those two things. That's part of the process. You have to be willing to take it, understand it, process it and move on."
Despite being down 2-1 in their series against Oklahoma City, the Clippers weren't too concerned after practice on Saturday. L.A. was down 1-0 to the
Golden State Warriors
and won its first-round series.
The Clippers also showed they could win on the road -- twice, including a Game 7 -- two years ago against the
Memphis Grizzlies
.
The Clippers still feel good about their chances versus OKC, but those hopes largely rely on tying the series up on Sunday here at home.
"We put ourselves in a hole, but we just have to correct some of our mistakes,"
Blake Griffin
said. "We came back from this situation down 1-0. It has turned, but it's not like we're down 3-0. We're down 2-1 and we got another game at home.
"We need to correct our mistakes, but it's nothing to hang our heads about or be down about. We have a chance to even it up Sunday."
May, 10, 2014
May 10
12:45
AM PT
LOS ANGELES -- For the better part of three seasons, the
Los Angeles Clippers
have talked about wanting to be a defensive team.
In their ideal word, "Lob City" would one day morph into something more reminiscent of the "Bad Boys." In fact, when ESPN's "30 for 30" documentary on those
Detroit Pistons
of the late 1980s aired last month, every Clippers player watched it and talked about it the next day at practice.
If they were ever going to realize their dreams of becoming a championship team, they would have to buy in defensively like that Pistons team did. They would have to contest every shot and make life miserable for their opponents.
[+] Enlarge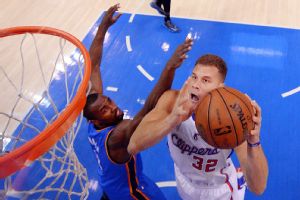 AP Photo/Mark J. TerrillBlake Griffin and the Clippers scored plenty in Friday's loss to the Thunder, but they have to suddenly become a much better defensive unit if they expect to advance.
It's a solid goal, but it remains just that, and nothing more, for the Clippers.
As much as the Clippers want to be known as a defensive team, it's a title they'll never fully attain until it becomes part of their DNA, instead of a tired pregame and postgame talking point. Only then will the Clippers also be able to attain their larger goal of being a championship team.
Friday's 118-112 Game 3 home loss to the
Oklahoma City Thunder
showed how far the Clippers have to go to have that defensive presence and to be the team coach Doc Rivers told them they had to be during training camp and every practice since.
It wasn't just that the Thunder scored 118 points. It was how they scored those points. They shot 55.7 percent from the field and scored a postseason-high 52 points in the paint, outscoring the Clippers in the paint for the second straight game.
"Defensively, if somebody is scoring 118 points, we obviously have to play defense better and I have to coach defense better," Rivers said. "They shot above 50 percent. We didn't. I thought that was the difference in the game. But they got everything. They got 3s, layups, key second shots. Down the stretch, they made every big play. Every shot they needed went in.
"We had shots, too, and they didn't go in. I just thought we put way too much pressure on our offense because our defense wasn't working."
Even when the Clippers' defense broke down during the season and early in the playoffs, they usually found a way to rally late and get key stops down the stretch. It happened during Game 7 of the first-round series against the
Golden State Warriors
, when they came back from 13 points down.
Rallying from defensive letdowns and counting on late stops is like a safety blanket. It's a strategy that can work during the season and in the first round of the playoffs but will often lead to loss when going up against teams like the Thunder.
"We've been a team regardless of how the first three-quarters went or the first part of the fourth quarter, we relied on stops down the stretch,"
Chris Paul
said. "Tonight we didn't do that. We obviously scored enough points to win. [
Russell Westbrook
] hit a big 3 when they were up one. [
Kevin Durant
] hit one on the wing. We're used to getting stops in those situations, and we didn't tonight."
Rivers has said the Clippers can win when Durant and Westbrook have big nights. They're almost always going to have big nights, as was the case Friday when they combined for 59 points, 19 assists and 16 rebounds.
What L.A. can't afford is to have
Serge Ibaka
score 20 points on 9-of-10 shooting and
Reggie Jackson
and
Caron Butler
combine for 28 points off the bench.
"The thing that's happened the last two games is they've had different guys step up,"
J.J. Redick
said. "Tonight, Reggie Jackson and Serge played well offensively. We know Durant and Westbrook are going to get their points. We'd like to limit the other guys as much as possible."
Making those defensive stops can be hard when players are in the wrong place and trying to coach one another and point out mistakes as the game is happening. Instead of moving onto the next play, the Clippers have a penchant for dwelling on previous mistakes, which usually leads to more mistakes.
"The only thing I didn't like, I thought they were frustrated when they scored, which is good. You want them to be. But you got to keep playing," Rivers said. "I thought there was some residual. One guy knows that the defense broke down because there was somebody else. Instead of just keeping playing, you felt like you had to tell them. I'm saying, 'OK, let's tell them later, but let's just keep playing.'
"It's human nature. Guys want to win. They all want to win. I get that, have no problem with that, but we have to move past that."
Chances are the Clippers aren't going to become the defensive team they want to be overnight, and certainly not before Game 4 on Sunday. But they'll need to at least move in that direction if they hope to win and get past the second round for the first time in franchise history.
"We just have come out ready to play," Paul said. "It's a tough one here, but we need to get Game 4. It's like a must-win for us. We knew that we were going to have to win at least one there, and now we're going to have to win two there. We're going to have to start off with a Game 4 win."
May, 9, 2014
May 9
10:53
PM PT
LOS ANGELES -- After two lopsided games for both teams to start the series, the
Los Angeles Clippers
and
Oklahoma City Thunder
were due for a close game that would finally live up to the hype preceding this series.
That's exactly what happened Friday, as the Thunder took a 2-1 series lead with a 118-112 win over the Clippers.
In a game that saw 13 ties and 19 lead changes, the Thunder were able to pull away late and take control of the game and the series, thanks to
Kevin Durant
's 36 points and
Russell Westbrook
's near triple-double of 23 points, 13 assists and eight rebounds.
How it happened:
It was a seesaw game for most of the night with exchanging leads as the stars played like it for most of the evening. While Durant and Westbrook will get the headlines, the Thunder are at their best when their role players have big nights; and they did Friday.
Serge Ibaka
scored 20 points,
Reggie Jackson
posted 14 points and former Clipper
Caron Butler
also had 14.
What it means:
The Thunder have taken a 2-1 series lead and can take a commanding 3-1 lead Sunday before the series returns back to Oklahoma City.
Hits:
Chris Paul
had 21 points and 16 assists and was far more aggressive than he was in Game 2 -- but still not what he was in the Game 1.
Blake Griffin
had his best game of the series, finishing with 34 points, eight rebounds and four assists.
Matt Barnes
had 14 points, and
Jamal Crawford
, fresh off his Sixth Man of the Year award, had 20 points.
Misses:
After playing well in the first two games of the series,
J.J. Redick
was a nonfactor in Game 3, finishing with three points after missing his first five shots and going 1-for-6 from the field.
Glen Davis
also was a liability when he was on the court, finishing with two points and with plus/minus of minus-12.
Stat of the game:
The Thunder had the advantage in points in the paint (52-48), rebounding (44-33) and fast-break points (19-14). Throughout most of the game, Oklahoma City held the advantage when it came to hustle plays and 50-50 balls.
Up next:
The Clippers will take on the Thunder in Game 4 of their second-round series at 12:30 p.m. PT on Sunday in Los Angeles.
May, 5, 2014
May 5
11:43
PM PT
OKLAHOMA CITY --
Chris Paul
was the first player at Chesapeake Energy Solutions Arena on Monday.
Before the first team bus pulled into the arena, Paul had gotten into a cab and come over on his own almost four hours before the start of the game to shoot with
Los Angeles Clippers
assistant coach Dave Severns.
Whenever Paul feels the need to shoot before or after a game, he will tell Severns and the two will go through a shooting drill that takes Paul around the court with Severns feeding him the ball.
Paul felt the need to come over early on Monday after feeling sluggish during the morning shootaround and falling asleep during the film session on Sunday.
"Me and Blake talked about it this morning at shootaround," Paul said. "Obviously, we were still a little tight from traveling and we said at 8:30 we better be ready to go, so I came over here early before the game and got a lot of shots up."
By the time Paul walked off the court in the afternoon, his injured right hamstring and right thumb were behind him. He felt better than he had since the postseason began and told his teammates that he would look to be more aggressive early in the game.
[+] Enlarge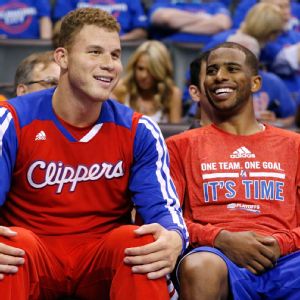 AP Photo/Sue OgrockiChris Paul may be playing like this is his only opportunity for a conference final appearance, but he had a chance to smile with Blake Griffin at the end of their Game 1 rout of the Thunder.
None of them could have foreseen how aggressive he would be.
In one of the biggest games of his career, Paul had the best shooting night of his career. He finished with 32 points on 12-of-14 from the field and 8-of-9 from beyond the 3-point line. Paul made his first eight 3-point attempts and fell one shy of the single-game playoff record of nine 3s.
Never before had Paul made more than five 3-pointers in a game (a span of 665 regular season and postseason games). He hit six before halftime and eight before the end of the third quarter.
It didn't matter who the
Oklahoma City Thunder
threw at him, Paul made a pull-up jumper against eight different Thunder defenders on the night.
Not only did Paul lead the Clippers to a 122-105 blowout of the Thunder in Game 1 of their Western Conference semifinal series, he became the first player with at least 30 points and 10 assists on 75 percent shooting in a playoff game since
Michael Jordan
in 1991.
Paul's teammates often tell him to be aggressive, but more often than not his comfort zone is in facilitating for his teammates and letting the game come to him. On Monday, however, he listened to his teammates, especially
Blake Griffin
, who looked at him early in the first quarter and repeatedly told him, "Be aggressive. Be aggressive."
"I try to take what's given to me and early, and I think the shot clock might have been running down on one of the first shots that I shot and I made it and I just kept trying to be aggressive," Paul said. "I didn't want to force it or anything like that. I'm one of those people that think when you're hot and you take a bad shot, it's gone. I just tried to be aggressive."
Paul has been getting around-the-clock treatment from the Clippers training staff on his injured hamstring and thumb. Doc Rivers hinted before the series started that most people outside the Clippers' locker room have no idea what Paul had to go through to play in the previous series against the
Golden State Warriors
.
"That's just toughness," Rivers said after Game 1 in Oklahoma City. "I thought he really set the tone for us at the start of the game. I just thought he went downhill a lot with the drives and that's what we have been trying to tell him to do. Quick decisions and move the ball. I thought his being aggressive at the start of the game really set the tone throughout the game."
Paul often jokes he's not much of a 3-point shooter. But it has become part of his arsenal recently. After going 51-for-156 from 3-point range in his first 53 games of the season, Paul is now 52-of-102 in his past 17 games.
"That's what I do," Paul said when asked about his 3-point shooting. "That's a lie. I don't know. It was just one of those nights. I promise you it has to be a career high. This one will definitely go down in the record books for me. Don't count on it for Game 2, I can tell you that."
Paul was 10-for-12 for 28 points on pull-up jump shots Monday, including 8-of-9 from 3. And the only thing Paul's older brother, C.J., was interested in talking about postgame were those two misses and Paul's two turnovers.
"That's the way it's always been," Paul said. "That's the way it is."
Paul is a perfectionist who usually only looks at the number of mistakes he made in a game. His eyes will almost always dart to the turnovers column; if there is a number greater than zero for him, that's what he will focus on.
But Paul has taken a big-picture approach to this season and this playoff run. He read the book "The Way of the Champion," by Jerry Lynch, before the start of the postseason and talked about the need to take advantage of being on a championship team, not knowing how many opportunities he will have during his career.
"I've never been past the second round, and this is my ninth season. I remember the team I was on in 2008, when we lost Game 7 to the Spurs, and you feel like you're always going to be back there. And that's not the case," Paul said. "The team here, I think is a special team. Not only do we have a good team, but also it's fun to be around each other."
Rivers doesn't think this is a make-or-break postseason for Paul, but that he's approaching it like it is certainly doesn't hurt.
"I think Chris Paul is going to be in a lot of second-round series trying to get to the third round, and this is not going to be the last one," Rivers said. "He has the urgency like this is going to be the last one, and I think that's really important for the entire team that this is going to be the last one. And I think that's really important for our entire team to have that urgency. You can't assume anything in our league."
Information from ESPN Stats & Information was used in this story.
May, 5, 2014
May 5
9:30
PM PT
OKLAHOMA CITY -- For the better part of three seasons the
Los Angeles Clippers
have continually talked about the "process."
As in, it's a "process" to become a championship team and it's a "process" to learn what it takes to win games in the postseason. They spoke about it when Vinny Del Negro was the coach, and they've talked about it even more under Doc Rivers.
If they're going to be a championship team, they have to go through that "process"; there are no shortcuts.
"Each team is different," Rivers said. "There's no one process. I wish there was. We'd all have a handbook and do it. But it's about working together as a team and understanding you have to go through that process. It's the defensive practices, the offensive executions and the end of the game executions.
"You have to go through that entire process and not get bored with it to get where you want to go. Our guys have bought in."
It took this group three years. But they believed in the process and finally did something on Monday the Clippers had not done since 2006 and
Chris Paul
had not done since 2008: They won a game in the second round of the playoffs.
The Clippers' 122-105 win over the
Oklahoma City Thunder
in Game 1 of the Western Conference semifinals felt like more than just a one-game victory. It felt like a statement to the rest of the NBA that the Clippers are finally legitimate championship contenders and ready to take the next step toward advancing to the conference finals for the first time in franchise history.
How it happened:
After a back-and-forth start to the first quarter when the Thunder went up by six points, the Clippers grabbed a 14-point lead before the end of the opening period and never looked back. Their lead would balloon to 24 points in the second quarter and 28 points in the third quarter. The Clippers were never really challenged. The Clippers' second unit helped spark the run at the end of the first quarter and into the second quarter and finished with 38 points.
What it means:
The Clippers have taken a 1-0 lead in the series and stolen home-court advantage from Oklahoma City.
Hits:
Paul had said he wanted to be more aggressive in this series; he didn't waste any time. He finished with 32 points in 27 minutes, hitting 12-of-14 from the field and 8-of-9 from 3. He also had 10 assists and two rebounds.
Blake Griffin
added 23 points and five rebounds.
J.J. Redick
had 12 points, while
Jamal Crawford
added 17 points off the bench.
Misses:
No real misses on a night when the Clippers went up by as many as 28 points on the Thunder in the second half.
Stat of the game:
Paul was 8-for-8 from the 3 line before missing one and finished one 3-pointer away from the single-game playoff record of nine 3s shared by
Ray Allen
,
Jason Terry
,
Vince Carter
and Rex Chapman.
Up next:
The Clippers will take on the Thunder at Oklahoma City in Game 2 of their second-round series on Wednesday at 6:30 p.m. PT.
May, 2, 2014
May 2
12:47
AM PT
OAKLAND, Calif. -- Over the past six days, the
Los Angeles Clippers
have leaned on each other to get through one of the most chaotic, grueling and draining weeks they had ever experienced.
With an opportunity to close out the week and the
Golden State Warriors
early, they went in their own directions Thursday at Oracle Arena.
After finally finding their way together off the court, they lost it on the court during their 100-99 loss to the Warriors, who forced a decisive Game 7 back in Los Angeles on Saturday night.
[+] Enlarge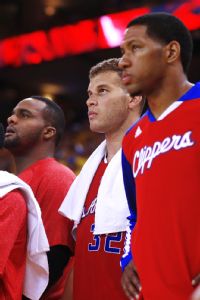 AP Photo/Marcio Jose Sanchez
Blake Griffin got in foul trouble Thursday and exited early. When he's not in with Chris Paul, the Clippers seem to lose their rhythm and confidence in one another.
Throughout this season, Clippers coach Doc Rivers has talked about trust. All championship teams have it. They trust in each other, they trust in the system and they trust in what each other will do within that system.
Sometimes the Clippers have that trust, and sometimes they don't.
On Thursday, as
Chris Paul
,
Blake Griffin
and
J.J. Redick
battled through injuries and foul trouble -- with the latter two fouling out in the fourth quarter -- the Clippers decided to go in their own separate directions in search of a victory.
"We've just got to trust each other," Rivers said after the game. "I thought the third quarter, we stopped trusting. We were basically an iso basketball team. No fun to watch, and we're not very good at it."
One of the biggest reasons Rivers was pried away from the
Boston Celtics
last summer and brought to Los Angeles was to lead the Clippers through moments like this. Not only does he have a championship ring to his name, during that 2008 title run with the Celtics his team was pushed to Game 7 in the first two rounds.
During his time in Boston, Rivers coached in seven Game 7s and sported a 4-3 record.
"Well, I've lost some and I've won some," Rivers said. "So the experience is you have to come to play. I've won some on the road, I've lost some at home, and you've got to go play. You've just got to go out there and play the game and be aggressive and try to take the game.
"When you're at home, you can't rely on home. That doesn't work. It's going to be great to be at home. We'll be back in our safe haven now, and the fans will give us great energy, but you've still got to perform -- and that is the bottom line."
The only player on the Clippers roster with a championship ring is
Glen Davis
, who was with Rivers when the Celtics won in 2008 and when they lost Game 7 of the NBA Finals in 2010.
Davis thought his 2008 team learned how to play in the playoffs as they were pushed to the brink of elimination. After Thursday, he isn't quite sure if the Clippers are learning the same lesson.
"We knew playing in a Game 7 we'd have home court advantage, but, at the same time, we had to go out there and make it happen," Davis told ESPNLosAngeles.com. "The more and more that series went on, we realized that every possession counts. Every possession and every moment on the court counts. I think we, as a team ... I don't think we understand that right now."
Rivers has constantly talked about "emotional hijacks" with the Clippers and their tendency to get too high and too low during the normal ebb and flow of a game.
"When things go up, we have to keep our composure and make sure we stay levelheaded and do what we know how to do and play Clippers basketball," Davis said. "I think we get away from that. I think too much we try individually to get it done. Everybody wants to win, but they don't understand we have to win it together.
"And that's giving yourself up for the next person. I think we saw today that's how we need to play in order to win."
It was an odd game that resembled the first game of the series in many ways, as Paul and Griffin were in foul trouble early, with Griffin fouling out late in the fourth quarter. When Paul and Griffin aren't able to penetrate and create plays for their teammates, the offense, as well as the trust, crumbles.
"I think just ball movement and trusting our offense," Griffin said when asked what the Clippers need to do to be successful in Game 7. "I think, honestly, it starts defensively for us. When we get stops, we kind of get into a better flow and a better rhythm. It's not just coming down and a matter of calling a play and doing what we do; it's a lot of things."
As much as the Clippers want to consistently trust each other and the system, that level of trust doesn't come easily or quickly. It comes over time -- and in moments like they will experience during Game 7 on Saturday.
"Experience is one of the main factors of understanding consistency," Davis said. "Situations like this can build character, and hopefully we can get it now without having to sit out and wait for next year."
May, 1, 2014
May 1
10:59
PM PT
OAKLAND, Calif. -- The smiles had returned to the faces of the
Los Angeles Clippers
' players by the time they took the court at the Olympic Club in San Francisco on Thursday morning before playing Game 6 of their first-round series against the
Golden State Warriors
.
All the talk of the past week regarding racist comments made by Clippers owner Donald Sterling and his subsequent lifetime ban from the NBA had been washed away and replaced by the jokes and the usual teasing that had come to define the team this season.
"They're in a better spirit, there's no doubt," Clippers coach Doc Rivers said. "They're actually joking again. They're making jokes about their coach again. I think that's good."
The focus for the first time since Friday was again on basketball, which was a good thing for the players on the court, even if the action on the court didn't always look playoff-worthy.
The good feelings the Clippers had pregame, however, were long gone by the end of the game, as
Blake Griffin
and
J.J. Redick
fouled out as the Clippers lost to the Warriors 100-99 to force a Game 7.
How it happened:
The Clippers jumped out quickly to a nine-point lead, but it was erased in the next stanza by the Warriors, who took an eight-point lead by the second quarter. It was a back-and-forth game through three quarters that saw eight ties and five lead changes before the Warriors took control in the fourth. The Warriors never trailed in the final period but had to escape in the end as the Clippers made a late push.
What it means:
This series, like many expected before it began, will go seven games, with the decisive Game 7 taking place on Saturday in Los Angeles.
Hits:
On a night when Griffin,
Chris Paul
and
DeAndre Jordan
struggled offensively, the Clippers were kept in the game largely by
Matt Barnes
and Redick, who combined for 33 points. The "Big Three" of Griffin, Paul and Jordan, meanwhile, posted 36 points between them.
Jamal Crawford
and
Darren Collison
had 31 combined points off the bench. Though Jordan struggled on offense, he did have 19 rebounds and four blocks.
Misses:
Paul was battling injuries to his left hamstring and hand while in foul trouble (five). Griffin was in trouble early and fouled out for the second time this series. When those two players struggle, the Clippers always will have a hard time pulling out a win, especially in a close-out game on the road.
Stat of the game:
For the second time this series, the referees controlled the flow, as 52 fouls were called and 70 foul shots were taken. That's never a good recipe for pretty basketball.
Up next:
The Clippers will take on the Warriors in Game 7 of their first-round series at 7:30 p.m. PT Saturday at Staples Center.
December, 4, 2013
12/04/13
5:45
PM PT
ATLANTA -- The disparity between the Eastern Conference and Western Conference in the NBA has never been wider than it is at the start of this season. There are only two teams in the East with a winning record, and the 12th-place team in the West would be tied for the third seed in the East if the season ended today.
But don't look for the NBA to ever change the current playoff format to accommodate for this disparity.
Los Angeles Clippers
coach Doc Rivers, who is on the NBA's competition committee, said he doesn't think a one-season discrepancy would force the league to consider taking the 16 teams with the best records instead of the top eight teams from the East and West.
"No. How many times has this happened?" Rivers said Wednesday. "We should never overdo it. I do believe [the best] 16 teams is great, but I don't think logistically that would work. It would be very hard to do, and, the thing is, you don't play the same teams. If the East is better, they don't play the West as many times. [Schedule balance is] not fair, so you have to keep the conferences."
Rivers, who coached in the East for 14 seasons with the
Orlando Magic
and
Boston Celtics
, believes the East will eventually produce more than two teams with winning records this season.
"In the Eastern Conference, there are better teams than their record," Rivers said. "It's just so early, and everyone is piling on them now, especially Brooklyn and New York because people want them right now. When someone sees a good team struggling, it's all all-out attack in our league. It's not a very nice league in that way."
Atlanta Hawks
coach Mike Budenholzer was on the
San Antonio Spurs
' coaching staff for 18 seasons before coming to the East this season. When asked if he would be in favor of a format in which the 16 best records in the league made it to the playoffs, he smiled.
"Not now that I'm in the East," he said.
The Hawks entered Wednesday at 9-10, which was the fifth-best record in the conference. Budenholzer, however, agreed with Rivers that the disparity usually evens out over time.
"I think those things always change, and it's year to year," he said. "I think the teams in the East, I think there may have been a slow start and the records may be deceiving. I think there are a lot of good teams over here. It's been set up this way for a long time, and I don't see anything ever changing. There will be a swing and there will be 10 good teams in the East and two good teams in the West at some point, I'm sure."
April, 17, 2013
4/17/13
11:15
PM PT
By
Jovan Buha
| Special to ESPNLosAngeles.com
The
Los Angeles Clippers
knew what was at stake heading into Wednesday night's regular-season finale against the
Sacramento Kings
. Win the game and they clinch home-court advantage against the
Memphis Grizzlies
. Lose and they open the first round of the playoffs on the road.
To complicate matters, the game would possibly be the last ever played in Sacramento at Sleep Train Arena, as it has yet to be decided by the NBA whether the franchise will be sold to a group planning to move the Kings to Seattle and become the Supersonics in the offseason or stay in Sacramento with new, local ownership. As a result, Kings fans were loud and passionate, and the players -- despite having nothing to play for in the standings -- were inspired.
Before tipoff, the Clippers were notified that both the Grizzlies and
Denver Nuggets
had won earlier in the day, adding even more pressure.
The game was set up for the Clippers to fail, and they almost did, barely eking out a 112-108 win over the emotional Kings. With the win, the Clippers capped off the most successful regular season in franchise history on a high note, setting records in home wins (32) and road wins (24), to go along with a slew of other milestones.
Chris Paul
scored 24 points and dished out 11 assists, and
Chauncey Billups
showed the Clippers what they've been missing for most of the season with 17 points.
Blake Griffin
, who tweaked his back shooting during warmups and posted only seven points (3-of-10 shooting) and four rebounds, had a momentary scare late in the first half when he fell on his backside and had to leave the game with back spasms. He returned in the second half, albeit visibly hobbled and limited. After the game, he said he felt fine and it shouldn't be an issue in the playoffs.
Here are three takeaways from Wednesday night's regular-season finale:
Game of runs
Neither team played consistent basketball, but the Clippers' talent disparity was enough to overcome the Kings' isolation-heavy offense. The Clippers started the second quarter on an 11-1 run, then maintained that pace to hold a 54-46 edge at halftime. But after the Clippers took a 59-50 lead with 9:14 remaining in the third quarter, the Kings responded with a 10-0 run of their own to take their first lead since the first seconds of the game. Paul soon took control and helped L.A. regain the lead.
Marcus Thornton
certainly made things interesting for the Kings in the fourth with a flurry of 3-pointers. The Clippers were still only up by three points with seven seconds left before Paul made one of two free throws for the final margin.
Crawford's record-setting night
As Crawford's third 3-pointer sank through the net, he passed
Rasual Butler
(145) for the most 3-pointers in a single season by a Clipper. By the time the game was over, Crawford had made six 3-pointers, setting the new mark at 149. His last two 3-pointers, though, were arguably the most important. First, he gave the Clippers a 100-98 lead off a step-back 3-pointer with 2:08 left. Then he made a corner 3 to put the Clips up 103-98 with 1:37 remaining. Griffin and Paul made key baskets down the stretch, and Billups nailed important free throws, but Crawford's 24 points and six assists were the difference.
"Jamal Crawford made big shot after big shot," Paul said after the game.
Securing home court
With the victory, the Clippers (56-26) tied the Grizzlies (56-26) for the fourth-best record in the West but secured home-court advantage for the series. The Clippers, by virtue of winning their division, earned home-court advantage in the tiebreaker. Even if that wasn't the rule, the Clippers won the season series with the Grizzlies 3-1, so they would've had the tiebreaker anyway. The Clippers will host Game 1 against the Grizzlies on Saturday night, which is a step up from last season, when L.A. had to win Games 1 and 7 in Memphis before capturing their first-round series.
April, 11, 2013
4/11/13
12:04
AM PT
LOS ANGELES -- Now comes the hard part.
Last week the
Los Angeles Clippers
clinched their first 50-win season, the division title and swept the season series against their in-building rival, the
Los Angeles Lakers
.
They accomplished all of the regular-season goals they set for themselves when training camp opened six months ago.
Well, all except for one.
The Clippers want to have home-court advantage in the first round of the playoffs and had been hoping to nab a top-three seed in the West, as well.
While winning the Pacific Division technically gives the Clippers no worse than the No. 4 seed, if the No. 5 seed (the
Memphis Grizzlies
right now) finishes with a better record than the Clippers (and the Grizzlies would at the moment), the No. 5 seed will have home-court advantage despite owning a lower seed.
That's why the Clippers are in a similar position as their hallway neighbors entering the final stretch of the regular season. While the Lakers are scoreboard-watching and must win out just to make the playoffs, the Clippers need to do the same if they want to have home-court advantage in the first round.
After the Clippers defeated the
Minnesota Timberwolves
111-95 on Wednesday night,
Matt Barnes
was on his iPhone trying to update the NBA scoreboard.
"Does anyone know if Denver won?" he asked as he furiously slid his finger up and down the screen to no avail.
When he was told the Nuggets had defeated the
San Antonio Spurs
96-86, he shook his head, put his phone in his locker and went to the shower.
The win gives Denver a two-game cushion for the No. 3 seed with four games remaining, while the Grizzlies already have one game lead for home court in a potential first-round matchup of Nos. 4 and 5 seeds.
Since the Clippers play the Grizzlies on Saturday, they control their own destiny when it comes to clinching home court in the first round as the No. 4 seed. If the Clippers want to get the No. 3 seed, they must win out and hope Denver loses two of its last four games, against Dallas, Portland, Milwaukee and Phoenix. That's why it was so vital that San Antonio beat Denver, to get one of those losses out of the way.
The Clippers have been a solid road team this season, going 21-17 outside of Lob City. That's by far the best road record in team history and the sixth-best road mark in the league. Still,
Chris Paul
knows how important starting the playoffs at home would be for the Clippers in the postseason.
"It's very important," Paul said. "During the regular season you have to build some type of identity on the road, because even with home-court advantage you need to be able to win a game on the road. We understand with the seeding right now, at some point we're not going to have home-court advantage.
"We'd love to play here as much as possible, but I think we have a team that it really doesn't matter."
There are some within the Clippers organization who will say home court isn't really a necessity given what the Clippers were able to do last season. They point to the fact that the Clippers were able to comeback from 24 down with less than eight minutes left to beat the Grizzlies in Memphis in Game 1 of the first round, then were able to close out the series in Game 7 back at the FedEx Forum.
That was a different team. There are nine new Clippers players on this squad.
"Every year is different," Paul said. "You just don't think about it. Whether you have home court or not, you still have to play the games. And I think for us right now, it's about making sure we play the right way.
"As long as we play the right way, we control our destiny."
The Clippers have finally started playing the right way, winning three straight for the first time since the end of February. It also snaps the Clippers out of a funk they had been in, losing eight of 14 games and going 17-17 after the first half of the season.
"Our past three games, our defense has been really good and our energy has been up," Paul said. "We just have to keep it up. For a while there we were always a step late, and we're talking a lot more and the energy has picked up."
"We're still not perfect, but we're headed in the right direction," he said. "We just said enough is enough. We were tired of losing. We kept talking that we didn't want to back into the playoffs."
Outside of wanting to win their final four games to get home court in the first round, the Clippers also would like to head into the playoffs on a seven-game winning streak and recapture the same feeling they had when they won 17 straight in December. The Clippers' longest streak since then has been four games.
"You don't want to be on a three-game losing streak going into the playoffs," Paul said. "I've been in that situation where we lost three of our last four games and we got beat 4-1 by Denver in 2008-09. You just want to make sure you're going in with a positive feeling."
As important as home court in the first round would be, the Clippers also understand if they get past the first round and go as far as they would like, they will have to win games on the road.
"Right now, unfortunately, the only time we'd have home court probably is in the first round,"
Blake Griffin
said. "That's still huge for us, and that alone should really help us focus and really lock down with that kind of urgency."
April, 8, 2012
4/08/12
10:51
PM PT
By
D.J. Foster
| ESPNLosAngeles.com
Barring a catastrophic late season collapse, the Los Angeles Clippers should return to the playoffs for the first time since the 2005-2006 season. Making the postseason will be an important step for a franchise that's seen the playoffs just four times in 28 seasons in Los Angeles, but the Clippers could stand do some damage in their return. With
Blake Griffin
and
Chris Paul
's contracts coming up relatively soon (not to mention
Vinny Del Negro
's), the Clippers need to put up a good showing in the playoffs to keep the vultures from swarming.
Although the Clippers don't follow the mold of your traditional contender due to their lackluster defense (20th in defensive efficiency), they are a team with very specific strengths that could overwhelm an opponent in the right matchup. Although their first round draw will likely be out of their hands, here's what the Clippers should be rooting for as the Western Conference playoff picture shakes out.
Pick-and-Roll
[+] Enlarge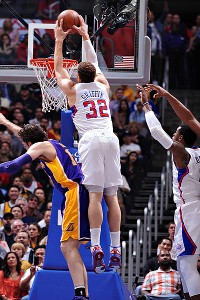 Noah Graham/Getty ImagesFans may clamour for a Griffin-Gasol rematch, but the Lakers could cause problems for the Clippers in a playoff series.
It's the bread-and-butter play for the Clippers, and despite its predictability, defenses as a whole have failed to stop it with any sort of consistency. The Clippers rank first in the league in points per possession (PPP) on shots the ballhandler takes in the pick-and-roll, while Paul ranks sixth among all players. Point being, if Paul gets a favorable switch or the space to operate coming off a screen, he's one of the best point producers in the league.
To properly blow up a pick-and-roll, you need to have mobile, intelligent big men. The Lakers are a perfect example of this.
Pau Gasol
is one of the best in the business at showing hard on a screen, then recovering properly. He's a big reason the Lakers rank 9th in pick-and-roll ballhandler defense, even with the molasses-like duo of
Derek Fisher
and
Steve Blake
covering the ball most of the year.
Although they probably won't meet in the first round, offensively the Clippers would love a matchup against the San Antonio Spurs, who rank as the league's worst defensive team in PPP allowed to ballhandlers in the pick-and-roll. The Spurs have immobile bigs and lack the ability to switch their bigs on to guards -- a huge reason why the previous meetings between these two teams have been so high scoring.
If the regular season has been any indicator, the Clippers are going to rely heavily on Paul's scoring and the pick-and-roll come playoff time. As long as they avoid the Dallas Mavericks (2nd in the league) and the Lakers, they should be able to ride that play to plenty of success.
Best case
: San Antonio Spurs, Houston Rockets, Utah Jazz
Worst case
: Dallas Mavericks, Los Angeles Lakers, Oklahoma City Thunder