Los Angeles Clippers:

Reggie Bullock
July, 7, 2014
Jul 7
8:41
PM PT
LOS ANGELES -- Veteran guard Delonte West, who did not play in the NBA this past season, headlines the
Los Angeles Clippers
' roster for the 2014 NBA Summer League, the team announced Monday.
West, who played for four teams in eight seasons, played for Doc Rivers and the
Boston Celtics
for four seasons. He started his career in Boston after being drafted by the Celtics in the first round in 2004 and played there for three seasons before being dealt to Seattle in 2007 as part of the
Ray Allen
trade. West later returned to Boston for the 2010-11 season.
The Clippers' Summer League squad will be without this season's first-round pick,
C.J. Wilcox
, as well as this past draft's first-round choice,
Reggie Bullock
. Bullock will not participate, as he is still in rehabilitation for the right quad soreness he experienced last season. Wilcox will be out due to a right shoulder injury. Both players are being held out for precautionary reasons, according to the team.
The NBA Summer League in Las Vegas will run from July 11 to 21 at the Thomas & Mack Center and COX Pavilion on the campus of the University of Nevada Las Vegas.
July, 7, 2014
Jul 7
4:43
PM PT
LOS ANGELES –
Los Angeles Clippers
forward
Reggie Bullock
and guard
C.J. Wilcox
will not participate in this month's NBA Summer League, the team announced Monday.
Bullock, who averaged 2.7 points and 1.3 rebounds over 9.2 minutes last season with the Clippers, is still in rehabilitation for right quad soreness he experienced last season. Wilcox, the Clippers' first-round draft pick this year, will be held out due to a right shoulder injury. Both players are being held out for precautionary reasons, according to the team.
"We would obviously love for both Reggie and C.J. to play in summer league," Clippers coach and president of basketball operations Doc Rivers said. "However, we want to take a conservative approach in their rehab process and make sure they are fully healthy and ready to go for the start of training camp."
June, 27, 2014
Jun 27
10:17
AM PT
By
Jovan Buha
| Special to ESPNLosAngeles.com
PLAYA VISTA, Calif. -- In a bold and surprising move, the
Los Angeles Clippers
selected Washington shooting guard
C.J. Wilcox
with the 28th pick of the 2014 NBA draft.
The decision raised some eyebrows because the Clippers already have shooting guards
J.J. Redick
,
Jamal Crawford
and
Reggie Bullock
under contract and needed help at other positions, particularly in the frontcourt.
[+] Enlarge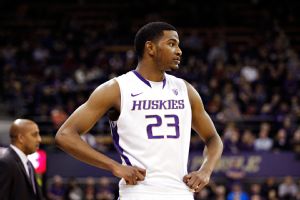 Joe Nicholson/USA TODAY SportsThe Clippers wanted to take the best player available and weren't focused on position needs when they drafted C.J. Wilcox.
Darren Collison
(point guard),
Danny Granger
(small forward),
Hedo Turkoglu
(power forward) and
Glen Davis
(forward/center) are all entering free agency on July 1, and the rest of the bench is barren -- except at shooting guard, where the Clippers also have a team option on
Willie Green
.
According to head coach and president of basketball operations Doc Rivers, the team wasn't concerned with finding a player that fit positionally, and they instead focused on finding the best player available.
"C.J. is a great shooter and I value shooting," Rivers said. "You know, when you're at [No.] 28, I don't think you can afford to pick [for] what needs you have. I have never thought that.
"We have Jamal and J.J., but [Wilcox is] the best player, and I think you can always make it work when you can get the best player. I thought as far as for shooting, in this league, you need it, you can never have enough of it, and I'm a big believer in it. I thought he may have been the best shooter in the draft, if not No. 1, No. 2."
It's not difficult to see Rivers' rationale. Wilcox averaged 18.5 points per game and posted a 60 percent true shooting number last season. He's certainly one of the best marksmen in the draft, shooting 39.1 percent on 7.2 3-point attempts per game. Already an elite spot-up shooter (he shot 43 percent on spot-up jumpers last season), he has the ability to pop out or curl off screens into open space and also pull up out of pick-and-rolls. He elevates nicely on his jumper and has a quick release and deep range.
For a team that ranked just 22nd in 3-point shooting percentage, Wilcox is a smart and useful addition. He is somewhat of a one-trick pony offensively, though he does his one trick exceptionally well. He isn't much of a slasher -- 72.1 percent of his shots were jumpers last season, and 52.9 percent of his shots were 3-pointers -- as evidenced by his 4.1 free-throw attempts per 40 minutes, a below-average mark for a scorer of his stature.
Wilcox improved as a ball handler over the course of his NCAA career, and though he can't create his own shot reliably or facilitate much, he takes advantage of unsuspecting defenders and lazy closeouts to penetrate into the paint. His 37.5-inch vertical gives him sneaky explosion, providing him with an edge when finishing at the rim in transition and half-court settings.
Though only 6-foot-5, he has a 6-foot-10 wingspan, implying he can defend small forwards at first glance. However, his thin frame holds him back. He's easily overpowered when bigger wings drive or post up, and he can't hold his own on the glass. Unless he bulks up another 10-15 pounds, Wilcox will probably only be able to defend 2-guards. He can feel asleep and lose his man occasionally, but on balance, he's a solid defender who uses his length properly (he averaged 1.0 block and 1.0 steal).
In a conference call with reporters at the Clippers' training facility Thursday night, Wilcox compared his game to
Danny Green
,
Ray Allen
and Richard Hamilton. Green is the most realistic comparison, as he's a 3-and-D specialist. Rivers was hesitant to praise Wilcox's defense prematurely, as he said there's a steep learning curve for all rookies defensively, but he sees his value as a two-way player.
"He's long, he's athletic, and it's rare when you get a shooter like that, not only he's a catch-and-shoot guy, too, that wants to defend. That's a great combination," Rivers said. "Like most of the time you get a shooter but [he] can't defend or a shooter but [he's] not athletic. We have a great shooter who can defend and is athletic, so I thought that was important."
In many ways, Wilcox is a carbon copy of Bullock, who was selected with the No. 25 pick in last season's draft.
Both projected as spot-up shooters with limited ball-handling and shot-creation skills. Neither was a stout defender in college, but both were average to slightly above-average because of their relative length. The issue, when comparing the two, is that Wilcox isn't as good of a shooter as Bullock in college, is smaller in both height and weight, and is older by a few months.
Age is the main concern with Wilcox. He's 23 and will turn 24 in December. Optimists will say he is more experienced and ready to contribute right away. Pessimists, however, will point to the fact that prospects that old rarely see significant improvement and that his ceiling isn't much higher than his current ability. Wilcox disagrees.
"I come in with a different approach and a different understanding of how things work sometimes -- not always getting what you want," Wilcox said. "I had to work from the bottom to the top. That's kind of always how I've been. Even though I'm 23, I feel like my game can expand in so many ways."
February, 24, 2014
Feb 24
9:16
PM PT
NEW ORLEANS -- A few hours after signing his contract with the
Los Angeles Clippers
, Glen "Big Baby" Davis was still not officially a Clipper.
After originally thinking he would be in uniform and available to play Monday night against the
New Orleans Pelicans
, Davis was told he still had to take a physical back in Los Angeles on Tuesday and would be able to make his debut with the team Wednesday against the
Houston Rockets
.
[+] Enlarge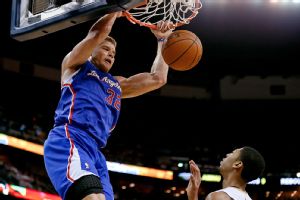 Derick E. Hingle/USA TODAY SportsWith players like Blake Griffin and DeAndre Jordan to build around, Glen Davis feels the Clippers are headed in the right direction.
So instead of being on the bench with his new teammates during the Clippers' 123-110 win over the Pelicans, Davis watched from the locker room.
After the game, he sat in front of his locker, staring at the final box score for more than 20 minutes, studying it as if it were game film.
"I'm looking at how I would fit," Davis said as he continued to look over the box score. "What minutes would I play, seeing who takes all the shots and seeing who takes some of the shots. You see the majority of the guys took double-figure shots and you got two guys who came off the bench with double-figure shots. I'm just seeing where I can do my job and I see some things."
As Davis looked over the box score and chatted with
Jamal Crawford
and
Reggie Bullock
, who were sitting to his left and right, he didn't mind having to sit out his first game with the team despite there being only 23 games left in the regular season to get acclimated.
"You want to play and you want to go out there and join your new team and be around the guys," Davis said. "But you have to handle your business first as far as everything else and there are a lot of games left to be played and I'll be ready."
While Davis was an easy fit for the Clippers on paper -- having played for Clippers coach Doc Rivers and the majority of his staff with the
Boston Celtics
from 2007-11, winning the title in 2008 -- his carefree demeanor also seemed to be a seamless fit for a Clippers locker room that likes to have fun.
As
Chris Paul
got ready to leave the locker room, he engaged Davis in a conversation about Lil Boosie, a rapper from Baton Rouge, La., where Davis was born and raised.
"I think Big Baby is going to bring energy, excitement and passion," Paul said. "Obviously I know him a little bit better than some of the other guys and I'm just excited about him. He's a great personality and competitor. He's someone that's going to compete night in and night out."
January, 9, 2014
Jan 9
12:11
AM PT
LOS ANGELES --
Chris Paul
's presence is still felt at
Los Angeles Clippers
games as he walks around the locker room pregame, talking to his teammates, during games as he sits next to the assistant coaches and yells out instructions, and after games, as he leaves with his young son, "Little Chris," by his side.
[+] Enlarge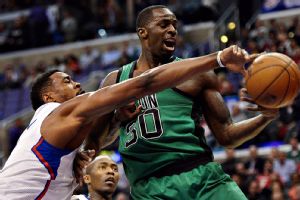 Robert Hanashiro/USA TODAY SportsThe Clippers picked up their third win in the past four games without Chris Paul.
Paul's presence is everywhere but on the court right now, but the Clippers -- at least in the short term -- are doing just fine without their leader.
They beat the
Boston Celtics
on Wednesday for their second straight win without Paul and third in their past four games without him. It's a small sample size, but life without Paul might not be as bad as expected for the Clippers.
"I'm very encouraged," coach Doc Rivers said. "There's some things we have to clean up. I need to do a better job figuring out the second unit. I've got to keep a couple stars on with both groups. With Chris out, and J.J. [Redick], it changes a little bit. Whenever you sub now, the guys you're usually subbing are already in. I thought they didn't have enough scoring in that one stretch in the second quarter, and I thought that hurt us."
Rivers' issues with the second team might get shored up in the coming days with Redick expected to return to the lineup Friday against the
Los Angeles Lakers
for the first time in six weeks and
Reggie Bullock
expected to be back soon after that for the first time in a month.
October, 23, 2013
10/23/13
10:28
PM PT
By
Jovan Buha
| Special to ESPNLosAngeles.com
LOS ANGELES -- For the first time during the 2013-14 preseason, the
Los Angeles Clippers
had their starting lineup intact and playing together.
Newcomer
J.J. Redick
(14 points, three 3-pointers) and rookie
Reggie Bullock
made their long-awaited preseason debuts, as
Matt Barnes
(sore left calf) is now the only rotational player who is still injured.

The result was a narrow 103-99 victory over a young and rebuilding
Utah Jazz
team the Clippers routed less than two weeks ago in Salt Lake City (106-74).
Despite how competitive the fourth quarter was, coach Doc Rivers closed with the second unit, so perhaps the final score wouldn't have been so close if
Chris Paul
(14 points, six rebounds, 10 assists),
Blake Griffin
(15 points, six rebounds) and
DeAndre Jordan
(nine points, seven rebounds) finished the game.
Still, that's what the preseason is for -- to iron out the kinks, develop team chemistry and determine what rotation and lineup combinations work best. The Clippers' bench was put to the test Wednesday night, and they came up big in crunch time.
Here are three takeaways from the game:
The new guys
Redick's presence was felt immediately, as he started in his projected slot at shooting guard. On the Clippers' third possession, Redick curled off a Jordan screen on the left wing, caught a pass from Paul and nailed an open 19-foot jumper. From then on he was confident and assertive, and didn't pass up any open looks.
The offense's spacing and ball movement looked considerably better with Redick on the court, but his greatest impact came on the defensive end. Despite giving up at least three inches to talented Jazz swingman
Gordon Hayward
, Redick played solid on-ball defense and denied Hayward the ball at nearly every turn. The moment Redick checked out in the first quarter, Hayward quickly reeled off five points.
July, 23, 2013
7/23/13
2:17
PM PT
By
D.J. Foster
| ESPNLosAngeles.com
Summer league is like a basketball house of mirrors. As roles get distorted, many players cease to resemble what we envisioned them to be. That's how Otto Porter can look like a D-League player while Jeff Taylor looks like the second coming of
Scottie Pippen
. It's a confusing place.
Every once in a while, however, you'll see a player that remains unchanged by the setting and his surroundings. This year, that player was
Reggie Bullock
.
There's an old basketball mantra that goes like this: If you can shoot, you can play.
Reggie Bullock can shoot.
The
Los Angeles Clippers
tabbed the UNC product with the 25th pick for that very reason, and his debut display didn't disappoint. Bullock's release is high and tight, his motion is efficient, and he always seems to be squared up to the rim. It's a shooter's shot, and it's surprising when it doesn't splash through the net.
Analyzing a pure shooter like Bullock can become dangerously results-oriented, so it's important to look at how Bullock creates those opportunities to unleash that pretty jumper.
That's where Bullock truly stood out in Las Vegas, as no one I saw manipulated their defender with more regularity and with more ease. Bullock was brilliant using off-ball screens, curling tightly to the open space on the floor, remaining balanced with his feet under him at all times. Every decision off the screen seemed to be the right one. It wasn't uncommon to see Bullock shoot more than he dribbled over the course of a game.
That ability to use screens should quickly endear the rookie to his coaching staff. Doc Rivers loved using a single-double baseline screen in Boston for
Ray Allen
to run around, and now
J.J. Redick
will play that role with the starters, with Bullock providing some offensive continuity for the second unit.
There's a lot of guesswork typically involved in projecting a draft pick's fit and role in July, but that doesn't apply to Bullock. That speaks to a larger point of having an incredibly well-built roster, but also to the importance of knowing one's capabilities on the court. Bullock can't dribble whatsoever, and so he rarely does. He can't fly down the court, euro-step, and finish creatively at the rim, so he doesn't try to. There's nothing forced about his game.
While Bullock is certainly limited as a scorer and creator, those weaknesses in skill are outweighed by his strong sense of self. It can take years for some prospects to accept their limitations, but Bullock seems to understand what he is as a player already. He's a role player -- a specialist who knows how to stay in his lane.
Teams that are serious about winning championships need those players. You don't need to look much further than San Antonio for an example, where
Danny Green
, another sweet-shooting wing with size from North Carolina, nearly tipped the scales in the Finals.
Every prospect wants to become great, but very few are willing to adapt their definition of greatness to achieve it. Bullock may project to be "just" a 3 and D guy, but he has all the physical and mental tools to excel in that role going forward.
July, 8, 2013
7/08/13
3:25
PM PT
By
Jovan Buha
| ESPNLosAngeles.com
PLAYA VISTA, Calif. -- Heading into summer league and training camp this fall,
Los Angeles Clippers
first-round draft pick
Reggie Bullock
has one major advantage over most other rookies: He already has a relationship with his team's coach and superstar point guard.
Bullock, whom the Clippers selected out of North Carolina with the 25th pick in last month's draft, squared off against Doc Rivers' son, former Duke phenom and current
New Orleans Pelicans
guard
Austin Rivers
, on several occasions during the 2011-12 NCAA season.
"I've known him for a while," Bullock said of Doc Rivers. "It's great to just have someone like that, another father figure, in my life."
The 6-foot-7, 205-pound swingman also is familiar with
Chris Paul
, as he played on Paul's first 15-and-under AAU team in North Carolina and was in communication with the point guard throughout the draft process.
Bullock compared his style of play to
Golden State Warriors
guard
Klay Thompson
,
San Antonio Spurs
guard
Danny Green
and
Miami Heat
guard
Ray Allen
but added that he believes his defense will ultimately be his calling card.
"I'm just going to play my game," Bullock said. "[The Clippers have] seen so much film on me that they know what I'm capable of doing, which is shooting the ball and defending. I'm just going to try to be hectic on defense and just try to knock down shots when they come to me."
While Bullock said he feels comfortable playing both shooting guard and small forward, he admitted he needs to add some bulk before matching up against some of the NBA's bigger small forwards.
Despite all the reported moves the Clippers have made since the start of the free-agency moratorium July 1, Rivers and vice president of basketball operations Gary Sacks believe Bullock has a legitimate chance to be part of the Clippers' wing rotation because of his 3-point shooting and defense.
"We love his shot," Rivers said. "We love his size. Shooting in our league is huge. He can do that. He can do more than that. I think you'll be surprised with his defense."
Bullock averaged 13.9 points, 6.5 rebounds and 2.9 assists per game last season. He shot 38.7 percent from beyond the arc at North Carolina, and his statistics improved across the board in each of his three seasons.
The 22-year-old said he received congratulatory tweets from Paul,
Blake Griffin
,
DeAndre Jordan
and
Maalik Wayns
.
Bullock will wear jersey No. 25, which was Rivers' old jersey number with the Clippers.
Coming from North Carolina, he said he's excited to play in "one of the best cities in the world" and on one of the league's best teams.
Most of all, though, Bullock looks forward to playing alongside Paul and under Rivers, whom he considers among the league's best motivators and tacticians.
"He's definitely one of the best coaches in the league," Bullock said. "I like how he uses his wings. He loves shooting, which is what I'm trying to bring to this organization. He coaches players.
"He's not going to tell you what you want to hear. He's going to tell you what you need to hear."
June, 28, 2013
6/28/13
12:01
PM PT
By
Jovan Buha
| ESPNLosAngeles.com
PLAYA VISTA, Calif. -- Less than 48 hours after stepping off an airplane from Boston,
Los Angeles Clippers
head coach and senior vice president of basketball operations Doc Rivers went to work determining the future of the franchise.
With the Clippers acquiring their new coach just two days before the 2013 NBA Draft, Rivers and vice president of basketball operations Gary Sacks had little time to sit down and watch film of their top prospects. Interestingly enough, though, the decision-makers were targeting a similar mold of players -- long and athletic wing players who could shoot three-pointers and defend.
Which is why the Clippers' front office had no hesitation selecting North Carolina swingman Reggie Bullock -- one of the top shooters in the draft and a smart, solid defender -- when he slipped to the 25th pick on Thursday night.
"There was a group of guys that we really liked and we brought in here that we thought could contribute," Sacks said. "But quite honestly, Reggie (Bullock) was our No. 1 guy."
As the NBA continues to transition into a smaller style of play that's dependent on spacing, ball movement and shooting, Bullock fits the model of the coveted "3-and-D" player.
The natural comparison for Bullock (6-7, 200) is former Tar Heel and current
San Antonio Spurs
guard Danny Green, another dead-eye shooter and stout defender who provides little else in terms of penetrating and playmaking. Bullock isn't as strong a defender as Green was, but his size and positional versatility -- he can play small forward and shooting guard -- make him perhaps the better prospect.
Bullock shot 43.6 percent on 5.8 three-point attempts per game this season, a figure that was among the best in the nation (sixth among players with 200 or more attempts). More importantly, he made 44 percent of his catch-and-shoot attempts, a strong indication that he can become an elite spot-up shooter in the NBA. He can comfortably shoot a few feet behind the 3-point arc and has a high and quick release on his shot.
In the half-court setting, most of his offense comes off of catch-and-shoot opportunities (22.6 percent) or screens (20 percent). Bullock rarely handles the ball or tries to force plays offensively, and as a result, had one of the lowest turnover rates in the country (.12 times per possession).
"He never put himself in a position that he could make a mistake," Rivers said of watching Bullock's workout in Boston. "And that's really nice when you see players like that. That takes years sometimes for guys to understand who they are. One thing he did when he was open was he shot it. There was no hesitation. When he wasn't open he passed it and he didn't try to do too much."
June, 27, 2013
6/27/13
9:55
PM PT
PLAYA VISTA, Calif. -- The last time Doc Rivers was in a
Los Angeles Clippers
draft war room was in 1998. Back then he was an analyst for TNT and he sat beside Clippers owner Donald Sterling as the team selected
Michael Olowokandi
with the first overall pick.
[+] Enlarge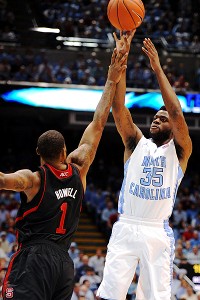 Cal Sport Media via AP ImagesReggie Bullock was one of North Carolina's best 3-point shooters during his time in Chapel Hill, and that's exactly what the Clippers need.
Rivers is hoping his first pick as the coach and senior vice president of the team 15 years later will pan out slightly better than that one did.
The Clippers selected North Carolina guard
Reggie Bullock
with the 25th pick of the first round of the NBA draft on Thursday. The selection was Rivers' first move with the Clippers after being introduced at a news conference on Wednesday.
Bullock is a long, athletic wing, which was a priority for the Clippers coming into the offseason. Bullock averaged 13.9 points, 6.5 rebounds and 2.9 assists last season during his junior season. Bullock's statistics across the board improved in every one of his three seasons at North Carolina.
"We had targeted him and he was one of the guys we wanted," Rivers said. "We felt like we needed more shooting and he does that. I love the fact that he's a big program guy. He's a guy that understands his role. That's what he did at North Carolina."
Rivers actually got to see Bullock in person a couple of times when he went to see his son, Austin, who was a Duke guard, play against North Carolina.
"I've been to two of his games live, which is unusual for an NBA coach to say that," Rivers said. "He has size and can play the small forward position and can shoot it on the catch and can defend. Those are all the things we targeted and we got it."