Los Angeles Clippers:

Serge Ibaka
November, 14, 2013
11/14/13
12:22
AM PT
LOS ANGELES -- Doc Rivers still doesn't know what kind of a team the
Los Angeles Clippers
are.
He knows what they were when he arrived five months ago and he knows where they can be five months from now, but he's still trying to figure out what kind of team he's coaching at the moment.
There were times during the Clippers' 111-103 win over the
Oklahoma City Thunder
on Wednesday night where Rivers could see glimpses of what he hopes will one day be the finished product, but for now it remains a work in progress.
[+] Enlarge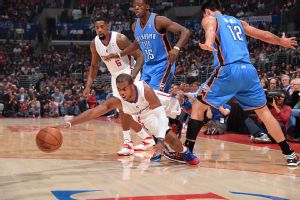 Andrew D. Bernstein/NBAE/Getty ImagesChris Paul would rather the Clippers be the better team at the end of the day, not necessarily the tougher one. "Ain't nobody in the NBA holding the world championship belt," he said after the Clippers' win over the Thunder.
"We've had it a couple times," Rivers said. "The beginning of the game, the fight back before the end of halftime, and the third quarter, where every single guy came in and did something. This is the vision."
Rivers was cautious not to make too much of winning the ninth game of the season in mid-November. Far too often last season, these games were viewed as barometer games or statement games that were quickly forgotten come playoff time.
Every game technically matters, but the Clippers have learned over the past two seasons that big wins over big teams in the regular season aren't really a big deal when the postseason comes around. You can win 17 games in a row, win 56 games in the season and win the division and still have your season end with four straight losses in the first round of the playoffs.
"It's a regular game now," Rivers said afterward. "It's one of 82, but during the game it wasn't, clearly. You could see both teams had a lot of interest in winning the game. I like games like this. They're fun to be in. You learn a little bit about your team."
So what did Rivers learn?
"That we can fight back," Rivers said. "They were the more physical team, and at halftime we talked about it and they scored 41 points in the second half and had zero transition points in the third quarter. That's who we can be for 48 minutes. We're just not there yet."
The Clippers certainly showed their fight with six seconds left in the second quarter when
Blake Griffin
and
Serge Ibaka
got tangled up under the basket and
Matt Barnes
came in and shoved Ibaka. The play resulted in the ejections of Barnes and Ibaka, and a technical foul on Griffin.
It was clearly the turning point as the Clippers responded by outscoring the Thunder 30-16 in the third quarter and holding Oklahoma City to just 29.4 percent shooting in those 12 minutes.
"It was pretty intense,"
Chris Paul
said. "Our defense was tremendous in the second half. We started helping each other and limiting their fast-break points and got the win. We were two totally different teams from the half to the second. Coach challenged us at halftime, told us we need to bring it a little more."
November, 13, 2013
11/13/13
10:38
PM PT
LOS ANGELES -- The
Los Angeles Clippers
did a lot of things last season. They won 17 straight games, won 56 games and won the division. But one thing they did not do was beat the
Oklahoma City Thunder
. They lost all three times they played the Thunder.
This season, they beat them in their first meeting, defeating the Thunder 111-103 on Wednesday night at Staples Center.
It was a signature win for a team still searching for an identity and trying to get over the hurdle of defeating teams like the Thunder and
San Antonio Spurs
in the Western Conference.
How it happened:
Matt Barnes
shoved
Serge Ibaka
, causing both players to be ejected when Ibaka and
Blake Griffin
got tangled up on a play with six seconds left before halftime. That ended up being the turning point in the game as the Clippers outscored the Thunder 30-16 in the third quarter and never looked back.
What it means:
The Clippers finally beat the Thunder after losing all three meetings last season and stayed perfect at home, winning their third straight game and fourth straight at home.
Hits:
Six Clippers scored in double figures as they spread the wealth throughout the game. Griffin finished with 22 points, 12 rebounds, seven assists and three steals, and
Chris Paul
had 14 points and 16 assists.
Misses:
Give Barnes credit for standing up for his teammates and causing Ibaka, who was 6-for-6, to get ejected, but you have to knock him for going 0-for-5 before his ejection and also tweeting during the third quarter: "I love my teammates like family, but I'm DONE standing up for these n---as! All this s--- does is cost me money. ..." The tweet was later deleted.
Stat of the game:
Paul became the first player in Clippers history to have at least 10 points and 10 assists in each of his first nine games of the season. The last NBA player to do this was Magic Johnson during the 1990-91 season, when he did it in the first 11 games.
Up next:
The Clippers play the
Brooklyn Nets
on Saturday at Staples Center in the first of two hyped games between Doc Rivers and his old
Boston Celtics
players
Kevin Garnett
and
Paul Pierce
. Rivers would love to have seen Garnett and Pierce join him in Los Angeles but when subsequent deals between the Celtics and Clippers were blocked by the league, Garnett and Pierce ended up in Brooklyn. This is the first time all three will be on the court together since last season.
March, 3, 2013
3/03/13
7:22
PM PT
LOS ANGELES –
Los Angeles Clippers
forward
Blake Griffin
said he was surprised
Oklahoma City Thunder
forward
Serge Ibaka
wasn't ejected after Ibaka hit Griffin's groin in the fourth quarter and was given a flagrant only one foul.
"Yeah, I kind of was," Griffin said when asked if he was surprised that Ibaka wasn't ejected. "We'll see."
The league could review the play and upgrade it to a flagrant-2 foul. If Ibaka were suspended for a game, he would miss Tuesday's game against the
Los Angeles Lakers
.
With 1:52 left in the game and the Thunder holding a 99-93 lead, Griffin and Ibaka were tussling in the paint when
Matt Barnes
hit a 3-pointer. After the shot, Ibaka and Griffin continued to jostle for position and Ibaka brought his hand down and hit Griffin's groin. The referees reviewed the play and gave Ibaka a flagrant-1 foul. Griffin made one of two free throws and
Jamal Crawford
made a 3-pointer to give the Clippers a 100-99 lead with 1:30 left after the seven-point possession.
Ibaka said there was no intent to foul and didn't think he would be ejected or suspended.
"There wasn't any intent," Ibaka said. "I was just trying to get good position and he had his hands on me and I was just trying to get in position to get the rebound. I was not really trying to hurt him like that. We were fighting in the paint to get good position for the rebound. It was all about positioning."
Griffin and Ibaka were exchanging blows throughout the game, but Griffin said he didn't do anything to provoke Ibaka to hit him below the belt.
"Did I hit him first in the [groin]? No," Griffin said. "It's basketball. … Sometimes you take it a little too far, but I wasn't provoking him or anything like that."