Los Angeles Clippers:

Solomon Jones
March, 18, 2012
3/18/12
6:34
PM PT
By
Pedro Moura
| ESPNLosAngeles.com
There have been six mainstays in the Los Angeles Clippers rotation since the 2011-2012 season started on Christmas Day: Chris Paul, Mo Williams, Randy Foye, Caron Butler, Blake Griffin, DeAndre Jordan.

Those six started the season with the team and continue playing in most every game. Then there are the five players the team has added into the mix since then, either by trade, free-agent signing or return from injury. In order, those are Reggie Evans, Kenyon Martin, Eric Bledsoe, Bobby Simmons and, after making his debut in Sunday's win over the Detroit Pistons, now Nick Young.

And that doesn't count mid-year additions Solomon Jones and Courtney Fortson, who both played significant minutes with the Clips before getting released and landing elsewhere.

That's a lot of new pieces to add to a puzzle, especially considering they've all joined the team over an 84-day period in which the Clippers have played 44 games. And, to make matters worse, they've all been separate additions, joining the team weeks apart from each other.

How have the Clippers done it?

"It's not easy," coach Vinny Del Negro said before Sunday's game when asked that question. "We have to do a better job incorporating and getting a feel for guys, and that's tough. But that's the situation we're in.

"You've just gotta work together a little bit better and connect a little bit more as a team, because we're incorporating all types of players and personalities and you have to manage all that."

Blake Griffin put it a little more simply.

"It feels like we add a new piece every month or so," Griffin said after Sunday's game. "It's like every month you're forced to add someone new. I don't want to say it disrupts things, but it changes things.

"We're not used to playing with a guy like Nick. He's been in L.A. for two days now, I think."

Young definitely changed the shape of Sunday's game. Because he logged 29 minutes in the victory, Williams played only 24 -- the shortest time he's been on the court in almost a month. And Bledsoe, who had played in each of the Clippers' last 15 games, didn't play at all.

That was similar to what happened when the Clippers added Simmons at the end of February. Ryan Gomes has only played three minutes since Simmons was signed.

Evans also experienced a slight downturn in minutes right after Martin made his debut in early February.

Del Negro said Sunday he tries to focus on the "rhythm of certain lineups," and that makes sense. But there obviously wasn't going to be much rhythm with Young and the rest of the players on the floor during his 29 minutes against the Pistons.

But, as Griffin said, the Clippers can help ease the transitioning process if they turn up the energy, like they did in the fourth quarter and overtime period Sunday, when they outscored Detroit 30-18. Young was on the floor for 16 of 17 possible minutes in that stretch.

Said Griffin: "The thing is, if we play hard, we can kind of erase or make up for those mistakes that we make because we're new."
February, 7, 2012
2/07/12
11:57
AM PT
The Clippers waived forward Solomon Jones, the team announced Tuesday.

Jones, who was signed by the team Jan. 3, averaged 0.6 points and 1.7 rebounds in 10 games with the Clippers this season.

On Sunday, forward Kenyon Martin joined the team after signing on Friday and could possibly see his first playing time of the season Wednesday when the Clippers play the Cleveland Cavaliers.

The move brings the Clippers' roster down to 14 players and gives the team some flexibility to possibly sign a shooting guard after Chauncey Billups injured his Achilles tendon on Monday in Orlando.
February, 4, 2012
2/04/12
9:53
PM PT
By
Dan Feldman
| ESPNLosAngeles.com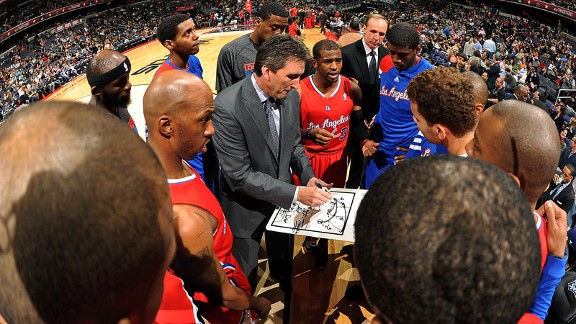 Andrew D. Bernstein/NBAE/Getty ImagesThe Clippers have good chemistry so far and adding Kenyon Martin figures to strengthen the bench.
WASHINGTON --
Chauncey Billups
had already heard
Kenyon Martin's
questions.
Does this organization want to win? Is there a need for him?
They were the same questions Billups asked when the Clippers claimed him off amnesty waivers in December. Billups found the answers he sought and apparently delivered them to Martin, who signed with the Clippers on Friday after "a real friend-to-friend conversation" with Billups.
Clippers coach
Vinny Del Negro
says he expects Martin to join the Clippers in Orlando, where Los Angeles plays on Monday. Del Negro met with Martin last month, shortly after Martin severed tied with the Xinjiang Flying Tigers in China.
"He looked like he was in good condition," Del Negro said. "But that's when he had just kind of finished up. Kenyon's an excellent athlete. I don't think, even if he's not going to be game condition, because he hasn't played. Those are questions that will get answered once we sit down and work out and get him situated."
Until then, what about Martin's questions?
Does this organization want to win?
Claiming Billups probably answered that. As did matching
DeAndre Jordan's
offer sheet from the Warriors. And in case neither of those moves delivered the message, trading for Paul certainly did.
Now, the Clippers are affirmatively answering the sub-question: Can this organization win?
The Clippers' 107-81 win over Washington was their fifth in six games and their biggest road victory since a 118-90 win over the Warriors on Nov. 6, 2009. They certainly look as if all their new pieces are clicking.
Then again, the Clippers have won six straight against the Wizards, a streak that dates to before Los Angeles even drafted
Blake Griffin
. Wins over lowly Washington aren't exactly why Martin signed.
The Clippers clearly didn't need him Saturday against
JaVale McGee
,
Trevor Booker
and
Kevin Seraphin
. But if all goes to plan, Martin will come in handy against teams like the Oklahoma City Thunder -- with a more imposing set of bigs in
Kendrick Perkins
,
Serge Ibaka
,
Nick Collison
and
Nazr Mohammed
-- deep into the playoffs.
"Kenyon is a position kind of, mentality-wise, what I was in," Billups said. "I don't want to go nowhere unless they're really trying to win and win big and not just make the playoffs, but try to win it all. I feel like that's what this organization is trying to do, and that's what I conveyed to Kenyon, and that was enough."
February, 3, 2012
2/03/12
4:40
PM PT
By
D.J. Foster
| ESPNLosAngeles.com
When the
Chris Paul
trade was first announced, there was a small contingency of critics who felt the Clippers had sacrificed too much in the deal. A lack of depth was given as the primary reason they would be unable to contend for a title in a brutally condensed 66-game season.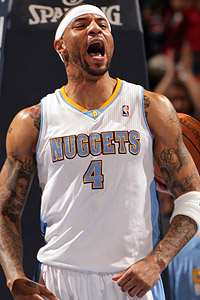 Doug Pensinger/Getty ImagesKenyon Martin figures to bring a new element to the Clippers' bench as a threat in pick-and-roll situations.
Early on, despite the Clippers' current place atop the Pacific Division standings, there has been some legitimacy laid to those claims. The Clippers' second unit has been outperformed on a consistent basis, and coach
Vinny Del Negro
has struggled to find a way to rest his star players without losing leads. Without any real depth in the frontcourt, the Clippers looked more vulnerable than deeper contenders in the Western Conference such as Denver or Portland.
Despite facing some pressure to do so,
Neil Olshey
, Clippers vice president of basketball operations, never put the cart in front of the horse. Instead of panicking and trading a red-hot
Mo Williams
for multiple role players, or moving the last young asset on the team in
Eric Bledsoe
, the Clippers remained patient for a solution to shore up their depth.
The Clippers have found that solution in veteran forward
Kenyon Martin, who agreed to terms on a contract Friday
for the mini-mid-level exception of $2.5 million.
Even if Martin, an All-Star in 2004, isn't the player he once was after multiple injuries, he still represents a huge upgrade to the frontcourt. The Clippers have given combo-forward
Ryan Gomes
16.3 minutes a game and backup center
Solomon Jones
9.7 minutes a game only to watch them combine for a Player Efficiency Rating (PER) of less than 5.0. For comparison sake, the league average PER rating is 12.7 this season. Martin, meanwhile, has a career PER of 15.4. Just by simply absorbing the minutes given to Gomes and Jones, Martin represents an upgrade.
Like his former teammate
Chauncey Billups
, Martin has found a way to cheat Father Time a bit and delay his decline. Defensively he remains a solid weakside defender who is capable of getting up and challenging shots at the rim. For a team lacking any shotblocking threat outside of
DeAndre Jordan
, Martin's presence in the paint will be well received.
January, 22, 2012
1/22/12
9:56
PM PT
By
Pedro Moura
| ESPNLosAngeles.com
LOS ANGELES -- Here are a few items of note from the Los Angeles Clippers' 103-91 win over the Toronto Raptors at the Staples Center on Sunday.

Mighty Mo

Mo Williams has shot lights-out since he returned from injury Wednesday against Dallas, scoring 26, 25 and 26 points in consecutive games and doing it in an average of just 31 minutes per night.

He's taken exactly 15 shots in all three games. And, in his last 74 minutes of play, Williams has scored exactly 74 points. That's efficiency -- as was his start to the fourth quarter Sunday, when he scored the Clippers' first 17 points of the period over a six-minute stretch.

Williams said that was the product of an "echo effect" created by the reserves he was on the floor with at that time, including Solomon Jones and Reggie Evans.

"I didn't do it by myself," Williams said. "Obviously my teammates know how to set screens. We really executed and got me the ball in spots."

Clippers coach Vinny Del Negro has always stressed that Williams needed time to adjust to his new sixth-man role with Chris Paul and Chauncey Billups. By now, he's gotten a lot of that time, and it's showing.

"I think he's a little more comfortable knowing when he's going in," Del Negro said. "Guys are looking for him and we're running some sets through him and he's been hot."

Blake's free throws

Over his last 10 games, Blake Griffin has made just 33 of 75 attempts from the free-throw line, good for just a 44-percent clip.

That's a pretty terrible number -- far below the 64-percent number he finished his rookie season with and farther below the number he converted in the second half of the season, about 70 percent. It's also worse than DeAndre Jordan's numbers over that same stretch.

He made just 6 of 14 attempts on Sunday against the Raptors, shooting worse from the line than he did from the field.

What's wrong? From an aesthetic perspective, it looks like Griffin just might have a hitch in his delivery. He always pauses briefly after bending his knees and coming up to shoot it, but sometimes that pause is a long one and sometimes it's quite quick. It doesn't look the same every time.

Del Negro had some interesting comments about it after Sunday's game.

"He's been getting to the line 10-plus times," he said. "He's just going through one of those spells right now. He's going to keep on working on it and there's some technical things that he's working on right now to improve overall.

"Sometimes you might take a step back to get to the level that he wants to get to. But he's going to get to the line and I have confidence in him to make it...Sometimes it's easier for him than others, but nobody works harder than Blake, and I expect him to improve throughout the season, like he did last year."

Billups the point guard

We saw it for a decade straight, but Sunday's game might be the last time in a while we saw Billups play point guard, at least for an extended stretch of time, with Paul expected to return from the hamstring injury that caused him to miss five games Wednesday against the Lakers.

If that ends up being the case, it was a nice way for Billups to go out Sunday. He had 14 assists and only two turnovers in 31 minutes, shooting poorly but passing the ball excellently.

"Chauncey's going to read the game," Del Negro said Sunday. "Sometimes we're going to need him to be more aggressive offensively, but he picks his spots. We had a good rhythm going offensively, so he was making plays for us."

He'll still have the opportunity to make plays when Paul returns, but not nearly as many. And he might need an extra bit of time to adjust back to the shooting guard position after he spent this week practicing at the point, pretty much.

The last time Billups recorded as many as 14 assists in a single game? Dec. 2, 2008, as a member of the Denver Nuggets, against the same Toronto Raptors.

Final notes

The Clippers announced a 10th-consecutive sellout at Sunday's game, meaning that every home game so far this season has been termed a sellout. But Staples Center looked less than full at tip-off...Forward Brian Cook was dressed for the first time in a few games after being bothered by a foot injury of late, but he did not come into the game at any point...Former Clipper forward Rasual Butler had three points in 17 minutes for the Raptors.