Los Angeles Clippers:

Steve Nash
July, 15, 2013
7/15/13
10:45
AM PT
LOS ANGELES –
Jared Dudley
and
Steve Nash
were teammates with the
Phoenix Suns
for four seasons before Nash was traded to the
Lakers
last summer.
This summer, Dudley joined Nash in Los Angeles when he was traded to the rival Clippers.
[+] Enlarge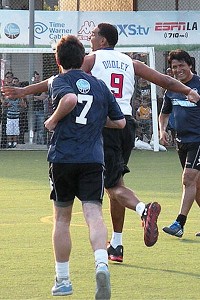 Jennifer Cerros/ESPNLosAngelesNew Clipper Jared Dudley celebrates a goal during a charity soccer match for Steve Nash's foundation.
On Sunday, the old friends were teammates once again during Steve Nash Foundation's Showdown L.A.,
a charity soccer event
.
"As many assists as he's given me," Dudley said. "The least I can do is give him an assist out here."
Dudley went from playing with Nash in Phoenix to now playing with
Chris Paul
in Los Angeles and he said the opportunity to once again connect with an elite point guard is what excited him about the opportunity to come to Los Angeles.
"That was the biggest thing," Dudley said. "If you had one point guard to pick to play with right now it's him. He's in his prime. He's the best point guard in the league right now. It's a dream come true. It makes you want to become better. I'm working even extra hard this offseason knowing the chemistry coming off curls and three-point shots will be key to help the team."
Dudley hasn't played with Paul yet but can already see the similarities between being teammates of both Paul and Nash in the prime of their careers.
"These two point guards love to have the ball in their hands," Dudley said. "They have the ball in their hands more than the average point guard. They like to dribble and create for other people. What Steve Nash and Chris Paul do is they kind of hide your weaknesses. They have the ball and they're going to give it to you in a position where you're going to score or have an advantage offensively. I played with one before and now I get to play with the other one so I'm a lucky guy."
Dudley scored a goal Sunday as Team Nash beat a team captained by Los Angeles Galaxy midfielder Robbie Rogers. After the goal, Dudley took of his soccer jersey to reveal his Clippers No. 9 jersey. Many of the fans in attendance at the Red Shield Community Center in Downtown Los Angeles were Lakers fans so he got booed as Nash laughed at his teammate's antics.
"Dudley is always promoting," Nash said, laughing. "I expect nothing less."
During the offseason, Dudley lives in his home in San Diego where the Clippers used to play and he has already noticed a difference when he's in public and gets approached by Clippers fans.
"There are so many Clippers fans in San Diego," Dudley said. "It's like when you're in high school and you're picking your college and decide to stay at home. I'm basically staying at home with the Clippers and what team is more exciting in L.A.?"
The Clippers may be the most exciting team in L.A. but the most talked about is still the Lakers and Dudley was still trying to figure out why
Dwight Howard
would turn down a max contract from the Lakers to take less and play for the
Houston Rockets
.
"For me personally, I would never leave the Lakers," Dudley said. "That franchise might be down now but how long are the Lakers really down? Top free agents want to go there so if it's not Dwight, give it two or three years and someone else big time is going to go there. They have too much history and too many championships."
Dudley grew up a Lakers fan but is now looking forward to being a part of the newfound Lakers-Clippers rivalry that has heated up over the past two seasons.
"When I grew up it was
Michael Jordan
and
Chicago Bulls
, the Lakers, the
Boston Celtics
, those were the teams you loved or hated and me being from San Diego, you loved the Lakers. So getting to play the Lakers four times a year is an honor but now that I'm a Clipper, I have to hate them and I want to beat them."
After missing the playoffs the last three seasons in Phoenix, Dudley said he is glad to be back on a team that will contend for a championship and expects nothing less of the Clippers going into next season.
"I like being on good teams," Dudley said. "When you're on a good team you don't care who is getting paid, you're just worried about what you can do to sacrifice to win. With them losing in the first round, all of them will be hungry. You bring in Doc Rivers, one of the best coaches, so we're all going to buy in; I think it's an exciting time for Clippers fans."
September, 18, 2012
9/18/12
11:37
AM PT
Los Angeles Clippers forward Blake Griffin thinks the Los Angeles Lakers look good on paper after their off-season acquisitions of Dwight Howard and Steve Nash, but he found out firsthand last season that paper champions in the off-season don't always equate to actual champions during the season.
"On paper it looks great," Griffin
told the Daily Oklahoman
during a recent visit to Norman. "People said the same thing when we got C.P., Chris Paul. But they still got to go out there and play."
Griffin also thinks the Oklahoma City Thunder and San Antonio Spurs, who met in the Western Conference Finals last season, will have a lot say about which team comes out of the West this season.
"I think there's a lot of tough teams in the Western Conference. There's one right here (in Oklahoma City) that the Lakers have to get over," Griffin said. "The Spurs have been a good team for the past 500 years. And I think we're preparing for that. So that's kind of what you expect people to do. You expect them to hand out the trophy in the middle of the summer. So we're not worried about that. We're not worried about just the Lakers."
Griffin made similar comments to
ESPNLosAngeles.com last month
about the new-look Lakers.
"It's huge for L.A. basketball. It's great for the Lakers and great for the NBA in general to have all those players on the same team," Griffin said. "It's going to be fun to play against them and I'm looking forward to playing against them. It's going to bring a lot of excitement but they still have to play just like everybody else."
April, 19, 2012
4/19/12
11:36
AM PT
Clippers (39-23) vs. Phoenix Suns (32-30) at US Airways Center, 7:30 p.m. PT

Five storylines to track:

1. Phoenix rising: It has been somewhat of a roller-coaster season for the Phoenix Suns, but they have had success whenever they have played the Clippers, especially in Phoenix. The Suns have won two of three meetings this season against the Clippers and overcome double-digits to win both games. All four meetings this season have come after the All-Star break. Phoenix has won nine-straight home games over the Clippers, who last won in Phoenix on April 17, 2007. Phoenix has won 24 of the last 31 meetings, including 16 of the last 19 and Suns coach Alvin Gentry, who used to coach the Clippers, is 11-2 against his old team since taking over as head coach in Phoenix.

2. Playoff push: While the Clippers are just a half game behind the Los Angeles Lakers for the Pacific Division lead and the No. 3 seed, the Suns are just a half game behind the Utah Jazz for the No. 8 seed in the playoffs. Phoenix was six games under .500 at the All-Star break and is trying to become the first Western Conference team since the 1996-97 Suns to earn a playoff berth after entering the break six or more games under .500. The Suns are 18-10 (.643) since the All-Star break. Among Western Conference teams, only San Antonio (21-6) and the Lakers (20-9) have a better record. Overall, only the Spurs, Lakers, Chicago (20-7), Boston (22-9) and Indiana (19-10) own a better record since the break.

3. Streaking: The Clippers have won five straight and 13 of their last 15 games since March 24. The Clippers' 13-2 record equals the best 15-game stretch in franchise history. The Clippers had three 13-2 runs during the 1978-79 season, when they were known as the Buffalo Braves. The Clippers are also on the verge of winning six straight games twice in one season. They hadn't won six straight in 20 years before doing so to begin this 15-game run. The Clippers have also won three road games in a row. The Clippers are 16-14 (.533) on the road this season and are attempting to finish the season with a .500 or better road record for the first time since moving to Los Angeles in 1984. The most road wins for the Los Angeles Clippers was 20 when they went 20-21 during the 2005-06 season.

4. Nash v. CP3: Steve Nash is 10 assists shy of passing Oscar Robertson for fifth on the NBA's all-time list. It will leave Nash behind only all-time leader John Stockton, active leader Jason Kidd, Mark Jackson and Magic Johnson in NBA history. Nash is second in the NBA in assists (10.8) and has led the NBA in assists five times in the last seven seasons, including last year. Chris Paul is just behind Nash in third place in assists this season but first in steals (2.47). This season Paul is pace to be one of five players in NBA history with a season of at least 19.0 points 9.0 assists, 3.5 rebounds and 2.0 steals per game.

5. Moving up: The Clippers are 16 games over .500 (39-23) this season. It's the third time the Clippers have been more than five games over .500 this many games into a season since moving to L.A. They finished the season eight games over .500 in 1991-92 and 12 games over .500 in 2005-06. The Clippers already surpassed their victory total from last season on April 5, and their 39 wins are the most for the club since winning 40 in 2006-07. The Clippers' 39-23 record after 62 games is the best record in franchise history, equaling the 1974-75 Buffalo Braves.