Los Angeles Clippers:

Trail Blazers
November, 8, 2012
11/08/12
10:43
PM PT
Playing their first game away from Staples Center this season and the only one they'll play outside of Los Angeles until Nov. 19, the
Los Angeles Clippers
looked right at home in
Portland
on Thursday night.
The Clippers jumped out to a 25-point first-half lead on the Trail Blazers during a 103-90 victory, seemingly carrying over their performance from the night before when they beat the
San Antonio Spurs
by 22 points after compiling a 28-point lead in that game.
The second half against Portland, however, would not be as easy as it was the previous night against San Antonio. The Trail Blazers outscored the Clippers 32-17 in the third quarter and got to within four points late in the fourth quarter. The Clippers finally pulled away to win, claiming their first road win this season beyond Staples Center and improving their record to 4-2 on the season.
Here are three takeaways from the game:
Jordan flourishes
For all the talk about the new additions the Clippers made in the offseason, perhaps no addition was bigger than the new and improved
DeAndre Jordan
. Just 24 hours after scoring 20 points on 10-of-12 shooting and grabbing 11 rebounds against the Spurs, Jordan scored 21 points on 8-of-10 shooting and grabbed eight rebounds against Portland. It was probably the best back-to-back games Jordan has had in the NBA and showed how much he has grown this season after working with a shooting coach in the offseason to not only improve his free throws (he hit 5-of-7 on Thursday) but also his game in the post. No one was more impressed with Jordan's performance than TNT's
Shaquille O'Neal
, who decided during Thursday's broadcast to give the Clippers center high praise while also taking a veiled jab at
Los Angeles Lakers
center
Dwight Howard
. "I'm going on the record right now," O'Neal said. "Best center in the West right now, DeAndre Jordan. Best center in the West."
March, 31, 2012
3/31/12
12:01
AM PT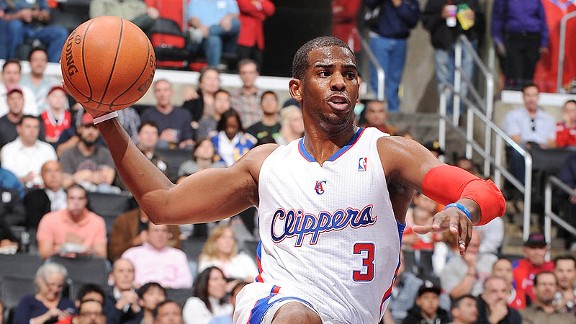 Andrew D. Bernstein/NBAE via Getty ImagesChris Paul is used to putting teams on his shoulders, but he says the Clippers' success depends on everyone.
LOS ANGELES -- As
Chris Paul
put on the T-shirt hanging in his locker room, he looked down at it and smiled.
The shirt featured a picture of
Muhammad Ali
with "The Greatest" written in big, bold, black letters.
Moments earlier, Paul had scored a driving layup with five seconds left to give the Los Angeles Clippers a 98-97 comeback win over the Portland Trail Blazers on Friday. It was the kind of proverbial knockout punch Paul has provided the Clippers time after time in clutch situations this season.
As Paul stood in the center of the Clippers' locker room, he laughed when he was asked about being the Clippers' closer this season.
"This ain't my first time," said Paul, who finished with 20 points and 14 assists. "I'm used to it. I've been a starter every day since I've been in the NBA so I've been in this situation a number of times."
When he was asked how many times he could continue putting his team on his back in the fourth quarter he simply said, "As many as it takes. It's not just me. It's a collective effort. We needed a defensive stop at the end.
Caron [Butler]
getting that big bucket. We just got to keep competing."
There is no real secret to putting together a winning streak. There is often little difference between winning game one and winning game five but there has been something elusive to actually stringing wins together this season for the Clippers. For the first time since Feb. 1, the Clippers have now won four straight games and six straight at home.
The Clippers' inability to win consistently obviously hasn't been a problem confined to this season for the franchise. The last time the Clippers won five games in a row was November 2006. As far as winning streaks go, five is certainly not a big number. By comparison, the Utah Jazz, the Clippers' opponent on Saturday, won six straight last week and won five straight earlier this season. If the season ended today the Jazz would not be in the playoffs.
"You obviously have to play well but this is such a strange season," coach
Vinny Del Negro
said. "The games jump on you so fast. The month of March has been very difficult trying to incorporate new guys and just the scheduling. It comes down to the execution of the gameplan and playing together. It's always a work in progress."
March, 30, 2012
3/30/12
11:04
AM PT
Clippers (29-21) vs. Portland Trailblazers (24-27) at Staples Center, 7:30 p.m. PT
Five storylines to track:
1. Streaking:
The Clippers are in the midst of their first three-game winning streak since Jan.26-Feb. 1 and their longest home winning streak (5) since the end of January.
It's the Clippers' fourth win streak of at least three games this season and a win would match their longest win streak of the season of four games. The Clippers actually haven't won five straight games since 2006. Not surprisingly the Clippers current record is their best 50-game start to a season since beginning the 2005-06 season 30-20. "The time is now," Clippers coach
Vinny Del Negro
said. "The guys have to make a move now and they know that."


2. Billups back:
Since
Chauncey Billups
went down with a season-ending Achilles injury last month, the Clippers have not been the same. They were 15-7 while averaging 99.4 points and shooting 46.3 percent from the field with him. Without him they are 14-14 while averaging 95.2 points and shooting 43.9 percent. Bilups, however, has made a difference since he has returned to the bench in a suit. The Clippers are 5-0 with him on the sidelines at home and 0-3 without him on the road since his injury prevents him from traveling. "I told Chauncey he's got to stop being selfish and come on the road with us too,"
Chris Paul
said. "It's no secret that we're undefeated when he's there. Me and Mo [Williams] told him so his Achilles doesn't swell up on the flight he needs to jump on a Greyhound bus a day before we play and get to where we're going."
3. Ides of March:
The month of March was always seen as a make or break month for the Clippers. They are playing 20 games in 31 days, the most played by an NBA team in 45 years. So far, the Clippers haven't exactly risen to the challenge. They are 9-9 in March and have had three losing streaks; including losing three games in three days on the road last week. The Clippers, however, have responded well following their fruitless back-to-back-to-back with three straight wins at home by an average margin of 15 points; their most dominant stretch of game so far this season.
4. Playoffs? Playoffs?:
Going into Friday night's game against the Trail Blazers the Clippers are in sole possession of the fourth seed in the Western Conference and are just 1.5 games behind the Lakers for first place in the Pacific Division. A win against Portland would put them just a single game back with a game against the Lakers coming up on April 4. As good as the Clippers look right now in the standings they are less than three games away from dropping down to the nine seed and completely out of the playoffs. "If you lose a game you drop to eighth, ninth or even tenth. If you win a game you might shoot up to third,"
Caron Butler
said. "I don't want to look at [the standings]. I just want to win games and look at it at the end of April."
5. Lob City:
Despite going a couple of games this month without having one of their signature lob dunks, the Clippers lead the NBA this season with with 78 alley-oop dunks. The Lakers are second with 68 and the Knicks are third with 58. Chris Paul's total of 43 alley-oop assists this season ranks him first in the NBA after he only had 12 assists on lobs all of last season with the New Orleans Hornets.
Blake Griffin
leads the NBA this season with 140 dunks and
DeAndre Jordan
is fourth with 110 dunks. They are the only teammates ranked in the top five this season.