August, 21, 2014
Aug 21
11:05
PM PT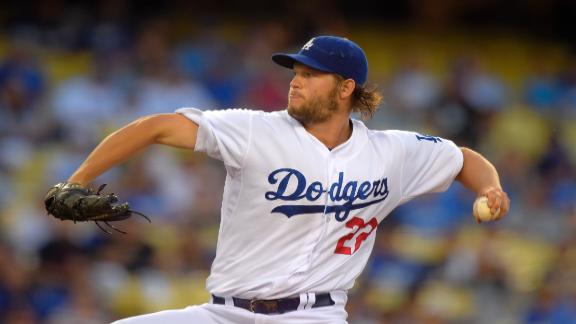 LOS ANGELES --
Clayton Kershaw
's left arm was packed in ice and wrapped up tight in a towel, but that was no obstacle.
When
Justin Turner
's deep fly ball cleared the left-field fence, Kershaw sprinted the length of the dugout, both arms pumping wildly. The two-run shot in the eighth would make a winner out of the
Los Angeles Dodgers
and of Kershaw, who was in danger of dominating again and losing
"That ball goes out, that's pretty awesome," Kershaw said.
Turner called it "one of the biggest hits" of his career, which seems like an understatement considering he spent the bulk of his career with the
New York Mets
, who never won more than 77 games while he was there. It was the biggest hit, so far, of this Dodgers season. Indeed, despite their recent rash of injuries, the Dodgers still have World Series aspirations.
[+] Enlarge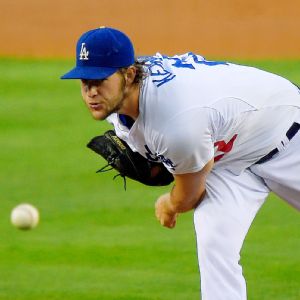 AP Photo/Mark J. TerrillClayton Kershaw on Thursday struck out 10 batters, gave up just three hits in eight innings and lowered his ERA 1.82. And that the Dodgers' bats gave him a late victory only improves his MVP chances.
The victory kept the
San Francisco Giants
from creeping within 2 1/2 games of the Dodgers' lead for the first time in more than two weeks, but it also erased a very dark narrative. Outside of Kershaw, the Dodgers' starting rotation is in shambles, with three starters down with injuries. If the Dodgers wasted eight brilliant innings from Kershaw -- as they were about to do before Turner's dinger -- they would have had to wait at least five long days for their ace to try to get them right again.
Kershaw said he didn't go into Thursday thinking it was any more important than any other regular-season start, even though the Dodgers had fallen in early holes during each of their previous four games and the bullpen was on fumes.
"Not really," he said. "We need wins no matter what. The Giants are playing better right now, and we just need to keep winning games."
In a way, Turner's clutch moment preserved Kershaw's MVP hopes. Though Kershaw (15-3) has participated in just 21 of the Dodgers' 129 games, the case seems to grow stronger by the week that he is, in fact, the National League's most valuable player.
"Yeah, why not? When he has the ball, he's the best player on the field," Turner said. "He's got my vote."
Turner, in fact, doesn't have a vote. Those all reside with members of the Baseball Writers Association of America, who will cast their ballots before the end of the regular season and wait with everyone else for the winners to be announced sometime in November. Kershaw doesn't seem to be thinking about winning his third Cy Young in four years or being the National League's first MVP pitcher in 46 years. He doesn't seem to think about anything except how to make sure the Dodgers win the game on the day he pitches.
"I don't know how to explain it. I don't think I've seen anybody like this guy," Dodgers manager Don Mattingly said. "We've talked about it so many other times, but he's just constantly driven. It's start-to-start. Tomorrow will be on to the next one, and he'll be on a mission for that one. He's a guy with just a huge motor as far as wanting to compete. Again, I don't know how much more I can talk about him without saying the same things over and over."
They all seem to blend together at this point, one brilliant Kershaw start after another.
The relevant details Thursday were these:
• He didn't give up a hit until opposing pitcher
Tyson Ross
singled off him with two outs in the sixth inning.
• He struck out 10 batters and gave up just three hits in eight innings.
• When one comes into a game with 1.86 ERA, it's not that easy to improve on it. But Kershaw (15-3) did, chipping it down to 1.82.
And none of it looked like it was going to matter, because Ross was just as good, holding the Dodgers scoreless until
Carl Crawford
smacked one off his glove for an infield hit leading off the eighth. Turner had done his homework. He had been watching Ross all game, and when the tall right-hander fell behind in the count, he tended to throw his slider.
Kershaw wasn't sure whether Turner would be instructed to bunt to move Crawford into scoring position to represent the tying run. Turner hadn't been, so the third baseman jumped on a slider that lingered a millisecond too long in the strike zone and drove it over the left-center fence.
That prompted another bubble party. The Dodgers continue to ignore Major League Baseball's gentle admonition and party with bubbles after one of their players hits a home run. It was a first for Turner, who had hit all three of his previous home runs before the bubble-making toy entered the scene.
"I think I've got a concussion, the guys pounded my helmet so hard," Turner.
It seemed like that moment released a lot of built-up tension.
August, 21, 2014
Aug 21
9:42
PM PT
Associated Press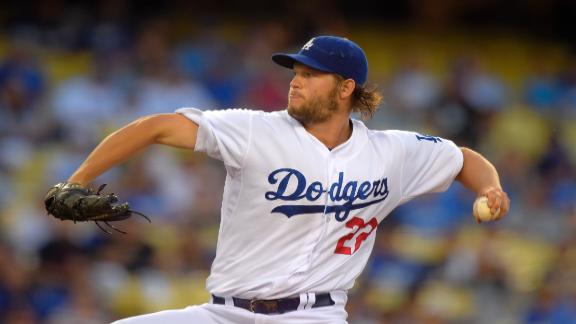 LOS ANGELES -- Clayton Kershaw scattered three hits over eight innings while outdueling Tyson Ross, Justin Turner hit a two-run homer and the first-place Los Angeles Dodgers rallied to beat the San Diego Padres 2-1 Thursday night.
Kershaw (15-3) struck out 10 and walked two, tying Johnny Cueto, Wily Peralta and Adam Wainwright for the major league lead in victories. The left-hander was originally scheduled to start Friday, but he was moved up to give Zack Greinke extra rest for his sore elbow.
Pitching on regular rest after Monday's day off, Kershaw retired 12 in a row before giving up his first hit -- a single by Ross -- with two outs in the sixth.
Kenley Jansen pitched the ninth to earn his 36th save.
Ross (11-12) allowed two runs and four hits in eight innings, struck out eight and walked two.
August, 21, 2014
Aug 21
9:33
PM PT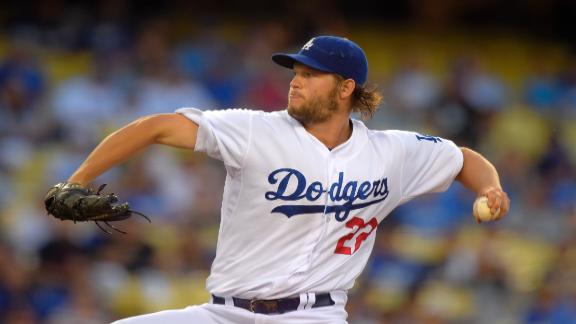 LOS ANGELES -- The bubbles were floating out of the
Los Angeles Dodgers
' dugout way before
Justin Turner
hopped down the steps. When he got there, the party really roared to life, the players bobbing and dancing around Turner.
The Dodgers continued to celebrate their home runs in their own unique style, with their in-dugout bubble machine, and this was probably the most rollicking one yet. Turner's two-run home run in the eighth inning of the team's 2-1 win over the
San Diego Padres
on Thursday evening may have been the biggest hit of the Dodgers season thus far.
It made a winner of ace
Clayton Kershaw
-– who was certainly deserving in another dominant performance –- and kept the
San Francisco Giants
from creeping closer in the race for the NL West. The Dodgers, in fact, gained a half-game and now lead by 3 1/2.

How it happened:
Kershaw, who entered the game with a 1.86 ERA, locked up in a brilliant pitchers' duel with
Tyson Ross
, who came in with a 2.70 ERA. The matchup lived up to its billing, and more. Both lineups were unplugged, though in different fashions. Ross relied on the ground ball, piling up nine outs with them, while Kershaw was his normal dominating self. Neither team scored until fatigue began to creep up on both pitchers by the late innings.
Hits:
There wasn't much more Kershaw could have done to bring this one home. He struck out 10 batters over eight innings and gave up only three hits, the first of which came off Ross' bat with two outs in the sixth inning. Kershaw breezed through the first five innings, giving the game a lively pace. Kershaw (15-3) had won 10 straight decisions until taking a loss Saturday. He got back on track Thursday to keep his Cy Young and MVP candidacies in good stead.
Misses:
Kershaw can't do it alone. He got tagged with the loss Saturday, even though he gave up only five hits (two home runs) and pitched a complete game. The Dodgers' offense needs to heat up now that the starting rotation is wobbling under the weight of injuries. Instead, it has been in a funk for the most part. The Dodgers have scored three runs or fewer in six of their last eight games. Ross is a very good pitcher, but he hardly had to work Thursday, cruising through his first six innings in only 63 pitches.
Stat of the game:
Before Thursday, the Dodgers were 0-46 when trailing after seven innings. They're now 1-46.
Up next:
The Dodgers open a three-game series with the
New York Mets
on Friday at 7:10 p.m. PT at Dodger Stadium.
Dan Haren
(10-10, 4.59 ERA) goes for the Dodgers opposite
Jonathon Niese
(7-8, 3.50).
August, 21, 2014
Aug 21
5:52
PM PT
LOS ANGELES -- Earlier this month, the hardest-throwing reliever in the
Los Angeles Dodgers
' bullpen faced
Mike Trout
,
Albert Pujols
and
Josh Hamilton
and emerged unscathed. Two days later, he went through
Jonathan Lucroy
,
Ryan Braun
and
Aramis Ramirez
and, again, got through a scoreless inning.
[+] Enlarge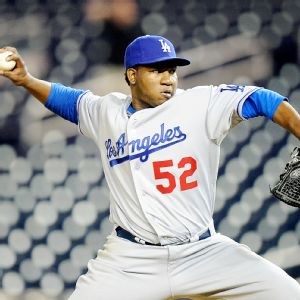 G Fiume/Getty Images"He's growing up, he's getting better. I think he's going to be a piece for us in the future," Dodgers manager Don Mattingly said of relief pitcher Pedro Baez.
And, as often happens to young players, he was packing his bags for Triple-A Albuquerque two days after that, optioned to make room for newly acquired veteran
Kevin Correia
. But on his way out the door,
Pedro Baez
accomplished something. He left his most indelible impression yet on Dodgers' decision makers, who have been searching far and wide for solutions to the team's porous relief all season.
Maybe the solution was right under their noses.
"When a young guy like him comes up here and has success, sometimes he starts to think, 'I can do this,' " Dodgers manager Don Mattingly said. "Now, all of a sudden, he's pitching with purpose."
The Dodgers have seen rapid progress from Baez, whose fastball routinely touches 98 and 99 mph. He had one rocky outing back in May. Since then, he has pitched eight scoreless innings, opponents batting .148 off him.
As Mattingly said, Baez, 26, still needs to develop another pitch to complement his fastball, "something that's soft and goes down."
But the Dodgers have grown more and more excited about his upside, as he has demonstrated his ability to pitch at this level. Two years ago, Baez was still a third baseman. He batted .221 between Class A Rancho Cucamonga and Double-A Chattanooga in 2012 before the Dodgers decided to turn him into a pitcher.
"Just keep giving him bites. We're going to need guys as we go," Mattingly said. "He's growing up, he's getting better. I think he's going to be a piece for us in the future."
Dodgers second baseman
Dee Gordon
played alongside Baez in rookie ball and at Rancho Cucamonga.
"He was a really good third baseman. He just couldn't hit for nothing," Gordon said.
Baez appears to have found his niche. Now, it's just a matter of digging in.
August, 21, 2014
Aug 21
3:24
PM PT
[+] Enlarge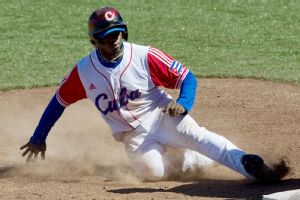 RAUL ARBOLEDA/AFP/Getty ImagesThe Red Sox and Tigers lead the list of teams vying to add Cuban outfielder Rusney Castillo. A decision is expected no later than this weekend.
The Boston Red Sox and Detroit Tigers appear to be the front-runners for the services of Cuban outfielder Rusney Castillo, two league sources said Thursday, with a decision expected no later than the weekend.
The Red Sox would like to add Castillo to an outfield that already includes another Cuban defector, Yoenis Cespedes. The Tigers, who have fallen behind the first-place Kansas City Royals in the AL Central, are looking for a replacement for center fielder Austin Jackson, who was traded to the Seattle Mariners as part of the three-way deal in which Detroit acquired left-handed ace David Price from the Tampa Bay Rays last month.
A source with direct knowledge of the negotiations said the Red Sox are "optimistic" they will ultimately sign Castillo.
August, 21, 2014
Aug 21
9:51
AM PT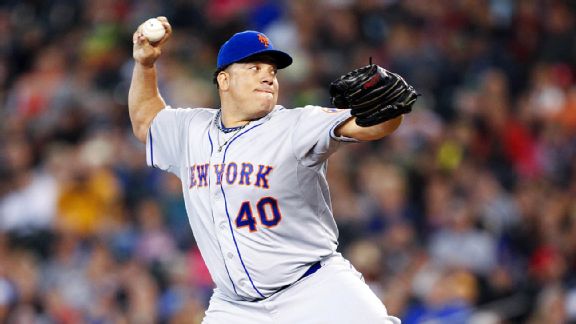 Joe Nicholson/USA TODAY SportsWith the injury to Garrett Richards, the Angels could use a return of their 2005 Cy Young Award winner, Bartolo Colon.
As front-running teams gear up for the home stretch, these leading clubs have the chance to impact the last month of the season with a significant move or two. Making these moves could mean the difference in having great postseason success or perhaps not even making the postseason.
Here are five moves I'd like to see before Aug. 31, the deadline for which players can be traded after clearing waivers and the date by which a player must be on a roster in order to be eligible for the postseason.
August, 21, 2014
Aug 21
6:00
AM PT
RISING
Carl Crawford, LF:
Dodgers manager Don Mattingly takes a heavy dose of criticism, even from many Dodgers fans. I wonder how many of them will give him credit for sticking with Crawford even when he was batting .240 not that long ago? Crawford has rewarded that patience by batting .485 with five multi-hit games since Aug. 10. His emergence, of course, means Andre Ethier's role gets even further diminished, but it's the point of the season when you just go with your best nine.
Justin Turner, INF:
The Dodgers' bench is better than it has been in years and Turner is the primary reason why. He has stepped in twice for injured
Juan Uribe
and, while not quite living up to Uribe's defensive abilities, has actually hit better than they could have expected from their regular third baseman. According to Baseball Reference WAR, Turner (2.7) is second to
Yasiel Puig
(4.1) among Dodgers position players. That tells you all you need to know.
Yasiel Puig, CF:
Other than Crawford, Puig has been the only real sign of offensive life on this homestand, but the Dodgers knew he could hit. They weren't so sure how well he would play center field. So far, he has not seriously injured any of the team's corner outfielders, he has made some great catches up against the wall and he has discouraged other teams from taking extra bases with his arm. He looks like a more complete player, mostly because center field allows him to show off the full range of his game.
FALLING
Zack Greinke, RHP:
The Dodgers pushed his scheduled start back two days to give him extra rest for his sore right elbow. Greinke admitted he probably won't feel 100 percent the rest of the season. That, clearly, is a bit worrisome considering the Dodgers' primary World Series hopes ride on the arms of their two Cy Young winners, Greinke and
Clayton Kershaw
. The best-case scenario is Greinke can pitch with some pain and
Hyun-Jin Ryu
returns from the DL in fairly short order. The worst-case scenario is too dire to even bring up at this point.
Dee Gordon, 2B:
A good series and a bad series are literally a matter of inches for the Dodgers' leadoff hitter. It's all about infield hits. Lately, he has been getting thrown out by a hair frequently at first base and his offensive numbers have suffered for it. Gordon is just 2-for-16 on the homestand and hitless in his past 12 at-bats. He's a .196 career hitter against the
San Diego Padres
. What's that old line about you can't steal first?
Miguel Rojas, SS:
The Dodgers love his glove, but he just couldn't hit enough to hold onto the shortstop gig while
Hanley Ramirez
was out. In an 0-for-9 slump, Rojas was replaced by
Erisbel Arruebarrena
, who very well could be the Dodgers' Opening Day shortstop next season. Rojas looks like a nice candidate to hold a bench role the rest of this season and going into next, so at least he has established himself to that degree.
August, 20, 2014
Aug 20
11:56
PM PT
LOS ANGELES -- If
Clayton Kershaw
really is the most valuable player in the National League, this would be as good a time as any to prove it.
On Saturday, the
Los Angeles Dodgers
trailed 2-0 by the time they batted in the fourth inning. The next day, they trailed 2-0 by the time they came up in the first inning. The day after that, they trailed 3-0 before they came to the plate in the first. And, en route to Wednesday's 4-1 loss to the
San Diego Padres
, they trailed 3-0 in the second.
[+] Enlarge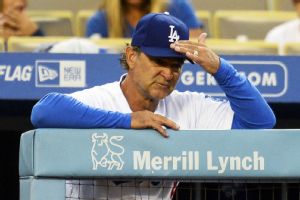 Robert Hanashiro/USA TODAY SportsDodgers manager Don Mattingly knows Clayton Kershaw is bound to struggle at times, but that he also "seems like he's a guy who's always there to pick us up."
Anyone sense a pattern here? Generally speaking, falling behind by multiple runs early in games isn't a recipe for cruising into October.
"I'm not saying it's frustrating, but it's not a place you want to be, that's for sure," Dodgers manager Don Mattingly said.
Seems like as good a time as any for the best pitcher in the National League to take the mound, does it not? It's not as if Kershaw can't afford to mess up when he pitches on Thursday -- a day earlier than originally planned, so
Zack Greinke
's aching right elbow gets a couple of more days of rest -- but it's not recommended. The Dodgers still lead their division by three games, but it's a shaky-looking three at the moment, with the starting rotation battered behind Kershaw and with the Giants suddenly on tap for two games at Wrigley Field on Thursday, albeit trailing 2-0 in one of them, Tuesday's suspended game.
Greinke is hurt, how badly we probably won't know until the season is over. The Dodgers have kept a tight lid on injury news all year and Greinke acknowledged his elbow probably isn't going to feel 100 percent sound the rest of this season. The good news is he says he's going to make Saturday's start.
Hyun-Jin Ryu
is hurt, out for at least another 10 days or so, at a minimum.
Paul Maholm
and
Josh Beckett
, most likely, are out with season-ending injuries.
Mattingly has been forced to go to his bullpen heavily for a week. So, yeah, this is one of those moments when a starting pitcher can look an awful lot like an MVP. Kershaw is the Dodgers' stopper, and right now the challenge isn't so much to stop a losing streak as to stop a relentless stream of bad news.
August, 20, 2014
Aug 20
10:30
PM PT
Associated Press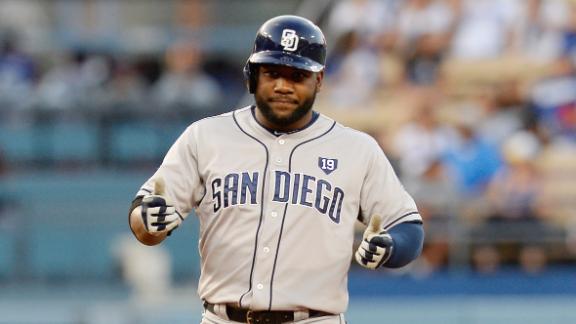 LOS ANGELES -- Alexi Amarista had two hits and drove in a run, Eric Stults combined with three relievers on a six-hitter and the San Diego Padres defeated the NL West-leading Los Angeles Dodgers 4-1 on Wednesday night.
Stults (6-13) allowed one run in five innings, struck out five and walked one. The Dodgers came into the game with a 20-10 record against left-handed opponents, but Stults did just enough against the team he pitched for from 2006-09.
Kevin Quackenbush pitched the ninth to earn his first major league save. He started a 1-2-3 putout to end the game.
Rymer Liriano went 2 for 3 with a walk and two runs scored, and Seth Smith went 2 for 5 for the Padres, who pounded out 11 hits in ending a two-game skid.
Roberto Hernandez (7-9) gave up four runs and eight hits in five innings.
August, 20, 2014
Aug 20
10:23
PM PT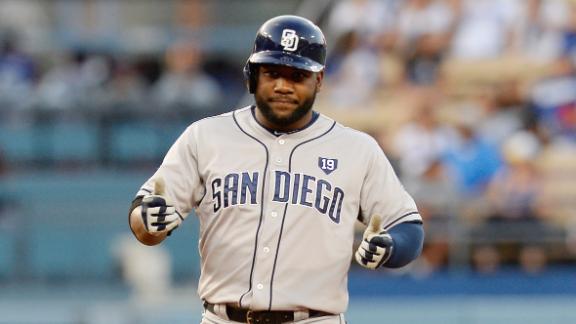 LOS ANGELES -- The
Los Angeles Dodgers
had a bad day Wednesday. Even before they lost a game in the standings to the
San Francisco Giants
by dropping a 4-1 decision to the
San Diego Padres
at Dodger Stadium, they found out the Giants
won their appeal of Tuesday's rainout
.
The Dodgers' lead is now three games, and the Giants have a shot at making up another 1½ games on Thursday when they finish their suspended game and polish off their series at Wrigley Field.

How it happened:
Roberto Hernandez
, like
Kevin Correia
the night before, took a small step back after a promising start to his Dodgers tenure. Hernandez was erratic, giving up eight hits over five innings, and the Dodgers fell in an early hole for the third straight game. They were behind 3-0 by the time they batted in the second inning.
Scott Van Slyke
bobbled a ground ball single, allowing one of those runs to score. The Dodgers made headway against soft-tossing lefty
Eric Stults
(6-13) but couldn't come up with the key hit and then were faced with the difficult task of rallying against San Diego's solid bullpen.
Hits:
There wasn't a lot to celebrate after another listless start by a Dodgers pitcher, but for a team that's always on the lookout for bullpen pieces, there was a bit of good news.
Pedro Baez
might be a better solution than any of the pitchers the Dodgers could acquire who passed through waivers. He pitched two more scoreless innings, touching 98 mph, and has now thrown seven scoreless innings since the Dodgers brought him back from Triple-A. It looks as if he might stay put this time.
Misses:
People tend to think the Dodgers have more power than they do. The reality is they entered Wednesday's game 12th in the National League in home runs. Granted, most of their middle-of-the-order bats have excellent gap power, but they have only three healthy players with double-digit home run totals. It's fair to say the lack of long balls has been a major disappointment. Only three pitchers in the league had given up more home runs than Stults coming into the game, but the Dodgers' power stayed dormant.
Stat of the game:
Tuesday night, Dodgers prospect Jose De Leon struck out 14 batters in a Class-A game for Great Lakes. The total broke the franchise record, which was previously held by some guy named
Clayton Kershaw
, who had 12 in a 2007 game.
Up next:
The Dodgers haven't won a home series since July 29-31, so they'd like to take Thursday's game to win this one. The good news is they'll line up behind Kershaw (14-3, 1.86 ERA) Thursday night at 7:10 p.m. The bad news is they'll be facing San Diego's best starter,
Tyson Ross
(11-11, 2.70).
August, 20, 2014
Aug 20
5:14
PM PT
LOS ANGELES -- The Los Angeles Dodgers altered their pitching rotation Wednesday to give Zack Greinke two extra days of rest as he tries to pitch through discomfort in his right elbow. Clayton Kershaw, who was originally scheduled to start Friday against the New York Mets, will instead go Thursday against the San Diego Padres on his normal four days of rest.
Greinke has been feeling something in his elbow for about three weeks, but has not missed a start. Dodgers manager Don Mattingly said Greinke underwent an MRI exam two weeks ago that showed no structural damage.
"You're concerned from the standpoint that he's not 100 percent, but if he keeps feeling like he is right now, I don't think he feels it's a [disabled list] injury and I don't think anybody feels like it's a DL type of thing," Mattingly said.
Greinke has not thrown a between-starts bullpen session for the past three weeks, instead throwing off flat ground.
Greinke said soreness in his elbow "comes and goes," in general during the season. He compared the injury to a runner having a sore foot and continuing to run with it.
"I guess I don't really have a percentage or level of concern that I can describe," Greinke said. "I don't expect to be pitching at 100 percent. I mean, it's possible, but I wouldn't guarantee it, that's for sure."
August, 20, 2014
Aug 20
2:05
PM PT
Associated Press
CLEVELAND -- Nick Swisher's disappointing second season with the Indians is over.
Swisher underwent surgery on both knees Wednesday, procedures the first baseman/outfielder hopes will alleviate pain and prolong his career. The 33-year-old has underperformed after getting a four-year, $56 million contract from the Indians before last season. He entered 2014 looking to improve on a sub-par first season with Cleveland, but he's not been able to produce and the Indians finally put him on the disabled list on Aug. 10.
The Indians said Swisher's surgery was in Los Angeles. He'll need 8 to 10 weeks to recover and is expected to make a full recovery.
Indians manager Terry Francona is certain Swisher will do everything he can to get back.
"He'll be real motivated and regardless of how much money you've made or whatever, guys want to be good players," Francona said in Minnesota. "There's a lot of pride. He's going to have his work cut out for him this winter but he's getting a head start on it, which is good, and so the majority of his winter will be maybe almost normal, because you get the rehab out of the way the next six weeks and have a pretty decent winter."
After Indians team physician, Dr. Richard Parker, recommended surgery, Swisher got a second opinion from Dr. Neal ElAttrache, who is on the Dodgers' medical staff. ElAttrache confirmed the earlier diagnosis that Swisher has chronic medial knee discomfort as a result of medial meniscus wear and tear in both knees.