April, 22, 2014
Apr 22
11:56
PM PT
By
Dan Arritt
| Special to ESPNLosAngeles.com
LOS ANGELES --
Los Angeles Dodgers
manager Don Mattingly kept repeating the same statement after an unearned run in the 10th inning lifted the
Philadelphia Phillies
to a 3-2 victory Wednesday night at Dodger Stadium.
"The plays that you're supposed to make, you've got to make," he said. "Simple as that."
[+] Enlarge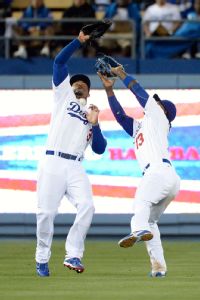 Richard Mackson/USA TODAY SportsNeither Carl Crawford, left, nor Hanley Ramirez could come up with this fly ball in the 10th, which led directly to the Phillies' winning run.
The Dodgers began the day with 21 errors in 20 games, second-most in the major leagues, and committed two more against the Phillies. By far, the most costly was a dropped fly ball in shallow left with one out in the 10th that both shortstop
Hanley Ramirez
and left fielder
Carl Crawford
camped under but neither could catch.
That enabled Phillies catcher
Carlos Ruiz
to motor into second base, and Crawford was quickly charged with the error since the ball had gone off his chest after he bumped into Ramirez. One batter later, Dominic Brown smashed a double into left-center field for a 3-2 lead, and that would be enough to send the Dodgers to their fourth extra-inning loss in the past two weeks.
Mattingly said defensive mistakes have "become a frustration," and he spent time before the past two games trying to relay that message to the players.
"We've had a number of balls that probably should have been caught [this season]," Mattingly said. "We're not going to do anything if we don't play better defense."
Ramirez and Crawford were involved in two other defensive miscues during the game. Ramirez, who had an error from a game last week rescinded earlier in the day, committed his fifth error of the season on a routine grounder in the second inning, and Crawford couldn't come down with a deep drive at the fence in the fourth, resulting in a triple for Ruiz.
Dodgers left-hander
Hyun-Jin Ryu
managed to escape those innings without any runs scoring, but those types of miscues still have an impact on a game, Mattingly said.
"It always costs you something, whether it costs you more pitches, if it's causing you to lose extra guys out of the bullpen," he said. "It can't continue or we're not going to go where we need to go."
There was some good news after the game, as second baseman
Dee Gordon
, whose speed helped the Dodgers tie the score in the seventh inning, left the game not long after he bumped his head on a head-first slide into third.
Gordon said after the game he passed a concussion test, though the left-handed hitter might sit Wednesday anyway since the Dodgers are facing a left-handed pitcher in
Cole Hamels
.
April, 22, 2014
Apr 22
10:59
PM PT
By
Dan Arritt
| Special to ESPNLosAngeles.com
LOS ANGELES -- The
Los Angeles Dodgers
ended a 15-inning scoreless streak Tuesday night against the visiting
Philadelphia Phillies
, but they couldn't accomplish much else.
The Dodgers played their fifth extra-inning game in the last two weeks and lost their fourth straight, this time on an unearned run in the 10th that resulted in a 3-2 victory by the Phillies at Dodger Stadium.
The Dodgers entered the day leading the majors in strikeouts and 25th in both hitting (.236) and on-base percentage (.303). Now they have scored two runs or less in six of the last eight games.
How it happened:
Carlos Ruiz
's high pop fly into shallow left field in the 10th dropped to the grass after shortstop
Hanley Ramirez
and left-fielder
Carl Crawford
failed to communicate and collided. Crawford, who had mistimed his leap at the wall earlier in the game (resulting in a triple for Ruiz), was credited with the error because the ball caromed off his chest.
Domonic Brown
then came up off left-hander
J.P. Howell
and lined a double into the gap in left-center, driving in the go-head run.
Hits:
Dodgers second baseman
Dee Gordon
, who has emerged as the team's most productive hitter this month, collected his second hit of the game in the seventh. It was a routine one-out single up the middle for most players, but Gordon went into overdrive right out of the box and beat
Marlon Byrd
's off-balance throw into second base. Gordon then stole third with another head-first slide. Philadelphia pitcher
A.J. Burnett
looked like he might get out of the jam when he struck out catcher
Tim Federowicz
. With the pitcher's spot coming up in the batting order and no available left-handed hitters on the bench, the Dodgers were forced to go with utility infielder
Justin Turner
, who spotted a Burnett curveball left over the plate and rolled it into left field to tie the score at 2-2.
Stat of the game:
Burnett did more than just flummox the Dodgers for 6 2/3 innings on the mound; he had a career-high three base hits.
Up next:
The Dodgers and Phillies will meet for the third time in their four-game series Wednesday night as three-time All Star left-hander
Cole Hamels
of the Phillies will make his season debut against unbeaten right-hander
Zack Greinke
of the Dodgers, the 2009 Cy Young Award winner.
April, 22, 2014
Apr 22
10:53
PM PT
Associated Press
April, 22, 2014
Apr 22
2:11
PM PT
By
Dan Arritt
| Special to ESPNLosAngeles.com
LOS ANGELES -- The
Los Angeles Dodgers
bumped off the
New York Yankees
as the highest-paid team in the majors this season and will likely spend more money over the remaining months than any franchise in the history of the league.
They're on track to establish another mark as they prepare to host the
Philadelphia Phillies
in the second game of their four-game series Tuesday night, one they'd rather not add to the ledger.
One-eighth of the way through this season, the Dodgers have struck out a major-league leading 187 times, or an average of 9.35 times per nine innings. Projected over a 162-game regular season, Los Angeles is on pace with the National League strikeout record of 1,529, established by the
Arizona Diamondbacks
in 2010, a team that finished 65-97.
And the Dodgers don't seem to be coming up with any remedies.
They struck 11 more times in Monday's 7-0 loss to the Phillies, the third time in the last four games they've taken at least 11 slow walks back to the dugout, and tonight will face savvy right-hander
A.J. Burnett
, who fanned nine Dodgers in 5 1/3 innings of a 1-0 loss last season while pitching for the
Pittsburgh Pirates
on Opening Day at Dodger Stadium. Burnett also brings a major-league leading 16 walks into this game, so plate discipline will be key.
The increase in strikeouts is a major change from last season, when only six teams were tougher to strike out than the Dodgers, including just two in the NL.
Arizona left-hander
Wade Miley
isn't considered a strikeout pitcher by any means, but he has combined to fan 20 Dodgers in three starts covering 16 innings this season.
Trevor Cahill
, banished to the Arizona bullpen after his 0-4 start, has still managed to strike out 14 Dodgers in 12 innings.
Dodgers outfielder
Matt Kemp
, trying to regain his stroke after two injury-plagued seasons followed his near-Triple Crown campaign of 2011, has struck out 17 times in 54 plate appearances and patience may be winding thin with manager Don Mattingly, as the Dodgers are already overloaded with skilled outfielders.
The trickle-down effect has left the Dodgers 25th in the majors in both hitting (.236) and on-base percentage (.303), and their batting average dips to .209 after the sixth inning. They're three games ahead of their 20-game record last spring, but their 12-8 mark is also a bit misleading, as seven of those wins have come against the Diamondbacks, owners of the worst record in baseball.
April, 21, 2014
Apr 21
10:11
PM PT
Associated Press
LOS ANGELES -- Cliff Lee scattered four hits over eight innings, struck out 10 and retired 21 of his last 22 batters to lead the Philadelphia Phillies to a 7-0 victory over the Los Angeles Dodgers on Monday night.
Carlos Ruiz hit a two-run homer and a two-run double and Ryan Howard also went deep for the Phillies in the opener of a four-game series.
Lee (3-2) had at least one strikeout in every inning he pitched and did not walk a batter, giving way to Jeff Manship after 113 pitches.
Lee has 38 strikeouts and two walks through his first five starts, after leading the majors in strikeout to-walk ratio and fewest walks per nine innings during each of the previous two seasons.
April, 21, 2014
Apr 21
6:43
PM PT
Associated Press
SAN FRANCISCO -- A man accused of throwing a firework into a crowd during a Dodgers-Giants game at San Francisco's AT&T Park has pleaded not guilty.
The San Francisco district attorney's office says 21-year-old Paola Pavone is due back in court Friday after entering the plea last week. Pavone is charged with felony possession of a destructive device in a public place, felony possession of combustible material and misdemeanor discharging dangerous fireworks.
A message seeking comment was left for Pavone's attorney Monday afternoon.
Police say several people suffered minor injuries when Pavone threw the firework into a group of people near a concession stand during the game on Wednesday.
The injuries included dizziness and temporary loss of hearing.
April, 21, 2014
Apr 21
6:00
PM PT
Joe Posnanski is ranking the 100 best baseball players of all time and the other day he
wrote about Sandy Koufax
, his No. 46 guy.
Koufax is one of the most difficult players to rank in a list like this due to his short career. His case raises the problems of factoring in peak value versus career value, not to mention postseason performance. Even Koufax's peak -- five great seasons, three of which were pantheon-level seasons -- is relatively short. Plus, he benefited from his time and place: A pitcher's era in a pitcher's park.
Joe writes:

At Dodger Stadium, on that Everest of a mound, Koufax was both literally and figuratively on an even higher level.

– in 1963, at Dodger Stadium, he went 11-1 with a 1.38 ERA and batters hit .164 against him.
– In 1964, the one year he did not manage 300 innings, he went 12-2 with an 0.85 ERA at home.
– In 1965, the league hit .152 against Koufax in LA, and he went 14-3 with a 1.38 ERA. On the road that year, he was a much more human 12-5 with a 2.72 ERA.
– In 1966, he was was more or less the same dominant pitcher at home and on the road. His 1.52 ERA at home was not very different from his 1.96 ERA on the road.

So what do all these advantages mean for Koufax's legacy? Well, I'm a numbers guy at heart but I have to say … it doesn't mean much to me. Koufax, like all of us, was a man of his time and place. He was given a big strike zone and a high mound and, with the wind at his back, he became indelible, unforgettable, the greatest and most thrilling pitcher many would ever see in their lifetime. No, of course the numbers do not compare fairly with pitchers of other eras — you can't say Koufax was better than Lefty Grove or Roger Clemens just because his ERA was lower — but those numbers offer a nice display of his dominance and, more, the way people looked at him. He still had a 1.86 ERA over four seasons. He still struck out 382 batters in a season.
Overall, in his three monster seasons in 1963, 1965 and 1966 Koufax went 25-5, 1.88; 26-8, 2.04; and 27-9, 1.73.
Now, in retrospect we know Koufax gained a big advantage from Dodger Stadium. They probably knew that on some level at the time, but nobody really kept track of the numbers. What I always found interesting is that other pitchers were putting up big numbers in the same era, and yet it's Koufax whose legacy grew the largest. For example:
Juan Marichal went 25-8 in 1963, 25-6 in 1966 and 26-9 in 1968.
Bob Gibson had his 1.12 ERA in 1968.
Dean Chance went 20-9 with a 1.65 ERA in 1964.
Tom Seaver went 25-7 with a 2.21 ERA in 1969 (after the mound was lowered) and 20-10 with a 1.76 ERA in 1971.
Koufax struck out 300 batters three times; Sam McDowell did it twice and even had a season with a 1.81 ERA.
Denny McLain won 55 games in 1968-69, two more than Koufax won in 1965-66.
The point: Other guys were doing Koufax-like things at the same time. So why Koufax? (Not that Seaver, Gibson and Marichal are disrespected but I'm guessing more casual fans would be inclined to call Koufax the greatest pitcher ever over those three.) Maybe it's the two World Series titles in 1963 and 1965, including a Game 7 shutout in 1965, when the World Series still meant everything. Maybe it was pitching in Los Angeles. Maybe retiring early added to his aura; nobody saw Koufax grow old.
A recent article by Bill James on Bill James Online titled
"Climbing the Stairway to Sandy Koufax"
finally made my understand why. Bill wrote:
Since 1900 there have been only three seasons by a pitcher in which the pitcher had 25 wins, 300 strikeouts, an ERA under 2.50 and a winning percentage of .750. Those three seasons were by Sandy Koufax, 1963, Sandy Koufax, 1965, and Sandy Koufax, 1966.

So there you go. Those other guys came close and maybe did two of those things, but only Koufax has had a Koufax season. Vida Blue came close in 1971; if he'd gone 25-8 instead of 24-8, he would have had a Koufax season. If Steve Carlton goes 27-9 instead of 27-10 in 1972, it's a Koufax season. Randy Johnson came close.
The rest of the article is a fun look at isolating the best pitching seasons ever, or as Bill wrote, "trying to develop a protocol to make a list of the seasons worthy of the Sandy Koufax label."
A few other things to check out:
April, 21, 2014
Apr 21
10:48
AM PT
1.
I wrote about the Brewers-Pirates brawl
here
. While the brawl was certainly interesting, the biggest takeaway from the weekend has to be Ryan Braun's two home runs off Jason Grilli in the ninth -- one to win the game on Saturday, one to tie it on Sunday. It's only eight innings, but Grilli has yet to match last year's dominance, so something to watch.
2.
The Oakland A's continue to impress and have the majors' biggest run differential at +32. Jesse Chavez, who replaced Jarrod Parker in the rotation when Parker went down in spring training, had his fourth straight solid start in Sunday's 4-1 win over the Astros and has allowed six runs in 26 innings with a 28/5 strikeout/walk ratio. Chavez pitches up in the strike zone with his 90-93 mph fastball but his cutter has developed into a nice weapon. What's interesting about it is that he locates on the outside part of the plate to left-handers
and
to right-handers. He's actually thrown it more than his four-seamer and while two of the three home runs he's allowed came off the cutter, batters are hitting .209 off it. He mixes in a curveball and changeup, making him four-pitch starter with good command. You have to like what he's done.
3.
After a slow start, Josh Donaldson is also heating up. Over his past 12 games he's hitting .345 with four home runs, seven doubles and 12 RBIs and looking like the guy who finished fourth in the AL MVP voting last season. The A's have yet to play a team currently over .500, so this week's three-game series against the Rangers will be a good test.
4.
Should the Braves be a little worried about Craig Kimbrel? He actually got pulled from Saturday's relief appearance -- his first outing in a week after resting a sore shoulder -- after giving up three hits, a walk and two runs. Jordan Walden had to come on to get the final out for the save. Kimbrel then wasn't used in Sunday's 14-inning loss to the Mets.
5.
Dee Gordon continues to do good things for the Dodgers, hitting .367/.409/.483 with 10 steals in 11 attempts. Going back to last August, when he was recalled from Triple-A, Gordon is hitting .363 in 99 plate appearances. Still a sample size, but it's not like he has
no
track record of hitting. He's a career .301 hitter in the minors and hit .304 in 56 games as a rookie in 2011. Yes, he has no power, but if he can hit close to .300 and draw a few walks, he's going to steal a lot of bases and score runs in front of the big boys.
6.
Giancarlo Stanton beat the Mariners with a walk-off grand slam on Friday, giving him six home runs and an MLB-leading 26 RBIs. The Stanton Fear Factor came into play in a big way on Sunday. The Mariners led 2-1 in the eighth. One out, runner on second, Mariners manager Lloyd McClendon elects to intentionally walk Stanton, putting the go-ahead on base. I get it: Stanton has delivered some big hits. But he also has four times as many strikeouts as home runs. What is more likely to happen there? You cannot put the go-ahead on base there. If he beats you, he beats you, but giving the opponent a free runner often leads to bad things. A walk, fielder's choice and sacrifice fly gave the Marlins the win as Stanton came around to score. Great player, bad managing.
7.
Robinson Cano is not driving the ball at all. He's hitting .268/.321/.352 with three doubles and one home run, his one home run coming in Texas when he did manage to sort of one-arm the ball just over the fence in right. Cano had hit 40-plus doubles the past five seasons, so the lack of extra-base hits is as concerning as the lack of home runs. Again, just 18 games, and he had an April like this in 2012 when he hit .267 with one home run and four RBIs, but he's part of the reason the Mariners have looked awful since that 3-0 start.
8.
The Tigers won 2-1 on Sunday, in part because Ian Kinsler
created a run
all by himself with the help of some sloppy Angels defense. The Angels were credited (discredited?) with three errors on the play. By the way, Kinsler has played well so far, hitting .317/.353/.476. Miguel Cabrera, however, has yet to get untracked, hitting .220 with one home run.
9.
Big win for the Nationals on Sunday, ralling from a 2-0 deficit against the Cardinals with two runs in the seventh and the winning run in the ninth. Danny Espinosa played a key role in both rallies, driving in a run in the seventh and single to start the winning rally. I criticized the Nationals on Thursday after a sloppy 8-0 loss to the Cardinals, but they managed a little redemption with wins on Friday and Sunday, sandwiched around Bryce Harper
getting benched
on Saturday for not running out a groundball.
10.
Finally, Brewers backup catcher Martin Maldonado had a busy weekend. On Sunday, he was heavily involved in the brawl, sucker-punching Travis Snider. On Friday, he pulled a Roy Hobbs and literally
knocked the cover off the ball
. Poor Pedro Alvarez; he's led the majors in errors the past two seasons and had to try and throw that thing to first base. It was ruled an infield hit.
April, 20, 2014
Apr 20
5:02
PM PT
By
Anthony Witrado
| Special to ESPNLosAngeles.com
LOS ANGELES -- The day the
Los Angeles Dodgers
pulled the trigger on their historic trade with the
Boston Red Sox
in August 2012, the talk was about all the money the team was taking on and if
Adrian Gonzalez
and
Carl Crawford
could re-establish themselves as All-Star players.
Hardly in the conversation was
Josh Beckett
. He had fallen from grace in Boston and with more than $30 million remaining on his contract, the Red Sox gladly showed him and his 5.23 ERA the door. He was basically a throw-in piece for Boston, making the Dodgers take that contract off their hands to land the other two players.
[+] Enlarge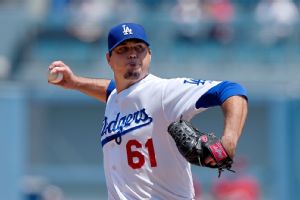 AP Photo/Mark J. TerrillIn his past two starts, Josh Beckett has struck out 11 in 10 shutout innings for the Dodgers.
Mostly forgotten was that the season before the trade, Beckett posted a 2.89 ERA for the Red Sox, made the American League All-Star team and finished ninth in Cy Young voting.
But the Dodgers remembered. Yes, they took Beckett to land the big chip, Gonzalez, but they never figured the right-hander was little more than a has-been name. They saw Beckett, when healthy, as a key piece to their rotation.
The problem is the Dodgers haven't had much of a healthy Beckett, and until a week and a half ago, he had made only 15 starts for the Dodgers in a season and a couple of months. A surgery that included removing a rib last season partly had him on the disabled list until April 9 of this year -- officially the DL stint was because of a thumb bruise.
Since his return, Beckett has been exactly what the Dodgers wanted, and at this point what they need considering their ace,
Clayton Kershaw
, is on the DL. Beckett threw five shutout innings, gave up one hit and struck out seven Sunday, beating the
Arizona Diamondbacks
, 4-1, at Dodger Stadium.
Beckett doesn't light up the radar gun the way he did in his early days with the Florida Marlins and Red Sox, but he has become craftier, and in his past two starts has kept hitters off-balance.
"Sometimes I revert back to the guy I used to be," Beckett said. "I still got [good] stuff. It's not like I'm out there throwing 84 mph. I still have the stuff to overpower when I need to, but I have to pick my spots."
His season debut was so-so, but in his past two outings, Beckett has thrown 10 innings, struck out 11, given up three hits and allowed zero runs. He is resembling the "good" Beckett more and more, and if he continues to be this effective, he can solidify this Dodgers rotation as the best in the league as Kershaw nears a return.
Beckett might never win 20 games again or lead the league in ERA, but the Dodgers don't need him to be that kind of front-line starter. They need consistently solid outings, and if his past two starts are any indication, Beckett can provide that.
"You're seeing him adapt to who he is right now," manager Don Mattingly said. "He's putting doubt in hitters' minds. It's two [good starts] in a row, so hopefully he's just building.
"He's still got good enough stuff to win."
April, 20, 2014
Apr 20
4:15
PM PT
Associated Press
LOS ANGELES -- Yasiel Puig hit a three-run homer and threw out a runner at second base, leading the Los Angeles Dodgers over the Arizona Diamondbacks 4-1 Sunday.
Puig flipped his bat after connecting to cap a four-run sixth inning. His second homer of the season came after a two-out intentional walk to Adrian Gonzalez.
Dodgers starter Josh Beckett pitched five innings of one-hit ball, striking out seven and walking two.
Jamey Wright (1-0) got three outs for his 93rd career victory, spread over 19 big league seasons and 10 different clubs.
The Dodgers won on manager Don Mattingly's 53rd birthday.
Josh Collmenter (0-2) gave up Puig's homer.
April, 20, 2014
Apr 20
4:04
PM PT
By
Anthony Witrado
| Special to ESPNLosAngeles.com
LOS ANGELES --
Josh Beckett
set the pace.
Yasiel Puig
finished the race.
Beckett was marvelous for the
Los Angeles Dodgers
as he continues to work himself into pitching shape. He threw five scoreless innings, giving up one hit and striking out seven
Arizona Diamondbacks
en route to a 4-1 Dodgers victory Sunday at Dodger Stadium. He threw 83 pitches.
In his past two starts, Beckett has pitched 10 innings and hasn't given up a run.
An inning after Beckett departed, the Dodgers' offense got moving.
Carl Crawford
tripled home
Dee Gordon
, and Arizona manager Kirk Gibson decided to intentionally walk
Adrian Gonzalez
to face Puig with two outs.
The move did not work. Puig obliterated a
Josh Collmenter
cutter for a line-drive home run, giving the Dodgers a 4-0 lead in the sixth inning.
How it happened:
For a second consecutive game, the struggling Dodger outfielders provided the big hits. Crawford's RBI triple followed by Puig's three-run home run were all the team needed to take the rubber game of the series.
Hits:
That hit wasn't Puig's only highlight. He dropped jaws in the second inning when he tracked down
Miguel Montero
's hit down the right-field line, spun and threw off his back foot to nail Montero at second base for the out.
Misses:
Dodgers catcher
Tim Federowicz
committed his second catcher's interference of the season. There have been five catcher's interference calls this season, and the Dodgers have committed three.
Stat of the game:
Gonzalez doubled in his first at-bat, extending his hitting streak to 15 games.
Up next:
The Dodgers host the
Philadelphia Phillies
on Monday and draw ace
Cliff Lee
, who threw a complete game in his most recent start.
Paul Maholm
takes the ball for the Dodgers.
April, 20, 2014
Apr 20
12:01
PM PT
By
Anthony Witrado
| Special to ESPNLosAngeles.com
LOS ANGELES -- All indications point to Clayton Kershaw passing his biggest test with ease.
Kershaw, the Los Angeles Dodgers' ace, has been on the disabled list with an upper back problem, but he threw a simulated game Sunday at Dodger Stadium at maximum effort and reported no problems afterward. The Dodgers are reluctant to announce it, but as long as Kershaw feels no discomfort the day after, a rehab assignment is in his near future seems likely.
Kershaw threw a normal warm-up as he would before a regular start, then threw about 50 pitches to hitters, topping out at around 90 mph. He threw all his pitches.
"It was full effort for me," Kershaw said. "For a 10 a.m. sim game, that's probably all I got."
The Dodgers training staff had held back Kershaw from throwing at max effort, but Sunday they let him go full tilt, something the left-hander has wanted to do for some time but had been advised against. Because it was his first time pitching without restrictions since his Opening Day start in Australia nearly a month ago, the original plan was to have Kershaw throw two simulated innings.
But after a long conversation with manager Don Mattingly, head trainer Stan Monte and team physician Dr. Neal ElAttrache, after those two frames, Kershaw pitched a third without issue.
Kershaw speculated the next step might be a rehab assignment, but as the team has done throughout this process, the Dodgers are being extra cautious.
The off days early in the season have helped the Dodgers manage their rotation, but it hasn't come without some taxing of the bullpen. With that in mind, and with only one off day in the next 24 days, the team wants to make sure Kershaw can give them more than just a cameo appearance.
April, 20, 2014
Apr 20
8:02
AM PT
April, 19, 2014
Apr 19
9:52
PM PT
By
Anthony Witrado
| Special to ESPNLosAngeles.com
LOS ANGELES -- Ever since right fielder
Yasiel Puig
busted onto the scene and took this place by storm, the question has been what do the
Los Angeles Dodgers
do when all four of their star outfielders are healthy?
That time finally arrived April 4 when
Matt Kemp
came off the disabled list, and since then, manager Don Mattingly has sent all four players through a revolving starting lineup card.
While he gets the occasional stink eye from the odd man out, the real problem has been that none of the four outfielders, who are combining to make $58.5 million this season, has produced enough offensively to force their way into the everyday lineup. Entering Saturday's game against the
Arizona Diamondbacks
, none of the four were hitting above Yasiel Puig's .235, and Kemp, the most visually displeased when he sits, was the low man at .179.
[+] Enlarge
Gary Vasquez/USA TODAY SportsAndre Ethier's three-run homer was the spark the Dodgers needed Saturday, but Matt Kemp (and Carl Crawford, too) also contributed to the win.
"They just aren't swinging the bats as good as they can yet," Mattingly said before the Dodgers' 8-6 victory Saturday.
Clearly Mattingly was stating a fact there, but three of those four outfielders -- it was Puig's turn to sit Saturday -- were big reasons for this latest win.
Kemp: 2-for-4, two RBIs, run scored, stolen base.

Andre Ethier: Three-run home run.

Carl Crawford: Single, run scored.
Saturday aside, the four outfielders -- though each have had some memorable moments in the first month of the season -- have been disappointing in a year when they were supposed to be one of the team's greatest strengths. Their woes have been somewhat masked in the lineup by hot starts from
Juan Uribe
and
Dee Gordon
.
Crawford, Kemp and Ethier combined to go 0-for-3 in their first at-bats Saturday. But it was Kemp's single in his second trip that set the table for Ethier's three-run home run, cutting into Arizona's four-run lead in the fourth inning.
Crawford got going the next inning with a single. One batter later, Diamondbacks starter
Mike Bolsinger
was lifted.
"The second time through we were able to see him and make adjustments," Ethier said, downplaying his home run and the feat of 600 RBIs with the franchise, the sixth Dodger to reach that milestone.