October, 30, 2014
Oct 30
2:01
AM PT
Here's my 10 best World Series performances by a pitcher, listed chronologically -- emphasis on body of work for the entire series, not just one great game (like Jack Morris). I'll let you debate whether
Madison Bumgarner
had the best one ever. It's definitely in my top five. Vote in the poll at the bottom.
1905: Christy Mathewson, New York Giants -- three shutouts
The Hall of Fame right-hander was one of America's first big baseball heroes, a college-educated, affable gentleman in an era of ruffians. In the second World Series he pitched three shutouts in five games over six days. He beat the A's 3-0 in Game 1, came back on two days' rest in Game 3 to win 1-0 and then won Game 5 2-0 on one day of rest. Yes, the game was a little different back then but three shutouts in one World Series remains a record.
1909: Babe Adams, Pittsburgh Pirates -- the rookie delivers
An unknown rookie when the World Series started, Adams tossed three complete-game wins, including an 8-0 shutout in Game 7 over Ty Cobb's Tigers.
1946: Harry Brecheen, St. Louis Cardinals -- stifling the Red Sox
Nicknamed "The Cat" for his quickness in fielding bunts, the left-hander wasn't big (5-foot-10) but had a big screwball. Against Ted Williams & Co., Brecheen won Game 2 with a four-hit shutout and then won Game 6 4-1 with another complete game. In Game 7, he entered with a 3-1 lead and two runners on in the eighth and did give up a game-tying double, but he got Williams to pop out to end the inning. When the Cardinals took the lead in the bottom of the inning, he got his third win as he escaped a jam in the ninth after the first two batters singled.
1957: Lew Burdette, Milwaukee Braves -- beating the Yankees
The right-hander was known for his spitball and never really denied the accusations. "If I could get one of the first three hitters in the first inning to go back to the dugout saying I was cheating, by the fifth inning everybody on the team wanted to see the ball when they batted," he once said. Burdette was the Braves' No. 2 starter behind Warren Spahn, but he beat the Yankees 4-2 in Game 2 with a complete game and then won Game 5 1-0 with a seven-hit shutout. When Spahn came down with the flu before Game 7, Burdette drew the start on two days' rest. In front of more than 60,000 at Yankee Stadium, he silenced the crowd with another seven-hit shutout, the first pitcher since Mathewson to toss two shutouts in one World Series.
1958: Bob Turley, New York Yankees -- win, save, win
"Bullet Bob" had his best season in 1958, winning the Cy Young Award and finishing second in the MVP voting. In a rematch of the 1957 World Series, he got knocked out in the first inning in Game 2 but bounced back to toss a shutout in Game 5, when the Yankees were down three games to one. Game 6 went 10 innings and with the go-ahead runs on base, Turley came on to get the final out and the save (though saves were not an official statistic until 1969). In Game 7, Don Larsen got knocked out in the third inning; Turley went the rest of the way and got the win when the Yankees broke open a 2-2 tie with four runs in the eighth. He was never the same pitcher after that.
1965: Sandy Koufax, Los Angeles Dodgers -- hero
Koufax made headlines and became an ever bigger hero to Jewish fans when he decided to sit out Game 1 in observance of Yom Kippur, the holiest day of the year for those of Jewish faith. This meant Don Drysdale, and not Koufax, would be lined up to potentially start three times. Koufax actually lost Game 2 as he gave up two runs, one earned, in six innings. He pitched a four-hit shutout and struck out 10 in Game 5. As the story goes, manager Walter Alston didn't tell Drysdale or Koufax who would be starting Game 7. The Dodgers tradition was the starting pitcher didn't shave the day he started. Both showed up unshaven, expecting to start. The ball was in Koufax's locker. He pitched a three-hit shutout on two days' rest, once again striking out 10 while throwing 132 pitches.
1967: Bob Gibson, St. Louis Cardinals -- the impossible pitcher
Game 1: 2-1 CG victory, six hits, 10 strikeouts.
Game 4: 6-0 CG victory, five hits, six strikeouts.
Game 7: 7-2 CG victory, three hits, 10 strikeouts. And he hit a home run to boot.
1968: Mickey Lolich, Detroit Tigers -- slaying Gibson
Lolich won 8-1 in Game 2 and 5-3 in Game 5, both complete games. In Game 7, he returned on two days' rest, matched up against Gibson, who had won Games 1 and 4. The game was scoreless through six when the Tigers broke through with three runs. Lolich gave up a run in the ninth but held on, winning 4-1

2001: Randy Johnson, Arizona Diamondbacks -- three wins
Johnson tossed a three-hit shutout in Game 2 with 11 strikeouts and pitched seven strong innings in a Game 6 blowout to force Game 7. In the Series finale, he got the final out of the eighth and pitched a 1-2-3 ninth, setting the stage for Arizona's dramatic rally against Mariano Rivera and becoming the first pitcher since Lolich with three wins in one World Series.
2014: Madison Bumgarner, San Francisco Giants -- one-man show
Though the other Giants starters struggled throughout the Series, Bumgarner tossed seven innings of one-run baseball in Game 1, threw the first World Series shutout in 11 years in Game 5 and then came back on two days of rest to throw five scoreless innings of relief to get the save. The stuff of legends. What a way to end the baseball season.
October, 29, 2014
Oct 29
10:27
AM PT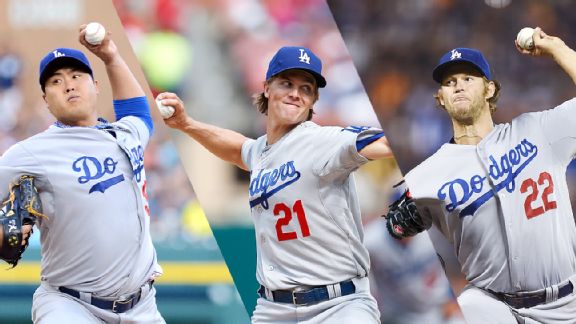 Getty ImagesThe Dodgers will need to address the lack of depth in their rotation behind their top three starters.
LOS ANGELES – Just replicating the performance of their starting rotation -- second-best in the majors to the
Washington Nationals
-- will be a major challenge for the
Los Angeles Dodgers
in 2015.
It's hard to ask
Clayton Kershaw
to perform any better after a season in which he was a Cy Young shoo-in and a likely league MVP, leaving aside his performance in the postseason. Beyond
Zack Greinke
– who could opt out of his deal at the conclusion of next season – and
Hyun-Jin Ryu
, the Dodgers lack depth.
Josh Beckett
has retired.
Dan Haren
will turn 35 in June.
Roberto Hernandez
and
Kevin Correia
weren't good enough to merit much discussion about them returning.
The Dodgers' only starting pitching prospect worth getting excited about,
Julio Urias
, turned 18 just a couple of months ago and would do well to spend most of next season at Double-A Tulsa.
The Dodgers, as everyone knows, need to pick up at least one starting pitcher via free agency and, for once, that's not necessarily a bad thing. There is a surprisingly robust selection of pitchers who will be looking for contracts this winter, and it could turn into a buyer's market.
Before the team picked up Andrew Friedman from Tampa Bay to run its front office, the organization's thinking was to pursue second- and third-tier starting pitchers who aren't connected to draft picks, which eliminated
Max Scherzer
and
James Shields
.
Jon Lester
won't have a pick attached to him since he was traded in midseason, but the Dodgers don't seem willing to lay out big money on a pitcher who will start 2015 as a 31-year old. They seem to have enough overripe contracts on the books. And giving up draft picks just isn't part of the team's philosophy. Even the Greinke deal didn't cost them a pick since he had been traded to the Angels that year.
If anything, Friedman's arrival figures to signal lower payrolls, reinforcing the notion the Dodgers will be looking for bargains, not big-headline splashes. It's unlikely they'll get under $200 million next season, but the notion is to streamline. Team president Stan Kasten says the Dodgers are entering what he calls "Phase 2," and they're hoping that will mean teams whose framework is homegrown players rather than free agents and high-priced trade targets. Friedman addressed that at his introductory news conference.
"I think we're going to solve for winning, and I think the payroll part of it will be a byproduct of that," Friedman said. "A healthy, highly functioning organization has a lot of good, young players interjected with veteran, star players. To be able to do that in a way that allows you remain competitive, that's our challenge. That's the thing that will drive us every single day in what we do."
October, 27, 2014
Oct 27
11:08
AM PT
By early next week, Dodgers president of baseball operations Andrew Friedman will face his first major player personnel decision. He and the rest of the team's brass will have to decide whether to extend a qualifying offer to
Hanley Ramirez
. Such an offer must be made within five days of the conclusion of the World Series and the player has exactly one week to decide whether to take it or leave it.
This season, the qualifying offer will be $15.3 million, which is lower than Ramirez's 2014 salary of $16 million and would be his lowest salary since 2012. If the Dodgers extend the offer and Ramirez rejects it, he becomes a free agent and they would receive a compensatory draft pick if a team signs him.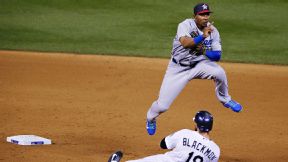 AP Photo/David ZalubowskiIf Hanley Ramirez doesn't return, Erisbel Arruebarrena could be the Dodgers' starting shortstop in 2015.
Of the 22 players who have been extended qualifying offers over the previous two seasons, none has accepted it -- though a handful of players later wished they had.
It's a surprisingly tough call in Ramirez's case, but it's worth making an offer. If Ramirez rejects it, the Dodgers would have another early pick to help rebuild their farm system, a major thrust in what they're calling Phase 2 of their rebuilding process and part of the reason Friedman is here. If he accepts it, they're only on the hook for one season at a reasonable cost if they get his average production. They can live with his poor defense and moodiness for one more season provided he stays healthier than he did in 2013 (playing just 86 games) and hits as well or better than he did last year (.283/.369/.448). Ramirez's .810 OPS was the best in the majors among shortstops.
It's most likely that a team -- likely from the American League – would be enticed enough by Ramirez's bat to extend him a multiyear deal. The
New York Yankees
dispatched a small army of scouts to watch the Dodgers' final few regular season games and they were writing reports on Ramirez. They could use him at designated hitter, shortstop and maybe some first base. The Oakland A's could use a middle of the order bat to replace
Yoenis Cespedes
. Given his injury history, Ramirez, 30, would be best-served playing in the AL, where he could be at designated hitter for one-third or so of his games played.
October, 27, 2014
Oct 27
9:46
AM PT
LOS ANGELES -- The San Diego Padres have hired longtime Dodgers amateur scouting director Logan White to their front office, sources told ESPN on Monday.
The feeling around baseball when the Dodgers hired Andrew Friedman to be their president of baseball operations was that he would want to bring in his own people in key front-office positions. With White departing, he'll have at least three top positions to fill.
It is not clear which position White will fill with San Diego.
In Los Angeles, Friedman has vacancies at general manager, amateur scouting director and farm director. The Dodgers' previous general manager, Ned Colletti, was reassigned to an advisory role, and farm director DeJon Watson left before Friedman's hiring to work for Arizona Diamondbacks general manager Dave Stewart.
White was involved in drafting Clayton Kershaw and Matt Kemp, among others, and with the signing of Cuban defector Yasiel Puig two summers ago in Mexico, where he also found one of the Dodgers' top minor league prospects, pitcher Julio Urias. White leaves the Dodgers with three of baseball's top 20 prospects on his résumé -- Urias, outfielder Joc Pederson and infielder Corey Seager.
White worked for the Padres from 1993-95 and interviewed for their vacant GM position before San Diego hired A.J. Preller from the Texas Rangers.
October, 25, 2014
Oct 25
9:27
PM PT
[+] Enlarge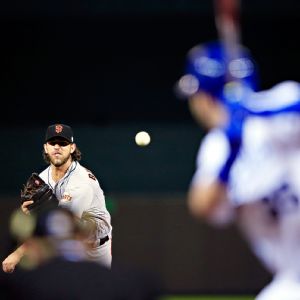 AP Photo/Jamie SquireIt's up to Madison Bumgarner to put a 3-2 Giants World Series lead into focus.
SAN FRANCISCO -- The 2014 postseason has provided an abundance of memorable moments and late-inning heroics from the likes of Matt Adams, Salvador Perez, Travis Ishikawa and Brandon Belt, to name just a few. We've seen Clayton Kershaw come up short on the big stage, Matt Williams and Don Mattingly scrutinized ad nauseam for their dugout decisions and a crazy quilt of baseball unpredictability that has stretched from one week to another ... and yet another.
The only quibble, for a true baseball fan, is the matchups have all been hit-and-run jobs. Through the first two rounds of the playoffs, the inventory consisted of three sweeps in the American League and three series that went one game beyond the minimum allotment in the National.
October, 24, 2014
Oct 24
8:51
PM PT
[+] Enlarge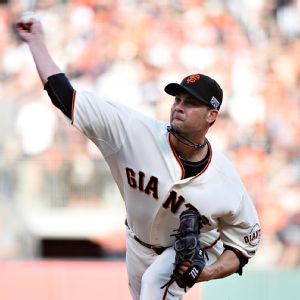 Kyle Terada/USA TODAY SportsIt's up to Ryan Vogelsong to silence any controversy over the Game 4 starting nod.
SAN FRANCISCO -- San Francisco manager Bruce Bochy has declined to alter his starting rotation for Game 4 of the World Series, even though the Giants trail Kansas City two games to one and a sense of urgency is at hand. Bochy is sticking with Ryan Vogelsong because of his faith in the veteran righty and his hesitancy to push staff ace Madison Bumgarner to pitch once and possibly twice more against the Royals on short rest.
That arrangement is perfectly fine with Bumgarner, who denied a social media report that he told teammates he would be pitching Game 4 and would "not take no for an answer."
Even before the Giants took the field for a 3-2 loss to the Royals on Friday night, Bochy was asked about the possibility of using Bumgarner three times should the Series go seven games. Bochy acknowledged that he has discussed the idea with pitching coach Dave Righetti before reiterating that Vogelsong was ticketed to be the Giants' Game 4 starter "right now."
But the idea of a flip-flop in the order and a quick turnaround for Bumgarner gained currency when Peter Gammons shared the following item on his Twitter account early in Game 3:
October, 24, 2014
Oct 24
2:37
PM PT
Associated Press
ST. LOUIS -- After getting a second opinion, Cardinals ace Adam Wainwright had what the team described as minor elbow surgery on Friday.
The operation was an arthroscopic procedure to trim a small piece of cartilage from the right elbow, according to the Cardinals. The 33-year-old Wainwright is expected to begin physical therapy in two weeks and resume his offseason throwing program in eight weeks.
General manager John Mozeliak and manager Mike Matheny faced repeated questions about Wainwright's health when he had two poor postseason starts before finishing strong in the Giants' clinching win in Game 5 of the NL Championship Series.
Wainwright failed to get out of the fifth inning in the division series opener against the Dodgers and in Game 1 against San Francisco, blaming poor mechanics rather than injury or fatigue after both outings.
Mozeliak and Matheny made no mention of the injury at a news conference to review the season earlier this week. Matheny said medical tests "all came back negative."
Wainwright went 20-9 with a career-low 2.38 ERA in 32 starts this season. The team said an initial MRI came back negative.
"His elbow garnished a lot of attention, especially in October," Matheny said Monday. "His last start, he felt great. The rest should do him wonders."
Wainwright, who missed the 2011 season after undergoing reconstructive elbow surgery, requested additional tests. The findings of a second MRI resulted in the decision to operate.
The Cardinals have gone to the NLCS for four straight seasons and won the World Series in 2011, putting a heavy load on Wainwright and former ace Chris Carpenter.
October, 22, 2014
Oct 22
1:27
PM PT
ESPN.com news services
LOS ANGELES -- Dodgers pitcher Dan Haren underwent arthroscopic surgery on his left shoulder Wednesday.
The team said the 30-minute procedure on Haren's nonthrowing shoulder was to clean out bursitis and the AC joint.
He will begin his rehab in a week and is expected to be ready by spring training.
Haren tweeted about the procedure Wednesday and showed he was in good spirits by also making a light-hearted quip.
The 34-year-old right-hander had a 13-11 record with a 4.02 ERA this season. Haren had been named the Dodgers' starter for Game 4 of the NL Division Series against the Cardinals, but he didn't pitch when they elected to go with Clayton Kershaw. The Dodgers were eliminated in four games.
The Associated Press contributed to this report.
October, 22, 2014
Oct 22
9:23
AM PT
Associated Press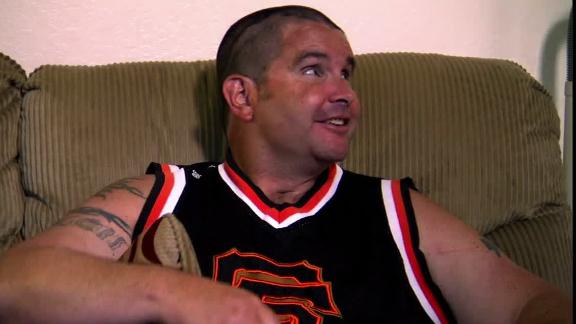 CAPITOLA, Calif. -- The San Francisco Giants fan who suffered a traumatic brain injury after being beaten by two Dodgers fans three years ago outside Dodger Stadium put up his hands and fingers, fist-bumped his mom and talked about his goals in a display of his progress during an interview aired Wednesday morning.
Bryan Stow, wearing a Giants tank top, spoke to ESPN from his parents' home in the Northern California city of Capitola, where he watched Game 1 of the World Series between the Giants and Kansas City Royals.
In an interview about nine months after the attack, Stow had trouble holding a simple conversation and appeared to struggle to raise his arms and hands or even smile.
But in the new interview, he made faces for the camera, joked about the Giants' margin of victory, gave a thumbs-up sign and showed the reporter a ball signed by Giants legend Will Clark. He used a walker but moved without assistance.
"I want to run. I want to walk, like a normal person," he told ESPN.
Stow, 45, said he is happy to be alive.
"Waking up every morning knowing I'm here. This place makes me feel good," he said.
Stow was attacked in a parking lot of Dodger Stadium on March 31, 2011. He won a $14 million lawsuit against the Dodgers this July, but his attorney sued the team again last month, claiming it is trying to recoup $3.4 million in insurance payments from Stow for his medical care.
Stow was in the courtroom for part of the trial, his wheelchair positioned front and center so jurors could see the scars on his head where his skull was temporarily removed during efforts to save his life.
Experts testified that the former paramedic will never work again and has suffered repeated strokes and seizures. They said he will require around-the-clock care.
October, 22, 2014
Oct 22
3:50
AM PT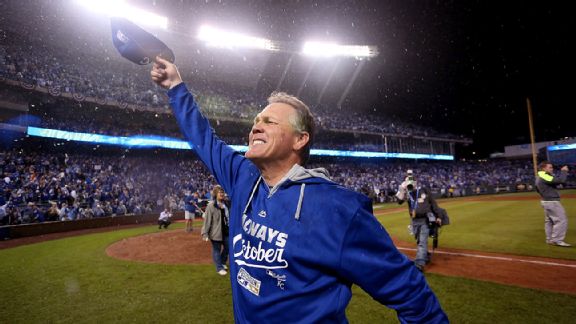 ED ZURGA/GETTY IMAGESThe 2014 Royals respect manager Ned Yost as much as the 1985 Royals respected Dick Howser.
I was lookin up when it was a cool night in October

Darryl Motley caught

a lazy fly off Andy Van Slyke's bat

Kansas City delirious as champs

we poured champagne on sweat-soaked heads

it burned our eyes

we didn't care

we screamed we sang we laughed

drunk with victory

--"A Career," from On Days Like This, poems by Dan Quisenberry
KANSAS CITY, Mo. -- Long time, 29 years. The airport, a hub for TWA, is still there, but TWA isn't. The Huffington Post, which wasn't around in 1985, just declared Kansas City "the coolest city in America," which might have seemed laughable back then. The ballpark is the same but different -- the beautiful grass hill in center field fell to the scourge of revenue-producing seats.
The home clubhouse has been rearranged, with the pitchers now on the side of the room closest to the field. Dan Quisenberry, the Royals' submarining closer, has passed away, a victim of brain cancer at age 45 in 1998. So has the skipper, Dick Howser, who died of the same thing less than two years after he won the World Series. Ewing Kauffman, the owner who brought the Royals to Kansas City, is also gone.
October, 20, 2014
Oct 20
11:00
AM PT
LOS ANGELES -- One of Andrew Friedman's main thrusts when he was introduced as the Dodgers new president of baseball operations Friday was continuity. Friedman said he wasn't planning to clean house and bring on all new people, but instead to collaborate with the baseball-ops people in place and supplement with his own selective hires.

We're still waiting on those hires -- including the general manager -- but it looks like he's making good on one promise already.

The Dodgers are offering 2015 contracts to their entire pro-scouting and player-development staffs, according to a source. It also looks like Rick Ragazzo, who was a top assistant of Ned Colletti's and the director of pro scouting under his regime, will be back though it's unclear in exactly what capacity.

Most scouts operate on one-year contracts that traditionally expire Oct. 31.
October, 17, 2014
Oct 17
1:58
PM PT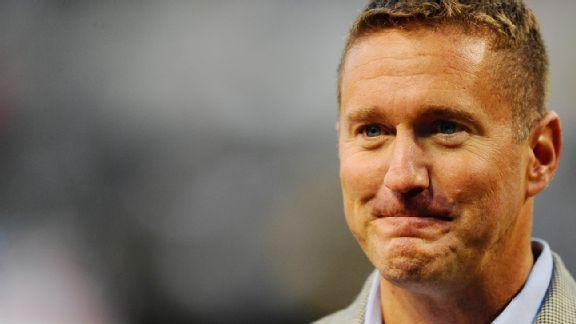 LOS ANGELES -- New Dodgers president of baseball operations Andrew Friedman has spoken to former Diamondbacks and Padres general manager Josh Byrnes about Los Angeles' vacant GM position, according to team sources.
Asked about those conversations after his introductory news conference at Dodger Stadium on Friday, Friedman was vague, saying he "talked to a lot of people about a lot of things."
Friedman said he isn't ready to announce who his GM will be or how the duties will be split, since Friedman essentially was the GM with the Tampa Bay Rays before the Dodgers created a new position for him, akin to Theo Epstein's role with the Chicago Cubs.
"It's still pretty recent, so as far as specifics, we don't know yet, but we're going to embrace the dynamic people that are already in place and bring people in from the outside and we're going to work together," Friedman said.
CBSSports.com reported that Byrnes is emerging as the frontrunner to take over for Ned Colletti, who was reassigned after the Dodgers bowed out to the St. Louis Cardinals in the first round of the playoffs. Colletti now is the senior adviser to team president and CEO Stan Kasten.
One of Friedman's first orders of business will be to hire a farm director to replace De Jon Watson, who left the team to join Dave Stewart's new front office in Arizona. It's also unclear whether Friedman will retain longtime Dodgers scouting director Logan White, who is well-respected within the industry.
October, 15, 2014
Oct 15
11:01
AM PT
It might take a little while for new
Los Angeles Dodgers
president of baseball operations Andrew Friedman to hire a general manager. For one thing, there's no rush. Free agency doesn't start until after the World Series ends and the real action tends to center around the winter meetings in early December. The Dodgers have plenty of front office people, including outgoing GM Ned Colletti, to hold down the position until Friedman gets his feet on the ground in L.A.
Friedman is also going to need a little time to pack up and move his family, which includes two young children. That doesn't sound easy.
So, while it may not be a front-burner issue, it's never too early to examine some of the candidates he figures to take a look at:
ALEX TAMIN, Dodgers

Tamin
Dodgers president and CEO Stan Kasten said he was proud of the strides the organization has made in the past few years bringing their research and analytics department up to the standards of the industry. The man who has been running that effort, Alex Tamin, is one of the sharpest minds in the game when it comes to arbitration hearings, contract negotiations, 40-man roster management, rules and operations. Before the Dodgers hired him to replace Kim Ng in 2011, Tamin was practicing law and had worked for many major league teams preparing arbitration cases. He has a law degree from UCLA and is well-liked inside the Dodgers front office and clubhouse. Tamin is a good choice if Friedman wants some continuity, but their lack of personal connection might hurt the in-house candidate.
BILLY EPPLER, New York Yankees
[+] Enlarge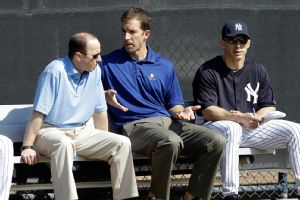 AP Photo/Charlie NeibergallYankees assistant GM Billy Eppler (center) has a background in analytics and is well-known within the industry.
He finished second to Jerry Dipoto when the Angels were hiring a GM in late 2011 and many people thought he was the frontrunner in San Diego before the Padres decided to go with A.J. Preller. Brian Cashman considers Eppler, 38, to be an integral part of his operation and promoted him when the Angels tried to hire him as their assistant GM.
"I look at Billy as being in a
Russell Wilson
situation, a guy that got picked later in the draft than he should have," Cashman told the New York Post. "Billy is going to be extremely good at this position."
Eppler has spent the past 15 years working his way up through the ranks of the
Colorado Rockies
(2000-2004) and Yankees. His background is mostly in analytics, but he also has experience on the scouting side and, unlike Preller, is well-known within the industry.
MIKE HAZEN, Boston Red Sox

Hazen
He and Eppler were the runners-up in San Diego. Hazen is one of the candidates who best blends on-field, scouting and analytics backgrounds. He spent five seasons as Boston's director of player development, one season as vice president of player development and amateur scouting and, since 2011, has acted as an assistant general manager to Ben Cherington. He's a Princeton grad and spent much of his career in player development, so he could help the Dodgers with one of their primary missions: continuing to improve the farm system.
DAVID FORST, Oakland A's
[+] Enlarge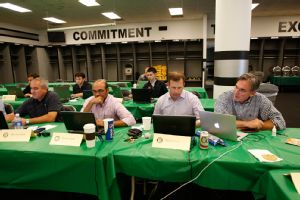 Michael Zagaris/Oakland Athletics/Getty ImagesDavid Forst (second from right) has spent the last 10 seasons working with A's GM Billy Beane and has strong relationships with many of the young-gun GMs in baseball.
One of Friedman's main attractions was the efficiency with which the Rays were able to assemble contending teams on shoestring budgets. The Dodgers are still willing to spend money, but they're less willing to waste money. So why not make it a dream team, merging talent from two teams that re-invent themselves every year and, somehow, push themselves into the playoff picture at a fraction of what other teams spend? Forst, a former Harvard shortstop who grew up in Encino, Calif., has spent the last 10 seasons working with A's general manager Billy Beane, the star of the book "Moneyball" and still a progressive thinker in the game. Forst has strong relationships with many of the young-gun GMs in baseball, including Cherington and the
Chicago White Sox
's Rick Hahn. He coordinates professional scouting and assists Beane in trades and contract negotiations.
DAN FEINSTEIN, Oakland A's

Feinstein
Another of Beane's assistants, Feinstein worked his way up from the A's video coordinator to a prominent position in the front office. He oversees the pro scouts and has been in charge of installing the A's cutting-edge computer systems, including hiring a programmer away from Tampa Bay. He worked closely with Friedman in Tampa Bay as director of baseball operations from 2005 to 2011. He was the Dodgers' coordinator of baseball operations under Paul DePodesta in 2005. Most intriguing, he has a degree from UC Davis in medieval European history. That could come in handy dealing with the L.A. media.
BRYAN MINNITI
,
Washington Nationals
This name has probably gained too much early traction, considering some in the industry think he was forced out in Washington. Mostly, the timing just seemed too coincidental. As the Dodgers were rumored to be ready to replace Colletti, he abruptly resigned as assistant general manager of the Nationals, where he had been hired five years ago (when Kasten was Washington's team president). According to Ken Rosenthal of Fox Sports, Friedman interviewed Minniti for a job in Tampa Bay five or six years ago, but didn't hire him. Minniti, 34, is among the youngest executives in baseball but already has 14 years of experience. He has been an assistant GM since he was 29. He handled contract negotiations and arbitration hearings, which would make him a good complement to Friedman if the latter decides to handle the high-profile trade and free-agent talks. It would also make Tamin redundant since those are his current duties on the Dodgers.
October, 14, 2014
Oct 14
5:59
PM PT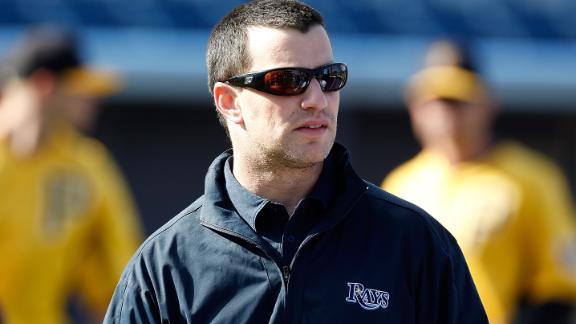 LOS ANGELES -- Two trade deadlines ago, the Los Angeles Dodgers got deep into discussions with the Los Angeles Angels to acquire second baseman Howie Kendrick.
The Angels were foundering and looking to deal expensive veterans for talent that could help replenish their bereft farm system. The Dodgers, living with aging Mark Ellis as their primary second baseman, felt in need of an upgrade. In the end, the Dodgers passed on the deal because they didn't want to part with pitching prospect Zach Lee and they were worried about tampering with a team on a historic run.
According to sources, that decision widened a rift in the team's front office. It lingered for nearly a year and a half. The push-pull, in general terms, was between general manager Ned Colletti and his small group of loyalists, primarily scouts and former scouts such as Rick Ragazzo and Vance Lovelace, and an analytics group that felt its input sometimes fell on deaf ears.
While the Dodgers were fortunate that Dee Gordon blossomed into the productive second baseman and leadoff hitter he became, he still had a WAR (2.4) that was dwarfed by Kendrick's (5.4) this past season. Lee, a former first-round pick who turned 23 in September, had a 5.38 ERA at Triple-A Albuquerque.