September, 20, 2014
Sep 20
12:09
AM PT
By
Jason Collette
| ESPNLosAngeles.com
Check out the latest standings, playoff odds and upcoming schedules at our
Hunt for October
page.
1. Max Scherzer versus James Shields on Saturday could be for all the marbles.
Kansas City began Friday just a half game behind Detroit in the American League Central, but they were blown out by the Tigers 10-1. Detroit chased Royals starter
Jason Vargas
in the fourth inning and joined the Nationals as the only teams in baseball with four players who have driven in at least 80 runs this season when
Torii Hunter
collected his 80th RBI of the season.
On this night,
Victor Martinez
joined
Miguel Cabrera
in the 100 RBI club when he drove in Cabrera in the first inning. That was his 45th RBI since the All-Star break, and he continues to build his case in the American League MVP race.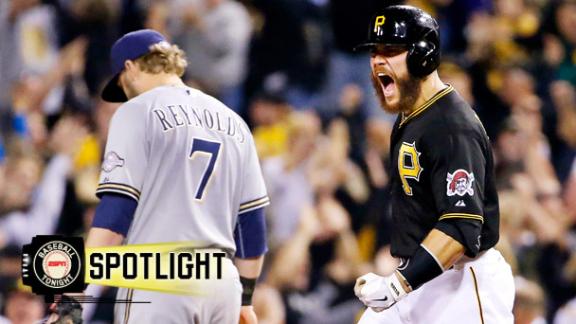 2. The Brewers' chances are slim to none, and slim is packing its bags.
Milwaukee took a 2-0 lead into the eighth inning at Pittsburgh, only to see
Jonathan Broxton
allow a three-run home run to
Russell Martin
and watch their offense go down 1-2-3 in the ninth inning. The loss was Milwaukee's third straight and 12th in the month of September, and it spoiled a brilliant outing for
Yovani Gallardo
.
The Brewers needed to sweep this series, and Gallardo was up to the task. He struck out 11 and scattered five hits over seven scoreless innings. Nonetheless,
John Holdzkom
was awarded the first win of his major league career, and
Mark Melancon
saved his fifth game in two weeks.
Milwaukee now trails Pittsburgh by 4½ games for the second NL wild-card spot, and the Brewers are in need of a miracle to get to the postseason. The win was the fifth in a row and 12th in the past 14 games for Pittsburgh. The Pirates are still within striking distance of the
St. Louis Cardinals
for the NL Central title, but the two teams do not play again during the regular season, and St. Louis will face the Cubs and Diamondbacks in the final week.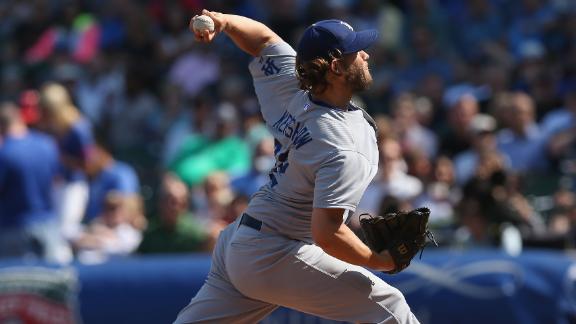 3. Clayton Kershaw is (somewhat) human.
The Cubs began the day with a .239 team batting average, which was fourth worst in baseball, and they had a league-worst 23.9 percent strikeout rate. Kershaw entered the game with a league-best .190 opponents' batting average and a 31.6 percent strikeout rate. The matchup, on paper, could not have looked more lopsided. Kershaw had made 17 consecutive starts in which he threw at least seven innings. He had made 16 consecutive starts in which he did not allow more hits than innings pitched.
Both of those streaks came to an end against the young and free-swinging Cubs lineup. While Kershaw was still able to pick up his 20th win of the season, he allowed three runs and seven hits in five innings of work. Kershaw did not have his usual command of the strike zone, and he threw 59.4 percent (63-of-106) of his pitches for strikes, which marked just the second time this season that he had thrown fewer than 60 percent of his pitches for strikes. His last regular-season start will come Wednesday night in the critical series against the Giants.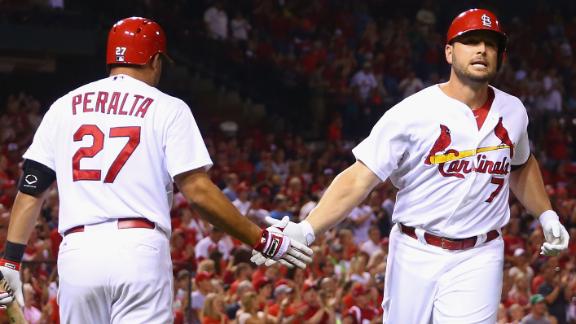 4. A repeat is looking likely for St. Louis.
John Lackey
took the mound for the first time in nine days, as his latest start was skipped due to his having a dead arm. In his previous three starts, Lackey had permitted 22 hits and 13 runs in 14 1/3 innings.
On Friday, he looked like the version of Lackey the Cardinals acquired from the Red Sox. He pitched into the eighth inning and allowed six hits and one run while striking out five batters. It was the 13th win in September and sixth in the past seven games for St. Louis.
Michael Wacha
and
Lance Lynn
will take the ball in the final two games of the series as the Cardinals look to take advantage of a favorable schedule the rest of the way and repeat as NL Central champs.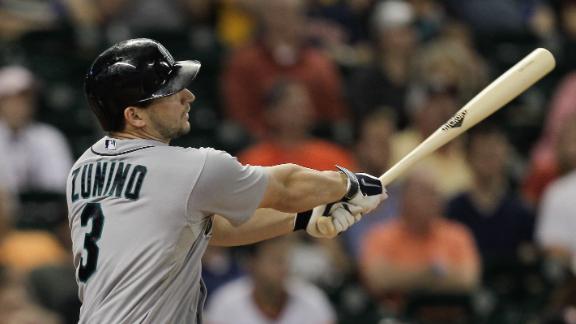 5. Mariners handling the calm before the storm.
Seattle has a tough road next week, as they have a four-game series at Toronto and then host the Angels to wrap up the regular season.
Last week, the Mariners dropped two of three at home to the Astros, and they can ill-afford a repeat this weekend in Houston.
Dustin Ackley
,
Kyle Seager
and
Mike Zunino
were not going to let that happen, as each homered Friday in support of
Taijuan Walker
in a convincing win over the Astros.
Five Mariners had multiple hits, and both of Ackley's hits were home runs. Seattle is a half-game out of the second AL wild-card spot. A sweep of the Astros this weekend would strengthen the Mariners' odds in the final week, and they started the weekend off on the right note.
Jason Collette writes for The Process Report, a blog on the Tampa Bay Rays, and also contributes to FanGraphs and Rotowire.
September, 19, 2014
Sep 19
5:13
PM PT
CHICAGO -- By the time the
Los Angeles Dodgers
had scored six runs on five hits, forced a pitching change and waited out
Chicago Cubs
trainers while they checked catcher
Welington Castillo
's bruised ribs,
Clayton Kershaw
had spent about 30 minutes cooling down from his pregame routine and watching from the bench, antsy as always.
"I'm going to have to figure out ways to stay loose," Kershaw said. "Obviously, Wrigley's not the easiest place -- not a lot of places to go -- but I'll probably have to go up the tunnel or somewhere else and get loose again."
[+] Enlarge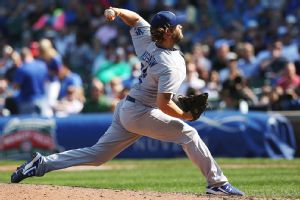 Jonathan Daniel/Getty ImagesClayton Kershaw had to struggle to get to his 20th victory of the season, but the Dodgers' offense helped bail him out.
Kershaw said he would be willing to sit around for two hours if it meant his team jumping out to a 6-0 lead, but the long Dodgers' first inning en route to a 14-5 win over the Cubs didn't make for the most elegant Kershaw performance. It was a 106-pitch grind with the wind blowing toward the lake. It was five innings the hard way. His fastball darted to unexpected places, and his breaking balls weren't breaking, but forgive his teammates if they weren't exactly rolling their eyes after Kershaw won his 20th game via a relative cheapie: five so-so but willful innings with a ton of run support.
It's fair to say Kershaw has a bit of good will in the bank with anybody who feels fondly about the Dodgers. He punctuated their season with that brilliant June no-hitter, had worked eight or nine innings in his previous seven outings and rescued this Dodgers season from the label of extravagant mediocrity, after all.
Years from now, all anybody is going to see are the marvelous -- borderline ridiculous -- numbers he put up in 2014. Kershaw joined Pedro Martinez (1999) as the only pitchers since World War II to pick up 20 wins in fewer than 30 starts. Kershaw (20-3) has taken the mound only 26 times this season, and the Dodgers have won 22 of those times. They're 19-1 in his past 20 starts, which has pulled them to the brink of postseason inclusion and put them in sturdy shape with a three-game lead in the NL West.
A pitcher's win-loss record doesn't necessarily paint a detailed portrait of his performance over a season. It has, in fact, become fashionable to label it a worthless measure, but that viewpoint isn't universal. To disdain wins sort of severs a bridge to the past. Who knows, somebody's dad or grandfather might like talking about the year Sandy Koufax won 27. Now a kid in 2014 can talk about the time Kershaw won 20 or 21 in just 27 tries.
"From my childhood, I remember you hear about Baltimore's five [actually, four] 20-game winners and stuff like that," Dodgers manager Don Mattingly said. "That's a landmark. It's like 100 RBIs for a hitter. Twenty wins, I think, is something we've always put out there as a landmark and a great year."
September, 19, 2014
Sep 19
6:25
PM PT
By
ESPN Stats & Information
Jonathan Daniel/Getty ImagesKershaw's day ended early, but he still picked up his 20th win
Clayton Kershaw
earned his second career 20-win season in a 14-5
Los Angeles Dodgers
win on against the
Chicago Cubs
on Friday, becoming the first MLB pitcher with 20 wins this season. Kershaw threw five innings, allowing three earned runs (all in the first inning) and striking out nine batters. It was his shortest start since June 8, when he threw five innings in a rain-shortened win over the
Colorado Rockies
. Here's what you need to know about Kershaw's dominant season and some exclusive clubs he's joined with this win.
Kershaw wins 20 again
Clayton Kershaw's second career 20-win season makes him the fourth Dodgers pitcher with multiple 20-win seasons since the franchise moved to Los Angeles in 1958. Sandy Koufax leads all L.A. Dodger pitchers with three 20-win seasons while Claude Osteen and Don Drysdale each have two.
Kershaw gets to 20 quickly
Kershaw got his 20th win in his 26th start of the season, becoming just the sixth pitcher in the expansion era to accomplish that feat according to Elias. Four of the previous five pitchers to do so won the Cy Young Award that season, with Juan Marichal as the lone exception in 1968.
Kershaw limits scoring
Friday marked the 25th time in his 26 starts this year that Kershaw allowed three runs or fewer. Kershaw currently is on pace to finish the season with the highest percentage of starts where he allows three runs or fewer in the last 100 years according to the Elias Sports Bureau. Entering this season, Dwight Gooden's 94.3 percent of starts in 1985 was the highest percentage, but Kershaw currently sits at 96.1 percent.
Kershaw has big strikeout numbers
Kershaw struck out at least nine batters in a game for the 15th time this season, snapping a tie with
David Price
for the MLB lead. Kershaw's 15 games of at least nine strikeouts is the most in a season by a Dodgers pitcher since Koufax had 21 in 1966.
September, 19, 2014
Sep 19
3:05
PM PT
Associated Press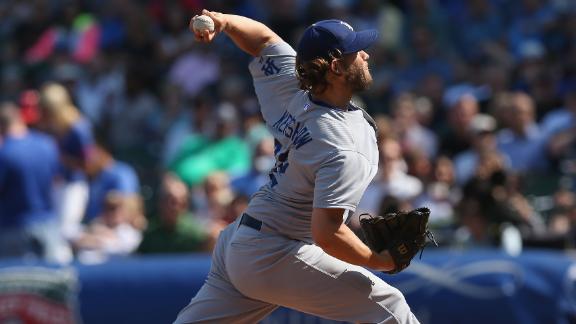 CHICAGO -- Clayton Kershaw became the majors' first 20-game winner and A.J. Ellis hit a pair of two-run homers, leading the Los Angeles Dodgers to a 14-5 victory over the Chicago Cubs on Friday.
Kershaw (20-3) pitched five shaky innings in his shortest start in 3 1/2 months, but the NL West-leading Dodgers roughed up Edwin Jackson on their way to a 13-hit attack that included four homers. Matt Kemp hit a three-run shot in Los Angeles' six-run first, and Yasiel Puig added another three-run homer in the sixth.
The Dodgers improved baseball's best road record to 48-31 and will clinch a postseason berth if Milwaukee loses in Pittsburgh on Friday night. They began the day with a 2 1/2-game lead over San Francisco in the division.
Jackson (6-15) recorded just two outs in his first appearance since he was placed on the disabled list last month with a right lat strain. He was charged with four hits and five runs in his fourth consecutive loss.
Los Angeles batted around during its biggest first inning of the season. Kemp's drive to left was his sixth homer this month and No. 22 on the year. Juan Uribe then chased Jackson with an RBI single before Ellis went deep for his second homer of the season.
September, 19, 2014
Sep 19
2:54
PM PT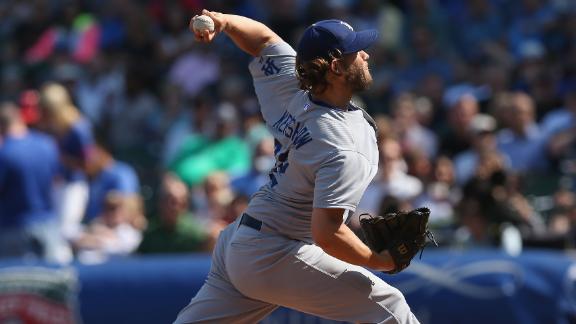 CHICAGO -- The
Los Angeles Dodgers
finally repaid
Clayton Kershaw
for a season's worth of picking them up.
The ace was far from his sharpest Friday, but the Dodgers bats pounded the
Chicago Cubs
' pitching, launching four home runs in a 14-5 win at Wrigley Field. In the process, Kershaw (20-3) became the first major league pitcher to pick up his 20th win this season.
With eight games left, the Dodgers extended their NL West lead to three games pending the result of the
San Francisco Giants
' game at San Diego later Friday. Later Friday, the
Milwaukee Brewers
lost to the
Pirates
in Pittsburgh to clinch at minimum a wild-card spot for the Dodgers.
How it happened:
The Dodgers knocked Cubs pitcher
Edwin Jackson
out of the game in the first inning, scoring six runs, but Kershaw struggled with his command early and gave half of those runs back in the bottom of the inning. He steadied himself and managed to get through the requisite five innings, but it was largely a grind; he needed 106 pitches.
The Dodgers continued to score off Chicago's bullpen, however. Catcher
A.J. Ellis
, one of Kershaw's best friends, launched a pair of two-run homers, tripling his season total. Kershaw's ERA went from 1.70 to 1.80, but he did strike out nine, giving him 228 strikeouts in just 26 games.
Hits:
Perhaps the most encouraging development on this road trip?
Yasiel Puig
is back. He appears to have emerged from his six-week-long slump. Puig walked, doubled and launched a three-run homer onto Waveland Avenue. Puig, who had not homered since July 31, is batting .412 with two home runs and six RBIs on this trip. Maybe it's a matter of the ballparks the Dodgers are playing in or maybe it's due to better at-bats, but the team needs Puig to be productive -- emphasis on the "horse" rather than the "wild" -- to be a deep offense.
Misses:
The Dodgers were looking to get a few more innings out of Kershaw, with struggling starter
Roberto Hernandez
pitching Saturday and with the tentative plan to empty out the bullpen Sunday and push
Dan Haren
's start back to Monday. Friday's start was the shortest for Kershaw since a rain-shortened game June 8 in Colorado. It was the shortest non-weather-related start since his one truly bad start of the season, May 17 at Arizona. Unless Hernandez can give the Dodgers six innings or so, they may have to use Haren Sunday and send
Carlos Frias
, who gave up 10 hits without completing an inning his previous time out, to face the Giants on Monday.
Stat of the game:
Dee Gordon
stole his 63rd base in the second inning. Gordon caught Dodgers first-base coach Davey Lopes (1976) for fifth on the team's all-time L.A. Dodgers single-season steals list. He is one behind
Juan Pierre
(2007).
Up next:
The four-game series at Wrigley Field continues Saturday at 10:05 a.m. PT with Hernandez (8-11, 4.06 ERA) and
Felix Doubront
(2-1, 1.50).
September, 19, 2014
Sep 19
10:44
AM PT
CHICAGO – The
Los Angeles Dodgers
would prefer that pitcher
Hyun-Jin Ryu
get one more regular-season start before the postseason begins, but they are also planning for the scenario that Ryu's next start will be in the pressure cooker of October. They feel that if anyone can do it, it's Ryu.
He would agree.
"I don't think there's a big difference which game I pitch in, whether it's the playoffs or the regular season," Ryu said through an interpreter. "If I'm healthy enough to pitch, I'm going to pitch."
The Dodgers ruled Ryu out to start Monday night against the
San Francisco Giants
. He is expected to start a light throwing routine Saturday to test his sore left shoulder, with the possibility that he could pitch one of the Dodgers' final three games against the
Colorado Rockies
next weekend.
Ryu twice came off the disabled list this season without making a minor-league rehab assignment. He doesn't throw bullpen sessions between starts and he is far from slavish about his routine, all of which suggests he might be the kind of pitcher who can come right off an injury and pitch effectively in the playoffs, Dodgers manager Don Mattingly said.
"His motion is so simple. There are really no complications in there at all. When you watch him pitch, sometimes he's already taking his sign while he's starting his windup," Mattingly said. "It's so simple and he seems to be able to throw the ball where he wants. That's been from the first time we've ever been able to see him throw the first time last year."
September, 19, 2014
Sep 19
8:00
AM PT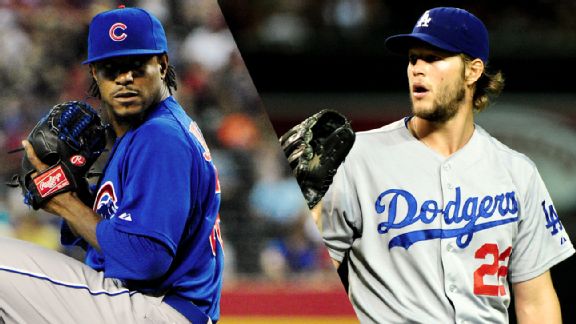 USA TODAY SportsFresh off the DL, Edwin Jackson takes his 6.09 ERA against Clayton Kershaw and his 1.70 mark.
CHICAGO -- It's a matchup the Las Vegas oddsmakers probably haven't seen a lot of action on. According to ESPN Stats & Information, for just the second time since earned runs became an official statistic in 1913, a starter with a sub-2.00 ERA will face one with an ERA of 6.00 or higher with a minimum of 20 starts.
In this case, it's
Edwin Jackson
(6.09) of the
Chicago Cubs
set to face
Clayton Kershaw
(1.70) of the
Los Angeles Dodgers
at 1:20 CT Friday afternoon at Wrigley Field. Another layer to the mismatch is the fact that Kershaw is vying for win No. 20 on the season.
"I think Edwin is looking forward to coming back and pitching tomorrow," Cubs manager Rick Renteria said Thursday afternoon. "It just happens to be against Kershaw."
Talk about bad luck. Jackson (6-14) has had a miserable season, and went on the disabled list with a latissimus strain almost a month to the day before Friday's start. Now the 31-year-old faces the best in the business as he tries to salvage something before winter settles over the 14-32 mark Jackson has posted in his two seasons in Chicago.
"Clearly it hasn't been the best couple of years with the organization so far, but like I say, I feel like I still have a lot of upside," Jackson said. "I have a long career ahead of me."
But will it be with the Cubs? With Chicago still owing the right-hander $22 million for two more years, Cubs president Theo Epstein intimated last offseason that signing Jackson when the team did could have been a mistake. What must he be thinking now? The Cubs will undoubtedly have to eat a lot of that salary if he's not on the team.
However, Jackson can't worry about any of that just yet.
"Any time you come back from an injury, it's always exciting coming back, regardless of how you were pitching that year," he said. "I do want to finish up strong. One or two starts. Whatever it may be."
In the other dugout is a man having a year for the ages. At 19-3, Kershaw has given up just 125 hits in 185⅓ innings pitched. His WHIP is 0.83. Jackson's is double that. And his ERA ranks last by a wide margin among regular starters. Kershaw's is first.
"They have a lot of young guys that can hit," the Dodgers left-hander said of the Cubs, "so no game is easy."
A pitcher doesn't have the success he's had without taking every opponent seriously. That brings us back to that one previous ERA mismatch. It was the Florida Marlins versus the
New York Mets
in 1996. Kevin Brown, with a 1.88 ERA, took on Paul Wilson and his 6.19 ERA at Shea Stadium.
The Mets won 6-1.
There is hope for the home team Friday.
"I just want to go out and pitch well no matter who I'm facing," Jackson said. "We could use the win."
September, 18, 2014
Sep 18
10:33
PM PT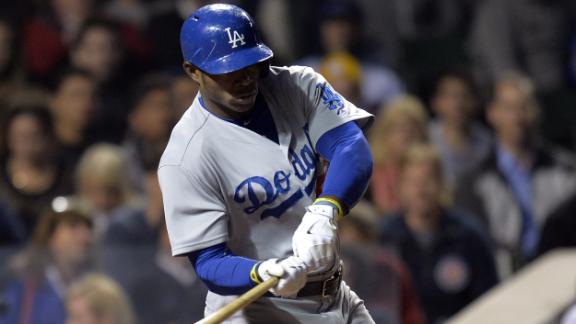 CHICAGO -- One talent evaluator who has been shadowing the
Los Angeles Dodgers
for the past several days noted the team's body language in recent games and wondered whether tales of the team's lack of chemistry might be entirely apt.
In the next breath, though, he marveled, "They're so darn talented, you could still see them getting in [the postseason] and doing some damage."
The Dodgers might not be the grittiest little team in baseball. They may not work in perfect harmony most of the time. But give them an inch of rope and foes usually regret it.
L.A. got a key error from the
Cubs
at Wrigley Field on Thursday, and then swarmed all over Chicago for a come-from-behind 8-4 victory. It was something of a landmark for a team that has tended to fold its tent and move on to the next site when things aren't going well.
[+] Enlarge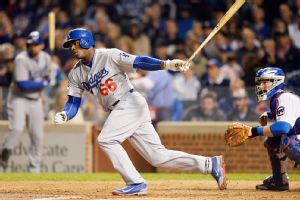 Brian Kersey/Getty ImagesYasiel Puig and the Dodgers' bats got a wake-up call Friday when the Cubs chased Zack Greinke. Down by three, L.A. rallied to win with a five-run seventh.
The Dodgers scored five times in the seventh inning after Cubs second baseman
Logan Watkins
dropped what looked like a sure inning-ending double-play ball. It was only the second time in 56 games this season the Dodgers won a game they were trailing after six innings.
The Dodgers' general lack of scrappiness became a topic of discussion afterward, one that manager Don Mattingly wanted no part of.
"I'm not listening to that," Mattingly said, smiling. "Don't even do it. It's not working. Not going to do it tonight. We've got nine games left. We won a game tonight; we came from behind.
"Honestly, it didn't look very good early, and it ended good. This time of year, you walk away with a W, you feel good about it."
If anything, it has appeared lately as if the Dodgers have enough talent revving on idle that they can turn their engine on and off when needed.
They got blown out Friday by the
Giants
, then woke up and played two of their best games of the season to launch them from the San Francisco Bay Area with a staunch little lead over their NL West rivals.
They got some awful pitching at altitude and gave up 26 runs the previous two days in Colorado. On Thursday, they again were staring at an early hole. When
Zack Greinke
got in trouble from the jump and gave up two first-inning runs, even Mattingly said he was "thinking of Colorado early."
But Greinke buckled down a bit, fighting himself to get through five innings in 112 pitches. The Dodgers' bullpen was a lot better than it had been against the
Rockies
, and the offense proved resourceful.
The ability to rally when down probably is not a bad trick to have in your bag. The Dodgers don't have much time left, so they had better be quick studies if they're going to master it.
"Pulling this one out is almost like stealing a win," Greinke said. "You don't do that very often. It's not very common."
Told it was just two times this season, Greinke said, "Really?"
"I guess sometimes teams get on rolls. One had like six walk-off hits in a week and a half or something," Greinke added. "So, sometimes, maybe doing it does get you going."
The Dodgers, still holding a 2½-game lead and zeroing in on clinching a postseason berth, don't necessarily need heroics in these final nine games, but it's never bad to flash a little versatility.
September, 19, 2014
Sep 19
1:25
AM PT
By
Tommy Rancel
| ESPNLosAngeles.com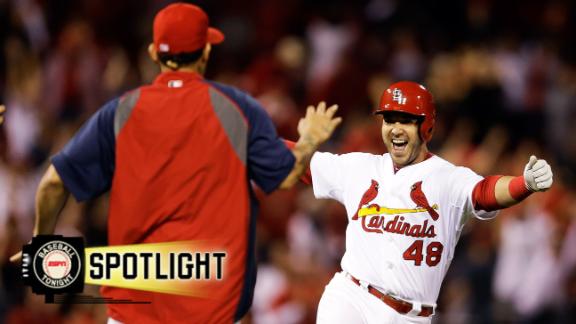 Check out the latest standings, playoff odds and upcoming schedules at the world-famous
Hunt for October
page.
1. The Brewers can't catch a break.
What started out as a solid pitching duel between current
St. Louis Cardinals
right-hander,
Shelby Miller
, and former Cardinal,
Kyle Lohse
, turned into a deflating loss for the
Milwaukee Brewers
in part to a wild eighth inning. The loss, in conjunction with St. Louis' victory, pushed Milwaukee six games behind in the NL Central, and with the Pirates' win (more on that in a bit), the Brewers dropped to 3 1/2 games out of a wild-card spot.
Miller entered the game having given up only three earned runs over his last 27 innings, spanning four starts. The 23-year-old had the hot hand early against the Brewers recording four outs within the first eight pitches he threw. Meanwhile, the young fireballer found himself trailing the veteran Lohse after a pair of errors (one of his own) put the Cardinals in a 2-0 hole.
Lohse carried that shutout into the eighth inning before being lifted for reliever Jonathon Broxton with one on and one out. Broxton promptly induced what looked to be an inning-ending double play. First baseman
Mark Reynolds
fielded the ground ball quickly, but he appeared to lose track of the outs in the inning. Instead of firing to second to start the twin killing, he nonchalantly strolled to first base for what he may have thought was the final out. In actuality, it was the second out of the inning and
Kolten Wong
advanced into scoring position. Broxton walked
Matt Carpenter
before surrendering an RBI-single to
Jon Jay
. It looked as if Broxton would escape without further damage when
Matt Holliday
was called out at first following a head-first slide, but the play was reversed after a lengthy replay. In a bit of controversy, Carpenter, who crossed home plate during the play, was ordered back to third. What happened next was finally the fault of Broxton. The burly right-hander walked the equally burly
Matt Adams
, bringing the tying run across the plate.
The Brewers had a chance to jump ahead in the top of the 11th, but Cards' reliever
Carlos Martinez
struck out
Carlos Gomez
with the bases loaded to end threat. After trading zeroes, the Cardinals finally completed the comeback when
Tony Cruz
singled home Adams for the walk-off win in the bottom of the 13th inning.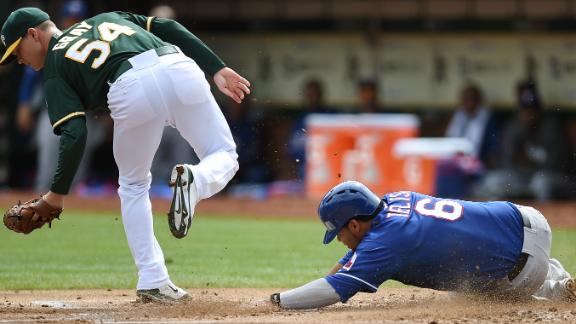 2. The A's situation keeps getting worse.
Even with their recent free fall, the
Oakland Athletics
still hold the envious position of "controlling their own destiny." As a current holder of a wild-card spot, they simply need to win as many games as the team(s) chasing them. A three-game series at home against the
Texas Rangers
-- the worst team in the league -- seemed like just the thing Oakland needed to right the ship. Nope.
The Rangers, led by an interim manager, came to town with a record of 57-92. Naturally, Texas won the first two games of the series. After opening the set with a 6-3 victory, Texas pulled of a wild rally Wednesday. Down 1-0 in the ninth inning, the Rangers scored six in the top half of the inning to clinch the series.
Oakland sent All-Star
Sonny Gray
to the hill in the finale looking to avoid the sweep. But before the A's took their turn at bat, the Rangers put together five singles against Gray -- including four straight with two outs -- taking advantage of a passed ball en route to a four-run first inning. The A's briefly cut the lead in half before watching Texas run away with the 7-2 win to complete the sweep.
The loss dropped Oakland from their perch atop the wild-card race and into the second slot, a half-game behind the idle
Kansas City Royals
. With 10 games to go, the A's hold a one-game lead over the
Seattle Mariners
for the final spot after Seattle's victory over the Angels.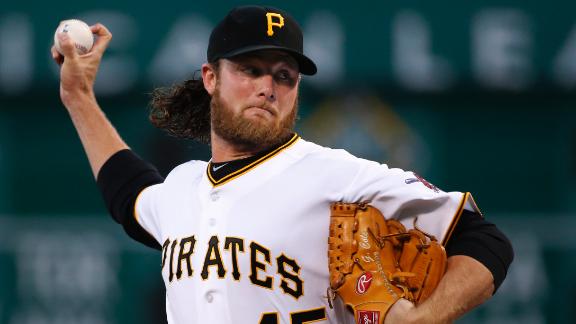 3. Pirates provide something unusual in win.
The
Pittsburgh Pirates
opened play Thursday trailing the division leading St. Louis Cardinals by 2 1/2 games. They held the same lead over another division rival, the Milwaukee Brewers, in the race for a National League wild card. The Bucs sent
Gerrit Cole
to the mound against the
Boston Red Sox
hoping to advance -- or at least maintain -- their position in the standings.
Cole delivered his third straight win. The former first-round pick tossed seven strong innings, striking out seven and walking none. He is in firm control right now with 21 strikeouts and only one walk over his last three outings (19 innings).
The young right-hander received help from outfielder
Starling Marte
, who belted his 13th home run of the season and has been one of the league's best hitters in the second half. In fact, he is the only player with an OPS greater than 1.000 in the second half (minimum 150 plate appearances).
Closer
Mark Melancon
, facing his former team, made things interesting after a hit batter and a single set up first and third with no outs in a 3-2 game. What happened next is a "can't predict baseball" moment. With pinch-runner,
Jemile Weeks
, 90 feet from tying the game,
Will Middlebrooks
grounded a ball down the third-base line. The ball hit Weeks in fair territory -- resulting in an automatic out. Melancon struck out the next batter before inducing another ground ball out to seal the deal.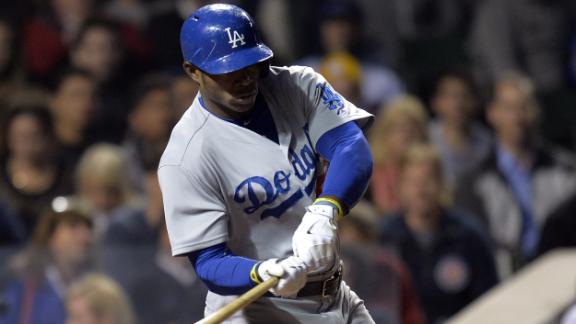 4. The Dodgers' offense showed some life.
The
Los Angeles Dodgers
are clinging to a slim lead in the NL West. With the status of Hyun-Jin Ryu uncertain, and his fill-in (
Carlos Frias
) getting wacked, the Dodgers need strong a performance from the rest of their rotation. Zach Greinke did not have one of those against the
Chicago Cubs
, but his teammates let him off the hook. Greinke's evening got off to a rough start. Chicago started the game with a single, error, walk, single, and another single resulting in two runs before registering their first out. There would be a three-inning reprieve before the Cubs tacked on two more in the fifth on the strength of four consecutive base hits.
Luckily for Greinke and the Dodgers' faithful, the offense would soon wake up. Using five hits -- including two doubles -- and benefiting from an error, Los Angeles pushed five runs across the plate in the top of the seventh inning to take a 6-4 lead. A quartet of relievers worked the final four innings to cap off the 8-4 win that gives the Dodgers a 2 1/2 lead over the
San Francisco Giants
.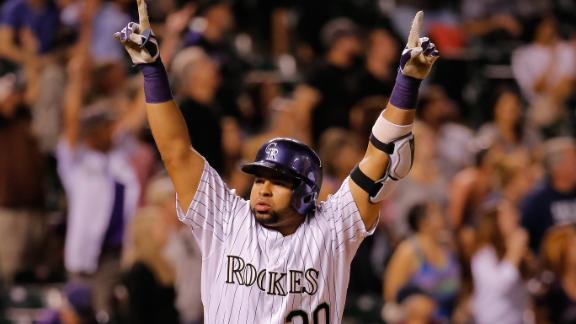 5. The D-Backs are playing their way down toward the top pick.
Addison Reed
is doing his best to improve the
Arizona Diamondbacks
' draft standing. The erstwhile closer gave up two runs to the San Francisco Giants in the top of the ninth Wednesday before serving up a two-run, two-out, walk-off home run to
Wilin Rosario
of the
Colorado Rockies
in the ninth inning Thursday night. The pair of losses dropped the Diamondbacks into a tie with the Rockies for the worst record in the NL, and they're now just a game behind the Rangers for the top spot in next year's draft.
Tommy Rancel blogs about the Tampa Bay Rays at the SweetSpot network affiliate The Process Report. You can follow him on Twitter at @TRancel.
September, 18, 2014
Sep 18
9:19
PM PT
Associated Press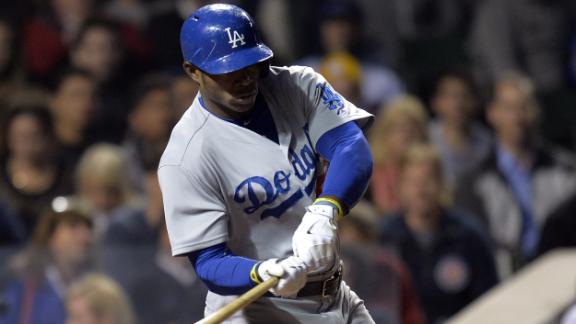 CHICAGO -- Dee Gordon and pinch-hitter Andre Ethier hit RBI doubles in Los Angeles' five-run seventh inning, and the Dodgers rallied to beat the Chicago Cubs 8-4 on Thursday night and extend their lead in the NL West.
The Dodgers trailed 4-1 heading into the seventh but six of their eight hitters reached base against reliever Neil Ramirez with five hits and an error.
Cubs rookie second baseman Logan Watkins couldn't handle Juan Uribe's hard-hit grounder with one out. That allowed the first run of the rally to score on a fielder's choice. Los Angeles scored all the runs in the inning against Ramirez (2-3), but only one was earned.
The Dodgers moved 2 1-2 games ahead of idle San Francisco in the NL West race.
Los Angeles overcame a shaky start by Zack Greinke, who allowed four runs in five innings.
September, 18, 2014
Sep 18
9:18
PM PT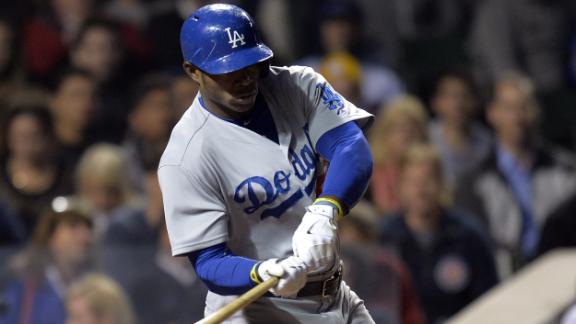 CHICAGO -- The
Los Angeles Dodgers
went into Thursday's game against the
Chicago Cubs
with a .018 winning percentage when trailing after six innings.
Make that .036.
They rallied from a three-run deficit in the seventh inning to beat the Cubs 8-4 Thursday night and accelerate their pursuit of the NL West title.
The win padded the Dodgers' division lead to 2 1/2 games over the idle
San Francisco Giants
and reduced their magic number to eight. And since the
Milwaukee Brewers
lost on Thursday, the Dodgers could clinch at least a wild-card berth as early as Friday.
How it happened:
For the third game in a row, the Dodgers got into trouble right away -- not the easiest formula for success.
Zack Greinke
gave up a hit to leadoff man
Chris Coghlan
and the first four Cubs reached base, leading to two first-inning runs. The difference between Thursday and the previous two games was that Greinke was able to keep a lid on things for the most part and the Dodgers eventually rallied. The hinge play in the seventh was
Juan Uribe
's sharply hit grounder to second baseman
Logan Watkins
that looked like a surefire inning-ending double play. Instead, Watkins overran it for an error,
Andre Ethier
sliced an RBI double and the Dodgers went on to add four unearned runs. They'll take whatever they can get at this time of year.
Hits:
The Dodgers are getting good energy at the top of the lineup.
Yasiel Puig
is beginning to hit rockets again and
Dee Gordon
is finding ways to hit his way on base. Gordon bunted for a hit in the fourth and nailed an RBI double during the seventh-inning rally. Puig also drove in a run in the seventh and singled to left. Gordon is batting .363 during his 11-game hitting streak, and Puig is hitting .379 on this road trip.
Misses:
The Dodgers got Greinke off the hook with their error-aided seventh-inning rally, but it was far from their No. 2 starter's most artful performance. Pitching efficiency in general has been an issue for Greinke lately, and he has struggled to pitch deep into games. Cubs rookie
Jorge Soler
singled to left field on Greinke's 100th pitch in the fifth inning, and Greinke didn't come back out for the sixth. He allowed four runs on nine hits. Just once in Greinke's last four starts has he pitched as deep as the seventh inning.
Stat of the game:
Thursday was the eighth anniversary of the back-to-back-to-back-to-back home run game against the
San Diego Padres
. Jeff Kent, J.D. Drew,
Russell Martin
and Marlon Anderson homered consecutively to send the game into extra innings, and Nomar Garciaparra, now a Dodgers broadcaster, homered in the 11th to win it.
Up next:
Clayton Kershaw
(19-3) tries to become the majors' first 20-game winner. The Dodgers will face
Edwin Jackson
(6-14, 6.09 ERA) Friday in a game that begins at 11:10 a.m. PT.
September, 18, 2014
Sep 18
4:32
PM PT
CHICAGO -- Shortstop
Hanley Ramirez
returned to the
Los Angeles Dodgers
' lineup Thursday after sitting out two games because of a strained right elbow, but the team's pitching plans remain unsettled for later this weekend.
Pitcher
Hyun-Jin Ryu
, whose flight to Chicago was delayed, is scheduled to begin what the team is calling a "sub-maximal throwing program" on Friday.
Veteran
Dan Haren
is scheduled to start Sunday against the
Chicago Cubs
, but the Dodgers could instead hold Haren back for Monday and use a combination of relievers to pitch Sunday's game, manager Don Mattingly reiterated.
Ryu had to leave last Friday's start at the
San Francisco Giants
after one inning because of left shoulder inflammation. Mattingly said it would be "a stretch," to consider Ryu a possibility to pitch Monday in the opener of a crucial three-game series with the Giants at Dodgers Stadium.
Carlos Frias
, who threw 38 pitches in the first inning at Coors Field on Wednesday -- setting a record by giving up 10 hits while getting only two outs -- will be available in the bullpen starting Friday and could be part of Sunday's mix, if the Dodgers go that route. Mattingly said he isn't necessarily worried about the uncertainty in his rotation beyond the starts of
Zack Greinke
and
Clayton Kershaw
.
"If I had to worry about going through 162 games right now, it'd be a little different feel. But we're really not in that situation," Mattingly said. "We've got 10 games. I feel pretty good with where we're at. We feel like we're going to get Hyun-Jin back. It's going to be a few days, but we're going to get him back."
September, 18, 2014
Sep 18
6:26
PM PT
CHICAGO – Holding no grudges for being demoted -- and then traded -- former
Chicago Cubs
second baseman
Darwin Barney
returned to Wrigley Field for the first time with the first-place
Los Angeles Dodgers
, happy for the chance at postseason baseball.
"If I was in their position, I might have done the same thing with me too," Barney said before Thursday night's game. "It was weird at first. It's just a different atmosphere. We expect to win, and if we don't, we don't cry about it, we get up the next day and try to win that day. It's kind of a fun experience."
Barney fell out of favor with Cubs fans as his batting average continued to dip after hitting a high of .276 in 2011. He hit .208 last season and .230 this year before being traded in July. He went from last place -- and the only organization he's ever known -- to first place in a matter of days.
"The biggest difference is at this time of year a lot of guys are counting down the days," Barney said of his former team. "It's strange not to be counting down the days. I didn't even know the season was over in 10 days. There's still baseball ahead.
"It's a little like a divorce. I've only known one thing. The unknown can be a little scary, but that's baseball. That's life. It's going to happen to everybody, and it's going to happen again."
Barney knew the deal. The Cubs were rebuilding and weren't exactly spending money on the big league club. As the team tanked, so did his offensive game. With top-end talent coming up behind him, Barney didn't survive his own struggles and the Cubs couldn't afford to keep a gold glove, no-hit player.
"The year after I was drafted I was sitting in the car with (former Cub)
Steve Clevenger
, sitting there saying 'we have an opportunity to win a championship in Chicago someday.' That was my goal, and what I wanted for a long time."
Like all former Cubs, he thought the chance to break the longest championship drought in sports was a special opportunity. It didn't happen in Chicago, but he's hoping it does in Los Angeles. He's appeared in 15 games and hit his first home run with his new team on Wednesday. The Dodgers are stacked with talent and on the verge of returning to the playoffs.
"This team is a really good team," he said. "I couldn't believe how good we were when I got here.
(Clayton) Kershaw
is the best pitcher I've ever seen."
At the end of the day, Barney is actually grateful the Cubs moved him when they did. They gave him a chance to play this season longer than any of his former teammates will.
"I have no hard feelings," Barney stated. "They made it early enough that I could go to a contender.