April, 17, 2014
Apr 17
3:59
PM PT
Associated Press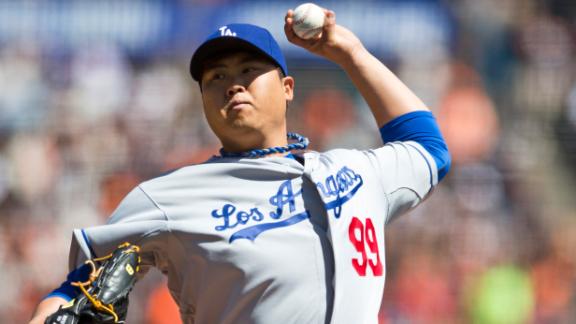 SAN FRANCISCO -- Hyun-Jin Ryu stretched his oad scoreless streak to 26 innings, and the Los Angeles Dodgers beat the San Francisco Giants 2-1 Thursday to avoid a sweep.
Ryu (3-1) struck out three and walked one on a season-high 112 pitches in seven innings, helping his club move into a tie with the Giants atop the NL West at 10-6.
Yasiel Puig returned to the Dodgers starting lineup and went 1 for 4 with a strikeout. He dropped a routine fly ball in right early on but recovered to throw out Brandon Belt at second. He then made a nice over-the-head catch on the next batter and a running grab in shallow center in the eighth with a runner on second.
April, 17, 2014
Apr 17
3:53
PM PT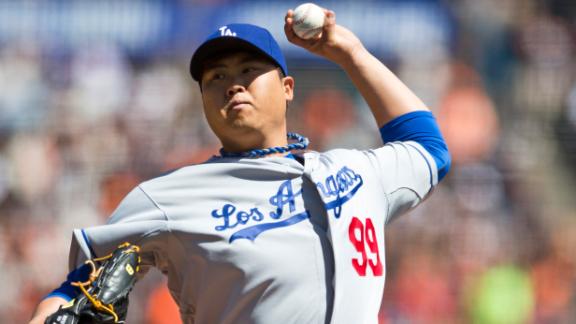 SAN FRANCISCO -- The
Dodgers
evaded the dreaded sweep in San Francisco with a 2-1 win over the
Giants
on Thursday afternoon by getting another strong start from
Hyun-Jin Ryu
, who is vying with
Zack Greinke
to be the Dodgers' fill-in ace while
Clayton Kershaw
is out.


The Dodgers weathered another stormy ninth inning by closer
Kenley Jansen
, who had a key wild pitch, gave up a run and allowed the tying run to reach second before getting pinch hitter
Brandon Crawford
to fly out to end it.
The Dodgers chased San Francisco ace
Madison Bumgarner
in the fifth inning by driving up his pitch count.
How it happened:
That April 4 start -- the shortest of Ryu's career -- is becoming more mysterious by the day because he has yet to give up a run in any of his other four starts. He had the Giants off balance all game, inducing weak contact and cruising through seven scoreless innings without swing-and-miss stuff. The Dodgers offense stayed quiet but scratched out a couple of runs to prevail. It was a low-scoring, tense series that made for good drama.
Hits:
One way you survive key injuries is by getting contributions from the players who fill in. That was the case Thursday.
Tim Federowicz
, thrust into the primary catcher role by
A.J. Ellis
' knee injury, singled home the Dodgers' first run in the second.
Justin Turner
, playing shortstop in place of
Hanley Ramirez
, led off the fifth with a double and scored to pad the lead.
Misses:
For the second game in a row, a Dodger outfielder simply missed an easy fly ball. It was
Matt Kemp
on Wednesday,
Yasiel Puig
on Thursday. In Puig's case, he was doing his usual taunting basket catch when he took his eye off it. He made a spectacular recovery and chucked the ball to second to get a force out anyway. He also made a brilliant over-the-left shoulder grab after getting fooled on
Gregor Blanco
's knuckling liner over his head and came out of nowhere to steal a bloop hit in the eighth. Overall, Puig had a major positive impact on defense.
Stat of the game:
Adrian Gonzalez
extended his hitting streak to 12 games by sneaking a single into right field to drive in Turner and give the Dodgers a 2-0 lead.
Up next:
The Dodgers have a chance to keep the
Arizona Diamondbacks
miserable this weekend. They've already beaten them in all five meetings this season, and the Diamondbacks are 4-14 overall. Friday, Greinke (3-0, 2.76 ERA) opposes Arizona lefty
Wade Miley
(2-2, 5.04 ERA).
April, 17, 2014
Apr 17
1:45
PM PT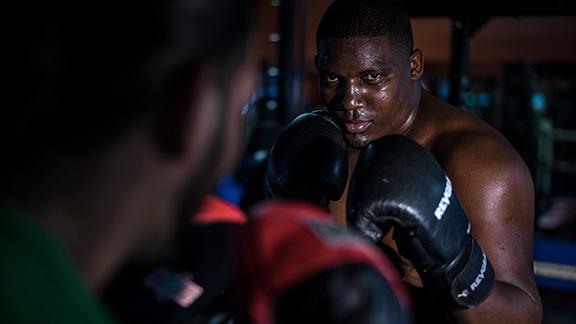 SAN FRANCISCO -- Yasiel Puig has presented Don Mattingly with plenty of managerial challenges since arriving in the major leagues last June, but the latest news about the outfielder's perilous escape from Cuba has taken the relationship into new territory.
According to two reports, including a lengthy ESPN The Magazine story detailing its five-month investigation, Puig has received death threats from human traffickers who orchestrated his 2012 defection from Cuba to Mexico. Mattingly said he read the first of those articles Wednesday and has gained a more nuanced view of his talented, sometimes reckless outfielder.
"If you care about Yasiel, you worry about it," Mattingly said. "There's some serious stuff that he has to deal with. I think you have to worry about it if you care about him as a person. You worry about what he's going through."
The Dodgers' front office, including president Stan Kasten and general manager Ned Colletti, has declined to comment on any of the newly revealed details of Puig's defection. The team hired a security detail that has been traveling full time with the Dodgers since mid-June of last season, days after Puig arrived from Double-A Chattanooga.
Because of their silence, it's unclear how much of Puig's saga the Dodgers knew when they signed him to a seven-year, $42 million contract shortly after he defected. According to the reports, Puig owes a Miami businessman and small-time criminal 20 percent of all his baseball earnings after the man orchestrated his escape to Mexico's eastern coast with the help of a Mexican drug cartel.
Mattingly said he learned of those details when he got a call from Colletti on Tuesday afternoon alerting him to the first magazine article.
April, 17, 2014
Apr 17
12:27
PM PT
Associated Press
SAN FRANCISCO -- Police say several people suffered minor injuries when a fan threw a firework onto a walkway during the Los Angeles Dodgers-San Francisco Giants game on Wednesday night.
The San Francisco Chronicle reports umpires temporarily halted play around 9:30 p.m. Wednesday after a loud explosion was heard and smoke was seen in an area above right-center field.
Witnesses reported seeing a man in a Giants hat in the outfield bleachers throw a large firecracker into a group of people near a concession stand. At least five people reported injuries, including dizziness and temporary loss of hearing.
Police spokesman Gordon Shyy tells the Chronicle 21-year-old Paolo Pavone was booked on suspicion of willfully discharging and possessing an explosive and discharging a firework in a public place.
The Giants beat the Dodgers 2-1.
April, 16, 2014
Apr 16
11:44
PM PT
SAN FRANCISCO --
Hanley Ramirez
was not a happy man.
Since a
Joe Kelly
pitch collided with one of his ribs and rendered him a decoy in the playoffs last season, Ramirez has had one overarching goal: stay on the field and lead the Dodgers to the World Series. For about 15 minutes Wednesday night, it was all going up in flames.
[+] Enlarge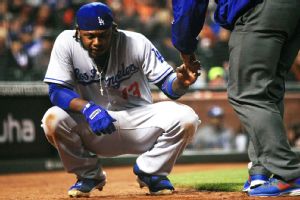 Lance Iversen/USA TODAY SportsHanley Ramirez was mad after getting hit in the hand Wednesday, but luckily for him his X-rays were negative.
A
Ryan Vogelsong
sinker didn't sink. It tailed violently in and up, slamming off Ramirez's left hand. Within seconds, the powerful shortstop grabbed his pine tar-smeared batting helmet and slammed it into the turf. There were 42,773 people at AT&T Park and nobody could take their eyes off the big man having a temper tantrum. Few of them knew the reason.
"Everyone knows what I went through last year," Ramirez said after the
Los Angeles Dodgers
' 2-1 loss to the
San Francisco Giants
. "To get hit in the hand ... the hand is a spot where it's easy to get any damage. I was wondering."
Thanks to the wonders of in-stadium X-ray machines, he didn't have to wonder long. The X-rays proved negative, no further tests are planned and, the next time Ramirez can swing a bat without too much pain, he'll be back in the lineup. It probably won't be Thursday, but could be Friday or Saturday, maybe Sunday or Monday.
However long he's out, it appears it will be a survivable amount of games. From all angles Wednesday night, it was looking as if the Dodgers had sidestepped the one injury that could send their season spinning downward.
In case you haven't noticed, they've managed to buck up pretty well without the best pitcher on the planet,
Clayton Kershaw
, who made one start for them in Australia before heading to the disabled list because of strained muscles in his upper back. The Dodgers are two games above .500 without Kershaw.
With Ramirez, they're one of the most dangerous teams in baseball. Without him, they've been feeble. Since the start of 2013, the Dodgers are 60-32 when Ramirez plays and 39-46 when he doesn't. Granted, his longest stay on the disabled list coincided with
Zack Greinke
's, but still ...
Even that doesn't communicate his importance properly. The Dodgers had better shortstop depth last season than they do this season. Had Ramirez gone down for a long while, the Dodgers would have been pondering the pros and cons of a
Justin Turner
vs.
Dee Gordon
vs.
Carlos Triunfel
shortstop situation. Yeah, that thin.
Ramirez actually argued fairly passionately with trainer Stan Conte to stay in the game, but Conte's a little more assertive than most trainers and there was no way the Dodgers were going to leave Ramirez in the game in the seventh inning.
"At that point, he's mad and he's going to want to try to stay in there and steal a base or something," manager Don Mattingly said. "We just can't do that."
Mattingly saw it. Everybody credited
Yasiel Puig
for turning around the team's fortunes last season, but Ramirez's production was even more crucial in that stretch. So, now, Mattingly can show up Thursday morning and harbor at least a glimmer of hope his best hitter can try to help the team avoid a three-game sweep here. But even if he learns it's going to be a week or more before Ramirez plays, he'll know it could have been a whole lot worse.
April, 16, 2014
Apr 16
10:19
PM PT
Associated Press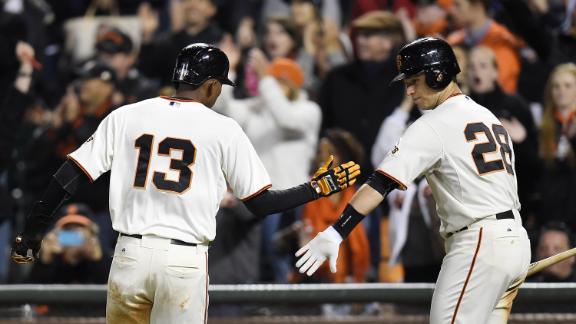 SAN FRANCISCO -- Pablo Sandoval singled in the go-ahead run in the seventh inning, lifting the San Francisco Giants to a 2-1 victory over the rival Los Angeles Dodgers on Wednesday night and into first place in the NL West.
The struggling Sandoval came through after reliever J.P. Howell (1-1) intentionally walked Hunter Pence with two outs. Sandoval, who entered the game batting just .164, grounded into center field to score Joaquin Arias from second.
Jean Machi (3-0) pitched out of a bases-loaded jam earlier in the seventh for the win.
Buster Posey broke an 0-for-13 skid with an RBI single in the third to give the Giants a 1-0 lead. Dee Gordon's tying triple in the sixth accounted for the Dodgers' lone run.
April, 16, 2014
Apr 16
10:08
PM PT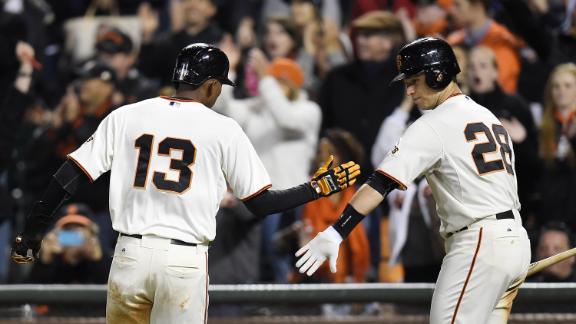 SAN FRANCISCO -- The Los Angeles Dodgers lost another maddening, one-run game at AT&T Park on Wednesday night, but it was nothing like the pain they could be feeling if their best hitter is out for an extended period of time once again.
Hanley Ramirez
was hit in the left hand by a 90-mph
Ryan Vogelsong
pitch and appeared to be in considerable pain before he was removed from the game. Initial X-rays proved negative, though Ramirez probably will undergo further tests.
The Dodgers' fortunes rose and fell on Ramirez's health last season, with the team riding his hot bat to its historic 42-8 June-to-August run that thrust them back in the playoff picture after a dismal start.
How it happened:
It was another tight, hard-fought game between the two rivals until Vogelsong's pitch tailed in hard on Ramirez, who was diving in and unable to get out of the way. Ramirez slammed his batting helmet to the ground and left the field with trainer Stan Conte.
Not long after that, San Francisco scored the go-ahead run on Pablo Sandoval's two-out RBI single in the seventh.
Hits:
Paul Maholm
had been put in a difficult spot since the first day of spring training.
He wasn't sure if he'd be starting or relieving and, once the season began, got sporadic work. But paired with Josh Beckett's work the night before, he gave the Dodgers a little more reason to feel OK about the back of the rotation. Maholm pitched six strong innings, holding the Giants to one run and five hits.
Misses:
Matt Kemp
's game has been erratic since he came off the disabled list. He has had some big games, but he also has had some embarrassing moments. He had a couple in about a 15-minute span in the first two innings. Kemp called off
Carl Crawford
and caught
Hunter Pence
's drive to left-center, but then he dropped it for a two-base error. The next inning, Kemp was picked off first base, a call upheld after a video review.
Stat of the game:
The Dodgers came into the game leading the majors with 20 stolen bases and had been caught only four times, but they botched a hit-and-run in the third inning and
Juan Uribe
was out by five feet, denting their early running success.
Up next:
Two of the best left-handed pitchers in the National League take the mound for a 12:45 p.m. game at AT&T Park, the series finale.
Hyun-Jin Ryu
(2-1, 2.57 ERA) has been outstanding in three of his four starts and
Madison Bumgarner
(2-0, 3.31 ERA) is San Francisco's clear-cut ace
April, 16, 2014
Apr 16
9:34
PM PT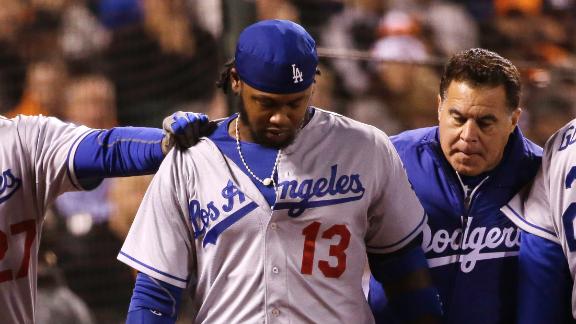 SAN FRANCISCO -- Dodgers shortstop Hanley Ramirez sat out Thursday's game after getting hit in the left hand by a pitch from the Giants' Ryan Vogelsong on Wednesday.
The pitch, a 90-mph fastball, ran in on Ramirez and caught him on the back of the hand. He immediately removed his batting helmet and slammed it to the ground in disgust. There appeared to be considerable inflammation when Ramirez removed his batting glove as he crouched behind home plate at AT&T Park.
X-rays came back negative and the swelling had subsided Thursday, but not sufficiently for him to be in Thursday's lineup against the Giants.
Ramirez, however, said he'll be back against the Arizona Diamondbacks on Friday.
"I'm not going to try. I'm going to be in there," Ramirez said. "For sure, I'm going to be in there tomorrow."
Ramirez entered the game hitting .291 with two home runs and seven RBIs.
"I talked to him. I'm sure he's relieved," manager Don Mattingly said after Wednesday's game. "You see when you get hit there, you're a little worried. The X-rays coming back is good for us and we'll see where he's at tomorrow, the next day or whatever. I'm sure he's going to be a little sore."
Vogelsong's command appeared to be excellent before he hit Ramirez. He had thrown a first-pitch strike to 15 of the first 20 batters he faced.
April, 16, 2014
Apr 16
7:00
AM PT
SAN FRANCISCO -- The
Los Angeles Dodgers
added a lot of well-paid, veteran relievers to their bullpen over the winter, but the most impactful addition might have shown up all by itself without any contract demands.
Kenley Jansen
's fastball came back.
[+] Enlarge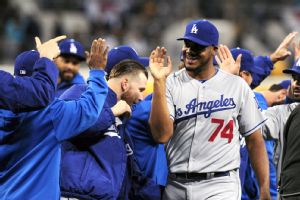 Andrew Fielding/USA TODAY SportsKenley Jansen has had a bit of a rough start to the season, but the velocity of his fastball has seemed to increase.
The closer's velocity has ticked up from the 92-to-95 mph range it inhabited last season when he was one of the most dominant relievers in baseball to 95-to-100 mph territory, a place few other pitchers inhabit.
"It used to be there, man," Jansen said. "In the minor leagues in 2010, it was there for me -- 98, hitting 102. It just left for the last two years."
Fangraphs credits Jansen with a 3-mph boost to his fastball. Why has it returned? And is it a good thing?
Jansen says he thinks a normal off-season -- entering 2013 he was still recovering from a cardiac ablation to fix an abnormal heartbeat -- had something to do with it. He continues his running over the winter and felt stronger in spring training. He also attributes throwing a two-seam fastball -- or sinker -- for an uptick in velocity. Jansen's two different fastball looks tend to get lumped together because he throws them at similar velocities.
The numbers have been fairly consistent park to park and radar gun to radar gun. He used a 98-mph fastball to help strike out
Miguel Cabrera
at Dodger Stadium. He used a 100-mph fastball to help strike out
Mark Trumbo
at Chase Field.
Jansen admits he doesn't get as much lateral movement on his cutter -- which has been compared to that of
Mariano Rivera
-- at the increased velocity, but he'll take all the extra mph he can get. The results have been only so-so as Jansen has blown two of his last three save chances, including Tuesday night in San Francisco. His ERA is at 4.50 and he has already given up two home runs. He gave up six all last year and six the year before that.
"It makes it a little straighter, but I feel like the velocity makes it move a little later and that's better," Jansen said. "I don't have the big cut, but I have late cut. It feels like a weapon."
April, 16, 2014
Apr 16
1:01
AM PT
SAN FRANCISCO -- The Dodgers got The Beard back before Tuesday's game, but
Brian Wilson
was the only reliever who didn't pitch. He warmed up a couple of times and would have pitched at the end if the Dodgers could have gotten a lead in extra innings.
The Dodgers are so loaded with well-paid veterans in their bullpen that they were practically forced to option one of their most reliable relievers the past two seasons,
Paco Rodriguez
, to Triple-A Albuquerque to get Wilson on the roster.
[+] Enlarge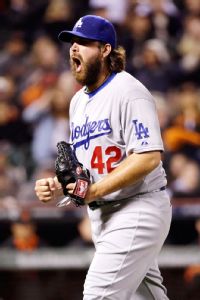 AP Photo/Marcio Jose SanchezChris Perez has yet to give up a run in eight games with the Dodgers.
That shed an even brighter light on what happened hours later.
Brandon League
, who regressed steadily from closer to setup man to mop-up man throughout last season, was the losing pitcher in Tuesday night's 3-2 loss to the
San Francisco Giants
.
Instead of optioning Rodriguez, the Dodgers could have designated League for assignment. It probably would have made more sense strictly from a pitching perspective, but that would have meant swallowing $15 million or so in salary, as it's doubtful he would have cleared waivers and accepted a minor league assignment.
It was a tad early for such a drastic move, but manager Don Mattingly didn't exactly give League a ringing vote of confidence after the game.
"He's one of our guys, so we try to keep helping him, and that's the way it is," Mattingly said. "He's one of our guys."
That's true. League is, at least for now, one of the Dodgers' guys. And he's not the only pitcher with a good arm who's not performing well at the moment. Closer
Kenley Jansen
has blown two of his past four save chances. The Dodgers are the best-paid bullpen in the National League, but they rank sixth in ERA and batting average against.
Jansen could only shrug his shoulders at some bad breaks in the ninth inning.
Angel Pagan
reached on a single that bounced off Jansen's foot.
Brandon Belt
, a left-handed hitter, slapped a double just inside third base. That's hard to do.
"He got lucky on that. What could I do?" Jansen said.
There are glimpses of the promise this bullpen holds.
Chris Perez
has his nasty slider back. He worked 1 1/3 scoreless innings and has yet to give up a run in eight games with the Dodgers.
Chris Withrow
and
J.P. Howell
continue to pitch well.
If Wilson can stay healthy and Jansen can harness his rejuvenated velocity more productively, this could wind up being the best bullpen in the majors. But for now, it's just an expensive bullpen that's slightly underperforming.
April, 16, 2014
Apr 16
12:35
AM PT
Associated Press
April, 16, 2014
Apr 16
12:16
AM PT
SAN FRANCISCO -- A few years ago, a
Josh Beckett
-
Tim Lincecum
game would have made for a great pitching matchup. Now, it makes for a long game.
Both starting pitchers, working with diminished tools, managed to wobble their way through five innings, then the bullpens took over, which is usually a good thing for the Dodgers.
Not so much Tuesday night at AT&T Park. The Giants scratched out all their runs off Dodgers relievers, including rallying to tie it in the ninth inning off closer
Kenley Jansen
and winning it 3-2 in the 12th off
Brandon League
.
After a wild pitch,
Hector Sanchez
singled home the winning run off
Justin Turner
's glove.
For a while, things were getting wacky.
The Dodgers survived a wild bottom of the 10th that included two infield hits to the pitcher, an overturned call at first base and a five-man infield (
Andre Ethier
manning first base). San Francisco was within one ball of winning the game, but
Jamey Wright
escaped a bases-loaded, one-out jam by inducing a pair of shallow popups.
An inning later, the Dodgers threw out a baserunner 5-6-3 after a ball deflected off
Juan Uribe
right to
Hanley Ramirez
, who threw to first.
How it happened:
Beckett was able to hold on, though at times he seemed hesitant to throw strikes. But the Dodgers' offense wasted opportunities, and the bullpen couldn't handle the heavy workload.
Hits:
The Dodgers re-signed Uribe because they desperately needed his reliable glove in an otherwise suspect infield. That was really about all there was to it. His production with the bat has been a nice little surprise. Uribe leads the Dodgers in hits (22), and he provided the two hits that ignited an otherwise stagnant offense with a second-inning home run off Lincecum and a leadoff double in the seventh.
Misses:
The Dodgers continue to give away outs behind their pitchers. Ramirez tried to make an off-balance throw to second base rather than take an easy out at first in the sixth inning. He bounced it and
Dee Gordon
couldn't come up with it, eventually handing the Giants an unearned run. The error was exacerbated by a
Chris Withrow
wild pitch.
Tim Federowicz
's throw beat
Hunter Pence
to third, but Uribe couldn't apply the tag off a low toss.
Stat of the game:
Beckett walked five batters in five innings. It was his highest walk total since a May 29, 2011, start for the
Boston Red Sox
.
Up next:
Lefty
Paul Maholm
(0-1, 8.10 ERA), who has been keeping
Clayton Kershaw
's spot in the rotation warm for him, makes his second start as a Dodger. The Giants counter with
Ryan Vogelsong
(0-0, 8.00 ERA), who was hit fairly hard at Dodger Stadium two weekends ago. The game is at 7:10 p.m. PT at AT&T Park.