September, 1, 2014
Sep 1
8:34
PM PT
Associated Press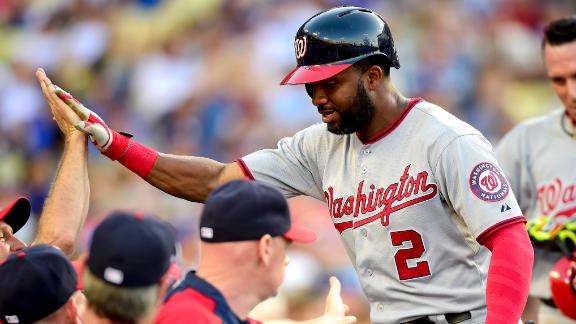 LOS ANGELES -- Denard Span hit two of Washington's four homers, Gio Gonzalez got his first victory of the second half and the Nationals beat the Los Angeles Dodgers 6-4 Monday night in a matchup of division leaders.
The East-leading Nationals (78-58) own the NL's best record while the Dodgers (77-61) are atop the West and close behind in pursuit of the top seed, despite losing for the third time in four games.
Gonzalez (7-9) allowed three runs and three hits in six-plus innings. The left-hander was 0-5 with a 4.38 ERA in his previous nine games.
He also doubled and scored on Anthony Rendon's double off Brandon League in the seventh.
September, 1, 2014
Sep 1
9:00
AM PT
LOS ANGELES -- The three game-series against the
Washington Nationals
that starts Monday stands out starkly on the
Los Angeles Dodgers
' September schedule.
Aside from that and the six games against the second-place
San Francisco Giants
, the Dodgers play nothing but sub-.500 teams this month.
So, in a way the Nationals are a squad to be endured. But to Dodgers manager Don Mattingly, it's also a welcome opportunity: The teams certainly could meet again in October.
"They've got a talented club. It's probably as talented as anybody," he said. "They're leading the division, and you like playing those teams. They're games we have to win. I think they look at them as games they're going to have to win. It should be good, pennant-race baseball.
"Every day, you find out your toughness as a team; you find out who you are. It's great for me as a manager to be able to watch our guys and see who's going to be able to respond and who doesn't."
The two division leaders are facing different threat levels at the moment.
The Dodgers led the NL West by six games as recently as Aug. 12. With the Giants on a bit of a tear, that lead is down to 2½. The Nationals started August with a 1½-game led, but they had a 10-game winning streak in the month and the
Atlanta Braves
have faded. Washington opens September with a six-game cushion, the widest in the league.
The Nationals took two of three from the Dodgers the last time the teams met, back in May in D.C., and they're a lot healthier now.
Bryce Harper
, who was out all of May, ripped two home runs Sunday in the Nats' 5-3 loss to the
Seattle Mariners
.
The Dodgers are at a bit of a disadvantage with the pitching matchups. They pushed back one of their hottest starting pitchers,
Dan Haren
, two extra days to give the veteran a little more rest. Wednesday's day game now likely will be pitched by
Carlos Frias
, who will be brought up from Triple-A Albuquerque to face Jordan Zimmerman (10-5, 2.93 ERA).
On Monday, the Dodgers go with
Roberto Hernandez
, who has been up and down since the Dodgers landed him from the
Philadelphia Phillies
, while Washington goes with
Gio Gonzalez
(6-9, 3.86), who hasn't won since July 5 and is 0-5 with a 4.38 ERA in his last nine starts.
Tuesday will yield the best matchup of the series, with
Clayton Kershaw
(16-3, 1.73) attempting to cement his MVP credentials and
Doug Fister
(12-5, 2.55) trying to continue his strong season.
August, 31, 2014
Aug 31
6:08
PM PT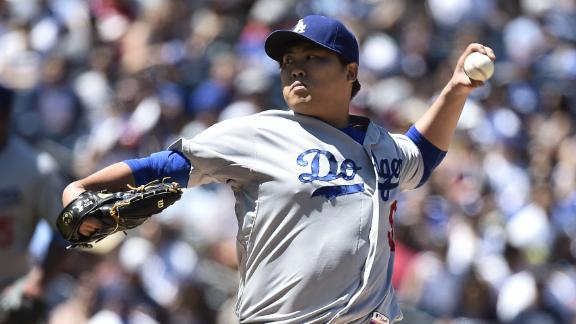 SAN DIEGO -- The
Los Angeles Dodgers
have discovered a few things about
Hyun-Jin Ryu
over the past two seasons since they signed him to a record $36 million contract for a Korean player. The most important lesson has been that less is more.
They fought him for a while on whether to throw bullpen sessions between starts but gave that one up early in 2013. The less they ask of him, the more Ryu seems to provide, with an almost effortless air.
For the second time this season, Ryu came off the disabled list after skipping the usual minor league rehab assignment and pitched reliably, going seven strong innings Sunday in the Dodgers' 7-1 win over the
San Diego Padres
here.
Rust is rarely an issue for the big lefty. He seems to have an inherent feel for pitching. Fatigue sometimes can be a concern, which is why his two stays on the DL this season could prove a blessing in disguise as his sometimes-balky shoulder got a break.
[+] Enlarge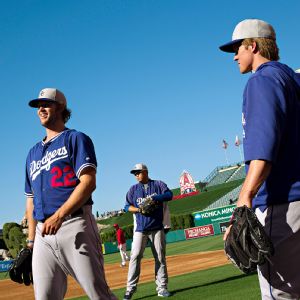 AP Photo/Jae C. HongThe Dodgers now are counting on Clayton Kershaw, from left, Hyun-Jin Ryu and Zack Greinke to deliver them to the postseason.
"I felt comfortable. It didn't take me long to find a rhythm," Ryu said through an interpreter. "It was two weeks, but it felt like I had pitched a few days ago."
When the Dodgers were pushing back
Zack Greinke
's start because his elbow was sore and Ryu was still on the DL because of a strained gluteus muscle about a week ago, you could feel the strain building and threatening to break the team's foundation.
To be sure, the Dodgers have relied on their big three starters all season. When
Clayton Kershaw
, Greinke and Ryu start, the Dodgers are 47-26. When anyone else starts, they are 30-34.
By wins above replacement (WAR), the three starters rank Nos. 1 (Kershaw), 2 (Greinke) and 7 (Ryu) on the team, and Ryu would rank a lot higher if he hadn't missed so many games with the injuries. WAR is a cumulative statistic.
Now having exercised as much caution as they could afford, the Dodgers could have the heartbeat of their club in good order for the stretch run.
Mattingly announced after Sunday's game that
Dan Haren
will have his Wednesday start pushed back to Friday, a move that gives the veteran a little more rest. Oh, by the way, the adjustment also makes it a little easier to line Greinke, Ryu and Kershaw up for the
San Francisco Giants
series starting Sept. 12.
That all worked out pretty well the last time, when the Dodgers swept three games at AT&T Park in late July behind those starters. That put them back in first place, and they've stayed there since; although their lead is now a slightly uncomfortable 2½ games.
So, yeah, seeing Greinke and Ryu look eminently healthy and eminently like themselves in back-to-back games here was about as reassuring a sight as Mattingly could enjoy, barring two heretofore unknown Kershaw clones stepping forward.
"Those three guys in particular are our guys. We think they're as good as anybody, and any day can beat anybody," Mattingly said. "It's good to have them back and pitching well. Obviously, those are our guys and we kind of hang our hat on them."
Ryu (14-6) allowed two ringing doubles in the first inning, then Mattingly noticed a change in his demeanor.
"You could see him right away find a quick gear and amp it up a little bit," he said.
Ryu seems to hum along at about 75 percent capacity until something gets his attention. He got a big strikeout of Padres second baseman
Jedd Gyorko
with an elevated 94-mph fastball -- not his usual speed -- or the first inning would have been worse.
For a guy who hadn't pitched in more than two weeks, he had a good feel for his curveball and a formidable changeup, which helped him pile up seven strikeouts. Ryu is 3-0 with a 0.69 ERA against San Diego this season.
As good as the Dodgers' top three starters are, they still need run support. Greinke got virtually none here on Saturday. But the Dodgers' cold spell ended in the eighth inning Sunday, when they erupted for four runs after scoring four in the previous 29 innings at San Diego.
Getting
Yasiel Puig
out of his monthlong slump will be a big priority for the Dodgers in September. But their No. 1 priority is using their three best starting pitchers to maximum effect.
August, 31, 2014
Aug 31
4:41
PM PT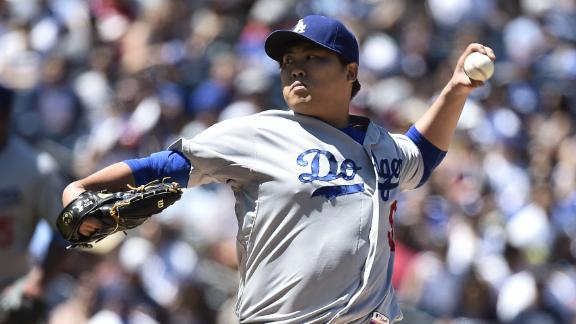 SAN DIEGO -- Their bats finally warmed up after 29 innings in a deep freeze, and the
Los Angeles Dodgers
managed to avoid a costly sweep with a 7-1 win over the
San Diego Padres
on Sunday afternoon.
The San Francisco Giants kept the heat on the Dodgers by winning their sixth game in a row, but the Dodgers were able to maintain a 2½-game lead in the NL West going into the season's final month.

How it happened:
Hyun-Jin Ryu (14-6) pitched seven strong innings after being activated from the disabled list before the game. But good pitching hasn't been the problem here. Instead, big hits have been in short supply. The Dodgers finally got plenty of those during a four-run eighth inning that blew the game open and ended nearly three days of frustration at Petco Park. Juan Uribe stroked an RBI single to right and Darwin Barney drove in two more by going the other way, too. Entering the eighth, the Dodgers were 1-for-20 with runners in scoring position and had scored just four runs in 29 innings during the series.
Hits:
Matt Kemp's power is back, and it has given the Dodgers a major lift with Hanley Ramirez in and out of the lineup and Yasiel Puig struggling. Perhaps it's simply a matter of Kemp getting healthier, which suggests he could have further room for improvement, a tantalizing possibility. On this road trip, Kemp is 8-for-20 with three doubles, a home run and five RBIs. The Dodgers needed someone to step up and help them emerge from their offensive funk here, and Kemp and Adrian Gonzalez (4-for-5) did so. Kemp had an RBI single and a ringing double off the left-field wall.
Misses:
Puig is lost. The box score credits him with a double, but that was a soaring fly ball to right field that both the second baseman and right fielder lost in the sun. Puig has completely abandoned the patient approach that helped him so much in May and is swinging at virtually everything. He struck out on a breaking ball in the dirt in the fifth inning and another breaking ball in the eighth, then hit another fly ball to right in the third. Puig's batting average has quietly slipped under .300 for the first time since May 1. He hit .212 with just two extra-base hits in August. His confidence is a major issue for this team going into September. Perhaps he can flip the switch as he has done in previous months?
Stat of the game:
The reason the Dodgers decided to use Ryu on Sunday rather than waiting until Monday -- when they wouldn't need to make a roster move -- is that Ryu came into the game with a 2-0 record and 0.47 ERA against the Padres this season. Now, he's 3-0 with a 0.69 ERA. Not too shabby.
Up next:
The Dodgers open a three-game series against the first-place Washington Nationals at Dodger Stadium on Monday evening at 5:10 PT. Roberto Hernandez (2-1, 3.52 ERA) goes for the Dodgers, while Gio Gonzalez (6-9, 3.86) takes the mound for Washington.
August, 31, 2014
Aug 31
4:24
PM PT
Associated Press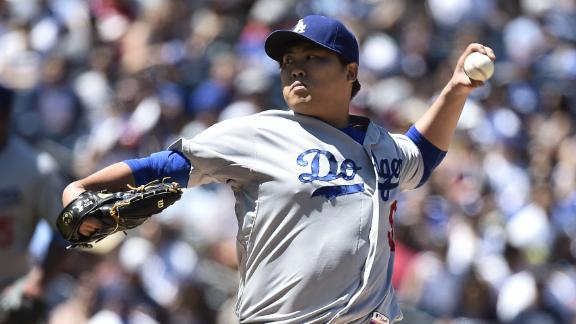 SAN DIEGO -- Hyun-Jin Ryu came off the disabled list to pitch four-hit ball over seven innings, and Matt Kemp singled in the go-ahead run to help the Los Angeles Dodgers beat the San Diego Padres 7-1 Sunday and avoid a three-game sweep.
Ryu (14-6) struck out seven and walked none while allowing one run in his first start since a loss at Atlanta on Aug. 13, when he hurt his right hip. Ryu improved to 4-0 lifetime against the Padres.
The seven runs were one more than the Dodgers scored in their previous three games combined. They lost by one run in extra innings in the first two games of the series.
Adrian Gonzalez had four hits. He also scored the first of the Dodgers' four runs in the eighth against three relievers.
August, 31, 2014
Aug 31
12:24
PM PT
SAN DIEGO -- On Sunday, the Dodgers optioned shortstop
Miguel Rojas
and pitcher
Carlos Frias
to the minors to free roster spots for Hyun-Jin Ryu and
Juan Uribe
to come off the 15-day disabled list and start the game in San Diego. But those two young players won't be absent for long.
On Tuesday, after the Triple-A season ends, both Rojas and Frias will return to join the Dodgers before their game against the
Washington Nationals
. Before that happens, though, on Monday, the Dodgers will get five or six extra players arriving from the Albuquerque club. Some of those players likely to be called up: catcher
Tim Federowicz
, outfielder
Joc Pederson
, pitcher
Yimi Garcia
and infielders
Alex Guerrero
and
Erisbel Arruebarrena
.
The Dodgers also have the possibility of making a trade between now and 9 p.m. PT to acquire a player from another organization who would be eligible for postseason play. They attempted to trade for slugger
Adam Dunn
, but the
Chicago White Sox
instead traded Dunn to the
Oakland Athletics
. Dodgers general manager Ned Colletti has also had discussions about relievers.
"I've heard some names floating around and there's still a possibility of something getting done," Dodgers manager Don Mattingly said. "I'm not sure if that's going to happen."
August, 31, 2014
Aug 31
6:51
AM PT
[+] Enlarge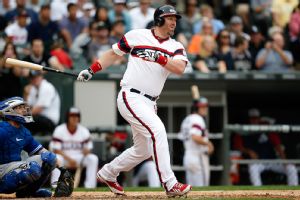 AP Photo/Andrew A. NellesAdam Dunn, who is in the final year of his contract with the White Sox, has drawn trade interest from the Athletics and Dodgers, according to sources.
The Oakland Athletics are closing in on a trade for Chicago White Sox slugger Adam Dunn, sources told ESPN.
The 34-year-old Dunn, who has 460 career home runs, is in the last year of a four-year, $56 million deal with the White Sox. He is batting .220 with 20 homers, 54 RBIs and a .340 on-base percentage this season.
Because of a no-trade clause, Dunn has the power to pick which team he wants to finish this season with, and clearly, Oakland is a team with great need right now.
The Athletics lead the majors in runs scored, but rank only 20th in runs in August, following the trade of Yoenis Cespedes for Jon Lester on July 31.
The White Sox also had conversations Sunday with the Los Angeles Dodgers about Dunn, according to sources.
Dunn could be a designated hitter for Oakland but would be more limited in his role with the Dodgers.
August, 30, 2014
Aug 30
10:16
PM PT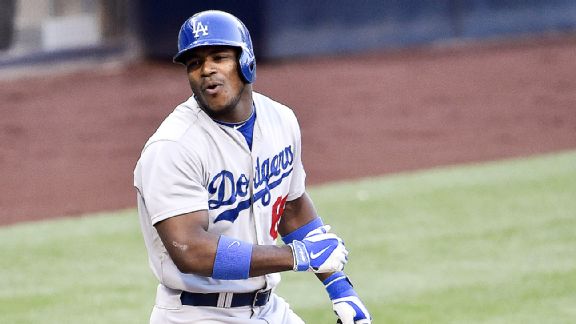 Denis Poroy/Getty ImagesYasiel Puig did end an 0-for-22 skid but still struck out three times Saturday night.
SAN DIEGO – The past two nights, the
Los Angeles Dodgers
have hit the thick marine air in San Diego and scraped across three runs in 22 innings to lose two games. With the
San Diego Padres
' pitching staff holding them down, helpless, they have watched their division lead shrink to two games in the loss column, which is the tightest the National League West has been in more than three weeks.
There was a visible frustration in the clubhouse following Saturday night's 2-1 loss to the Padres in 10 innings at Petco Park, the second walk-off, extra-innings loss in a row. Several players sat alone at their lockers staring at their phones or just staring straight ahead.
Hanley Ramirez
seemed to be particularly perturbed.
And yet, when people thought about it for a while, is there really much to feel gloomy about in the big picture? The Dodgers are guaranteed to enter September in first place, and after that, some kind of pennant race will shape up, and those are usually fun. Above all, the Dodgers are about to be as healthy as they have been all season.
Ramirez is back, and he's showing signs of regaining his lethal timing.
Zack Greinke
largely dominated for eight innings Saturday and appears to once again be the reliable right-handed complement to
Clayton Kershaw
's brilliance. The bullpen has been OK, if not downright good, when the right guys are in the game.
Hyun-Jin Ryu
will come off the disabled list to pitch Sunday, which means the rotation is as close to full strength as it's going to get.
Juan Uribe
also will be activated within the next two days, and that means the Dodgers have the luxury of having one of baseball's hottest hitters,
Justin Turner
, coming off the bench.
The Dodgers are healthier, they're deeper and they're going into September, when it will all get sorted out. Aside from two frustrating losses against a team they probably should beat, what's not to like? Manager Don Mattingly seemed to think it was all going to come down to this.
"I think everyone in our locker room understands how good the Giants are and where we're at and how we need to play and how hard games are to win down the stretch," Mattingly said. "We're getting into the pennant race, and I think we should have expected it, and it should be fun. I think it's going to be a lot of good baseball coming up. We're going to get the big hits, and we're going to get the outs we need."
Dee Gordon
has gone 0-for-11 the past two games;
Yasiel Puig
has one hit in his past 24 at-bats. Just when Ramirez started feeling good at the plate, he slipped on first base and apparently lost those good feelings. He was hitless in five at-bats Saturday.
But there's a reason the Padres have the third-best ERA in baseball and the best home ERA (2.57) in the game. They have good arms, and they pitch to the confines of the stadium. The problem for the Dodgers is they fell into the Padres' comfort zone: bullpen games. The Padres have the best bullpen in the major leagues.
"I think it's pretty obvious," Greinke said. "Their pitching's really good, and our pitching's really good, and we play in a couple of pitchers' parks."
If you're a Dodgers fan feeling bad about these two losses, think how much worse things could be. Two weeks ago, everyone was worried Greinke's elbow was going to render him less effective. Saturday he seemed to have tight command, a lively fastball and good secondary pitches. He got through eight innings in 104 pitches and held San Diego to just four hits.
Asked how his elbow felt, he said, "It's all right. Same as it has been, pretty much."
Ryu and Uribe will have both returned within a couple of days of their eligibility to come off the disabled list. It appears the Dodgers have successfully taken a step back to heal for the September push, which was their intention all along. They've showed an excess of caution with several of their achy players and managed to go a respectable 6-7 while many of them were out.
Now they have their team again, and they'll take their chances against the Giants. The rivals don't meet again until Sept. 12, and aside from next week's three games against the first-place
Washington Nationals
, the Dodgers play only losing teams between now and then. Unfortunately for them, one of those losing teams is the Padres, who have a new air of competitiveness about them.
Mattingly is just glad he'll have his players at his disposal. Usually when the Dodgers are struggling, it's because their disabled list is getting crowded.
"You want to have all your weapons so you don't have any excuses, so you don't have to look back and say, 'Well, we were hurt or banged up.' We're going to be probably as healthy as anybody," Mattingly said. "We've got a lot of guys who can play. I expect them to, and I expect us to play well down the stretch."
So there it is. The pieces are in place. Now it's a matter of making the moves, with the end game always in mind.
August, 30, 2014
Aug 30
9:15
PM PT
SAN DIEGO -- The
Los Angeles Dodgers
have made the mistake of entering the
San Diego Padres
' world the past two nights, and it might wind up costing them dearly.
The Dodgers got caught up in low-scoring games decided by bullpens, and that is pretty much the only way to lose to the worst-hitting team in baseball. On Saturday, the Dodgers lost a second consecutive walk-off game to the Padres at Petco Park 2-1 and dropped another game in the standings. They lead the
San Francisco Giants
by just 2½ games now.


How it happened:
As usual when these teams play, pitching ruled the day.
Zack Greinke
and
Ian Kennedy
were both in sync, and that meant very few hitters looked comfortable. The Dodgers struck out eight times in the first four innings against Kennedy, whom they were facing for the fifth time this season. Greinke was just as good, if not better, an encouraging sign considering he has been pitching with a sore elbow.
Padres catcher
Rene Rivera
was Greinke's only problem. He hit a pair of leadoff doubles. The first time, he scored. The second time, in the eighth,
Cameron Maybin
pinch ran and
Drew Butera
picked him off second base. The throw bounced, but it somehow scooted past Maybin, and
Hanley Ramirez
was able to apply a quick tag for a huge out.
The Padres got Greinke out of the game and almost beat the Dodgers' most consistent middle reliever,
J.P. Howell
, but Howell somehow snared a wicked line drive from
Yasmani Grandal
and doubled
Abraham Almonte
off second base to diffuse the rally.
The Padres won it in the 10th when
Alexi Amarista
singled off
Jamey Wright
to score
Will Venable
from second base.
Hits:
The No. 1 upside from Saturday's game is that it appears the Dodgers' rotation is far healthier than it appeared just days ago.
Hyun-Jin Ryu
is scheduled to come off the disabled list to pitch Sunday, but even more encouraging was Greinke's efficient work Saturday. He got in a spot of trouble in the third when Rivera ripped a double into the left-field corner and scored, but otherwise Greinke appeared to be in command of all his pitches. The fact he could breeze through eight innings with eight strikeouts and just four hits was a huge boost to the Dodgers' pennant hopes.
Misses:
It looked like
Yasiel Puig
's frustrations -- and the Dodgers' problems scoring at Petco Park -- had ended in the sixth inning. After
Matt Kemp
walked, Puig took a big cut and hit a massive, soaring drive to center field. It probably would have left all but a few parks in baseball, and this isn't one of those. Center fielder Almonte caught it on the warning track with his back pressed against the wall. That means Puig's slump lived on. Dodgers manager Don Mattingly slid him to the fifth spot in the lineup for the first time all season. The good news was his 0-for-22 skid ended with a single up the middle in the eighth inning, but Puig struck out three times on the night.
Stat of the game:
Mattingly insists he'll go with
Juan Uribe
at third base every day when the veteran returns, perhaps as soon as Sunday. That could be, but Mattingly would be taking his hottest hitter out of the lineup on many days.
Justin Turner
is batting .374 since May 23, best in the majors for players with a minimum of 175 plate appearances.
Up next:
Ryu (13-6, 3.28 ERA) returns from the disabled list, where he spent about two and a half weeks resting his strained buttock muscles, to pitch Sunday's 1:10 game. The Dodgers will be facing former teammate
Eric Stults
(6-14, 4.63), who has been tough on them in the past.
August, 30, 2014
Aug 30
9:13
PM PT
Associated Press
SAN DIEGO -- Alexi Amarista singled in the winning run with one out in the 10th inning and the San Diego Padres beat the NL West-leading Los Angeles Dodgers for the second straight time in extra innings, 2-1 Saturday night.
The third straight extra-inning game tied the Padres' record.
Will Venable started the winning rally with a single to center off Jamey Wright (4-4) and stole second as pinch-hitter Rymer Liriano struck out. Amarista then lofted a single into center field and Venable slid in headfirst just ahead of the throw.
Padres manager Bud Black was ejected in the top of the 10th for arguing a call that Yasiel Puig checked his swing.
Tim Stauffer (6-2) pitched the 10th for the win.
August, 30, 2014
Aug 30
5:09
PM PT
SAN DIEGO – When
Los Angeles Dodgers
bench coach Tim Wallach posted the original lineup in the visiting clubhouse here Saturday afternoon,
Miguel Rojas
was playing shortstop and batting seventh. Then trainer Stan Conte put
Hanley Ramirez
through a workout on the field, and Dodgers manager Don Mattingly re-wrote his lineup.
Ramirez, who injured his left leg slipping on the first-base bag and falling Friday night, was inserted at shortstop and batting second against the
San Diego Padres
.
"He looked really good. Everything was easy," Mattingly said. "Early in the day, I don't think Stan thought he was going to be able to go, but as he got here and got moving around, if we wouldn't have known anything had happened, you couldn't tell."
Mattingly dropped
Yasiel Puig
, mired in an 0-for-19 slump, to the fifth spot in the batting order -- the first time all season Puig has hit lower than third. Mattingly said he wanted Ramirez batting second to get him an extra at-bat. He said Ramirez's timing was the best it has been since he came off the disabled list Sunday. Ramirez had three hits Friday, including a towering home run.
When rosters expand Monday, Mattingly said the Dodgers likely will have "five or six" extra players called up from the minor leagues. One of those players will be outfielder Joc Pederson, 22, who has hit 33 home runs for Triple-A Albuquerque this season.
Mattingly said he won't hesitate to use Pederson as a power left-handed hitter off the bench, though it is a role with which Pederson is unfamiliar. Interestingly,
New York Yankees
manager Clyde King used Mattingly as a pinch hitter when he was called up in September 1982. Mattingly got his first major league hit off Steve Crawford in the 11th inning of an Oct. 1 game after he replaced Graig Nettles at first base in the 10th. Mattingly was 21.
"I just think you look at him, you know what he can do, you know he can play and you use him however you want to use him," Mattingly said.
August, 30, 2014
Aug 30
12:28
AM PT
SAN DIEGO -- They looked like a kickoff-coverage team, lined up and holding themselves on their tip-toes, trying not to go offside but ready to charge down the field and be the hero.
The
Los Angeles Dodgers
might have employed the first four-man, drawn-in right side of an infield in baseball history Friday night.
It started with
Andre Ethier
jogging in from center field to play first base, and it got more crowded over there when
Seth Smith
came up. Smith is an extreme pull hitter and one of a handful of batters in the league for whom the Dodgers routinely overshift anyway, sending the shortstop or third baseman to the other side of the second-base bag.
So, there they were in the bottom of the 12th inning, spaced about five steps apart -- Ethier,
Adrian Gonzalez
,
Dee Gordon
and
Miguel Rojas
, all between first and second base.
And, guess what? It worked ... or, at least, it didn't backfire. Smith hit a routine grounder to Gordon, who threw home to get
Alexi Amarista
. Catcher A.J. Ellis' throw to first wasn't quite in time to get Smith for the double play, however, and the next batter,
Yasmani Grandal
, singled home the winning run in the Dodgers' 3-2 loss to the
San Diego Padres
at Petco Park.
It was kind of a spur-of-the-moment thing, Dodgers manager Don Mattingly said after. They have used Ethier on the infield before this season in such dire situations, and when Smith came up it simply became a more exaggerated alignment.
"It's at that point of the game, you've got to do it," Mattingly said.
It seems there's always a point like that in the game when the Dodgers come down to San Diego, where they have played four one-run games and a couple of two-run games in seven contests at Petco Park. They magically morph into the Padres as they pass through Orange County en route, it seems, becoming an all-pitching, no-hitting club.
"It's tough," said Dodgers starting pitcher
Dan Haren
. "The guys out of the bullpen did great, and we couldn't scratch one out there. They have a good bullpen, too, one of the best in the bigs."
The Padres didn't score between the fourth and 12th innings, and the Dodgers still couldn't capitalize, losing a game to the suddenly not-foundering
San Francisco Giants
to drop a game in the standings. They now lead San Francisco by 3½ games.
Before Friday, the Dodgers had actually seen some nice signs of life from their offense, which had been productive without contributions from two of its premier talents,
Yasiel Puig
and
Hanley Ramirez
. Puig had struggled so badly -- going 0-for-18 -- that Mattingly benched him for the second time in a week, while Ramirez had gone 1-for-12 since coming off the disabled list.
In a microcosm of his season thus far, just as Ramirez started to look right at the plate something went wrong with his body. He hit a towering home run on a
Dale Thayer
breaking ball to tie the game at 2-2 in the eighth inning shortly before he had to leave the game when his right leg started stiffening up on him.
Ramirez had slammed it into the turf when he slipped on the first-base bag while singling in the sixth. As Ramirez was hobbling back to the bag, Grandal tagged him on the leg as he hopped in the air, wiping out the base hit.
The Dodgers are hopeful Ramirez will be healthy enough to play Saturday, and Mattingly said the trainers feel good about those chances. But the way Ramirez's health has been the past few seasons, L.A. has to take a wait-and-see approach.