July, 24, 2014
Jul 24
6:00
AM PT
RISING
Adrian Gonzalez, 1B:
The Dodgers went nearly two months with spotty production from one of their middle-of-the-order bats, but Gonzalez has had a good trip (8-for-22, two doubles, a homer, five RBIs and four walks). The dramatic shifts teams have been employing on Gonzalez have had an effect, but it looks as if he's learning to deal with them and getting into a more comfortable groove. He plays an important role, the steady backdrop against which streakier hitters like
Yasiel Puig
best function.
Clayton Kershaw, LHP
: It's not that Sunday night's start in St. Louis was so great. By his standards, it was sub-par. He had little idea where many of his pitches were going and, on a good night, he certainly doesn't give up a home run to a hitter such as
Peter Bourjos
. But he clearly won some points with his teammates for retaliating when
Hanley Ramirez
got hit by a
Carlos Martinez
pitch. Kershaw handled it exactly as the
Pittsburgh Pirates
did a couple of nights later. He hit the next batter he faced,
Matt Holliday
, in the back. It should have been over at that point. Teams protect their best hitters whether they were thrown at intentionally or not. Call it medieval. It's the game. Kershaw has a little more Bob Gibson in him than many people realize.
FALLING
Dan Haren, RHP
: Dodgers fans may not have him to kick around any longer. The Dodgers are taking advantage of a couple of off days to skip his turn in the rotation. If they're able to land a starting pitcher between now and July 31, they might skip more than a turn or two. His future in the Dodgers' rotation is in doubt, put it that way. Then again, Haren is a competitor and, if he's given more opportunities, he just might battle his way back into the picture. Let's not forget, he was 4-0 with a 2.03 ERA in April pitching with the same stuff.
Josh Beckett, RHP
: His Tuesday start, in which he didn't make it out of the fourth inning, can be written off because of rust. But he's also pitching with a torn labrum in his hip that has undergone some pretty serious treatment and endures. At 34, there is a lot of wear and tear on that body. The Dodgers are keeping their fingers crossed he can keep it together for two to three more months, but the way he's talking lately, that seems doubtful.
Fringe relievers:
Few teams have six or seven lockdown relievers. Virtually every team has a soft underbelly in the middle innings. But the Dodgers' is softer than many and, when they went on a record spending spree to fix their bullpen last winter, it wasn't supposed to be this way.
Chris Perez
,
Paul Maholm
and
Jamey Wright
, like Haren, are on alert. The Dodgers are also looking for relief help and none of their spots is guaranteed. Their money is, but not the job.
July, 23, 2014
Jul 23
8:17
PM PT
PITTSBURGH -- Before
Dan Haren
signed with the
Los Angeles Dodgers
, rumors still persisted that the team was intent on landing
Masahiro Tanaka
. He knew that
Chad Billingsley
was on the comeback trail. There was a pretty good chance he'd be looking over his shoulder at some point in the season if he wasn't performing well.
Funny thing is, even though Tanaka landed with the
New York Yankees
and Billingsley's comeback ended with yet another elbow surgery, Haren finds himself wondering whether he has a role in the Dodgers' rotation after all.
[+] Enlarge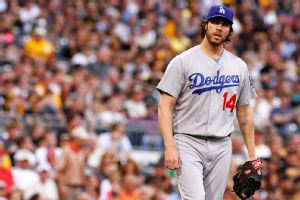 Justin K. Aller/Getty ImagesDan Haren has had an awful month and now his spot in the rotation going forward could be in jeopardy.
After another rough first inning put the Dodgers in a hole they couldn't climb out of in Wednesday night's 6-1 loss to the
Pittsburgh Pirates
, Haren admitted he was told the Dodgers will skip at least his next start. That means he won't pitch again until Aug. 2 at the earliest and there's a rather important date between now and then: the July 31 trade deadline.
The Dodgers would like to add a starting pitcher and it appears Haren's spot is the one they're targeting now that
Josh Beckett
is off the disabled list.
Haren, 33, has been around a long time. He knows how these things work. He has seen plenty of older teammates come and go.
He's 8-8 with a 4.49 ERA and his season is heading the wrong way after such a promising April (4-0, 2.03 ERA). The Dodgers consider themselves serious World Series contenders and they're probably not going to settle for the kinds of starts Haren has been giving them lately.
He is 5-8 with a 5.32 ERA since the end of April. If he pitches 58 more innings this season, an incentive in his contract will trigger a 2015 option at $10 million. That could also influence the Dodgers' decision on whether to keep him in the rotation.
He was asked if he'll be pitching for his spot in the rotation.
"Well, it's too late to say that now. I won't be pitching again for a while," Haren said. "I don't know, it's just really gotten away from me the last four times out. I don't know what to say. I was having a great year, I felt great about everything the way I was throwing the ball just a few starts ago and then it's just kind of snowballed."
Out of respect for Haren, a 12-year veteran and former All-Star who used to be among the most durable, effective pitchers in the game, manager Don Mattingly was vague when asked about Haren's role moving forward.
"Danny has kept us in a lot of games. The last couple haven't been great," Mattingly said. "Again, now is not the time to sit here and discuss Danny's next start or his future or anything else."
Even if the Dodgers can't land a starting pitcher between now and the 31st, they do have a few in-house options, though none is an obvious upgrade. They could go with
Paul Maholm
, though he hardly has been better than Haren. All the candidates at Triple-A -- Zach Lee (4.98 ERA),
Red Patterson
(5.40),
Matt Magill
(5.10) -- have inflated numbers, but they pitch in a hitter's league. There's also Double-A lefty Chris Reed, who is 4-6 with a 3.19 ERA.
Satchel Paige is famous for saying, "Don't look back. Something might be gaining on you."
The thing about baseball is that, if you don't perform, something or someone is always gaining on you. You just don't always know who it is.
July, 23, 2014
Jul 23
7:00
PM PT
Associated Press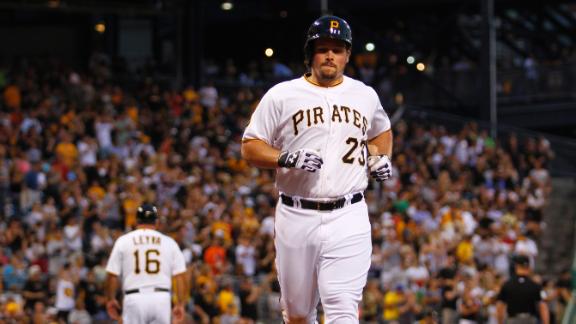 PITTSBURGH -- Josh Harrison had two hits with two RBIs and the Pittsburgh Pirates jumped on Dan Haren early in a 6-1 win over the Los Angeles Dodgers on Wednesday night.
Harrison's two-run double down the left field line capped a four-run outburst in the first against Haren (8-8). Pittsburgh has won five of six since the All-Star break to move a season-high seven games over .500 (54-47).
Travis Snider added two hits, including his fifth homer, for the Pirates. Francisco Liriano (2-7) allowed one run on four hits over seven innings to pick up his first victory since May 30.
Pittsburgh batted around in the first against Haren, who has lost four consecutive starts. The right-hander settled down to get through five innings but the Dodgers could do little against Liriano.
Los Angeles didn't collect a hit until Miguel Rojas doubled with one out in the fifth and never threatened as Liriano put together his best start of the year.
July, 23, 2014
Jul 23
6:44
PM PT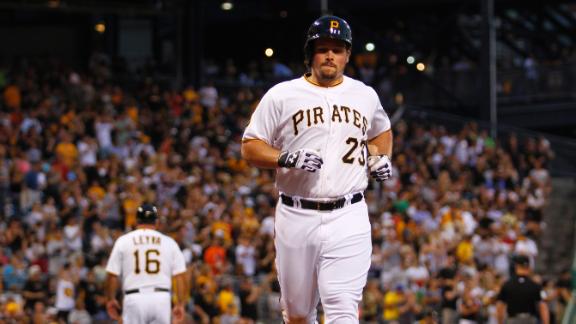 PITTSBURGH -- One good thing happened.
Yasiel Puig
got on the field for the first time in four days. He drew a pinch-hit walk against
Pittsburgh Pirates
reliever
Justin Wilson
in the eighth inning, leading to the promise of him starting this weekend's games in San Francisco.
Otherwise, it was fairly ugly for the
Los Angeles Dodgers
at PNC Park, a 6-1 loss Wednesday night that dropped them to 2-4 on this trip.
How it happened:
Dan Haren
's trudge through the middle of the season continued. He gave up four first-inning runs and, in the second, served up a
Travis Snider
home run that was one row from leaving PNC Park (and possibly bouncing into the Allegheny River). After that, Haren got in a groove and saved the bullpen a few innings, but the pattern has been a fairly destructive one for the Dodgers lately. Haren hasn't won this month.
The Dodgers had some patient at-bats early against
Francisco Liriano
, who came into the game with a 4.43 ERA, but they couldn't gain much traction the rest of the night. They managed only four hits.
Hits:
At times, people have lamented the losses of
Nick Punto
and
Skip Schumaker
from the Dodgers' bench, but the Dodgers seem to have found a capable replacement.
Justin Turner
, who signed a minor league deal shortly before spring training, has given them coverage at three positions and is batting exactly .300. He had a pinch-hit single in the sixth, later scoring the Dodgers' only run.
Misses:
Haren had a very good April, going 3-0 with a 2.03 ERA. Since then, it has been a gradual descent, raising the question of whether the Dodgers can afford to keep putting him on the mound every five games. No doubt they'll look to skip some of his starts taking advantage of off days. He is 5-8 with a 5.32 ERA since the end of April. Another thing to think about: If Haren pitches 58 more innings this season, an incentive in his contract will trigger a 2015 option at $10 million. That could also influence the Dodgers' decision on whether to keep him in the rotation if he continues to struggle.
Stat of the game:
It's almost always the same pattern. Haren has a 7.29 ERA in the first inning and good numbers in every other inning. The Dodgers were in a 4-0 hole before they got their second turn at bat.
Up next:
The Dodgers have a day off in San Francisco on Thursday before beginning a crucial three-game series at AT&T Park on Friday night.
July, 23, 2014
Jul 23
8:56
PM PT
Shawn Anderson runs a fun site called
The Hall of Very Good
-- a great way of honoring those who fall just short of Cooperstown status. This year's inductees are Luis Tiant, Tony Oliva and ... The San Diego Chicken.
Here's Shawn's post
introducing the class of 2014.
I don't have much to say about the Chicken, but Tiant actually has a pretty interesting case for Cooperstown, especially when compared to two pitchers his career overlapped with:
Tiant: 229-172, 3.30 ERA, 114 ERA+, 66.1 WAR
Don Drysdale: 209-166, 2.95 ERA, 121 ERA+, 61.2 WAR
Catfish Hunter: 224-166, 3.26 ERA, 104 ERA+, 36.6 WAR
So why Drysdale and Hunter instead of Tiant? All three were certainly
famous
in their time, although Drysdale and Hunter had the advantage of playing for World Series champions, while Tiant played for just one World Series participant, and his Red Sox lost. It may be as simple as that, but there were several other factors that played in to Tiant's not getting in:
1. His best seasons were spread out. He went 21-9 with a league-leading 1.60 ERA for the Indians in 1968, but followed that up with a 20-loss season and then two partial seasons due to injury issues. Healthy again with the Red Sox in 1972, he went 15-6 and led the AL with a 1.91 ERA. From 1973 to 1976, he won 20 games three times and had a 3.31 ERA while averaging 281 innings per season and completing more than half his starts. But his
worst
season in that span was the 1975 pennant year for Boston, when he went 18-14 with a 4.02 ERA.
If he'd had his 1966-68 seasons alongside his 1972-1976 years his record would look more like Hunter's, rather than having that three-year gap of ineffectiveness mixed in. If 1975 had been one of his best seasons, it would have had a larger impact than his forgotten great 1968 season.
2. Not understanding park effects. Why is Tiant's WAR higher than Drysdale's or Hunter's? He pitched in Fenway, a great hitter's park in the '70s, while Drysdale and Hunter spent many of their prime seasons in great pitcher's parks in Dodger Stadium and Oakland. Today, voters would consider this more than when those guys were on the ballot in the 1980s.
3. Timing. Consider this: When Drysdale hit the ballot for the first time in 1975, he received 21 percent of the vote. When Tiant hit the ballot in 1988, he received 30.9 percent. From there, Drysdale's support increased and he was elected on his 10th try. Tiant, meanwhile, fell to 10.5 percent in his second year and never recovered. Hunter sailed in more easily, topping 50 percent his first year in 1985 and getting elected in 1987.
So what happened? In 1975 and 1976, Robin Roberts and Bob Lemon were both on the ballot and Drysdale didn't get much support. After those two were elected in 1976, Drysdale's support increased more than 20 percent in 1977 as he was regarded as the best pitcher on the ballot. (Jim Bunning was the best new name on the ballot.) From there, Drysdale made steady upward progress until 1981, when Bob Gibson and Juan Marichal joined the ballot. Gibson made it into the Hall his first year as Drysdale's percentage dropped in 1981 and 1982. Marichal made it in 1983. Cleared of those two, Drysdale then gained elected in 1984.
Hunter joined the ballot in 1985. Hoyt Wilhelm was elected that year and Bunning was the only other strong pitching candidate. Hunter made it in 1987 -- a pretty weak ballot overall. Billy Williams was the top vote-getter (in his sixth year on the ballot) and Hunter was the other player elected, while Bunning, Orlando Cepeda and Roger Maris rounded out the top five. The overall lack of strong candidates undoubtedly helped Hunter.
That gets us to Tiant in 1988. He did OK for a first-timer; as mentioned, he started from a better place than Drysdale. Willie Stargell made it that year and Bunning just missed. But then look what happened:
1989: Gaylord Perry and Fergie Jenkins joined the ballot (along with Johnny Bench and Carl Yastrzemski, who got elected).
1990: Jim Palmer (elected).
1991: Perry and Jenkins elected, Rollie Fingers joined the ballot. (Bunning, who had peaked at 74.2 percent in 1988, fell off to 63.7 in his final year.)
1992: Tom Seaver and Fingers elected.
1993: Phil Niekro joined the ballot.
1994: Steve Carlton elected, Don Sutton joined the ballot.
1997: Niekro elected.
1998: Sutton elected.
By then, Tiant's momentum had long since ended, memories of his best days more than 20 years in the past. Drysdale and Hunter had missed the rush of Palmer, Jenkins and all the 300-game winners. Tiant paled in comparison to that group and his case died. Such is the way Hall of Fame voting often works with the borderline players.
* * * *
As for Oliva, he had half of a Hall of Fame career -- he won three batting titles and led the AL in hits five times with the Twins while twice finishing second in the MVP vote -- but bad knees eventually hurt his productivity and shortened his career. Like Tiant, his voting percentage peaked in 1988 (47.3 percent) but then declined as bigger stars came on the ballot. From 1964 to 1971, he had 42.2 WAR, according to Baseball-Reference.com, ninth among position players. Seven of the eight ahead of him are in the Hall of Fame (Dick Allen being the exception) as are several below him who played all those seasons (Willie McCovey, Billy Williams, Harmon Killebrew, Pete Rose, Al Kaline, Lou Brock, Willie Stargell).
Oliva was a good one.
July, 23, 2014
Jul 23
3:58
PM PT
[+] Enlarge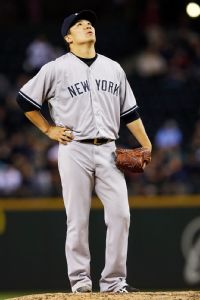 AP Photo/Ted S. WarrenYankees GM Brian Cashman says ace Masahiro Tanaka still feels discomfort in his pitching elbow.
NEW YORK -- New York Yankees general manager Brian Cashman said Wednesday that Masahiro Tanaka, the ace of his pitching staff, is still feeling discomfort in his pitching elbow despite not having picked up a baseball since receiving a platelet-rich plasma injection 10 days ago.
Speaking on ESPN New York 98.7 FM's "The Michael Kay Show," Cashman gave the following update on Tanaka: "He's improved, but he still feels it, although on a daily basis it decreases. So that's good but it's not good that he's still feeling it at this stage. So it's just day-by-day, week-by-week and we'll adjust accordingly. It's too early to call."
Tanaka was diagnosed with a partially-torn ulnar collateral ligament via MRI after complaining of elbow pain following an ineffective performance against the Indians in Cleveland on July 8.
July, 23, 2014
Jul 23
3:28
PM PT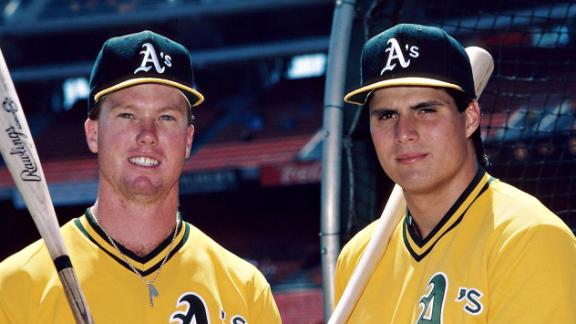 PITTSBURGH - Mark McGwire wants nothing to do with any reconciliation attempts by his former "Bash Brother" Jose Canseco.
"It's too late. I don't care to ever speak to him again," McGwire told ESPNLosAngeles.com on Wednesday. "What he did was wrong."
Canseco apologized to McGwire while attending the Oakland A's commemoration of the 25th anniversary of their 1989 World Series victory last weekend. He had accused McGwire of using performance-enhancing drugs in his 2005 book, "Juiced: Wild Times, Rampant 'Roids, Smash Hits & How Baseball Got Big." McGwire admitted to using PEDs in 2010.
It's not the first time Canseco has made a point of publicizing his efforts to reconcile with McGwire. In September 2012, he showed up at a St. Louis Cardinals game at Dodger Stadium wearing a black T-shirt that read, "Sorry for everything, Mark." At the time, McGwire was the Cardinals hitting coach.
"I can care less what he does," McGwire said.
McGwire, now the Los Angeles Dodgers hitting coach, said he got a text from former A's teammate Mike Gallego telling him he was missed at the ceremony. McGwire was with the Dodgers in St. Louis at the time. He and Dodgers pitching coach Rick Honeycutt, a key reliever on the '89 team, each taped video tributes to that A's team during spring training.
Canseco had not been at the Coliseum since his playing days ended.
July, 23, 2014
Jul 23
10:40
AM PT
July, 22, 2014
Jul 22
9:44
PM PT
PITTSBURGH -- Many of the
Los Angeles Dodgers
' top scouts and front-office types, including pro scouting director Rick Ragazzo, were in Pittsburgh the past two nights with the major league team watching the Dodgers from an upper-level suite. They had a bird's-eye view of what their next week figures to look like: traveling the country looking at pitchers.
It's not as if their mandate going into the July 31 trade deadline wasn't clear before Tuesday night. General manager Ned Colletti has stated he's looking for bullpen help and he has admitted lately he's concerned about issues at the back of the rotation as well.
[+] Enlarge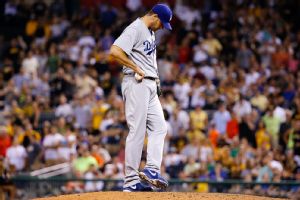 AP PhotoJamey Wright had a rough outing Tuesday, but the Dodgers' bullpen in general hasn't been producing much quality lately.
It would be hard to argue with those two needs after Tuesday night's 12-7 loss to the
Pittsburgh Pirates
. Trailing by one run in the eighth inning after a game effort from his offense, manager Don Mattingly allowed reliever
Chris Perez
to walk four straight batters to force in a run, because he's wary of running his only reliable eighth-inning pitcher,
J.P. Howell
, into the ground.
Howell leads Dodgers relievers with 46 appearances and Mattingly implied Howell would only be used in games the Dodgers lead.
"We've kind of had to make some decisions with that back end of our bullpen," Mattingly said. "We can't go to him every day."
In an ideal world or even a well-functioning one, you wouldn't have to. You would have more than one good option, an ace lefty like Howell and a reliable righty -- which is what
Brian Wilson
and Perez were supposed to be, by the way. Tuesday didn't expose the Dodgers' lack of bullpen depth, it exposed their lack of bullpen quality.
Experience isn't a problem.
Jamey Wright
has been pitching in the majors since 1996. He had a rough night Tuesday, letting Pittsburgh take command of the game on run-scoring hits by
Gregory Polanco
and
Travis Snider
. Perez, Wilson and
Brandon League
have all been closers, but Perez and Wilson have ERAs north of 5.00 and Mattingly seems unwilling to trust League, probably because of situations like Tuesday -- when he came in and allowed a couple of hits to make a bad situation a lost cause.
July, 23, 2014
Jul 23
12:41
AM PT
By
ESPN Stats & Information
AP PhotoNeil Walker rounds the bases after hitting the first of the Pirates' three home runs on Tuesday.
It had been a long time since the Pirates had hit three home runs in a game. Since Pittsburgh last did this April 17 against the Brewers, every other team in the majors has hit three homers in a game at least once. The Blue Jays have done it 13 times.
Gregory Polanco
went 2-for-4 with a home run, three runs and three RBIs. The home run was his first since July 2, a span of 14 games. Over that span Polanco went without an extra-base hit and hit .158 with two RBIs.
During his slump, Polanco struggled in particular with the inside pitch, going just 1-for-18 (.056) in at-bats ending with a pitch on the inner half. Both of his hits on Tuesday came on inside pitches.
Another Pirate to break a homerless drought was
Ike Davis
, who went deep for the first time since June 9. Over 32 homerless games Davis hit .205 with a .582 OPS.
During his homerless stretch, Davis oddly hit nearly 150 points better on pitches out of the strike zone (.313) than he did on pitches in the zone (.177). Davis' home run on Tuesday came on a fastball in the strike zone.
Neil Walker
also homered for the Pirates, though he has not had trouble with the long ball as of late. His 15th homer of the season was his fourth in his last 10 games, and leaves him one shy of his career high.
The three homers all came off Dodgers starter
Josh Beckett
, who struggled in his return from the disabled list. Beckett, who had allowed just two home runs in his previous six starts combined, lasted a season-low 3 2/3 innings on Tuesday.
Pittsburgh is now 28-17 since the start of June (second-best in the National League) and has closed within 2.5 games of the Brewers in the NL Central. The Pirates have enjoyed playing at PNC Park this season, improving to an NL-best 33-21 at home, including wins in 13 of their last 16 games.
The rubber game of the series comes on Wednesday night as
Dan Haren
takes on
Francisco Liriano
. The Pirates will look to continue their power surge against Haren, who has allowed 20 home runs this season, which is tied for second-most in the major leagues.
July, 22, 2014
Jul 22
8:06
PM PT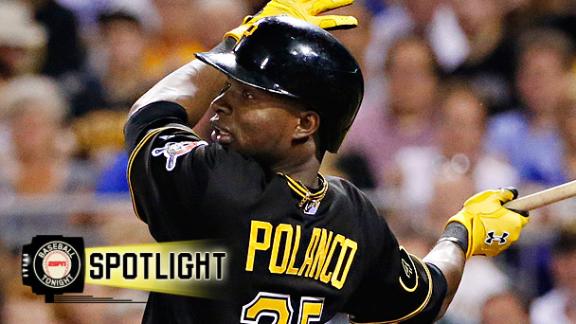 PITTSBURGH --
Josh Beckett
was the brightest surprise of the first half for the
Los Angeles Dodgers
, but his story took an ominous turn when he started feeling hip pain in June and went into the All-Star break on the disabled list.
Tuesday, he returned and didn't look like the pitcher with the fourth-best ERA in the National League in a 12-7 loss to the
Pittsburgh Pirates
.
Combined with some miserable work from the bullpen, the Dodgers' needs entering the trade deadline appear clearer and clearer: add quality to the rotation and bullpen.
How it happened:
Pittsburgh hit three home runs off Beckett (6-6), who seemed to shy away from his curveball-first approach after
Neil Walker
hit one out, and Dodgers manager Don Mattingly pulled him in the fourth inning after 69 pitches. The Dodgers fought back to tie it at 4-4, but the middle relief didn't hold firm. The Pirates scored four runs off
Paul Maholm
and
Jamey Wright
in the sixth inning.
In that inning, Wright hit
Andrew McCutchen
with a pitch and Pittsburgh apparently retaliated the following half-inning. Pirates reliever
Justin Wilson
was ejected by plate umpire Toby Basner for hitting
Justin Turner
with a pitch (on his second try).
Adrian Gonzalez
, who punished St. Louis pitcher
Trevor Rosenthal
for plunking
Hanley Ramirez
two days earlier, channeled his anger well again. He launched a two-run home run. That was the Dodgers' first home run since July 9.
The Dodgers continued to rally but came up short against Pittsburgh's bullpen.
Hits:
The best thing to happen to the Dodgers over the past few days is the emergence of Gonzalez, who had been mired in a 2½-month-long slump. Starting with the hit off Rosenthal, Gonzalez is six for his past nine with two doubles, the home run and five RBIs. It has been his bat primarily that has allowed the Dodgers to apply steady offensive pressure here without Ramirez and
Yasiel Puig
, who are still nursing hand injuries from that St. Louis series.
Misses:
When you have to go to your two long relievers, it rarely bodes well for your chances. Still, Maholm and especially Wright could have done a little more to keep the Dodgers in the game. They combined for 3⅔ innings and allowed seven runners to reach base and four of them to score. If the Dodgers are able to land a reliever before the trade deadline -- one of general manager Ned Colletti's targets -- these two could be pitching to see who gets to keep his roster spot.
Chris Perez
could be in danger, too. He walked four straight batters to force in a run in the eighth.
Stat of the game:
The Dodgers didn't have to use lefty
J.P. Howell
and that's a good thing. Howell leads the team with 46 appearances and it's no wonder Mattingly goes to him a lot. Howell has made 11 straight scoreless appearances and his 1.30 ERA is ninth among NL relievers.
Up next:
The Dodgers go for the series win behind
Dan Haren
(8-7, 4.30 ERA) Wednesday night at 4:05 p.m. PT. They'll be facing Pittsburgh lefty
Francisco Liriano
(1-7, 4.43).
July, 22, 2014
Jul 22
8:00
PM PT
Associated Press
PITTSBURGH -- Gregory Polanco broke out of a slump with a solo home run and a tiebreaking two-run single, lifting the Pittsburgh Pirates to a 12-7 victory over the Los Angeles Dodgers on Tuesday night.
Polanco, hitting just .133 in his previous 11 games, smacked a bases-loaded single with two outs in the sixth to put Pittsburgh in front for good.
Neil Walker went 2 for 4 with his 15th homer and three RBIs. Ike Davis finished with three hits, including his sixth home run.
Vance Worley (3-1) overcame some shaky defense behind him to win for the first time in nearly a month.
Adrian Gonzalez smacked his 15th long ball of the season and finished with three RBIs for the Dodgers. Paul Maholm (1-5) took the loss after replacing ineffective starter Josh Beckett, who struggled in his return from a hip injury.