September, 17, 2014
Sep 17
5:04
PM PT
DENVER --
Carlos Frias
pitched one of the worst games in the history of the worst place to pitch in the major leagues. Then, he had to answer questions about it, which he did, dutifully and with a smile on his face. And then, he had to squeeze into a Teenage Mutant Ninja Turtles costume for the flight to Chicago because it was that time of year, the sometimes-ill-timed rookie hazing trip.
So, if he can handle all that with grace, what's to say he can't bounce back from Wednesday? Then again, will he get another chance?
[+] Enlarge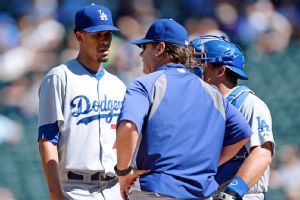 Ron Chenoy/USA TODAY SportsCarlos Frias said his confidence would not be shaken after giving up 10 hits in the first inning of a rout loss to the Rockies.
The
Los Angeles Dodgers
made history in Wednesday's 16-2 loss to the
Colorado Rockies
, the worst kind. Frias, whose sinkers certainly weren't sinking, became the first pitcher in the modern era to give up 10 hits while getting fewer than three outs in a game. The Dodgers were down 8-0 in the first inning, it kept getting worse and Major League Baseball has yet to institute a mercy rule, so it just kept going.
"It was just a bad day," Frias said through an interpreter. "My confidence isn't rattled."
Afterward, manager Don Mattingly said the Dodgers are considering a "bullpen" game the next time injured starter
Hyun-Jin Ryu
's spot in the rotation comes up. They could do it Sunday in Chicago, start
Paco Rodriguez
or
J.P. Howell
, say, with all hands on deck, and pitch
Dan Haren
in Game 1 of their most pivotal series remaining, which starts Monday against the
San Francisco Giants
.
That plan sounds as if it's under serious consideration, but the void at the back of the rotation is looming as a considerable obstacle to winning the NL West. The Dodgers' lead over the second-place Giants is just two with 10 games left, three of which are against the Giants at Dodger Stadium.
For the first time since mid-May, the Dodgers just played a series in which none of their top three starting pitchers pitched. Things didn't go well. Dodgers relievers wound up pitching 17⅔ of the 27 innings over three long, draining days at mile-high elevation. They got blown out in back-to-back games by the Rockies, who can, on occasion, do that in this ballpark.
So, what could have been a relatively leisurely weekend in Chicago turns into a must-win series at Wrigley Field. The good news is
Clayton Kershaw
and
Zack Greinke
are scheduled to pitch.
September, 17, 2014
Sep 17
3:29
PM PT
Associated Press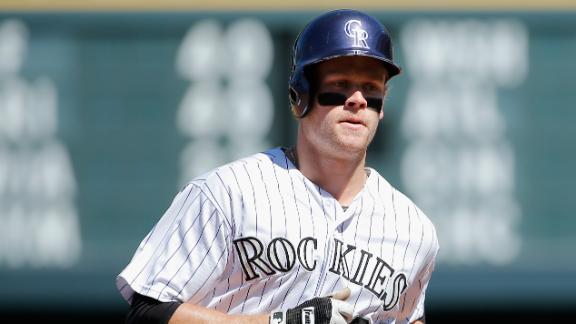 DENVER -- Justin Morneau tied a season high with six RBIs, including five as part of an eight-run first inning against spot starter Carlos Frias, and the Colorado Rockies routed the NL West-leading Los Angeles Dodgers 16-2 on Wednesday.
Morneau hit a three-run homer and a two-run single in the opening frame as the last-place Rockies chased Frias (0-1) from the game after two outs. Morneau and Carlos Gonzalez are the only Rockies players to drive in five runs in an inning.
Charlie Blackmon went 5 for 5, including a solo homer, as the Rockies took two of three from the Dodgers. Los Angeles began the day with a three-game division lead over San Francisco.
Morneau had three hits and a sacrifice fly, raising his average to .320 and leaping over Pittsburgh's Josh Harrison for the NL batting lead.
Jorge De La Rosa (14-11) gave up two hits in six scoreless innings to improve to 10-2 at home this season.
September, 17, 2014
Sep 17
3:22
PM PT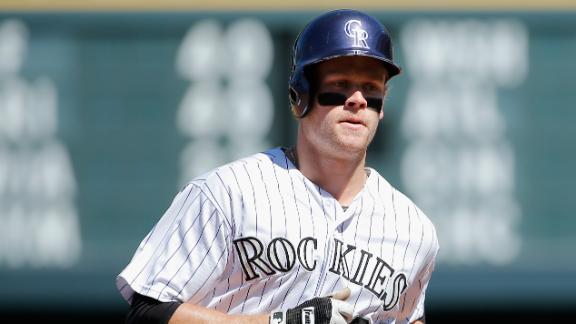 DENVER -- The
Los Angeles Dodgers
bid Coors Field farewell, and good riddance.
Manager Don Mattingly fretted even before they got here that his team would have a letdown in Colorado after playing an emotionally charged series in San Francisco last weekend. Eventually, he had every reason to worry. The Dodgers played well Monday, but then allowed 26 runs in the final two games and squandered their pennant-race momentum.
Wednesday was ugly. They lost 16-2.
How it happened:
Rookie
Carlos Frias
was confident going into his first Coors Field start, but who knows how his psyche will react after one of the worst pitching performances in the game's history. Frias became the first pitcher in the modern era to allow 10 hits without recording three outs. Mattingly eventually came and got him after
Josh Rutledge
's second hit of the first inning and right before
Justin Morneau
drove in his fourth and fifth runs of the inning. It became a long, draining day for the Dodgers' bullpen. The Dodgers' offense rarely rallies, and it showed few signs of life against Colorado's best pitcher,
Jorge De La Rosa
.
Hits:
Well, at least the Dodgers were able to squeeze in a bit of rest for their regular players. By the sixth inning, they fielded a lineup that would have drawn a fine if they traveled with it in the Cactus League. Roger Berardina was in left field,
Joc Pederson
was in center field,
Scott Van Slyke
was in right,
Miguel Rojas
was at third,
Erisbel Arruebarrena
was at shortstop,
Darwin Barney
was at second,
Drew Butera
was at first base and
Tim Federowicz
was catching. Barney, getting just his second start, homered and was on base three times.
Misses:
The Dodgers need a starting pitcher Monday against the second-place
San Francisco Giants
. If they decide Frias isn't the guy, what are their options? They acquired
Kevin Correia
from the
Minnesota Twins
for just this type of eventuality, but he isn't exactly inspiring confidence lately. He poured more gas on the fire pitching in relief, allowing six runs, five of which were earned, in three innings. The Dodgers got one decent start out of Correia after the trade. In his past seven games, he is 1-3 with a 9.17 ERA.
Stat of the game:
Zack Greinke
, who pitches Thursday in Chicago, could reach the 200-strikeout mark for the third time in his career if he can fan nine Cubs.
Up next:
The Dodgers travel to Chicago for a four-game series with the last-place Cubs. Greinke (15-8, 2.64 ERA) goes for the Dodgers against Chicago lefty
Tsuyoshi Wada
(4-3, 3.34) in a game that starts at 5:05 p.m. PT.
September, 17, 2014
Sep 17
5:00
PM PT
We're getting close enough to the end of the season to start speculating on who could pitch in the wild-card games. Teams won't necessarily have the luxury of lining up their best pitcher -- two years ago, for example, the Orioles went with
Joe Saunders
(although they didn't really have an ace that season). Last season, the Rays and Indians used
Alex Cobb
and
Danny Salazar
, as
David Price
had to pitch the tiebreaker game for Tampa Bay.
Let's see how the rotations line up for each team.
Detroit Tigers
David Price: Starts Wednesday, so could then start on Monday on four days' rest. That would line him up for another start on Saturday on four days' rest, if needed, or a start in the wild-card game on Tuesday, Sept. 30, if the Tigers have clinched.
Max Scherzer
: The Tigers have an off day Thursday and haven't announced their starter yet for Friday. They could go with
Kyle Lobstein
, but since they play the Royals it seems more likely they would skip him and go with
Justin Verlander
on Friday, Scherzer on Saturday and
Rick Porcello
on Sunday. Or maybe Lobstein is a better choice than Verlander right now. If they stick with a five-man rotation, that pushes Price back to Tuesday and Sunday (if needed).
Anyway, the Tigers have options. Regardless of what they do, they'll have either Price or Scherzer available on full rest for the wild-card game.
Kansas City Royals
Here's how the Royals line up their next four games:
Wednesday:
Yordano Ventura
Friday:
Jason Vargas
Saturday:
James Shields
Sunday:
Jeremy Guthrie
They have no off days next week, so at some point they'll have to use
Danny Duffy
as a fifth starter (well, assuming nobody pitches on three days' rest, which no one does anymore). Duffy could start on Monday or Tuesday. Assuming he pitches on Monday to give Ventura an extra day of rest, the rotation the final week would look like this:
Monday: Duffy
Tuesday: Ventura
Wednesday: Vargas
Thursday: Shields
Friday: Guthrie
Saturday: Duffy
Sunday: Ventura
That would line up Shields to pitch the wild-card game Tuesday. Of course, there's also the possibility of a tiebreaker game Monday. Presumably that would be Vargas, especially since that game would likely be against Seattle and its lefty-heavy lineup.
Oakland Athletics
The A's have built a little breathing room. With no days off the rest of the way, their rotation is set and they have
Jon Lester
lined up for the wild-card game, as he starts Friday and then next Wednesday.
Seattle Mariners
The Mariners have no off days the rest of the season and their rotation was also thrown a curve when
Roenis Elias
left Tuesday's game with elbow stiffness.
Felix Hernandez
starts on Thursday, which means he would pitch again on Tuesday and then the final Sunday of the season. If they've clinched a playoff spot, obviously they hold Felix back for the wild-card game. If not -- a distinct possibility since they have to make up ground --
Chris Young
follows Hernandez in the rotation, followed by
Hisashi Iwakuma
.
So if the Mariners go down to the wire and have to pitch Felix on Sunday, it would be: Felix in the regular-season finale, Young in a potential tiebreaker game and then Iwakuma (or Young) in the wild-card game.
San Francisco Giants
The Giants have some room to play with, leading the Pirates by 2.5 games and the Brewers by four games. And of course they can still win the NL West.
Madison Bumgarner
starts Wednesday and they have an off day on Thursday. Assuming they don't skip a starter, Bumgarner goes on Tuesday and then is ready to go on the final Sunday. If they've clinched, he's ready with a week's worth of rest for the wild-card game.
If Bumgarner is needed on that final day,
Tim Hudson
follows him in the rotation.
Jake Peavy
proceeds Bumgarner so he wouldn't be available for the wild-card game.
Pittsburgh Pirates
The Pirates have no off days remaining. Their current rotation has
Francisco Liriano
pitching on the final Saturday and
Gerrit Cole
on Sunday. If those two have to pitch on those days, that would leave
Jeff Locke
or
Edinson Volquez
for the wild-card game (or Locke in a tiebreaker game and Volquez in the wild-card game).
Milwaukee Brewers
The Brewers have an off day on Monday, which gives them an opportunity to tweak Tuesday's starter -- important, because the Tuesday starter would then go again on Sunday. It's
Mike Fiers
' turn in the rotation, but they could push him to Wednesday and use
Kyle Lohse
on regular rest on Tuesday. So Ron Roenicke's choice: Who would you rather give the extra start to, Fiers or Lohse? Whoever doesn't get that Sunday start would then presumably go in the wild-card game.
Yovani Gallardo
would also be available, although it seems unlikely he would start over those two.
St. Louis Cardinals
With a 2.5-game lead over the Pirates, the Cardinals haven't locked up the NL Central just yet. They haven't announced any starters beyond
Adam Wainwright
on Wednesday and
Shelby Miller
on Thursday. If Wainwright goes four days between starts, he would pitch again on Monday and the final Saturday.
Lance Lynn
could go Sunday and next Friday. But that would make both unavailable for a wild-card game. Then again, if they lose four or five in a row and lose their grip on the division lead, they may have to use Wainwright and Lynn to try and win the division.
Los Angeles Dodgers
Obviously, you know who the Dodgers want to start the wild-card game if disaster strikes and the Giants catch them. And, yes,
Clayton Kershaw
is lined up for that game, starting Friday and then next Wednesday.
Basically: All the teams have adjusted their rotations about as perfectly as possible, including the Mariners with the ability to start Felix on the final day if needed. The Royals probably should have done the same thing with Shields -- although Seattle did so with Felix by holding him back a couple times (including six days between starts once in August). Shields has made 32 starts so far to 31 for Hernandez because of that, so you can't really fault the Royals there. And if they win the wild card (or division), Shields is ready to go on full rest.
September, 17, 2014
Sep 17
11:46
AM PT
DENVER --
Hanley Ramirez
, who has been dealing with a sore throwing elbow, was able to pinch hit Tuesday night, but Dodgers manager Don Mattingly said he was hoping to stay away from using Ramirez entirely Wednesday afternoon.
Still, Mattingly said Ramirez's elbow was feeling better and he hopes to have him back in the lineup Thursday in Chicago, where the Dodgers open a four-game series with the Cubs.
Ramirez has missed 32 games this season with a variety of injuries a year after being limited to 86 games with thumb, hamstring and shoulder ailments. Mattingly said he thinks the frequency of injuries to Ramirez has affected his production when he has been healthy. A year ago, Ramirez led the National League in OPS when healthy, but in 2014 his numbers are well off his career norms. He is batting .277 with 13 home runs and an .805 OPS.
"I think it's hardest on him," Mattingly said. "When you get into that grind mode of at-bats, at-bats, at-bats, is when you start to feel in sync. When you're not getting them consistently, it's just hard to get a rhythm for an everyday player."
The Dodgers went with their best defensive infield with
Carlos Frias
pitching.
Darwin Barney
got just his second start at second base and
Miguel Rojas
replaced Ramirez at shortstop.
September, 17, 2014
Sep 17
10:58
AM PT
Associated Press
LOS ANGELES -- The owners of the Los Angeles Dodgers have reached an agreement to buy a stake in the Oklahoma City RedHawks, and the team will change its Triple-A affiliation to Oklahoma City next year.
The deal marks the end of the Dodgers' minor league presence in Albuquerque after 44 years. The Dodgers will continue to play in the Pacific Coast League while moving to their American Northern Division and playing at Chickasaw Bricktown Ballpark.
The agreement announced Wednesday is part of a partnership in which Peter Guber will be executive chairman and managing director of the RedHawks, and partners Paul Schaeffer and Larry Freedman will manage the company's operations.
The trio has held similar roles as principals with Mandalay Baseball Properties LLC. Magic Johnson was a founding partner with MBP in the Dayton Dragons franchise of the Midwest League, which was recently sold.
MBP bought the Oklahoma City franchise at the end of the 2010 season. It had been affiliated with the Houston Astros.
The purchase agreement is subject to customary closing conditions, including the approvals of the Pacific Coast League and Minor League Baseball and the review of the commissioner's office.
September, 16, 2014
Sep 16
10:34
PM PT
DENVER -- Say what you will about the
Colorado Rockies
-- and they are a beaten-down team at the moment -- but unless you can abide by the arcane rules at their highly skewed ballpark, they can easily beat you.
They might be the worst team in the National League, by a lot, but they've got as many home wins as the first-place
Los Angeles Dodgers
, who fell into the Coors Field trap in a major way Tuesday night, stumbling in their march to the postseason.
[+] Enlarge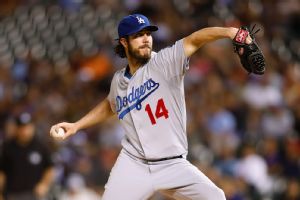 Chris Humphreys/USA TODAY SportsDan Haren allowed only five baserunners, but all five scored for the Rockies in the Dodgers' loss in Colorado.
Walking the leadoff hitter in the first inning and falling into an early hole, exposing the soft underbelly of your middle bullpen and having your worst at-bats just when innings are beginning to crescendo is not exactly the way to go at altitude, and the Dodgers did all of the above in a 10-4 loss to the Rockies.
Not all their wounds were self-inflicted. That aforementioned leadoff walk came on a pretty good 3-2 pitch, on the corner at the knees by
Dan Haren
, but plate umpire D.J. Reyburn called it a ball. Four innings later, he would call a nearly identical pitch a strike on
Yasiel Puig
to strand two runners. The inning after that, he would call a nearly identical pitch on Puig a strike again, this time stranding three runners.
"I don't think it does a bunch of good to talk about the umpiring, really," Dodgers manager Don Mattingly said. "If one thing's going to cost you a game, you didn't play that good. I feel like we had our chances."
Said Haren, who threw out his hands after the walk: "The guy had a pretty generous strike zone for most of the night except for that one."
It seems as if that early noncall led to a cascade effect and a truly bad-luck loss: The Dodgers outhit Colorado 16-9.
"It was a kind of weird game, with how many hits we were getting, and they were able to capitalize on everything," Haren said.
But teams that lament their bad luck usually do so in the comfort of the offseason, and the Dodgers don't have time for self-pity. Not with only 11 games left, one of which starts bright and early Wednesday, and their fate still firmly in their clutches. They lost a game in the standings to the
San Francisco Giants
, who now trail by three, and got no closer to clinching a postseason berth since the
Milwaukee Brewers
won. They also lost a little ground in their secondary race, to the
Washington Nationals
for home-field advantage throughout the NL playoffs.
September, 16, 2014
Sep 16
8:59
PM PT
Associated Press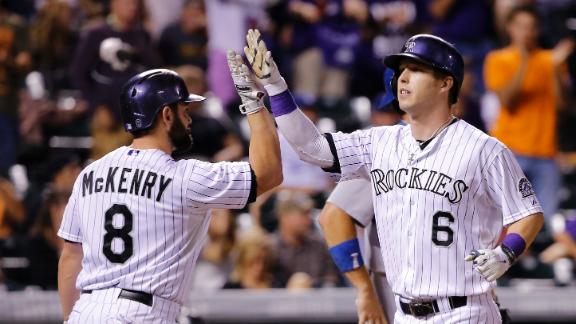 DENVER -- Corey Dickerson homered, tripled and drove in four runs, Tyler Matzek pitched into the sixth inning by getting out of several tight spots, and the Colorado Rockies snapped a seven-game skid with a 10-4 win over the NL West-leading Los Angeles Dodgers on Tuesday night.
The Dodgers had Matzek (6-10) on the ropes, but couldn't produce the timely hit. They stranded 10 runners to drop 1 1-2 games behind Washington for the best record in the National League.
Matzek allowed two runs and 11 hits in 5 1/3 innings. He also had six strikeouts, including Juan Uribe twice to end threats.
Dan Haren (13-11) had a more productive evening at the plate than on the mound, where he struggled to find his rhythm as he allowed five runs in five innings.
September, 16, 2014
Sep 16
8:45
PM PT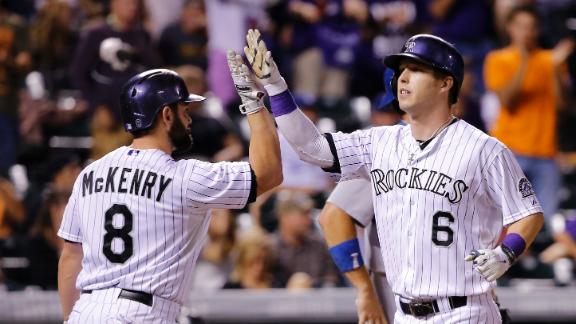 DENVER -- The
Los Angeles Dodgers
had one of those games in which all the breaks went the other way and most of their clutch at-bats went badly.
Lucky for them, they have built up a enough of a cushion in the standings that they could withstand a rash of bad luck and, then, a rash of bad pitches. They lost 10-4 to the
Colorado Rockies
despite outhitting them 16-9 and, thus, were in danger of dropping a game in the standings to the
San Francisco Giants
.
How it happened:
It figured to be a bit of an uphill battle, as Dodgers starter
Dan Haren
carried a 5.29 career ERA at Coors Field coming into it, and it was. A borderline call went against Haren on the first batter of the game, with a 3-2 pitch at the knees called a ball and
Charlie Blackmon
taking the walk. Colorado would score two in the first and keep tacking on. The Dodgers had plenty of opportunities, but two more borderline calls -- both involving
Yasiel Puig
-- cost them. Puig took a called third strike at the knees to waste a first-and-third, one-out opportunity in the fifth. Then, he took a virtually identical pitch in the sixth to leave the bases loaded.
Hits:
Justin Turner
's magical season continues. He was a late addition to the lineup when
Hanley Ramirez
was scratched
because of a sore throwing elbow, and he drove in the Dodgers' only runs, lacing a double to left-center. Turner was a .260 career hitter coming into this season. He's batting .335 and he has the fourth-highest WAR (3.3) among position players on the team. Not bad for a guy who signed a minor league deal shortly before spring training.
Misses:
How is that three-year, $22.5 million contract for
Brandon League
working out? Well, according to Baseball-Reference, League has a minus-0.9 WAR in the first two years of the deal. Having been demoted from closer to setup man to middle reliever, he's pitching in fairly harmless circumstances for the most part these days, but he still seems to get the Dodgers in trouble when he takes the mound. League walked the first batter he faced,
Drew Stubbs
, giving him his 26th walk of the season (one shy of a career high). Later, he fielded a
Charlie Culberson
dribbler near the line, and, rather than get in position to make a good throw, he tried to shovel it to
Adrian Gonzalez
and it went for an error that cost the Dodgers a run.
Stat of the game:
Haren was an All-American utility player at Pepperdine, and you can tell. He had two hits, and he's a .213 career hitter. That's the third-best mark among pitchers with at least 300 plate appearances since 2000.
Up next:
The series wraps up Wednesday afternoon at 12:10 p.m. PT.
Carlos Frias
(0-0, 3.91 ERA) will make his second major league start for the Dodgers against Rockies ace
Jorge De La Rosa
(13-11, 4.28).
September, 16, 2014
Sep 16
4:51
PM PT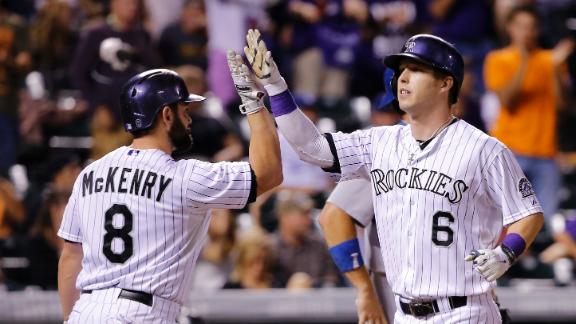 DENVER -- The Los Angeles Dodgers scratched shortstop Hanley Ramirez from their starting lineup Tuesday night before a 10-4 loss to Colorado because of a strained right elbow.
Dodgers manager Don Mattingly said Ramirez, who pinch hit in the seventh inning and struck out, was unlikely to return to start Wednesday's day game.
"We always worry about his shoulder a little bit with the A.C. [joint], that's always a little back and forth," Mattingly said. "He said he felt something yesterday on a throw and didn't think much of it, but today he was fairly sore when he tried to warm up and couldn't get going."
Ramirez has missed 31 games this season with a variety of ailments, including calf, oblique and shoulder injuries. He was limited to 86 games last year by thumb, hamstring and shoulder injuries. The Dodgers replaced Ramirez at shortstop with Justin Turner, batting sixth.
Ramirez originally was listed in the Dodgers' starting lineup, but the lineup was revised after Ramirez met with Dodgers trainer Stan Conte during batting practice.
Ramirez is batting .277 with 13 home runs and 69 RBIs.
September, 16, 2014
Sep 16
3:02
PM PT
By
Scott Eden
| ESPN The Magazine
[+] Enlarge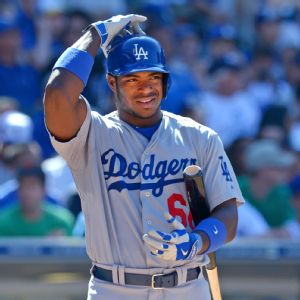 Jake Roth/USA TODAY SportsYasiel Puig has been interviewed on several occasions by federal authorities investigating alleged smuggling of Cuban ballplayers into the United States, sources tell ESPN.
Federal authorities have been systematically interviewing Cubans playing baseball professionally in the United States as part of their ongoing investigations into alleged smuggling rings, several people with knowledge of the matter told ESPN.
As the federal investigations play out, Gilberto Suarez on Friday pleaded not guilty to smuggling charges in a Miami courtroom. Suarez is the man who allegedly played a role in Yasiel Puig's dramatic journey in 2012 from Cuban obscurity to the Los Angeles Dodgers. It was one of the first public indications that federal authorities are in the midst of a widening investigation into the lucrative, clandestine rings that orchestrate the smuggling of baseball talent out of Cuba and onto the rosters of Major League Baseball teams.
September, 15, 2014
Sep 15
11:40
PM PT
DENVER -- One way to look at the dust-up between
Matt Kemp
and
Yasiel Puig
in the Los Angeles Dodgers' dugout is as another example of what several people have called a "dysfunctional" clubhouse. That could well be true.
Another way to look at it is as a step forward for the team, with one prominent player demanding another prominent player take accountability for his actions. That also could be true.
Nobody in the Dodgers' clubhouse was offering much detail about the argument, and nobody at home would have even known about it if Root Sports' cameras hadn't caught the disagreement and put it on the air. For all we know, it could be the 497th most heated discussion among Dodgers this season. It didn't look particularly menacing, with Kemp just stalking Puig in the dugout and yelling in his direction, and then manager Don Mattingly breaking it up.
[+] Enlarge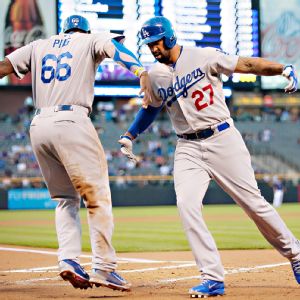 Dustin Bradford/Getty ImagesThings were hunky-dory between Yasiel Puig and Matt Kemp on the field Monday at Colorado, but it appeared to be quite a different story in the dugout.
What we do know is Puig probably should have gone to third on
Adrian Gonzalez
's hump-back liner to right field right before Kemp hit that inning. Had he done so, he would have been on third with nobody out, thereby offering an easy RBI chance for Kemp to pad the Dodgers' lead at a stadium where visiting teams can never have enough runs.
As it turned out, Puig scored anyway, on
Hanley Ramirez
's double, so the Dodgers could laugh it off afterward.
Even so, Mattingly did compare these Dodgers to the early 1970's
Oakland Athletics
, a team known as the Fightin' A's in part because they battled each other so famously. Exhibit A was
Reggie Jackson
and Billy North engaging in fisticuffs in 1974 at Tiger Stadium.
The point seems to be that nobody's going to care how many times Dodgers players had dinner with each other as long as they win the World Series.
During the past three games, they've looked as dangerous in the batter's box as they have all season.
On Saturday, they steamrolled the
San Francisco Giants
in historical fashion -- 17-0 -- after one of their worst losses of the year the night before. They played a fundamentally sound, tightly pitched game Sunday to take a key series from the Giants. Then they avoided the letdown at a half-full Coors Field by pounding out eight runs in the sixth inning to beat the
Colorado Rockies
on Monday.
Now they're getting close to punching their ticket to the playoffs and enjoying a four-game NL West lead with 12 left and a magic number to clinch a postseason berth at just five.
The Dodgers have averaged 6.7 runs per game over their past seven outings.
If what Kemp did in the dugout is an example of his taking a stronger leadership position on this team, it's a welcome sight. A more welcome sight, though, is the 13 home runs he has mashed in the past 44 games.
"Just consistently working, grinding at-bats out and letting everything take its course," Kemp said. "I struggled at the beginning of the season. But it's not the way you start -- it's the way you finish. I've always been a big believer in that. The season's still not over with, so we've got to just grind it out."
It's not always the best teams that do well in October, but it's almost always the hottest teams that go far.
Kemp's power has added another dimension to what has been steady production from Gonzalez and
Carl Crawford
, along with shocking levels of production from
Justin Turner
and signs Puig and Ramirez could join the party soon. In other words, this could be a lineup on the verge of truly clicking for the first time all year.
"Everybody's starting to come around," Kemp said. "This is a good time to get hot, hopefully going into the playoffs, and we've got to keep grinding it out and keep getting those good at-bats."