February, 27, 2015
Feb 27
1:47
PM PT
Associated Press
MIAMI -- Outfielder Juan Pierre announced his retirement Friday after a 14-year career in the majors that included a World Series championship with the 2003 Florida Marlins.
Pierre, 37, ranks 18th in career stolen bases with 614. He was a .295 hitter who finished with 2,217 hits.
Pierre broke into the majors in 2000 with the Rockies and also played for the Cubs, White Sox, Dodgers and Phillies. He batted .247 in 113 games with the Marlins in his final season in 2013.
The Alabama native played in every game from 2003 to '07. He batted over .300 six times, scored at least 100 runs three times and stole over 60 bases three times.
February, 27, 2015
Feb 27
12:49
PM PT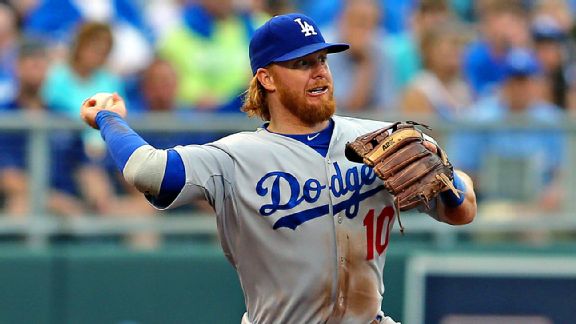 Jay Biggerstaff/Getty ImagesThe Dodgers plan again to use Justin Turner at all four infield spots.
GLENDALE, Ariz. -- A year ago,
Justin Turner
was in camp on a minor league deal, trying to jump-start a career stalled after the
New York Mets
abruptly severed ties. His presence was as much a testament to his relationship with Dodgers bench coach Tim Wallach, a fellow Cal State Fullerton alum, as it was to the Dodgers' needs.
Now, he's among the Dodgers' core players and working with a new $2.5 million contract. Good things tend to happen to players who bat .340.
Dodgers manager Don Mattingly spent part of his media session Friday morning gushing about Turner and implying that he could get far more than the 288 at-bats he had last season. The Dodgers plan again to use Turner at all four infield spots.
Turner lost weight over the winter and was a regular at Dodger Stadium workouts. Mattingly said his work has already shown up on the field.
"He's in great shape this year, moving so much better. I know he feels really good and watching his movements, it looks like he has his base under him," Mattingly said. "We'll get a good chance to see what he looks like all over."
The Dodgers figure to need role players, particularly on the infield. Their youngest infielder,
Howie Kendrick
, is 31. Third baseman
Juan Uribe
will be 36 by Opening Day, the same age as shortstop
Jimmy Rollins
.
Adrian Gonzalez
turns 33 in May. Mattingly said he'll need to schedule regular rest for three of his infielders and Uribe has been prone to hamstring injuries in recent years, so they're looking at Turner in a super-utility role, as nearly an everyday player.
"I don't know about everyday, but he's going to be a guy you're not afraid to put in there," Mattingly said.
February, 27, 2015
Feb 27
9:45
AM PT
GLENDALE, Ariz. --
Scott Van Slyke
misses his junky, cheesy snacks. He can't get them at the
Dodgers
spring training facility, so he has to buy them in a 50-pack at Costco.
"I mean, who doesn't like Cheetos? Who's going to go, 'A Cheeto? No, I'm good,' " Van Slyke said.
Howie Kendrick
has a plan to smuggle in a little maple syrup in the morning. Brett Anderson brings in Starbucks every morning because he's not a big fan of the organic coffee on tap. Even the front office has to spread out to find something that's bad for the body. Team president Stan Kasten stopped by the press work room -- an area he'd normally just as soon avoid -- in order to track down a soda the other day.
The Dodgers are making a major effort to encourage their players to eat healthily. New team president of baseball operations Andrew Friedman and farm director Gabe Kapler -- who has a blog in which he extols the virtues of healthy living -- have had clubbies pull the usual assortment of junk food out of the clubhouse and brought in a healthy catering company to make the meals.
"We are the healthiest team in pro sports," was written across the top of the menu at Camelback Ranch Thursday. That day's lunch was organic seared pork chops, free-range herb seared chicken, organic baked potatoes and organic sautéed asparagus. Not exactly low-calorie, but fortifying and low on toxins.
"If it gives us more energy and helps us go longer, I'm all for it," Crawford said, while then admitting he prefers starchy fried southern food when he's on his own.
"All things considered, it's probably not what I'd eat if I wasn't a baseball player, but I get it," Anderson said.
It's probably fair to say baseball has been slow to get on the good-nutrition bandwagon. The Dodgers have been moving in that direction for a while. They hired a chef to prepare meals for players in the clubhouse last season. This season, they plan on buying organic. The program will extend from Los Angeles to every step on the minor-league chain. Good luck finding organic in Midland, Mich.
"Gabe is ferocious with everything he does, so he will make it work," Kasten said. "I brought a packet of white sugar from Starbucks the other day. If you say, 'White sugar,' he goes off the rails."
What the players eat when they leave the facilities, of course, is another matter.
"Call me old school. I like choosing what I eat," Van Slyke said.
February, 26, 2015
Feb 26
1:52
PM PT
TEMPE, Ariz. --The best pitcher and the best player on the planet spent an afternoon orbiting each other while filming a few TV commercials for Subway the other day in Arizona.
Mike Trout
got there by 10:30 a.m. and left around 10 p.m., spending some of his down time in a trailer with his agent, Craig Landis, and visitors.
Clayton Kershaw
, who finished a morning workout across town in
Los Angeles Dodgers
camp, arrived at about 1:45 p.m. and was on site for about five hours, then went to meet his wife Ellen and newborn daughter, Cali Ann, who flew in that evening from Dallas.
Over a long afternoon, Trout and Kershaw patiently took turns doing their voice-overs, still shots and social media obligations for the company, then were driven on golf carts to nearby Tempe Diablo Stadium for their on-field shoots.
Inside the
Los Angeles Angels
' minor-league weight room, baseball's most transcendent talents greeted one another.
"I'm going to crash your photo shoot," Kershaw said as he walked into the room.
Trout, gripping a bat, extended his hand to offer Kershaw congratulations on winning the National League MVP award. Kershaw seemed genuinely touched.
"Thanks dude," he said.
They chatted for a few minutes, joking about the long, sometimes boring process of shooting advertisements. Trout joked that Kershaw could look forward to eating about 15 sandwiches over multiple takes. "You're gonna eat," Trout said. There was none of the tension one might expect from two of the game's fiercest competitors, paid lavishly to make the other look bad. Then again, Opening Day was still months away, the earliest they could possibly face one another in a game that counts still five months out.
So, on a crystal clear, cool Arizona afternoon, they could let down their competitive guards.
"We both play baseball, so it's not too awkward territory for us," Kershaw said.
One of baseball's narratives this spring is to wonder who becomes the face of baseball now that
Derek Jeter
, the New York Yankees' iconic shortstop, has retired. Baseball is thriving at the local and regional levels while struggling to keep up with other leagues on the national stage, so it's a fairly pressing issue for the game. World Series ratings have been in decline since the early 1990s. Last year's series had the third-worst ratings on record, just beating 2012 and 2008. Yet some teams, including the Dodgers and Angels, are living large on 10-figure local media revenues.
MLB.com crowd-sourced the "Face of Baseball" question on Twitter and the winner was
San Francisco Giants
catcher
Buster Posey
. One could just as easily make an argument for Trout or Kershaw. The Subway commercials in and of themselves are proof of that since national TV advertising campaigns are rare for major-league players. Trout grew up watching the sandwich commercials of
Philadelphia Phillies
first baseman
Ryan Howard
.
Baseball's star power hasn't exactly migrated westward since Jeter's retirement. It has taken a jet. According to the largest online retailer of officially licensed gear, Fanatics.com, the five best-selling names in baseball so far this year are all from California. In order, they are World Series hero
Madison Bumgarner
, Trout, Posey, Kershaw and Dodgers outfielder
Yasiel Puig
.
In 2013, the Dodgers finished with the highest road attendance in baseball. The Giants were second. Last year, the Dodgers were second to the
New York Yankees
. The influx of star power is benefiting West Coast teams.
"There's a benefit when our players are popular," Dodgers vice president for marketing Lon Rosen said. "Rivalries help baseball, high quality baseball helps. All of the things, you sort of put in a pot, you stir it around, it helps us and it's good for baseball in general when the players become more high-profile."
It could be that way for a while. Posey, 27, is signed through 2021. Kershaw, 26, is signed through 2020, as is Trout, 23. Kershaw and Trout are the reigning MVPs of their leagues. Posey won the award in 2012. Of course, there's no saying that the nexus of star power doesn't shift east again, perhaps to Miami's
Giancarlo Stanton
if his team contends or to
Jon Lester
if the
Chicago Cubs
make their long-anticipated big move.
February, 26, 2015
Feb 26
12:28
PM PT
Sandy Koufax's arrival at Camelback Ranch always sends ripples of excitement through camp, with fans chanting, "Sandy! Sandy!" when he moves between stations.

The most dominant left-handed pitcher of the 1960s visited Los Angeles Dodgers camp Thursday and spent time watching bullpens and chatting with Dodgers pitchers, particularly Zack Greinke. Afterward, Koufax -- a special advisor to the club -- spoke with reporters on a variety of topics.
Q. How do you like the offseason changes this team has made, particularly the switch to a more analytical front office?
A. It seems to me from everything everyone has said, they're analytic, but they're listening to the players and the manager and coaches. You talk about the analytical thing and it all started in Oakland, but nobody makes mention of the fact that [Billy Beane] was a player, so he could see talent. The analytics are one thing, but if he didn't like what he saw, you don't sign him. So, I think it's a combination of both that's important.
Q. Do the juices still flow for you when you get out here around the players?
A. The juices have gotten very thick. They don't flow very well. It's fun to be around the players. This is a nice time of year. Nobody's lost their job, nobody's got a job coming. It's nice to be around the young players.
Q. You watched the Dodgers' top pitching prospect, left-hander Julio Urias, throw a bullpen session. What were your thoughts?
A. He's impressive, he's very impressive. That's the first time I've seen him throw. It's a long way from the driving range to the golf course, it's a long way from side sessions to the game, and he has all the requisites, we just have to see what happens. Physically, he's very impressive.
Q. What were your thoughts watching Clayton Kershaw struggling in those tough seventh innings in the playoffs?
A. If somebody had told me that anybody would beat Clayton twice in one series, I would have said, "No way." I probably would have cursed and said, "No way," but, you know, it happens. I have to say, I don't know if you heard his acceptance speech in New York. That last line was as classy as it gets. On a night when you're being honored to bring up what didn't go right is pretty special.
Q. Do you think the fire will burn brighter in him because of what happened against the St. Louis Cardinals in the playoffs?
A. I don't know if he has any extra fire burning, because I think he always has fire burning. He's a great competitor. Would it be any extra? I hope not. You can just go so far. One hundred percent physical effort will kill you, because there's no room for thinking. You can go to 99, but you've got to leave some room for the brain.
Q. Do you think he has something to prove about pitching in the playoffs?
A. I don't think so, because I think he'll be in a lot more postseasons and I think it'll be totally turned around. The best pitcher in baseball is not going to have that happen to him, probably not ever again.
Q. Do you think pace of play is a problem for the game?
A. Possibly. I'm not sure what it is about pace of play is that's bad, but it's slower than it used to be. But you get three more pitching changes than you used to get, so that takes time. I think the strike zone has changed shape. It's gotten narrower and taller and lower. I think a wider strike zone, not necessarily higher and lower, would speed up the game. That's just my by no means humble opinion.
It's not so much the time of game. I find it hard to watch a pitcher go to no balls and two strikes and end up 3-2. That happens much more than it should.
Q. Were there any teams you struggled against, much as Clayton has struggled in the playoffs against St. Louis?
A. Early on, there were a lot of them. It got better. I was really glad in the middle of the season, he shut them out. I was like, "OK, he's proven to them that he can beat them." It just didn't happen. It's just bad timing. The games were turned around. The first one, he got enough runs to win. The second one he didn't. If it had been turned around, it might have been a different story.
Q. What do you think will be different about this team from last year?
A. There is, I would hope, more fundamental baseball being played, moving people over. People poo-poo the clubhouse thing, but I think the clubhouse is important. I think it's important players like each other. Did that happen in the past? I don't know. I'm not in the clubhouse. I only know what I read.
Q. What would you like to see Yasiel Puig improve upon?
A. I'd like to see his natural talent and maybe his personality get out of the way. It's not his personality. He enjoys himself. I think for me, probably he's never played against talent that's been his equal, so he thought, "OK, they'll make a mistake. I can keep running and they'll screw it up," and it doesn't happen here. I think he's learned that. He struggled at the end of the year hitting, but I don't think he made the same mistakes, throws crazy out of nowhere, running the bases badly. I think there was a lot of progress, but when you're struggling at the plate, everything looks bad.
Q. Were you disappointed when the veterans committee failed to elect Maury Wills or Gil Hodges to the Hall of Fame?
A. I think Maury changed the game. He revolutionized the game. He was the most dominant offensive force in baseball. Even though [Hank] Aaron might have been the best hitter, every time Maury got on it was a double or a triple. If you looked up he was on second and third. Gil's contribution is not only as a player, but as a manager. A lot of people have been elected because they did both.
Q. If modern surgeries, particularly Tommy John surgery, were around in your day, do you think you would have pitched longer?
A. I didn't have to have Tommy John. I could still throw. They just wouldn't operate on an arthritic elbow in those days. It would have been a simple surgery. I had arthritic hooks that were scratching. My elbow would blow up and fill with fluid. They'd drain it and send you back out there. Surgery would have been easy. They would have done it when the season was over, you'd have been fine in spring training. They wouldn't have cut anything.
February, 26, 2015
Feb 26
9:16
AM PT
GLENDALE, Ariz. -- Starting pitcher Hyun-Jin Ryu was held out of workouts with the Los Angeles Dodgers for the second straight day Thursday because of stiffness in the middle of his back.
Ryu said he doesn't anticipate this setback delaying the start of his season.
"I'm not worried at all," he said Thursday.
An MRI taken Wednesday showed no structural damage, manager Don Mattingly said. He said he is hopeful Ryu won't miss enough time in camp to delay the start of his season.
"I've had enough back stuff to know it can feel bad today, you wake up tomorrow and, all of a sudden, you're back," Mattingly said.
"At this point, I don't think any of us are worried about the timetable. If it were to linger and go on and on, then obviously it would start to mess with his schedule."
Ryu, who is 28-15 with a 3.17 ERA in two major league seasons, is being counted on as the Dodgers' No. 3 starter behind Clayton Kershaw and Zack Greinke. He threw a bullpen session Tuesday, but he reported discomfort afterward. On Wednesday, he told Korean reporters that he thought he would resume workouts the following day.
The Dodgers have had reason to be worried about the health of their rotation this spring. Greinke had a precautionary injection of lubricant into his elbow last week and has resumed throwing off a mound. No. 5 starter Brett Anderson is coming off back surgery and is getting extra rest between bullpen sessions.
February, 25, 2015
Feb 25
12:47
PM PT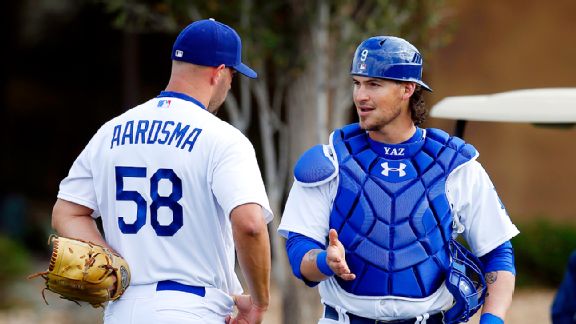 Rick Scuteri/USA TODAY SportsYasmani Grandal knows the importance of having a relationship not only with pitchers, but with umps.
GLENDALE, Ariz. -- Before every nuance of baseball came to be dissected, isolated and quantified, hitters used to assume that the best, most experienced catchers got the most calls from umpires.
"When you had Carlton Fisk or Bob Boone back there, you knew those guys were good at getting pitches,"
Los Angeles Dodgers
manager Don Mattingly said.
Now that the Information Age has pulled baseball into its orbit, a catcher's ability to frame pitches so that they appear to be strikes has become one of the hottest areas of study. New Dodgers president of baseball operations Andrew Friedman has long been a proponent of the skill, which is why he lived with sub-par hitting from guys like
Jose Molina
in Tampa Bay.
[+] Enlarge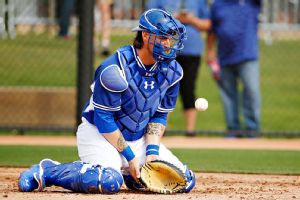 AP Photo/John LocherYasmani Grandal is one of the best in the game at framing pitches.
And it's also one of the reasons
Matt Kemp
is getting ready for the season five miles from here, with the
San Diego Padres
, instead of alongside longtime teammates
Clayton Kershaw
and
Andre Ethier
in Dodgers camp.
The Dodgers traded Kemp, a former MVP runner-up who led the majors in slugging after the All-Star break last year, for
Yasmani Grandal
, a catcher with a lifetime .245 batting average who is just a year-and-a-half removed from major knee surgery. On paper, it doesn't jump out as one-sided in the Dodgers' favor.
But there were motives for the trade beyond the players' production in the batter's box. The Dodgers were able to shed $75 million of Kemp's $107 remaining salary and they got a catcher who, if things work out, could make the Dodgers' pitching even better.
Grandal, who is not otherwise known as a premium defensive catcher, is by all accounts one of the best pitch framers in baseball. The Dodgers' incumbent starting catcher,
A.J. Ellis
, doesn't rate highly and has vowed to work on the skill this spring.
"With Andrew and [GM] Farhan [Zaidi], you do hear a lot of it," Mattingly said. "Now that's part of the analytics, how he's catching the ball and getting pitches. We do know Yasmani scores high on all of that."
According to Baseball Prospectus, Grandal got 120 "extra" strikes called last season, an extraordinary number considering he caught just 76 games. Among other things, Grandal's pitch framing in San Diego helped revive the career of former Dodgers left-hander
Eric Stults
, a finesse pitcher who makes a living at the fringes of the strike zone.
Pitch framing might be a valuable skill, but it's not necessarily one that people like talking about at length. After all, it commodifies the fallibility of umpires. In a perfect world, how a catcher receives the baseball shouldn't impact balls and strikes, but it has become an area where the most analytical minds in the game seek to exploit its most human element.
Grandal said he used to play a game with himself when he was behind the plate, counting how many pitches he considered balls he could get called strikes. He would be happy if he could get a half-dozen a game to go his pitchers' way. On some days, getting that many borderline calls could be the difference between a win and a loss.
Then, a couple of years ago, people finally started noticing.
"Once somebody brought to my attention that it was a stat, it was kind of funny, because I was like, 'I've kind of been playing this game for a while,' " Grandal said.
Grandal paused for a moment and added, "I never liked the idea of stealing strikes, because that's making the umpire look bad. That's the one thing I don't want to do is make them look bad."
Grandal said he learned his receiving skills from University of Miami assistant coach Joe Mercadante and then refined them over the years in pro ball working with veterans such as
Ramon Hernandez
, Pat Kelly,
Brad Ausmus
and A.J. Hinch. He doesn't view pitch framing as fooling the umpire, but as making it easier for him to see the ball.
"I'm trying to make the umpire's job easier. The better lane I give them to see the ball, the better relationship I'm going to have with them, the more they're going to trust me," Grandal said. "I'm always talking to them, trying to see, 'Hey, do you have a good lane to see? Am I cutting you off? Are you seeing this pitch?' The relationship between the catcher and pitcher is pretty important, but you also have to have a relationship with the umpire."
The Dodgers should have a better catching situation in 2015 than last season, in part because Grandal and Ellis have skill sets that complement each another. Grandal's best hitting typically comes from the left side. Ellis is a right-handed hitter. Grandal excels at pitch framing. Ellis is a master of game planning and calling pitches. If they put in the work and share information this spring, there's no telling what kind of impact they could have on a Dodgers staff that finished fourth in the National League in ERA.
They also could have acquired Grandal, 26, at the right time in his career. A torn knee ligament cost him half of the 2013 season and limited him much of last year, he said.
"It kind of affected everything," Grandal said. "Now, it's good."
February, 25, 2015
Feb 25
9:35
AM PT
GLENDALE, Ariz. -- The
Los Angeles Dodgers
signed journeyman right-hander
Chad Gaudin
to a minor-league deal, adding another high-upside pitcher coming off an injury.
Gaudin, 31, hasn't pitched since 2013, when he was an effective reliever and spot starter for the
San Francisco Giants
, going 5-2 with a 3.06 ERA in 12 starts and 18 relief appearances.
Gaudin missed last season with a neck injury. He signed with the
Philadelphia Phillies
last spring but failed a physical. Just since spring training began one week ago, the Dodgers have signed
Brandon Beachy
-- coming off Tommy John surgery -- and
Dustin McGowan
, who has a lengthy injury history.
The likelihood is the Dodgers will stockpile Gaudin as starting pitching depth at Triple-A Oklahoma City when the season begins.
"You have a chance to catch lightning in a bottle," Dodgers manager Don Mattingly said. "We'll get him in here and see how he's throwing."
February, 25, 2015
Feb 25
7:36
AM PT
Associated Press
LOS ANGELES -- A California appellate court has rejected a bid by the ex-wife of former Los Angeles Dodgers owner Frank McCourt to toss out a divorce agreement because the team sold for more than $2 billion.
The 2nd District Court of Appeal in Los Angeles on Tuesday rejected Jamie McCourt's contentions that the agreement that paid her $131 million should be set aside because her ex-husband didn't provide accurate estimates of the team's value.
The unanimous opinion found no basis to overturn the agreement or a lower court's ruling that Jamie McCourt wasn't credible when she testified that her ex-husband misled her about the Dodgers' value.
Jamie McCourt filed for divorce in October 2009, and the pair reached a financial agreement in late 2011.
February, 24, 2015
Feb 24
10:45
AM PT
In 1935, Art "Moose" Doll caught three games for the Boston Braves. He went 1-for-10 in his appearances at the plate and never again caught a major league game. The following season, on Sept. 25, Doll pitched eight strong innings in a 3-2 loss to the
New York Giants
, easily the highlight of a fleeting major-league career.
More than 70 years would pass before another player would make the conversion from catcher to pitcher after reaching the major leagues as a catcher. Dodgers closer
Kenley Jansen
made the switch in the minor leagues.
Chris Hatcher
, one of the Dodgers' newest relievers, broke Doll's record -- or perhaps anomaly is a better word -- three seasons ago.
Hatcher appeared in five games as a catcher for the Florida Marlins in 2010, going 0-for-8. The following spring, coaches talked him into becoming a pitcher. He made his major league debut from the mound the following June 17. Obviously, he had some aptitude for it if it only took him four months. Hatcher had pitched in high school and a handful of innings at North Carolina.
"They didn't so much say it, but I got the sense the only way I could stay on the roster is if I converted," Hatcher said. "I took it in stride and it turned out to be the best move probably."
The Dodgers could be the beneficiary of Hatcher's late career move, because though he is 29, there are fewer than 90 major league innings on his powerful right arm. He also won't be arbitration eligible until 2017, meaning he's under club control for the long haul. His average fastball velocity was 95.1 mph last year, according to Fangraphs. Hatcher will have a chance to break camp as the Dodgers' primary right-handed setup man, if not the closer while Jansen is out.
He was more than a throw-in in the trade that sent
Dee Gordon
,
Miguel Rojas
and
Dan Haren
to Miami.
"He was a guy we targeted," Dodgers general manager Farhan Zaidi said. "To start off the season, he may be even more important than we anticipated."
Hatcher also came with baggage beyond those carrying his cleats and gloves. He reportedly broke teammate Sam Dyson's jaw during a bar fight in Nashville, when both players were in the minor leagues early last season, and was handed a five-game suspension by the team. Hatcher declined to discuss the matter this week and Zaidi said the team looked into it.
"We have no concerns about that," Zaidi said.
February, 24, 2015
Feb 24
9:15
AM PT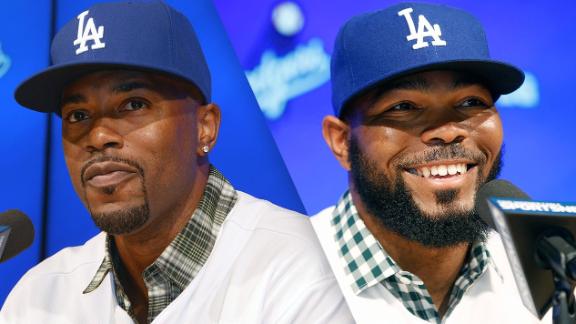 GLENDALE, Ariz. -- The Los Angeles Dodgers were hoping they were done with the drama that comes with having an excess of well-paid outfielders after they traded Matt Kemp to the San Diego Padres over the winter, but the storyline could linger.
Andre Ethier, who was the odd man out for most of the second half of 2014, said he would prefer to play elsewhere if there isn't an everyday job open for him on the Dodgers.
Ethier is the longest-tenured Dodgers player, having broken in with the team in 2006. The Dodgers' tentative Opening Day plans are for Carl Crawford to start in left field, rookie Joc Pederson in center and Yasiel Puig in right, with Ethier the fourth outfielder.
"You're not wishing for it ever to end, but sometimes that opportunity takes you somewhere else," Ethier said. "I'm not going to do anything to sit here and force it. Hopefully it works itself out."
February, 23, 2015
Feb 23
3:24
PM PT
GLENDALE, Ariz. -- There was a time when some baseball executives considered the
Los Angeles Dodgers
the likeliest landing place for Cuban infielder Yoan Moncada, but Dodgers general manager Farhan Zaidi indicated Monday that perhaps such a scenario was never all that likely.
Moncada signed a reported $31.5 million deal with the
Boston Red Sox
Monday. Because Boston had already exceeded its international spending limit before landing Moncada, it would have been precluded from signing any international player over the next two signing periods for more than $300,000 anyway.
Thus, the penalty was less of a disincentive for Boston than it would have been for the Dodgers, particularly with more and more players expected to emerge from Cuba in the coming months. The next signing period begins July 2.
"It gives us the opportunity to continue pursuing guys this period and, more importantly, the next signing period," Zaidi said. "There's a lot of talent that's coming on line July 2. It's not surprising at the end of the day that the couple teams in it at the end had already gone past the cap."
Zaidi said the Dodgers never made a formal offer for Moncada.
The name to keep an eye on now is infielder Hector Olivera, a 29-year-old infielder who has enough professional experience that he wouldn't be constrained by international spending limits. Olivera has yet to be declared a free agent by Major League Baseball.
"I have no sense of the timetable," Zaidi said. "We have had some discussions with them being at the workout and whatnot, but until he's declared eligible to sing we can't have any more concrete discussions."