July, 27, 2014
Jul 27
10:30
PM PT
SAN FRANCISCO -- The National League West might still be decided based on what the respective general managers of the
San Francisco Giants
and
Los Angeles Dodgers
are able to pull off before Thursday's trade deadline.
And then again it might not.
[+] Enlarge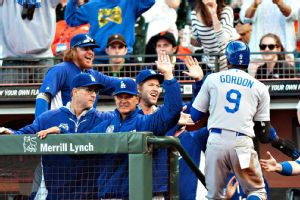 Ed Szczepanski/USA TODAY SportsThe Dodgers were feeling pretty good about themselves after a three-game sweep of the Giants that vaulted them back into first place.
The Giants have made the only two moves so far, with general manager Brian Sabean scooping up
Jake Peavy
from the
Boston Red Sox
for a couple of pitching prospects, and
Dan Uggla
from the
Atlanta Braves
' discard pile. Dodgers general manager Ned Colletti admitted Saturday that talks hadn't gotten far off the ground and said, "You know what? We may not do anything."
If you've followed Colletti's active track record at this time of year, you know that admission had to hurt.
But it probably hurt a little bit less after he watched his team dominate the Giants for two games and then eke by them Sunday night, 4-3, for a three-game sweep that put the Dodgers alone in first place in the NL West for the first time since July 13.
On Sunday, the Dodgers beat Peavy, which in itself is noteworthy since he was 14-2 in his career against them coming in. Peavy had arrived in the middle of the Dodgers' 5-0 Saturday win, a
Clayton Kershaw
two-hitter, and made his Giants debut on "Sunday Night Baseball" against
Hyun-Jin Ryu
, who has learned to mimic Kershaw's slider to the disgust of National League hitters of late.
Uggla, by the way, went 0-for-8 with four strikeouts and three errors at second base in the series.
Not that Peavy was bad, not by a long stretch. He gave the Giants a quality start despite one run scoring because of Uggla's error and another scoring because
Buster Posey
took his time throwing to first after a strikeout on a ball in the dirt, and speedster
Dee Gordon
alertly broke for home.
"That's tough when you give a good team extra outs, but at the same time that's what being a team is about and I've got to pick up the team and do a better job," Peavy said afterward. "Buster and I are going to need a little time to get used to one another."
July, 27, 2014
Jul 27
8:29
PM PT
Associated Press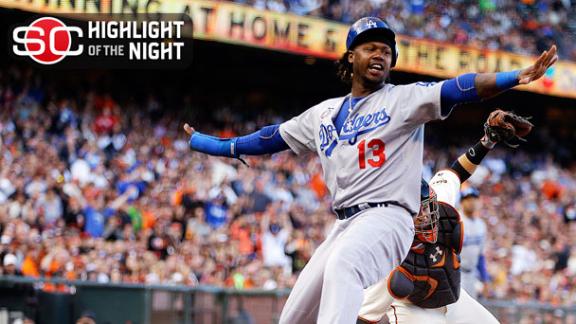 SAN FRANCISCO -- Carl Crawford hit an RBI triple to back Hyun-Jin Ryu's third straight victory, and the division-leading Los Angeles Dodgers completed a sweep of the San Francisco Giants with a 4-3 victory Sunday night.
Ryu (12-5) moved within two wins of his rookie total last year and improved to 4-1 in five outings at AT&T Park, where in one dominant weekend the Dodgers made quite a statement to take over the NL West's top spot.
In his Giants debut, Jake Peavy threw a pair of wild pitches in the fifth as the Dodgers went ahead on Hanley Ramirez's RBI single ahead of Crawford's triple to the corner in deep right field.
Matt Kemp singled twice and the Dodgers leave the Bay Area with a 1½-game division lead after outscoring the Giants 17-4.
July, 27, 2014
Jul 27
8:21
PM PT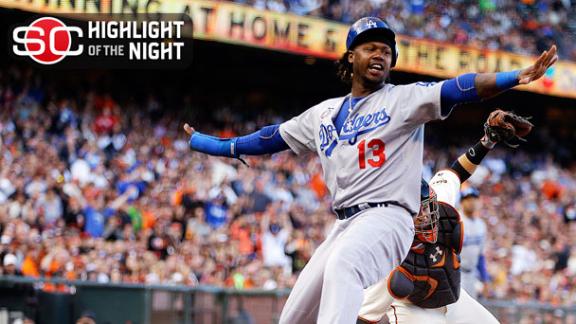 SAN FRANCISCO -- The
Los Angeles Dodgers
did what they set out to do. They proved they can beat the
San Francisco Giants
head to head and they reclaimed first place. Not a bad weekend by the Bay, a three-game sweep at AT&T Park that ended with Sunday night's tense 4-3 win.
The Dodgers now lead the NL West by a 1½ games, a crucial cushion with the team still in the midst of its most challenging stretch of schedule this season.
How it happened:
Jake Peavy
pitched well a day after getting traded to San Francisco from the
Boston Red Sox
, but
Hyun-Jin Ryu
pitched a little bit better and the Dodgers used some speed and craftiness to beat Peavy. They scored three runs in the fifth inning, with
Carl Crawford
's triple down the right-field line the key blow. Ryu pitched six strong innings, giving up three runs and six hits and striking out seven batters.
The Dodgers' bullpen, much-maligned, had the right pitchers lined up after getting most of the week off.
J.P. Howell
,
Brian Wilson
-- who entered the game to heavy booing at his former home stadium -- and
Kenley Jansen
sewed up the final three innings without much incident. Jansen struck out the side in the ninth.
Hits:
Dee Gordon
got on base three times, none of them via the traditional walk or hit. He reached on
Dan Uggla
's error, got hit in the foot by a breaking ball and reached on a strikeout and wild pitch. Those were largely the product of luck, but what Gordon did with one of the chances was all about opportunism and speed. When another ball got away from
Buster Posey
and he threw to first to get
Adrian Gonzalez
, Gordon sprinted for home and slid in safely, scoring on the fielder's choice. It was a bold gambit and it sparked the Dodgers' rally.
Misses:
The only impetus for trading
Matt Kemp
at the moment is to free up whatever money the Dodgers could and to alleviate whatever rift exists between him and the coaching staff. The outfield situation is as good as it has been all season. Kemp has looked comfortable playing right field, his original position, and he has been productive at the plate. In his past 16 games, he is batting .370. He's now batting .277 on the season with an above-average .775 OPS.
Stat of the game:
The Giants scored three runs while Peavy was in the game. In his past eight starts in Boston, he got no more than two runs of support.
Up next:
The Dodgers are off Monday before beginning a three-game series with the
Atlanta Braves
at Dodger Stadium on Tuesday night.
July, 27, 2014
Jul 27
4:44
PM PT
SAN FRANCISCO -- The Dodgers were hopeful Sunday that an effort by a group of Southern California lawmakers could break the stalemate between Time Warner Cable and other pay-TV providers that has deprived about 70 percent of the Los Angeles market of the team's local broadcasts.
Seven members of the U.S. Congress, led by Rep. Tony Cardenas, wrote the Federal Communications Commission, urging it to broker a deal.
"It's progress," said Dodgers executive vice president Lon Rosen. "Anything that can move this thing forward potentially can resolve it."
The Dodgers also issued a statement that read, "We are open to any activity that will move forward a deal so that fans can once again enjoy their Dodgers."
Time Warner Cable has been unable to land carriage agreements with other distributors, including DirecTV, which controls about 25 percent of the Southern California market.
The Dodgers own the channel, SportsNet LA, but the negotiations have been between Time Warner cable and the distributors. Time Warner Cable agreed to pay $8.35 billion over 25 years to broadcast the team's games. The channel provides 24-hour Dodgers content.
Only games carried nationally, such as Sunday night's game in San Francisco aired by ESPN, have been available in Southern California to nonsubscribers of Time Warner Cable.
The Dodgers are 58-47 and in first place in the National League West.
Many fans without Time Warner Cable missed the opportunity to see no-hitters thrown by Josh Beckett and Clayton Kershaw this season and haven't been able to hear legendary broadcaster Vin Scully.
The two sides have haggled over the cost of the channel, which is believed to be more than $4 a month per subscriber.
July, 27, 2014
Jul 27
3:37
PM PT
Associated Press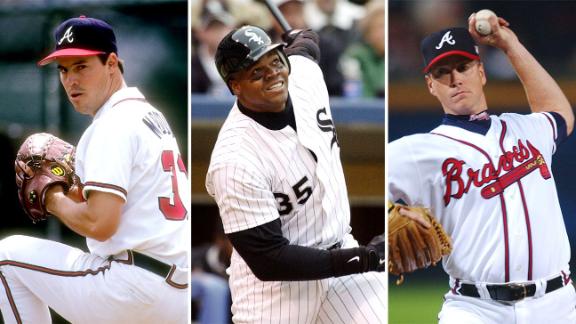 COOPERSTOWN, N.Y. -- Frank Thomas choked back tears, Joe Torre apologized for leaving people out of his speech and Tony La Russa said he felt uneasy.
Being enshrined in the Hall of Fame can have those effects, even on the greats.
Thomas, pitchers Tom Glavine and Greg Maddux, and managers Bobby Cox, Torre and La Russa were inducted into the baseball shrine Sunday, and all paid special tribute to their families before an adoring crowd of nearly 50,000.
"I'm speechless. Thanks for having me in your club," Thomas said, getting emotional as he remembered his late father. "Frank Sr., I know you're watching. Without you, I know 100 percent I wouldn't be here in Cooperstown today. You always preached to me, 'You can be someone special if you really work at it.' I took that to heart, Pop."
"Mom, I thank you for all the motherly love and support. I know it wasn't easy."
The 46-year old Thomas, the first player elected to the Hall who spent more than half of his time as a designated hitter, batted .301 with 521 home runs and 1,704 RBIs in a 19-year career mostly with the Chicago White Sox. He's the only player in major league history to log seven straight seasons with a .300 average, 20 homers, 100 RBIs and 100 walks.
Ever the diplomat as a manager, Torre somehow managed to assuage the most demanding of owners in George Steinbrenner, maintaining his coolness amid all the Bronx craziness while keeping all those egos in check after taking over in 1996. The result: 10 division titles, six AL pennants and four World Series triumphs in 12 years as he helped restore the luster to baseball's most successful franchise and resurrected his own career after three firings.
Torre, the only man to amass more than 2,000 hits (2,342) and win more than 2,000 games as a manager, was last to speak, and in closing delivered a familiar message.
"Baseball is a game of life. It's not perfect, but it feels like it is," said the 74-year-old Torre, who apologized afterward for forgetting to include the Steinbrenner family in his speech. "That's the magic of it. We are responsible for giving it the respect it deserves. Our sport is part of the American soul, and it's ours to borrow -- just for a while."
"If all of us who love baseball and are doing our jobs, then those who get the game from us will be as proud to be a part of it as we were. And we are. This game is a gift, and I am humbled, very humbled, to accept its greatest honor."
The day was a reunion of sorts for the city of Atlanta. Glavine, Maddux and Cox were part of a remarkable run of success by the Braves. They won an unprecedented 14 straight division titles and made 15 playoff appearances, winning the city's lone major professional sports title.
"I'm truly humbled to stand here before you," Cox said. "To Tom Glavine and Greg Maddux, and I have to mention the third member of the big three -- John Smoltz
July, 27, 2014
Jul 27
2:56
PM PT
ST. PETERSBURG, Fla. -- He has had debilitating ankle and shoulder injuries that have limited his play the last two seasons, is still owed roughly $118 million on a contract that runs through 2019, and has a mixed reputation as a clubhouse presence, but the Red Sox are considering making a move for Dodgers outfielder
Matt Kemp
, according to a club source.
[+] Enlarge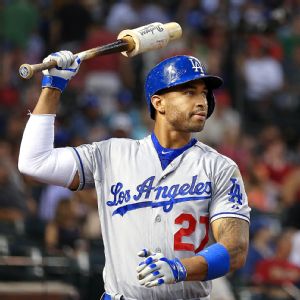 Christian Petersen/Getty ImagesMatt Kemp would represent an upgrade to Boston's crop of outfielders.
With the Sox in need of more offensive production in the outfield, the right-handed-hitting Kemp could be the major piece in a trade for Red Sox left-hander
Jon Lester
, especially with the Dodgers reluctant to part with top outfield prospect Joc Pederson.
"If he's healthy," one top talent evaluator said of Kemp, who turns 30 on Sept. 23, "he would absolutely destroy that ballpark [Fenway Park]."
Kemp has had two operations on his left shoulder since 2012 and another on his left ankle in October. He was limited to 73 games in 2013, and the Dodgers determined that the loss of mobility due to his ankle injury limits him to playing one of the corner outfield positions instead of center field. Center field was the position he played in 2010, when he finished runner-up in the National League MVP voting by hitting .324 with a .399 OBP, .586 slugging percentage, 39 home runs and 40 stolen bases.
He has put up much more modest numbers this season, posting a .273/.339/.429/.768 slash line, with 8 home runs and 5 stolen bases in 10 attempts. The Dodgers already have five outfielders for three spots, with Pederson knocking on the door, so it makes sense they would consider moving Kemp.

Making a trade problematic is Kemp's contract; the Dodgers would have to be willing to eat a considerable sum for the deal to make any sense for Boston to make it. They might be willing to do so for a pitcher of Lester's magnitude, though again, with no assurances that Lester would be no more than a two-month rental, that also would seem to limit how much the Dodgers would give. The Sox would almost certainly prefer a package built around Pederson.
On Saturday, Dodgers general manager
Ned Colletti addressed speculation
that the Dodgers have some interest in Lester.
"You know what? We may not do anything," Colletti said, according to Mark Saxon of ESPNLosAngeles.com. "We've still got a club that's solid, that still has upside to it, so I think there's still more in this club. Have we won four in a row yet? I think there's still a strong run in this club as it's currently constituted. That said, we've been historically active in July and August, sometimes, and we'll continue to see what else we can do."
As for the Red Sox?
"It's going to be a crazy few days," Lester said.
• The Red Sox will not be making a trade for Phillies left-hander
Cole Hamels
. He is not available, a major league source confirmed. And the Sox have not made any inquiries on
Cliff Lee
.
July, 26, 2014
Jul 26
10:46
PM PT
ESPN.com news services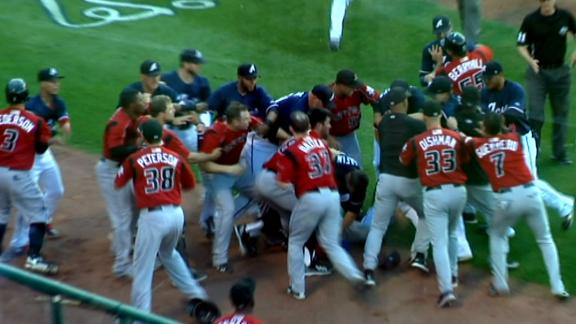 Nine players and Reno Aces manager and former major leaguer Phil Nevin were ejected after a wild, benches-clearing brawl in Saturday's game between the Triple-A affiliates of the Dodgers and Diamondbacks.
In the top of the second inning, Albuquerque Isotopes infielder Erisbel Arruebarrena took offense to being thrown at by Aces pitcher Mike Bolsinger, and both benches cleared without major incident. Upon striking out a few pitches later, Arruebarrena shoved Aces catcher Blake Lalli and threw his helmet at a member of the Aces who charged at him. The benches cleared, Arruebarrena was tackled by several Aces and the players wound up pushing into the netting behind home plate and into the first row of the crowd.
The Aces are affiliated with the Diamondbacks, and the Isotopes are affiliated with the Dodgers. The game comes on the heels of the Isotopes' 16-7 rout of Reno on Friday night.
Reno wound up winning 7-3 behind Bolsinger, who gave up two runs on nine hits in 5⅔ innings. Bolsinger is 1-6 with a 5.50 ERA in two stints this season with the Diamondbacks.
July, 26, 2014
Jul 26
10:35
PM PT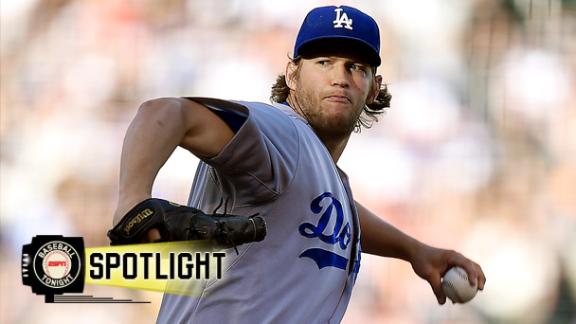 SAN FRANCISCO -- The
St. Louis Cardinals
treated one of the
Los Angeles Dodgers
' best hitters like a dartboard.
Clayton Kershaw
took care of that.
The
San Francisco Giants
seemed to have regained the momentum in the NL West race and might have seized a bit more by adding a veteran pitcher in
Jake Peavy
to their mix before the trade deadline. Clayton Kershaw took care of that.
[+] Enlarge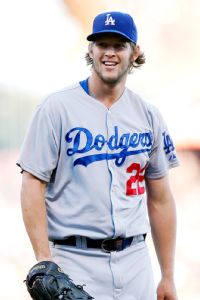 AP Photo/Beck DiefenbachClayton Kershaw has plenty to be happy about lately as he has been on a dominant run, including Saturday's shutout of the Giants.
There is an old saw in baseball that a starting pitcher can't be the team's leader because he only participates in 20 percent of its games, which carries a ring of truth to it. Yet Kershaw certainly looks to be the man the Dodgers take their cues from, at least when they're looking their most formidable.
The Dodgers have dominated the Giants in the first two games of this series mostly because Kershaw and
Zack Greinke
have held the Giants scoreless in 16 of the 18 innings the teams have vied for. Granted, the Dodgers' lineup has looked vastly more menacing with
Yasiel Puig
and
Hanley Ramirez
back in it, and the outfield has looked more competent with Puig in center.
But the Dodgers are a pitching-first team, and Dodgers pitching is a Kershaw-first phenomenon. He could pitch well in a phone booth, but put him on the mound at a cool, breezy bayside stadium with big outfield gaps, and the other team's hitters might as well close their eyes and swing as hard as they can. Maybe they'll get lucky. Nothing else seems to be working. Kershaw has a 0.69 ERA at AT&T Park.
Dodgers manager Don Mattingly has noticed other teams' approaches to Kershaw and, at times, Greinke: Swing early when they are trying to get ahead, avoid deep counts where their devastating off-speed comes into play, and perhaps score early in the game and hope your pitchers can do the rest.
"When you do that and you don't [score], you end up with a low pitch count, and you end up getting a full dose of our guys," Mattingly said. "I can't say it's a bad plan, but it's a dangerous one."
The Giants got a full dose of Kershaw on Saturday evening: nine scoreless innings in which they mustered three baserunners. It was absolute domination and you could argue in good faith that it was his fourth-best outing this season. There was that near-perfect no-hitter on June 18, perhaps the best-pitched game in history; the eight scoreless at Coors Field; the 11-strikeout game against San Diego.
This one, of course, carried the most import, slipping the Dodgers quietly back into first place in the NL West.
July, 27, 2014
Jul 27
1:20
AM PT
By
Stacey Gotsulias
| ESPNLosAngeles.com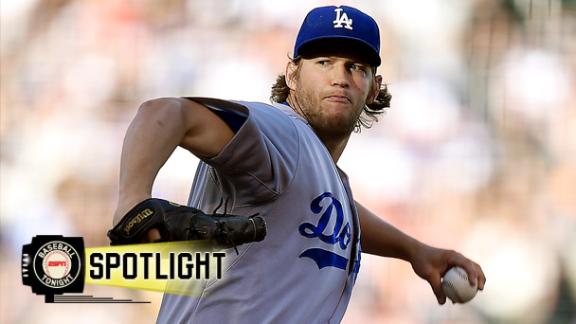 Saturday was one of those days when baseball fans looked at MLB's schedule, perused the pitching matchups and more than likely became very excited because a bunch of aces were slated to start. So in case you missed what happened, here is your roundup:
• Chicago's
Chris Sale
was simply dominant against the sliding
Minnesota Twins
en route to a 7-0 win at Target Field. It was the 10th win of the season for White Sox's ace, and it makes him the first Sox starter to win 10 of his first 11 starts since
Mark Buehrle
accomplished the same feat back in 2005. Sale lasted eight innings, gave up five hits -- all singles -- and walked two while collecting 12 strikeouts.
The biggest threat from Minnesota's offense came against Sale during the second inning, after he walked
Kurt Suzuki
, who advanced
Josh Willingham
to second base. After that, Sale barely broke a sweat. He had three innings in which he set down the batters in order, and he recorded at least one strikeout in every inning he pitched.
According to Brooks Baseball, Sale was averaging 95.3 mph on his fastball while dialing it up to 97.3 mph when needed. He threw his two-seamer 63 times while sprinkling in his changeup (30) and slider (19). Seven of Sale's 12 strikeouts were of the swinging variety. He got nine swings on misses on his changeup, and four of the singles came off his fastball, while one came off his changeup. The Twins could not do anything against his slider.
•
Sonny Gray
, the ace of the Oakland Athletics, faced the lowly
Texas Rangers
in Arlington. While he picked up the win, which was Oakland's 64th of the season, Gray wasn't as dominant as you'd want your ace to be against the worst team in baseball. Gray lasted 6 2/3 innings and surrendered one earned run on seven hits, but he walked four and struck out five. His season ERA is now 2.65.
Gray favored his fastballs (two-seam, four-seam) and curveballs equally and got the most swings on the four-seamer. He also got the most strikes on the curve. It was his 12th win of the season, and he moved his strikeout total up to 121 on the season.
• Longtime Cy Young front-runner
Justin Verlander
didn't fare well against the resurgent
Los Angeles Angels
of Anaheim. He picked up his ninth loss of the season but wasn't exactly that bad. For other pitchers, a seven-inning, three-run performance could earn them a victory, but that didn't happen for Verlander. Unfortunately for him and the Tigers, they ran into
Matt Shoemaker
, who pitched a gem -- seven innings, three hits, five strikeouts and no walks.
Verlander's record is now at .500 (9-9), and his ERA is a robust 4.79. While he's been struggling to put something good together all season, Detroit fans should be relieved about his velocity going back to more Verlander-like levels; on Saturday night his fastball was sitting around 96 mph.
• In Cincinnati,
Johnny Cueto
and
Gio Gonzalez
of the Nationals were locked in a pitcher's duel that was ultimately won by the Reds' ace thanks to a seven-inning, four-hit, nine-strikeout performance. Cueto, who saw his season ERA drop to a 2.08, threw 103 pitches -- 67 for strikes. The 28-year-old Cueto now leads the National League in innings pitched (155.2) and looks to be a front-runner for the NL Cy Young. He also has held opponents to a .184 batting average and has a WHIP of 0.93. He has 163 strikeouts on the season along with 11 wins.
Unlike Sale, Cueto used a bigger variety of pitches to get to the Nationals. According to Brooks, while Cueto favored his four-seamer -- he threw it 36 times -- he also sprinkled in 21 two-seamers, 16 cutters, 13 sliders and 11 changeups. He recorded a three-up, three-down inning in the third and struck out all three batters (two swinging).
• Last, but certainly not least in any sense of the word, we have another NL Cy Young front-runner,
Clayton Kershaw
of the Dodgers, who did Clayton Kershaw things against the
San Francisco Giants
in one of those games you don't want to say is big because it's still only July, but in actuality, it is pretty big.
So what exactly did Kershaw do? He only pitched a complete-game shutout while giving up two hits and striking out seven. The poor Giants just didn't have an answer for Kershaw, who picked up his 12th win of the season and lowered his ERA to 1.76. He favored his four-seam fastball and threw 68 of them while tossing 113 pitches overall. He set down the Giants in order during the first four innings of the game. The win helped the Dodgers pull ahead of the Giants in the NL West standings.
Stacey Gotsulias writes for It's About The Money, a blog about the New York Yankees. You can follow her on Twitter.
July, 26, 2014
Jul 26
9:25
PM PT
Associated Press
SAN FRANCISCO -- Clayton Kershaw pitched a two-hitter to win his ninth straight decision, leading the Los Angeles Dodgers to a 5-0 victory over the San Francisco Giants on Saturday night.
Adrian Gonzalez had three hits and an RBI and Juan Uribe had two hits and two RBIs to help the Dodgers move into first place in the NL West, one-half game ahead of the Giants.
Kershaw (12-2) walked one and struck out seven in his ninth career shutout and second this season. It was also his fourth complete game of the year and 15th of his career. The left-hander improved to 12-6 with a 1.40 ERA in 23 career games against the Giants, including 7-2 with a 0.69 ERA at AT&T Park.
Ryan Vogelsong (5-8) retired the first 11 batters before Hunter Pence lost Gonzalez's double in the sun with two outs in the fourth. Hanley Ramirez followed with an RBI single.
July, 26, 2014
Jul 26
8:59
PM PT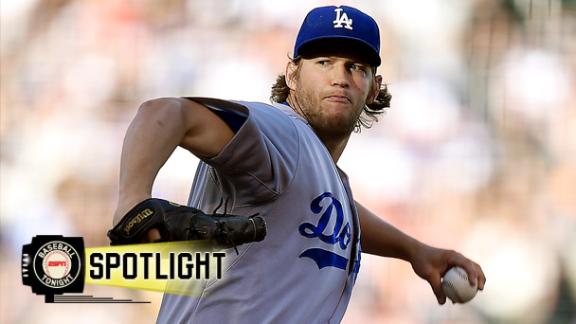 SAN FRANCISCO -- The
Los Angeles Dodgers
seem to be rising to the occasion FOR their most highly anticipated series.
They beat the
San Francisco Giants
5-0 Saturday night behind another shutdown outing from
Clayton Kershaw
to recapture first place in the NL West. After losing seven of the first 10 games the teams played, they have outscored San Francisco 13-1 in the first two games of this series. Kershaw was virtually untouchable in pitching his fourth complete game and second shutout of the season.
How it happened:
The Giants were able to put the ball in play against Kershaw -- he had a relatively modest strikeout total of seven -- but it was generally feeble contact, and he never looked threatened or even particularly bothered. Meanwhile, the Dodgers buried
Ryan Vogelsong
in a flurry of small blows. They bunched three straight singles to score a run in the fifth and rallyied for two in the fifth aided by
Dan Uggla
's throwing error.
Hits:
The Dodgers would take their chances behind Kershaw against any team, the 1927 Yankees included. But it doesn't hurt matters that he matches up brilliantly against their biggest rival. In his career, Kershaw is 12-6 with a 1.41 ERA against San Francisco. Then again, these days other teams just look like speed bumps in Kershaw's path to another Cy Young. Starting with his June 18 near-perfect no-hitter, he's 6-0 with a 0.63 ERA.
Misses:
It has been a nagging worry all season, and now that
Hanley Ramirez
is healthy again, it has returned. Ramirez misplayed a backhand chance hit by
Joaquin Arias
in the sixth inning for his first error since the no-hitter. Then again, Ramirez had played only 12 errorless game in the interim. If nothing else, the Dodgers are going to need to keep
Miguel Rojas
around as a late-game defensive replacement. He came in to play shortstop late once again.
Stat of the game:
In 11 appearances at AT&T Park, Kershaw has given up one home run. It was hit by
Melky Cabrera
in 2012. Kershaw's ERA at this stadium is 0.69.
Up next:
The Dodgers go for the sweep Sunday behind
Hyun-Jin Ryu
(11-5, 3.39 ERA) in a game televised by ESPN at 5:07 p.m. The Dodgers will face newly acquired right-hander
Jake Peavy
(1-9, 4.72 ERA). The game will not be blacked out in Southern California.
July, 26, 2014
Jul 26
5:54
PM PT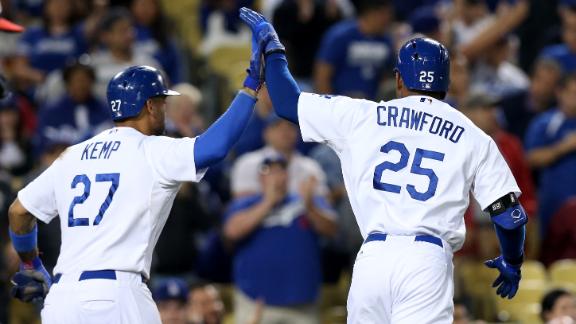 SAN FRANCISCO -- The Los Angeles Dodgers have cast a wide net before Thursday's trade deadline -- inquiring about starting pitchers and relievers and listening to whatever inquiries they get on one of their extra outfielders -- but general manager Ned Colletti said Saturday that traction has been slow.
"You know what? We may not do anything," Colletti said. "We've still got a club that's solid, that still has upside to it, so I think there's still more in this club. Have we won four in a row yet? I think there's still a strong run in this club as it's currently constituted. That said, we've been historically active in July and August, sometimes, and we'll continue to see what else we can do."
The Dodgers are content with closer Kenley Jansen and left-handed setup man J.P. Howell, but they have lacked reliable alternatives for the seventh and eighth innings. The back of their rotation has shown some signs of fraying, with Josh Beckett dealing with a torn labrum in his left hip and Dan Haren struggling badly enough that the team decided to skip his next start.
Colletti said his focus remains on pitching, but he said there are so few teams willing to trade arms, he's not fixated on whether it's a reliever or starter. One of the most active selling teams so far has been the San Diego Padres. Two other perceived sellers, the Arizona Diamondbacks and Colorado Rockies, also play in the Dodgers' division.
July, 26, 2014
Jul 26
2:39
PM PT
ST. PETERSBURG, Fla. -- Trading
Jake Peavy
was a foregone conclusion. The Red Sox have a surplus of young starting pitchers they can slide into the back end of their rotation, and as of Thursday the Giants had emerged as the leading suitors for the veteran right-hander, consummating the deal Saturday.
With five days remaining before the non-waiver trade deadline, however, a Sox source acknowledged "we're working on a lot of things," and with the team sinking fast in the AL East, Boston's willingness to part ways with other players on the big-league roster is increasing exponentially.
Red Sox ace
Jon Lester
on Friday night sounded as if he is prepared to be dealt, saying GM Ben Cherington has to do what's right for the organization and adding that he would bear no hard feelings. Lester said he would consider re-signing with the Sox as a free agent even if they traded him.
One major-league source said the
Los Angeles Dodgers
, who have been mentioned as a potential landing spot for Rays ace
David Price
, have had discussions with the Sox regarding Lester, but if so, those talks have not progressed very far to date. The Dodgers were Boston's trading partner for the blockbuster 2012 trade that sent
Adrian Gonzalez
,
Carl Crawford
and
Josh Beckett
west.
The
Kansas City Royals
have followed
Jonny Gomes
all week as they seek a right-handed bat to add to their lineup. Gomes, a free agent at the end of the season, did not have a good game afield Friday night. Though he was not charged with an error, he dropped a catchable ball hit by
Sean Rodriguez
in the second inning (it was scored a double) and overran a soft flare by
Ben Zobrist
, allowing a run to score in Tampa Bay's decisive four-run seventh.
At the plate, Gomes had an opposite-field single in four trips, striking out twice. But he has a very impressive slash line of .312/.409/.450/.859 against left-handers, not to mention an impressive track record of playing for playoff teams in St. Petersburg (the Rays), Cincinnati, Oakland and Boston.
Another player drawing considerable attention from other clubs -- there were at least 17 teams scouting the Sox here Friday -- is left-handed reliever
Andrew Miller
, who like Lester is a potential free agent.
Miller is enjoying the best season of his big-league career, averaging 14.6 strikeouts and 2.7 walks per nine innings, with a devastating putaway combination of a 95 mph fastball and nasty slider. Miller, 29, is being paid $1.9 million this season, so he would be a relatively inexpensive rental dollar-wise for a contender seeking a dominating late-inning reliever. The
Atlanta Braves
were identified early as a potential trade partner, and the Braves had a scout here this weekend.
The Sox have not had discussions with Miller about an extension, the pitcher said this week. "That only happens when fans are clamoring for a guy, like Jon Lester," he said with a smile.
Miller admitted that he is curious to see what his value might be on the open market, but insists he is not focused on the trade deadline or free agency.
"That's the least of my worries," he said. "We've got 2 ½ months left of regular-season ball. That's where my focus is. That's all back-burner stuff. You dream about that stuff in the future.
"There are so many things that can happen. You ignore it. You've got to bow your head about it. Any time you think about it, your focus is not on the hitter or the game. You just want to make it healthy to the end and get your opportunity then."
Allen Webster
, the 24-year-old right-hander who made seven starts for the Sox last season but has not received a summons yet this season, will make Sunday's start for the Red Sox in place of Peavy, the team confirmed before Saturday's game with the Rays. Webster was scheduled to start for the PawSox on Saturday.
Brandon Workman
, who was 1-3 with a 4.18 ERA in eight starts for the Sox, just pitched for Pawtucket on Thursday.
Workman has allowed just one run on eight hits in 11 innings over his last two starts, striking out 12 and walking three. He still looms as the most obvious choice to take Peavy's spot in the Sox rotation.