April, 20, 2014
Apr 20
11:57
AM PT
By
Anthony Witrado
| Special to ESPNLosAngeles.com
LOS ANGELES -- All indications point to Clayton Kershaw passing his biggest test with ease.
Kershaw, the Los Angeles Dodgers' ace, has been on the disabled list with an upper back problem, but he threw a simulated game Sunday at Dodger Stadium at maximum effort and reported no problems afterward. The Dodgers are reluctant to announce it, but as long as Kershaw feels no discomfort the day after, a rehab assignment is in his near future seems likely.
Kershaw threw a normal warm-up as he would before a regular start, then threw about 50 pitches to hitters, topping out at around 90 mph. He threw all his pitches.
"It was full effort for me," Kershaw said. "For a 10 a.m. sim game, that's probably all I got."
The Dodgers training staff had held back Kershaw from throwing at max effort, but Sunday they let him go full tilt, something the left-hander has wanted to do for some time but had been advised against. Because it was his first time pitching without restrictions since his Opening Day start in Australia nearly a month ago, the original plan was to have Kershaw throw two simulated innings.
But after a long conversation with manager Don Mattingly, head trainer Stan Monte and team physician Dr. Neal ElAttrache, after those two frames, Kershaw pitched a third without issue.
Kershaw speculated the next step might be a rehab assignment, but as the team has done throughout this process, the Dodgers are being extra cautious.
The off days early in the season have helped the Dodgers manage their rotation, but it hasn't come without some taxing of the bullpen. With that in mind, and with only one off day in the next 24 days, the team wants to make sure Kershaw can give them more than just a cameo appearance.
April, 20, 2014
Apr 20
7:58
AM PT
April, 19, 2014
Apr 19
9:52
PM PT
By
Anthony Witrado
| Special to ESPNLosAngeles.com
LOS ANGELES -- Ever since right fielder
Yasiel Puig
busted onto the scene and took this place by storm, the question has been what do the
Los Angeles Dodgers
do when all four of their star outfielders are healthy?
That time finally arrived April 4 when
Matt Kemp
came off the disabled list, and since then, manager Don Mattingly has sent all four players through a revolving starting lineup card.
While he gets the occasional stink eye from the odd man out, the real problem has been that none of the four outfielders, who are combining to make $58.5 million this season, has produced enough offensively to force their way into the everyday lineup. Entering Saturday's game against the
Arizona Diamondbacks
, none of the four were hitting above Yasiel Puig's .235, and Kemp, the most visually displeased when he sits, was the low man at .179.
[+] Enlarge
Gary Vasquez/USA TODAY SportsAndre Ethier's three-run homer was the spark the Dodgers needed Saturday, but Matt Kemp (and Carl Crawford, too) also contributed to the win.
"They just aren't swinging the bats as good as they can yet," Mattingly said before the Dodgers' 8-6 victory Saturday.
Clearly Mattingly was stating a fact there, but three of those four outfielders -- it was Puig's turn to sit Saturday -- were big reasons for this latest win.
Kemp: 2-for-4, two RBIs, run scored, stolen base.

Andre Ethier: Three-run home run.

Carl Crawford: Single, run scored.
Saturday aside, the four outfielders -- though each have had some memorable moments in the first month of the season -- have been disappointing in a year when they were supposed to be one of the team's greatest strengths. Their woes have been somewhat masked in the lineup by hot starts from
Juan Uribe
and
Dee Gordon
.
Crawford, Kemp and Ethier combined to go 0-for-3 in their first at-bats Saturday. But it was Kemp's single in his second trip that set the table for Ethier's three-run home run, cutting into Arizona's four-run lead in the fourth inning.
Crawford got going the next inning with a single. One batter later, Diamondbacks starter
Mike Bolsinger
was lifted.
"The second time through we were able to see him and make adjustments," Ethier said, downplaying his home run and the feat of 600 RBIs with the franchise, the sixth Dodger to reach that milestone.
April, 19, 2014
Apr 19
8:16
PM PT
By
Anthony Witrado
| Special to ESPNLosAngeles.com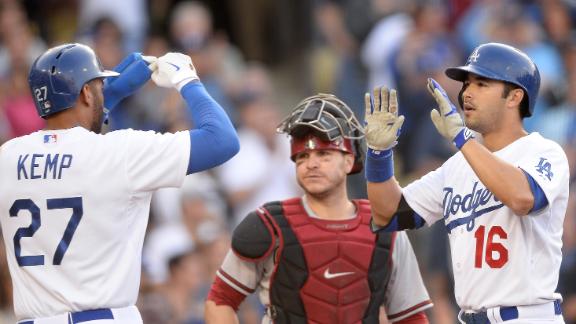 LOS ANGELES -- Heading into the start of this series, the
Los Angeles Dodgers
were taking ownership of the
Arizona Diamondbacks
, having won each of the first five meetings this season and after clinching the National League West in Phoenix and making that infamous celebratory swim.
But the Diamondbacks got an extra-innings win Friday, and through three innings it looked as if the tides would further shift away from Los Angeles on Saturday night at Dodger Stadium.
However, a second look at an arm slinging its first pitches in the big leagues got the Dodgers' lineup going as it erased a four-run deficit to win 8-6.
A costly error and four Diamondbacks hits in the third inning led to that 4-0 cushion, the big hit being
Paul Goldschmidt
's two-run single. Through that third inning the Dodgers had managed only one hit and had struck out five times against Arizona rookie
Mike Bolsinger
, who was making his major league debut.
The offense got going in the fourth, though, striking for three runs, all via an
Andre Ethier
home run. From that point, the Dodgers teed off on Bolsinger and reliever
Oliver Perez
for another five runs in the fifth.
How it happened:
Dan Haren
retired the first six Diamondbacks he faced, but he gave up four runs in the third inning while the Dodgers were held hitless the first time through the lineup. The second time around the order for rookie Bolsinger turned horriffic. He gave up seven hits starting with leadoff man
Dee Gordon
's single. Bolsinger was charged with seven runs, six of them earned.
Hits:
After a brutal third inning in which he gave up four runs -- only one earned -- and four hits, Haren settled down and gave up three hits and one run in his next 4 1/3 innings.
Misses: Haren never would have allowed all those third-inning runs had shortstop
Hanley Ramirez
not mishandled a feed from second baseman Gordon with one out and a runner on first. Gordon got a ground ball from Bolsinger and fired to Ramirez at second base to start a potential inning-ending double play, but Ramirez couldn't transfer the ball to his bare hand and both runners were safe. From there the flood gates opened.
Stat of the game:
Matt Kemp
is 11-for-11 in stolen-base attempts since the start of last season, including 2-for-2 this season after stealing third base Saturday.
Up next:
Josh Beckett
makes his third start of the season for the Dodgers, and will be opposed by Arizona's
Josh Collmenter
. Beckett threw five shutout innings in San Francisco in his last start, but he walked five hitters.
April, 19, 2014
Apr 19
8:08
PM PT
Associated Press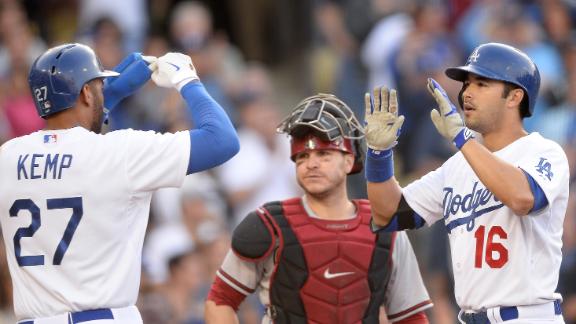 LOS ANGELES -- Andre Ethier hit a three-run homer and the Los Angeles Dodgers rallied from an early four-run deficit to beat the Arizona Diamondbacks 8-6 on Saturday.
Dan Haren (3-0) was charged with five runs -- two earned -- and seven hits over 7 1/3 innings. The right-hander struck out five in his fourth start of the season, six days after his 8-6 victory over the Diamondbacks at Phoenix.
Haren departed with an 8-4 lead and was replaced by Brian Wilson, who gave up a two-run double by Martin Prado before retiring Chris Owings on a grounder with runners at the corners to end the eighth. Kenley Jansen pitched a scoreless ninth for his sixth save.
Mike Bolsinger (0-1) made his first major league start and was charged with seven runs -- six earned- and seven hits in four-plus innings. He struck out five of the first 11 batters he faced.
April, 19, 2014
Apr 19
3:15
PM PT
By
Anthony Witrado
| Special to ESPNLosAngeles.com
LOS ANGELES -- The
Los Angeles Dodgers
still don't have a timetable for ace
Clayton Kershaw
to return to their rotation or even go out on a rehab assignment, but he is getting closer.
Kershaw will throw to hitters Sunday for the first time since he pitched the season opener March 22 in Australia. The left-hander went on the disabled list because of inflammation in his back after that start, but he is scheduled to throw another bullpen and then throw about 15 pitches to hitters before the Dodgers' finale against the
Arizona Diamondbacks
.
Kershaw, who signed a seven-year, $215 million contract in January and is regarded as the best pitcher in the league, threw a 35-pitch session Thursday in San Francisco and his fastball topped out at around 85 mph as the training staff slowly lets him up the intensity. Kershaw has reported no discomfort in any of his throwing sessions, but the Dodgers are being extra cautious in making sure this doesn't become a lingering injury.
"It continues to go in the right direction," manager Don Mattingly said before Saturday's game. "We'll see how it goes. It'll be limited with what he's doing with the hitters.
"It's probably too early for a timetable [for his return], at least from my standpoint. It just seems to be stepping forward, but obviously as we get moving he's going to have to go out and throw somewhere. Is that after the [simulated] game and two more bullpens, or another sim game? That's where it all depends on how one step goes to the next."
Team physician Neal ElAttrache was at Dodger Stadium on Friday and checked in with several players, including Kershaw. The Dodgers have done no further testing on his back because he says he is feeling well.
If Kershaw is at the point of throwing to hitters and continues to not report discomfort in the upper back or anywhere else where he might be compensating, then sending him out on a rehabilitation assignment is not too far off, and an early- to mid-May return is not an absurd assumption.
"As long as he is able to progress and not feeling anything," Mattingly said, "they will continue on that route."
April, 18, 2014
Apr 18
11:36
PM PT
Associated Press
LOS ANGELES -- Aaron Hill hit a two-run single in the 12th inning and Miguel Montero homered, leading the Arizona Diamondbacks to a 4-2 victory over the Los Angeles Dodgers on Friday night.
Chris Perez (0-1), beginning his second inning of relief, gave up a leadoff double to A.J. Pollock and plunked pinch-hitter Cliff Pennington on the left foot with a pitch as he squared to bunt. Gerardo Parra advanced the runners with a sacrifice bunt, and Hill lined an 0-1 pitch to right-center to break the tie.
Joe Thatcher (0-1) pitched 1 1/3 innings for the victory and six-year veteran Trevor Cahill got three outs for his first major league save. Cahill was 0-4 with a 9.17 ERA in four starts before he was demoted to the bullpen.
April, 18, 2014
Apr 18
8:00
AM PT
The
Los Angeles Dodgers
went through a week in which one of their best players,
Yasiel Puig
, got dragged into controversy about his wild escape from Cuba, they lost a series at their rival's stadium and nearly saw their best player,
Hanley Ramirez
, put on the disabled list by an errant fastball.
They're not going to be in a merciful mood when the struggling
Arizona Diamondbacks
come to town for three games this weekend.
"I know they've been scuffling, but hopefully we can keep them down for a few more games," manager Don Mattingly said.
To describe the Diamondbacks as "scuffling" is generous. Their starting pitchers have a 7.63 ERA and manager Kirk Gibson, who is beginning to slide into hot-seat territory himself, has been increasingly critical of his team's overall play. Hard to blame him. The Diamondbacks are 4-14 and already seven games behind the Dodgers and Giants in the NL West.
Oddly, this will be the third series meeting already between the teams, who feuded relentlessly in 2013. The Dodgers swept the D-backs in Australia and Arizona and will look to finish off the triangle at Dodger Stadium.
There's more bad news for Arizona. Ramirez, who was hit by a
Ryan Vogelsong
fastball and had to leave Wednesday's game, has vowed to play Friday night.
Zack Greinke
, the Dodgers' de facto ace with
Clayton Kershaw
down, starts the series off Friday night. The Diamondbacks have announced only one starter for the series and it's lefty
Wade Miley
, who has a 5.04 ERA.
From the Dodgers' perspective, this is no time for pity.
April, 17, 2014
Apr 17
5:56
PM PT
SAN FRANCISCO --
Yasiel Puig
looked happy.
As a pack of reporters waited to talk with him after the
Los Angeles Dodgers
' 2-1 win over the
San Francisco Giants
, he playfully bantered with teammate
Juan Uribe
and slowly slipped on a gold watch and his gold chain with gold crucifix.
[+] Enlarge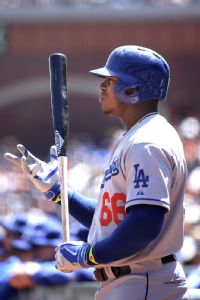 AP Photo/Jeff ChiuAs the Dodgers have been saying, Yasiel Puig hasn't changed, but the public's understanding of him has only deepened.
He spritzed a heavy dose of cologne on his head and turned around, grinning, gesturing for reporters to bring it on.
Eventually, he even touched on how the stories that surfaced this week about his wild 2012 escape from Cuba -- complete with death threats from Mexican gangsters and usury by a Miami criminal who arranged his defection -- are weighing on him. They're not, he said.
"I feel normal," Puig said in Spanish. "I'm focusing on baseball and I'm giving my best for my team so things go well on the field with the preparation I've done. So, those things that are happening don't torment me."
Any other questions about Puig's flight to America were quickly shut down by a team employee serving as Puig's interpreter, who ended the interview session saying, "Enough, enough," in Spanish.
But there's a key element to keep in mind as we all begin to soak up and contextualize Puig's harrowing journey. The stories may have surfaced this week, but Puig has been living it for years, well before he ever pulled on a No. 66 Dodgers uniform and simultaneously electrified and polarized a fan base.
As the Dodgers have been saying all along, he hasn't changed. Our understanding of him has only deepened.
April, 17, 2014
Apr 17
4:05
PM PT
Associated Press
SAN FRANCISCO -- Hyun-Jin Ryu stretched his oad scoreless streak to 26 innings, and the Los Angeles Dodgers beat the San Francisco Giants 2-1 Thursday to avoid a sweep.
Ryu (3-1) struck out three and walked one on a season-high 112 pitches in seven innings, helping his club move into a tie with the Giants atop the NL West at 10-6.
Yasiel Puig returned to the Dodgers starting lineup and went 1 for 4 with a strikeout. He dropped a routine fly ball in right early on but recovered to throw out Brandon Belt at second. He then made a nice over-the-head catch on the next batter and a running grab in shallow center in the eighth with a runner on second.
April, 17, 2014
Apr 17
3:53
PM PT
SAN FRANCISCO -- The
Dodgers
evaded the dreaded sweep in San Francisco with a 2-1 win over the
Giants
on Thursday afternoon by getting another strong start from
Hyun-Jin Ryu
, who is vying with
Zack Greinke
to be the Dodgers' fill-in ace while
Clayton Kershaw
is out.


The Dodgers weathered another stormy ninth inning by closer
Kenley Jansen
, who had a key wild pitch, gave up a run and allowed the tying run to reach second before getting pinch hitter
Brandon Crawford
to fly out to end it.
The Dodgers chased San Francisco ace
Madison Bumgarner
in the fifth inning by driving up his pitch count.
How it happened:
That April 4 start -- the shortest of Ryu's career -- is becoming more mysterious by the day because he has yet to give up a run in any of his other four starts. He had the Giants off balance all game, inducing weak contact and cruising through seven scoreless innings without swing-and-miss stuff. The Dodgers offense stayed quiet but scratched out a couple of runs to prevail. It was a low-scoring, tense series that made for good drama.
Hits:
One way you survive key injuries is by getting contributions from the players who fill in. That was the case Thursday.
Tim Federowicz
, thrust into the primary catcher role by
A.J. Ellis
' knee injury, singled home the Dodgers' first run in the second.
Justin Turner
, playing shortstop in place of
Hanley Ramirez
, led off the fifth with a double and scored to pad the lead.
Misses:
For the second game in a row, a Dodger outfielder simply missed an easy fly ball. It was
Matt Kemp
on Wednesday,
Yasiel Puig
on Thursday. In Puig's case, he was doing his usual taunting basket catch when he took his eye off it. He made a spectacular recovery and chucked the ball to second to get a force out anyway. He also made a brilliant over-the-left shoulder grab after getting fooled on
Gregor Blanco
's knuckling liner over his head and came out of nowhere to steal a bloop hit in the eighth. Overall, Puig had a major positive impact on defense.
Stat of the game:
Adrian Gonzalez
extended his hitting streak to 12 games by sneaking a single into right field to drive in Turner and give the Dodgers a 2-0 lead.
Up next:
The Dodgers have a chance to keep the
Arizona Diamondbacks
miserable this weekend. They've already beaten them in all five meetings this season, and the Diamondbacks are 4-14 overall. Friday, Greinke (3-0, 2.76 ERA) opposes Arizona lefty
Wade Miley
(2-2, 5.04 ERA).
April, 17, 2014
Apr 17
1:46
PM PT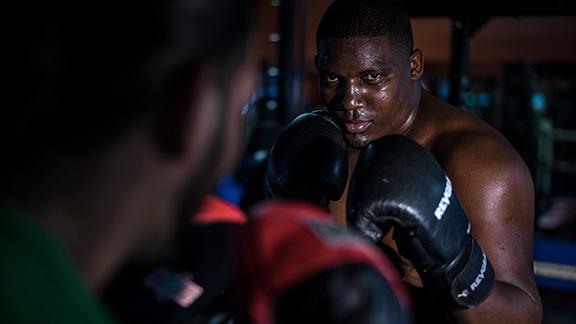 SAN FRANCISCO -- Yasiel Puig has presented Don Mattingly with plenty of managerial challenges since arriving in the major leagues last June, but the latest news about the outfielder's perilous escape from Cuba has taken the relationship into new territory.
According to two reports, including a lengthy ESPN The Magazine story detailing its five-month investigation, Puig has received death threats from human traffickers who orchestrated his 2012 defection from Cuba to Mexico. Mattingly said he read the first of those articles Wednesday and has gained a more nuanced view of his talented, sometimes reckless outfielder.
"If you care about Yasiel, you worry about it," Mattingly said. "There's some serious stuff that he has to deal with. I think you have to worry about it if you care about him as a person. You worry about what he's going through."
The Dodgers' front office, including president Stan Kasten and general manager Ned Colletti, has declined to comment on any of the newly revealed details of Puig's defection. The team hired a security detail that has been traveling full time with the Dodgers since mid-June of last season, days after Puig arrived from Double-A Chattanooga.
Because of their silence, it's unclear how much of Puig's saga the Dodgers knew when they signed him to a seven-year, $42 million contract shortly after he defected. According to the reports, Puig owes a Miami businessman and small-time criminal 20 percent of all his baseball earnings after the man orchestrated his escape to Mexico's eastern coast with the help of a Mexican drug cartel.
Mattingly said he learned of those details when he got a call from Colletti on Tuesday afternoon alerting him to the first magazine article.
April, 17, 2014
Apr 17
12:28
PM PT
Associated Press
SAN FRANCISCO -- Police say several people suffered minor injuries when a fan threw a firework onto a walkway during the Los Angeles Dodgers-San Francisco Giants game on Wednesday night.
The San Francisco Chronicle reports umpires temporarily halted play around 9:30 p.m. Wednesday after a loud explosion was heard and smoke was seen in an area above right-center field.
Witnesses reported seeing a man in a Giants hat in the outfield bleachers throw a large firecracker into a group of people near a concession stand. At least five people reported injuries, including dizziness and temporary loss of hearing.
Police spokesman Gordon Shyy tells the Chronicle 21-year-old Paolo Pavone was booked on suspicion of willfully discharging and possessing an explosive and discharging a firework in a public place.
The Giants beat the Dodgers 2-1.