May, 30, 2013
5/30/13
9:53
PM PT
ANAHEIM, Calif. -- Every time it looks as if the
Los Angeles Dodgers
are getting unstuck, they hit another snag.
They managed to cool off the
Los Angeles Angels
by snapping their eight-game winning streak with a couple of energetic wins at Dodger Stadium earlier this week. Then, they got on the freeway and hit heavy traffic.
They lost two tough, one-run games at Angel Stadium -- Thursday's by a 3-2 score -- and they're right back where they started, eight games under .500 and mired in last place in the NL West.
Had the Dodgers managed to win one of these two games in Anaheim, they would have won their first season series against the Angels since 2006. Because of realignment, the Dodgers and Angels don't play again this season.
The Dodgers got a second straight nice outing from veteran
Ted Lilly
, who got into the sixth inning and gave up three runs and five hits. It was a bit of bad luck that helped the Angels push the go-ahead run across.
Chris Nelson
hit a slow roller that reliever
Ronald Belisario
deflected to second baseman
Mark Ellis
, who had no play at first.
Howie Kendrick
scored from third on the infield hit to give the Angels a 3-2 lead.
Against lefty
Jason Vargas
, who had been on a roll, and without
Matt Kemp
, the Dodgers fielded a hodge-podge lineup.
Ramon Hernandez
, batting .111 coming in, was the designated hitter.
Scott Van Slyke
,
Jerry Hairston Jr
. and newly arrived catcher
Tim Federowicz
all played.
The Dodgers scraped across a couple of runs early, with
Carl Crawford
scoring after leading off the game with a triple and Hernandez hitting his second home run with the Dodgers. After that, it was quiet. Vargas won his sixth straight decision.
May, 30, 2013
5/30/13
7:10
PM PT
ANAHEIM, Calif. -- An assortment of injuries, minor and less-minor, have put the
Los Angeles Dodgers
' roster in limbo.
Catcher
A.J. Ellis
strained a rib-cage muscle swinging before Wednesday's game and won't be available for a couple of days, so the team recalled
Tim Federowicz
from Triple-A. However, Federowicz might not stick around long.
The Dodgers also will need an everyday center fielder to replace
Matt Kemp
while he's on the 15-day disabled list and the most likely candidate is
Tony Gwynn
Jr. Manager Don Mattingly said the team isn't considering Double-A outfielders Yasiel Puig or Joc Pederson, both of whom are viewed as longer-term prospects.
Andre Ethier
moved over to play center field Thursday, but that was a stop-gap solution until the Dodgers recall a minor-league center fielder, Mattingly said.
Meanwhile, the Dodgers held out
Matt Magill
from Thursday's start in Albuquerque in case he's needed to replace
Hyun-Jin Ryu
in Colorado on Sunday. Ryu took a grounder off his foot while pitching a two-hit shutout Tuesday, but Mattingly said it's unlikely he'll miss Sunday's start.
Got all that?
OK, here are lineups for Thursday's game in Anaheim:
Dodgers
1.
Carl Crawford
LF
2.
Mark Ellis
2B
3.
Adrian Gonzalez
1B
4.
Scott Van Slyke
RF
5.
Jerry Hairston Jr
. 3B
6. Andre Ethier CF
7. Tim Federowicz C
8.
Ramon Hernandez
DH
9.
Nick Punto
SS
Angels
1.
Erick Aybar
SS
2.
Mike Trout
CF
3.
Albert Pujols
1B
4.
Mark Trumbo
RF
5.
Howie Kendrick
2B
6.
Alberto Callaspo
3B
7.
Chris Iannetta
C
8.
Chris Nelson
DH
9.
J.B. Shuck
LF
May, 29, 2013
5/29/13
9:59
PM PT
ANAHEIM, Calif. -- The
Los Angeles Dodgers
rarely look competitive in interleague road games -- especially when they drift south to Anaheim -- and Wednesday night was no exception.
The Dodgers were dominated by returning ace
Jered Weaver
and lost 4-3 to the
Los Angeles Angels
, snapping their modest two-game win streak. They were attempting to build their first three-game winning streak against the Angels since 2006.
The Dodgers now must worry about the health of struggling superstar
Matt Kemp
, who
left the game
in the seventh inning accompanied by a trainer after chasing a
Mike Trout
double into the right-center field gap. He was also hit in the right elbow by a pitch Tuesday night and had been feeling some numbness in his fingertips. Kemp was 0-for-3 with two strikeouts before that and has 15 strikeouts in his last seven starts.
Chris Capuano
managed to keep the Dodgers in the game while the offense grasped at straws facing Weaver, who was making his return to the mound after a broken left elbow.
The Dodgers didn't get on base until
Andre Ethier
led off the fifth inning with a double off the right-field scoreboard. The Dodgers looked as if they might strand Ethier when Kemp and
Scott Van Slyke
struck out, but
Skip Schumaker
broke his bat while softly lining a hit to center field and the score was tied 1-1.
After
A.J. Ellis
followed that with another bloop, hit Weaver looked a little upset, yelling in the direction of Angels left fielder
J.B. Shuck
.
Capuano, like a lot of soft-throwing pitchers, has a problem. Hitters tend to do damage the third time through the lineup. With
Albert Pujols
on after a walk,
Mark Trumbo
belted a high fastball over the left-field fence to give the Angels a 3-1 lead.
Capuano walked four batters, a season high.
May, 28, 2013
5/28/13
9:25
PM PT
LOS ANGELES – The
Los Angeles Dodgers
' best hope of digging their way out of this mess is to re-establish their pitching depth and let it churn its way through the schedule for a while.
Tuesday night felt like one of those days when you could feel the plan turning to action. No. 3 starter
Hyun-Jin Ryu
dominated the
Los Angeles Angels
, allowing just two hits over nine innings, in a 3-0 Dodgers win.
Ryu had everything working. He had good pop on his pitches, striking out
Mike Trout
on a 93-mph fastball that grazed the outside edge of the strike zone, and good deception, striking out
Howie Kendrick
on a 79-mph changeup.
The question you always ask in the Dodgers' situation is: Are things just bad or are they hopeless? With Ryu pitching this consistently,
Clayton Kershaw
doing his thing and
Zack Greinke
just beginning to get his feet under him after a month-long injury, it seems unlikely this season falls in the latter category yet.
Ryu has been better than most scouts would have guessed. He has been better, frankly, than the Dodgers probably would have guessed. Ryu has gotten through at least six innings in 10 of his 11 starts.
The Dodgers didn't scrounge up much offense against former teammate
Joe Blanton
, but they saw some promising signs from two badly slumping hitters.
Luis Cruz
came into the game batting .105 and in imminent danger of losing his roster spot when
Hanley Ramirez
comes off the disabled list next week.
Cruz said he felt something click in the batting cage recently, and Tuesday we finally saw a result. Cruz had his first extra-base hit of the season, a two-run home run in the fifth inning.
Matt Kemp
, struggling so badly he slid to the No. 5 spot for the first time in three years, doubled and scored to add a run in the sixth.
May, 28, 2013
5/28/13
5:53
PM PT
LOS ANGELES –
Derek Jeter
slid into second base, called timeout and had a few seconds to chat with
Baltimore Orioles
second baseman
Jerry Hairston Jr
.
Like the rest of baseball at that time -- late May of 2004 -– Hairston was aware of how badly the
New York Yankees
captain was struggling.
Through 184 at-bats, Jeter was hitting .190 and -– yes -– getting booed at Yankee Stadium.
"I turned to him and said, 'DJ, you all right?,'" Hairston said. "He goes, 'Oh yeah. I'm a bad boy.' And that's the mindset you want."
Matt Kemp
said he has had conversations with several future Hall of Fame players as his struggles have dragged through the season's first two months. He wouldn't say who he has spoken to, but he said they've all given him the same advice.
"That I can hit and you've got to believe you can hit and it'll come back," Kemp said. "All I'm going to do is continue to work, grind this thing out and continue to try and help my team in any way possible."
Kemp, 28, is batting .253 with two home runs, 17 RBIs and a .637 OPS in his first 186 at-bats. On Tuesday, for the first time since 2010, Kemp was not hitting second, third or fourth for the Dodgers in a game he started. Don Mattingly moved him into the No. 5 hole.
If he wants to have another such conversation with a Hall of Fame-caliber player, he won't have to get all the way to second base tonight. Angels first baseman
Albert Pujols
was batting .227 with a .646 OPS after his first 185 at-bats. He didn't hit his first home run as an Angel until May 6.
A year ago, reporters were asking Kemp about Pujols' struggles and whether he had become a better player than Pujols.
"I was like, 'Hell no, are you serious?'" Kemp said.
By the end of last season, Pujols was batting .285 with 30 home runs and 105 RBIs -- career lows, but far from shabby.
"That's not bad," Kemp said. "If I can do that, that's a successful season right there, I think."
In 2004, by the way, Jeter rebounded to bat .292 with 111 runs scored.
Hairston took to Twitter Tuesday afternoon and sent the following message to his followers: "Our CF is coming off a tough surgery. keep believing in @TheRealMattKemp and all us."
Hairston has had surgery on his left shoulder and said it can take months to regain full trust in it. He said he tweeted support because he didn't want the booing to get out of hand.
"I didn't want it to become the chic thing to do," Hairston said. "Matt has given this city so much at such a young age. I see how much Matt puts into it."
Here are lineups for Tuesday night's game against the Angels:
Angels
1.
Erick Aybar
SS
2.
Mike Trout
CF
3.
Albert Pujols
1B
4.
Mark Trumbo
LF
5.
Josh Hamilton
RF
6.
Howie Kendrick
2B
7.
Alberto Callaspo
3B
8.
Chris Iannetta
C
9.
Joe Blanton
RHP
Dodgers
1.
Carl Crawford
LF
2.
Mark Ellis
2B
3.
Adrian Gonzalez
1B
4.
Andre Ethier
RF
5.
Matt Kemp
CF
6.
A.J. Ellis
C
7.
Juan Uribe
3B
8.
Luis Cruz
SS
9.
Hyun-Jin Ryu
LHP
May, 26, 2013
5/26/13
6:55
PM PT
LOS ANGELES -- The
Los Angeles Dodgers
couldn't help but notice a few parallels with the team that plays approximately 30 miles down the freeway from them.
Massive expectations after an offseason splash, two franchises trying to plug the hole on declining attendance from three straight seasons out of the postseason. A slow start, mounting injuries, a manager rumored to be on the hot seat. You could go on.
[+] Enlarge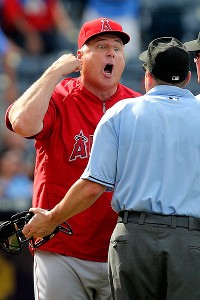 Ed Zurga/Getty ImagesMike Scioscia won the 2002 World Series with the Angels and has made the playoffs six times, but even he is not immune to job security rumors.
The Dodgers hope they soon have one more thing in common with the
Los Angeles Angels
. While the Dodgers have shown only glimpses of getting their disappointing season moving ahead, the Angels are in full-scale recovery mode, having won eight straight games.
"You always knew they had a talented club, and they were going to put it together," Dodgers manager Don Mattingly said. "I wish they would have just waited a little longer."
Southern California's two expensive, sub-.500 teams meet this week in a new home-and-home format that features two games at Dodger Stadium Monday and Tuesday, followed by a couple of games at Angel Stadium. It will be a chance for the Angels to stay on a roll and for the Dodgers to finally get on one. The energy in those games is always elevated.
"We're not done yet," Angels catcher
Hank Conger
told reporters this weekend in Kansas City. "We've got things rolling, but we need to continue this momentum in order to be where we want to be down the road."
The parallels eventually peter out, of course. While Angels manager Mike Scioscia was rumored to be on the hot seat, few people doubt that Mattingly actually is. In just his third season as manager, Mattingly realizes it. The Angels had high expectations, but not as high as the Dodgers, who are spending a National League record $217 million on salaries, $75 million more than the Angels.
Mattingly said he considered the rumors about Scioscia's shaky hold on his job to be "absurd." Scioscia is in his 14th season in Anaheim. He won the 2002 World Series and made the playoffs six times.
"Playing against his teams from the AL, I always hated it," Mattingly said. "They're tough to play against. They're a little different now, not quite as speed-oriented, but they're well managed and prepared."
Angels owner Arte Moreno gave Scioscia a sturdier vote of confidence 10 days ago than Dodgers president Stan Kasten gave Mattingly Friday. Moreno told FoxSports.com that the chances of an in-season managerial change for his team are, "right now, zero," and that was before his team caught fire.
Meanwhile, Kasten said he was not thinking of pulling the plug on Mattingly any time soon but reserved the right to do so on fairly short notice.
"I expect this to work, but if it doesn't, I guess there maybe will be a day where we have to look at a different solution," Kasten said.
Mattingly is in the final year of his contract, and the Dodgers have declined to pick up his 2014 option, saying they'll wait until November to make that call. Scioscia is halfway through a 10-year deal that reportedly pays him about $5 million per year. It would be a far more financially painful move for Moreno than for the Dodgers.
National writers have speculated that the Dodgers could cut ties with Mattingly and try to work out a deal with Moreno to get Scioscia, a Dodgers catcher from 1980 to 1992. That speculation probably isn't going to entirely disappear, particularly after Kasten brought up Scioscia as an example of how the length of a manager's deal won't quash rumors about his job security.
"Down the road from here, there's a pretty damn good manager -- one of the best, maybe, ever -- who also won a world championship and, until the last week or so, I've been reading his death watch," Kasten said. "And he's got five years left on his contract."
The Angels are 23-27 and in third place in the AL West. The Dodgers are 20-28 and in last place in the NL West. Both teams, though, are on the mend. The Dodgers now have a formidable top of the rotation with
Zack Greinke
back after he fractured his left collarbone in a brawl with San Diego's
Carlos Quentin
in his second start. All-Star shortstop
Hanley Ramirez
could start a rehab assignment this week and will likely join the Dodgers next weekend.
Angels ace
Jered Weaver
is expected to return from a fractured left elbow and pitch Wednesday or Thursday against the Dodgers.
It just might be 'go' time for both teams, but for the next four days, somebody's going to have to be the launching pad.
May, 26, 2013
5/26/13
5:29
PM PT
LOS ANGELES -- Don Mattingly might have been better off waiting until his team was about to play the
Miami Marlins
before making those comments.
He urged his
Los Angeles Dodgers
to show more fight right before they got to the toughest neighborhood in town. Two of their next five series were coming up against the best teams in baseball, St. Louis and Atlanta. Another was against baseball's hottest team, the
Los Angeles Angels
.
So, the fact the Dodgers are 2-2 post-rant might not tell us all that much about their grit, toughness, tenacity, pluckiness or whatever you want to call it. It's in there, they say. It's just waiting for a poke.
"There's a different feel around this place," catcher
A.J. Ellis
said. "After Don's comments and the way he addressed us and the situation, I think we feel there's a bit more fire."
The Dodgers are certainly not playing their worst baseball of the season. They didn't exactly kick it around in a 5-3 loss to the
St. Louis Cardinals
Sunday. They just got a less-than-dominant outing from
Clayton Kershaw
and struggled to rally against the Cardinals' string of hard-throwing relievers. Forgivable crimes, those.
But what's slightly more troubling is their inability to rally as innings dwindle.
They have yet to win a game they've trailed entering the ninth inning. They have yet to win a game they've trailed entering the eighth inning. Heck, they have yet to win a game they've trailed entering the seventh inning.
They're 0-17 when trailing after six. Mattingly said he didn't realize that, but it must have led to the impression that his team lacks fight.
"That's not good," Mattingly said. "We've had our chances in these kinds of games, too, I think."
Personally, I don't fault Mattingly for letting Kershaw bat in the sixth inning with the bases loaded and
Matt Kemp
on the bench, tied at three. Have you been watching Kemp's at-bats lately? Plus, things haven't usually gone well for the Dodgers this season when they try to protect leads over three innings. Plus, Kershaw is Kershaw.
"It was just kind of that he's our guy," Mattingly said.
Every Mattingly failed gambit looks more obvious, because his team can't break through late to turn sad endings happy. Eventually, the Dodgers will need to capture a little of that magic or they can forget about October. They loaded the bases with one out in the seventh inning, but
Trevor Rosenthal
struck out Ellis with a 100 mph fastball and
Skip Schumaker
with a 97 mph fastball. What could have been a spirit-building rally fizzled, yet again.
Now, the Dodgers are left to try to get some traction against a team that's rolling downhill. Their next four games are against the Angels, who have won eight straight.
"There's always a sense of urgency. You've got to win," Kershaw said. "That's the name of the game."
January, 24, 2013
1/24/13
4:11
PM PT
Who knows, maybe this is the season it finally happens. The Dodgers, having spared no expense, will field a balanced, dangerous team and feel like they are positioned for a World Series run. The Angels, who jacked up their already formidable power with the surprise acquisition of
Josh Hamilton
, have similar aims.
If there really is to be a Freeway Series in 2013, a lot of things have to go right for both teams. But the team that made -- and makes -- the best personnel decisions likely will go further into October.
Let's break down the key areas of both rosters to try to decipher which team is better constructed to play longer into 2013.
Starting rotation
This is the part of the discussion in which Dodgers fans get to gloat and Angels fans have to just sit there and marinate. You could argue -- in fact, you don't really even have to -- that the Dodgers have better pitchers in all five spots.
We know this because one of the Angels starters,
Joe Blanton
, couldn't have cracked the Dodgers' seven deep. We also know this because one of the Dodgers' starters,
Zack Greinke
, almost helped the Angels make the playoffs.
Jered Weaver
is perfectly ace-like. About 25 teams would put him at the top of their rotation. He has finished in the top five in Cy Young voting three years running and even got a couple of MVP votes last year -- always a cool accomplishment for a pitcher. He won 20 games, had a sub-3.00 ERA for the second season in a row and usually gives you more than 200 innings. And we won't even hold the .250 and .241 BABIPs from the past two seasons against him. Weaver is a fly ball pitcher and he relies on mishits to pitch deep into games. He gets strikeouts when he needs them, which is quite often, actually.
The only reason he doesn't get the edge is that
Clayton Kershaw
might be the best pitcher in baseball. We don't need SABR to tell us that. It's not that scientific. For the past two seasons he led baseball in ERA and was in the top three in WAR for pitchers. If he's not the most dominant pitcher in baseball, he's in the team photo and it's a small team (probably Kershaw,
Stephen Strasburg
,
Felix Hernandez
and
Justin Verlander
).
So, the Dodgers get an edge in the No. 1 department, though it's a fairly slight edge because of Weaver's competitiveness and consistency. "Slight" isn't the right word for the rest of the Dodgers' edge in starting pitching.
Greinke has never come close to touching his 2009 Cy Young season, but neither has just about any other active pitcher. Greinke flirted with a sub-2.00 ERA, led the league in ERA+ and WHIP. Nobody could square him up. He gave up 0.4 home runs per nine innings. He was mediocre the following season, probably in part because of a personal crisis, but has gone 31-11 with a 3.63 ERA the past two years. Is he worth $147 million? Is any pitcher? He's as good a No. 2 starter as there is out there.