Dodgers Report:

Chicago Cubs
September, 19, 2014
9/19/14
8:00
AM PT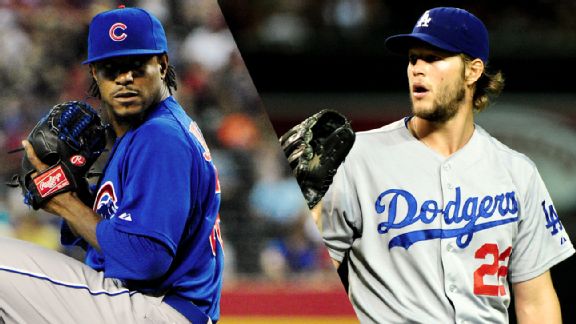 USA TODAY SportsFresh off the DL, Edwin Jackson takes his 6.09 ERA against Clayton Kershaw and his 1.70 mark.
CHICAGO -- It's a matchup the Las Vegas oddsmakers probably haven't seen a lot of action on. According to ESPN Stats & Information, for just the second time since earned runs became an official statistic in 1913, a starter with a sub-2.00 ERA will face one with an ERA of 6.00 or higher with a minimum of 20 starts.
In this case, it's
Edwin Jackson
(6.09) of the
Chicago Cubs
set to face
Clayton Kershaw
(1.70) of the
Los Angeles Dodgers
at 1:20 CT Friday afternoon at Wrigley Field. Another layer to the mismatch is the fact that Kershaw is vying for win No. 20 on the season.
"I think Edwin is looking forward to coming back and pitching tomorrow," Cubs manager Rick Renteria said Thursday afternoon. "It just happens to be against Kershaw."
Talk about bad luck. Jackson (6-14) has had a miserable season, and went on the disabled list with a latissimus strain almost a month to the day before Friday's start. Now the 31-year-old faces the best in the business as he tries to salvage something before winter settles over the 14-32 mark Jackson has posted in his two seasons in Chicago.
"Clearly it hasn't been the best couple of years with the organization so far, but like I say, I feel like I still have a lot of upside," Jackson said. "I have a long career ahead of me."
But will it be with the Cubs? With Chicago still owing the right-hander $22 million for two more years, Cubs president Theo Epstein intimated last offseason that signing Jackson when the team did could have been a mistake. What must he be thinking now? The Cubs will undoubtedly have to eat a lot of that salary if he's not on the team.
However, Jackson can't worry about any of that just yet.
"Any time you come back from an injury, it's always exciting coming back, regardless of how you were pitching that year," he said. "I do want to finish up strong. One or two starts. Whatever it may be."
In the other dugout is a man having a year for the ages. At 19-3, Kershaw has given up just 125 hits in 185⅓ innings pitched. His WHIP is 0.83. Jackson's is double that. And his ERA ranks last by a wide margin among regular starters. Kershaw's is first.
"They have a lot of young guys that can hit," the Dodgers left-hander said of the Cubs, "so no game is easy."
A pitcher doesn't have the success he's had without taking every opponent seriously. That brings us back to that one previous ERA mismatch. It was the Florida Marlins versus the
New York Mets
in 1996. Kevin Brown, with a 1.88 ERA, took on Paul Wilson and his 6.19 ERA at Shea Stadium.
The Mets won 6-1.
There is hope for the home team Friday.
"I just want to go out and pitch well no matter who I'm facing," Jackson said. "We could use the win."
July, 6, 2014
7/06/14
8:00
PM PT
We've reached the most fun part of the All-Star Game: Arguing about the final rosters.
The starters and reserves were named on Sunday and it was interesting to note the different philosophies of managers John Farrell and
Mike Matheny
in filling out their rosters. As expected, some worthy American League players were excluded and there were a couple surprising choices in the National League.
Some quick thoughts:
Worst American League starter: Derek Jeter, Yankees.
While I actually don't have that big of an issue with Jeter starting -- there is no
Troy Tulowitzki
in the AL that he's keeping out of the lineup -- he's probably the worst starter we've had in a long time, hitting an empty .273 with mediocre defense and no power, worth 0.5 WAR so far.
Matt Wieters
was inexplicably voted in by the fans at catcher, but since he's out for the season,
Salvador Perez
will rightfully start in his place.
Worst National League starter: Aramis Ramirez, Brewers.
Cincinnati's
Todd Frazier
is clearly the deserving starter at third base based on 2014 numbers while Ramirez is hitting .287 with 11 home runs. Considering Frazier,
Matt Carpenter
of the Cardinals and
Anthony Rendon
of the Nationals are better all-around players than Ramirez, his selection cost somebody an All-Star spot (Rendon is on the final player ballot).
Best ballot stuffing: Orioles and Brewers fans.
Who says you need to play for the Yankees, Red Sox or Dodgers to have an edge in fan balloting?
Adam Jones
was never in the top three among outfielders until passing
Yoenis Cespedes
at the wire. He's a fine selection, however, and has come on strong after a slow April. Orioles fans also voted in Wieters and
Nelson Cruz
in that crowded DH slot that included
Victor Martinez
,
Edwin Encarnacion
,
Brandon Moss
and
David Ortiz
. Likewise,
Carlos Gomez
passed
Giancarlo Stanton
for the third outfield spot in the NL behind
Yasiel Puig
and
Andrew McCutchen
. Stanton clearly should be starting but Gomez is arguably one of the top three outfielders in the NL. Brewers fans, however, couldn't get
Jonathan Lucroy
voted in over
Yadier Molina
, so Lucroy will be the backup.
National League DH should be: Stanton.
Pretty each choice here for Matheny. Heck, start him and let him play the entire game. A nation that never watches Marlins games should see this guy get four at-bats.
Jeff Samardzija, almost an All-Star.
The players had actually voted for Samardzija as one of the five best starters in the NL, along with
Johnny Cueto
,
Adam Wainwright
,
Clayton Kershaw
and
Madison Bumgarner
. Samardzija had a 1.68 ERA through May, so you can see why he fared well in the balloting. His ERA had since climbed to 2.83 with some bad outings and he was replaced by
Julio Teheran
of the Braves.
Worst player selection: Charlie Blackmon, Rockies.
The players actually did a much better job than they usually do and Blackmon's selection was the only dubious choice, a guy who had a monster April but is down to .295/.341/.463, mediocre numbers for a guy who plays in Colorado. To be fair, the NL lacked obvious choices for the fifth and sixth outfielders, but they somehow came up with a player ranked 21st among NL outfielders in FanGraphs WAR.
Justin Upton
,
Ryan Braun
,
Billy Hamilton
or even Rockies teammate
Corey Dickerson
(hitting .340) would have been better selections.
The AL crunch:
Farrell had some tough choices in filling out his squad. His manager selections were
Jon Lester
(deserving and the only Red Sox rep),
David Price
(deserving and the only Rays rep),
Glen Perkins
of the Twins,
Max Scherzer
of the Tigers,
Kurt Suzuki
of the Twins (a third catcher), Encarnacion and Moss. I guess you have to carry three catchers and I don't have a problem with the Scherzer selection. Encarnacion was a lock with his big numbers so the final choice probably came down to Moss or another player.
Biggest snubs: Ian Kinsler, Tigers; Kyle Seager, Mariners.
And that led to Kinser and Seager being this year's biggest snubs. Entering Sunday, Kinsler ranked third among AL position players in fWAR and Seager seventh. In Baseball-Reference WAR, they ranked third and sixth, so by either measure two of the AL's top 10 players didn't make it. It's not that an undeserving player made it -- the players voted in
Jose Altuve
and
Adrian Beltre
as the backups at second and third -- just that there were too many good players and not enough spots (unless you want to knock out a third catcher). You can debate the Moss selection, but I can see the desire to have the left-handed power off the bench if needed late in the game. (Remember, it counts!)
Matt Carpenter and Pat Neshek are good selections:
Matheny picked two of his own players -- third baseman Carpenter and righty reliever Neshek. I'm sure both picks will be criticized but when you dig into the numbers, both are worthy choices. Carpenter isn't having as good a season as last year, but he's still 10th among NL position players in fWAR and 15th in bWAR. Please, I don't want to hear that
Casey McGehee
is more deserving.
As for Neshek, his numbers are outstanding: 0.78 ERA, 35 strikeouts, four walks and a .134 average allowed. He has been as dominant as any reliever in the game, even if he's not a closer. He's also a great story, once one of the game's top set-up guys with the Twins in 2007 but suffering years of injuries since. On the day the A's clinched the AL West on the final day of the 2012 season, his infant son died after just 23 hours. The Cardinals signed him in February to a minor league deal with an invite to spring training, so Neshek certainly qualifies as this year's most improbable All-Star (along with
Dellin Betances
of the Yankees).
I suspect Matheny also picked Neshek for late-game strategic purposes -- his sidearm delivery is killer on right-handed batters (although he has been just as effective against lefties this year), so you can see him matching up against Encarnacion or
Jose Abreu
if there's a big moment late in the game. Similarly, Matheny picked Pirates lefty reliever
Tony Watson
, a good strategic move since he had only three other lefties on the team.
Strangest selection:
That picking reserves for strategic reasons also led to the selection of Pirates utility man
Josh Harrison
. I get it: He's having a nice season and can play multiple positions, but it's a little odd to pick a guy who doesn't even start regularly for his own team (reminiscent of the
Omar Infante
choice a few years ago). Rendon -- who has played second and third -- is the better player and Matheny already had versatility with Carpenter and
Dee Gordon
.
Best AL final man: Chris Sale, White Sox.
Farrell went with five pitchers -- Sale,
Dallas Keuchel
,
Corey Kluber
,
Garrett Richards
and
Rick Porcello
. I wrote the other day that four of these guys would be battling for a spot or two (along with
Scott Kazmir
, who got voted on by the players). All are worthy but the best choice is pretty easy since Sale is one of the top starters in the game and would have otherwise already made the team if not missing some time with an injury.
Best NL final man: Anthony Rizzo, Cubs.
Torn here between Rizzo and Rendon, but since Matheny has already loaded up with third basemen and second basemen, let's go with Rizzo in case you need to swing for the fences late in the game.
Suggested AL lineup: Jeter better hit ninth.
Mike Trout
, CF;
Robinson Cano
, 2B;
Jose Bautista
, RF;
Miguel Cabrera
, 1B; Nelson Cruz, DH; Adam Jones, LF;
Josh Donaldson
, 3B; Salvador Perez, C; Derek Jeter, SS. With
Felix Hernandez
on the mound.
Suggested NL lineup.
Yasiel Puig, RF; Andrew McCutchen, CF; Troy Tulowitzki, SS; Giancarlo Stanton, DH;
Paul Goldschmidt
, 1B; Carlos Gomez, LF; Aramis Ramirez, 3B;
Chase Utley
, 2B; Yadier Molina, C. With Clayton Kershaw on the bump.
August, 5, 2013
8/05/13
8:59
AM PT
The thing about a major-league season is it just keeps going.
That nearly inexhaustible stretch of games was good news when the
Los Angeles Dodgers
were languishing in last place, limping along with injuries and underachievement. It gave them time to straighten themselves out and scramble back into the race.
It's not as good now that they've built a relatively comfy lead atop the NL West and are dealing with their biggest challenge since they dramatically changed course June 22.
They're hurt again. When the Dodgers left Chicago, Hanley Ramirez's right arm was in a sling,
Matt Kemp
was in a walking boot and
Yasiel Puig
still was dealing with a sore left wrist. That's a lot of potential firepower nursing an assortment of injuries, large and small.
The Dodgers were able to get out of Wrigley Field with a four-game sweep despite an offense that wasn't exactly firing on all cylinders by the end. The Dodgers won Sunday despite managing two hits. That's hard to do.
Overall, the Dodgers went 5-1 and extended their franchise-record road winning streak to 14 games; they're 31-7 in their last 38 games and tacked three games onto their division lead. How bad can things be?
SCORING
It wasn't an awful week for the Dodgers' offense, more like slightly sub-mediocre, but it could have been worse if Puig hadn't returned to his June form. He was the only Dodgers batter creating significant noise. He even did it in novel ways, introducing the base on balls to his game.
Puig batted .412 with a home run, a couple of doubles and four walks to carry the lion's share of the run production. Overall, the Dodgers scored 19 runs in six games while running into a fairly ordinary slate of opposing pitchers.
In May, this would have been the norm. The way the Dodgers had been scalding the ball in July, though, it felt like a letdown.
They probably won't be able to get by at 60 percent scoring capacity in St. Louis, their next destination. The Cardinals can hit. Then again, the Dodgers can pitch and the Cardinals will have to get past their best arms.
If Puig and Ramirez aren't on the field, it's hard to imagine the Dodgers scoring enough to take the series. Then again, you could go broke betting against them lately.
Grade: A-
DEFENSE
In a way, every time a team is tested, it's an opportunity for somebody. The Dodgers learned something valuable during this week of close games. They found out their young closer might be ready for the trials of September and October, provided they don't blow out his arm before then.
Kenley Jansen
was dominant this week, prompting Dodgers manager Don Mattingly to compare the action on Jansen's pitches -- and his ability to dominate without bothering to use secondary pitches -- to
Mariano Rivera
.
Jansen breezed, retiring all 12 batters he faced, 10 of them by strikeout. It's not as if Jansen is the hardest-throwing reliever in baseball. He was blowing away Cubs batters with 91- and 92-mph fastballs. His fastball has a natural cutting action that makes it difficult for hitters to track, so it plays up.
Overall, it was the week the Dodgers' pitching asserted its primacy. Dodgers pitchers allowed an average of 1.8 runs per game. The Cubs were simply overmatched.
Clayton Kershaw
, once again, was dominant, but somehow he started the only game the Dodgers lost. That's kind of his season, so far, in a nutshell.
Grade: A
DECISION-MAKING
The
Brian Wilson
signing is risky in exactly the way the Dodgers can afford to be risky. They out-bid other teams to land Wilson, the former
San Francisco Giants
closer who had Tommy John surgery 16 months ago, by agreeing to pay him $1 million for a couple of months.
If it doesn't work out, the only thing it will cost them is dollars. The Dodgers decided to lay off an overheated market for relievers, preserving the few high-level prospects they still have in their system.
The only trade the Dodgers made was for light-hitting catcher
Drew Butera
. Hard to get too worked up about a guy who was immediately optioned to Triple-A, but you never know. Maybe he'll come in handy in September and he'll give
Tim Federowicz
a little competition for the backup spot.
It seemed like a lot of Dodgers fans wanted to see more fire out of manager Don Mattingly earlier this season. This week, at the height of the Dodgers' season, they finally saw it. Mattingly was ejected from games Wednesday and Friday for arguing with umpires.
Otherwise, there wasn't a lot to scrutinize about his moves. Because of all the save situations, he relied heavily on Jansen. You just hope that doesn't lead to repercussions down the road. Jansen pitched in four of the six games.
Grade: B
GRIT-METER
When the Dodgers got to Chicago, they seemed to almost kick their game into neutral and it didn't matter. They didn't play particularly well, but they still managed to sweep.
That might be the best sign yet of how far they've come. They're playing so well now that they can stand back while teams like the Cubs beat themselves. The
New York Yankees
used to pile up regular-season wins that way, rolling through the soft spots in their schedule.
You also wonder if the Dodgers are beginning to intimidate other teams. Teams know how hot they've been and they're having a hard time finishing games. It's probably fair to put aside questions about the Dodgers' grit and fight by now.
Grade: B+
STATE OF CONTENTION
You can't take anything for granted. Pennant races can turn on a dime.
But things are certainly setting up well for the Dodgers, who have watched the rest of their division fall apart just as they've hit their stride. Soon, their schedule will lighten up. They built their lead from 2 1/2 games to 5 1/2 games over the
Arizona Diamondbacks
and the rest of the teams in the NL West look like non-factors.
Other goals -– like homefield advantage throughout the playoffs –- are starting to come into focus. And, even if Arizona gets red hot somehow, the Dodgers are now in the middle of the wild-card picture, too.
There are a lot of things to like about where this team has put itself.
Grade: A-