Dodgers Report:

San Francisco Giants
September, 13, 2014
Sep 13
2:03
AM PT
By
Diane Firstman
| ESPNLosAngeles.com
The Pirates won to move to 13-4 against the Cubs this season, and the Brewers won their third straight, walking off versus the Reds, as both teams kept pressure on the National League Central-leading Cardinals.
Check out the
Hunt for October
page for standings, playoff odds and the upcoming schedule. Here's what else went on Friday night:
1. The Mariners beat the slumping A's.
The A's got closer
Sean Doolittle
back, but that did little to stop their slide: When Doolittle went on the disabled list with an intercostal strain on Aug. 23, the A's were 76-52 and tied for first in the American League West. They had already lost eight of their prior 12 games and had relinquished a four-game lead on the Angels. With Doolittle shelved, the A's lost 13 of their next 18, which included six blown saves.
What was once a lead-pipe cinch for a playoff spot has become quite precarious, with Oakland now only a half-game ahead of the Mariners for the first wild-card spot. Doolittle returned just in time to help his team battle Seattle in the first of a three-game series at Safeco Field. However, he never got in the game, as Seattle hit three solo homers and the A's went 1-for-14 with runners in scoring position in a 4-2 Mariners win.
Going forward, the A's have the vastly easier schedule, but can they restart their offense in time to hold off Seattle?
2. The Dodgers and Giants will go right down to the wire in the roller-coaster NL West.
On June 8, the Giants (43-21) led the Dodgers (33-31) by 10 full games in the division. The teams then swapped momentum, as Los Angeles won 36 of their next 57 and San Francisco lost 36 of their next 56. The Dodgers were up by 5.5 games on Aug. 12, a 15.5 game swing in just over two months. The Giants had trimmed that lead down to 2.5 games as they headed into a three-game series at AT&T Park that started on Friday.
Matt Kemp
came into the game hitting .333/.400/.635 in his past 17 games, while
Buster Posey
was an obscene .463/.477/.838 in his past 19.
Posey contributed an RBI double in the first inning as the Giants touched up
Hyun-Jin Ryu
for four runs en route to a 9-0 victory, cutting the Dodgers' lead in the division to one game. Ryu left after that first inning with a recurrence of shoulder irritation that had shelved him for three weeks earlier in the season, and it remains to be seen if he'll be available for his next start. Even after this weekend, these two teams still have a three-game set in Los Angeles that begins on Sept. 22.
3. Royals' infield defense let them down again, and Tigers retook AL Central lead.
On Thursday, Kansas City made three errors on the infield, which led to two unearned runs in a 6-3 loss to the Red Sox. Those three miscues brought to the total errors by Royals infielders (including 21 by their pitchers) to 76 this season. On Friday,
Mike Moustakas
made his second error in as many nights, and
Yordano Ventura
threw a wild pitch to allow the Red Sox to score another run.
Eric Hosmer
provided the only offense with a two-run homer, and Kansas City dropped a 4-2 decision. Meanwhile,
David Price
tossed 7 2/3 innings of one-run, eight-hit ball as the Tigers routed the Indians 7-2. Detroit is now back in the AL Central lead for only the second time since Aug. 10. Given the Royals' ordinary offense, they have a smaller margin for error (all puns intended) and can't afford to be giving runs (and games) away so easily.
4. The Orioles can take a punch, and then some.
The Orioles had their All-Star third baseman (
Manny Machado
) for a mere 82 games before losing him in early August for the rest of the season to a knee injury. Their No. 1 catcher (
Matt Wieters
), off to a career-best start at the plate, went down and needed Tommy John surgery in May. Their starting first baseman (
Chris Davis
), who despite slumping to a sub-.200 average had still hit 26 homers, just got suspended for 25 games for testing positive for amphetamines. With all this, Baltimore continued its surge toward the AL East title, sweeping a day/night doubleheader from the Yankees in which they yielded only one run over 20 innings.
The sweep pushed the Orioles' AL East lead to 11.5 games and moved them within 3.5 games of the best record in the AL. Since being only one game over .500 after 69 games, they've won 53 of their past 78. Coming into Friday, the O's had used only seven different starters pitchers (fewest in the AL), with five of those amassing at least 20 starts (second-most in the AL). It's not that the starting pitching has been superb all year, as they rank in the middle of the pack in most categories. However, they
have
pitched much better as a whole since the All-Star break: a 34-17 record with a 3.03 ERA prior to Friday, versus 52-42 with a 3.84 ERA in the first half of the season. The staff's good health has meant they haven't had to rely upon untested, not-ready-for-The Show talent.
5. The Mets finally said "no more hospitality" to the Nationals in Queens.
If the Nationals manage to secure the best record in the NL (they currently lead by a half-game), they can credit their league-best .622 winning percentage at home, as well as their "home-field" advantage in Queens, New York. Coming into Friday, Washington had won 12 straight (and 26 of its prior 30 games) at Citi Field. This season, it had won all four contests in New York, by a combined score of 20-6.
The Mets got off that schneid by jumping on
Gio Gonzalez
for three first-inning runs and outlasting the Nats 4-3. The Nationals still have two more games at Citi Field this weekend, with
Doug Fister
and
Jordan Zimmermann
scheduled to start.
Diane Firstman writes the Value Over Replacement Grit blog and is a regular contributor to the SweetSpot blog.
July, 6, 2014
Jul 6
8:00
PM PT
We've reached the most fun part of the All-Star Game: Arguing about the final rosters.
The starters and reserves were named on Sunday and it was interesting to note the different philosophies of managers John Farrell and
Mike Matheny
in filling out their rosters. As expected, some worthy American League players were excluded and there were a couple surprising choices in the National League.
Some quick thoughts:
Worst American League starter: Derek Jeter, Yankees.
While I actually don't have that big of an issue with Jeter starting -- there is no
Troy Tulowitzki
in the AL that he's keeping out of the lineup -- he's probably the worst starter we've had in a long time, hitting an empty .273 with mediocre defense and no power, worth 0.5 WAR so far.
Matt Wieters
was inexplicably voted in by the fans at catcher, but since he's out for the season,
Salvador Perez
will rightfully start in his place.
Worst National League starter: Aramis Ramirez, Brewers.
Cincinnati's
Todd Frazier
is clearly the deserving starter at third base based on 2014 numbers while Ramirez is hitting .287 with 11 home runs. Considering Frazier,
Matt Carpenter
of the Cardinals and
Anthony Rendon
of the Nationals are better all-around players than Ramirez, his selection cost somebody an All-Star spot (Rendon is on the final player ballot).
Best ballot stuffing: Orioles and Brewers fans.
Who says you need to play for the Yankees, Red Sox or Dodgers to have an edge in fan balloting?
Adam Jones
was never in the top three among outfielders until passing
Yoenis Cespedes
at the wire. He's a fine selection, however, and has come on strong after a slow April. Orioles fans also voted in Wieters and
Nelson Cruz
in that crowded DH slot that included
Victor Martinez
,
Edwin Encarnacion
,
Brandon Moss
and
David Ortiz
. Likewise,
Carlos Gomez
passed
Giancarlo Stanton
for the third outfield spot in the NL behind
Yasiel Puig
and
Andrew McCutchen
. Stanton clearly should be starting but Gomez is arguably one of the top three outfielders in the NL. Brewers fans, however, couldn't get
Jonathan Lucroy
voted in over
Yadier Molina
, so Lucroy will be the backup.
National League DH should be: Stanton.
Pretty each choice here for Matheny. Heck, start him and let him play the entire game. A nation that never watches Marlins games should see this guy get four at-bats.
Jeff Samardzija, almost an All-Star.
The players had actually voted for Samardzija as one of the five best starters in the NL, along with
Johnny Cueto
,
Adam Wainwright
,
Clayton Kershaw
and
Madison Bumgarner
. Samardzija had a 1.68 ERA through May, so you can see why he fared well in the balloting. His ERA had since climbed to 2.83 with some bad outings and he was replaced by
Julio Teheran
of the Braves.
Worst player selection: Charlie Blackmon, Rockies.
The players actually did a much better job than they usually do and Blackmon's selection was the only dubious choice, a guy who had a monster April but is down to .295/.341/.463, mediocre numbers for a guy who plays in Colorado. To be fair, the NL lacked obvious choices for the fifth and sixth outfielders, but they somehow came up with a player ranked 21st among NL outfielders in FanGraphs WAR.
Justin Upton
,
Ryan Braun
,
Billy Hamilton
or even Rockies teammate
Corey Dickerson
(hitting .340) would have been better selections.
The AL crunch:
Farrell had some tough choices in filling out his squad. His manager selections were
Jon Lester
(deserving and the only Red Sox rep),
David Price
(deserving and the only Rays rep),
Glen Perkins
of the Twins,
Max Scherzer
of the Tigers,
Kurt Suzuki
of the Twins (a third catcher), Encarnacion and Moss. I guess you have to carry three catchers and I don't have a problem with the Scherzer selection. Encarnacion was a lock with his big numbers so the final choice probably came down to Moss or another player.
Biggest snubs: Ian Kinsler, Tigers; Kyle Seager, Mariners.
And that led to Kinser and Seager being this year's biggest snubs. Entering Sunday, Kinsler ranked third among AL position players in fWAR and Seager seventh. In Baseball-Reference WAR, they ranked third and sixth, so by either measure two of the AL's top 10 players didn't make it. It's not that an undeserving player made it -- the players voted in
Jose Altuve
and
Adrian Beltre
as the backups at second and third -- just that there were too many good players and not enough spots (unless you want to knock out a third catcher). You can debate the Moss selection, but I can see the desire to have the left-handed power off the bench if needed late in the game. (Remember, it counts!)
Matt Carpenter and Pat Neshek are good selections:
Matheny picked two of his own players -- third baseman Carpenter and righty reliever Neshek. I'm sure both picks will be criticized but when you dig into the numbers, both are worthy choices. Carpenter isn't having as good a season as last year, but he's still 10th among NL position players in fWAR and 15th in bWAR. Please, I don't want to hear that
Casey McGehee
is more deserving.
As for Neshek, his numbers are outstanding: 0.78 ERA, 35 strikeouts, four walks and a .134 average allowed. He has been as dominant as any reliever in the game, even if he's not a closer. He's also a great story, once one of the game's top set-up guys with the Twins in 2007 but suffering years of injuries since. On the day the A's clinched the AL West on the final day of the 2012 season, his infant son died after just 23 hours. The Cardinals signed him in February to a minor league deal with an invite to spring training, so Neshek certainly qualifies as this year's most improbable All-Star (along with
Dellin Betances
of the Yankees).
I suspect Matheny also picked Neshek for late-game strategic purposes -- his sidearm delivery is killer on right-handed batters (although he has been just as effective against lefties this year), so you can see him matching up against Encarnacion or
Jose Abreu
if there's a big moment late in the game. Similarly, Matheny picked Pirates lefty reliever
Tony Watson
, a good strategic move since he had only three other lefties on the team.
Strangest selection:
That picking reserves for strategic reasons also led to the selection of Pirates utility man
Josh Harrison
. I get it: He's having a nice season and can play multiple positions, but it's a little odd to pick a guy who doesn't even start regularly for his own team (reminiscent of the
Omar Infante
choice a few years ago). Rendon -- who has played second and third -- is the better player and Matheny already had versatility with Carpenter and
Dee Gordon
.
Best AL final man: Chris Sale, White Sox.
Farrell went with five pitchers -- Sale,
Dallas Keuchel
,
Corey Kluber
,
Garrett Richards
and
Rick Porcello
. I wrote the other day that four of these guys would be battling for a spot or two (along with
Scott Kazmir
, who got voted on by the players). All are worthy but the best choice is pretty easy since Sale is one of the top starters in the game and would have otherwise already made the team if not missing some time with an injury.
Best NL final man: Anthony Rizzo, Cubs.
Torn here between Rizzo and Rendon, but since Matheny has already loaded up with third basemen and second basemen, let's go with Rizzo in case you need to swing for the fences late in the game.
Suggested AL lineup: Jeter better hit ninth.
Mike Trout
, CF;
Robinson Cano
, 2B;
Jose Bautista
, RF;
Miguel Cabrera
, 1B; Nelson Cruz, DH; Adam Jones, LF;
Josh Donaldson
, 3B; Salvador Perez, C; Derek Jeter, SS. With
Felix Hernandez
on the mound.
Suggested NL lineup.
Yasiel Puig, RF; Andrew McCutchen, CF; Troy Tulowitzki, SS; Giancarlo Stanton, DH;
Paul Goldschmidt
, 1B; Carlos Gomez, LF; Aramis Ramirez, 3B;
Chase Utley
, 2B; Yadier Molina, C. With Clayton Kershaw on the bump.
July, 22, 2013
7/22/13
11:08
AM PT
It has been precisely one month since the fateful day, June 22, when everything changed.
The Dodgers' magic carpet ride continued with a road sweep in Washington coming out of the All-Star break that gave them 20 wins in their last 25 games and carried them to the threshold of first place.
There's really not much you can nitpick when a team beats
Stephen Strasburg
,
Gio Gonzalez
and
Jordan Zimmermann
in three straight on the road. The Dodgers got ace-like starting pitching, perfect relief and, on Sunday, an attacking, deep lineup.
In the Dodgers' happiest imaginings over the spring and winter, this is the team they envisioned.
SCORING
It was as if
Matt Kemp
had all this pent-up energy as he waited to join the feast and he dug in wholeheartedly, with three hits, including a home run and a double Sunday. Just his luck, he also injured his ankle and could be lost for at least a few days.
But the Dodgers certainly look capable of giving it a healthy go without the man who was their best player going into April and might one day be again.
In fact, the Dodgers now are perfectly capable of withstanding the loss of Kemp and
Yasiel Puig
, the Cuban sensation who has come simmering back down to earth in a nasty slump.
Hanley Ramirez
, who hit .486 with two home runs in the series, just can't be stopped right now. It's more than him, though.
Mark Ellis
is warming up,
Carl Crawford
looks like he's snapping out of his funk.
This is a dangerous team and it could be more dangerous if Kemp can manage to stay on the field and Puig isn't in some lasting tailspin.
Grade: A
-
DEFENSE
Clayton Kershaw
and
Zack Greinke
did what they've been doing lately, pitching the Dodgers into position to win, but the bullpen, collectively, had the most impressive showing. Dodgers relievers, much-maligned for three months, didn't allow a run over the weekend and have had a blistering July.
Oh, and Kershaw also pitched a scoreless inning in the National League's All-Star game loss.
General manager Ned Colletti continues to search other teams' rosters for a veteran reliever before the July 31 trade deadline and
Carlos Marmol
continues trying to work his way back, but if
Brandon League
can get his issues ironed out, the Dodgers are showing signs they could have all the arms they need. Young hard throwers
Chris Withrow
and
Jose Dominguez
have solidified things considerably.
And, until Ramirez's fifth-inning error Sunday, the Dodgers -- typically sloppy in the field -- managed to catch and throw the ball without incident.
Grade: A
-
DECISION-MAKING
Who knows, the Dodgers' best decision this season might have been inactivity. Just when it seemed the public pressure would be too much to bear, team president Stan Kasten and general manager Ned Colletti withstood it and declined to fire manager Don Mattingly.
Mattingly still has his detractors. It's just that fewer people are listening to them now that the Dodgers have made up nine games in the standings in 30 days.
Mattingly had a fairly quiet series, which is as it should be. He benched Puig for Sunday's game, which seemed reasonable given his cold streak and the fact Kemp again gave him four healthy everyday outfield options. Now that Kemp is out for a while, the Dodgers hope Puig can make an adjustment or two and tap back into his power.
Then, maybe Mattingly will have another riddle to solve. So far, the four-outfielder dilemma has been a mirage because they've rarely all been healthy at once.
Grade: B+
GRIT-METER
One thing that can make a team intimidating to opponents is a bullpen filled with high-velocity guys. Teams know that, if they don't get to the starter, they're going to have nothing but uncomfortable at-bats as they try to rally.
With Withrow and Dominguez added to the mix, the Dodgers have five relievers who can either work in or touch 95 mph. That's grit.
Grade: B+
STATE OF CONTENTION
With the probable exception of the
San Diego Padres
, anybody really could win the NL West. The Dodgers' move has simply tightened things up even further, with the
San Francisco Giants
in fourth place, but just 5 ½ games out of first place.
What the Dodgers have going for them, of course, is momentum. As long as that lasts, it looks like it would be foolish to bet against them reaching the postseason. They've also made the wild-card standings relevant again now that they sit just one spot out of a spot, 4 ½ games behind the
Cincinnati Reds
, who come to L.A. next week.
Grade: B+
July, 5, 2013
7/05/13
10:38
PM PT
A month ago, every injury seemed to send the
Los Angeles Dodgers
spiraling. Now, they can lose one of their best players and give the impression they'll hardly miss a beat.
Matt Kemp
left the game with irritation in his surgically repaired left shoulder, but the Dodgers replaced him with another former All-Star,
Carl Crawford
, and overpowered the
San Francisco Giants
, 10-2, Friday night. It was their 11th win in their past 13 games. At this point, the All-Star break might be the only thing that can slow down the Dodgers.
L.A.'s new-found offensive depth isn't limited to the contributions of
Yasiel Puig
and
Hanley Ramirez
, though they have certainly been doing most of the heavy lifting. It has infected the rest of the lineup. Even
Juan Uribe
, maligned for two straight years as his batting average hovered around .200, is occasionally doing impressive things.
Uribe drove in seven runs, matching a career high, and fell a single shy of the cycle, striking out in his final crack at it in the ninth inning.
According to ESPN Stats & Information, Uribe's night -- against his former team -- equaled the most RBIs ever by a Dodger against the Giants. Babe Herman did it in 1930, as evidenced by
this highly entertaining box score
.
The Dodgers have had 13 hits or more in five straight games and Ramirez extended his hitting streak to 16 games. The Giants, meanwhile, have lost 10 of their past 11 games, essentially switching places with the Dodgers over the past two weeks.
Kemp swung and missed at a
Matt Cain
pitch in the second inning and immediately clutched at his surgically repaired left shoulder, wincing in pain. Kemp stayed in the game and was able to work Cain for a walk, but he left the following inning, replaced by Crawford, who was activated earlier in the day after missing more than a month because of a strained hamstring.
Kemp has insisted all season that his shoulder, which underwent extensive surgery in October, has been fine. He had homered in his two games previous to Friday.
Dodgers manager Don Mattingly reportedly met with his four outfielders before the game to discuss how he would dole out playing time, a discussion that might be rendered moot by Friday's development.
The Dodgers knocked Cain out of the game in the third inning, his shortest outing since 2009.
Hyun-Jin Ryu
(7-3, 2.82 ERA) made his last-minute case to pitch for the National League All-Stars in front of manager Bruce Bochy. Ryu pitched into the seventh inning and gave up only four hits.
June, 26, 2013
6/26/13
11:06
PM PT
LOS ANGELES -- For a while,
Clayton Kershaw
didn't see Don Mattingly walking up behind him. Either he didn't see him or he was acting as if he didn't see him.
Then, when Mattingly forced himself into the little scrum that had formed around the pitcher's mound and made his intentions known, Kershaw handed him the ball without ever looking in his manager's direction. He stared into the left-field corner and walked briskly off the field.
[+] Enlarge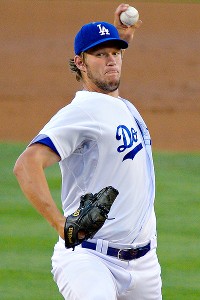 AP Photo/Mark J. TerrillClayton Kershaw won for the first time since May 20 as the Dodgers completed a sweep of the Giants on Wednesday.
Twenty minutes after Wednesday's 4-2
Los Angeles Dodgers
win over the
San Francisco Giants
, which gave them their fifth straight win, Kershaw had a little time to reflect on that ninth-inning pitching change and decided, "Overall, it was probably the right decision."
Oh, but it had to burn at the time.
Earlier in the game,
Buster Posey
had pummeled a hanging slider over the left-field fence to give the Giants a lead and imperil Kershaw's first win in more than a month.
You have to know that Kershaw, who is as competitive as they get, wanted one more chance at Posey -- the best pitcher in the rivalry, if not the world, against the best hitter in the rivalry, if not the league. Posey was due up, representing the tying run with nobody out.
That's when Mattingly came out to hand the ball to closer
Kenley Jansen
, Kershaw's pitch count at a highly manageable 104.
"Do I think I could have gotten him out?" Kershaw said. "Sure, but you know, he'd already gotten me this game. He's obviously seeing me OK tonight. We've got a pretty good guy back there, too, to finish games."
This is true and it's also the only reason Mattingly ever would have considered pulling his best pitcher in that spot. The rest of the Dodgers' bullpen is a mess, but Jansen has been a squeamish at-bat for everybody he has faced for more than a month.
Since his last walk, back on May 19, Jansen has struck out 27 batters. He got
Hunter Pence
and
Pablo Sandoval
swinging on vicious, mid-90s cutters at neck level.
April, 1, 2013
4/01/13
6:31
PM PT
By
ESPN Stats & Information
CalSport Media/AP Images
Clayton Kershaw was in top form on Opening Day.
Bryce Harper
set the tone for
Opening Day home-run excitement
, but
Clayton Kershaw
had the biggest home-run surprise of the day, by far.
It was quite the Opening Day for Kershaw and the
Los Angeles Dodgers
reaped the benefits with their Opening Day win over the
San Francisco Giants
. He's now 8-3 with a 1.20 ERA in 90 innings against them since the start of the 2011 season.
Let's run through the accolades.
Historic combinations
The Elias Sports Bureau tells us that Kershaw was the first pitcher in the Modern Era (since 1900) to hit a go-ahead home run in the eighth inning or later of an Opening Day game, and the second pitcher to throw a shutout AND homer in a season opener, joining Hall of Famer Bob Lemon (a one-hitter for the 1953
Cleveland Indians
against the
Chicago White Sox
).
He was the first pitcher to hit a go-ahead homer in the eighth inning or later of any game since
Mike Hampton
did so for the 2001
Colorado Rockies
and the first to throw a walk-free shutout in a season opener since Rick Rhoden (a prolific homer-hitting pitcher who didn't hit one that day) for the 1988
Pittsburgh Pirates
.
It also marked the first time that a defending champ has been shut out on Opening Day since the 1988
Minnesota Twins
were shut out by the
New York Yankees
How unlikely was the home run?
Kershaw entered the day with one career extra-base hit ( a double vs
Jake Westbrook
) in 261 at-bats. This one traveled 414 feet off the bat to centerfield.
Entering Monday, Kershaw's 332 career plate appearances with 1 or fewer XBH was the 3rd-most among active players.
Oliver Perez
has the most career PA with 1 or fewer extra-base hits (396), then
Barry Zito
(375) among active players.
How well did he pitch?
Game Score
is a metric created by Bill James that measures the quality of a start. Every pitcher begins with a score of 50 -- points are added for getting outs (with a bonus for strikeouts), and subtracted for baserunners and runs allowed. The typical MLB average is 49 to 51.
Kershaw had a Game Score of 86 vs the Giants, the highest by a Dodgers pitcher in an Opening Day game since the team moved to Los Angeles in 1958, thus higher than any start by Dodgers legends such as Sandy Koufax, Don Drysdale, and Don Sutton.
Kershaw was dominant throughout, netting misses on 31 percent of swings against him and retiring 14 of the 15 hitters against whome he got a two-strike count.
Kershaw's breaking pitches were very effective, netting 13 outs, including six of his seven strikeouts.
And how valuable was he?
Win Probability Added (WPA) measures how much a player helped or hurt his team's chances to win based on the results of all his plate appearances/batters faced and base stealing attempts, given the context of the game.
At the start of a game, each team is given a 50 percent chance to win, so by the end of the game, the winning team will have added 50 percentage points in total and the losing team will have lost 50 percentage points.
In total, Kershaw added 75 percentage points to the Dodgers chances of winning today (50 points with his shutout pitching effort and 25 points with his hitting - the 8th inning go-ahead solo homer added 29 points), meaning that the rest of his team combined to provide negative 25 percentage points to the winning effort.