Haren, Dodgers continue controlling ways
June, 30, 2014
Jun 30
11:07
PM PT
LOS ANGELES -- The last time a
Los Angeles Dodgers
starting pitcher walked more than two batters in a game,
Josh Beckett
did a nice job of making up for his relative wildness. He didn't allow a hit.
So, if you're looking for a way to encapsulate this run of clinical pitching the Dodgers have staged to yank their season dramatically from the brink, that's as good as anything: The only thing keeping them from a major league record was a no-hitter.
If Beckett,
Hyun-Jin Ryu
and
Zack Greinke
can avoid walking three or more batters over the next few games, the Dodgers will have gone 37 straight games without one of their starters walking more than two batters in a game. Since 1914, when people got serious about keeping these records, no team has ever done that.
[+] Enlarge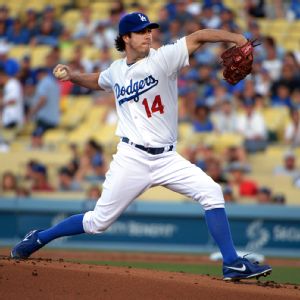 Kirby Lee/USA TODAY SportsDan Haren and the Dodgers' rotation are five games away from setting the MLB record for the most consecutive starts walking fewer than three batters.
Dan Haren
, who pitched seven shutout innings in the Dodgers' 1-0 win over the
Cleveland Indians
on Monday night, has been one of baseball's extreme control artists for years.
Three times he has led the league in strikeout-to-walk ratio. On the Dodgers, he looks across the room and sees
Clayton Kershaw
, who has struck out 107 batters and walked 11. Next to him is Greinke, whose numbers are in the same ballpark; a few stalls down is Ryu, who doesn't allow walks or home runs.
Of course, you could argue Haren's bounce-back start Monday had something to do with the fact he was facing the Indians, who just got one-hit by
Felix Hernandez
and batted .165 over three games in
Seattle
. But relentless control has been a facet of this Dodgers starting rotation all season.
"I've been on some good staffs, but it's tough to hold my weight here," Haren said. "Every time out, the guys have been dealing and it's been fun to watch. I've just tried to maintain the momentum, and I haven't really done that until today."
By pounding the strike zone, Dodgers pitchers contain rallies. The Dodgers haven't allowed more than four runs in a game since June 20. They haven't allowed more than six runs in a game since May 17. If good starting pitching is defined by keeping your team in the game, the Dodgers are making it look practically effortless.
At this stage of his career, Haren probably wouldn't be pitching if he were walking batters frequently. Coming into Monday, he had allowed 13 home runs in his previous eight starts. Eight of them were solo shots.
It has looked like a struggle for him lately, but after 2,150 innings and 137 wins, he does know what he's doing.
Signing Haren was one of the smartest things the Dodgers did last winter. He has adjusted to his diminishing velocity by adding his curveball back into his repertoire and keeping his cutter low in the strike zone in an effort to induce ground balls.
Haren had 11 groundouts Monday. He allowed just two baserunners, with an infield single and a walk. He's 8-4 with a 3.57 ERA, numbers that would look like ace stuff on some staffs.
In his previous start, Haren had failed to get out of the fifth inning for the first time all year.
"I'm sure he was on a little bit of a mission to get back on track," Dodgers manager Don Mattingly said.
You can look at this entire Dodgers season as a cleanup effort. They focused on their defensive shortcomings near the end of May and have gone from being one of the worst-fielding teams to being one of the best. They have cut down dramatically on surrendering walks, though it was the bullpen issuing the bulk of them.
Apparently, clean living is good living. The upshot of all that is the Dodgers are alone in first place for the first time since April 24, having climbed 10 games in the standings in 22 days.