Matt Kemp heating up again
July, 28, 2012
7/28/12
7:20
PM PT
By
Mark Simon
and
Dan Braunstein, ESPN Stats & Information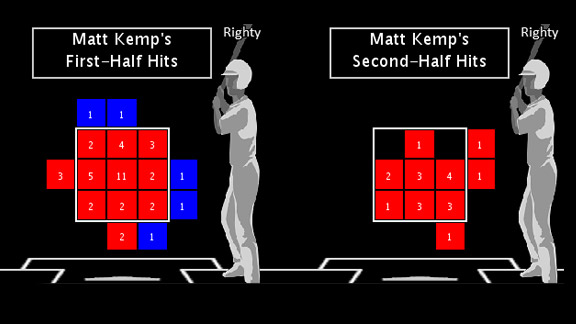 Getty Images/Jim McIsaac PhelpsA look at Matt Kemp's hits in 2012
Matt Kemp
has 20 hits in 14 games since his return just after the All-Star Break. He had four hits in Saturday's win and did something he hadn't done much since his return.
Kemp had a hit on a pitch that was middle-up. He has two hits on pitches in the upper-third of the strike zone since his return
He also got a hit on a pitch that was middle-away, which also differs from what he's done recently.
He has only three hits on pitches on the outer-third of the strike zone (or further away) since his return. Prior to the break, 13 of his 43 hits were on pitches to that area.
Inside Look
In the first two games of the series with the Giants, Kemp has seen just five inside pitches out of the 37 pitches he's seen (13.5 percent).
Only two of the inside pitches have been in the strike zone, and those are the only two inside pitches Kemp has swung at.
Both of those were in Saturday's game; one resulted in his home run and the other in his first double of the game.