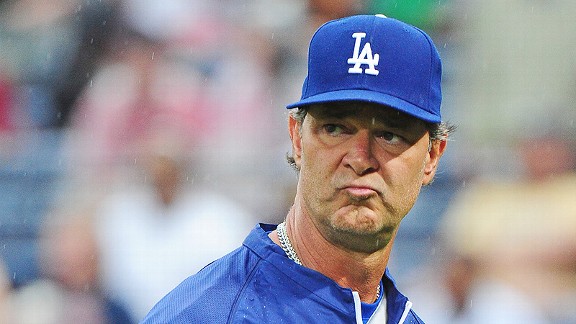 For a moment, let's forget about how Don Mattingly's players feel about him and ponder how he feels about them.
When the Dodgers left San Francisco early this month, having been swept in a bitter, hard fought series, Mattingly told reporters he felt better about his team walking out than he did walking in.
Two weeks later, here are some of the comments coming from Mattingly after another painful sweep in Atlanta, his bullpen blowing a lead in every game.
"Too many walks. Too many free runners. And we have to catch the baseball, that's all there is to it," Mattingly told reporters.
Mattingly also said he had an "issue" with a ball that dropped between Carl Crawford and Matt Kemp and said of Luis Cruz's dropped line drive, "guys in the big leagues make that play all day long."
When Dee Gordon got thrown out at third base the next night, Mattingly told MLB.com's Ken Gurnick: "Matt Kemp's at the plate. Come on, Dee, we've been there. There's no real upside to stealing the base."
You get the sense he's beginning to wonder if he's got the right people in his corner in one of the toughest fights of his professional life.
The Dodgers' players say it all the time: They like playing for Mattingly. If they are lying, they'd better be careful what they wish for. Teams that fire managers tend to bring in guys nothing like their predecessor. Otherwise, why bother? Mattingly's a laid-back, communicative guy who can relate to everyday players, because he was one. He rarely criticizes players publicly. Whoever the opposite of that is, the Dodgers could get him.
It would be hard to argue that the Dodgers are doing a swell job of saving Mattingly's job so far. Well-connected national baseball writers are speculating almost daily now that his job appears to be under imminent threat. The latest, from Foxsports.com's Ken Rosenthal, speculates that Mattingly could get fired as soon as Thursday, an off-day before the Dodgers open a seven-game stretch in Southern California.
I must admit, I had exactly the same thought -- that it could be close -- after watching those games in Atlanta and reading the comments.
But there appears to be some debate internally about when it becomes fair to evaluate this team. Some have said that Zack Greinke's return was a reasonable moment and, so far, the Dodgers are 1-3 since then -- Greinke getting the only win they've had.
When I wrote that recently, a club executive objected, pointing out that Hanley Ramirez, Mark Ellis, Ted Lilly, Josh Beckett and Scott Elbert were still on the DL (Ellis has since returned), saying, "they don't matter?"
The New York Times website has a cool feature called "Money on the Bench," in which they tabulate, second by second, how much a team is paying players on the DL. The Dodgers' number, as of 11:36 Monday morning, was $164,000. The New York Yankees' was $259,000.
The Yankees are 27-16 in first place. The Dodgers are 17-25 in last place.
While everybody's not back, as the official pointed out, this seems like a fair moment to begin asking some hard questions.
The bullpen makes great pitches, at least until the game is on the line. If the Dodgers fire Mattingly, will the mistakes end?
Matt Kemp is batting .171 with runners in scoring position and has hit one home run. There are 266 major leaguers with more home runs, including the Houston Astros' Jose Altuve, who is nine inches shorter than Kemp. If the Dodgers fire Mattingly, will Kemp suddenly spring back into the spry, menacing hitter we saw two Aprils ago?
Andre Ethier is hitting .200 with runners in scoring position and can go weeks unnoticed. Will firing Mattingly eradicate his disappearing acts?
The Dodgers have hit 28 home runs, fewer than all MLB teams other than the Kansas City Royals and Miami Marlins. Will they suddenly started pounding down walls and bleacher seats if Mattingly's no longer sitting in the dugout?
The Dodgers were supposed to be so deep in talent after spending Powerball-type money for the past 12 months, so why were they holding their breath yesterday to see how X-rays to Scott Van Slyke's leg turned out? Van Slyke wasn't even on the 40-man roster a month ago.
The Dodgers' boldest move under the new owners was the big-money, big-risk trade with the Boston Red Sox last Aug. 25. They're 34-43 since then. Maybe it's going to take a while for these guys to mesh, or maybe the parts just don't add up. But is the part that's making the whole thing malfunction really the one piece that never takes a swing or delivers a pitch?
So, Mattingly sits and finds out whether his team can play well enough to make this whole issue go away. If he's going to go down, though, he at least will have gone down with his best. Kershaw, Greinke and Hyun-Jin Ryu are pitching the next three games. Kind of spices up a May series in Milwaukee, doesn't it?