Friday, August 16, 2013
Breaking down Yasiel Puig's season

---
By Kenton Wong
ESPN Stats & Information


Puig

Yasiel Puig has been the epitome of a five-tool player in his brief two-and-a-half months in the big leagues, displaying home run power, a rocket arm and speed to force the issue on the basepaths.

The most impressive part of his game, though, may be a tool that isn't physical, but mental -- his ability to adjust. Let's take a look at his season so far in segments.

The Explosive Start: June 3–July 2 (.443 BA, .473 OBP in 27 games)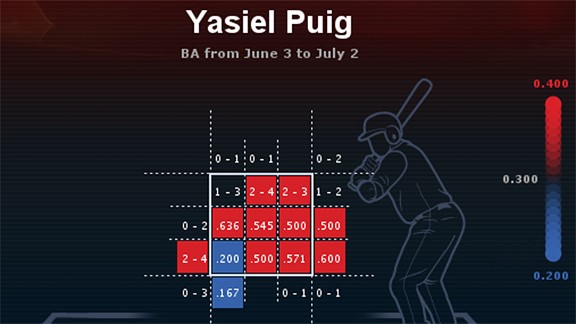 ESPN Stats & Information

From the day he made his debut, Puig seemingly set some sort of record every night. In his first 27 games he had 15 multihit games, including eight in which he had at least three hits. Both of those marks were the best in baseball during that stretch.

A big reason for his success was that he crushed anything that was in the strike zone, with the exception of anything on the low outside corner, hitting .515 on would-be strikes.

Puig's one weak spot came in his desire to swing at nearly everything, as he chased 38 percent of pitches that were out of the strike zone. He did manage to hit an impressive .316 on those pitches because of his ability to spin on inside pitches. However, opposing pitching coaches definitely took note of the fact that he was willing to fish and that he missed on 44 percent of those swings.

The Slump: July 3–July 22 (.220 BA, .266 OBP in 15 games)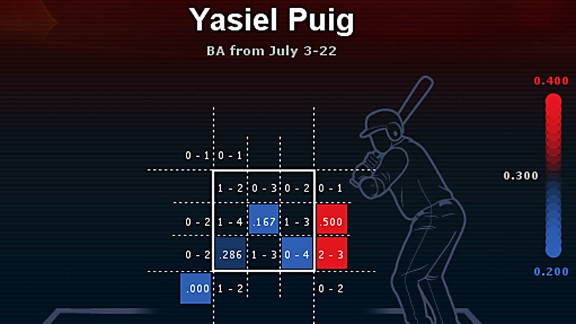 ESPN Stats & Information

Puig got even more aggressive in his next 15 games, chasing 40 percent of pitches outside of the zone and missing on 60 percent of those swings as he went into a three-week funk.

His problem wasn't just this lack of plate discipline, it was that he went ice cold against pitches in the strike zone, hitting .206. That is more than 300 points lower than what he hit against pitches in the zone in his first month in the majors. One of the low points came when he struck out in all four of his at-bats in a game against the San Francisco Giants.

Part of the drop-off during this stretch was merely standard regression as the BABIP (Batting Average on Balls In Play) Puig had in his first month of .513 was unsustainable. But he also tried to do too much against opposing fastballs.

In Puig's first 27 games, his swing was more compact, allowing him to hit line drives on 15 percent of swings against fastballs in the zone while swinging and missing 15 percent of the time. During his slump, his line-drive rate went down to 5 percent while his miss rate went up to 53 percent.

The Adjustments: Since July 23 (.377 BA, .490 OBP in 21 games)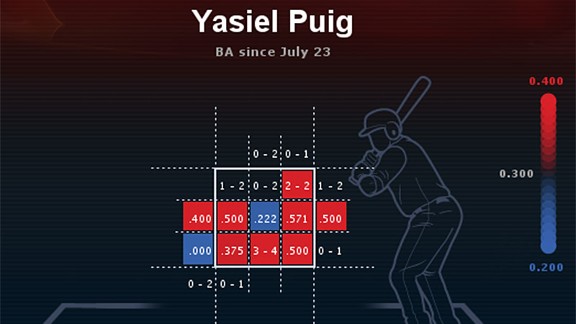 ESPN Stats & Information

The past three weeks for Puig have been arguably his most impressive. He might not have numbers as high as he put up in his first month, but that came when there wasn't a book on him yet.

Puig is back to smoking pitches in the strike zone, hitting .458 in his past 21 games. He has also become much more patient at the plate, racking up 16 walks in his past 96 plate appearances after having only seven in the first 176 plate appearances of his career.

His .500 OBP since the start of August is the sixth-highest in baseball. Dodgers fans have plenty to smile about as they have to like their chances to watch their team play well into October.


---