Dodgers Report:

Albert Pujols
August, 6, 2014
Aug 6
11:41
PM PT
ANAHEIM, Calif. -– It was a one-run lead in the bottom of the ninth inning and the leadoff hitter had just singled and stolen second base. In the box, with a hitter's count, stood
Mike Trout
, who – depending which numbers you favor -– profiles, roughly, as either the second coming of Willie Mays or Mickey Mantle's forgotten grandson.
Behind him was
Albert Pujols
, his scowling swagger back with 21 home runs and 70 RBIs, and, after that,
Josh Hamilton
, diminished but still frightening with that big, lumberjack, left-handed swing.
Angel Stadium was sold out, and
Kenley Jansen
was feeling every ounce of what this rivalry has become.
[+] Enlarge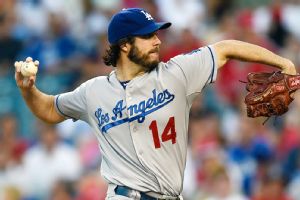 Kelvin Kuo/USA TODAY SportsA return to his old delivery served Dan Haren well in Wednesday's win over the Angels.
"It felt like a playoff atmosphere with all the adrenaline I had," Jansen said. "I had to maintain my composure, keep it down but stay aggressive, control the game."
One of the offshoots of shifting the
Houston Astros
to the American League has been gems like this series between the
Los Angeles Dodgers
and
Los Angeles Angels
, four straight games split between two vibrant venues, a little bit of October magic dust sprinkled on early August. When both teams are talented and jelling, as they are in 2014, it's as good as it gets -- at least until it actually happens in October.
Jansen was the better man Wednesday. He struck out Trout with a 96 mph fastball right down the middle and Pujols hit a lazy fly ball, and Hamilton, too, went down swinging. So Jansen ended up with his 32nd save. Had Trout ended up with his 26th home run, everything would have felt different for Southern Californians who pay close attention to baseball. It's kind of how these things are drawn up, right?
The Dodgers' 2-1 win easily could have gone the Angels' way, much as Tuesday's 5-4 Dodger win could have. The Dodgers have scored seven runs, the Angels have scored 10 and the Dodgers lead the series two games to one. As Dodgers manager Don Mattingly pointed out, it wasn't entirely a playoff atmosphere, because each teams' fans infested the other's stadium in large numbers, but it was closer to that than a sleepy midweek series with the Brewers in town, that's for sure.
What you also get in October, or what you remember more clearly in October, are unsung heroes. You get performances like Dan Haren's on Wednesday. A proud veteran who had called his previous form "embarrassing" took a perfect game into the sixth inning and pitched deeper into a game than he had since June.
He worked and he worked until he and pitching coach Rick Honeycutt found the adjustments that stuck. Wednesday, it was a combination of returning to the delivery that had been his bread and butter in his glory years, the mid-leg kick pause that he said allowed him to "hold and gather," and probably mixed a bit more deception into his delivery. He also featured more curveballs than he ever had, keeping the Angels just confused enough to hit the ball on less-productive areas of their bats.
One thing the Dodgers know about Haren: Whatever he has, he's going to give it to you.
And afterward, Mattingly discussed the reality of the situation, why Haren and
Josh Beckett
have been holding down their rotation spots despite wobbly outings piling up these past couple of months: The Dodgers simply don't have pitchers ready at the upper levels of the minor leagues.
"You just don't pick guys off trees. We've been building our system and working on building our system up, but we're really not sitting there with three or four kids throwing 96, 97 just tearing it up down there, knocking on the door at this point," Mattingly said. "We're going to get there, and that's when you have to make decisions like that, but we can't sit here and say, 'We're sitting here with starters galore and lots of choices ...'
"At least for tonight, it's a start where [Haren] ends up with a smile on his face and you're just really happy for him."
Asked if he needed an outing like that, Haren said, "I think that's probably the understatement of the year."
So, the Dodgers have a little more confidence in their pitching depth going into these final two months of a pennant race with the
San Francisco Giants
, their lead still a fairly robust 2 ½ games. The Angels, still 22 games over .500, are far from downcast after losing two one-run games.
It's been a while since baseball was this much fun in and around Los Angeles.
August, 5, 2014
Aug 5
11:35
PM PT
LOS ANGELES -- At one point as he was warming up in the bullpen about 10 minutes before the first pitch of a highly anticipated game,
Clayton Kershaw
threw a breaking ball in the dirt. After catcher
A.J. Ellis
chucked the ball back to him, Kershaw flung it against the bullpen wall in disgust. Pitching coach Rick Honeycutt fetched him a fresh ball.
It seemed as if it was going to be an uphill fight after that, and it was. Kershaw's breaking balls were erratic and his ability to command his fastball was more unreliable than usual for a while. Against a team that hits as well as the Angels, with two of the most dangerous right-handed hitters alive, Kershaw was in a tough spot.
[+] Enlarge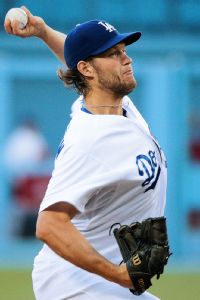 AP Photo/Jae C. HongIt took him some time, but Clayton Kershaw finally got going against the Angels in what was eventually a victory.
But his toughness might be his most underappreciated asset, and he managed to survive three rocky innings before, in the words of his manager, Don Mattingly, something clicked and Kershaw became Kershaw again.
"After the third, it seemed a lot smoother and easier and he had more depth to his slider," Mattingly said. "True Kershaw, he was just battling after that."
Kershaw got through seven strong innings before Mattingly, concerned about all the stressful innings he had thrown and the two consecutive complete games before this start, pulled him after 103 pitches. The Dodgers barely hung on. After
Brian Wilson
gave up the tying home run to
Albert Pujols
, the Dodgers managed to win it in the bottom of the ninth, 5-4, on a
David Freese
error.
So, no 14th win for Kershaw, no game-winning heroics for
Mike Trout
, but let's face it: Right now, it's all about Kershaw and Trout when these teams meet. For all anyone knows, they might be their leagues' respective MVPs, and they play for teams 31 miles apart. Tuesday was the first time those two ever faced each other in the regular season, and there were enough glimpses of both players' absurd skill sets to give fans of both teams reasons to gloat and reasons to seethe with envy.
And Kershaw wanted nothing to do with it. He glared when anyone asked about facing Trout afterward.
"I'll talk about the Angels, sure, he's one of their best hitters, absolutely," Kershaw said.
August, 4, 2014
Aug 4
9:59
PM PT
LOS ANGELES -- There were more than 53,000 fans at Dodger Stadium Monday and many of them booed Mike Trout's every move. Fans in Anaheim likely will give it to
Yasiel Puig
pretty good on Wednesday.
In other words, Southern California's baseball rivalry is doing pretty well, with contending teams and young stars to energize and/or irritate the two fan bases.
Trout's
Los Angeles Angels
got off to a better start in this year's regular-season Freeway Series with a 5-0 win at Dodger Stadium on Monday night.
There was just the right hint of tension, too, with Puig and
Albert Pujols
appearing to exchange some words after the top of the eighth inning. Puig apparently took exception to Pujols tagging up and advancing to second on a fly ball while he looked the other way.
How it happened:
The Angels jumped all over Zack Greinke's pitching and the
Dodgers
' shaky defense in the first inning, grabbing a quick 4-0 lead. Angels starter
Garrett Richards
pretty much took it from there.
The game never felt particularly competitive. The Dodgers managed just five hits, all singles, off Richards, the game's hardest-throwing starting pitcher, according to Fangraphs data. Greinke was good after the first inning, with the only appreciable mistake a too-hard changeup that
Josh Hamilton
clobbered over the right-field wall.
Hits:
For the Angels, it was Richards (12-4), their best starting pitcher this year, bouncing back from two rough outings with a shutout. He struck out nine batters, but mainly the Dodgers hit ground ball after ground ball. For the Dodgers, the highlight was the major league debut of pitcher Carlos Frias, who pitched two scoreless innings, allowing just Pujols' single and striking out a batter. Frias is in contention to join the Dodgers' rotation if
Josh Beckett
or
Dan Haren
continues to struggle or goes down with an injury.
Misses:
The Angels, with
Erick Aybar
at shortstop and Trout in center, have one of the stronger defensive teams. Fielding sometimes is an adventure for the Dodgers. When it is,
Hanley Ramirez
often is involved. On Monday, he made two errors, one of which was a costly throw that led to an unearned run in the first inning. Meanwhile,
Carl Crawford
made two unsuccessful attempts at sliding catches in the first inning. The second one, hit by Trout, got past Crawford and rolled all the way to the wall. Trout would have had a triple, but he had to retreat after missing first base. In the eighth, Puig stood there after catching a high fly ball and Pujols was paying attention, sprinting to second.
Stat of the game:
The Angels have the best interleague record (92-48) in the majors since 2007, and part of that is their domination of their regional rivals. The Angels are 57-40 against the Dodgers.
Up next:
The four-game series continues with the last of two contests starting at 7:10 p.m. Tuesday at Dodgers Stadium.
Clayton Kershaw
(13-2, 1.71 ERA) goes for the Dodgers, while lefty
Hector Santiago
(3-7, 3.76) pitches for the Angels.
August, 4, 2014
Aug 4
10:05
AM PT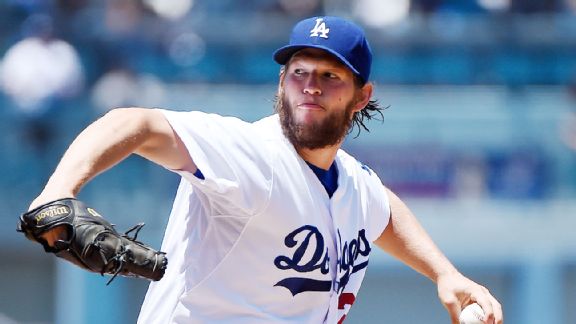 Lisa Blumenfeld/Getty ImagesClayton Kershaw, 7-0 with a 0.68 ERA since mid-June, will be tested by the Angels lineup.
LOS ANGELES -- Two spring trainings ago, Hall of Fame manager Tommy Lasorda had a premonition that 2013 could be the year of the long-anticipated postseason Freeway Series, pitting his beloved former team, the
Los Angeles Dodgers
, against the
Los Angeles Angels
of Anaheim, managed down the road by one of his former players, Mike Scioscia.
"It could happen very easily," Lasorda said.
It turned out to be far from easy.
The 2013 Angels allowed a bushel of pitching talent to walk out the door then went and spent the money saved on slugger
Josh Hamilton
. They had a shaky rotation and a worse bullpen. With injuries, especially to
Albert Pujols
, and Hamilton's underperformance, it turned into a rough season in Orange County. The Angels lost 84 games and finished in third place. There were calls, wisely ignored, to fire Scioscia and general manager Jerry Dipoto.
The Dodgers, too, had their share of struggles despite early World Series predictions. By June, pundits were calling for manager Don Mattingly to go. He didn't, and the Dodgers went on a historic 42-8 run en route to the National League Championship Series, where they were knocked out in six games by the
St. Louis Cardinals
.
Ah, but 2014. Maybe this is the year the I-5 freeway becomes the traffic-clogged conduit for the Fall Classic? The signs are as promising as ever.
The Dodgers have the best record in the National League. The Angels have the second-best record in Major League Baseball and have been hounding the steps of the first-place Oakland Athletics for weeks. When the Dodgers and Angels meet this week for two games at Dodger Stadium and two games at Angel Stadium, it will be a crucial set for both teams. It will also be a display of many of baseball's most exciting talents -- including Pujols,
Mike Trout
, the Dodgers' Cy Young-winning pitchers
Clayton Kershaw
and
Zack Greinke
, and mercurial outfielder
Yasiel Puig
.
Dipoto has been busy since the winter meetings, fixing the Angels pitching. Hamilton has been productive when healthy. Pujols is steadily providing power. The best player in baseball, Trout, might actually be improving, scary as that must sound to the rest of the teams.
[+] Enlarge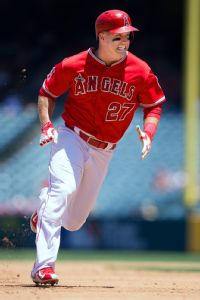 Dominic DiSaia for ESPNMike Trout is the best player in a fearsome Angels lineup.
Mattingly loves to watch young hitters over time, and he has seen enough of Trout to know where that career is headed.
"You see a guy who comes up and you hear all the hype. You don't really listen at that point, but then you kind of see him make quick adjustments," Mattingly said. "Early on, you could get him with the slider, you could get him to chase, you could do a lot of things, but he closed those holes real quickly. Then next time you see him, you can't go there any more or he's laying off. He's just jumped quickly, right? That's tells you right away that he's going to be really good."
Greinke, whom Dipoto acquired at the steep cost of shortstop
Jean Segura
and prospects three trade deadlines ago, has kept tabs on the Angels since he left to sign with the Dodgers. He will face them tonight knowing full well how challenging their deep lineup is to pitch against.
He wasn't surprised that the Angels struggled last season after he,
Dan Haren
-- now a Dodger -- and
Ervin Santana
left, especially when the injuries started piling up.
"This year, I'm pretty sure Hamilton's been as good as everyone expected him to be and getting
Garrett Richards
to take that big step are kind of the two main things it seems like from the outside," Greinke said. "
Kole Calhoun
is pretty darn good too, but I don't know how many people saw that coming. They really haven't had anything bad happen to them this year, where last year they had several bad things happen."
Greinke signed a six-year, $147 million deal with the Dodgers in December 2012. Given the way he talks about those two months with the Angels, you wonder if he might consider signing there should he opt out of his contract after the 2015 season, which he may do depending on market conditions.
A native of Florida, Greinke said he enjoyed living in Orange County briefly.
"It's got to be the best part of L.A., that area," he said. "It's really nice over there, at least for my personality type, I guess. The city over there is as great as it gets, the team was good, the stadium and fans were great too. That part of town is the No. 1 thing they have going for them. It's easier to get to the beach."
Scioscia always seems to enjoy making a return to Dodger Stadium, where he was part of two World Series teams before winning one as a manager in Anaheim in 2002. For one thing, it cuts his grueling 73-mile commute nearly in half. He lives in the western reaches of Los Angeles County.
Of course, both teams would probably prefer that their regional rival were a little less competitive. The Angels are pushing hard, one game behind the A's. The Dodgers are trying to fix some issues at the back of their rotation and just lost two of three to the last-place
Chicago Cubs
. They are 2½ games up on the
San Francisco Giants
. A four-game sweep would be a major, though far-from-fatal, blow to either team's World Series hopes.
With Trout, 22, leading them in all the major offensive categories, the Angels are second in the majors in runs and fourth in slugging. It will be a far tougher task than Dodgers pitchers have been facing, but then again there's nothing wrong with starting a series with Greinke and Kershaw, as the Dodgers will do Monday and Tuesday night at home. Since his June 18 no-hitter, Kershaw is 7-0 with a 0.68 ERA.
"I always look at it like pitching stops hitting, and no matter how good teams are, it depends who's pitching," Mattingly said. "It changes things."
Mattingly is aware of the challenges the Angels bring, but even when they were struggling, he never took these series lightly for one major reason: Scioscia.
"Mike's teams are always prepared, and you know they're going to play smart," Mattingly said. "They usually play fast. I know he's gotten away from that a little bit, but they usually play fast and they put pressure on you, so they let you know where you're at."
That's a pretty good way of summarizing these next two miniseries. By the end of them, each team should know where it's at.
May, 28, 2013
5/28/13
10:34
PM PT
LOS ANGELES – First, there was the picture that circulated on the Internet of
Hyun-Jin Ryu
at In-N-Out Burger with a platter of three hamburgers in front of him and one in his hand. Then, he got to Arizona and couldn't keep up with the other
Los Angeles Dodgers
pitchers in their first conditioning runs.
Once he'd been there awhile, he approached pitching coach Rick Honeycutt and said he preferred not to throw between starts. Typically, major-league starters throw a fairly strenuous bullpen session two days after they pitch.
[+] Enlarge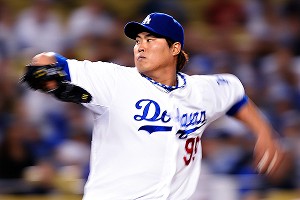 Harry How/Getty ImagesHyun-Jin Ryu is 6-2 with a 2.89 ERA. On Tuesday against the Angels, he recorded his first shutout, allowing just two hits.
The Dodgers' $62 million investment must have had some people wondering if he was going to work for the money when he first showed up.
"He came in with his way of doing things and wanted things a certain way," Dodgers manager Don Mattingly said. "When you've had success, why would you change it. It's been a pretty good decision not to push our way on him."
The lax treatment of the Dodgers' rookie left-hander from Korea has its limits, though.
"We can't just let them do whatever they want or they would be doing nothing, really, for the most part if you just let them," Mattingly said. "Certain parts of the program he has to do like everyone else."
He may not have a chiseled physique -- the first comparison Dodgers scouts made of him was to a young
David Wells
-- but who really cares so long as he keeps pitching like him? He's two months through his first season as the pioneer Korean professional leaping straight to the major leagues, and it couldn't have gone much more smoothly.
Ryu is 6-2 with a 2.89 ERA, and Tuesday was the epitome of his surprisingly breezy cultural exchange. He may be a rookie technically, but be real: He's an eighth-year pro and you can tell he knows how to set hitters up.
He has noted the primary difference between major league hitters and those of the Korean Beaseball Organization is that the Americans are "very aggressive" and "just have brute strength."
That certainly was the case Tuesday with Ryu facing a muscular collection of
Los Angeles Angels
hitters, all right-handed:
Mike Trout
,
Albert Pujols
,
Mark Trumbo
and
Howie Kendrick
. It didn't matter, because Ryu can use aggression against the perpetrator. He mixed a popping 93-mph fastball with a high-70s changeup and low-70s curveball to baffle them all night.
Ryu allowed just two hits in nine innings.
"I didn't think my first shutout would come this early in the season," Ryu said.
Just stay out of his way and this could be just the beginning.
May, 28, 2013
5/28/13
5:53
PM PT
LOS ANGELES –
Derek Jeter
slid into second base, called timeout and had a few seconds to chat with
Baltimore Orioles
second baseman
Jerry Hairston Jr
.
Like the rest of baseball at that time -- late May of 2004 -– Hairston was aware of how badly the
New York Yankees
captain was struggling.
Through 184 at-bats, Jeter was hitting .190 and -– yes -– getting booed at Yankee Stadium.
"I turned to him and said, 'DJ, you all right?,'" Hairston said. "He goes, 'Oh yeah. I'm a bad boy.' And that's the mindset you want."
Matt Kemp
said he has had conversations with several future Hall of Fame players as his struggles have dragged through the season's first two months. He wouldn't say who he has spoken to, but he said they've all given him the same advice.
"That I can hit and you've got to believe you can hit and it'll come back," Kemp said. "All I'm going to do is continue to work, grind this thing out and continue to try and help my team in any way possible."
Kemp, 28, is batting .253 with two home runs, 17 RBIs and a .637 OPS in his first 186 at-bats. On Tuesday, for the first time since 2010, Kemp was not hitting second, third or fourth for the Dodgers in a game he started. Don Mattingly moved him into the No. 5 hole.
If he wants to have another such conversation with a Hall of Fame-caliber player, he won't have to get all the way to second base tonight. Angels first baseman
Albert Pujols
was batting .227 with a .646 OPS after his first 185 at-bats. He didn't hit his first home run as an Angel until May 6.
A year ago, reporters were asking Kemp about Pujols' struggles and whether he had become a better player than Pujols.
"I was like, 'Hell no, are you serious?'" Kemp said.
By the end of last season, Pujols was batting .285 with 30 home runs and 105 RBIs -- career lows, but far from shabby.
"That's not bad," Kemp said. "If I can do that, that's a successful season right there, I think."
In 2004, by the way, Jeter rebounded to bat .292 with 111 runs scored.
Hairston took to Twitter Tuesday afternoon and sent the following message to his followers: "Our CF is coming off a tough surgery. keep believing in @TheRealMattKemp and all us."
Hairston has had surgery on his left shoulder and said it can take months to regain full trust in it. He said he tweeted support because he didn't want the booing to get out of hand.
"I didn't want it to become the chic thing to do," Hairston said. "Matt has given this city so much at such a young age. I see how much Matt puts into it."
Here are lineups for Tuesday night's game against the Angels:
Angels
1.
Erick Aybar
SS
2.
Mike Trout
CF
3.
Albert Pujols
1B
4.
Mark Trumbo
LF
5.
Josh Hamilton
RF
6.
Howie Kendrick
2B
7.
Alberto Callaspo
3B
8.
Chris Iannetta
C
9.
Joe Blanton
RHP
Dodgers
1.
Carl Crawford
LF
2.
Mark Ellis
2B
3.
Adrian Gonzalez
1B
4.
Andre Ethier
RF
5.
Matt Kemp
CF
6.
A.J. Ellis
C
7.
Juan Uribe
3B
8.
Luis Cruz
SS
9.
Hyun-Jin Ryu
LHP
January, 24, 2013
1/24/13
4:11
PM PT
Who knows, maybe this is the season it finally happens. The Dodgers, having spared no expense, will field a balanced, dangerous team and feel like they are positioned for a World Series run. The Angels, who jacked up their already formidable power with the surprise acquisition of
Josh Hamilton
, have similar aims.
If there really is to be a Freeway Series in 2013, a lot of things have to go right for both teams. But the team that made -- and makes -- the best personnel decisions likely will go further into October.
Let's break down the key areas of both rosters to try to decipher which team is better constructed to play longer into 2013.
Starting rotation
This is the part of the discussion in which Dodgers fans get to gloat and Angels fans have to just sit there and marinate. You could argue -- in fact, you don't really even have to -- that the Dodgers have better pitchers in all five spots.
We know this because one of the Angels starters,
Joe Blanton
, couldn't have cracked the Dodgers' seven deep. We also know this because one of the Dodgers' starters,
Zack Greinke
, almost helped the Angels make the playoffs.
Jered Weaver
is perfectly ace-like. About 25 teams would put him at the top of their rotation. He has finished in the top five in Cy Young voting three years running and even got a couple of MVP votes last year -- always a cool accomplishment for a pitcher. He won 20 games, had a sub-3.00 ERA for the second season in a row and usually gives you more than 200 innings. And we won't even hold the .250 and .241 BABIPs from the past two seasons against him. Weaver is a fly ball pitcher and he relies on mishits to pitch deep into games. He gets strikeouts when he needs them, which is quite often, actually.
The only reason he doesn't get the edge is that
Clayton Kershaw
might be the best pitcher in baseball. We don't need SABR to tell us that. It's not that scientific. For the past two seasons he led baseball in ERA and was in the top three in WAR for pitchers. If he's not the most dominant pitcher in baseball, he's in the team photo and it's a small team (probably Kershaw,
Stephen Strasburg
,
Felix Hernandez
and
Justin Verlander
).
So, the Dodgers get an edge in the No. 1 department, though it's a fairly slight edge because of Weaver's competitiveness and consistency. "Slight" isn't the right word for the rest of the Dodgers' edge in starting pitching.
Greinke has never come close to touching his 2009 Cy Young season, but neither has just about any other active pitcher. Greinke flirted with a sub-2.00 ERA, led the league in ERA+ and WHIP. Nobody could square him up. He gave up 0.4 home runs per nine innings. He was mediocre the following season, probably in part because of a personal crisis, but has gone 31-11 with a 3.63 ERA the past two years. Is he worth $147 million? Is any pitcher? He's as good a No. 2 starter as there is out there.
June, 12, 2012
6/12/12
10:12
PM PT
LOS ANGELES --
Juan Rivera
drove in four runs, three of them with a tiebreaking, three-run, tiebreaking homer on the first pitch from the Los Angeles Angels'
Jerome Williams
in the bottom of the eighth inning, to lift the Los Angeles Dodgers to a 5-2 victory before a sellout crowd of 55,279 on Tuesday night at Dodger Stadium.
Rivera's decisive home run against his former team capped a four-run rally in the eighth against Williams, who had dominated the Dodgers all night to that point. That rally had begun after second-base umpire called Dodgers shortstop
Dee Gordon
safe on a two-out stolen-base attempt, drawing a passionate argument from Angels manager
Mike Scioscia
-- although televised replays appeared to show Gordon getting his hand on the bag just before Angels second baseman
Maicer Izturis
tagged him on the left side.
The good


Whatever works
. With two outs and a man on third in the top of the first inning, the Dodgers employed a dramatic shift on switch-hitting Angels first baseman
Kendrys Morales
, who was batting from the left side against
Aaron Harang
. Morales hit what would have been a hard single up the middle and would have driven in the run. But instead, the ball was hit directly into the glove of Dodgers shortstop
Dee Gordon
, who never had to move and threw out Morales easily at first to end the inning and save the run.
Eight-five-million-dollar defense
. Hours after finalizing his five-year, $85 million contract extension -- and one inning before delivering a game-tying, RBI single at a critical point in the game -- Dodgers right fielder
Andre Ethier
made a diving catch of a sinking line drive by
Maicer Izturis
to end the top of the seventh, stranding Angels runners on first and third and saving at least one run at a point when the Dodgers already trailed 2-1.
Not his fault
. Harang wasn't exactly dominating, but he wasn't exactly bad, either. In fact, with the Dodgers playing their 19th consecutive game without an off-day, Harang gave them length -- he went seven innings and threw a season-high 118 pitches -- and a strong performance, allowing zero earned runs on six hits with four walks and five strikeouts and whacked his ERA down to 3.59.
The bad
So close
. In the top of the third, an inning in which he suddenly had trouble finding the strike zone, Harang appeared to have escaped another jam when Morales, again with the shift on, hit a grounder right to second baseman
Adam Kennedy
with the bases loaded and two outs. But the ball appeared to take a bad hop, and Kennedy wound up booting it for an error, allowing Morales to be safe at first and
Jerome Williams
to cross the plate with the first run of the game.
Adding insult
. With the Dodgers rallying in the fourth -- they already had scored once to tie the game -- Kennedy stepped to the plate with runners on the corners and one out. But then, Kennedy snuffed out that threat by grounding into an inning-ending double play.
Victimized again
. And then, Harang's defense let him down again in the sixth. With the bases loaded and two outs, Williams hit a grounder that Kennedy fielded flawlessly. But when Kennedy tried to flip to second for the force, Gordon was late arriving. Gordon still got there in time for the out, but in his rush to get there, he failed to catch the ball, allowing Morales to cross home with the Angels' second run, making it 2-1.
June, 11, 2012
6/11/12
11:33
PM PT


LOS ANGELES -- The Los Angeles Dodgers' maddening inability to beat the crosstown Los Angeles Angels continued on Monday night, Dodgers reliever Kenley Jansen giving up a two-out, RBI single to Albert Pujols in the top of the ninth to stick the Dodgers with a 3-2 loss before 50,559 at Dodger Stadium.

The hit came with Mike Trout on second and first base empty, leading to the question of whether Dodgers manager Don Mattingly would have been better off ordering an intentional walk to Pujols with Mark Trumbo on deck. But Trumbo began the night hitting 70 points better than Pujols, so Mattingly rolled the dice and lost.

The Dodgers (39-23) lost to the Angels for the 16th time in 22 meetings dating back to the 2005 season. In losing for just the second time in their past eight games overall, the Dodgers saw their lead over the second-place San Francisco Giants in the National League West shrink to 4 1/2 games.

The good

Turn on a dime. The Dodgers appeared to be in immediate trouble against their longtime nemeses, the Angels loading the bases with one out in the top of the first. But immediately after Chris Capuano issued a five-pitch walk to Mark Trumbo, Howie Kendrick went after the first pitch, grounding into an inning-ending double play. The Dodgers then scored twice in the bottom half to grab an early lead, the big blow a bloop double by Elian Herrera over the head of drawn-in third baseman Alberto Callaspo.

Waking up. Dee Gordon, the Dodgers' embattled leadoff man, may finally be emerging from his long offensive doldrums. The fleet shortstop reached base in each of his first three plate appearances (walk, double, single), scored a run and stole a base, and he now has hit safely in nine of 11 games this month, with a decent .280 average (12-for-43).

Just A.J. being A.J. Dodgers catcher A.J. Ellis walked four times, a career high, in four plate appearances. He never got past first base and actually got picked off after the third one, but it was another example of why he is one of the most underrated offensive players not only on the Dodgers roster but in the N.L. Ellis began the day third in the N.L. in on-base percentage at .422 and tied for sixth in the league with 30 walks.

The bad

Not so opportunistic. Through the first four innings, the Dodgers were hitless in seven at-bats with runners in scoring position, including a run-scoring groundout by Ethier in the first inning. That also included wasting a leadoff double by Dee Gordon in the third, Garrett Richards coming up with back-to-back strikeouts of Ethier and Bobby Abreu after Gordon had gotten to third with one out. Even when the Dodgers finally did get a hit with a man in scoring position in the fifth (their ninth such at-bat), it wasn't really a hit. By the rules, Abreu was credited with a single when his two-out ground ball hit Gordon in the back for the final out of the inning.

Failure multiplied. On the night news broke of his new five-year, $85 million contract extension, Ethier's June swoon continued, and at the worst possible time considering the Dodgers need him to pick up the slack during Matt Kemp's absence. In his first four at-bats, Ethier grounded out and struck out three times, each of the first three at-bats coming with at least one runner in scoring position. Ethier still leads the N.L. in RBI with 52, but for June, he is hitting .119 (5-for-41) overall, with 15 strikeouts in 46 plate appearances. And oh, by the way, Ethier also allowed Trout to take an extra base on his game-tying, two-out, RBI single in the sixth, Ethier overthrowing the cutoff man with a rainbow to the plate that had absolutely no chance of cutting down Erick Aybar.

What happened? And speaking of June swoons ... Capuano's performance was far worse than his pitching line would indicate. He was charged with just two runs in five-plus innings, but he lived on the edge all night, the Angels stranded eight baserunners during the first five innings, six of them in scoring position. Of the 25 batters Capuano faced, 12 of them reached base via hit or walk. More alarming is the fact that a trend seems to be developing: Capuano was 7-1 with a 2.14 ERA through the end of May, but in three June starts, he is 1-1 with a 5.87 and hasn't lasted longer than 5 1/3 innings in any of them.
March, 18, 2012
3/18/12
4:42
PM PT
GLENDALE, Ariz. -- A little while before the skies opened up over the desert and prematurely ended Sunday's Cactus League game between the Los Angeles Dodgers and Los Angeles Angels, a 1-1, 5 1/2-inning tie before 13,648 at Camelback Ranch, Albert Pujols grabbed his stuff and headed up the leftfield line after the top of the fourth inning, his prescribed two at-bats already in the books.
On his way past the Dodgers dugout, though, the celebrated Angels first baseman stopped and chatted for about 45 seconds with Don Mattingly.
``I have kind of gotten to know Albert the last couple of years,'' the Dodgers manager said.
Mattingly, who lives in Evansville, Ind., and Pujols, who lives in Kansas City, Mo., each are heavily involved in charities. Mattingly is affiliated with Youth First, an Evansville-based nonprofit dedicated to strengthening youths and families. Pujols and his wife head up the Pujols Family Foundation, which seeks to help those affected by Down syndrome.
Mattingly buys a table at one of the Pujols Foundation annual fundraising events in St. Louis, and Pujols reciprocates for Youth First.
``We have gotten a chance to talk over the last few years,'' Mattingly said. ``I met his family, met his wife. He is just a great guy. ... Albert is a genuine guy. What he seems to be is what he is. He does a lot of work and puts in a lot of time (with the foundation).''

The Angels' Dan Haren got credit for a rare Cactus League complete game after pitching four perfect innings against a Dodgers lineup that didn't include Matt Kemp, Andre Ethier, Juan Rivera or James Loney. Haren then gave up the tying run in the fifth when Adam Kennedy led off with a double and scored on Juan Uribe's single, and the game was called immediately after the top of the sixth. Haren came in having pitched five shutout innings and allowed one hit in two previous starts this spring.

Chris Capuano, who figures to be slotted fifth in the Dodgers rotation this season, made his third Cactus League start and limited the Angels to two hits over four innings, retiring the final 11 batters he faced after Mark Trumbo gave the Angels an early lead with a sacrifice fly in the top of the first.

After the game, the Dodgers (8-4-4) added four cuts to the four they made in the morning. The afternoon casualties all were non-roster players: catchers Gorman Erickson and Matt Wallach, infielder Lance Zawadzki and first baseman Jeff Baisley. ... Reigning National League Cy Young Award winner Clayton Kershaw is scheduled to make his third Cactus League start, throwing about 80 pitches, against the Cleveland Indians on Monday in Goodyear, but there is more rain and unseasonably cool weather in the forecast.