Dodgers Report:

Australia
March, 15, 2014
Mar 15
10:01
PM PT
GLENDALE, Ariz. -- The
Los Angeles Dodgers
have been taking this Australian time-zone challenge seriously.
Team trainer Stan Conte has been conferring with sleep experts for weeks. The squad is installing special light bulbs on the team plane to mimic the daylight hours in Australia. Dodgers manager Don Mattingly and some players are wearing special watches to monitor their vital signs.
There is a workout mere hours after the team plane touches down in Sydney simply to keep the players from sleeping during the day.
[+] Enlarge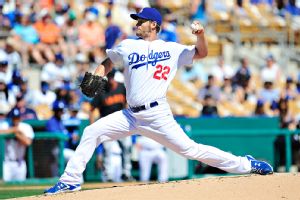 Gary A. Vasquez/USA TODAY SportsEven if opening the season in Australia means major time-zone adjustments, Clayton Kershaw is be happy to put the exhibition season and his 9.21 ERA behind him.
But, no matter what they do, it's still going to be a little strange, especially for
Clayton Kershaw
.
Opening Day 2014 will offer a series of challenges to Kershaw, but none figures to be more extreme than the fact he will be pitching in the middle of the night. The first game of the Dodgers' season starts on Saturday at 7 p.m. in Australia, or 1 a.m. Pacific.
The Dodgers arrive in Australia on Tuesday morning. Kershaw will have four days to adjust.
"They're trying everything," Kershaw said. "They're trying to keep us up right now, just try to stay up as late as possible. You get on the flight, you're supposed to stay up for a few hours. If you can stay up for the first few hours, that's a game plan. I'm going to try."
He downloaded multiple episodes of "Friday Night Lights" to watch on the team's flight, which lasts about 15 hours. Kershaw didn't have a particularly dazzling spring in 2013 -- a 4.18 in seven starts -- and things worked out just fine. Kershaw won his third straight ERA title and won his second Cy Young in three years.
This has been a rougher spring and also a shorter spring. After giving up two home runs to the
Chicago White Sox
in a 5-4 loss Saturday night ---one of which was an inside-the-park job that should have been ruled a Joc Pederson error -- Kershaw will end his exhibition season with a 9.21 ERA in four starts. He said he his arm feels good; he just hasn't found his best command yet.
"Obviously, I don't want to have a 9.00 ERA in the regular season, so I'm going to try not to have that," Kershaw said.
March, 11, 2014
Mar 11
11:08
AM PT
One of the great mysteries and nagging worries for the Dodgers all spring has been this: What will playing their first two games 7,500 miles from home do to the rest of their season?
It may not be a logistical nightmare, but it's certainly a challenge: After playing their final Cactus League game Sunday, the Dodgers catch a midnight charter for Sydney, Australia.
They have a day to adjust to the time zone (16 hours ahead of PDT), a workout Wednesday, an exhibition game Thursday and real games against the
Arizona Diamondbacks
Saturday night and Sunday afternoon. In between, MLB has lots of sightseeing activities planned.
Following Sunday's game, they bus to Sydney Kingsford Smith International Airport and fly east for 13 hours. Oddly, they'll land in Los Angeles Sunday about five hours before they took off in Australia. Then, they have four days off before any game, an exhibition against the Angels, and a week off before North American Opening Day in San Diego.
That layoff, of course, could do more damage than the trip itself. Jet lag is one thing. A stop-and-start season is equally worrisome.
Dodgers manager Don Mattingly was a coach on the 2004
New York Yankees
, who opened the season against the
Tampa Bay Rays
in Japan, then came home and went 9-11 in early games before rallying and making it to the American League Championship Series.
"We came back with four spring training games and that was miserable and we started bad," Mattingly said. "Those are the things I worry about. The bell rings, those two games count, then you come back and say, 'Don't matter.' I worry about bad habits."
The Dodgers' players voted to go, so they have no one to blame but themselves (or their teammates) if it sends them into the season a bit sluggishly. Not everyone voted "yes," of course, with the most public abstainer being pitcher
Zack Greinke
, who now won't have to make the trek after injuring his calf.
History suggests that teams have been able to overcome the rigors of overseas openers, but there has been an early price to pay.
Major League Baseball has opened its season six times outside the continental U.S., but the first two were in Mexico and Puerto Rico, which offer only minimal travel and time-zone adjustments.
The last four were in Japan. One World Series team, the 2000
New York Mets
, came out of such a series. Four of the eight teams reached the playoffs and two other teams, the 2004 Yankees and 2008
Boston Red Sox
, went to league championship series. In other words, a lot of teams have started on the other side of the Pacific and gone on to great things, but it wasn't easy.
Mattingly's Yankees weren't the only team to start a bit sluggishly after playing in Asia. Every playoff team that started in Japan got off to a losing start: The 2000 Mets started 5-8; the 2008 Red Sox went 5-6; the 2012 Oakland A's started 4-7.
The only one of the eight teams to start with a winning record was the 2008 A's, who lost 85 games that year. The 2004 Rays had the worst start: 9-23. There certainly seems to be some sort of lag effect.
A's general manager Billy Beane doesn't believe it's a major concern, telling MLB.com, "We had no issues getting players ready."
On the other hand, Beane said it did present some challenges. The A's had to face
Felix Hernandez
twice in their first four games. The Dodgers could benefit from the weird schedule by using
Clayton Kershaw
three times in their first six games without asking him to pitch on short rest.
They haven't decided whether they'll take advantage of that option, though they did announce Kershaw will pitch the first game in Australia, so it's open. There's no reason he wouldn't also pitch the opener in San Diego, considering he'd be working on seven days' rest. If he pitches the Dodgers' home opener, too, on April 4, he'd be working on the customary four days' rest.
Kershaw told reporters earlier this spring he was preparing himself for the rigors of the off-kilter throwing schedule. He spoke with the Arizona Diamondbacks'
Brandon McCarthy
, who pitched in Japan for Oakland.
"He said coming back is the hardest part, to get ready for the season," Kershaw said. "It's definitely not an ideal situation travel-wise, but I guess we've got to make it work."
There's always this to fall back on: If you think the Diamondbacks are the Dodgers' biggest challenge in the division this year, they've got to try to make it work, too.
March, 10, 2014
Mar 10
10:47
AM PT
In less than a week, the Dodgers and Arizona Diamondbacks will board their chartered airplanes for their 15-hour flight to Sydney, Australia. In less than two weeks, they will have already played the first two games of Major League Baseball's 2014 season.

With their two-game series at the historic Sydney Cricket Ground rapidly approaching, we thought we'd catch up with the perfect ambassador for Australian baseball, Craig Shipley. Not only was he the first Australian-born player in the modern era to compete in the major leagues, he broke in with the Dodgers. Oh, and he now works for the Diamondbacks, as a special assistant to general manager Kevin Towers.

Q. Craig, how would you describe the state of baseball in Australia in 2014?

A. It's not a major sport. There is tremendous competition in Australia for the attention of sports fans. It's one of the countries in the world where you have more competition for athletes and media attention than virtually any other. You have cricket, Australian-rules football, rugby, rugby union, field hockey, tennis, swimming. There are lots of sports in Australia and most kids play some type of sport. Baseball just doesn't have the profile other sports have. It doesn't have the participation base.

Q. So, what drew you to the game?

A. Thirty years ago, baseball was the winter sport and cricket was the summer sport. At some point around that time, baseball switched to a summer sport. My dad had played cricket, but when he was in his 20's, he chose to switch to baseball. It was the first sport I was exposed to. He was heavily involved in the local club. I've been around baseball since I was born. I probably started playing when I was six or seven. I played other sports, too. I played soccer for a year, rugby for three or four years, including my last year of high school. Outside baseball, rugby was my favorite sport.

Q. So, how did on earth did the Dodgers find you?

A. At the time I left Australia, nobody scouted the country. Kids of my generation who wanted an opportunity had to figure out a way to get into a U.S. college. I'd made my first trip to the U.S. in 1979 on an under-18 national team that played at Georgia Southern. It was my first exposure to American baseball. At the end of that trip, I expressed an interest to one of the coaches who had just left Georgia Southern to be an Alabama assistant coach. I said I'd like to play college baseball and asked him what I needed to do to play in college. I came back the next year and stayed in touch with the coach. His name is Roger Smith and he's now a scout for the Cardinals. Eventually, he caved in from me badgering him all that time.

Q. So, the Dodgers drafted you out of Alabama?

A. At the time, if you weren't a U.S. citizen, you didn't go into the draft. I was a free agent. I think they changed that the next year. But I had been exposed to the Dodgers 15 years before, when [Dodgers coaches] Monte Basgall and Red Adams visited Australia. I just remember them standing on our field in a Dodger uniform. It made a huge impact. We weren't exposed to major league baseball. We didn't get it on TV, nobody scouted the country. We knew it existed, but it was in this far-away place with no legitimate access to information. To see these guys on the field, that was a big deal. When I was in college, if I had an opportunity to sign with the Dodgers, it was pretty much a done deal.

Q. How do you expect this Opening Series to be received in Sydney?

A. I think there is going to be a huge reception. Australia is a sports-mad country. The games will be sold out, they're at a historic venue. There's a tremendous amount of attention on this series and it's really starting to build as it gets closer and closer. It's going to be a very successful event and, as you know, when MLB takes the show on the road, things will be done very well.

Q. Since you were a kid, has there been a lot of progress made in building up baseball in Australia?

A. I base a lot of whether we're making progress on the amount of participation. I'm on the board of Baseball Australia and I've always been plugged into what's going on there. I went in 2002, coaches the Australian team at the World Cup. I was on the staff during the first WBC, which was not a huge commitment but was fun. MLB has been influential and the reach is now global. In that regard, things have changed. They have an MLB academy there in the summer, which is a great thing for young players in the country. But participation-wise, the numbers have remained fairly stagnant. Hopefully, this series will give some impetus and attract enough attention to get more kids into baseball.

Q. You broke into the majors in 1986. Since that time, it certainly seems as if Australian players have become more commonplace in the majors. I've covered a few. The Dodgers had Peter Moylan. The Angels had Rich Thompson.

A. Yes, but Grant Balfour is the only player widely projected to be on an Opening Day roster this year. Travis Blackley spent some time with Texas and Houston last year. Ryan Rowland-Smith is trying to make our roster. The problem is no longer scouting. Australia has been heavily scouted for the last 15 years. If any country has a history of playing baseball, it will be scouted and Australia has a long, long history. What determines the number of players coming from a country is how many athletes are playing that sport. If you go to Cuba, the Dominican Republic or Venezuela, most young boys are playing baseball. You have a lot more athletes to choose from.

Q. Some players, most notably Zack Greinke, have grumbled about having to make the long trip to play games. Do you think the ones who go will have a better time than they think they're going to have?

A. I would imagine. The culture is very similar to the U.S. There's no language barrier. The foods are the same. The diets are very similar. You've got a beautiful city with one of the prettiest harbors, if not the prettiest harbor, in the world. The ballpark is 10 minutes from the hotel. I think the players will really enjoy the trip.

There's no way around it. It's a long flight. Fifteen hours on a plane for anybody isn't a particularly fun thing to do. But once they hit the ground and are exposed to the city, I think most, if not all, of the players and the traveling parties will really enjoy it.


March, 4, 2014
Mar 4
11:30
AM PT
Clayton Kershaw
is upset with his results
this spring.
After walking three Oakland A's batters and giving up a couple of RBI hits in the third inning of his second spring start, Kershaw told reporters in Arizona, "I'm searching for answers right now."
[+] Enlarge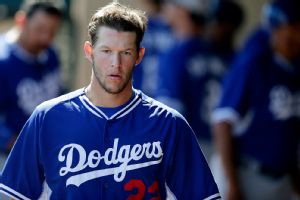 AP Photo/Gregory BullClayton Kershaw says he's "searching for answers" in reference to his two very average outings during spring training so far.
This kind of accountability is refreshing, of course, since most pitchers after a bad Cactus League start will tell you they felt "great," and were unconcerned with the results. But is Kershaw's concern telling in any way? It sounded a bit familiar, considering a year ago
he was saying exactly the same kinds of things
.
Kershaw has started two games this spring and looked nothing like himself. In four innings, he has as many walks (four) as strikeouts and he has given up seven hits and eight runs.
The minute Kershaw got out of the desert a year ago, things changed. He walked to the mound at Dodger Stadium and pitched a four-hit shutout, improbably hitting the home run that propelled the Dodgers to victory over the
San Francisco Giants
on Opening Day. He went on to win his second Cy Young award in three seasons.
So, take his Arizona comments with a grain, if not a shaker-full, of salt. On the other hand, they're not entirely to be dismissed. There is one glaring difference between 2013 and 2014: Australia.
When Kershaw expressed his frustration last spring, he had 20 more spring innings to get things right and he did just that, ironing out his command issues in time for the season. If the Dodgers keep Kershaw on his current turn, he would pitch Opening Day in Sydney on March 22, giving him just two more Cactus League tuneups and about eight or nine more innings, tops.
So, should the Dodgers hold him out of the Australia series? You could probably build a pretty good argument for that, considering they're trying to get a better handle on his innings after he pitched 259 of them a year ago. But
Zack Greinke
has already been essentially eliminated from those games by his strained calf and Arizona manager Kirk Gibson has let it be known that
Patrick Corbin
and
Trevor Cahill
will pitch those games.
It's not as if the Dodgers couldn't compete in those games with
Hyun-Jin Ryu
and
Dan Haren
on the mound, but they'd certainly stand a better shot of flying home happy if Kershaw pitched in one of them. He still has time to get a positive roll heading into the season, but less time than you might think.
February, 28, 2014
Feb 28
2:07
PM PT
GLENDALE, Ariz. -- As the only Dodgers player who will actually be closer to his home when the team opens its season in Australia in a few weeks,
Hyun-Jin Ryu
offered some advice about adjusting to such a flar-flung time zone.
"The best thing to do is not to sleep during the day. No naps," Ryu said through a translater. "There's no secret formula."
Ryu might need to heed his own advice, because after
Zack Greinke
left his first spring start with a strained right calf Thursday, Ryu's chances of pitching at the Sydney Cricket Ground against the
Arizona Diamondbacks
increased considerably. In fact, it looks quite likely.
A native of South Korea, Ryu said he would do whatever manager Don Mattingly asks. If he wants him to pitch in Australia, great. If not, no problem.
Ryu started his spring off with two strong innings against the
Chicago White Sox
Friday.
The major challenge for Ryu will be avoiding a sophomore slump. He went 14-8 with a 3.00 ERA last season. Had he allowed one fewer run, he would have lived up to his stated preseason goal of pitching to a sub-3.00 ERA. But he won't be sneaking up on teams any longer. Ryu was 10-3 with a 2.83 ERA in starts in which he was facing a team for the first time and 4-5 with a 3.30 ERA the second time through the league.
"I think they're going to know his off-speed, how good his changeup is," Dodgers manager Don Mattingly said. "It didn't take that long, really. You could see teams trying to make adjustments last year."
Ryu said his goal this season is to make every start. He missed a few starts last year with a foot injury and some general fatigue.
February, 27, 2014
Feb 27
2:36
PM PT
GLENDALE, Ariz. --
Zack Greinke
spoke slowly, carefully, painstakingly.
He didn't take the easy way out by lazily insisting his words were taken out of context. In fact, he said the characterization of his remarks was fair.
[+] Enlarge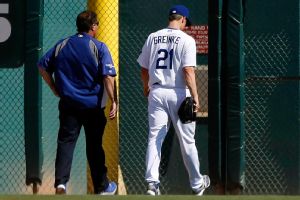 Rick Scuteri/USA TODAY SportsZack Greinke threw just four pitches before leaving his spring training debut.
Nor did he retract his
comments
about having "zero excitement" for pitching in Sydney, Australia, where the
Los Angeles Dodgers
open the regular-season against the Arizona Diamondbacks on March 22-23.
He didn't apologize to anyone in Australia, though high-ranking members of the Dodgers' front office urged him to take a step back. He was against going Down Under all along, he admits, even volunteered he voted "no" when Dodgers players had their say.
Of course, what some outraged people in Australia might want to acknowledge is those comments had nothing to do with their country. Who has anything against Australia? It had everything to do with traveling 17 time zones away, being forced to get ready after four Cactus League starts and then having an eight-day layoff before resuming his season.
Greinke stands an ice cube's chance in the Outback of pitching in Australia after
he exited the Dodgers' second spring training game
because of a strained right calf. But the entire uproar gave a pretty revealing glimpse into one of the frankest, most routine-oriented players in the major leagues.
"I've never been really big on what peoples' perceptions are of me," Greinke said, stating what appears obvious. "The only goal is to try to win as many games as possible this year and not really take two games for granted, not taking one game for granted, not taking the first month for granted, not taking the season for granted."
February, 25, 2014
Feb 25
12:09
PM PT
A.J. Ellis might be the best Dodger player to check in with on the state of the team.
He takes a big-picture view of things anyway, but he's also in an ideal position. As the starting catcher, he spends roughly equal time with the pitchers and hitters. We caught up with Ellis to check on some of the key themes rippling through Dodgers camp, the trip to Australia, the state of bad blood with the Arizona Diamondbacks and Clayton Kershaw's new contract, among other topics.
Q. You guys open the exhibition season tomorrow against the Arizona Diamondbacks, the team you brawled with last season. How would you describe the state of relations between the two NL West rivals in the wake of Pool-gate and everything else?
A. It's 2014. I think the season's turned over, so it's going to be played on the field. What you have is two teams that really play hard. They've taken on the personalities of their managers. They're both hard-nosed, play to win the game, protect their teammates type guys. We just know we're in for a battle every time we get ready to play the Diamondbacks. They play us hard every time and we respect the way they play. We know they're going to protect their guys and we're going to protect ours.
Q. In November, both teams sent goodwill contingents to Australia in advance of the opening series there next month. Arizona sent Paul Goldschmidt and Patrick Corbin. You were the lone Dodgers player, prompting Kirk Gibson to say, "Who's the other team got down there? Are they too (expletive) good? Honestly," according to the Arizona Republic. Did that bother you?
A. It's funny. We had a PR presentation today about not responding quickly when things happen. I think it was a blessing for me that I was in Australia when that happened and I didn't have Internet access and I didn't immediately go on my Twitter feed. The more I thought about it and stuff, it was just probably taken a little bit out of context. I'm just honored the Dodgers thought highly enough of me to send me.
Q. Are you the only guy in this clubhouse who has been to Australia?
A. Brian [Wilson] has been a couple times, for holiday.
Q. Of course he has. Have you talked to the guys about what the long flight is like and how it could affect the team's bodies for playing games and then returning?
A. Some guys have asked and I've tried to give a little insight, alleviate any concerns they may have. Fortunately, MLB and the Dodgers put us in first class. You can get pretty comfortable. You sleep for most of the trip, watch some movies the rest of the time and move around a little just to keep moving. It's just one of those things we have to do.
Q. Two of the starting pitchers, Zack Greinke and Dan Haren, have expressed some concerns about what it might do to their routine. What do you make of that?
A. Baseball players, we're some of the most routine-oriented people out there. It's going to be tough for guys who are very dedicated to that, but the way I looked at it, too, is that one of the greatest things about being a major-league baseball player is the life experiences you get. The people you get to play with from all over the world, from Korea and Cuba and Venezuela and the Dominican Republic, people I would have never met before. It's also experiences like getting to travel to Australia, two years ago getting to travel to China. I feel fortunate and I feel like we should all feel really excited about embracing one of the perks.
Q. What did you think, specifically, about Zack's comment about having "zero excitement" for going to pitch in Australia?
A. I love how Zack is himself. I love how Zack is very honest. When I get off an airplane in a city and I'm looking for somebody to have a meal with, I'm looking for Zack because it's going to be a great conversation, he's going to tell you exactly how it feels and it's going to be a great time. He thinks outside the box. Zack is definitely a guy who sticks to his routine and I can definitely see how this is going to take him out of his comfort zone a little bit, but if he's one of the guys picked to throw in Australia, he's also one of the most competitive, professional people I've ever been around. So, he's going to take the mound with one goal in mind, to win the game. We'll have to manage all the logistics and adjustments to his routine.
Q. Knowing Clayton Kershaw as well as you do, how do you feel his new seven-year, $215 million contract will affect him?
A. I think it's going to affect a lot. The main thing it's going to affect is the amount of people he's going to help out. It's not going to change him at all personality wise. He and his wife are just amazing philanthropists who just have a passion for people. This is going to allow them to impact the lives of so many more people. Clayton is still driven by one things, a perfect season – 34-0 when he pitches and a World Series championship. Maybe after a season like that, which we all know is near impossible, we can talk about him changing how he is on the field. He's not going to change.
Q. The big deal won't take away his hunger?
A. It's going to take away my hunger, because he's going to be picking up every meal on the road now. Clayton's from such a background of such deep faith, he knows this is just something he can use to help other people. He's very simple, not a guy who's big into accumulating things or into the life of luxury. It's about being comfortable, but also about helping other people.
February, 24, 2014
Feb 24
12:12
PM PT
GLENDALE, Ariz. -- The Dodgers are considering holding
Clayton Kershaw
back until the team returns from Australia and
Zack Greinke
made
his opinion
of pitching Down Under fairly clear this week, so how do the other Dodgers starting pitchers feel about opening their season across the Pacific?
One scenario the team has discussed is using
Hyun-Jin Ryu
and
Dan Haren
, the Nos. 3 and 4 starters, for those two games.
Haren said he hasn't heard one way or the other whether he'll pitch in Australia. He'll be ready if they ask. But how does he feel about it?
"Look, it's a long trip for us. Going over there, it's going to be tough, but we have to think of the games, they're real regular-season games so we have to turn the switch on," Haren said. "In regards to the actual trip, it's going to be a lot to handle, especially for the starting pitchers.
"But, I mean, are we really complaining about flying on a chartered plane, staying in a hotel, all-expense-paid? I don't want to be complaining about it."
February, 16, 2014
Feb 16
11:45
AM PT
GLENDALE, Ariz. -- On
Clayton Kershaw
's final pitch Sunday morning, he snared a low line drive off the bat of one of the
Dodgers
' minor league hitters.
"That was good. If I didn't catch it, it probably would have hit me right in the shin," Kershaw said.
That sentiment kind of sums up why the Dodgers have yet to announce Kershaw as their Opening Day starter. Starting the season more than a week earlier than other teams in Australia, the Dodgers are, in fact, getting their top four starters ready to pitch in Australia. The likeliest candidates for the two Australian games, of course, are Kershaw and
Zack Greinke
, but one small setback could bump either one's first start to some time in April.
Thus, they're keeping their options open.
"I'll pitch whenever they tell me to," Kershaw said. "I don't care when or where."
Kershaw's first action against live hitters was uneventful. He threw 25 pitches, one of which was a changeup, his project pitch again this spring. He otherwise mixed fastballs, sliders and curveballs -- a typical repertoire -- and said afterward, "Everything still works, so that's good."
Dodgers manager Don Mattingly talked earlier in the day about monitoring Kershaw's workload coming off a 259-inning season in which his young ace was on the mound later than ever before in his career: on Oct. 18, Game 6 of the National League Championship Series. Kershaw said he understands the sentiment but didn't feel tired in the playoffs.
"I've never been a big fan of monitoring innings. I feel like throwing 100 pitches in nine innings is a lot different than throwing 100 pitches in five innings," Kershaw said. "Stressful innings is kind of what you've got to monitor, and I understand that."
February, 16, 2014
Feb 16
9:07
AM PT
GLENDALE, Ariz. -- In a sense,
Clayton Kershaw
's 2014 season will begin Sunday morning, on a back field at the
Dodgers
' spring training camp with a handful of fans in attendance.
Kershaw, along with young pitchers Ross Stripling and
Seth Rosin
, was scheduled to throw live batting practice to Dodgers hitters, his first time throwing to hitters since Game 6 of the National League Championship Series. Presuming Kershaw gets through the spring without any physical setbacks, he figures to start the Dodgers' opener in Australia on March 22.
Because the Dodgers have a week off when they return to the United States and open dates on March 31 and April 3, they could use Kershaw three times in their first six games. Dodgers manager Don Mattingly said that won't happen.
"We're very mindful of Clayton and the number of innings he pitched last year and the short winter," Mattingly said. "We're not going to baby him, but we're going to pay attention to how many innings."
Kershaw, 25, who signed a record-breaking, seven-year, $215 million contract last month, pitched 259 innings last season. That eclipsed his previous career high by more than 15.
Kershaw's worst outing of the season came in that final playoff game, when he allowed seven
St. Louis Cardinals
runs on 10 hits over four innings. Previous to that, Kershaw had been dominant in the playoffs after winning his second Cy Young award in three seasons.
"You'd see it three or four times last year where it's just not clean. He's having to fight the whole game," Mattingly said. "Those wear on guys. There are other games where you throw nine innings, but it's 10, 11 pitches an inning and it seems like he's just out there playing catch."
The Dodgers have not announced an Opening Day starter yet.
October, 25, 2012
10/25/12
11:45
AM PT
According to a
report
in The Sydney Morning Herald, the Dodgers and Major League Baseball are in negotiations to open the team's 2014 season in Australia, likely against the Arizona Diamondbacks.
The deal is not finalized -- and no teams have been formally announced -- but an Australian official leaked some of the behind-the-scenes details to a reporter, Adrian Proszenko. The game would be played at the historic Sydney Cricket Grounds, according to the report.
"If we can get Major League Baseball's season opener, which we're working on, in a couple of years' time at the SCG, it will really put the game on the map,'' said Bob Turner, chairman of the Sydney Blue Sox baseball team. ''Especially if we can get the L.A. Dodgers to come, where Magic Johnson is the spokesman-owner. That would be great for the game to give us a profile no other sport can really match.''
The major league season has opened in Japan four of the past 12 years and MLB has long explored the possibility of branching out to other global venues. The disruption caused by such long flights has been among the biggest stumbling blocks. Last season, the Seattle Mariners and Oakland A's played in Japan on March 28, one week before the other teams began their seasons.