Dodgers Report:

Barry Zito
October, 2, 2012
10/02/12
10:49
PM PT
LOS ANGELES -- The
Los Angeles Dodgers
fought stubbornly against stiffer and stiffer odds, but the law of averages caught up to them in the end.
Their six-game winning streak came to a halt -- and so did their postseason aspirations -- with Tuesday night's 4-3 loss to the
San Francisco Giants
in front of 42,475 fans at Dodger Stadium.
The Dodgers had an opportunity to make Wednesday a thrilling final day of the season when the
St. Louis Cardinals
lost 3-1 to the
Cincinnati Reds
earlier on Tuesday. The Dodgers saw the final in the top of the fourth inning, but they couldn't take care of their end in a frustrating loss.
The defining moment was
Mark Ellis
desperately trying to stretch a double and getting thrown out at third base by 10 feet with one out in the seventh inning. That might have proved the tying run had Ellis been more cautious, as
Shane Victorino
followed with a triple.
The Good:


Battling back.
A.J. Ellis
took a fastball down the middle from
Guillermo Mota
for strike two. Then he did what he does. He took a few borderline pitches, got the count to 3-and-2, then got a pitch to hit. This time, he pulled the trigger, hitting a towering fly ball to center field that narrowly cleared the fence for a two-run home run to cut San Francisco's lead to one in the seventh inning. It was an outstanding at-bat, in a big spot, for a player who has been among the Dodgers' best players this season.
Lockdown.
When the Dodgers have gotten the ball to their key relievers lately, it has been over. The combination of hard throwers
Ronald Belisario
,
Kenley Jansen
and -- if they can re-sign him --
Brandon League
could give the Dodgers an excellent bullpen in 2013. Belisario worked his fourth straight game -- fourth! -- and got a crucial out. Jansen was the most impressive, though. The Giants' best hitters all struck out swinging against his lively fastball in the eighth. Jansen needed only 13 pitches to strike out
Pablo Sandoval
,
Buster Posey
and
Hunter Pence
.
Live wire.
Much like
Adrian Gonzalez
, Victorino got off to a sluggish start as a Dodger but quietly he has been coming on lately. Victorino had a double and a triple, though he was stranded both times. He's batting .429 with five extra-base hits in the five games of this homestand. Victorino was stranded in scoring position both times when
Matt Kemp
made the final out of the inning.
The Bad:
Capuano's capers.
He has had a solid -- borderline good -- season, but he'll probably be remembered for Tuesday night's start, his shortest of the season. With the importance of the game, Dodgers manager Don Mattingly wasn't going to give
Chris Capuano
much of a leash, and Capuano didn't seem to merit one. Even the outs he was getting were loud and he gave up deep home runs to Buster Posey and
Joaquin Arias
to put the Dodgers in an early hole. Capuano hurt his left shoulder taking batting practice when the doughnut on the bat smacked him near the shoulder blade. Put it all together and you have the makings of a memorable pennant race pitching meltdown.
Intentional talk.
There will be some discussion of Mattingly's decision to intentionally walk
Angel Pagan
in the fifth inning to face
Marco Scutaro
, who was riding a 19-game hitting streak. It will be warranted, of course, but one fact to consider: In 19 at-bats against
Jamey Wright
, Scutaro had two hits. Make that three. He ripped a double into the right-field corner for the key hit. Scutaro just isn't the kind of guy you want to face when all the other team needs is a base hit.
Missing piece.
Matt Kemp swung at a slider in the dirt in the seventh inning and chucked his bat. The Dodgers best hitter had a great week, but in the Dodgers' past two games, with the season in the balance, he was virtually silent. He went 0-for-4 in Monday's win and came up in the key at-bats of the game -- with runners at first and second and two outs in the fifth and with the tying run at third in the seventh -- and came up empty. He's batting .393 with four home runs and nine RBIs in his past seven games, but looked a little jumpy Tuesday.
September, 9, 2012
9/09/12
8:25
PM PT
SAN FRANCISCO -- In a season of offensive lows, the Los Angeles Dodgers have sunk to a new one.
They lost 4-0 to
Barry Zito
and the
San Francisco Giants
on Sunday night, scraping together just five hits. While losing two of three games this weekend, they went 1-for-23 with runners in scoring position.
Giants fans -- another sellout's worth at AT&T Park -- waved orange flags and chanted "Beat L.A.!" in the ninth inning. The Dodgers have gone 6-9 versus San Francisco this season with just three head-to-head games left.
The Dodgers can only hope the return of
Matt Kemp
-- probably Tuesday -- can add some zest to an offense that's stuck on dull. The loss all but knocked them out of the NL West race -- 5 1/2 games out with 21 games left -- and cost them a game in the wild-card standings. They trail the
St. Louis Cardinals
by 1 1/2 games for the second wild card.
The Good:


Ellis and Ellis.
It sounds like a law firm, doesn't it?
Mark Ellis
and
A.J. Ellis
aren't related, but they share something: They are the only Dodgers hitters having consistently good at-bats. Maybe it's a cyclical thing, but they both seem to be seeing pitches well, laying off balls and swinging at strikes. They combined to get on base five times. That's one way they stand out starkly from the hitters around them. At one point,
Juan Rivera
took ball four and the umpire had to remind him it was a walk.
Defending.
The one thing the Dodgers seem to be doing at a high level lately is fielding.
Luis Cruz
made a great catch on a foul pop-up, reaching over the railing into the Giants' dugout.
Shane Victorino
made a tough catch with the sun in his eyes and another running grab in the right-field alley. Mark Ellis and
Adrian Gonzalez
give the Dodgers a superb right side of the infield. If the Dodgers could just get a little hitting it could go a long way with the way they pitch and catch it.
Relief.
Now that rosters have expanded, depth isn't an issue in the bullpen. Even the loss of closer
Kenley Jansen
for another week or so hasn't been a major problem.
Brandon League
has stepped back into that role. The Dodgers got more scoreless work out of their bullpen, one of the few areas that seems to be a strength right now.
The Bad:
Over-swinging.
It sometimes looks as though every hitter in the Dodgers' order is trying to hit a home run in every at-bat. The situational hitting and ability to get on base have suffered. Nobody epitomizes the hard-swinging ways better than
Hanley Ramirez
, who hasn't had much of a road trip. He made a brutal base-running mistake Saturday that could have cost the Dodgers the game and he looked lost at the plate, taking a called third strike twice Sunday.
Execution.
The Giants know who they are. They don't hit home runs, but when they get runners on, they find ways to move them over.
Marco Scutaro
is kind of the epitome of their way of doing things. The Dodgers, on the other hand ... just look at their first few innings. Mark Ellis led off the game with a double and was stranded there when Shane Victorino struck out and couldn't advance him.
Joe Blanton
couldn't get down a good enough bunt to advance A.J. Ellis in the third. The Dodgers don't have to play small ball all the time, but when they do, it helps to execute.
So-so Joe.
Sunday couldn't have been easy for Joe Blanton. He woke up not knowing if he would start or get two extra days off. It turns out he got the ball when
Clayton Kershaw
was scratched with a sore hip. In a Blanton-Barry Zito game, you expect a fairly high-scoring game. That was partially true. Blanton got the Dodgers in an early 2-0 hole and, when that happens, the Dodgers don't seem to have the wherewithal to recover. He's 1-4 in seven starts for the Dodgers.
August, 22, 2012
8/22/12
5:51
PM PT
LOS ANGELES -- One reason the Dodgers have had difficulty rallying lately is that other teams find it so easy to manage their bullpens against the Dodgers.

If they have a left-handed specialist, they save him for Andre Ethier's most meaningful at-bat and Ethier has been unable to do anything about it. Ethier has always struggled against left-handed pitchers, but it has been more pronounced this season. Ethier is hitting .213 against lefties and .316 against righties.

You would think Dodgers manager Don Mattingly could help. He hit .296 against lefties, just .018 points worse than his lifetime average against righties, but he has been unable to find the key to Ethier's struggles.

"Obviously not," Mattingly said.

Mattingly said he's not dissatisfied with Ethier's approach to the problem. He also says he thinks it's a bit of a negative feedback loop. As Ethier struggles, he begins to think about it more.

"[Media members] are going to let him know that he's not hitting lefties. He already knows and then, as you let him know, you're letting the people know, so everywhere he goes, they're letting him know," Mattingly said. "You can't really get away from it."

Wednesday could be something of a respite from Ethier's troubles (0 for his last 14), as Matt Cain is one of his favorite pitchers to face. Ethier is batting .480 off Cain in 50 career at-bats. That's the best hitter-pitcher matchup (minimum 50 at-bats) in the majors, slightly ahead of Matt Kemp vs. Barry Zito (.462).

Here are the rest of the lineups for Wednesday's game, with the Dodgers trying to evade a three-game sweep and a 2 1/2-game deficit in the NL West:

San Francisco
Angel Pagan CF
Marco Scutaro 2B
Pablo Sandoval 3B
Hunter Pence RF
Joaquin Arias SS
Hector Sanchez C
Brandon Belt 1B
Justin Christian LF
Matt Cain P

Dodgers
Shane Victorino LF
Mark Ellis 2B
Matt Kemp CF
Andre Ethier RF
Hanley Ramirez SS
James Loney 1B
Luis Cruz 3B
A.J. Ellis C
Chris Capuano P
March, 6, 2012
3/06/12
4:52
PM PT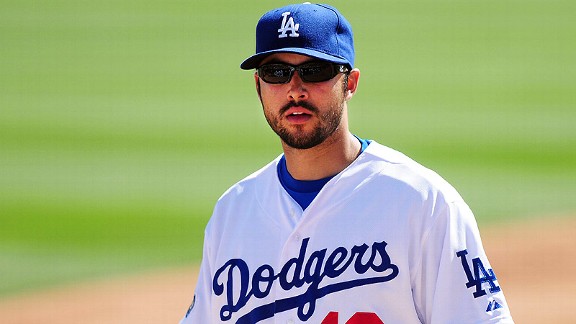 Jennifer Hilderbrand/US Presswire
There is a widespread assumption about
Andre Ethier
these days, and it is at least somewhat based in logic. To the naked eye, it would seem that this stands a good chance of being the temperamental right fielder's final season with the Dodgers, his destiny either to be traded away at this summer's deadline or allowed to walk away via next winter's free-agency period.
There also is another assumption about Ethier. But this is one he might have some actual control over.
Ethier, they say, can't hit left-handers. Just look at the numbers. For his career, the lanky, left-handed-hitting right fielder is batting 67 points higher (.309) against right-handers with an on-base percentage of .386 against righties and .302 against lefties. Of his 109 career home runs, only 15 have come against lefties. Last year, when Ethier took a second-half nosedive after being named to his second consecutive National League All-Star team, that discrepancy was even more pronounced, Ethier hitting 99 points higher (.321) against righties. His OBP was .410 against righties, .258 against lefties. And of his disappointing overall total of 11 home runs, one -- yes, one -- came against a left-hander.
So did it actually mean anything that in his first at-bat against a lefty this spring, San Francisco's
Barry Zito
, Ethier drove a pitch onto the berm in right-center, one of the few Dodgers highlights in an 8-4 Cactus League loss to the Giants before 7,038 at Camelback Ranch? Should we assume that he has put that Achilles' heel behind him, once and for all?