Dodgers Report:

Brandon Belt
September, 22, 2014
9/22/14
11:26
PM PT
LOS ANGELES -- In case the
Los Angeles Dodgers
needed a reminder of what the playoffs feel like, they got 13 innings to study up on it over the course of their 3-2 loss to the
San Francisco Giants
Monday night. They just hope things have happier endings as the pressure ramps up in the coming weeks.
The Dodgers had nearly as many errors (three) as hits (four) and yet played deep into the night before the Giants rallied for three runs off
Kevin Correia
to win it. Now the Dodgers have to win the next two games in order to clinch the NL West with their bitter rivals on the field.
The game drew an announced crowd of 53,500, the largest to see a major league game this season, slightly eclipsing the Dodgers' Opening Day draw. The atmosphere was loud at times and quietly tense at others, giving the game a playoff-like feel.
How it happened:
The Dodgers had some issues catching the ball and fell behind 2-0 after three innings, but veteran
Dan Haren
battled through it, allowing just one hit in seven innings, and
Carl Crawford
finally sparked the offense with a leadoff home run in the fifth inning. That was the first hit Giants starter
Jake Peavy
had allowed. The Dodgers added another run after
Juan Uribe
blooped a double and scored on
Dee Gordon
's sacrifice fly.
Even as the teams failed to score late, the innings were filled with tension. The Giants threatened in both the 10th and 11th innings, but
Brandon League
got an inning-ending double play to escape one jam, and
Yasiel Puig
made an absurdly accurate throw to gun down
Brandon Belt
trying to score on
Brandon Crawford
's single to center in the next.
After Puig's throw, which reached catcher
Drew Butera
's mitt on the fly directly in the path of Belt's slide, the big crowd chanted, "Puig! Puig!"
Hits:
When
Pablo Sandoval
hit a slicing fly ball to Crawford in the sixth inning, it gave Haren six innings pitched in the game and 180 innings pitched on the season. That triggered a player option for 2015 at $10 million. Haren has said he isn't sure he'll play next season. If he does, it's far from an outrageous contract for a pitcher who has produced the numbers Haren has (13-11, 4.03 ERA). Despite the Dodgers' poor defense behind him, Haren gave them every opportunity to win a crucial game.
Misses:
In the third inning, Puig and
Matt Kemp
converged on
Gregor Blanco
's high fly ball to right-center field. Both players appeared to call for it and neither backed off, so the ball ended up glancing off Kemp's glove for a three-base error that led to a run. Kemp, who had been the Dodgers' hottest run producer on the road trip, also cooled off at the plate, going 0-for-5, striking out twice against Peavy and ending an inning with a double play. The Dodgers were worried about communications issues when Puig moved over to center, but it hadn't become much of an issue until Monday night. It's something they'll have to straighten out before the playoffs. The last time Puig and Kemp were seen speaking to each other in public, Kemp was yelling at Puig in Colorado for failing to take an extra base.
Stat of the game:
When
Hanley Ramirez
hit a double Sunday at Wrigley Field, he became the fourth Dodger this season to reach the 35-double mark. It's the first time in franchise history that four players reached 35 doubles in a season.
Adrian Gonzalez
has 40, Yasiel Puig has 37 and Matt Kemp has 36.
Up next:
The series continues Tuesday at 7:05 p.m., with
Zack Greinke
(15-8, 2.76 ERA) pitching for the Dodgers and
Madison Bumgarner
(18-9, 2.91) going for the Giants.
April, 4, 2014
4/04/14
8:12
AM PT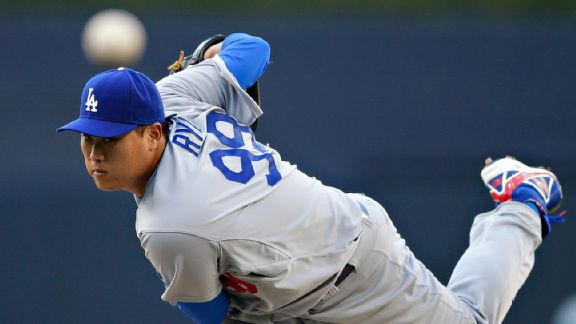 AP Photo/Gregory BullHyun-Jin Ryu will start Friday for the Dodgers against the Giants' No. 5 starter Ryan Vogelsong.
LOS ANGELES -- The Dodgers go into their first series against their bitterest rivals riding
Hyun-Jin Ryu
's new curveball,
Matt Kemp
's uncertain ankle and their pitching rotation's biggest mystery.
The Dodgers were hesitant to use ace
Clayton Kershaw
three times in their first six games, an opportunity that arose because of the team's opening series in Australia. They didn't want to pile up too many innings on Kershaw too soon.
But now Kershaw is on the disabled list and Ryu, who has started his season with 12 scoreless innings, will get the opportunity Kershaw couldn't. He has been impressive in part because he developed a new grip for his curveball, making it nearly as lethal as his changeup and another weapon when he needs a strikeout. Ryu pitches Friday afternoon against
Ryan Vogelsong
, the Giants' No. 5 starter, who makes his season debut.
In the second game, the Dodgers turn -- finally -- to
Paul Maholm
, the left-handed pitcher they signed before spring training for just this kind of eventuality, with a starting pitcher injured. They just didn't think it would happen this soon, or to their ace.
Josh Beckett
was a possibility for Saturday, but he'll make a minor-league start Friday in Rancho Cucamonga instead and likely come off the disabled list by the middle of next week.
Zack Greinke
, coming off a strong first outing, will pitch Sunday for the Dodgers. The Giants are undecided on Saturday and Sunday starting pitchers.
May, 3, 2013
5/03/13
10:58
PM PT
Not much changed while
Clayton Kershaw
was away. The
Los Angeles Dodgers
still can't come up with a clutch hit, and injuries keep coming at them in bunches.
The Dodgers left 13 runners on base before
San Francisco Giants
catcher
Buster Posey
ended a tight pitcher's duel with a home run off
Ronald Belisario
in the ninth inning to send the Dodgers off with a 2-1 loss at AT&T Park on Friday night.
Kershaw pitched seven strong innings, giving up only three hits, but he couldn't pick up his fourth win despite a miniscule 1.66 ERA. The Dodgers simply don't score when he's pitching, but, then again, they don't score much when anyone's pitching. Kershaw had to pitch an eight-inning shutout in his previous start on Sunday to get a win. He was on the bereavement list from Monday until Friday following the death of his father.
There was more bad news for the Dodgers on Friday.
Hanley Ramirez
left the game in the sixth inning with what appeared to be a serious injury to his left hamstring. Ramirez was trying to run from first base to third on
A.J. Ellis
' single. He was thrown out sliding and then got up limping and clutching his left hamstring before he was helped off the field.
Ramirez had spent the first month of the season on the disabled list and had come off it just four days earlier. The last time he played in San Francisco, he tore a thumb ligament diving for a ball in the final game of the World Baseball Classic.
The Dodgers later confirmed it was a hamstring injury for Ramirez, but his status remains day-to-day.
Before the game even started, the Dodgers had to scratch
Adrian Gonzalez
, the team's leading hitter, because of a sore neck. They also put
veteran left-hander
Ted Lilly
on the DL for the second time this season. The Dodgers have used the DL 10 times in the first five weeks.
"Troubles, troubles and more troubles for the Dodgers," Hall of Fame broadcaster Vin Scully said on the television broadcast.
The Dodgers came up with 11 hits and seven walks and somehow managed to squeeze only one run out of that.
The tenuousness of such low-scoring games, from a pitcher's perspective, came up in the fifth inning.
Brandon Belt
belted a 92 mph Kershaw fastball to right field. It looked like a surefire extra-base hit and, with a runner on first, perhaps a two-run home run to give the Giants a lead. But
Andre Ethier
tracked it down about 10 feet short of the 421-foot sign in right center.
That tenuousness came up again when Posey tied the score in the sixth by pounding a pitch to the same area for a double to drive in
Marco Scutaro
for the tying run. The Giants looked as if they would go ahead, but
Matt Kemp
made a nearly perfect, one-hop throw from center field to throw out Posey at home.
May, 9, 2012
5/09/12
10:39
PM PT
LOS ANGELES -- The Los Angeles Dodgers got five shutout innings from their bullpen following an abbreviated start by
Chad Billingsley
and ran out the clock on a 6-2 victory over the San Francisco Giants before 33,993 on Wednesday night at Dodger Stadium, taking two of three in the series.
Veteran right-hander
Jamey Wright
took over for Billingsley to begin the fifth and pitched two perfect innings, striking out three while not allowing a ball to be hit out of the infield.
Ronald Belisario
followed that with a shaky but ultimately scoreless seventh, and
Josh Lindblom
struck out the first two batters he faced in a scoreless eighth.
Kenley Jansen
, who still hasn't faced a save situation since being anointed the team's closer-of-the-moment on Monday, finished it off as the Dodgers (20-11) pushed their lead over the second-place Giants in the National League West back to five games, matching their biggest margin of the season.
The Good


Timely defense.
Matt Kemp
saved a run with his arm and his savvy in the top of the third. With runners on first and second and two outs,
Joaquin Arias
grounded a single through the middle. But with
Brandon Belt
rounding third and about to score easily,
Nate Schierholtz
took too big a turn at second, and Kemp fired a bullet to
Adam Kennedy
, who tagged Schierholtz diving back in before Belt could cross the plate, ending the inning and negating the run.
More timely defense.
Shortstop
Dee Gordon
saved another run in the fourth, ranging behind the bag with the runners in motion to take what surely would have been an RBI single away from
Melky Cabrera
, Gordon firing a bullet to first to get Cabrera by a step and end the inning. And then, Gordon probably saved another run in the eighth with a sliding catch, in shallow left field and with his back to the infield, to take a bloop single away from
Aubrey Huff
and end the inning.
Timely offense.
With runners on second and third, one out and the Dodgers trailing by a run in the fourth,
A.J. Ellis
worked
Tim Lincecum
for a seven-pitch walk, during which he twice laid off the two-strike slider in the dirt Lincecum already had used to get several of his seven strikeouts to that point.
Tony Gwynn
, pinch hitting for Billingsley, followed that with a three-run triple to put the Dodgers ahead.
The Bad
Unofficial error.
With Giants runners on first and third and two outs in the second, Lincecum hit a bouncer into the hole at short. Gordon scooped it up in plenty of time to throw out Lincecum at first and end the inning, but Gordon didn't get the throw off in time. Instead, he double-clutched, Lincecum was safe, and Arias crossed the plate with the game's first run. Gordon wasn't charged with an error, meaning Billingsley was charged with an earned run, but the Dodgers might not have been in that situation if Billingsley hadn't already thrown 28 pitches in the inning to that point and 45 for the game.
And speaking of ... .
Billingsley continued his career-long battle against throwing too many pitches outside the strike zone and too many pitches period. By the time Billingsley had just issued his fourth walk and fallen behind in the count to another hitter with two outs in the fourth inning, Wright already was warming up in the Dodgers bullpen. Billingsley was lifted for a pinch hitter in the bottom of that inning. By that time, he had thrown 85 pitches.
Offensive struggles.
Gordon, who actually came in with an eight-game hitting streak, continued what has been a season-long struggle at the plate. He struck out in his first at-bat, grounded into a rare double play in the third inning and, with a runner on third and less than two outs in the fourth, hit a pop fly to shallow right that even the speedy Gwynn had no chance to score on -- this after starting the at-bat by trying to bunt for a base hit against a drawn-in Giants infield. Fortunately, Gordon fouled off that pitch.