October, 30, 2014
Oct 30
12:17
PM PT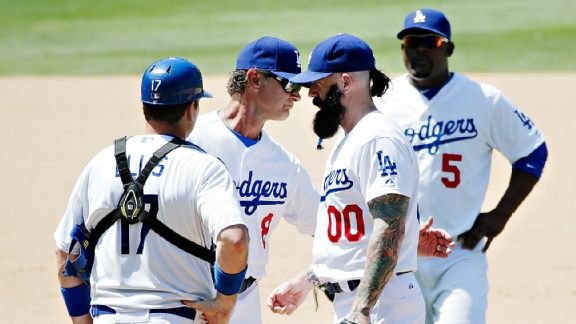 AP Photo/Jae C. HongSpending big money isn't necessarily the solution to fixing the Dodgers' beleaguered bullpen.
LOS ANGELES --
Los Angeles Dodgers
fans might not have had to endure watching their least-favorite team celebrate its third world title in five seasons Wednesday night if their team's bullpen had proven reliable. Ned Colletti might still be the general manager if the team's bullpen had proven reliable. Kirk Gibson might not be the last Dodgers World Series hero if the bullpen had proven reliable.
Yeah, it was that bad.
Finishing games was a problem all season, but it was a nightmare against the
St. Louis Cardinals
in the playoffs. St. Louis, hardly a team of sluggers, hit home runs off a Dodgers reliever in each of the first three games of the series, and that reason is as good as any why the Dodgers didn't advance.
Clayton Kershaw
might not be remembered for his seventh-inning meltdowns if Don Mattingly had trusted his bullpen. In Game 4, he let Kershaw enter the seventh inning after throwing 94 pitches on three days' rest, then left him out there after two straight hits because -- he basically admitted afterwards -- nobody else at his disposal was even close to as good.
As bad as the problem was, the fix can sometimes be worse. Bullpens are fickle, and if we learned one thing from watching the
San Francisco Giants
and
Kansas City Royals
over the past few weeks, it's that bullpens don't have to be expensive to be effective. In fact, often the thrifty ones prove best. Good minor-league systems produce a lot of good arms, and a lot of good arms make for strong, homegrown bullpens.
When the Dodgers lost to the Cardinals, starting pitcher
Dan Haren
had moved locales from the dugout to the bullpen in case he was needed, meaning the Dodgers had $41 million worth of salary sunk in the area of the team that sunk their season. Again, it's not about the money, which is why new president of baseball operations Andrew Friedman figures to follow a different path from Colletti and not throw money at aging former closers to try to chase stability late in games. Stability can't be bought. It just has to develop and it usually happens organically.
There are some fine free agent relief pitchers available this off-season, headlined by
David Robertson
and
Andrew Miller
, but also including
Pat Neshek
and
Sergio Romo.
Koji Uehara
is off the market after agreeing to a two-year deal on Thursday to stay in Boston. Some of them will be busts. Some of them will play crucial roles. None of them will be bargains. It's possible the Dodgers could wade in on one or maybe even two of those guys, but they might be better off trying to develop some of their own young pitchers. It's a roll of the dice either way. Why play at the $100 table when standing similar odds at the $5 table?