Dodgers Report:

Bryce Harper
May, 14, 2013
5/14/13
7:08
PM PT
LOS ANGELES --
Andre Ethier
can tell you about the stiff, unforgiving wall in Arizona. He can describe the location of each of the fence posts in San Francisco.
But, after eight seasons in Los Angeles, he is most familiar with the topography of Dodger Stadium's right-field fence. He said
Bryce Harper
had the misfortune of hitting "one of the least-forgiving spots he could have hit," in Monday night's game.
The
Washington Nationals
phenom went face-first into the right-field scoreboard, which is protected by a chain-link fence. Ethier said the gap between the fence and the scoreboard is only about two inches. Harper had to get 11 stitches in his neck and missed Tuesday night's game because of general soreness.
"It's one that definitely hurts," Ethier said. "You see that and that's like, 'Ouch.' I'm glad to see he's not too badly hurt. When you go hard for a ball and try to make a play, sometimes you lose awareness. We saw
Matt [Kemp]
do that last year."
May, 13, 2013
5/13/13
10:25
PM PT
LOS ANGELES -- The
Los Angeles Dodgers
seemed to walk with a little extra bounce in their step Monday afternoon, having beaten the last-place
Miami Marlins
a couple of times over the weekend.
Hard to know how they were feeling about themselves after Monday night's 6-2 loss to the
Washington Nationals
, but they didn't leave a particularly confident impression.
The Dodgers played one of their most lifeless games in a so-far-miserable season. They misplayed ground balls. They flailed in their few at-bats in the clutch. But, above all, they stood and stood and stood, waiting for
Josh Beckett
to throw a pitch.
It's hard to know how much longer the Dodgers can continue to run Beckett out there, particularly since they'll soon have other options. Veterans
Zack Greinke
and
Ted Lilly
will be back within a couple of weeks. Rookie
Matt Magill
has shown promise at times. Zach Lee has a 2.61 ERA at Double-A Chattanooga. You could run through a lot of names before Beckett starts to sound like the more appealing option.
It's mid-May, and he's 0-5 with a 5.16 ERA. It's mid-May, and
Matt Kemp
has one home run. You don't need to know much else besides those two facts.
Beckett is often setting a slow, passive early tone. Monday, he plodded through three innings in 68 pitches, leaving the Dodgers' bullpen once again to clean up after him. It's not the first time he has done that. In fact, the bright spots are few and far between so far for the veteran right-hander. He has failed to get through six innings in all but three of his seven starts.
Beckett allowed only three hits and he struck out five, but he walked two batters who scored, including opposing pitcher
Jordan Zimmermann
.
Zimmermann (7-1), meanwhile, seemed pretty self-assured going after a Dodgers lineup that came into the game ranked 28th in the majors in runs scored. In the fourth inning, with a runner in scoring position, Zimmermann threw a couple of 94-mph fastballs past Kemp to pick up a big strikeout.
The game's most frightening moment came in the fifth inning, when
A.J. Ellis
sent a ball screaming toward the right-field scoreboard. Washington's brilliant young outfielder,
Bryce Harper
, couldn't catch it and collided face-first into the wall. Harper laid on the warning track for several minutes and eventually left the game with a trickle of blood across his neck.
September, 19, 2012
9/19/12
8:17
PM PT
Matt Kemp
finally had his MVP moment.
The
Dodgers
blew a 6-0 lead in the eighth inning, but Kemp -- mired in the worst September slump of his career -- blasted a solo home run to dead center field leading off the ninth inning, and L.A. pulled off a desperation 7-6 win over the
Washington Nationals
in Game 2 of Wednesday's doubleheader in the nation's capital.
The Dodgers kept within two games of the
St. Louis Cardinals
for the last wild-card spot with 13 games left.
The Good:


Slump buster.
Entering Wednesday, Kemp was batting .122 with one home run and two RBIs in September. That's not exactly the production you're looking for from your most important hitter in your most important games. Kemp's home run came on a letters-high fastball on an 0-and-2 count, a good sign he's got his bat speed back. Given their newfound depth, the Dodgers don't really need Kemp to carry them anymore. But they need a lot more than they'd been getting.
Cruising (for a while).
Josh Beckett
was in the process of pitching his best game of 2012 when things got dicey in the eighth inning. Beckett had pitched seven shutout innings, but the Dodgers hardly had time to get a reliever up in the eighth as Beckett gave up a couple of bang-bang home runs, and suddenly, their lead was cut to 6-3. Despite the late flurry, it was a strong start for Beckett, who allowed five hits. Curiously, he struck out only two batters. But he took advantage of a big lead to keep the ball deep into the game. It was welcome news for a rotation suddenly depleted with injuries.
Some production.
The big four of Kemp,
Adrian Gonzalez
,
Hanley Ramirez
and
Andre Ethier
had six hits among them and finally drove the offense forward. The way the middle of this lineup had been going, that was a big improvement. Ramirez had a key broken-bat hit early, and all four guys did something to advance the Dodgers' cause, a break from a relentless slump for the team's best-paid hitters.
The Bad:
Big boot.
Earlier this season, Gonzalez jokingly referred to himself as a "defensive specialist." He had fielded his position brilliantly until Wednesday, when he booted a tricky two-hopper in that pivotal eighth inning, giving the Nationals an extra out they would make the most of. They scored three unearned runs -- the kind that can sink a team's season.
Specialist.
Don Mattingly is careful to put reliever
Randy Choate
in situations in which he can succeed. He rarely faces right-handed batters and often faces only one hitter in a game. When Mattingly does ask a little more of Choate, things rarely go well. Choate, acquired in the same trade that landed Ramirez, couldn't slow down the landslide Beckett started. Without recording an out, he allowed two hits and the Nationals suddenly had late life.
Spark lacking.
Shane Victorino
isn't exactly making himself a prime attraction in this fall's free-agent market. After going 1-for-7 on Wednesday, Victorino is batting .208 in September. His slump seemed to coincide with the big trade that included
Carl Crawford
, who figures to start in left field next year, leaving no room for Victorino. If this team could ever get its table setters going at the same time its power hitters produce, this slump could finally end.
April, 28, 2012
4/28/12
11:12
PM PT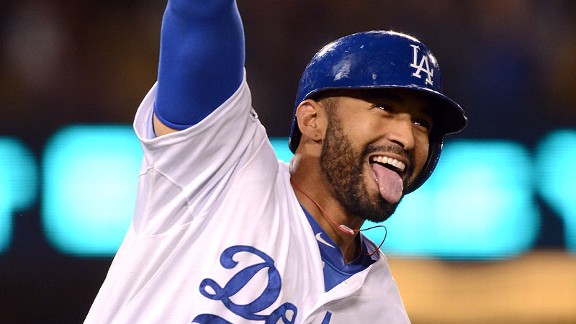 Harry How/Getty ImagesMatt Kemp hit his 11th home run of the month to set a Dodgers record for April.
LOS ANGELES -- On an evening when we got our first glimpse at a player who in some circles already has been anointed as one of the great players of his generation, we also got a reminder, and a not-so-subtle one at that.
Will
Bryce Harper
-- who turned in a double, a sacrifice fly and a laser of a throw from left field to home plate in his major league debut for the Washington Nationals on Saturday -- be a superstar? Perhaps. Probably. Most likely. But is
Matt Kemp
not only already a superstar but the pre-eminent player in the game today? Once again, we got a little more evidence that the answer is a definitive yes.
Capping off a game that for him personally had been rather forgettable to that point -- a double-play grounder, a couple of strikeouts -- the Los Angeles Dodgers center fielder slammed a fastball from Nationals reliever
Tom Gorzelanny
far beyond the wall in straightaway center, giving the Dodgers a stirring, 4-3 10-inning victory before a sellout crowd of 54,242.
It was Kemp's seventh career walk-off hit, fifth career walk-off jack and 11th home run this season, setting a franchise record for April.
And then, as he did a quick, postgame television interview that was piped into the ballpark public address system, Kemp was asked who the woman was in the front row whom he had high-fived on his way back to the dugout after triumphantly circling the bases.
"That's my mama," Kemp shouted. "That's my girl right over there."
Yes, it was that kind of evening at the old yard, and yes, Kemp is becoming that type of ballplayer/superstar/celebrity/transcendent figure in a city that celebrates celebrities and transcendent figures like no other. Really, when he stepped to the plate to begin the bottom of the 10th, the Dodgers having already come back from the dead an inning earlier and dependable veteran
Jamey Wright
having mowed down the Nationals in quick order in the top half, did you expect any other result?
Kemp can tell us he did. But why should we believe him? Why should we believe he was thinking about anything else, when none of us was thinking about anything else?
"I was just trying to hit the ball hard," he said. "Sometimes when you're out there trying to hit home runs, it doesn't come out the way you want it to. I was just trying to let the ball get deep. He threw me two changeups [for strikes] the first two pitches. I fought back [to 1-2], and I wanted to hit the ball hard."
April, 28, 2012
4/28/12
9:52
PM PT
LOS ANGELES -- The Los Angeles Dodgers capitalized on three ninth-inning wild pitches by Washington Nationals closer
Henry Rodriguez
on Saturday night and staged a two-run, game-tying rally, then got a walk-off homer from
Matt Kemp
leading off the 10th to take a 4-3 victory before a sellout crowd of 54,242 at Dodger Stadium.
That ninth-inning rally included a key RBI double by
Juan Uribe
after
Mark Ellis
and
James Loney
began the inning with back-to-back singles.
With the win, the Dodgers (15-6) overtook the Nationals for the best record in the National League and pushed their lead in the NL West to four games over the San Francisco Giants.
The Good


Ace in the hole.
Jerry Hairston
, starting at second base in place of Ellis for just the second time this season, turned his back to the infield and ran full-speed into shallow right in desperate pursuit of a looping liner by
Ian Desmond
in the third, a ball that looked like it would fall for a sure RBI single with
Wilson Ramos
running off second. But at the last possible second, Hairston dived headlong away from the plate and made the catch, then got up and threw from his knees to double off Ramos, who was so far off the bag that he didn't even make a serious attempt to get back. That ended the inning and kept the game scoreless.
Dealing.
On an evening when he figured to have absolutely no margin for error with
Stephen Strasburg
pitching for the other side,
Chad Billingsley
was almost as dominating and every bit as stingy through the early going, and that included pitching around a leadoff double by Strasburg in the sixth. By the time Billingsley got out of that mess -- two good defensive plays by Loney at first, the second one pulling down a high throw from Uribe to get
Jayson Werth
by a step -- he had tossed six goose-eggs, allowed just three hits and been uncharacteristically efficient, throwing just 78 pitches. Alas, it all came crashing down for Billingsley in the seventh, when
Adam LaRoche
took him deep to begin the inning. The Dodgers tied it in the bottom half, saving Billingsley from the loss.
Got his number.
A.J. Ellis
had two hits off Strasburg, including a tying single through the left side of the infield with one out in the seventh that brought Hairston home from second -- but just barely. The highly hyped
Bryce Harper
, making his major league debut, fired an absolute laser from left field that beat Hairston to the plate by three steps, but Ramos snowconed the ball in his mitt and never quite corralled it. It flew out of his mitt as he tried to make a sweep tag, and Hairston touched the plate with his hand.
The Bad
Set what table?
Dee Gordon
continued to struggle in the leadoff spot, just a few hours after manager
Don Mattingly
said he saw no reason to drop Gordon lower in the order. Gordon grounded out in each of his first two at-bats, and although he hit the ball with authority his third time up, he unfortunately lined a bullet directly at the glove of Strasburg, who snared it to end the fifth. Gordon then grounded back to the mound for the second time in the game in the eighth off reliever
Tyler Clippard
. Gordon struck out in the ninth, and although he reached on a wild pitch, that capped an 0-for-5 evening for the fleet shortstop.
Move what runner?
Billingsley failed to get a bunt down after a one-out single by A.J. Ellis in the fifth gave the Dodgers a rare chance to potentially break through against Strasburg -- not that it was a really big chance, given that the struggling Gordon was on deck. Still, he wound up bunting foul for strike three, and Gordon lined out sharply to Strasburg, keeping the game scoreless through five.
Off night.
Kemp and
Andre Ethier
are having great seasons, but neither of them had a great night before Kemp's walk-off homer, the Dodgers' one-two offensive punch combining to go 0-for-7 with five strikeouts in regulation -- including a critical strikeout by Ethier against Clippard to end the bottom of the eighth after Kemp, who had walked, stole second, leaving the score tied.
April, 28, 2012
4/28/12
4:52
PM PT
LOS ANGELES -- Dee Gordon isn't moving out of the leadoff spot. Not right now, anyway.

That was Los Angeles Dodgers manager Don Mattingly's stance when asked before Saturday night's game against the Washington Nationals and the big league debut-ing Bryce Harper. This despite Gordon's .224 batting average and .268 on-base percentage, and the fact that even Mattingly admitted Gordon looked lost at the plate Friday night, when he went 0-for-4 with a strikeout, one unsuccessful attempt to bunt for a hit and one popup, the one thing Gordon absolutely can't afford to do given his skill set.

"I could think about (moving Gordon down in the order), but then I would have to find a guy to lead off," Mattingly said. "At this point, I don't really feel I need to do anything a whole lot different. We have been able to sustain, kind of, what we have been doing and keep riding this thing."

Mattingly pointed out that Gordon's struggles primarily have come against lefties, who have held him to a .120 average, but his OBP against righties is only .321, far below the optimum level for a leadoff man. After all, you have to actually get to first base before you can steal second base.

"(Friday night), I didn't think he looked very good," said Mattingly, referring to a game in which all four of Gordon's fruitless at-bats were against Nats lefties Ross Detwiler and Sean Burnett. "He has obviously struggled with lefties, and we have seen quite a few of them. He really has held his own against right-handed pitchers. He has tried to bunt and done some of that. But (Friday), I felt like he just didn't stay in there with guys.

"For me, with Dee, this is all part of it. We didn't think he was just going to come out and tear it up. It's all part of his growing process."

Meanwhile, Mattingly said he was hoping outfielder Juan Rivera, who hasn't played since Tuesday because of a hamstring injury, would be available to pinch hit on Saturday night; and that reliever Todd Coffey still is on track to come off the 15-day disabled list as soon as he becomes eligible Sunday but hinted that Coffey might be pushed back one more day because the Dodgers want to keep Nathan Eovaldi in the bullpen for possible long relief duty with Chris Capuano scheduled to start on Sunday. Although Mattingly didn't say it, Eovaldi is the most obvious player to be sent back to the minors when Coffey is activated.

Here is tonight's lineup:

Dee Gordon, SS

Tony Gwynn, LF

Matt Kemp, CF

Andre Ethier, RF

Jerry Hairston, 2B

James Loney, 1B

Juan Uribe, 3B

A.J. Ellis, C

Chad Billingsley, RH