Dodgers Report:

Bud Selig
March, 22, 2014
Mar 22
1:16
AM PT
SYDNEY -- Vin Scully was behind the microphone for the start of his 59th season Saturday night, but on Opening Day the majority of Los Angeles households couldn't hear the Hall of Fame broadcaster or watch the Los Angeles Dodgers play in Australia.

Time Warner Cable is the only major provider in Southern California that is carrying SportsNet LA, the new 24-hour Dodgers' channel. Time Warner has only 32 percent of the Los Angeles market. MLB Network, which broadcast the Dodgers' two Australian games to the rest of the United States, is blacked out in the Los Angeles market.

"I have faith that the parties will work this out," Commissioner Bud Selig at a news conference in Australia before the Dodgers took on the Arizona Diamondbacks. "That's all I can say. We always like things to be as smooth as possible, but there are always times in life when things don't work out exactly right. But I have faith the parties will work it out and I know the parties want to work things out."

Dodgers president Stan Kasten said he didn't know when the dispute between the channel and providers will end, but he said he was sure more providers will carry the channel before too long.

"I'm disappointed it hasn't been done already, but I'm confident it will get done," Kasten said.

In Houston, the majority of households have been unable to watch the Astros for more than a year because of a dispute between the team and cable providers. Then again, the Astros lost 111 games last year. Kasten said the Dodgers are offering a more valuable product to consumers.

"I think what we've done on our end is something very different than what Houston did, so I feel very comfortable with that: the quality of our team, the value of the product we're putting out there -- 24 hours of Dodger content," Kasten said.

The Astros have been negotiating for more than a year to get their games carried on providers other than Comcast, which is available in about 40 percent of the market.
January, 8, 2013
1/08/13
3:04
PM PT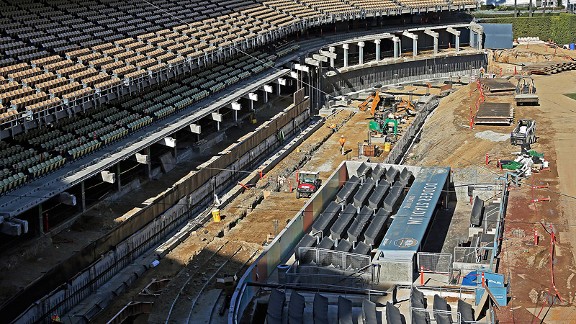 AP Photo/Reed Saxon
Work continues on an estimated $100 million in improvements to Dodger Stadium.
Janet Marie Smith had a bit of a conundrum when she sat down to sketch out some improvements to Dodger Stadium. Smith, who made her name overseeing work at Baltimore's Camden Yards, Boston's Fenway Park and Atlanta's Turner Field, among other places, needed to improve the fan -- and player -- experience while preserving the funky, early 1960s vibe.
"There are some things about its vintage state that aren't good," Smith said.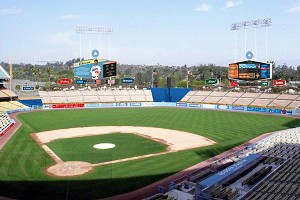 Courtesy of Los Angeles Dodgers
A rendering of some of the improvements planned for Dodger Stadium.

Tuesday, the Dodgers unveiled their plans for the roughly $100 million in stadium renovations under way at Chavez Ravine. Many of the improvements are subtle and some, such as the larger clubhouse and weight room, will be invisible to the public. They're all aimed at preserving the stadium's history while bringing it into the 21st century.
The highlights:
High-definition video boards in left and right field that will return to the original hexagon shape. The first 10-millimeter, 1080p LED scoreboards in baseball will be 22 percent larger than the current screens.
A new sound system aimed at cutting down on echoes and controlling the sound that leaves the stadium.
Wider concourses and additional accommodations for fans in wheelchairs.
New restrooms, some with baby-changing tables. Women's fixtures will increase 62 percent and men's fixtures by 32 percent, with the aim to cut down on long lines.
A new home clubhouse, the first major changes to where Dodgers players dress since 1962, along with bigger weight rooms and trainers rooms.
Separate batting cages and weight rooms for visiting teams, aimed at eliminating the awkward sharing of such facilities that sometimes led to tension before or after games.
Bullpen overlooks, allowing fans to watch pitchers warm up (and heckle opposing relievers).
Better cell-phone and wireless Internet access.
Playground areas.
The Dodgers are hopeful the upgrades will lead to high-profile events such as a Major League Baseball All-Star game, which last came to Dodger Stadium in 1980 (when the hexagonal scoreboards were replaced with rectangular ones).
Dodgers president Stan Kasten said he has some upcoming meetings with Commissioner Bud Selig and he will mention the Dodgers' interest. They likely are behind Washington and Miami, at least, in the line to host a game.
"The extent that it had to be forestalled because of the facility, that will never be an excuse again," Kasten said. "This facility will be the equal or surpass any other stadium in baseball."
It will be a challenge for the Dodgers simply to complete the construction work by a March 29 exhibition game against the Angels. Kasten acknowledged the team has contingency plans in case the work isn't completed by then, but wouldn't divulge what they were. It's likely they would play any games at the Coliseum or Angel Stadium if necessary.
"I think we're going to get it done by Opening Day," Kasten said, "but the unforeseen is unforeseeable."
The playing dimensions will not be appreciably altered. If anything, it will become slightly more of a pitchers' park. Kasten estimated the renovations will produce about six more feet of foul ground, giving fielders more chances to catch foul pop-ups.