Dodgers Report:

Carlos Triunfel
August, 19, 2014
8/19/14
3:36
PM PT
LOS ANGELES -- The Dodgers promoted shortstop
Erisbel Arruebarrena
from Triple-A Albuquerque and optioned infielder
Carlos Triunfel
on Tuesday.
Arruebarrena, 24, was batting .333 with three doubles, a home run and 11 RBIs in 26 games for the Isotopes. He also was suspended five games for his role in a major brawl between Albuquerque and the Arizona Diamondbacks' Triple-A Reno team. Arruebarrena angered some Reno players with a slow-motion trip around the bases following a home run and got into it the next game with Reno's catcher when his throw back to the pitcher got near Arruebarrena's head.
Arruebarrena has gone 5-for-16 in two call-ups for the Dodgers this season. He was put on the 15-day disabled list July 5 with a strained hip flexor muscle.
July, 2, 2014
7/02/14
3:41
PM PT
LOS ANGELES -- Just when it seemed everyone was sure the
Los Angeles Dodgers
were taking off and assuming control of the NL West, they played two of their worst games of the season. The sloppiness of Tuesday night spilled into the team's first midweek day game, a slogging 5-4 loss to the
Cleveland Indians
on Wednesday afternoon.
How it happened:
The Dodgers fielded a lineup without four of their regulars, with
Adrian Gonzalez
nursing a sore neck,
Hanley Ramirez
still bothered by an array of injuries, and
Juan Uribe
and
Yasiel Puig
getting days off. It showed, as
Trevor Bauer
-- who has had a far-from-smooth transition from UCLA to the major leagues -- cruised through the first four innings. But the Dodgers got to him with two outs in the fifth, scoring three times.
Reliever
Brian Wilson
, however, couldn't preserve the one-run lead, walking the first two batters he faced during a three-run meltdown in the eighth. The Dodgers' search for a reliable setup man continues and might become a major focus before the July 31 trade deadline.
Hits:
Ryu won't be an All-Star once again. He's the fourth-most deserving Dodgers pitcher and it's doubtful
Mike Matheny
will take that many arms from one team. If he played on just about any other team, he'd have a shot. Ryu (9-4) has had only one truly bad start this season and has been on a roll for two solid months. He gave up a
Ryan Raburn
home run in the fourth inning, but was otherwise as smooth as ever. Without ever looking totally dominant, he always looks competent. Ryu has pitched nine consecutive quality starts, going 7-2 with a 3.14 ERA.
And the streak lives. Ryu didn't walk anybody. Dodgers starters have walked two batters or fewer in 36 straight games, tying the 2005
Minnesota Twins
for the longest such streak since at least 1914, per Elias.
Misses:
It looked like the best left side of the infield the Dodgers have fielded all year, with two glove-first players in the starting lineup. But
Carlos Triunfel
booted a first-inning grounder. Then he dropped the ball while making a transfer, botching a double play. He also failed to turn around to receive a throw from
Matt Kemp
while covering third base in the eighth. Third baseman
Miguel Rojas
made an error on a fairly routine grounder. Considering neither player is hitting as well as .250, misplaying balls like that could lead to a quick demotion. Then again,
Ramirez appears headed for the disabled list
, so maybe not.
Stat of the game:
Ryu went 2-for-3 with an RBI double to lift his batting average to .194. There are only 20 pitchers in baseball who have at least 20 plate appearances and are batting better than .154. That includes all five Dodgers starters.
Up next:
The Dodgers were scheduled to fly to Colorado following the game. They begin a four-game series there Thursday with
Zack Greinke
(10-4, 2.78 ERA) opposing lefty
Franklin Morales
(4-4, 5.75).
June, 17, 2014
6/17/14
10:43
PM PT
LOS ANGELES -- Granted, division races can turn on a dime, which means there's no guarantee things will stay as they've been going lately in the NL West, but it sure looks as if the
Los Angeles Dodgers
are entering a June groove once again.
The Dodgers beat the
Colorado Rockies
4-2 Tuesday night for their seventh win in their past 10 games. Since June 8, the Dodgers have lopped off 4½ games from the
San Francisco Giants
' lead and trail first place by a manageable five games.
On June 22, 2013, the Dodgers started their 46-10 run and turned a 9½-game deficit into a 10½–game lead.
How it happened:
Jhoulys Chacin
kicked the dirt before the ball was halfway on its way. When
Hanley Ramirez
connects solidly, there's usually not much doubt. Ramirez hit an opposite-field two-run shot off Chacin in the third inning, and
Matt Kemp
added a solo home run an inning later. Those are two big bats that for large chunks of this season have been missing in action.
Zack Greinke
didn't appear to have his most dominating stuff, but he got some nice plays made behind him and navigated trouble to get through a solid six innings. Greinke (9-3, 2.57 ERA) looks like a contender to start next month's All-Star Game for the NL.
Things got dicey in the seventh inning when a ball skipped off Ramirez's hand for a double, knocking the shortstop from the game, and
Dee Gordon
made an error, but
Brandon League
pitched out of a jam.
Carlos Triunfel
looks as if he's not too keen on going back to Triple-A. He's 2-for-2 since getting called up, and, after replacing Ramirez, he hit his first major league home run to give the Dodgers a key insurance run.
Hits:
The Dodgers have long felt that as Ramirez goes, they go. It's more cumulative than that, of course, but getting Ramirez swinging more like the 2013 version and less like the 2011 and 2012 versions of himself is important. He's showing signs, though a hand injury could derail his progress. X-rays showed his ring finger was bruised, not broken. Ramirez has driven in 27 runs in his past 31 games, and his swing looks as menacing as it has been all season. Before the game, Ramirez was in a good mood, bantering with teammates and reporters during batting practice, and you could tell he was feeling better about his swing.
Misses:
Teams very rarely have all of their hitters in sync at the same time. When they do, they tend to rattle off long winning streaks. Right now, the Dodgers' biggest worry is cleanup hitter
Adrian Gonzalez
, who is mired in the deepest slump of his career. Gonzalez was batting .321 on May 1. In the intervening 41 games, he has batted .196 with 30 strikeouts and 16 walks.
Stat of the game:
Give Don Mattingly and the Dodgers' coaches credit for helping clean something up. They began emphasizing defensive awareness in early May, and, after committing 42 errors in the team's first 50 games, the Dodgers have the best fielding percentage in baseball in the past 23.
Up next:
The Dodgers go for the sweep behind ace
Clayton Kershaw
(6-2, 2.93 ERA) at 7:10 p.m. Wednesday. They will face Colorado's
Jorge De La Rosa
(6-5, 4.12).
April, 16, 2014
4/16/14
11:44
PM PT
SAN FRANCISCO --
Hanley Ramirez
was not a happy man.
Since a
Joe Kelly
pitch collided with one of his ribs and rendered him a decoy in the playoffs last season, Ramirez has had one overarching goal: stay on the field and lead the Dodgers to the World Series. For about 15 minutes Wednesday night, it was all going up in flames.
[+] Enlarge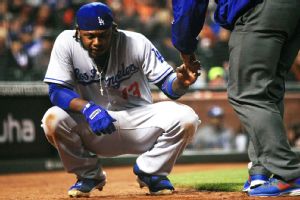 Lance Iversen/USA TODAY SportsHanley Ramirez was mad after getting hit in the hand Wednesday, but luckily for him his X-rays were negative.
A
Ryan Vogelsong
sinker didn't sink. It tailed violently in and up, slamming off Ramirez's left hand. Within seconds, the powerful shortstop grabbed his pine tar-smeared batting helmet and slammed it into the turf. There were 42,773 people at AT&T Park and nobody could take their eyes off the big man having a temper tantrum. Few of them knew the reason.
"Everyone knows what I went through last year," Ramirez said after the
Los Angeles Dodgers
' 2-1 loss to the
San Francisco Giants
. "To get hit in the hand ... the hand is a spot where it's easy to get any damage. I was wondering."
Thanks to the wonders of in-stadium X-ray machines, he didn't have to wonder long. The X-rays proved negative, no further tests are planned and, the next time Ramirez can swing a bat without too much pain, he'll be back in the lineup. It probably won't be Thursday, but could be Friday or Saturday, maybe Sunday or Monday.
However long he's out, it appears it will be a survivable amount of games. From all angles Wednesday night, it was looking as if the Dodgers had sidestepped the one injury that could send their season spinning downward.
In case you haven't noticed, they've managed to buck up pretty well without the best pitcher on the planet,
Clayton Kershaw
, who made one start for them in Australia before heading to the disabled list because of strained muscles in his upper back. The Dodgers are two games above .500 without Kershaw.
With Ramirez, they're one of the most dangerous teams in baseball. Without him, they've been feeble. Since the start of 2013, the Dodgers are 60-32 when Ramirez plays and 39-46 when he doesn't. Granted, his longest stay on the disabled list coincided with
Zack Greinke
's, but still ...
Even that doesn't communicate his importance properly. The Dodgers had better shortstop depth last season than they do this season. Had Ramirez gone down for a long while, the Dodgers would have been pondering the pros and cons of a
Justin Turner
vs.
Dee Gordon
vs.
Carlos Triunfel
shortstop situation. Yeah, that thin.
Ramirez actually argued fairly passionately with trainer Stan Conte to stay in the game, but Conte's a little more assertive than most trainers and there was no way the Dodgers were going to leave Ramirez in the game in the seventh inning.
"At that point, he's mad and he's going to want to try to stay in there and steal a base or something," manager Don Mattingly said. "We just can't do that."
Mattingly saw it. Everybody credited
Yasiel Puig
for turning around the team's fortunes last season, but Ramirez's production was even more crucial in that stretch. So, now, Mattingly can show up Thursday morning and harbor at least a glimmer of hope his best hitter can try to help the team avoid a three-game sweep here. But even if he learns it's going to be a week or more before Ramirez plays, he'll know it could have been a whole lot worse.
April, 2, 2014
4/02/14
3:23
PM PT
SAN DIEGO – The Dodgers claimed infielder
Carlos Triunfel
on outright waivers from the
Seattle Mariners
on Wednesday.
The team added Triunfel to the 40-man roster – which stood at 39 – and optioned him to Triple-A Albuquerque. Triunfel, 24, has batted .167 in 67 major-league at-bats between 2012 and 2013. He has played shortstop, second base and third base. He is a .276 lifetime hitter in the minors.
He was originally signed by scout Bob Engle, who is now the Dodgers vice president of international scouting.