Dodgers Report:

Chris Anderson
October, 20, 2013
10/20/13
11:00
AM PT
Two hours before the first game of the
Los Angeles Dodgers
' biggest series in four years, on a warm evening in St. Louis, the team's most famous owner, Magic Johnson, stopped to answer a few questions on the Busch Stadium field.
What he said gave a glimpse into the Dodgers' long-term plan.
[+] Enlarge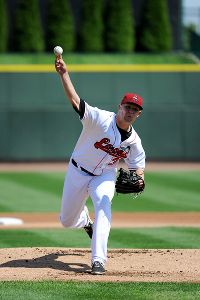 Mike Janes/Four Seam Images/AP Images
Chris Anderson, the Dodgers' top pick in the last draft, pitched in the upper 90s for Class-A Great Lakes.
"If you could model an organization, I think you'd pick [the
St. Louis Cardinals
], with the consistency they've had and the winning they've done while losing players, losing a [Albert] Pujols. It's truly amazing," Johnson said. "It's outstanding what they've built here, and we want to build the same thing back in L.A."
Magic, who is high on enthusiasm but still learning the nuances of baseball, could have taken it a step further and gotten a little more specific. General manager Ned Colletti took it there shortly after the Dodgers bowed out in the sixth game of the NLCS and gave the Cardinals a crack at their third World Series title since 2006.
"They've taken a lot of college power arms," Colletti said. "They've done a great job of developing and a great job of drafting."
Michael Wacha
, the rookie MVP of the series, otherwise known as the guy the Dodgers couldn't touch, was pitching for Texas A&M last college season;
Trevor Rosenthal
, the nastiest reliever the Dodgers faced all year, pitched at a Kansas community college in 2009;
Seth Maness
was pitching at East Carolina in 2011;
Joe Kelly
, who won Game 1 (and broke Hanley Ramirez's rib with a pitch) was pitching at UC Riverside the same year;
Lance Lynn
came out of the University of Missisippi the year before.
Sense a pattern here? St. Louis' young arms were the difference in the series. It certainly wasn't the St. Louis lineup, which didn't show up until Game 6. The Dodgers hit .234 in the six games. The Cardinals hit .178. The Dodgers hit two more home runs than St. Louis.
The Cardinals' edges both were the direct result of their organizational plan. They're younger, so while several Dodgers were dealing with nagging ailments of various kinds, the Cardinals looked fresh. They have unprecedented bullpen depth stocked from the farm system. The Dodgers fretted about covering the sixth and seventh innings all season and had to plug their holes with expensive veterans like
Brian Wilson
and
Carlos Marmol
.
The Cardinals' payroll was $116 million, $100 million less than the Dodgers', so there's that.
[+] Enlarge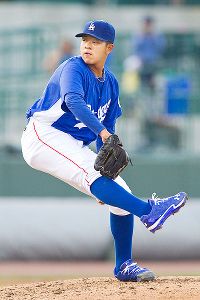 AP Photo/Brian Westerholt/Four Seam Images
Julio Urias, a 15-year-old lefty from Mexico, also had great success at Great Lakes.
In a way, the Dodgers already have begun following the Cardinals' model. In the last draft, 21 of their 40 players taken were pitchers. Of the 40 picks, 31 came out of colleges. The team's top pick out of Jacksonville University, Chris Anderson, pitched in the upper 90s at Class A Great Lakes and had a 1.96 ERA with 50 strikeouts in 46 innings.
The Dodgers also have beefed up their international scouting efforts to historic levels. They're spending as freely as the rules allow. We're not just talking about
Yasiel Puig
. They signed a 15-year-old left-hander, Julio Urias, out of Sinaloa, Mexico, who dominated alongside Anderson at Great Lakes. They limited his innings because he is so young, but he had a 2.48 ERA.
It wouldn't be surprising if Anderson were a factor for the Dodgers some time next season and Urias the year after that. (Or, who knows, maybe he'll be the rare 18-year-old major leaguer).
While people were dazzled by the excitement of this 2013 Dodgers team, some of the most impactful moves were happening in the shadows, the work of baseball's unheralded ranks -- the scouts. If the Dodgers can soon find and develop pitchers as well as the Cardinals have, they could enter a series like this past NLCS with the swagger of celebrity talent filled in with young, inexpensive talent from below. Once the games begin, talent is talent.
That combination could make them, as the Cardinals are, a yearly World Series contender. That, of course, is what Magic was talking about.
June, 12, 2013
6/12/13
5:31
PM PT
LOS ANGELES -- The
Los Angeles Dodgers
announced they have signed four of their picks from last week's draft, including first-round pick Chris Anderson from Jacksonville University. Additionally, their eighth-round pick, catcher Kyle Farmer from Georgia, announced via Twitter that he, too, has signed.
Reports indicated Anderson signed for $2.109 million, the suggested slot number for the Dodgers' top pick. The team also signed its second pick, Minnesota left-hander Tom Windle, again for slot money, or $986,500.
Other players to sign were 12th-round pick Adam Law, a third baseman from Brigham Young, and 26th-round pick Thomas Taylor, a pitcher from Kansas.
Anderson went 7-5 with a 2.49 ERA and three complete games in 14 starts this season for Jacksonville. Windle, 21, went 6-4 with a 2.14 ERA in 14 starts for Minnesota as a junior, including pitching the first nine-inning no-hitter in Minnesota history on March 8 against Western Illinois.
June, 6, 2013
6/06/13
6:22
PM PT
LOS ANGELES -- The
Los Angeles Dodgers
selected Jacksonville University right-handed pitcher Chris Anderson with the No. 18 overall selection in Thursday's first-year player draft.
Here is what ESPN.com draft analyst Christopher Crawford had to say about Anderson, who is 6 feet 4, 215 pounds and reportedly can throw as hard as 97 mph:
At one point Chris Anderson looked like a top ten pick, but the results waned a bit towards the end of the year. The Dodgers love big, strong right-handed pitchers, and that's exactly what Anderson provides them. He'll definitely enjoy the friendly confines of Dodger Stadium, but the command will have to get better if he's going to be in Dodger blue by 2015
With their second pick, No. 56 overall, the Dodgers took left-handed pitcher Tom Windle from Minnesota. Here is what MLB.com had to say about Windle:
There are pitchers with arm strength who generate velocity because of arm speed. Then there are those who don't have an overly quick arm, but just use strength to power through. Windle fits into the latter category. The Minnesota lefty threw very well in the Cape and was up to 93-94 mph there to go along with a slider and a changeup. He was a Cape League All-Star as a result of his performance. That continued into his junior year, where he continued to throw strikes and show he has an idea of what he's doing on the mound. Those kinds of college lefties, even those in cold-climate areas, tend to do well when the Draft rolls around.
* In major-league news, manager Don Mattingly said left fielder
Carl Crawford
could be on the disabled list well beyond the 15-day window. Crawford underwent an MRI exam that showed a considerably strained left hamstring. Crawford went on the DL Sunday.
Crawford is second on the Dodgers with a .301 batting average and has scored a team-high 32 runs.
*
Ted Lilly
is dealing with a strained neck and Mattingly said it's unlikely he'll make Sunday's start. Mattingly said he doesn't know who would replace Lilly if he can't pitch.
Here are lineups for Thursday night's game against the
Atlanta Braves
:
Atlanta
1.
Andrelton Simmons
SS
2.
Jason Heyward
RF
3.
Justin Upton
LF
4.
Freddie Freeman
1B
5.
Brian McCann
C
6.
Dan Uggla
2B
7.
Ramiro Pena
3B
8.
B.J. Upton
CF
9.
Tim Hudson
RHP
Dodgers
1.
Yasiel Puig
RF
2.
Nick Punto
SS
3.
Adrian Gonzalez
1B
4.
Scott Van Slyke
LF
5.
Andre Ethier
CF
6.
Tim Federowicz
C
7.
Skip Schumaker
2B
8.
Luis Cruz
3B
9.
Zack Greinke
RHP