Dodgers Report:

David Wright
January, 2, 2014
1/02/14
9:37
AM PT
A few weeks ago,
Hanley Ramirez
mentioned to reporters in the Dominican Republic that he was working on a contract extension with the Dodgers. A few days later, he posted a photo of himself on Instagram with the comment, "Going to L.A. Good news!"
[+] Enlarge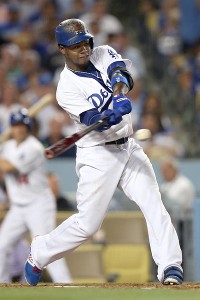 Jeff Gross/Getty ImagesHanley Ramirez looked like his former self when healthy last season, but are the Dodgers willing to bank on him and give him a long-term commitment?
Turns out the Instagram post was just a joke and Ramirez's agent told MLB.com he was actually headed to the Dominican Republic with no extension imminent.
Clearly, there's something going on, however. Locking up
Clayton Kershaw
for a decade or so hasn't proven easy, so the Dodgers appear to have turned to in-house priority No. 2: making sure Ramirez sticks around beyond November 2014.
Seems like a good idea. Ramirez was as dangerous as any hitter not named
Miguel Cabrera
last season. When he was healthy, the Dodgers were among the deepest lineups in baseball. When he was not, as in the final few games of the National League Championship Series, they were mediocre, sometimes worse than mediocre. His impact, when he came back from his first stint on the disabled list, was even more profound than
Yasiel Puig
's arrival.
What's a player like that worth? That's a difficult question to answer because his 2013 season was such a departure from the previous two. His batting average in 2011 and 2012 was .252, his on-base percentage .326. He averaged 17 home runs and 62 RBIs and played well below-average defense at either shortstop or third base. His WAR was barely replacement level.
Then came 2013, in which Ramirez's production once again matched his enormous talent. He hit .345 with a .402 on-base percentage, slugged .638, had a 5.4 WAR and played roughly average defense at shortstop, according to UZR.
June, 28, 2012
6/28/12
10:08
PM PT
By
Brian Kamenetzky
| ESPNLosAngeles.com
LOS ANGELES -- The best thing happening to the Los Angeles Dodgers on Thursday came long before the game, when an examination of
Andre Ethier's
strained oblique revealed nothing significant.
He's being called day-to-day, and isn't expected to land on the disabled list.
From there? Well, you can't fault the Dodgers' effort in their 3-2 loss to the New York Mets at Dodger Stadium. Unfortunately, effort doesn't mean run support.
The Good:


The Dodgers scored. Twice!
I'm not trying to be flippant. After being shut out in all three games against the San Francisco Giants this week, running their scoreless streak to 30 innings, putting a run on the board -- somehow, some way, a run -- was a huge focus. The Blue added three more donuts to the streak before exploding for a pair in the fourth.
Dee Gordon
laced a line drive to right center, followed by a shot from
Elian Herrera
over the head of
Andres Torres
in center for a triple. He was knocked home on a single by
Juan Rivera
. Given that no Dodger started the night with an average higher than .265, and as a group the position players combined had eight homers, I'm willing to bet had most fans been given an over/under of 1.5 runs for the Blue, they'd have seriously considered the under.
Chris Capuano.
The feature of my shiny pregame column
, Capuano wasn't at his most dominant but still pitched a very solid game. The Mets struck quickly, scoring a run in the top of the first. From there, short of a couple of bad pitches -- a two-strike mistake to
David Wright
for a leadoff homer in the fourth, then another on a run scoring triple to Torres -- Capuano was solid. Four times over seven innings he put the Mets down in order, and retired three straight after the Wright home run. Of his 82 pitches, 61 were for strikes, and he didn't walk anyone. Criticizing Capuano for falling short of perfection simply because the lineup behind him demanded something very close isn't fair.
Things Stan Kasten said.
The Dodgers' President spoke to the media before the game,
and said a lot of things fans will enjoy hearing.
As far as trade-deadline rhetoric is concerned, this is basically
William Wallace
-level stuff: "As candid as I can be, we're the Dodgers. We're supposed to be big. We intend to be big. So will we look at big things? You bet. That's as straight as I can be," Kasten said. "We are the Dodgers. That's all caps, all right? You should write that. All caps. We are 'THE DODGERS,' all caps. And we should act that way."
The Bad:
Production.
This is still a Major League Baseball game, and as a rule teams won't win with two runs and six hits. And while that might have exceeded expectations, the Giants won again Thursday night, meaning the Dodgers no longer have even a share of the NL West lead. With Ethier likely out for another game or two (at least) and
Matt Kemp
gone until after the All-Star break, the Dodgers are in a tough spot. Heck, given his poor June and the nature of his injury -- oblique muscles are tricky things -- the Blue can't count on much of a lift from Ethier when he returns. They simply have to figure out a way to tread water, scratching out enough runs to avoid ceding too much ground to the Giants or the second half could start with the Dodgers in a decent-sized hole. How, I'm not sure, and I don't think
Don Mattingly
knows, either. There may not be a formula, honestly.
James Loney.
Over the past couple weeks, Mattingly has played Loney with less consistency but a few factors working in combination (Loney's .308 average at home, his .353 mark against Mets starter
Chris Young
, the Dodgers running low on dudes) put him back in the lineup. Mattingly's faith was not rewarded. Loney went 0-for-4, was booed after his fourth at-bat, and flat out dropped a routine throw from third baseman
Adam Kennedy
in the eighth, very nearly adding to L.A.'s deficit.
The schedule.
The Dodgers draw knuckleballer/surefire All-Star
R.A. Dickey
on Friday, then
Johan Santana
on Saturday. Next week, the NL Central leading Cincinnati Reds and
Johnny Cueto
visit L.A.. No rest for the weary.